This post may contain affiliate sales links. Please see my full disclosure policy for details
These Mimosa cupcakes are an orange infused champagne cupcake made with a cake mix. Then they are soaked in champagne syrup and topped with an orange cream frosting.
I don't know about you but I am having a little bit of denial about sliding back into work after a much needed break. The last ten days have been busy but relaxing. I took the time to sleep in as much as possible, got some snowboarding in and visited with friends and family. I made a conscious effort to put my work aside and focus on the time I had together with my loved ones. I hope you enjoyed your holidays as much as I did.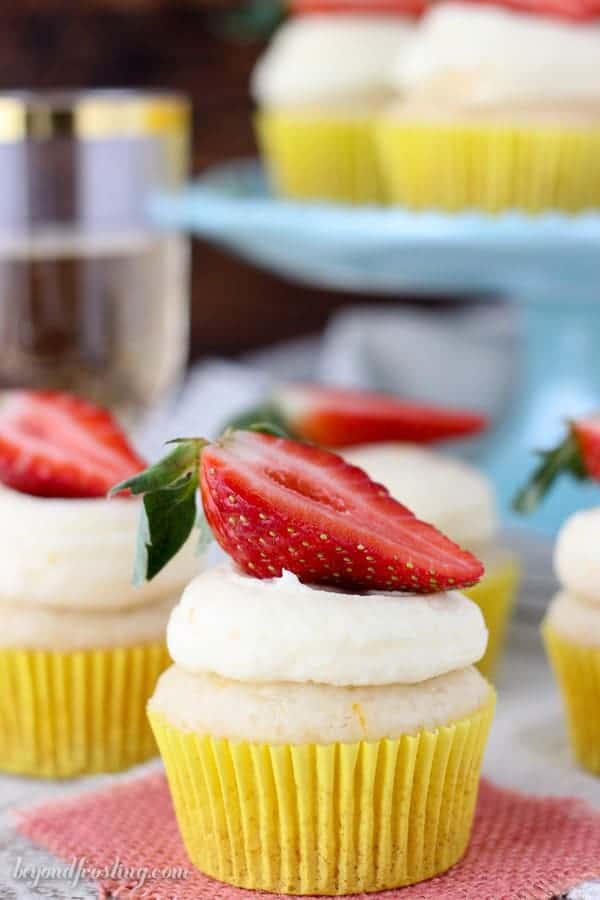 You might be thinking I am a little late to the party with these cupcakes since New Years Eve was just a couple of day ago, but I prefer my champagne in the morning just as much as I do in the evening. Ergo, these cupcakes are acceptable ANY time!
These Mimosa cupcakes are an orange infused champagne cupcake made with a cake mix. Then they are soaked in champagne syrup and topped with an orange cream frosting.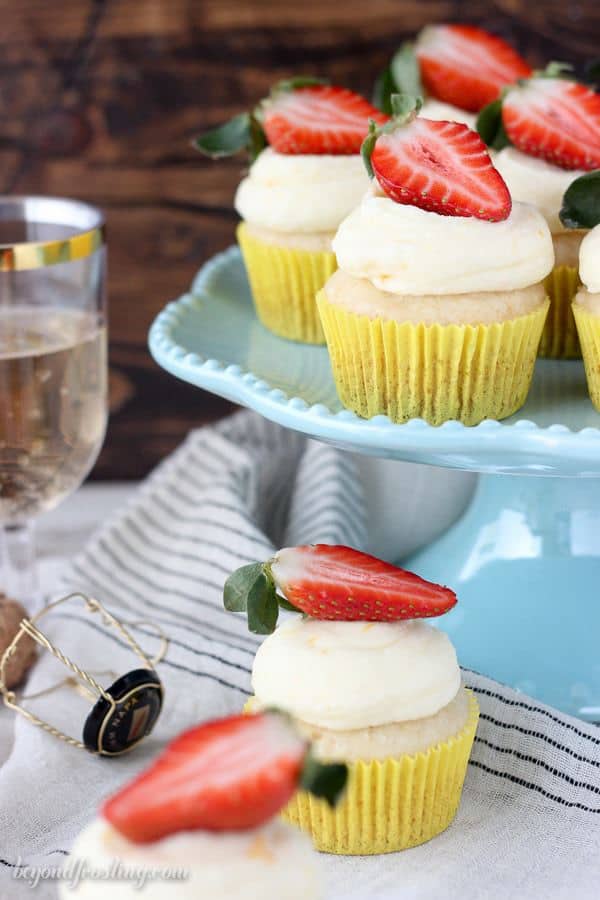 The list of ingredients might seem slightly long with a few different steps but these are really quite easy and trust me, they are just as rewarding. I actually walked these into work today, and declared them my New Years diet cupcakes. Sorry not sorry.
Let's break these down a bit further. The cupcakes themselves are light and fluffy since I chose to use egg whites instead of whole eggs. The champagne also helps add some additional air bubbles into the cupcakes. They bake up with the perfect dome on top.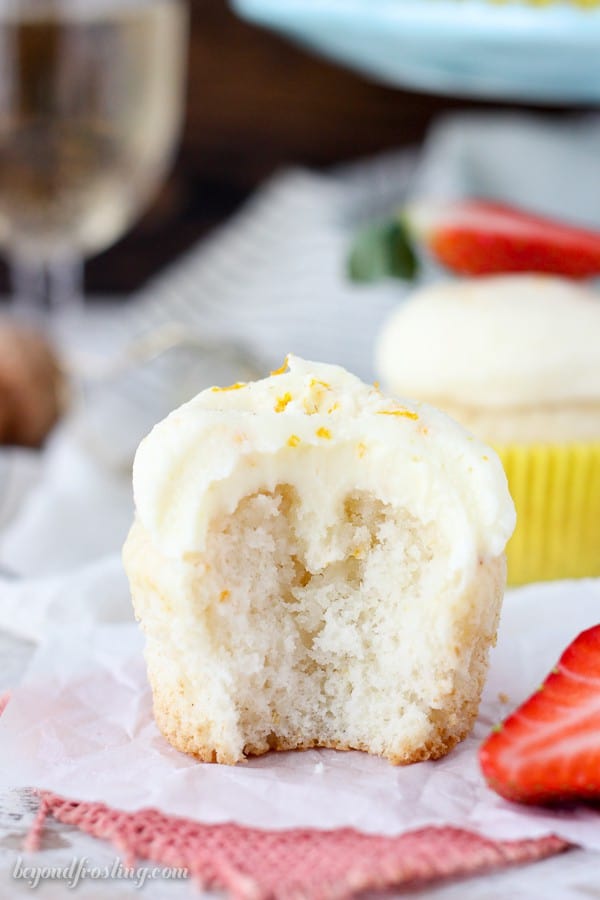 Next, we will make a buttery champagne glaze, the same glaze that I used on my champagne pound cake. It's made by boiling some butter, sugar and water until it's nice and thick, and then you add the champagne to thin it back out. First I dipped the cupcakes in the glaze, and then I poke a hole in the center of the cupcake and drizzle some of the glaze to soak into the cupcake. Just keep going till you're out of glaze!
Finally comes the heavenly orange cream frosting. It's a traditional buttercream with a hint of cream cheese and infused with orange zest. There's also a touch of champagne as well. I over beat the butter to incorporate some extra air into the frosting, making it extra light and fluffy. Once all the ingredients in the frosting is incorporated together, I beat it for an additional couple of minutes. This frosting is seriously insane.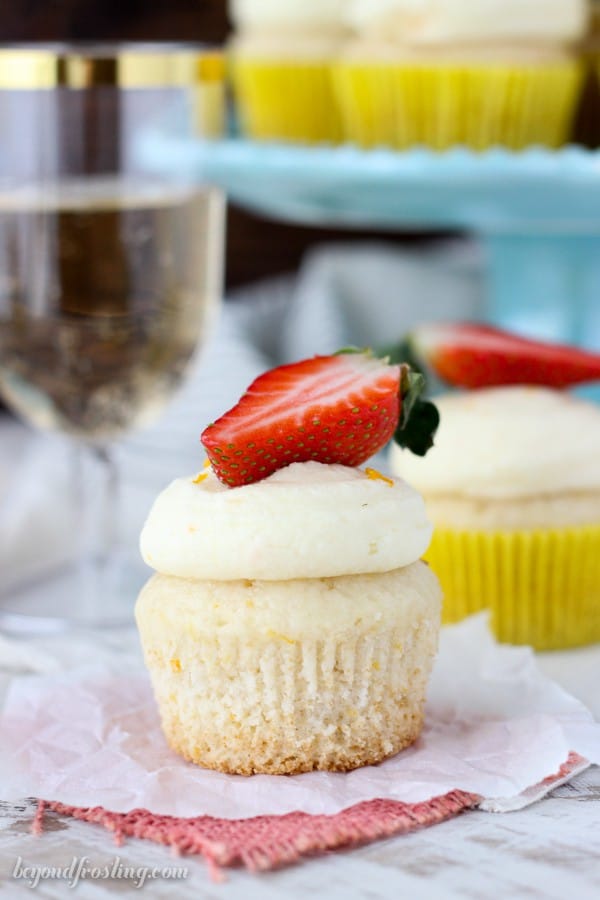 These cupcakes are definitely making it into my rotation, so long as I can leave a little leftover champagne in the refrigerator. (p.s. is that a thing?).
P.P.S. feel free to use prosecco instead of champagne.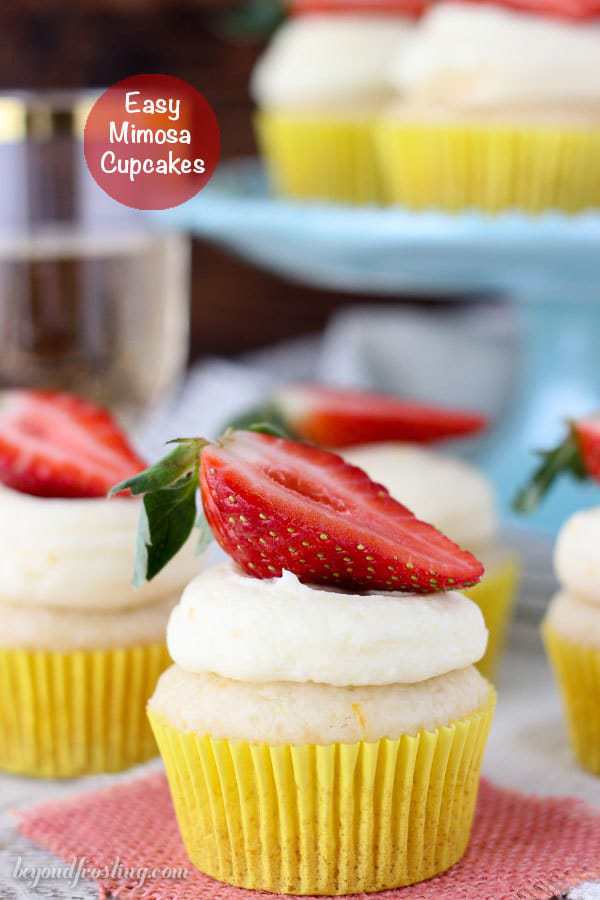 Follow Beyond Frosting:
Facebook | Twitter | Pinterest | Instagram
If you love no-bake recipes, be sure to check out my cookbook, No-Bake Treats!
Print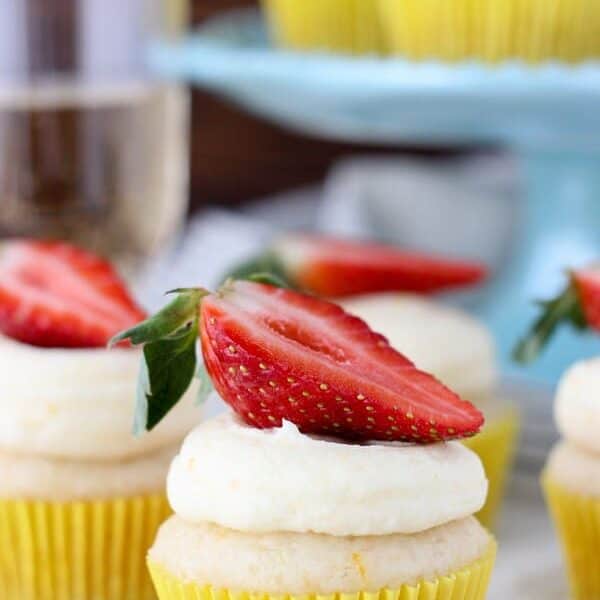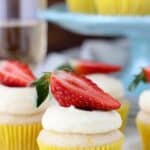 Easy Mimosa Cupcakes
Author:

Prep Time:

10 mins

Cook Time:

14 mins

Total Time:

24 minutes

Yield:

16 cupcakes
Description
Orange-infused champagne cupcakes soaked in champagne syrup and topped with an orange cream frosting.
Ingredients
For the Cupcakes:
1

box white cake mix (I used Betty Crocker)

3

large egg whites

1 cup

champagne

1/3 cup

vegetable oil

2 tablespoons

orange juice

1 teaspoon

vanilla extract

1

large orange, zested
For the Glaze:
4 tablespoons

unsalted butter

2 tablespoons

Water

½ cup

granulated sugar

¼ cup

champagne
For the Frosting:
2

sticks (1 cup) unsalted butter, at room temperature

4 ounces

cream cheese, at room temperature

4 cups

powdered sugar

1

large orange, zested

2 tablespoons

champagne

1 tablespoon

orange juice

8

Strawberries for garnish
Instructions
For the Cupcakes:
Preheat the oven to 350°F and line a cupcake pan with 16 cupcake liners.
In a large mixing bowl, combine all the ingredients: cake mix, egg whites, champagne, oil, orange juice, vanilla extract and orange zest.
Beat all of the ingredients until they are well blended. Fill the cupcake liners about 2/3 full, dividing the batter evenly.
Bake at 350°F for 14-16 minutes. Test the cupcakes for doneness by inserting a toothpick into the center of the cupcake. If the toothpick comes out clean, the cupcake is done. Allow the cupcakes to cool.
For the Glaze:
Melt the butter over medium heat in a saucepan.
Stir in water and sugar, bring to a boil and boil for 5 minutes on medium-high while stirring constantly. Mixture will become bubbly and thick.
Remove from heat and stir in champagne, continue to mix till smooth.
Start by poking holes in the top of the cupcakes with a toothpick.
Then dip the top of each cupcake in the glaze.
Next, use a wooden spoon or small dowel and poke a medium-sized hole in the middle of the cupcake.
Use a small spoon or teaspoon to pour some of the glaze into the middle of the cupcake, until the glaze is gone.
For the Frosting:
Allow the butter and cream cheese to soften to room temperature.
First beat the butter for 3-4 minutes until it's lightened in color.
Then add the cream cheese and beat it together with the butter until the two are well blended.
Add the first two cups of powdered sugar and beat at a low speed until it starts to incorporate. Then add the remaining powdered sugar. The frosting will start to thicken.
Zest the orange into the frosting and then add the champagne. Slowly beat the champagne into the frosting until it is incorporated.
Finally, and the orange juice (squeezed from the orange) and continue beating the frosting for another 2 minutes or so until it's light and fluffy.
Pipe the frosting on the cupcakes using an open round tip. Slice the strawberries in half and place on the frosting. The cupcakes must be refrigerated once they are frosted.
Category:

Dessert

Method:

Baked

Cuisine:

American
Keywords: orange cupcakes, champagne cupcakes
You might also like: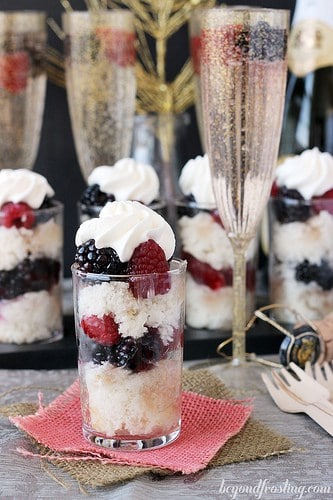 Champagne Pound Cake with Champagne Glaze