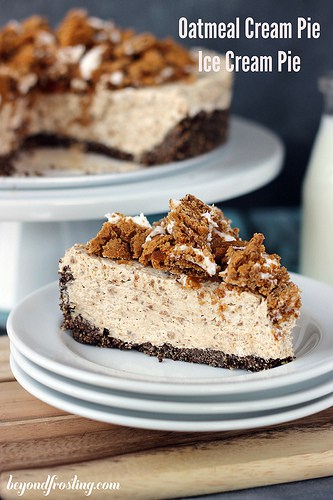 Wvery once in awhile I break out into random song, and my boyfriend looks at me like I have four heads. What are you singing? He asks. Duh, it's Mr. Vain. What? He asks. You know, Mr. Vain, as I continue to sing. Now it's not very uncommon for me to have no idea what his is referencing when it comes to music, but the opposite rarely occurs. I immediately drop what I am doing and You Tube the song as I dance around the living room. Hello, the 90s called and you need to get up to speed.
This Oatmeal Cream Pie Ice Cream Pie needs no introduction. It one word, it is ice cream bliss. It's the closest thing I have made that compares to my favorite Ben and Jerry's ice cream, Oatmeal Cookie Chunk.  My pint of choice for "pint night" in college, and contributing member to my freshman fifteen.
I love ice cream pies, because you can whip them together quickly, throw them in the freezer and have yourself a tasty dessert in about two hours. Plus, it's been SUPER hot lately, so baking isn't really an option. It's a real problem for someone who does as much baking as I do. I am forced to turn to ice cream to solve my problems. I mean really, it's first world problems.
Let's talk about the ice cream. It's a mixture of cream cheese, brown sugar, cinnamon, cool whip and crushed Oatmeal Cream Pies. I happened to be walking down the aisles of Walmart and spotted an extra large box of Oatmeal Cream Pies that were just calling my name. I knew I wouldn't be able to keep them in my cabinet for too long. Then, this ice cream was born.
These ice cream pies are super easy to whip together. You can make a crust with cookies like Oreos, graham crackers, Nilla Wafers, oatmeal or other types of cookies. This crust is made from regular and chocolate graham crackers, since that is what I had in my cabinet. Then you mix together the ingredients for the ice cream, pop it in the freezer for a couple of hours and the mixer hardens.
Since I can never get enough Oatmeal Cream Pies, I topped this with more pieces of the pies. I like my pies a little softer, so I usually remove it at least 20 minutes before serving. If you try to cut it right out of the freezer, it will be very firm. Sometimes the crust can be difficult to keep intact. A little trick I learned lately it that if you add a tablespoon or two of corn syrup, it will help the crust to not break part. It's totally optional. I made my dessert in a 9" spring form pan, but this can also be made in a pie plate as well. Now run out and get some Oatmeal Cream Pies so you can make this immediately.
Print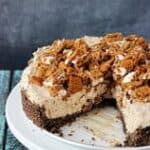 Oatmeal Cream Pie Ice Cream Pie
---
Ingredients
For the crust
1/2 C (1 stick) Unsalted butter, melted
2 ½ C Chocolate graham crackers
For the filling
1 pkg Cream cheese
1/2 C Light brown sugar
1 tsp Cinnamon
2 tbsp Heavy whipping cream
1 tsp Pure vanilla extract
9 Oatmeal Cream Pies, divided
1 pkg (8oz) Cool Whip, thawed
---
Instructions
To make the crust, melt the butter in the microwave for 30-40 seconds.
Use a food processor to grind up graham crackers into a fine crumb.
Pour melted butter over graham crackers and stir to combine.
Line a spring form pan with parchment paper, and pour graham cracker in the bottom. Use a spatula or measuring cup to press the crust down. You can use you fingers to form the edges by gently pushing the crumbs against the edge of the pan.
Whip cream cheese in a mixing bowl for a few minutes until light and fluffy. Add sugar and cinnamon and continue to beat until sugar is dissolved into cream cheese.
Add heavy cream and vanilla extract and increase speed to medium high for 60 seconds.
Unwrap 8 Oatmeal cream pie. 5 of them will be used for the filling and 3 of them will be used for the topping. The 5 needed for the filling should be blended in a food processor to break up into a fine crumb. Add the crumbs to the mixing bowl and mix on low speed until incorporated.
Add Cool Whip and blend all ingredients until well mixed.
Pour mixture into spring form pan. Spread evenly with a spatula. Cover the top with saran wrap and freeze for at least 2 hours.
Remaining Oatmeal Cream Pies should be cut into small pieces and reserved to sprinkle on top of the ice cream cake before serving.
Remove from freezer 20 minutes before serving.
Recipe from my friends
Oatmeal Cream Pie Gooey Bars by Life, Love and Sugar
Oatmeal Cream Crack Pie by The Domestic Rebel
Giant Oatmeal Cream Pie by Sally's Baking Addiction
Other Recipes from Beyond Frosting