This post may contain affiliate sales links. Please see my full disclosure policy for details
This easy recipe for Sugar Cookie Icing makes decorating a breeze! Made with only 4 ingredients in 5 minutes, this smooth and creamy icing recipe is basically failproof when it comes to frosting and coloring. Make bright, beautifully decorated cookies with perfect icing and a few simple techniques.
I use this easy sugar cookie icing on my favorite holiday-worthy recipes, from Classic Cut Out Sugar Cookies to Gingerbread Men Cookies. You could even use them for my easy no-roll sugar cookies. You're going to love it.
I think it might go without saying, but I absolutely love making sugar cookies. Sure, it takes a little effort. But ever since I was a kid, baking and decorating sugar cookies is all about making memories (and eating a little sugar along the way).
We've always had two types of frosting for our family's favorite cookie recipe, buttercream, and this icing. While Vanilla Buttercream will always have a place in my heart, this sugar cookie icing is also a classic. I just love the nostalgia that comes with icing holiday cookies, especially with this recipe.
This creamy icing comes out perfectly pourable, pipable, and spreadable without much fuss. It's very similar to Royal icing, without meringue powder, and hardens up just as nicely. Below I'm sharing how to make it, plus all my best icing tips and tricks for you to use this season!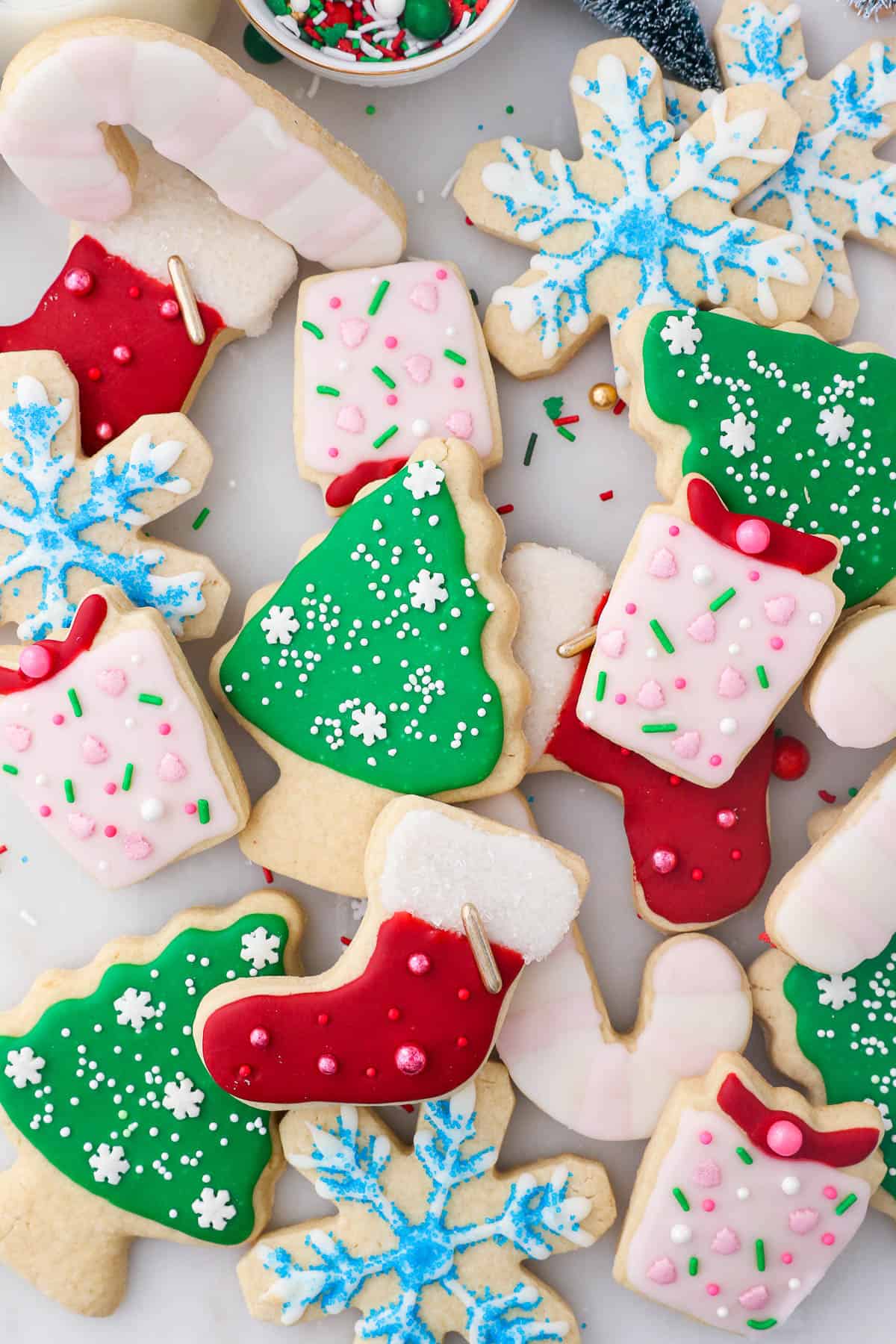 Why You'll Love This Icing Recipe
Before we get into the nitty-gritty, here's a quick overview of why this easy icing recipe is simply the BEST:
Only 4 ingredients. I'm all about an easy icing recipe, and nothing beats this one. You need just 4 ingredients and 5 minutes, with no fancy bells, whistles, or equipment.
Sets up perfectly. You don't have to worry about smudging and denting with this icing. Once it sets fully, it doesn't budge, making Christmas cookies easy to store and share.
Adaptable. You can color this icing, thicken the consistency, thin it out, and more. It's so easy to handle, you can even get the kids involved!
Icing Ingredients
Now, let's get into the four basic ingredients that make up this ultra-simple icing recipe. Be sure to refer to the recipe card for the full amounts and details.
Powdered Sugar – Also called confectioner's sugar. You'll want to sift your powdered sugar before you start, to break up any lumps. This is key to silky smooth sugar cookie icing.
Corn Syrup – Adding corn syrup gives icing an attractive sheen, and also helps to keep the ingredients from separating.
Milk – To thin out the consistency as needed. Any kind of milk will work – whole milk, 2% milk, or even cream.
Flavoring – Flavor your icing with basic vanilla extract, or mix it up with peppermint, almond, or even lemon extract. I highly recommend using pure flavor extracts versus artificial ones wherever possible.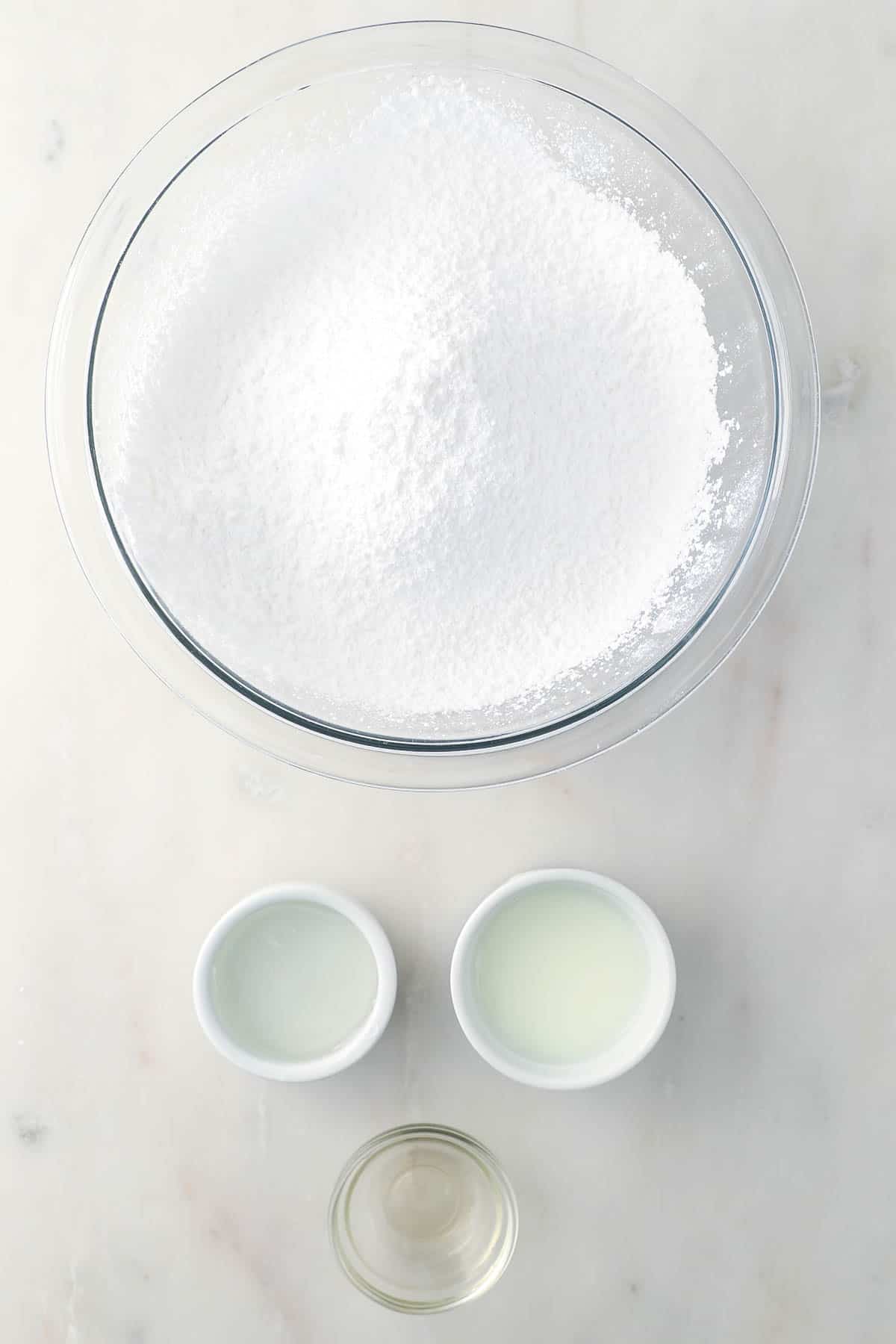 Ready to make some frosting? Making smooth and pipable sugar cookie icing couldn't be easier. Be sure to read on for more icing tips as well as ways to use your fresh batches of sugar cookie icing.
Sift the powdered sugar. First, pass the powdered sugar through a fine mesh sieve, breaking up any lumps.
Combine the ingredients. Whisk together the sifted sugar with corn syrup and milk until smooth. You can adapt the consistency of your cookie icing depending on preference and/or what you'll be using it for. See below.
Add flavoring and coloring. This part is optional, but if you'd like to flavor your frosting, mix between ¼ to ½ teaspoon of your choice of extract into the icing. You can also divide your icing and color it using gel food dye. See the section further on for details.
What Consistency Should My Icing Be?
The general consistency of icing should be thinner than corn syrup, but thicker than maple syrup. A good way to check is to let it run off the spoon: the icing should hold together and drip slowly, and not run off completely or stay stiff in place.
Adapting your icing consistency is as easy as adding more milk or powdered sugar, a little at a time. For a thinner consistency, add a teaspoon of milk at a time. For thicker icing, add an additional ¼ cup of powdered sugar until you reach your desired consistency.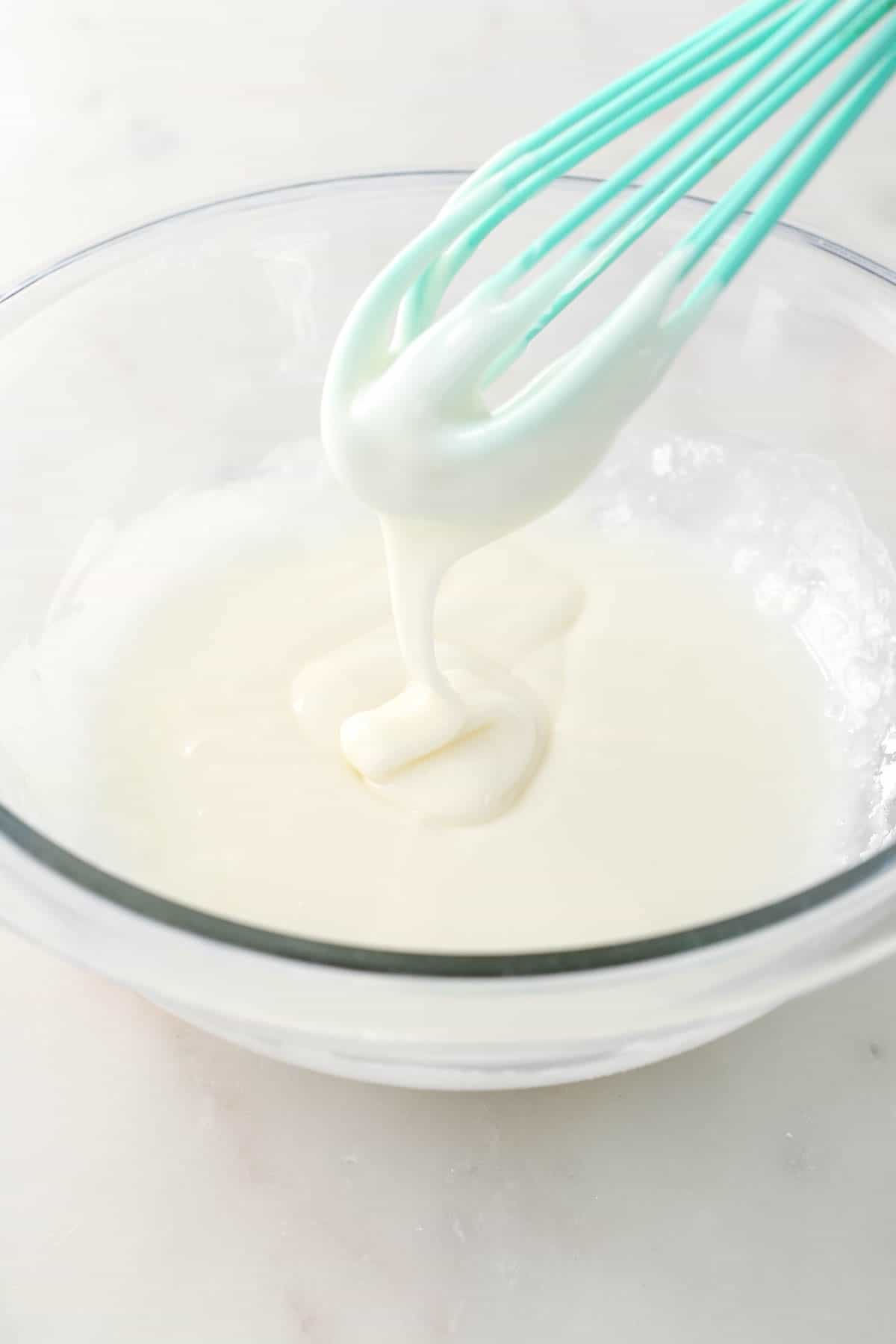 What Is the Best Food Coloring for Icing?
Adding color to icing is easy, the key is to use quality gel colors, like the ones from Amerigel or Wilton's Color Right Color System. Gel dyes are my favorites for coloring icing, and a little goes a long way.
So, which one is best? It depends on what you prefer. Amerigel offers lots of individual colors, so you're more likely to find the one you need already available. Meanwhile, Wilton's offers 8 basic colors that can be mixed by hand to create over 50 different shades. Both are available at craft stores, cake supply stores, or online.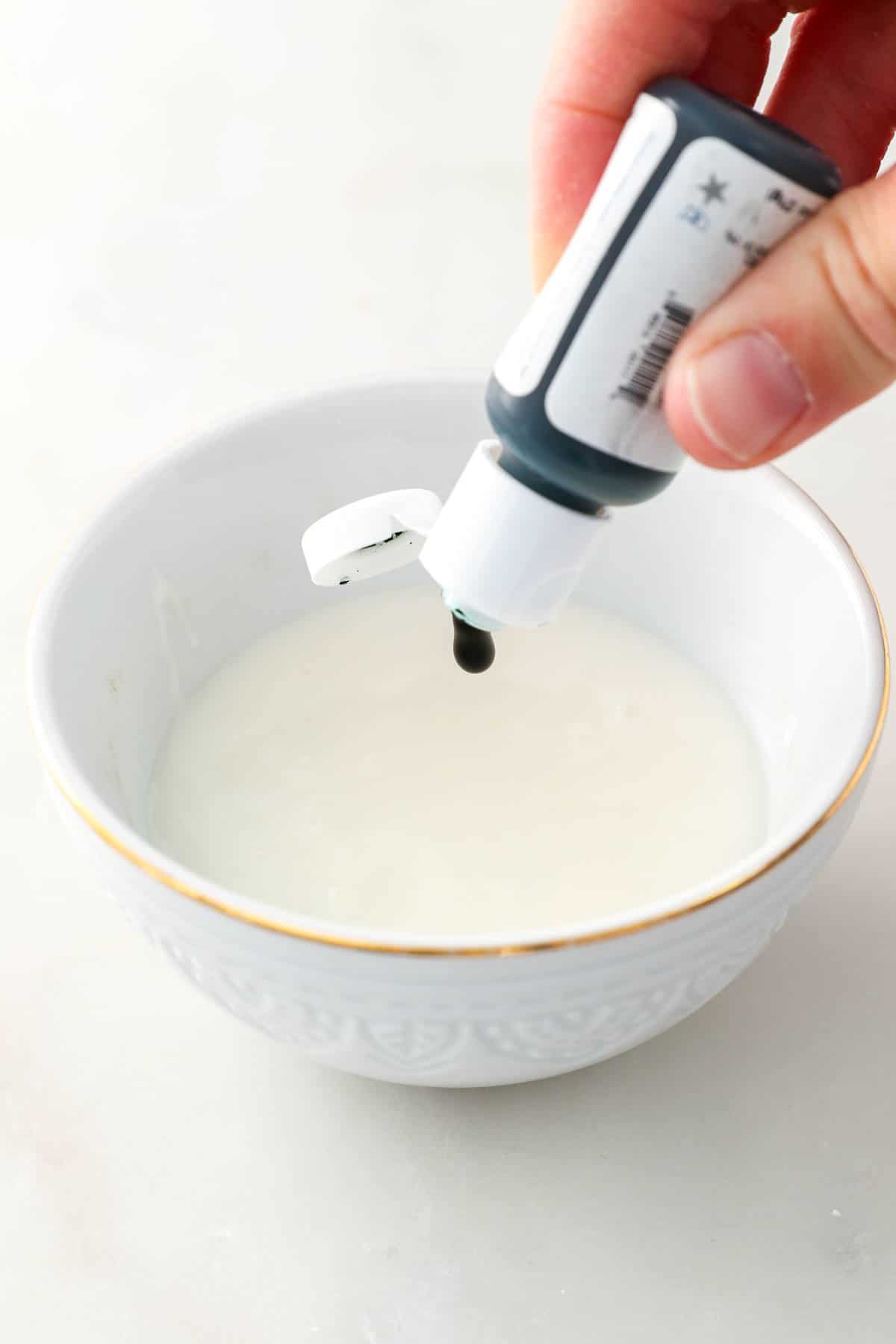 This sugar cookie icing is super easy to handle, making it great for everyday decorating. Let's go over my favorite methods for decorating cookies with homemade icing:
Squeeze Bottle – Squeeze bottles are great for little hands to use, but they are more difficult to clean. Icing consistency is key when using a squeeze bottle. It's important that the icing can be easily squeezed out without blocking the tip, otherwise, you run the risk of a very messy POP!
Piping Bag – I actually prefer the piping method, as it allows for more control in terms of icing placement and the amount of pressure applied. Pro-tip for quickly filling a piping bag: Fold the top of the bag down over a cup, and pour/spoon the icing in. Find more helpful tips in my post on How to Use a Piping Bag.
When it comes to icing your sugar cookies, I recommend using a piping bag with a coupler for the best results. A size 2 or size 3 piping tip is best for outlining, meanwhile you can fill cookies with a size 5. Just be sure the filling doesn't pour over the top of the outline you made.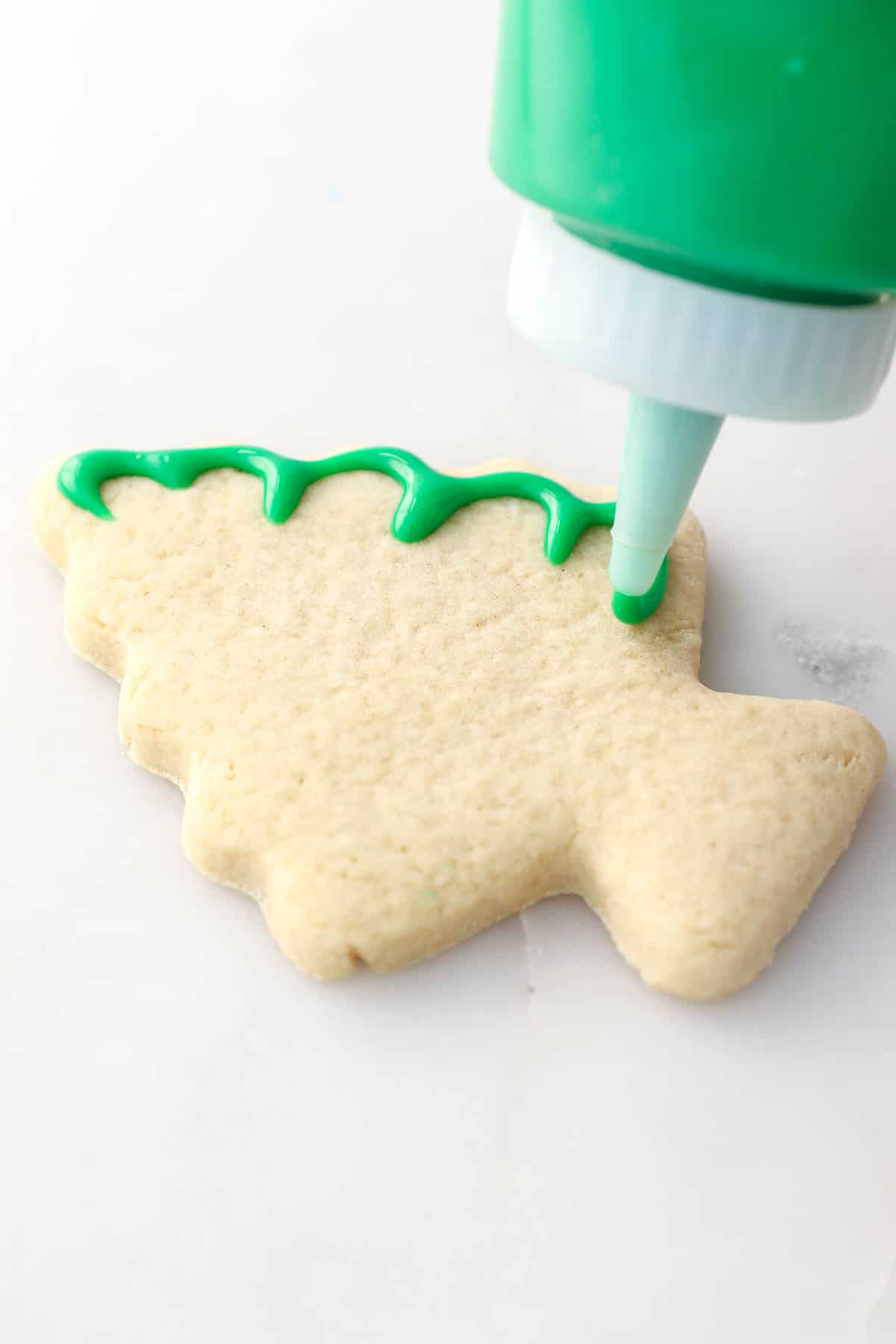 How Long Does the Icing Take to Set?
This depends on the thickness of the icing layer, and a bit to do with the climate in your house. The top layer of icing will start to crust within the first several minutes, but it can take several hours for the icing to set all the way through. Plan on having plenty of space or cookie sheets available for them to dry in a single layer.
Tips for Success
Here's a quick round-up of some last-minute tips and tricks for icing sugar cookies to perfection:
Don't skip sifting. Sifting the powdered sugar creates a smoother consistency in the icing. Very important!
I use the same consistency for the outline as I do for the fill. The icing consistency is pretty forgiving in this recipe, so you can use the piping tip, a toothpick, or a gentle shake to fill in any little holes.
You can adjust the consistency of your icing how you see fit. See the section above for details on how to adapt the thickness of the icing. A thin consistency is easier for kids to use, for example, especially if they are spreading or painting it on. Note that the thinner the icing, the more transparent it will be once it's dried.
Do not pipe or decorate too close to the edge of the cookie. If the icing is on the thinner side, it will run off the edges of the cookies.
Add sprinkles and decorations shortly after applying the icing. This icing tends to set on the top layer quickly and will start to crust over after a few minutes, making things like sprinkles harder to stick. However, also consider how you plan to serve your cookies, as some larger sprinkles are prone to falling off when handled too often. For this reason, you may want to add those later and pipe some fresh icing underneath.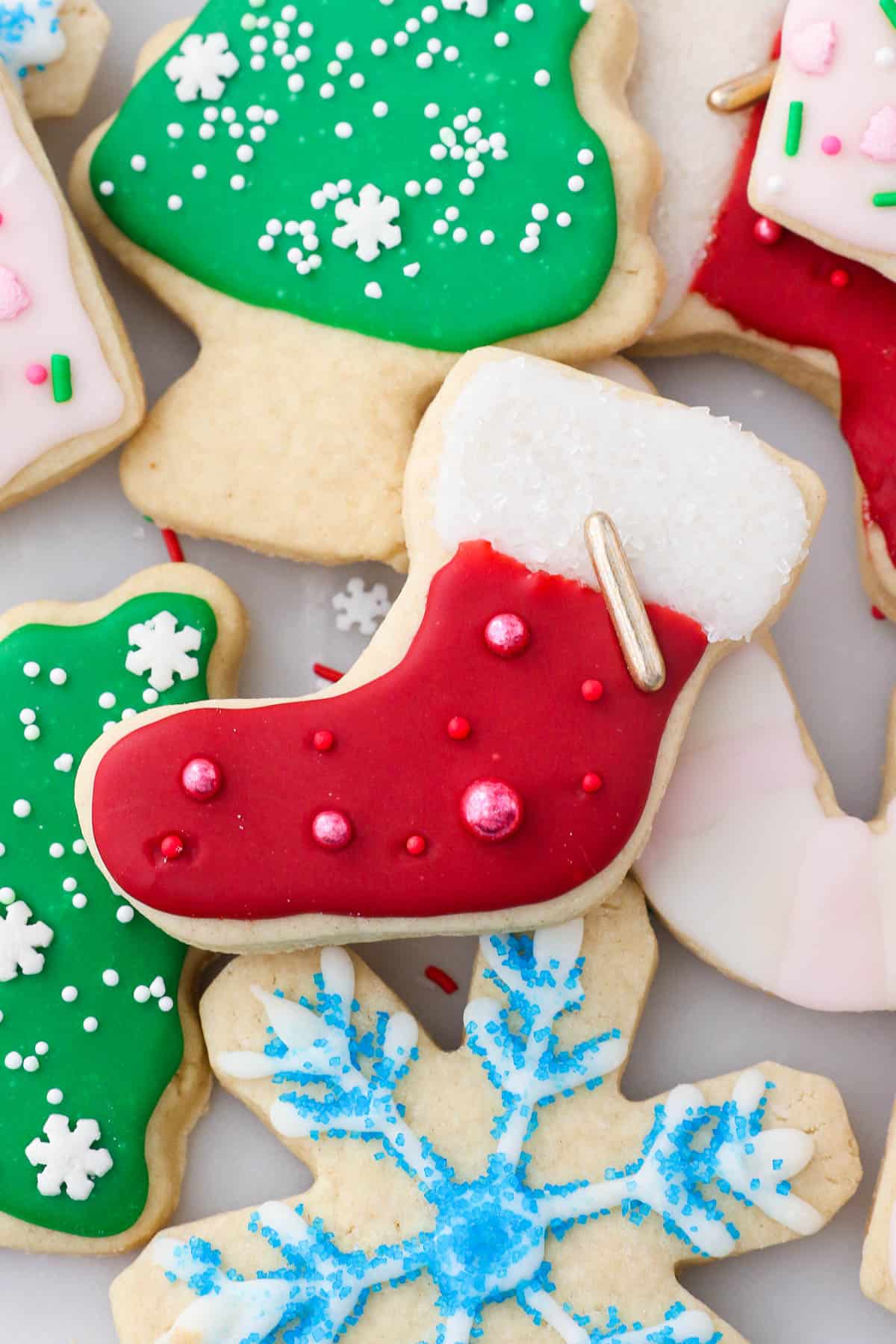 Storage Instructions
Iced sugar cookies are at their best within 2-3 days from when they're frosted. The icing itself is also at its best when used right away, however, sugar cookies and icing are both easy enough to store for a later day:
Storing Leftover Icing: Store leftover icing airtight in the fridge for up to 1 week. I recommend stirring it before you use it again, to revive the consistency.
How to Store Decorated Sugar Cookies: Allow the iced cookies to dry and set in a single layer on a cookie sheet. When they're completely dry, store the cookies at room temperature in an airtight container. They'll look their best within the first few days.
Freezing: I do not recommend freezing the iced sugar cookies as it changes the appearance of the glaze (this can lead to spotting, color shifting, etc.). Instead, freeze the baked sugar cookies and then decorate them after they're thawed. You can read more about how to freeze-baked cookies in my Sugar Cookies post.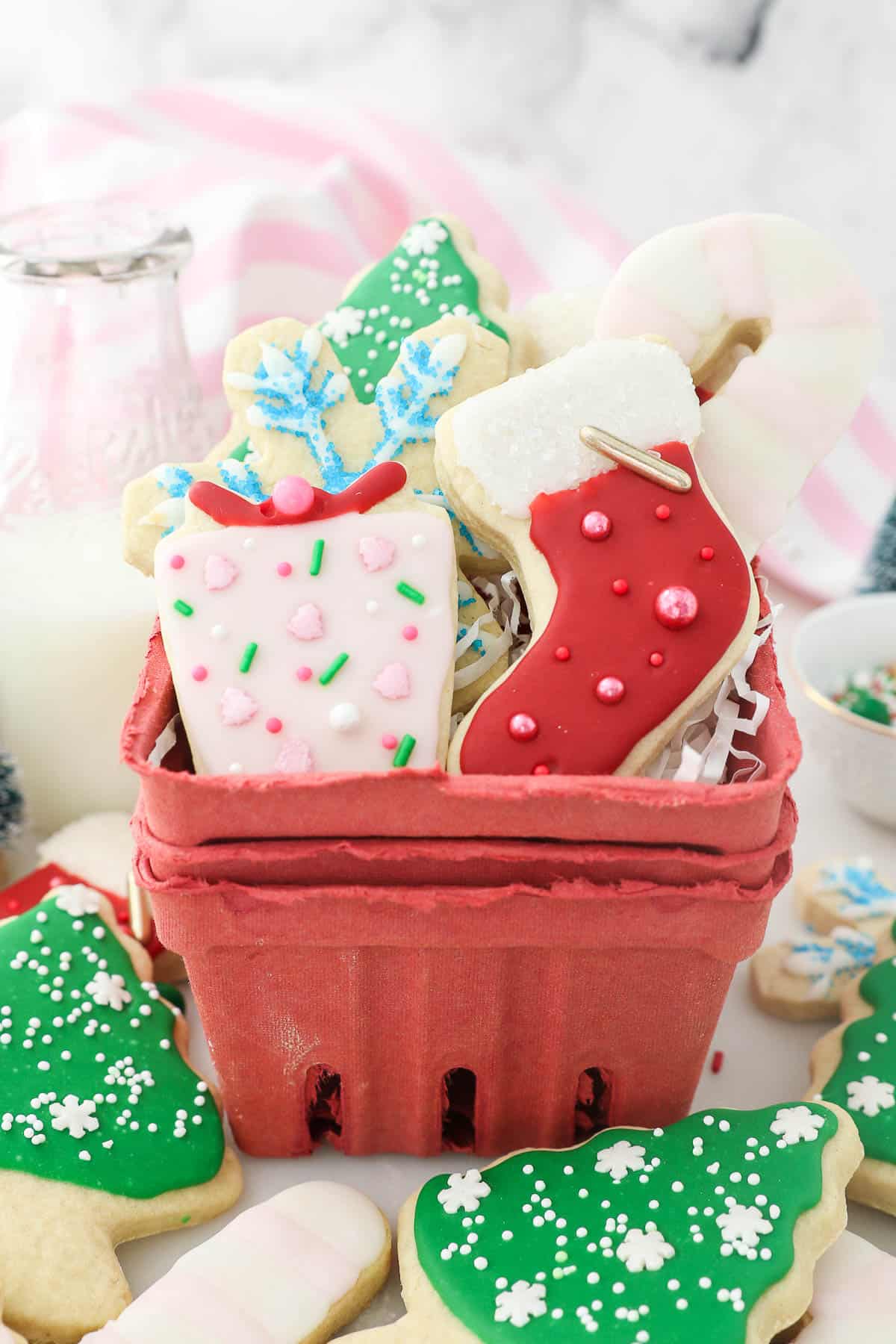 Print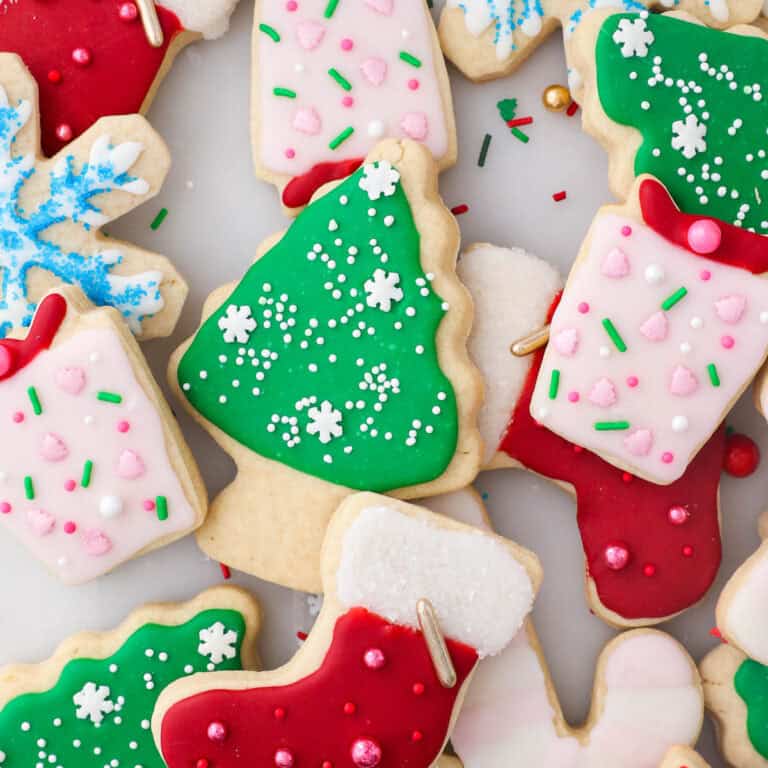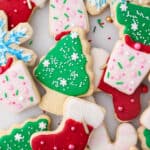 Author:

Prep Time:

5 minutes

Cook Time:

0 minutes

Total Time:

5 minutes

Yield:

24 cookies
Description
This easy Sugar Cookie Icing makes decorating a breeze! Made with only 4 ingredients in 5 minutes, this simple icing recipe is perfect for piping and coloring. Enjoy bright, beautifully decorated cookies!
Ingredients
2 cups

powdered sugar, sifted

2 tablespoons

milk

1 tablespoon

corn syrup

1/4

–

1/2

teaspoon extract (optional: vanilla, almond, peppermint or lemon)
Instructions
Combine the sifted powdered sugar and 2 tablespoons of milk in a bowl and whisk until well combined, then Whisk in the corn syrup. If needed, add additional milk 1 teaspoon at a time to thin out the frosting. If too thin, add an additional 1/4 cup of powdered sugar.
To color the icing, divide the icing into separate bowls. Add a small drop of your gel colors to the icing. Mix thoroughly.
Apply to cookies using a squeeze bottle or piping bag.
Notes
This icing goes wonderfully with my quick and easy cutout cookies and gingerbread cookie
Use gel colors when dying icing, for bright, vibrant colors. I recommend

Amerigel

or

Wilton's Color Right

food gel dyes.
How to adjust the icing consistency: To make the icing thinner, add additional milk 1 teaspoon at a time. You want it to be drippy but not runny. If you think your frosting is too thin, add more powdered sugar ¼ cup at a time.
Storing decorated sugar cookies: It can take anywhere from a couple of hours to overnight for the icing to harden, depending on how thick the icing is. Once the icing is set, you'll be able to stack your sugar cookies. Store the iced cookies in an airtight container at room temperature. I recommend placing a layer of parchment paper in between layers, to keep them from sticking.
Category:

Frosting

Method:

Whisked

Cuisine:

American
Keywords: icing for sugar cookies, sugar cookie frosting, cookie icing
More Ways to Use Sugar Cookie Icing