This post may contain affiliate sales links. Please see my full disclosure policy for details
One of the best parts of a pie or cheesecake is the crust. This step-by-step guide will teach you How to Make a No-Bake Crust in a Springform Pan to prepare the perfect no-bake crust. I share a few tips and tricks for you to get the perfect looking cookie crust.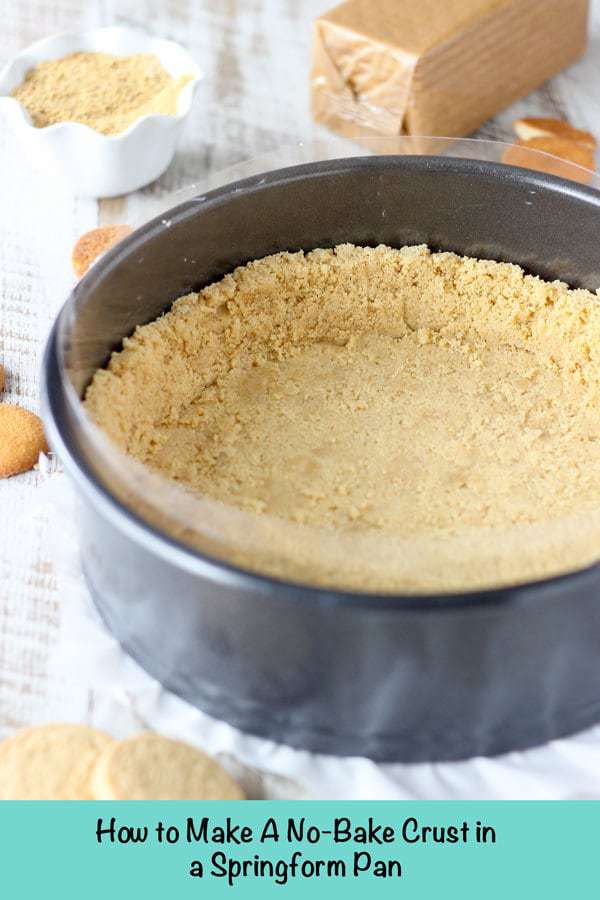 While I was making all the recipes for my cookbook, I got quite used to making no-bake crusts. There was one time where I purchase a dozen packages of Oreos for all the recipe testing I did.
Since I share so many no-bake desserts, I wanted to share my tips with you on how to make a no-bake crust in a springform pan. I made a handy video so you can see it in action too!
Most no-bake crust recipes start with finely grounded crumbs that are mixed with a binding agent such as butter, corn syrup or honey. I use butter. My favorite no-bake crusts include the standard Oreo or graham cracker crust, but there's plenty of different options for cookies or crackers for your crust which I discuss in more detail below.
Let's dive in!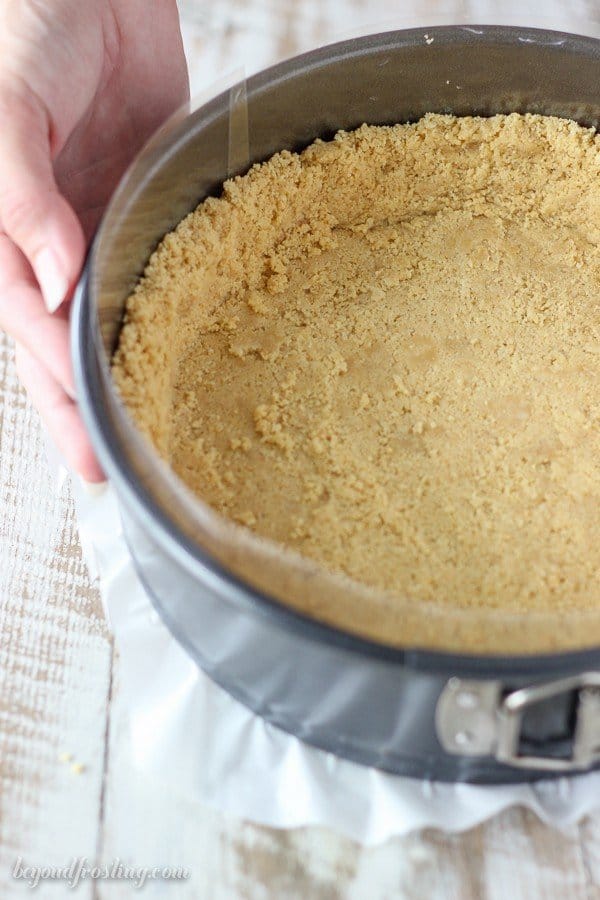 What is a springform pan?
A springform pan is a round pan with a removable side and bottom. The side of the pan is attached with a clamp, allowing you to release the spring when you want to remove the sides of the pan.
Why should I use a springform pan?
There are lots of advantages to using a springform pan, but my top few reasons:
It is cleaner and easier to remove the sides of your pan than a traditional round pan.
You can make a nice deep dish pie or cheesecake because the pan is 3-inches tall. A standard pie plate doesn't allow for as much filling
I love the look of the dessert when you can remove the sides of the pan, and it allows you to get a nice clean slice
What can I use instead of a springform pan?
It depends on the type of dessert you're looking to prepare. As I mentioned, most springform pans are 3-inches tall, where as standard pie plates and 9-inch square pans are not quite as deep. However, a deep dish or standard pie pan can be used as an alternative.
Normally I'd recommend using a 9-inch square pan instead of a springform pan. If you'd like to actually remove the dessert from the pan, be sure to line it with parchment paper.
However, I don't recommend trying to remove a whole dessert from a 9-inch pan because the crust will likely buckle in the middle.
What type of no-bake crusts can I make use a springform pan?
For this posts, I've made my crust with Golden Oreos but there are all types of crusts you can make for no-bake desserts: Chocolate chip cookies, Shortbread cookies, Gingersnaps, Nilla Wafers, Graham crackers (and chocolate graham crackers), Peanut Butter Cookies, Waffle cones, Ritz Crackers or even potato chips.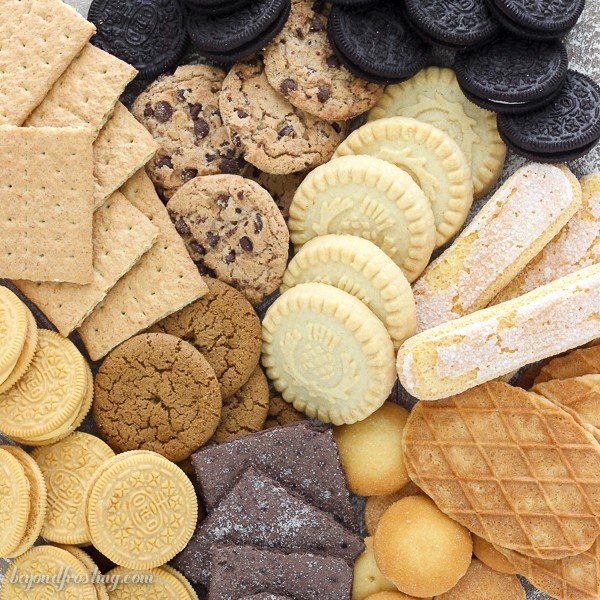 The type of cookie you use will directly affect the amount of butter you need for the crust. Cookies like Oreos and Shortbreads have higher butter content and require LESS butter than a dryer cookie like a graham cracker or Nilla Wafer.
Generally speaking, I used 8 tablespoons for a full package (14 oz) of Oreo cookies which is about 3 ½ cups of cookie crumbs. This makes a nice thick or tall crust. I do not remove the filling of the Oreos.
For a graham cracker crust, I usually use about 2 ½ cups of graham cracker crumbs and 8 tablespoons of melted butter. Sometime I'll even add brown sugar or cinnamon to the crust to change it up a bit. Each recipe differs depending on the amount of filling in the pie or cheesecake.
Step by Step guide for how to make a no-bake crust in a springform pan
I prefer to use my food processor to grind my cookies into fine crumbs, but you can also use a blender, or even go old school and use a Ziploc bag and a rolling pin to crush them. As long as you don't have any big crumbs left, you'll be just fine!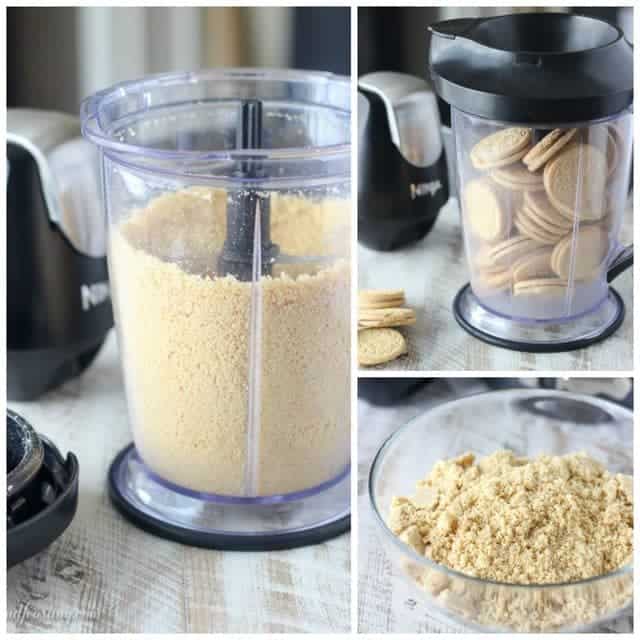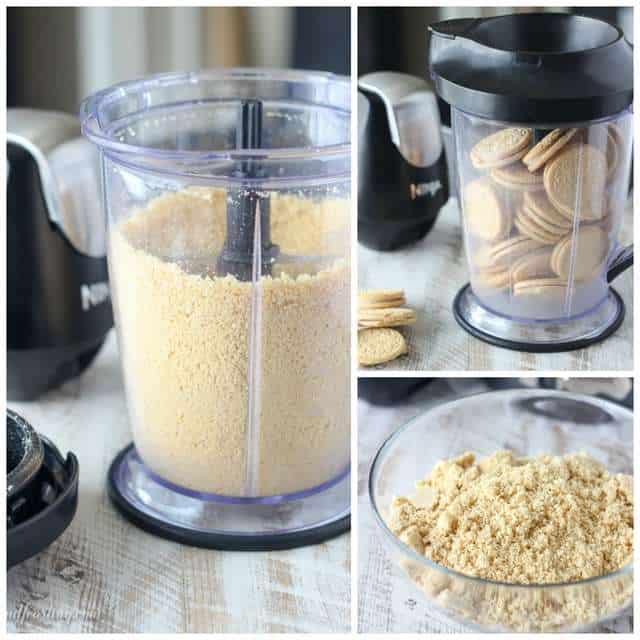 I also always use unsalted butter because I don't want to over power the other flavors from the filling. First I melt the butter in microwave and then pour it over the crumbs. Once it's well mixed, crush the crumbs in your fingers.
If the crust sticks together, this should indicate that you have enough butter for it to hold together in the pan. If you think the crumbs are still too dry, try adding one more tablespoons of melted butter at a time. Sometimes if I pour the crumbs in the pan and it's doesn't hold up, I will pour the crust back in the bowl and add more butter and remix it.
If there is not enough butter in the crust, it will be drier and will crack when you cut into it.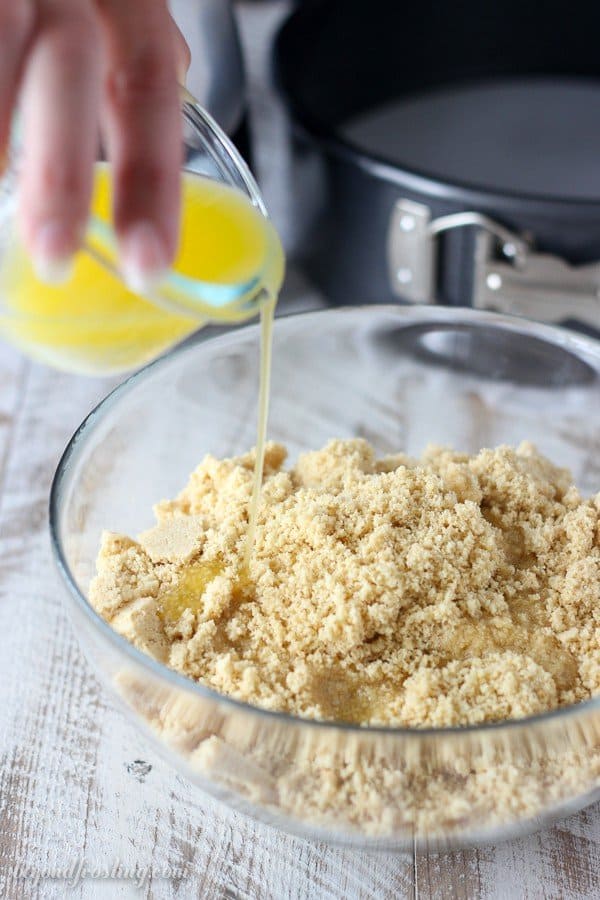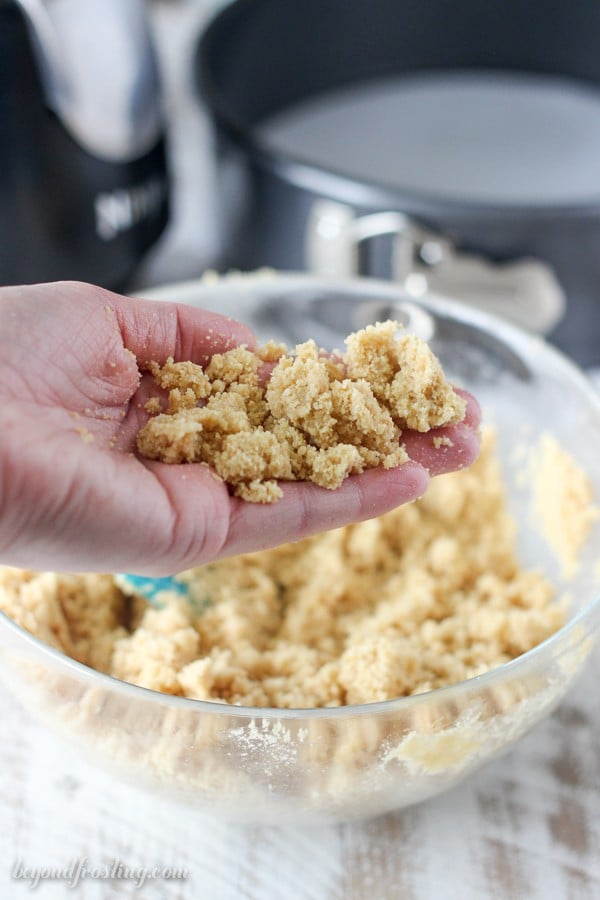 Now that you have your crust ready, it's time to prepare your pan. My most commonly used pan is a 9-inch springform pan. I always line the bottom of my pans with parchment paper. This allows me to transfer the pie onto another plate, but this usually will not work with a pudding pie because the filling is not as stable. Having the parchment paper on the bottom of the pan also when serving so that the crust won't stick to the bottom of the pan.
There are two ways you can do this. You can cut out (or use a pre-cut) parchment circle. If you are cutting it yourself, just use a pencil and trace the bottom of the pan before cutting out the circle.
The second way is the most common way I prepare my pan. I tear off a square of parchment paper and close the sides of the pan around the parchment paper, then I will cut off the excess around the outside.

I recently stated using acetate cake collars on the inside of my pan. If I am making a really tall cake, these help keep everything nice and even on the inside of the pan. It also helps to prevent the crust from sticking to the sides of the pan because you can just peel the acetate away, wash and reuse.
If you don't have acetate cake collars, don't worry! Just take a little cooking spray and coat the edges of the pan, wiping gently with a paper towel. This was a tip I learned from my friend Lindsay.
Once your parchment is prepared, pour your butter-coated crumbs in the pan. First spread them around with your spatula and then use a measuring cup to build up the walls for the crust. You may need to wipe the edges off the measuring cup every so often. Press the crust against the walls and work your way around the edges.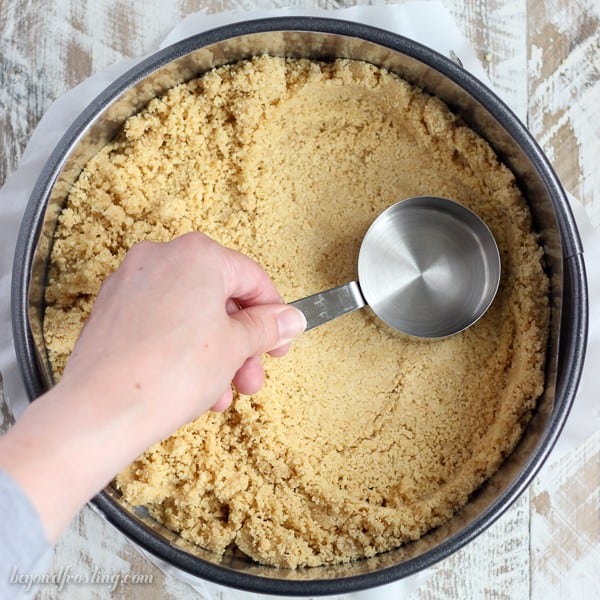 Now there is one final thing I do it make the perfect looking crust. I take my angled spatula and even out the top edges of the crust, pressing down gently. The angled spatula is nice because it had the not sharp angle, so I can press the crust on the bottom and around the edges in a very precise location. If you don't have an angled spatula, try using your finger.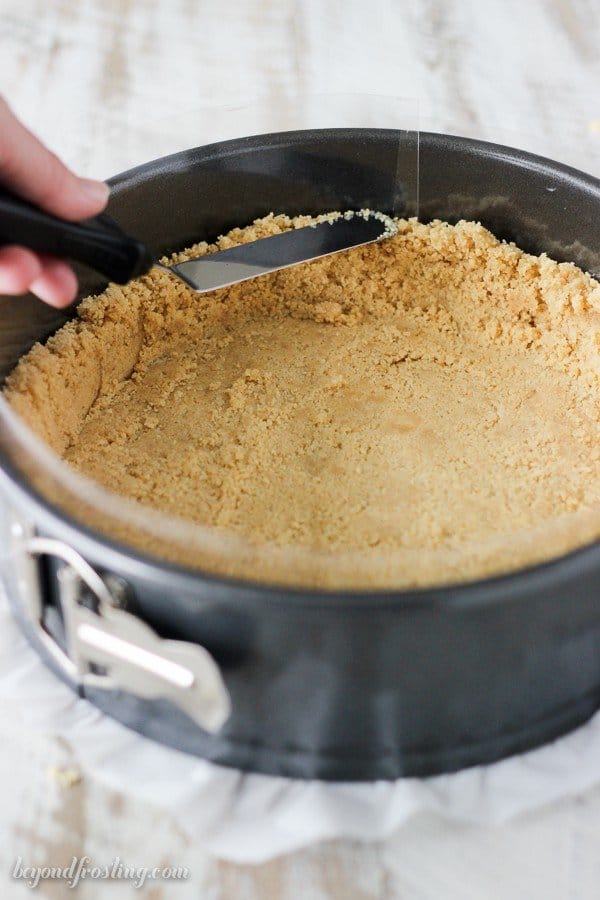 Generally I will refrigerate or freeze my crust before I add the filling. Often times my filled needs to be spread out and evenly through the pan. Freezing the crust prevents the crust from tearing when spreading the filling.
Some recipes call for baking the crust for 10 minutes in a pre-heated oven. This also helps bind the crust together. However, I rarely do this myself.
There you have it folks! That's about everything I can share with you guys! Here are some great tutorials for using springform pans. My friend Dorothy has a Perfect Shortbread Crust and if you're baking a cheesecake, be sure to see Lindsay's tutorial for preparing your springform pan for a water bath.
If you love no-bake recipes, be sure to check out my cookbook, No-Bake Treats!
Facebook | Twitter | Pinterest | Instagram | Bloglovin
Print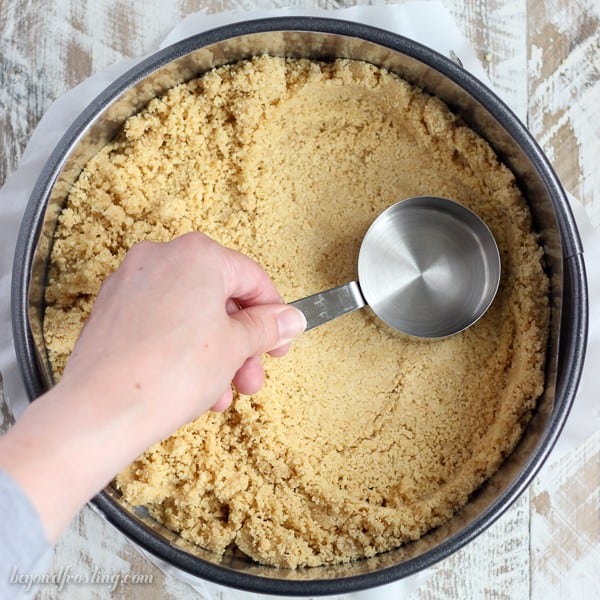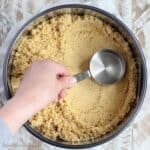 Step by Step Guide: How to Make a No-Bake Crust in a Springform Pan
Author:

Prep Time:

10 minutes

Total Time:

10 minutes

Yield:

9 inch crust
Description
One of the best parts of a pie or cheesecake is the crust. This step-by-step guide will teach you How to Make a No-Bake Crust in a Springform Pan to prepare the perfect no-bake crust.
Ingredients
For the Crust:
1

package Oreo cookies (

14 oz

)

8 tablespoon

s unsalted butter
Instructions
For the crust: Prepare a 9-inch springform pan by lightly greasing the edges of the pan with cooking spray, and then wiping gently with a paper towel. Line the bottom of the pan with parchment paper.
Grind the cookies into a fine crumb using a food processor or blender. Do not remove the filling.
In a small bowl, melt the butter in the microwave for 30 to 45 seconds. Pour the melted butter over the cookie crumbs and stir until the crumbs are well coated.
Pour the crumbs into your springform pan and press firmly into the bottom and up on the sides to create a thick crust. Refrigerate the crust while you are preparing the filling.
Notes
A full package of Oreos (14 oz) has 3 1/2 cups (315g) of crumbs and has 36 cookies
12 Oreos is about 1 1/4 cup (112g) of crumbs
For flavored Oreos (Golden, Lemon etc 15 oz+) use 7 tablespoons melted butter. There are less cookies in this package but there's more filling.
Other crust options include: Shortbread cookies, graham crackers, Nilla Wafers, Nutter Butters, Chocolate Chip Cookies, Gingersnaps or shortbread cookies.
For a graham cracker crust you need

2 ¼ cup

s graham crackers crumbs and 8 tablespoons unsalted butter
For a 9-inch pie plate, reduce the crust to 24-26 Oreos and 6-7 tablespoons of butter
For shortbread cookies, reduce to 6 tablespoons of butter since the cookies themselves have a lot of butter.