This post may contain affiliate sales links. Please see my full disclosure policy for details
These Grinch cookies are a fun and easy holiday cookie recipe filled with delightful peppermint flavor! They're soft-baked green sugar cookies inspired by the classic holiday story, rolled in sugar and topped with heart sprinkles.
This post is sponsored by American Dairy Association Mideast. All opinions are my own.
Can you believe how adorable these Grinch cookies turned out? These Grinch cookies are irresistibly soft-baked, with melt-in-your-mouth, cakey centers and crispy edges.
Dyed bright green like the iconic Dr. Seuss character, each buttery bite is filled with fresh peppermint flavor. I garnish my cookies with a small candy heart that's ready to grow three sizes. It's the perfect Christmas cookie recipe for the Whos in your life, the tall and the small!
This holiday season, I am partnering with my friends from American Dairy Association Mideast, which represents dairy farmers in Ohio and West Virginia communities. Ohio's dairy farmers do more than just produce milk — they create jobs, contribute to their communities, and help drive Ohio's economy.
When we serve cookies or treats in our home, I always pair them with a protein to help prevent a sugar crash, and what better to pair with a cookie than a glass of milk? One serving of milk delivers 13 essential nutrients.
Nostalgic. If you grew up with How the Grinch Stole Christmas on repeat every year, relive this childhood classic in the form of a sweet homemade sugar cookie!
Soft-baked. This recipe puts a Grinchy spin on my best-ever soft and chewy sugar cookies. These cookies are rich and buttery, perfectly sweet, and rolled in sugar for crunch.
Festive. A touch of green food dye and a dash of peppermint flavor give these cookies a fun holiday twist. They turn out bright green, garnished with adorable red hearts, and taste like Christmas!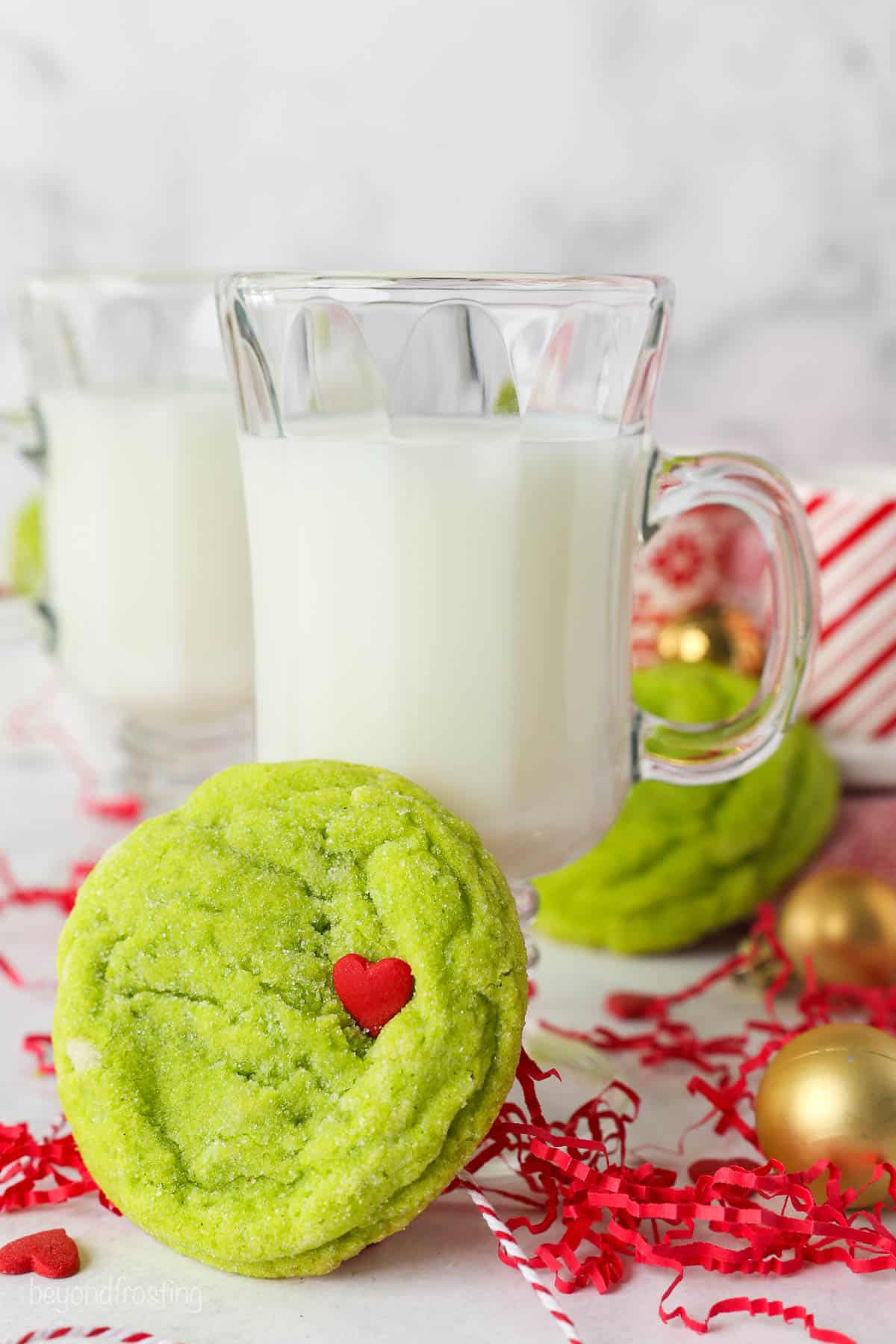 Ingredient Notes
Along with your basic baking ingredients, you'll need a handful of key ingredients to make these Grinch cookies. I've included some quick notes below. Don't forget to scroll to the recipe card for the full amounts and details.
Unsalted Butter – If using salted butter, you mayb consider cutting the salt in half
Flavoring Extracts – Peppermint extract for its Christmassy flavor, along with real vanilla extract. If you don't prefer peppermint, you can do all vanilla or try with almond extract.
Cream of Tartar – If you don't have cream of tartar, try a cream of tartar substitute.
Gel Color – To get the perfect Grinchy hue, use a bright green gel food dye (see below).
Heart Sprinkles – These heart-shaped sprinkles are just the right size, or you can use cinnamon hearts or red M&Ms.
What Food Coloring Is Best for Cookies?
I recommend gel food coloring over water-based food dyes for the brightest, most vibrant colors. The gel dye I use for these Grinch cookies is Electric Green from AmeriColor (also linked in the recipe card).
Regular green food coloring (like the kind you'll find in the grocery store) also works in a pinch. However, the colors won't be quite as vibrant, and too much liquid food coloring can water down the dough.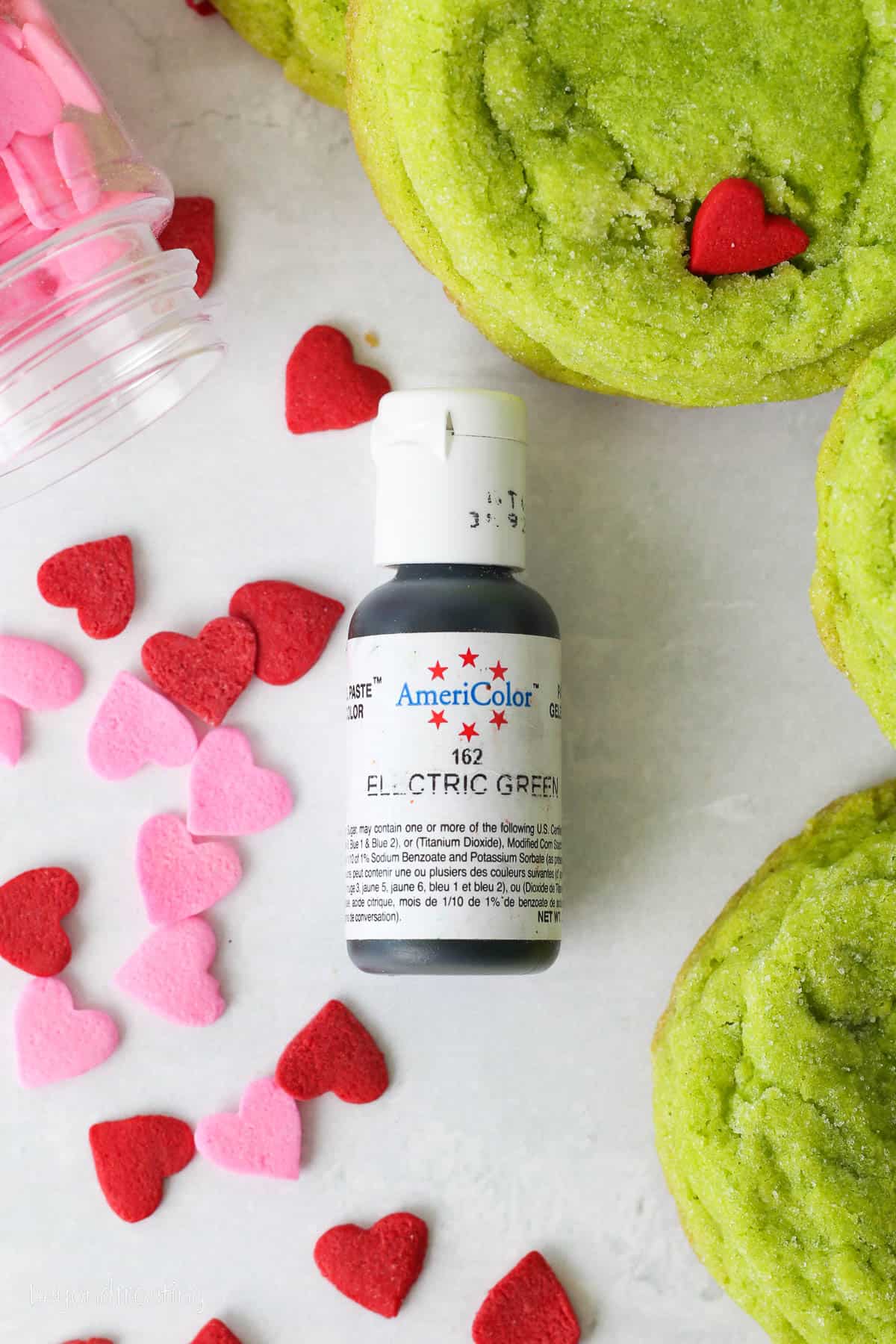 He may have been a mean one, but the Grinch had one thing right: Christmas doesn't come from a store. Nope, it comes from your oven, in the form of delicious Christmas cookies! Here's how to make these cute and sugary Grinch cookies from scratch:
Combine the wet ingredients. Start by creaming together butter and sugar, then add eggs, vanilla, and a couple of drops of green food coloring.
Add the dry ingredients. Combine the dry ingredients in a separate bowl, then gradually mix these into the wet ingredients to form the dough.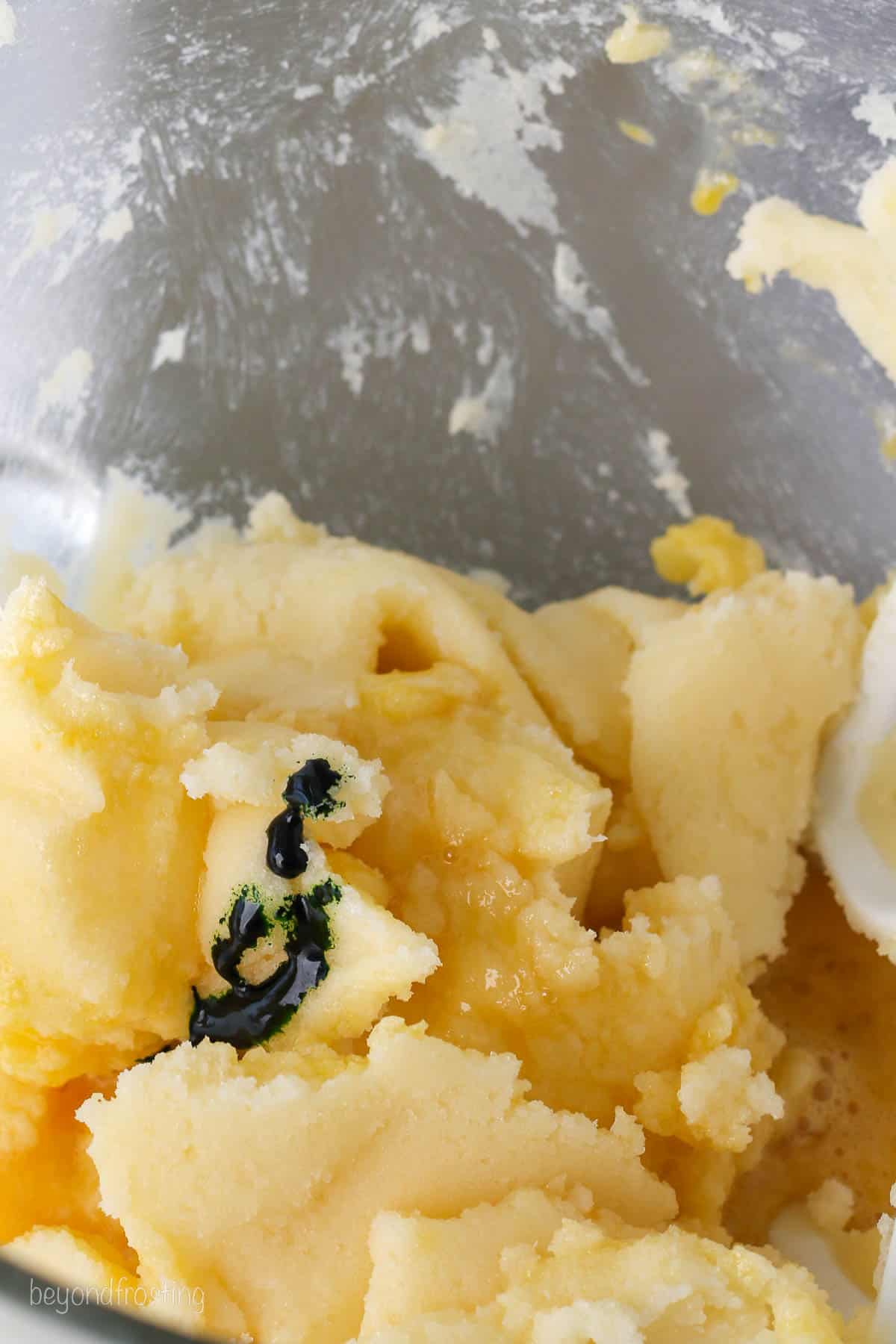 Portion the dough. Next, scoop the dough into balls, I prefer using a large cookie scoop. Then roll each ball in sugar before placing it onto a baking sheet.
Bake. Bake the Grinch cookies at 350ºF for 10-12 minutes. Right when the cookies come out of the oven, press a heart sprinkle into the top of each freshly baked cookie.
Cool. Let the cookies cool for a bit on the baking sheet, then transfer them to a wire rack to cool completely.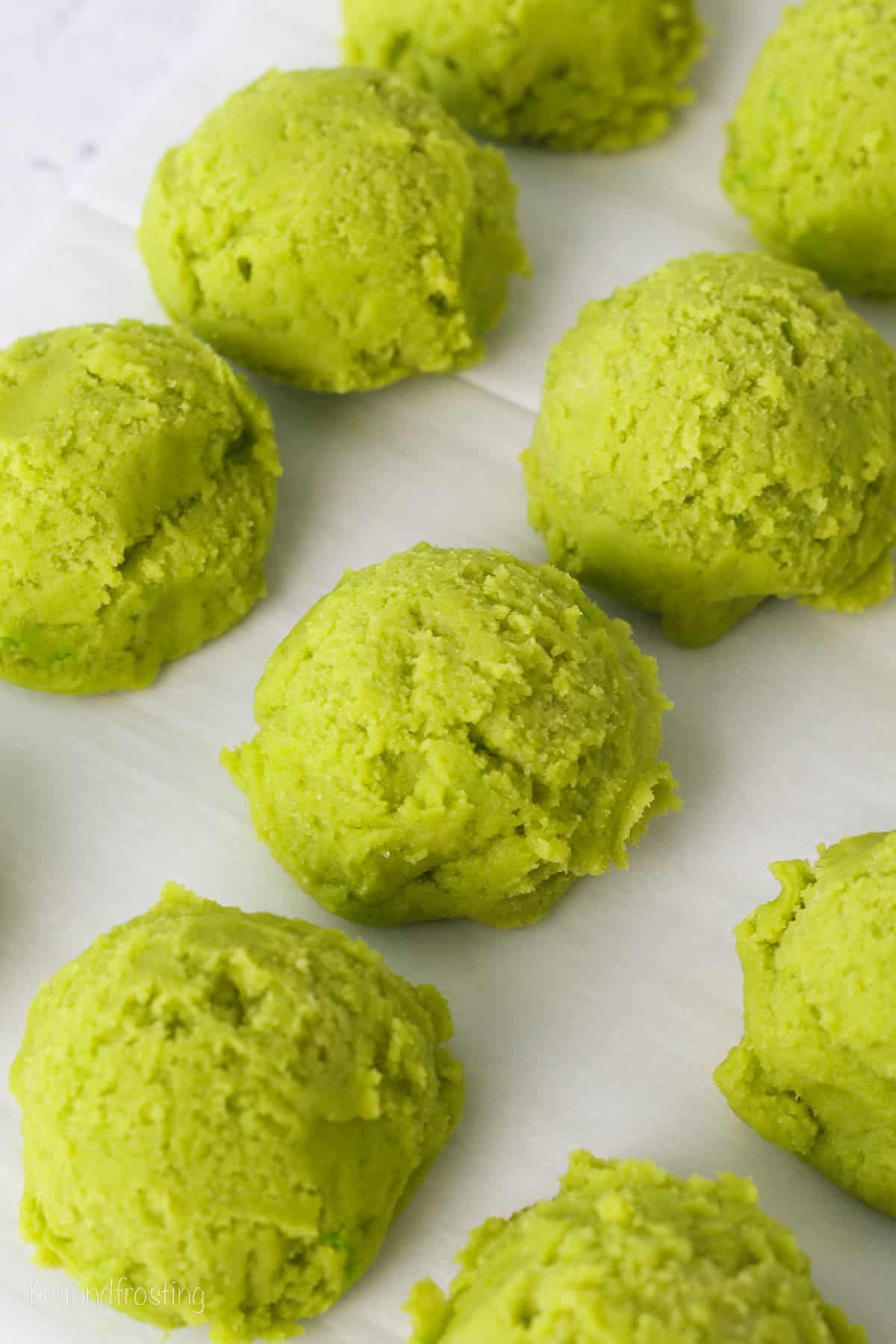 Adapt the color. Feel free to adjust the amount of green food coloring to achieve your desired color. Note that the cookies may bake slightly lighter depending on the food coloring you use.
Use a cookie scoop. Portioning sugar cookie dough with a large cookie scoop is the easiest way to make perfect, even-sized drop cookies.
Use room-temperature ingredients. Take your butter out of the fridge ahead of time to soften to room temperature.
A tip for the sprinkles. These do fall off if they are not properly stuck to the cookie. Consider using a drop of melted chocolate on the back of the sprinkles to help them attach to the cookie. In this case, wait until the cookie is cooled.
If you want to freeze the dough, then portion the dough first, roll in granulated sugar and flash freeze on a cookie sheet, then transfer to an airtight container. Thaw to room temperature before baking.
When to pull the cookies from the oven: If these are pulled too early, they will sink in the middle. In order to have a chewy center, make sure the top of the cookie doesn't appear glossy.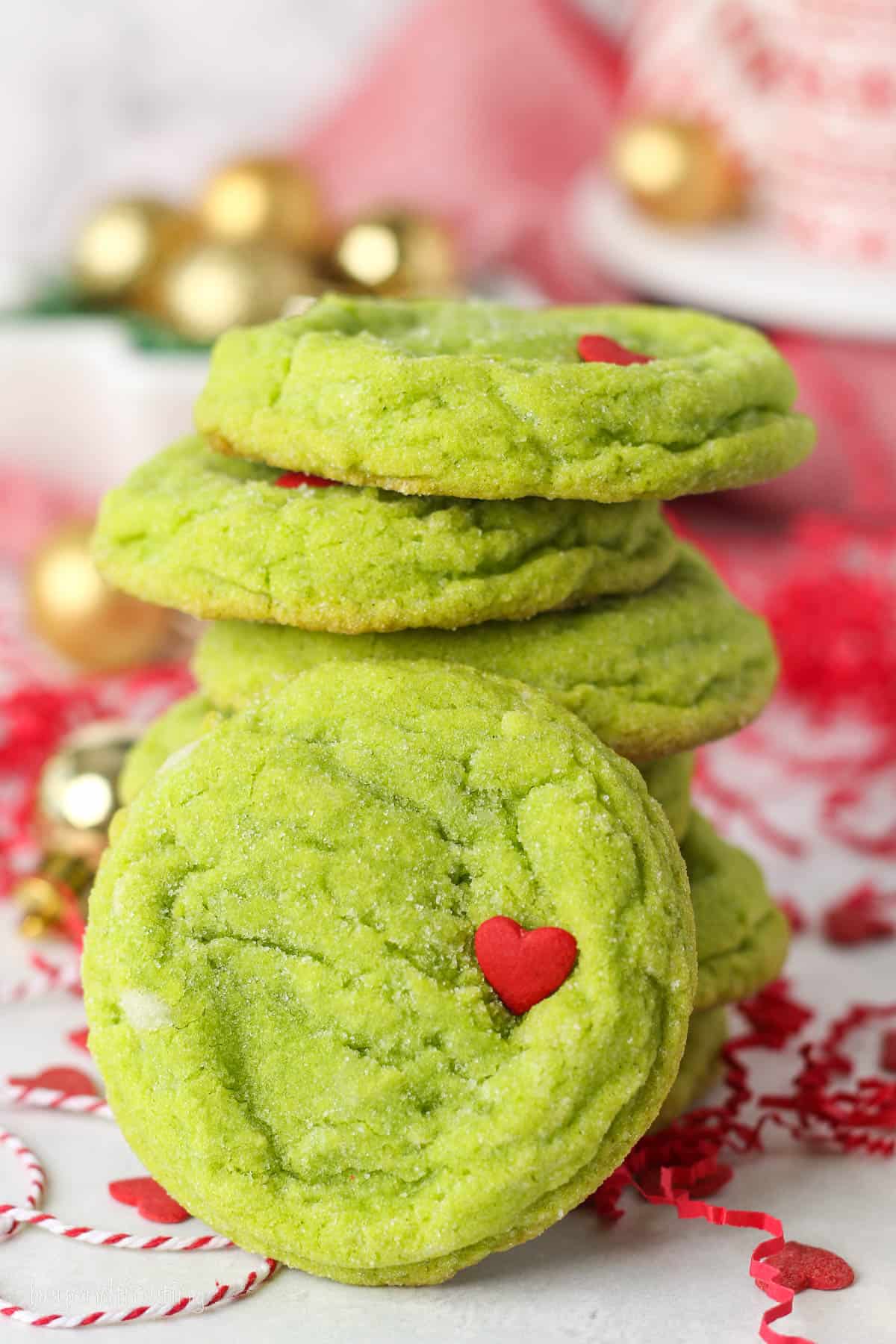 To Store. Store these Grinch cookies in an airtight container at room temperature for up to 1 week.
Freeze. Sugar cookies freeze well, so you can stash these cookies in a freezer-safe container or freezer bag and store them frozen for up to 3 months. Thaw the cookies on the counter before serving.
Dairy farms operate 365 days a year, even on Thanksgiving and Christmas. On these holidays and every day, dairy farmers are committed to providing the best for their cows, producing safe, healthy milk and protecting the environment for future generations. For more information about dairy nutrition, to find delicious new recipes and to meet Ohio and West Virginia dairy farmers, visit www.Drink-MIlk.com, and follow the American Dairy Association Mideast on Facebook, Twitter, Pinterest and Instagram.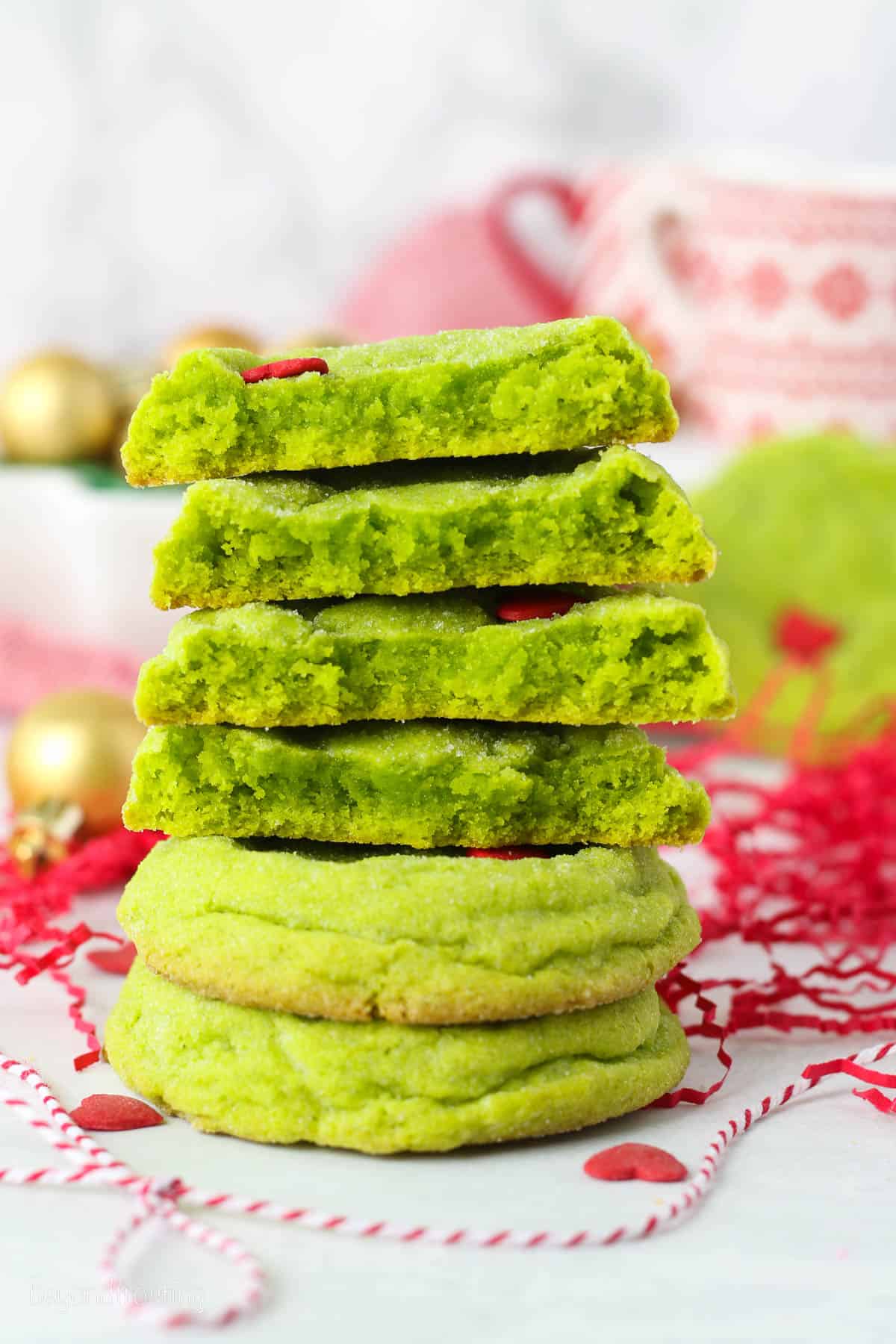 Print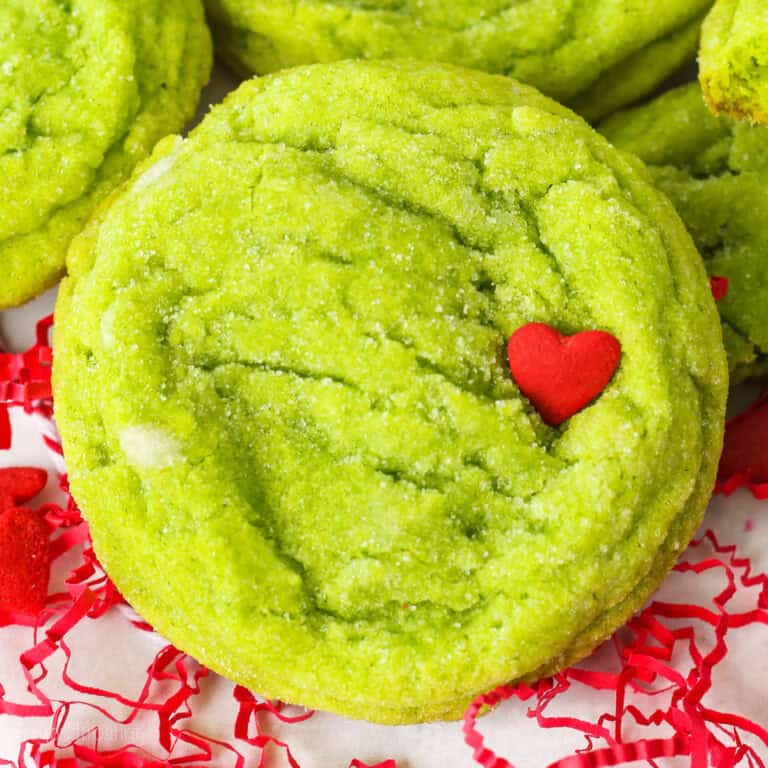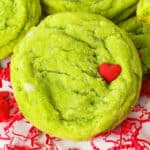 Author:

Prep Time:

30 minutes

Cook Time:

12 minutes

Total Time:

42 minutes

Yield:

20 cookies
Description
Grinch cookies are an adorable holiday cookie recipe inspired by the classic Dr. Seuss character. These are soft-baked green sugar cookies flavored with peppermint, garnished with a heart that's two sizes too small!
Ingredients
1 cup

(

226g

) unsalted butter, at room temperature

1½ cups

(

285g

) granulated sugar

2

large eggs

1 teaspoon

(5ml) pure vanilla extract

½ teaspoon

peppermint extract (optional)

3 1/2 cups

(

420g

) all-purpose flour

½ teaspoon

baking soda

½ teaspoon

cream of tartar

½ teaspoon

salt
Additional 1/2 cup granulated sugar for finishing
Instructions
Preheat the oven to 350° F. Line a large cookie sheet with parchment paper or a silicone baking mat.
Combine the butter with the sugar and beat on medium speed until well creamed together.
Add the eggs, vanilla extract, and green gel coloring. Mix until well combined.
In a separate bowl, combine the remaining dry ingredients. Slowly add into the dough and beat on medium-low speed until well combined and dough forms.
Use a large cookie scoop and portion the dough. Roll each ball of dough in granulated sugar and then place each one about 2 inches apart on a baking sheet.
Bake at 350° F for 12-15 minutes. Immediately when pulled from the oven, place a heart-shaped sprinkle on top.
Allow the cookies to cool on the baking sheet for several minutes and then transfer to a wire rack to cool completely.
Notes
Different extracts: In place of peppermint extract, use all vanilla extract or try almond extract.
For a little thicker/puffier cookie, add an extra 1/4 teaspoon of baking soda and the cookies.
A tip for the sprinkles. These do fall off if they are not properly stuck to the cookie. Consider using a drop of melted chocolate on the back of the sprinkles to help them attach to the cookie. In this case, wait until the cookie is cooled.
Category:

Cookies

Method:

Oven

Cuisine:

American
Keywords: grinch cookies, grinch cookies recipe