This Lemon Raspberry Poke Cake is an easy lemon cake soaked in sweetened condensed milk, with a fresh raspberry sauce and topped with whipped cream.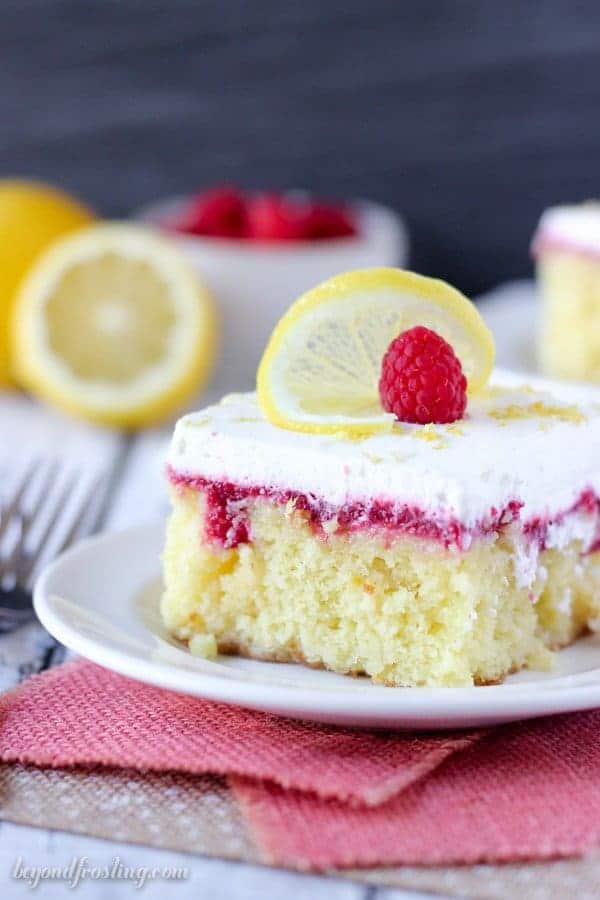 After a few weeks of travel, holidays and bad eating habits, I am officially back at the gym and it hurts. The kind where you don't want to walk up the stairs and forget putting up my hair. Does anyone really use his or her triceps anyway???
One of the reasons I am back at the gym is because this Lemon Raspberry Poke Cake happened. Of course you know that I looooooove poke cakes, and it's only been 35 days since I shared a poke cake, so it's about that time.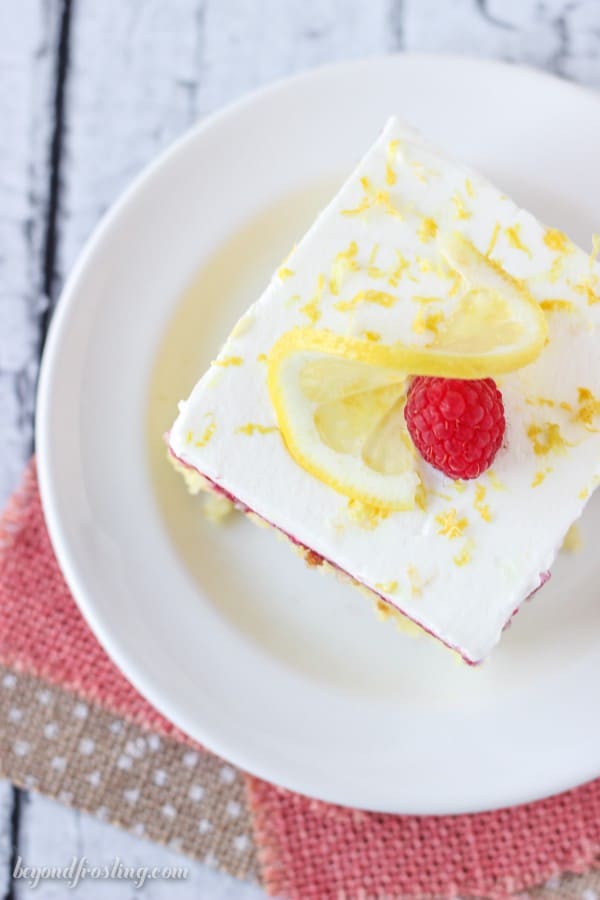 I made this cake right before my dad got into town and of course I had to put aside a couple slices for him before I brought the rest into work. My dad definitely approves! It just so happens one of my coworker went back for thirds on this cake, no joke. She is pregnant, but even if she wasn't I definitely wouldn't blame her. There's no stopping after just one bite. Before you know it, the whole slice is gone.
This is an easy lemon cake soaked in sweetened condensed milk, with a fresh raspberry sauce and topped with whipped cream and little more lemon zest. I mean, what's not to love here?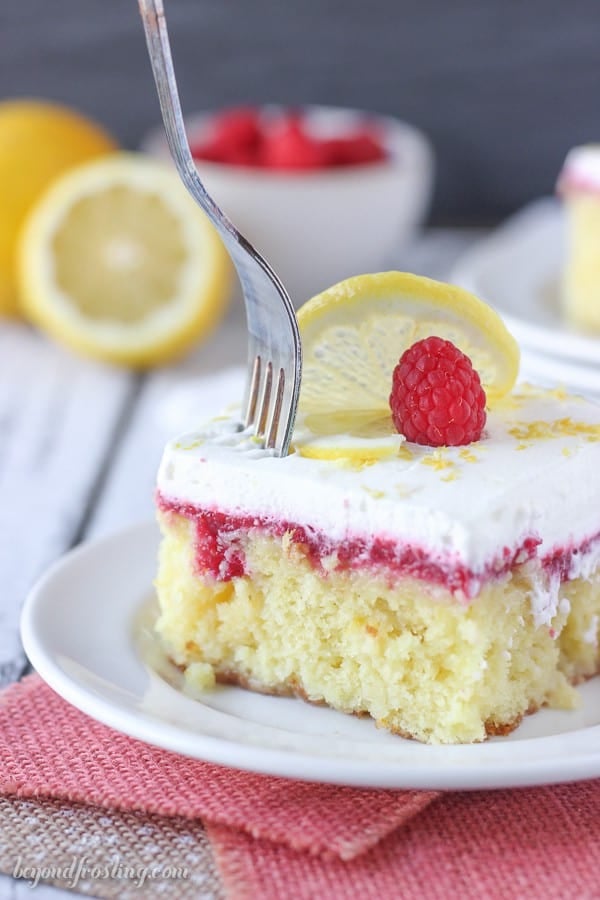 First, bake your cake. I use a combination of a vanilla cake mix and lemon pudding with some fresh lemon zest. You could just use a lemon cake mix, but I like the addition of the pudding mix myself. Definitely do not skip out on the lemon zest though, it elevated the punch of lemon flavor in the cake. Once it's baked and cooled, poke the holes and pour a can of sweetened condensed milk over top and let it soak in the goodness.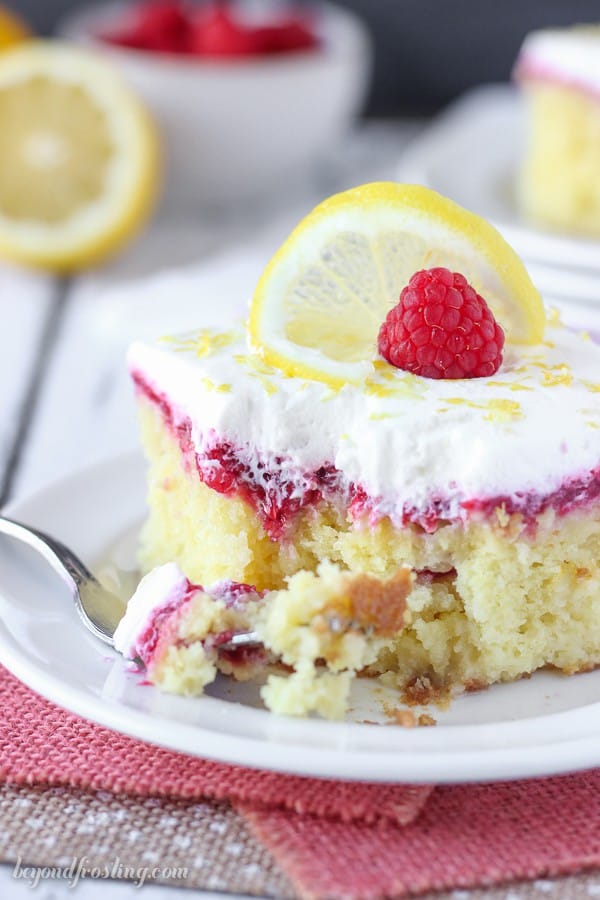 The homemade raspberry sauce is quite simple. I used fresh raspberries, a touch of water and sugar. This combination is heated on the stove top, then you add a touch of flour and continue cooking until it's bubbling and thick. I like to let the sauce cool a little bit before I put it on top of the cake, usually I just wait until it's stops steaming and then I put the whole cake in the fridge.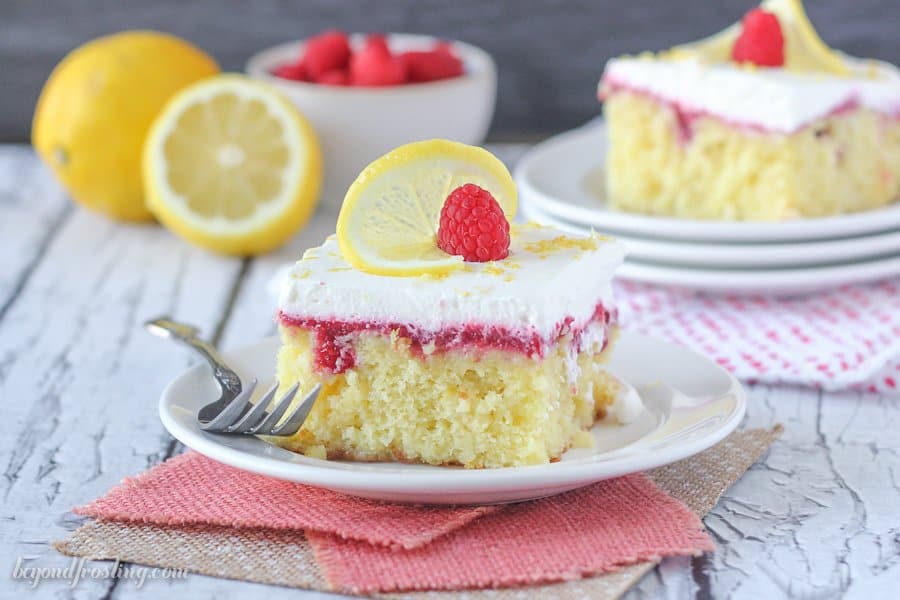 When it comes to adding the topping, you can definitely add the whipped cream ahead of time, but some of the red color from the raspberries might migrate through the whipped cream, leaving it a little red in some spots. So if you are looking for that crystal white whipped cream, you might want to hold off adding it until you are ready to serve. Then add a little bit of lemon zest to the top and call it a day. This cake is about to rule your summer.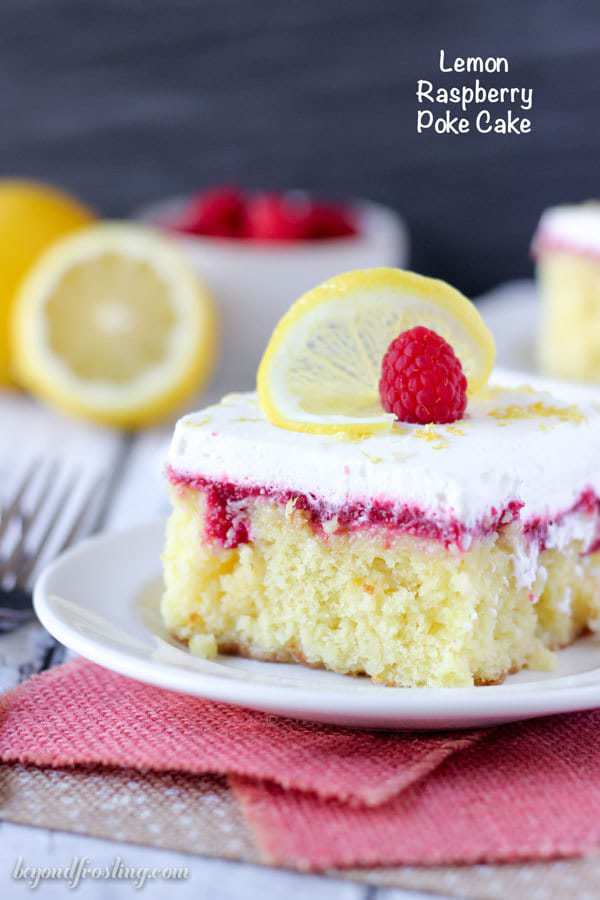 Keep up with all the happenings. Follow Beyond Frosting:
Facebook | Twitter | Pinterest | Instagram | Bloglovin | Google+
If you love no-bake recipes, be sure to check out my cookbook, No-Bake Treats!
Don't miss a thing, subscribe to get recipes delivered to your inbox!
Print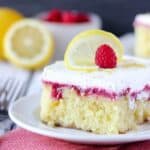 Lemon Raspberry Poke Cake
---
Author:

Prep Time:

10 mins

Cook Time:

25 mins

Total Time:

35 minutes

Yield:

12-15 slices
Description
This Lemon Raspberry Poke Cake is an easy lemon cake soaked in sweetened condensed milk, with a fresh raspberry sauce and topped with whipped cream.
---
Ingredients
1 box vanilla cake mix
1 box (3.4 oz) instant lemon pudding mix
1 cup buttermilk (or milk)
½ cup vegetable oil
3 large eggs
1 large egg white
Zest of 1 lemon
1 can (14oz) sweetened condensed milk
For the raspberry sauce
3- 6 ounces containers fresh raspberries
¼ cup granulated sugar
2 tablespoons flour or corn starch
For the topping
1 ½ cups heavy whipping cream
¾ cup powdered sugar
Zest of 1 lemon
---
Instructions
Preheat the oven to 350° F.
In a medium-sized bowl, combine cake mix, dry pudding mix, buttermilk, vegetable oil, eggs & egg white and lemon zest. Beat on medium – high speed until all ingredients are well blended. Use a spatula to mix the batter from the bottom of the bowl to the top.
Pour the batter into a 9-inch by 13-inch pan and bake at 350°F for 20-25 minutes until cake is set. Test cake by inserting a toothpick into the center. If the toothpick comes out clean, the cake is done. Allow to cool for 20 minutes.
While the cake is still warm, take the end of a wooden spoon or another round object and poke holes all over the top of your cake. Pour the jar of sweetened condensed milk over top of the holes as equally as you can. Allow the cake to cool completely, refrigerating if necessary.
Combine raspberries and sugar in a medium-sized pot. Gently crush the raspberries and heat over medium heat while stirring until it starts to bubble slightly. Quickly add the flour and whisk vigorously to dissolve the flour into the raspberries.
Once the sauce is bubbling and thick, remove from the stove and allow the raspberry sauce to cool until it is no longer steam. Pour the raspberry sauce over top of the cake, spreading evenly. Refrigerate the cake until it is completely cooled.
For the topping: Put your mixing bowl and wire whisk in the freezer for 10 to 15 minutes until it is completely cold. Beat the heavy cream on medium-high speed for several minutes until it starts to thicken. Add the powdered sugar and continue beating until stiff peaks form. Spread over the cake only once the cake is completely cooled.
Zest a lemon over top of the whipped cream
 Visit Beyond Frosting's profile on Pinterest.
You might also like:
Blueberry Cheesecake Poke Cake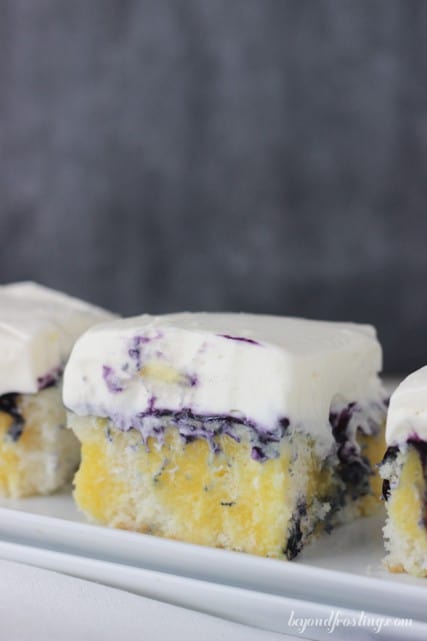 Strawberry Cheesecake Poke Cake