This post may contain affiliate sales links. Please see my full disclosure policy for details
This strawberry cheesecake poke cake recipe transforms my favorite moist vanilla cake into an irresistible summer treat! It's soaked in sweetened condensed milk, then topped with fresh strawberry sauce and tangy cream cheese whipped cream. It's a bite of heaven on a fork!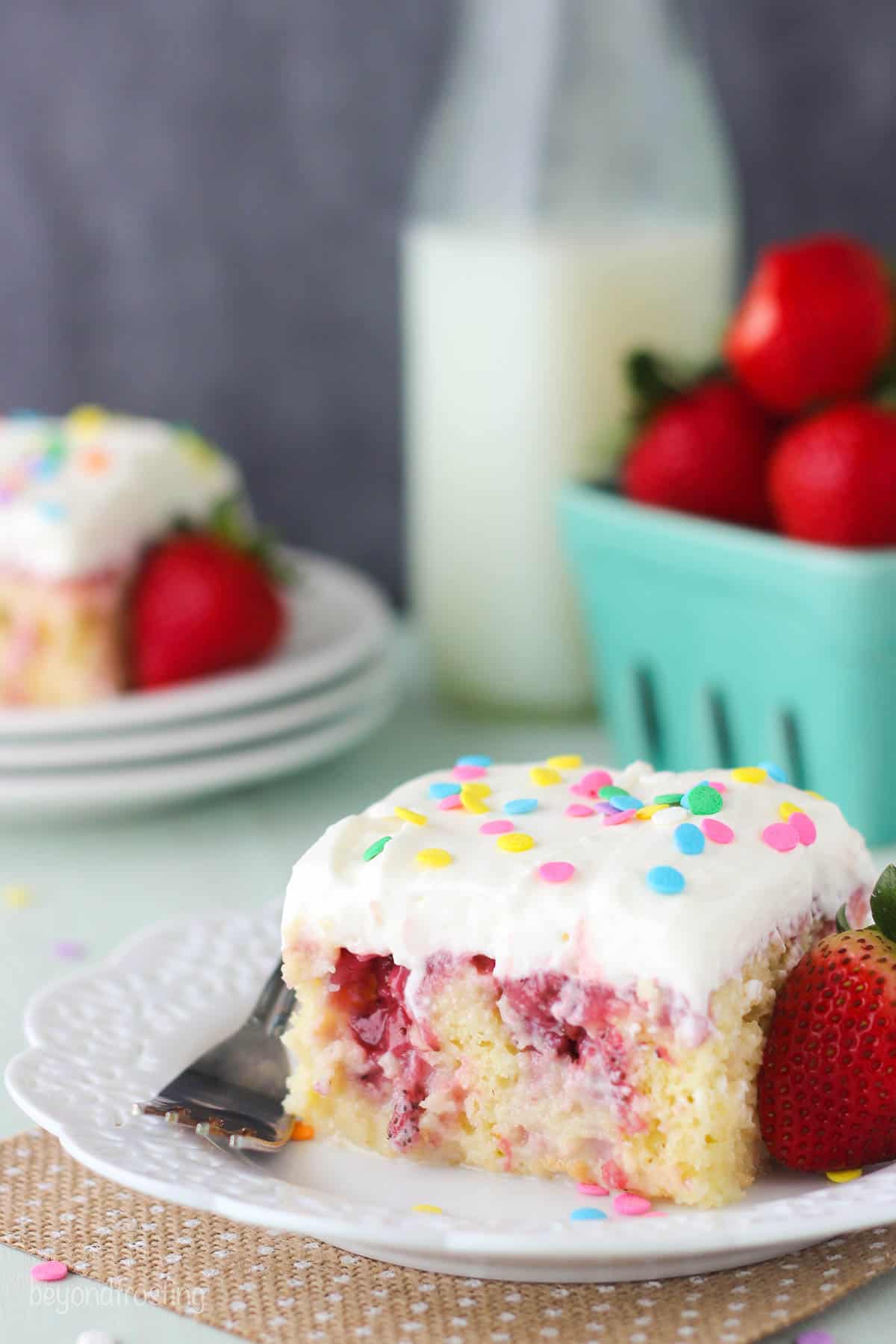 Easy Strawberry Cheesecake Poke Cake
I'm always creating and sharing new poke cake recipes (or rounding up my favorite poke cakes all in one place). I can't get enough. This strawberry cheesecake poke cake, well, takes the cake. If the positive reviews and comments are any indication, you guys agree!
This strawberry cheesecake poke cake starts with a rich and moist vanilla cake that's then filled with sweetened condensed milk and fresh strawberry sauce. Afterward, I finish everything off with a generous layer of fluffy cream cheese frosting for the perfect hint of cheesecake tang. This poke cake is a bit like the sophisticated cousin of my totally retro strawberry jello poke cake, and it's just as mouthwatering.
Why You'll Love This Strawberry Poke Cake Recipe
Convenient. Make this cake with a boxed vanilla cake or whip up my easy vanilla cake recipe. Either way, this strawberry poke cake is delicious! Poke cakes are also famously make-ahead friendly, and this one is no exception.
Fresh strawberry flavor. For the topping, I make an easy homemade strawberry sauce with fresh strawberries, lemon juice, and sugar. If you'd prefer you can use a premade fruity topping. But the flavor of homemade is second to none.
The most incredible frosting. Skip the traditional whipped cream. This whipped cream cheese frosting is insanely rich and creamy and pairs perfectly with strawberries. It's similar to whipped cream, only a little sweeter, tangier, and more stabilized (just like a cheesecake!).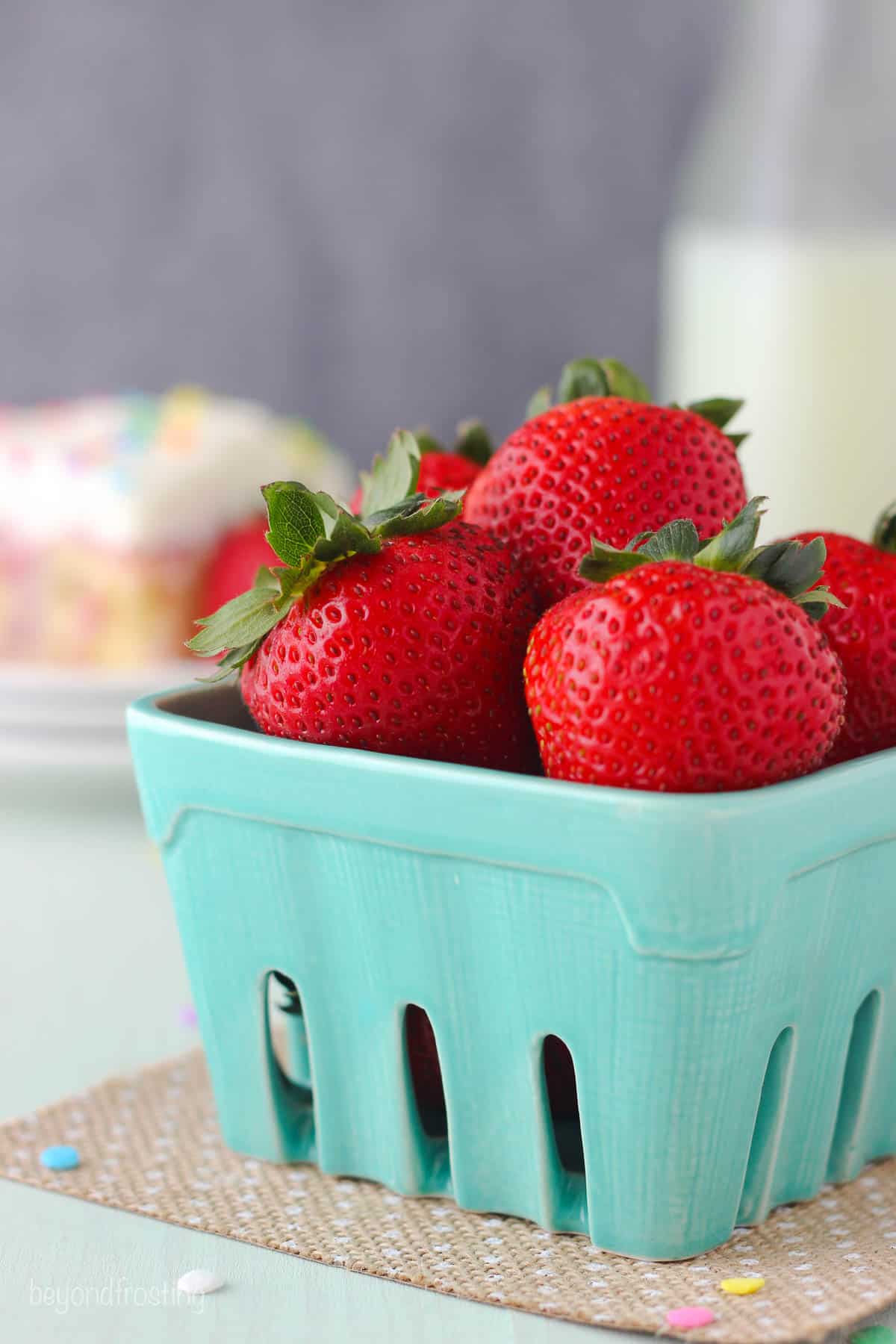 Key Ingredients
The ingredients for this strawberry poke cake couldn't be easier! Below, I go over some of the main ingredients you'll need. Don't forget to scroll to the recipe card for the full ingredients list and recipe details.
Vanilla Cake Mix – Using a boxed cake mix makes this recipe super convenient. It's perfect if you're in a hurry! You can use any brand of boxed vanilla cake mix you prefer, and don't forget to buy any additional ingredients listed on the box. Alternatively, you can use my recipe for homemade vanilla cake, which I link to in the recipe card notes.
Sweetened Condensed Milk – Make sure that you're using the sweetened kind and not regular condensed milk.
Strawberries – I fill my cake with a simple homemade strawberry sauce (which I include in the full recipe). You can make the sauce with fresh or frozen strawberries.
Lemon Juice – Lemon juice brightens up the strawberry sauce and helps to break down the berries along with the sugar.
Cream Cheese – For the cream cheese frosting. I recommend using full-fat cream cheese that comes in blocks (vs. the spreadable kind that comes in tubs).
Whipping Cream – Like your cream cheese, full-fat heavy cream is best and yields an ultra-creamy, smooth frosting.
How to Make This Strawberry Cheesecake Poke Cake
This poke cake is made up of three simple components that come together super easily! Here's how you'll make this fruity dessert filled with the flavors of strawberries and cream.
Bake the cake: Prepare your vanilla cake batter according to the instructions on the box. Afterward, add the batter to a 9×13″ baking dish. Bake at 350ºF for 20-22 minutes, and then allow the cake to cool for 10 minutes.
Poke the holes: Once the cake has cooled slightly, use the handle of a wooden spoon (or something similar in size) to poke holes over the top of the cake.
Add the filling: Next, pour sweetened condensed milk onto the cake and spread it over the holes. Place the poke cake into the fridge to chill.
Prepare the strawberry sauce: In a large enough saucepan, toss your rinsed and chopped strawberries with sugar and flour. Next, stir in water and lemon juice, and bring the berries to a boil. Gently mash the mixture, and keep it simmering until it thickens. Let the sauce cool off a bit before pouring it over the cake.
Prepare the whipped cream. Chill your bowl in the freezer beforehand. Add the cream cheese to your cold bowl and beat until smooth. Gradually stream in the heavy cream until you reach a liquid consistency, and then beat the mixture to soft peaks. Finally, beat in the powdered sugar until stiff peaks form.
Add the topping: Spread the cream cheese whipped cream over the cake right away, and refrigerate the cake until serving.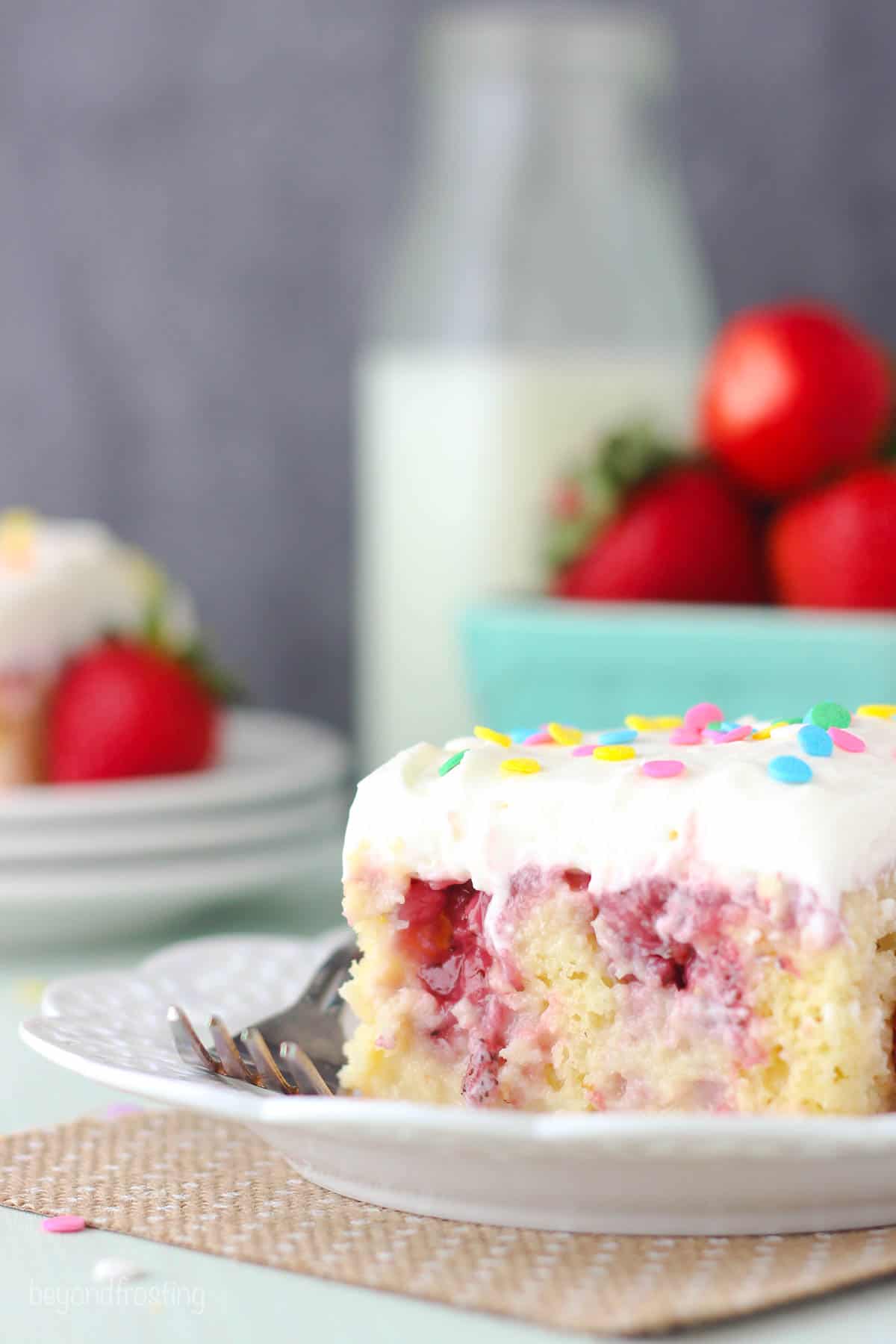 What's the Best Way to Poke Holes in a Cake?
I find the easiest tool to use to poke a cake is the handle end of a wooden spoon. It makes holes that are just the right size to absorb all of that delicious moisture from the sweetened condensed milk.
Simply hold the spoon and poke holes all over the cake, just deep enough to infuse the inside of the cake with moisture and flavor. Don't forget to do this while the cake is still warm!
If you don't have a wooden spoon, another option is to use a fork to make lots of smaller holes in the top of the cake.
Tips for the Best Strawberry Poke Cake
Poke cakes are wonderfully simple recipes that pack in tons of flavor. Here are my tips for the best strawberry cheesecake poke cake:
To prevent a lumpy frosting, First beat the cream cheese until it's smooth and free of lumps. Slowly adding the cream, allowing the cream cheese to reach a liquid consistency will prevent a lumpy frosting.
Let the cake cool completely before adding the topping. If it's still at all warm, the topping will melt. I let it cool for 15 minutes, fill it with milk and strawberry sauce, then pop it in the fridge to speed up the cooling process.
Fresh vs frozen strawberries: While I usually use fresh strawberries, you can certainly use frozen as well. I recommend buying them already chopped so they cook more quickly in the sauce.
Try another fruit sauce. This strawberry sauce recipe works great with other fruit as well. Try blueberries, raspberries, or even peaches! And if you're short on time or if you'd prefer, go ahead and use a store-bought fruit sauce instead.
Prepare the cake in advance. Poke cakes are one of the best desserts to prepare ahead of time because they just get better as they sit. See below for easy make-ahead tips and storage instructions!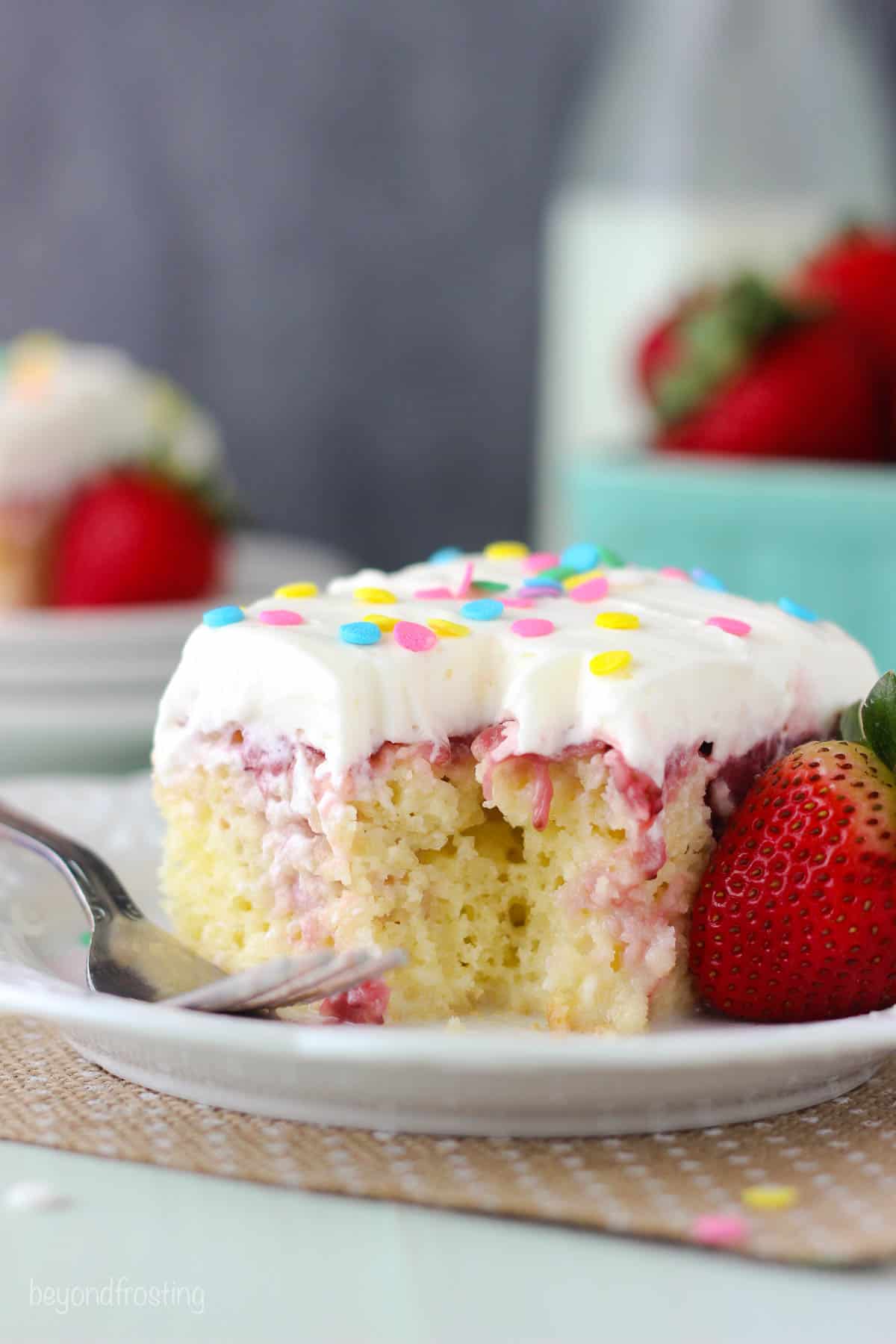 How to Make Ahead and Store Extras
Prepare ahead: You can bake, poke, fill, and top the cake and store it in the fridge for up to 2 days before serving. Another option is to bake the cake a day or two ahead of time, and then store it airtight at room temperature. Add the filling and topping and then refrigerate the finished cake for at least 2 hours before serving.
Storing: Your strawberry cheesecake poke cake will last in an airtight container in the fridge for up to 3 days.
Freezing: Avoid freezing the final, finished poke cake. Instead, bake the cake, allow it to cool, and then wrap it tightly to store in the freezer. The frozen cake can be thawed at room temperature, filled, and then topped with whipped cream.
More Strawberry Desserts to Try
Print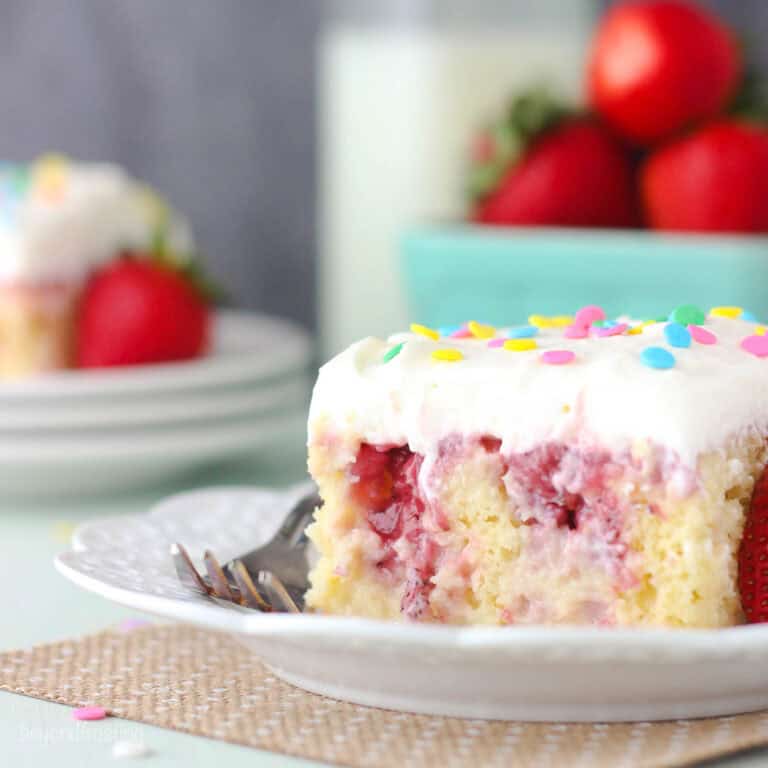 Strawberry Cheesecake Poke Cake
Author:

Prep Time:

45 minutes

Cook Time:

20 minutes

Total Time:

1 hour 5 minutes

Yield:

15 slices
Description
This Strawberry Cheesecake Poke Cake is a rich and moist vanilla cake drenched with creamy filling, topped with fresh homemade strawberry sauce and whipped cream cheese frosting.
Ingredients
For the Cake
1

box White or vanilla cake mix (

15 oz

)
Ingredients listed on the box (water, oil, eggs, etc)

1

can (14oz) sweetened condensed milk
For the Strawberry Sauce
1

lb Strawberries (

16 oz

), rinsed

¼ cup

(

48g

) sugar

1 tablespoon

(

8g

) all-purpose flour

¼ cup

(59ml) water

1 tablespoon

(15ml) lemon juice
For the whipped cream topping
1

pkg (8oz) full-fat cream cheese

2 cups

(473ml) heavy whipping cream

2 cups

(

260g

) Powdered sugar

1 teaspoon

(5ml) vanilla extract
Instructions
For the cake:
Preheat the oven to 350°F. Combine the cake mix according to the ingredients on the box. Beat on medium speed until well combined.
Bake cake in a 9×13" pan for 20-22 minutes. Check for doneness by inserting a toothpick into the middle of the cake. If the toothpick comes out clean, you cake is done. Allow to cool for 10 minutes.
Once the cake has cooled, take the end of a wooden spoon or another round object and poke holes all over the top of your cake. Pour the can of sweetened condensed milk all over top of the cake and spread gently. Chill until the strawberry sauce is ready.
For the Strawberry Sauce:
Rinse the strawberries and chop into quarters and again in half.
In a medium-sized sauce pan, combine strawberries with the flour and sugar, toss to combine. Add the water and lemon juice; stir well.
Cook over medium-high heat until mixture starts to boil and strawberries are softened, gently smash strawberries to create a sauce. Once boiling, continue cooking for about 10 minutes to thicken. Allow to cool for 15 minutes. Pour strawberries sauce over top of the cake and refrigerate until cake and toppings are completely cooled.
For the Topping:
Place the mixing bowl and whisk attachment in the freezer for 5 to 10 minutes to chill.
Spoon the cold cream cream into the bowl and beat on a medium-low speed (speed 3 on your stand mixer). Slowly pour in the heavy cream, about 1/4-1/2 cup, allowing the cream cheese to turn to a liquid consistency. Then adding the remaining heavy cream. Increase the mixing speed to high (speed 8-10) and beat it until soft peaks form.
Next, add the powdered sugar and vanilla extract, beating on low until sugar is incorporated. Then continue beating at a high speed until stiff peaks form. Use immediately and keep refrigerated.
Notes
If you'd like to make a homemade cake, try my Vanilla Cake Recipe
Storage instructions: A fully assembled poke cake will last in an airtight container in the fridge for 3 days.
How to prepare in advance: The baked, unfilled cake can be made up to 2 days in advance and kept in an airtight container. Add the filling and topping and chill for 2 hours.
Category:

Cake

Method:

Baked

Cuisine:

American
Keywords: strawberry poke cake, strawberry poke cake recipe