This post may contain affiliate sales links. Please see my full disclosure policy for details
Learn How to Make Whipped Cream with only 2 ingredients! This recipe makes perfect homemade whipped cream that's irresistibly light, fluffy, and stable. Use it as a classic topping or as a frosting for your favorite desserts.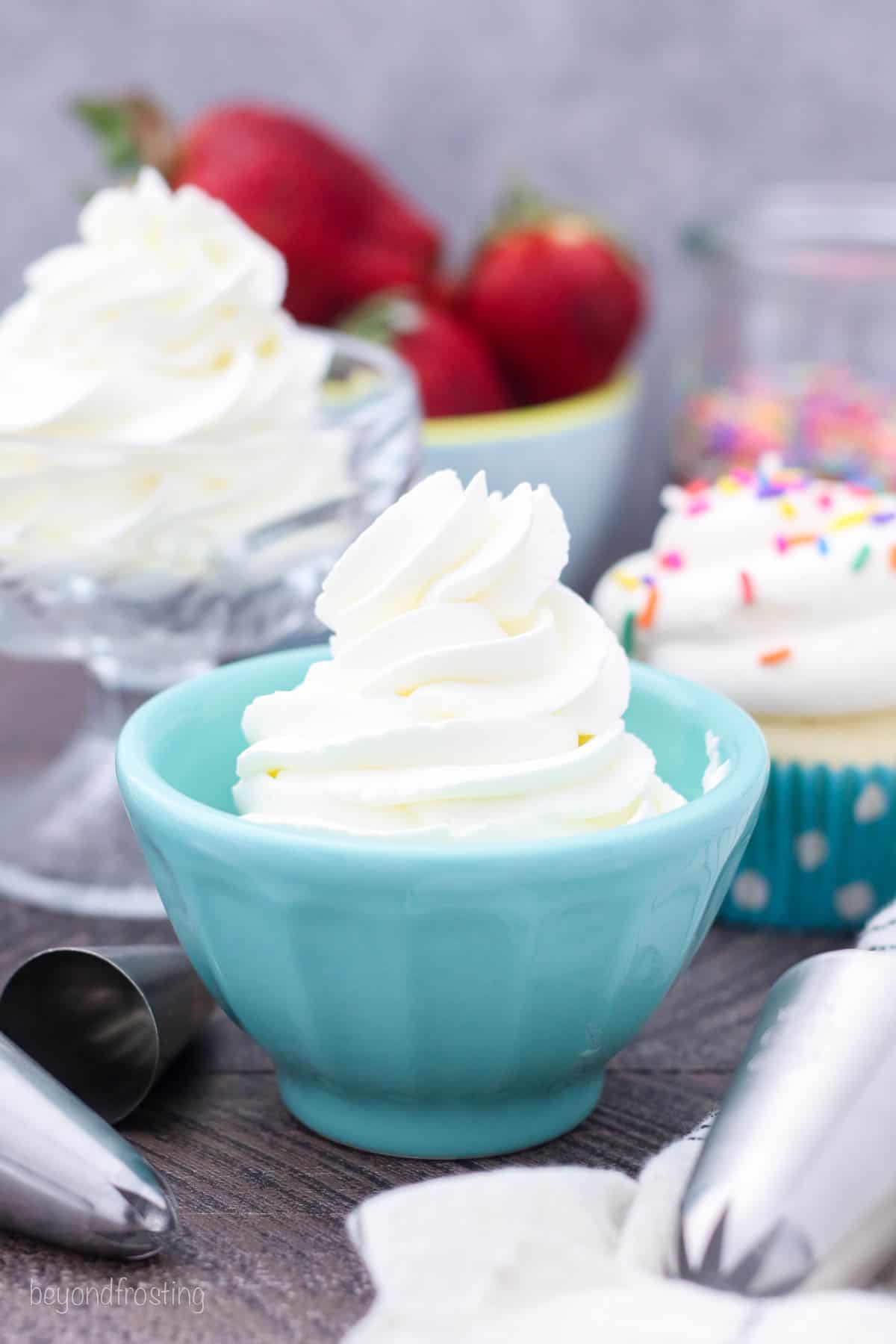 Easy 2-Ingredient Homemade Whipped Cream
Today we're making thick, stabilized whipped cream that's perfect for decorating! I love using this recipe on everything from cakes to cupcakes, pies, and no-bake desserts.
While regular whipped cream is great as a topping, it tends to wilt and lose its airiness over time. Stabilizing helps it hold its shape for longer, and makes it perfect for frosting and piping. This whipped frosting recipe is light, fluffy, and stable without gelatin, and it even works as a replacement for Cool Whip in just about any dessert such as a mousse cake.
You only need 2 ingredients to make a perfect whipped cream frosting. After that, the sky's the limit in terms of variations and flavors. You'll be a whiz in no time!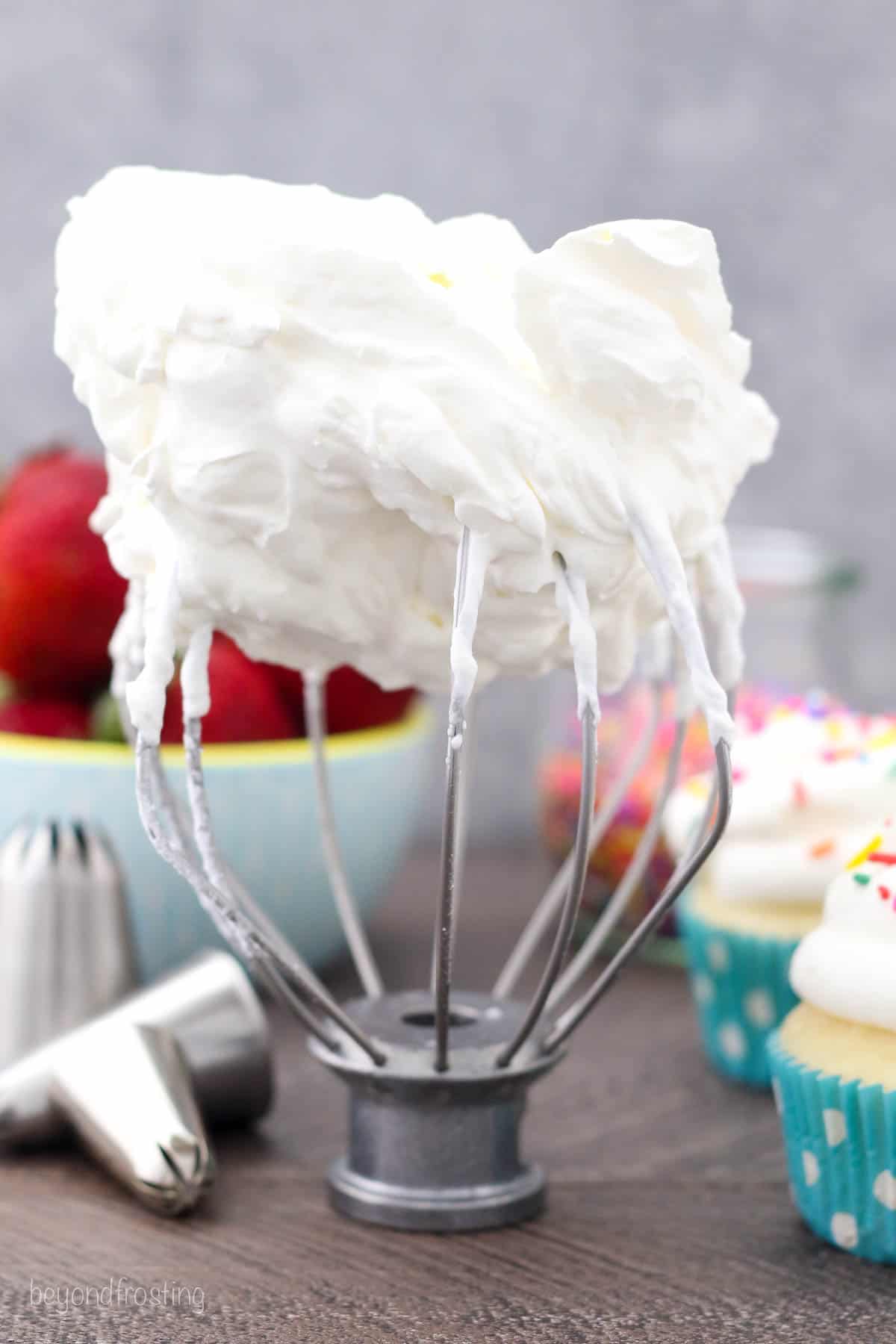 Ingredients Needed
A whole two ingredients are key to a perfect homemade whipped cream. Here's what you'll need, and don't forget to refer to the recipe card for the full details:
Heavy Cream – I prefer to use higher-fat heavy whipping cream in my whipped cream recipes, as it produces a thicker, more stable frosting. While you can still use it, regular whipping cream has a slightly lower fat content.
Powdered Sugar – Also called confectioner's sugar. This helps to thicken and stabilize the frosting so that it holds its shape, especially when piped. No need to sift the powdered sugar.
Optional Flavoring – If you'd like to enhance or add flavor to the final result, add pure vanilla extract, or another flavoring of your choice. See further down for variation ideas.
How to Make Whipped Cream From Scratch
Let's officially banish any fears of wilted, weepy whipped cream. Making your own fluffy whipped topping is an easy 3-step process:
Chill the bowl. Cold ingredients and cold tools are essential to successful whipped cream. Pop your mixing bowl along with your stand mixer's whisk attachment into the freezer before you begin.
Beat the heavy cream. After about 5-10 minutes, take the chilled bowl out of the freezer and fix your whisk attachment to your mixer. Add heavy cream to the bowl, then beat the cream until it begins to thicken into soft peaks, about 2-3 minutes.
Add the sugar. Next, add your powdered sugar to the bowl, along with vanilla (if you're using it). Combine then increase the mixing speed to high and continue to whip the frosting until it forms stiff peaks.
What's the Difference Between Soft and Stiff Peaks?
The key to being successful with whipped cream is to properly mix it. Underbeating will result in a wilted whipped cream whereas over beating will result in a curdled or grainy texture.
Soft Peaks: Soft peaks occur when the whipped cream first thickens. You can run a spoon through it, but it may collapse in on itself and not hold a shape.
Stiff Peak: After adding the powdered sugar, the whipped cream should be beaten to a stiff peak. This means the frosting will hold a shape, meaning if you run a spoon or knife through it, the edges will not fall in on itself.
Overbeaten: If mixed too long, the whipped cream will become grainy looking and actually lose volume in the mixing bowl.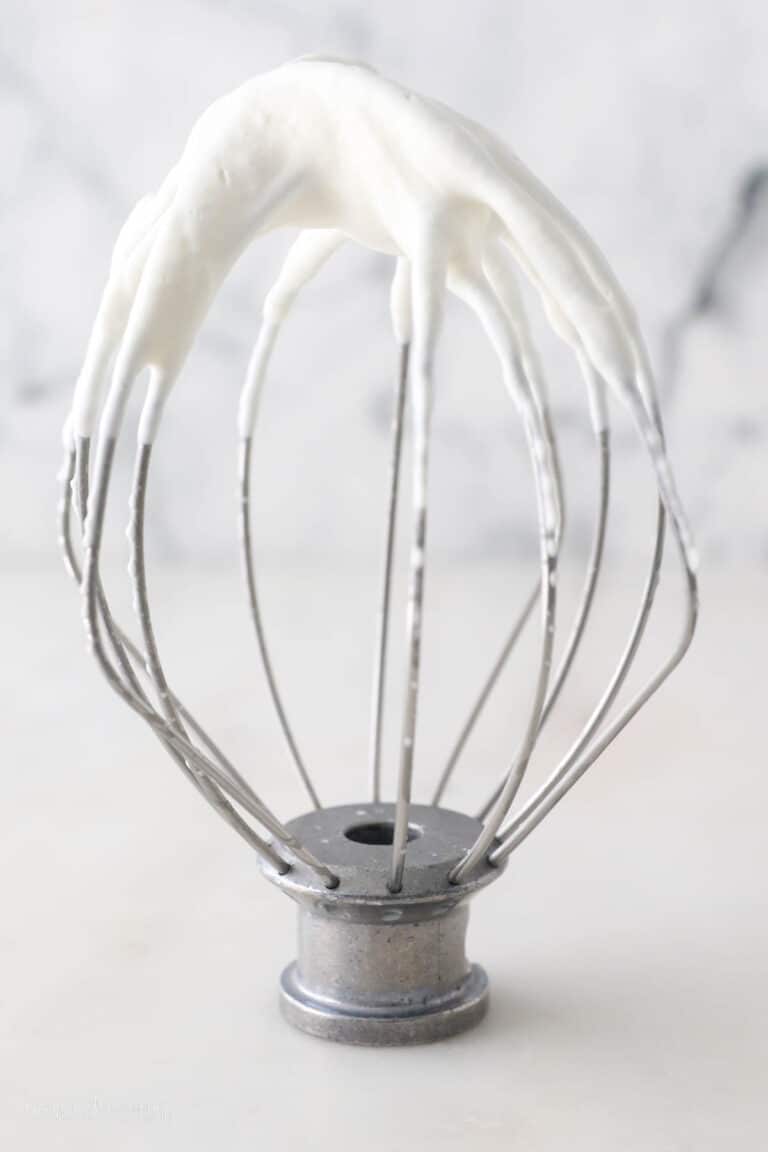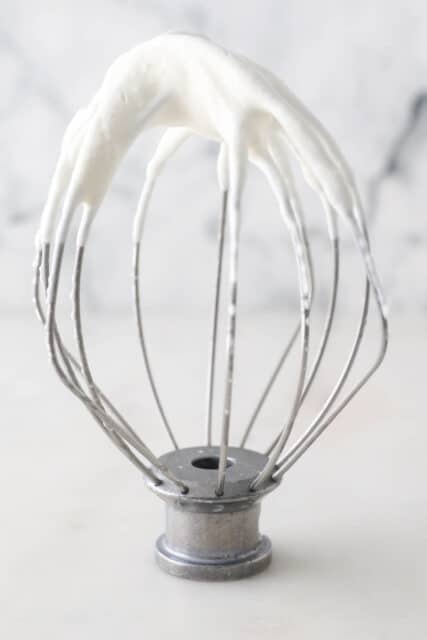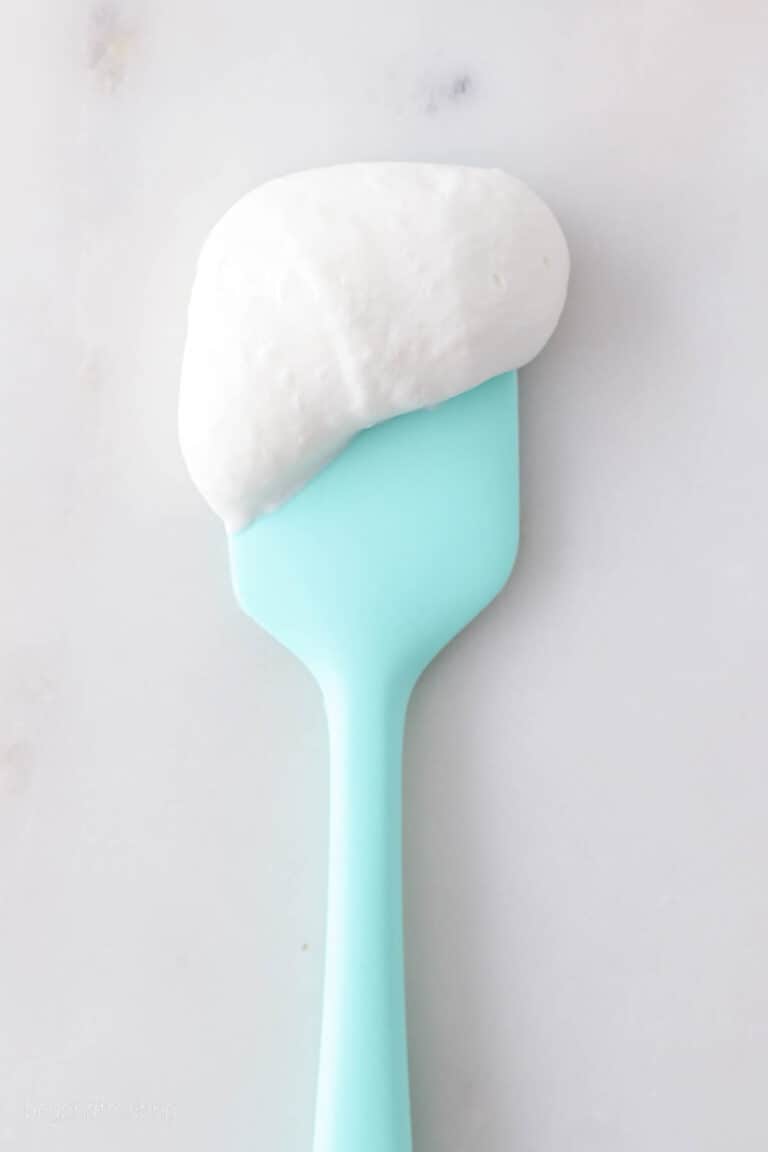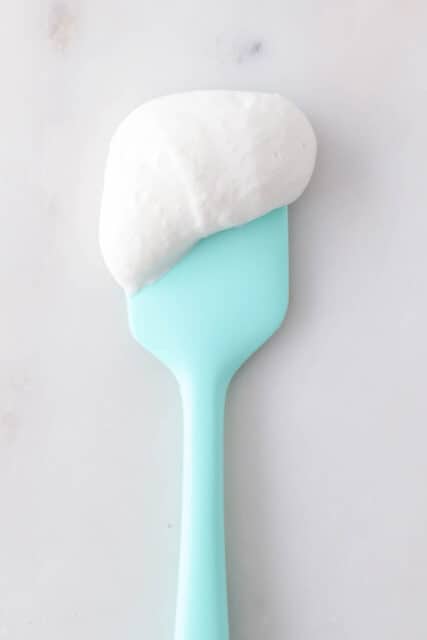 Can I Make Whipped Cream Ahead of Time?
Even stabilized whipped cream can lose its texture when left in a bowl for long periods, especially at room temperature. For this reason, I recommend preparing your frosting right before serving, or at most 30 minutes ahead of when you plan to use it (in this case, place it in the fridge).
Whipped cream is much more stable once it's been piped. So, go ahead and frost or decorate your desserts ahead of time whenever possible and store them appropriately.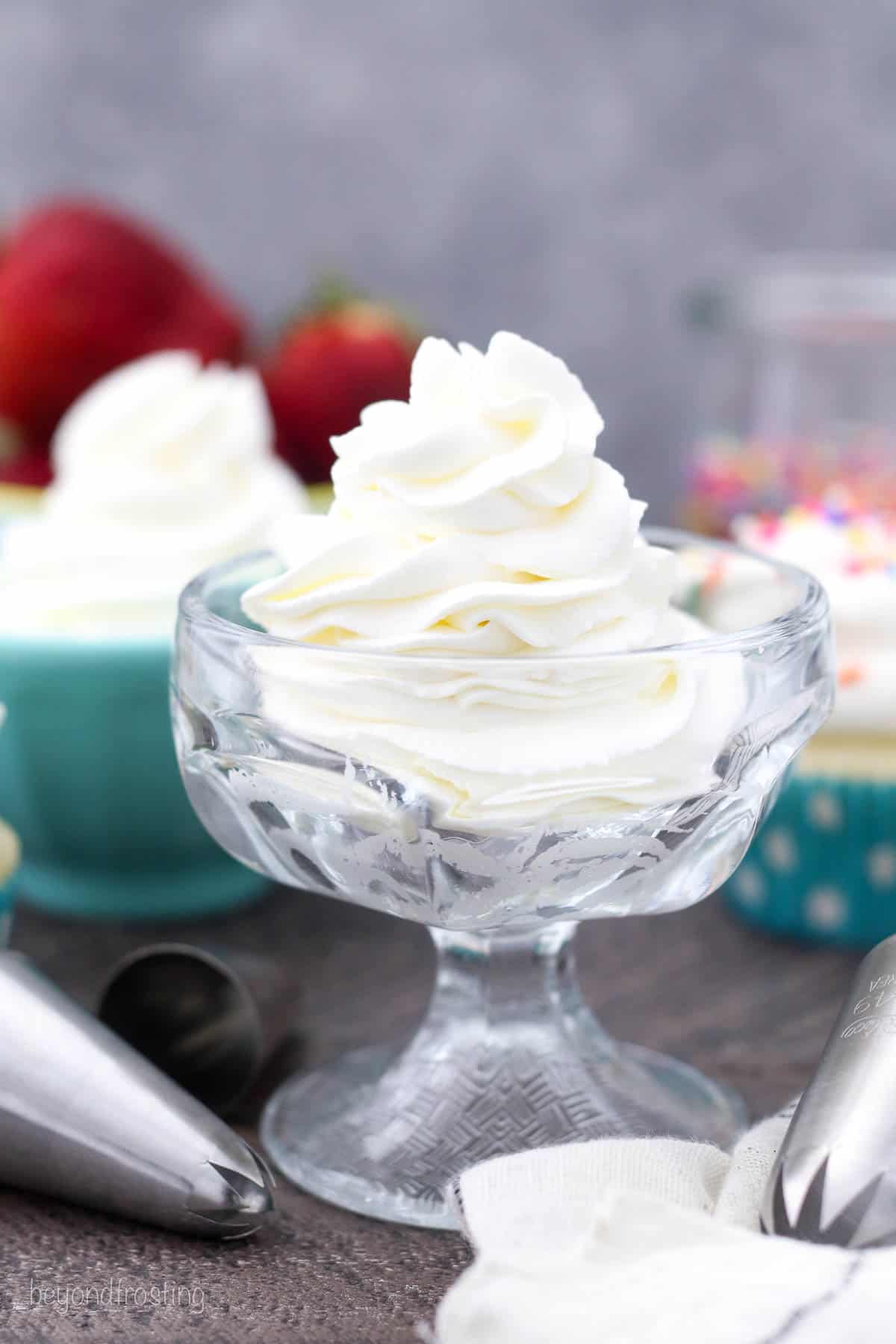 Here are my tips for successful stabilized whipped cream:
Start with cold ingredients and tools. To make a nice, thick frosting, leave your heavy cream in the fridge right up until you're ready to whip it. Also, remember to chill the mixing bowl and your whisk in the freezer for 10 minutes beforehand. This keeps the cream nice and cold while it's whipping.
Use a thickening agent, like powdered sugar. This is most important when making pipeable whipped cream frosting. If you find powdered sugar too sweet, use cornstarch or a combination of the two instead. Some recipes will also use gelatin as a thickener.
Whip the cream at high speed. It requires a continuous, vigorous speed to properly whip to stiff peaks.
Common Questions
If you're new to whipped frostings, below are some common FAQs.
Can I make whipped cream without a stand mixer?
Yes. While I find that a hand mixer can't always achieve the same stiff peaks as a stand mixer, it still does the job. I recommend tag-teaming your hand mixer with a spatula, mixing the ingredients from bottom to top so that it's evenly combined.
How long does it take for the cream to thicken?
It usually takes about 2-3 minutes during that initial whip before the heavy cream starts to thicken to soft peaks. You'll notice that the cream will first start to froth, and then become thicker. Pay particular attention to the stages the whip cream goes through from soft to stiff peaks.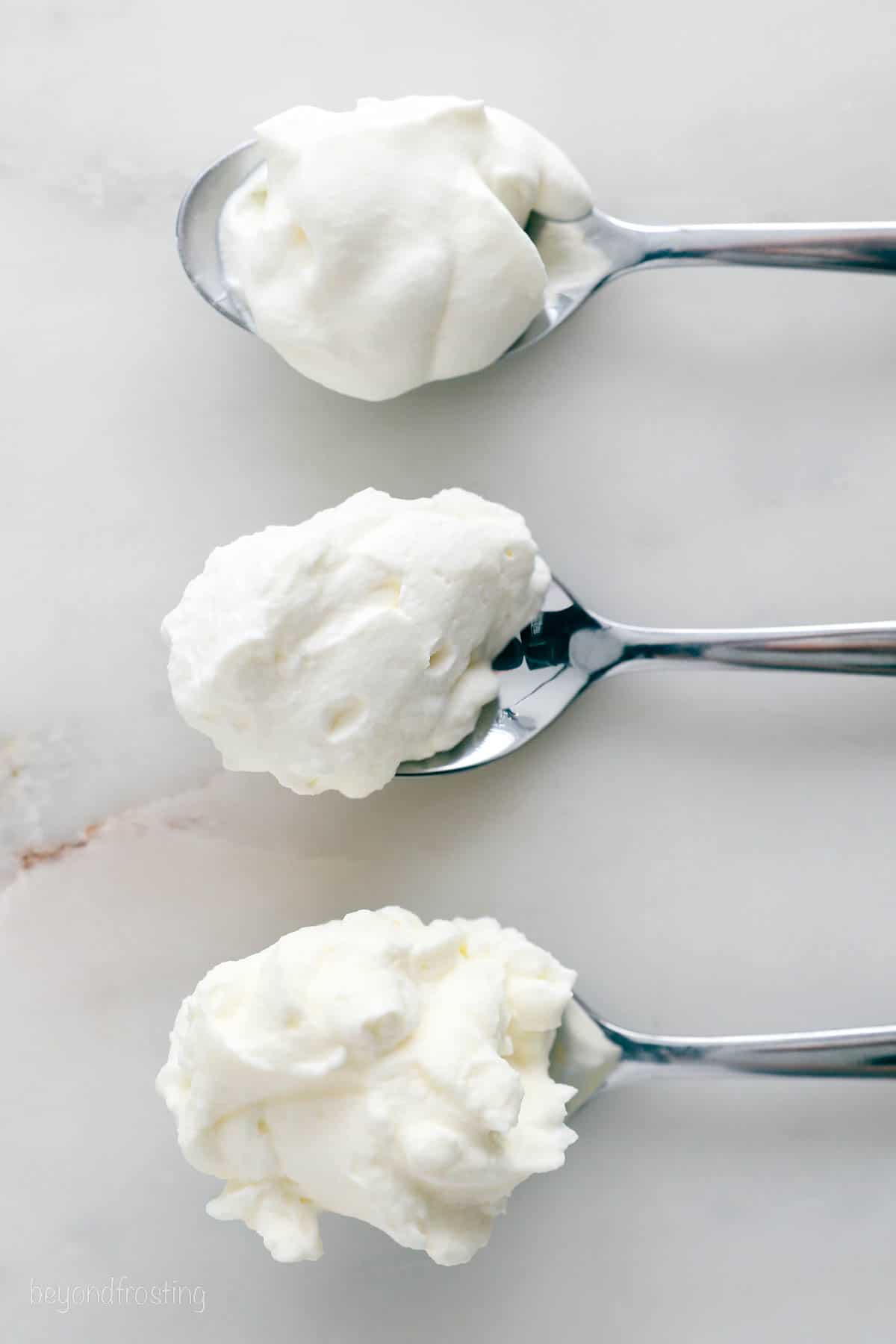 Why is my whipping cream not getting fluffy?
The number one reason for heavy cream that won't whip is that your tools and the cream itself aren't cold enough. Making sure your ingredients, bowl, and whisk attachment are well-chilled is key. For best results, use a metal mixing bowl.
Why is my homemade whipped cream watery?
This can happen when whipped cream is left out for long periods, particularly in warmer temperatures, as the frosting tends to break down and become wilted and watery. This is why it's best to prepare it just before serving and store any leftovers in the fridge.
Can I Replace Cool Whip With Whipped Cream?
Yes! This homemade recipe can easily substitute Cool Whip in no-bake desserts and more. When you're preparing homemade whipped cream to use in place of Cool Whip, I recommend adjusting the recipe to 1 cup of heavy cream and a half cup of powdered sugar.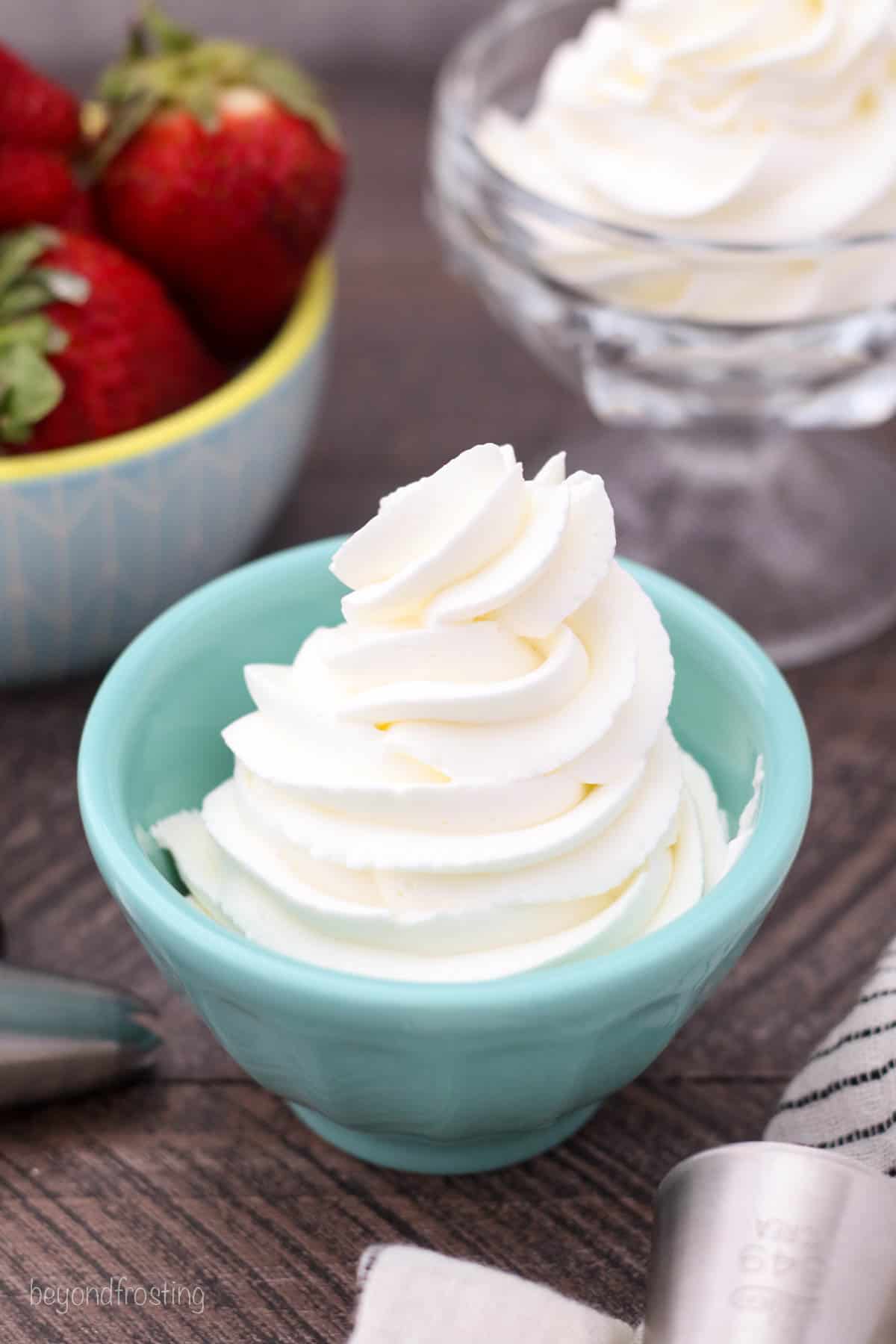 Easy Variation Ideas
There are so many fun and flavorful ways to customize this basic homemade whipped cream. I also have a bunch of other variations available on the site (see below). Can you tell I'm a little obsessed? Here are some simple ways to change up this recipe:
Food Coloring – You can easily color your frosting using food-grade gel dyes, like the ones from Wilton Color Right or AmeriColor. You only need a small amount of dye to achieve bright, beautiful colors. Add together with the heavy cream.
Flavoring – Add a teaspoon or a half teaspoon of flavoring extract. Popular extracts are vanilla, lemon, almond, and peppermint, but you can also play around with adding vanilla bean paste, citrus zest, maple syrup, or spices like cinnamon or nutmeg.
Chocolate – Make Chocolate Whipped Cream by adding 1-2 tablespoons of cocoa powder along with the powdered sugar in this recipe.
Strawberry – Put a fruity spin on this recipe and make Strawberry Whipped Cream.
Mascarpone – Try my Mascarpone Whipped Cream or Cream Cheese variations for something a little different.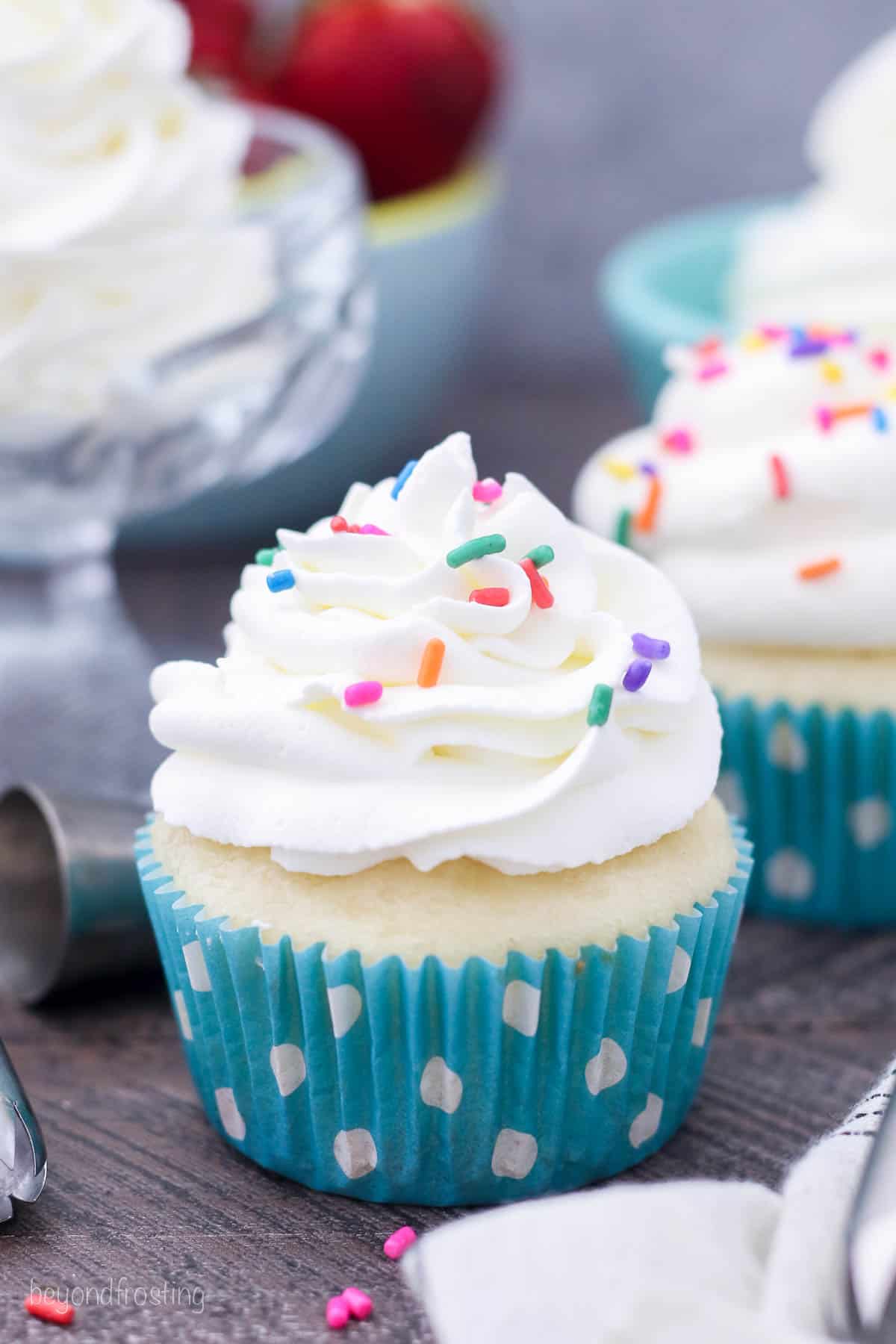 How to Use Whipped Cream
The possibilities are endless! Pipe whipped cream onto cupcakes and cakes, or use it as a topping for loads of desserts. Let's have a look at some fun ways to use it.
As a Topping
There are so many occasions to use this recipe as a whipped topping. Here are a few ideas:
Coffee and Hot Chocolate – Add a dollop to a warm mug of coffee or hot chocolate for a little extra indulgence.
Pancakes, French Toast, and Waffles – Dress up your favorite sweet breakfast recipes with a swirl of homemade fluffy cream.
Dip, Fruit Salad, and Trifles – Use this recipe as a dip with fresh strawberries. Or, layer it into a fruit salad or homemade trifle.
Pies and Crisps – Serve fluffy cream on top of pies and crisps along with a scoop of vanilla ice cream. It can also be paired with something as simple as a pound cake or as fancy as these brownies.
As a Frosting
You'll never run out of ways to use this whipped cream or its variations as a frosting. Try these ideas:
How to Store
If you're not using it right away, whipped cream must stay refrigerated in an airtight container. However, I don't recommend preparing this recipe too far in advance. It's best to freshly whip your cream right before serving.
Can I Freeze Whipped Cream?
Unfortunately not. Due to the delicate nature of this frosting, it won't hold up well when frozen. The dairy tends to separate, and the whipped cream weeps once thawed. If the whipped cream is already used on the dessert, then it will freeze just fine.
Print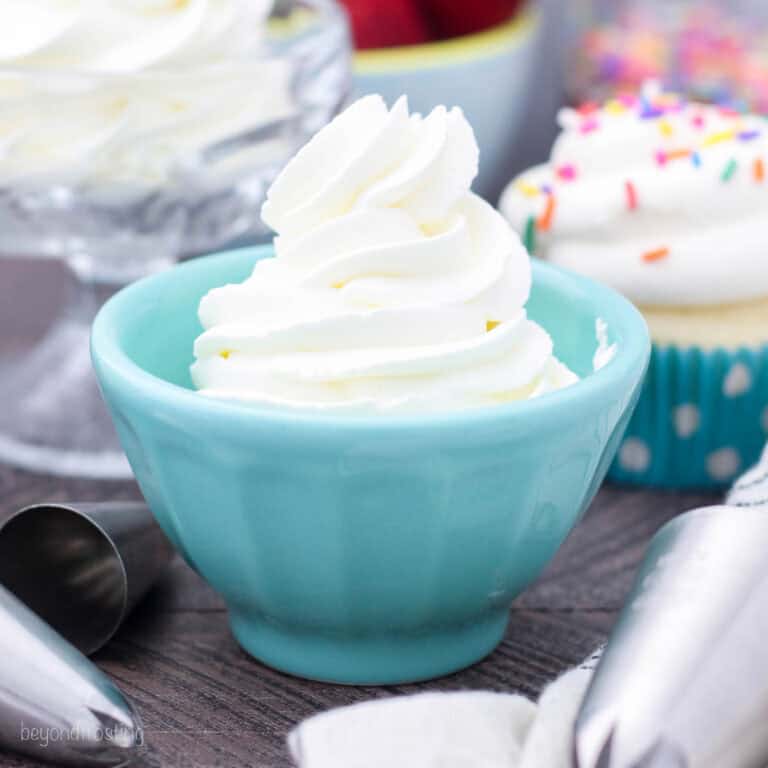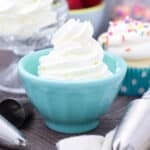 Homemade Whipped Cream Recipe
Author:

Prep Time:

15 minutes

Cook Time:

0 minutes

Total Time:

15 minutes

Yield:

2 1/4 cups prepared
Description
You only need 2 ingredients to make perfect Homemade Whipped Cream! Learn how to make stabilized whipped cream without gelatin that's light, fluffy, and perfect for piping over your favorite desserts.
Ingredients
1 cup

heavy whipping cream

½ cup

powdered sugar

1/2 teaspoon

pure vanilla extract (optional)
Instructions
Place the mixing bowl and whisk attachment in the freezer for 5 to 10 minutes to chill.
Pour the heavy cream into the chilled bowl and use an electric or stand mixer to beat the heavy cream on medium-high speed until soft peaks form.
Slowly add the powdered sugar and vanilla extract. Continue beating on high speed until stiff peaks form.
Equipment
Notes
Flavor variations: Add 1/2-1 teaspoon of your favorite flavoring extracts: vanilla, almond, lemon, peppermint, etc. Or add some fresh fruit zest such as lemon or orange. To make chocolate whipped cream, add 1-2 tablespoons of cocoa powder together with the powdered sugar.
How to store whipped cream: Whipped cream must stay refrigerated. I do not recommend leaving the prepared whipped cream in a bowl for an extended period of time. For the best results, make the whipped cream prior to serving and immediately add it to your dessert. Whipped cream is much more stable once it's piped.
Recipe Variations:

To make 2 cups prepared: ¾ cup (177 ml) heavy whipping cream plus 1/4 cup (33 g) powdered sugar
To make 2 1/2 cups prepared: 1 cup (237 ml) heavy whipping cream plus ½ cup (65 g) powdered sugar
To make 3 cups prepared: 1 ½ cups (355 ml) heavy whipping cream plus ¾ cup (98 g) powdered sugar
To make 4 cups prepared: 1 ¾ cups (414 ml) heavy whipping cream plus 1 cup (130 g) powdered sugar
Category:

Frosting

Method:

Mixer

Cuisine:

American
Keywords: how to make whipped cream, whipped cream frosting, homemade whipped cream
More Easy Frosting Recipes