This post may contain affiliate sales links. Please see my full disclosure policy for details
These 15 Irresistible Poke Cakes are everything I love about poke cake recipes: filled with decadence, super moist, and fun to bake! There's an easy cake recipe for every occasion.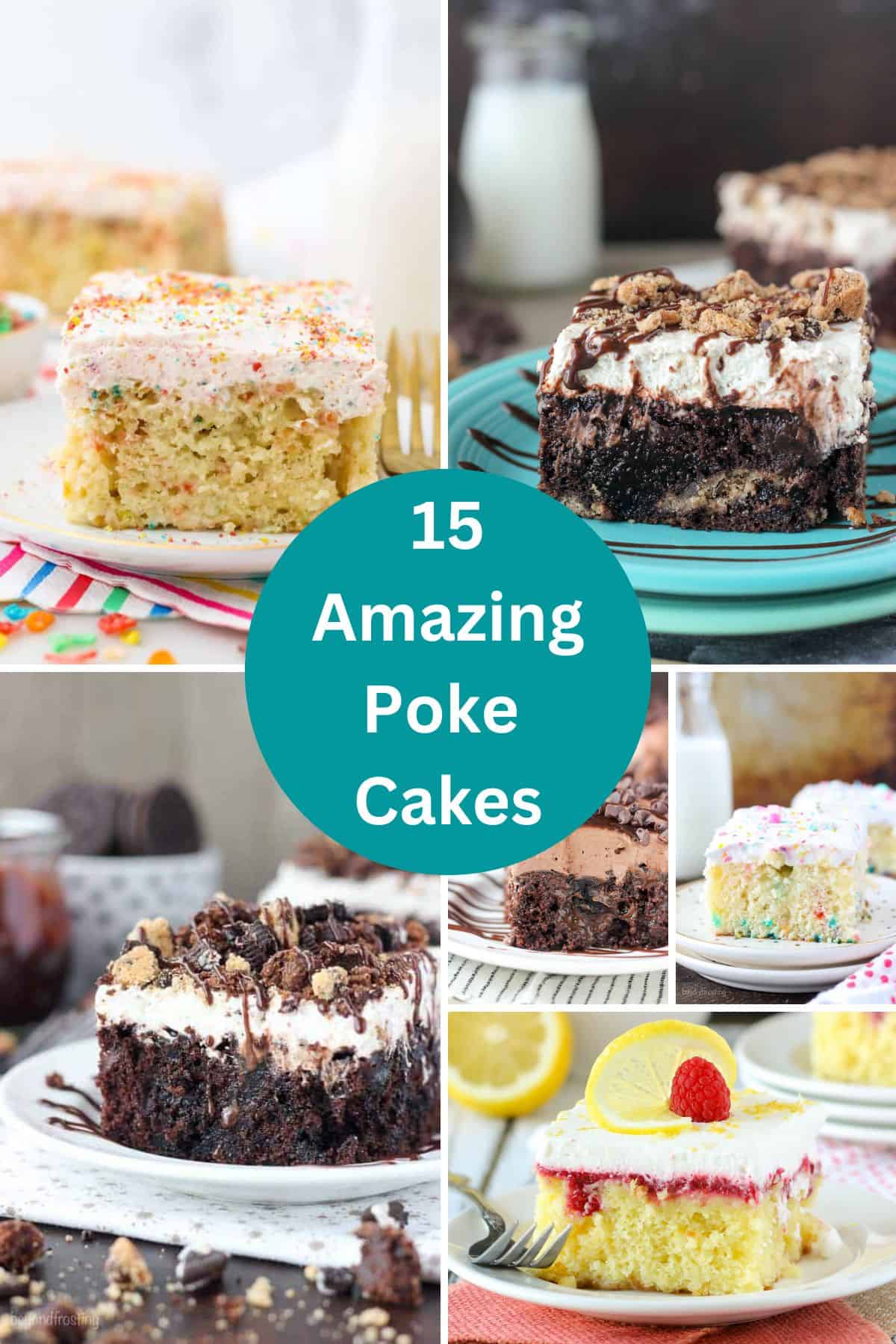 Unbelievably Moist, Decadent Poke Cakes for Every Occasion!
If you've been around this blog long enough, by now you know that I have a wee bit of an obsession with poke cakes. What can I say? These fun and festive cakes hide creamy, dreamy fillings beneath a layer of frosting, are made with simple ingredients, and require minimal effort. If that's not a perfect combo, I don't know what is.
I recently poured over my poke cake recipes to round up the best of the best. It was hard to narrow it down, but today I'm sharing a collection of 15 easy dessert ideas that truly take the cake!
Why Are These Cakes So Popular?
Poke cakes aren't anything new, in fact, they're super retro! Poke cakes' popularity started in the 1970s when boxed cake mixes, Cool Whip, and Jell-O were all the rage. Some would say they never went out of style!
Here's why these cakes are some of the most popular recipes on this blog:
Blissfully simple to make. These are easy cake recipes made with common ingredients.
Customizable. Poke cakes combine different flavors to create something truly amazing. You can add just about any delicious filling to your cake flavor of choice! Fruit, sweetened condensed milk, pudding, chocolate, you name it.
Great for any occasion. This style of cake is great for everyday baking and also for special occasions and holidays. Make a red, white, and blue poke cake for the 4th of July, or a red and green number for Christmas!
Perfect to prep ahead. This is the perfect dessert to prepare ahead of time. It actually gets better as it sits! You can fully assemble the cake and store it in the fridge for up to 2 days before serving.
Common Questions
Do You Poke a Cake When It's Hot?
The best time to poke a cake is when it's warm, to avoid crumbling. After removing the cake from the oven, allow it to cool for 10 minutes before poking holes for the filling.
Do Poke Cakes Get Soggy?
Poke cakes get incredibly soft and moist from their fillings (it's part of the charm). Be sure the holes you poke aren't too close together, as that could make the cake soggy. Make the holes about an inch apart.
How Long Is a Poke Cake Good For?
Most poke cakes can be kept airtight in the fridge for up to 2-3 days.
Do You Need to Refrigerate Poke Cake?
Yes. Since they're usually filled with ingredients like Jell-O, whipped cream, or custard, most poke cakes need to be refrigerated.
Can You Freeze a Poke Cake?
Poke cakes can be kept frozen for up to 3 months. Be sure to wrap the cake tightly in plastic wrap, plus a layer of foil.
15 Irresistible Poke Cake Recipes
Any way you slice it, a fluffy and moist poke cake is one of the best homemade desserts. Check out this collection of my most obsession-worthy recipes!