This post may contain affiliate sales links. Please see my full disclosure policy for details
This Cabernet Chocolate pudding is a homemade chocolate pudding made with rich dark chocolate and it's spiked with cabernet wine. This homemade pudding is made without egg yolks. It's an easy no-bake dessert you can serve in the summer or winter time.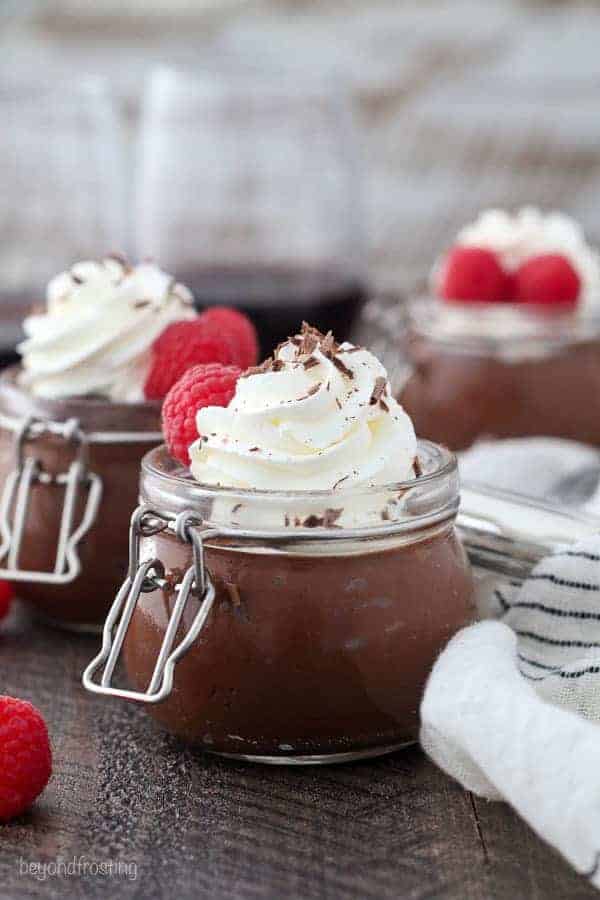 I can't even tell you how long I've been working on this Cabernet Chocolate Pudding recipe. I've made it more than half a dozen times, makes tweaks along the way until I found it to be just perfect.
At one point during the process, I stepped away because I was getting frustrated by my results. After having made so many pudding recipes for my cookbook, I couldn't understand why this one wasn't working.
After making the final tweak, and eliminating the eggs, I finally arrived at the perfect red wine spiked chocolate pudding recipe.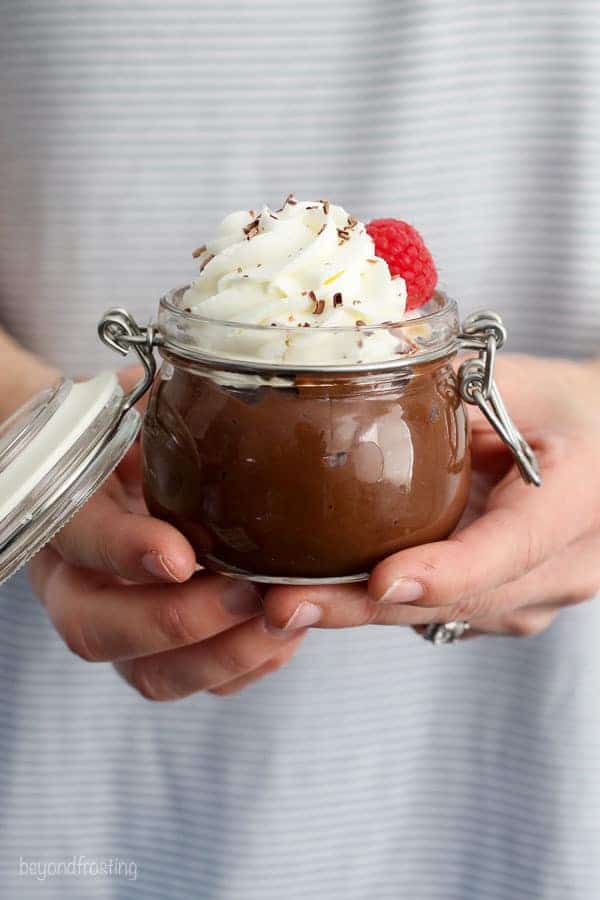 Homemade pudding is a real treat. Seriously, once you've made a homemade pudding, you'll feel like you've conquered the world.
This Cabernet Chocolate pudding is a rich dark chocolate pudding made without egg yolks, and it's spiked with cabernet wine.
I promise you that making a homemade pudding is much easier than you think, especially if you are making one without egg yolks- which means there's no tempering the eggs.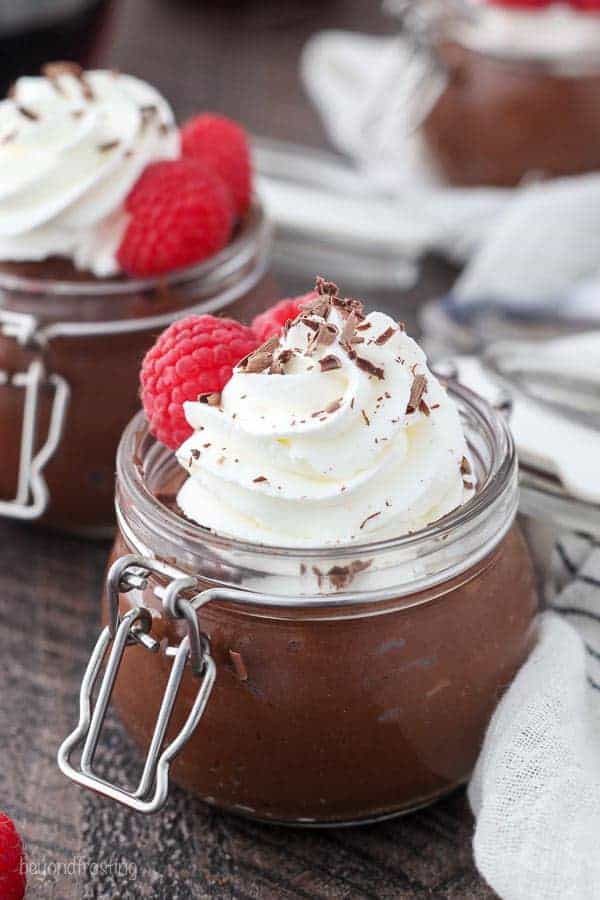 For any chocolate pudding, it's important that you're using a high-quality chocolate, and I prefer chocolate bars instead of chocolate chips because chocolate chips are usually coated, making for an oilier pudding.
It's also important that you have a good nonstick sauce pan and silicone whisk. I prefer the silicone whisk because I can really dig it into the bottom edges of my saucepan and release any of those pesky clumps of flour that might be sticking to the edges.
You'll also want to make sure you have a fine mesh sieve. Once the pudding has cooked, I strain it twice to eliminate any more lumps of flour that did not dissolve.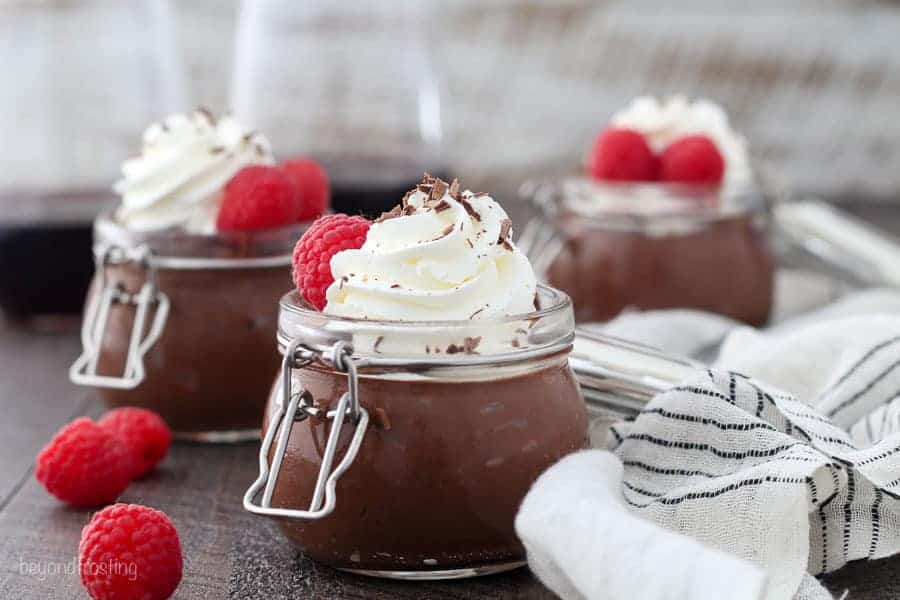 If you don't have cabernet, you can substitute another red wine. I've made this recipe with merlot as well. I am not much of a red wine drinker myself, but I love cooking with it.
When your pudding is done, it might seem like it's a little thin. That's okay! It will stiffen to a custard-like consistency as it cools. I recommend cooling on the counter top and then transferring to the refrigerator.
You can pour these into individual serving glasses or you can scoop and serve it once it's firm, but either way, you'll want to cover the top of the pudding with plastic wrap to prevent a skin from forming on top of the pudding.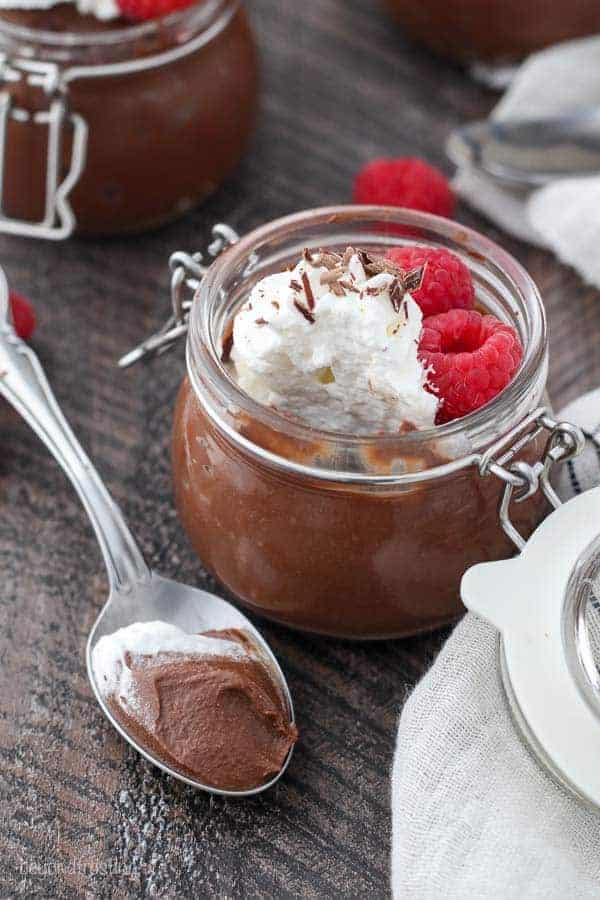 How to make chocolate pudding
Start by combining the dry ingredients in a saucepan and whisk over medium heat for about 2 minutes.
Slowly add the milk while whisking the dry ingredients into the milk and then add the red wine. Use your whisk to dig into the bottom edges of your sauce pan to remove any lumps of flour from the sides.
Cook over medium heat, whisking constantly until the mixture starts to bubble. Then immediately start adding your chopped chocolate.
Continue whisking until the chocolate has melted. Then return the pudding to a slow boil. Once it starts to bubble, cook for another 30-60 seconds.
Then immediately strain the pudding through a fine sieve to catch any lumps of flour that did not dissolve. Rinse your sieve and repeat one more time.
In order to prevent a skin from forming on the pudding, immediately cover it with plastic wrap and poke a couple of holes in the top with a toothpick.
Then allow you pudding to cool for about an hour on the counter before transferring to the refrigerator to cool completely and set to a custard-like consistency.
I love serving this with homemade whipped cream and berries. A little goes a long way here because the pudding is somewhat rich in flavor. This Cabernet Chocolate Pudding Recipe a perfectly refreshing dessert. Plus, your friends will be so impressed that it's homemade!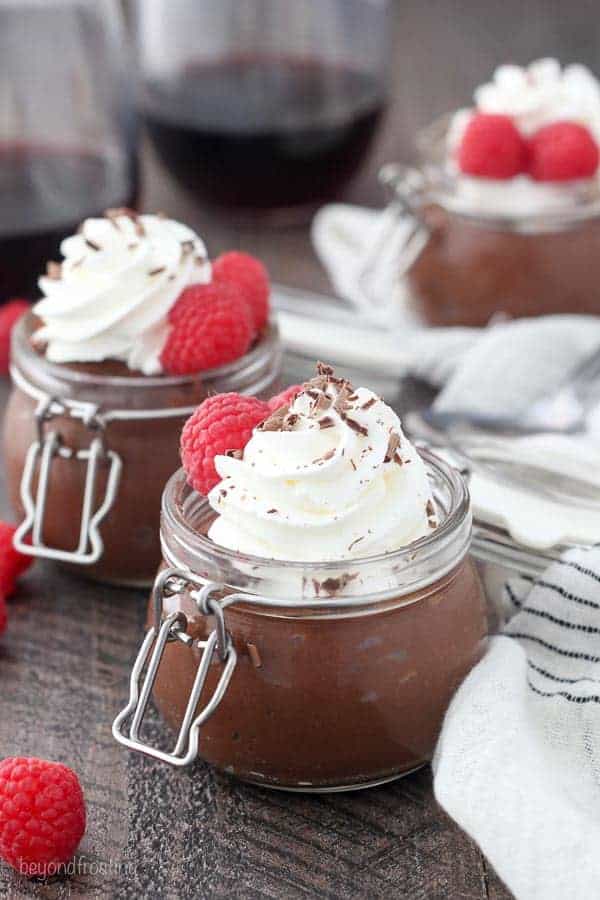 Follow Beyond Frosting:
Facebook | Twitter | Pinterest | Instagram
If you love no-bake recipes, be sure to check out my cookbook, No-Bake Treats!
You might also like this Gooey Chocolate Pudding Cake and if you're looking for a low carb alternative, check out this Coconut Milk Chocolate Pudding.