This post may contain affiliate sales links. Please see my full disclosure policy for details
These Healthier Pumpkin Muffins will satisfy your pumpkin craving without the extra sugar and calories.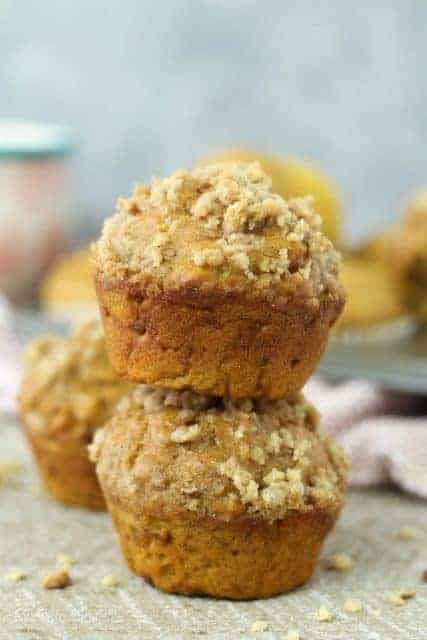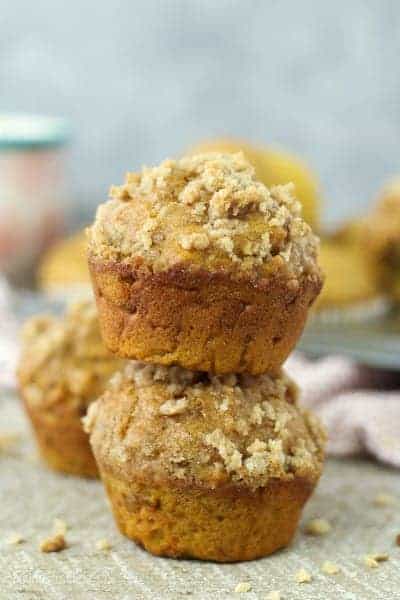 This post is sponsored by Stevia In The Raw®, even though I have been compensated for my time, all opinions are my own.
Last week, someone said to me, "well the holidays are approaching." My jaw nearly hit the floor. Please people, I'm not ready yet, I need more time!!
I guess it's true though. We've settled into our fall routine, the mornings are cold, and I am in full boots and sweater mode, we even got 2 feet of snow in the mountains! With that comes ALL the fall (and holiday) baking. This is both my favorite and least favorite part of the holidays. Allow me to explain.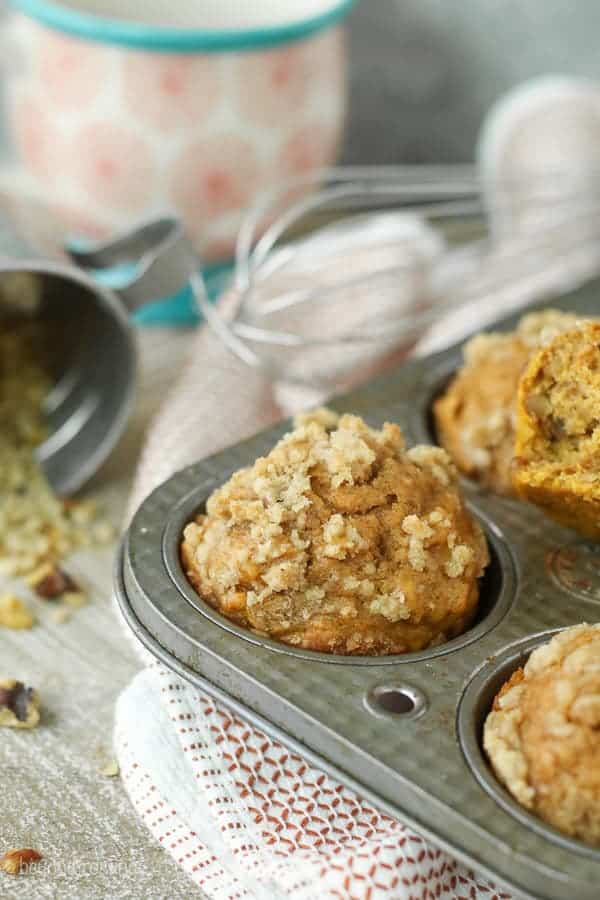 I love love love sharing desserts with people because it evokes emotion, it makes people happy and conversations are always started over food. Sometimes it helps you forget about all that stress that comes along with the holidays. Plus let's face it, I have a major sweet tooth, so there's that too.
However, like most of you, it is extremely difficult to avoid all of the temptations around me and stay focused on my health and fitness goals. I've shared my struggles with weight loss before, and I am continuing my journey today fighting off some of the weight I've put on over the last several years.
Even though I am physically fit, I have not yet met my goals and therefore it's important that I have ways to enjoy all my favorite foods without all the calories. Recently I started tracking my Weight Watcher points again, and measuring food, after all these years I still need to keep myself in check.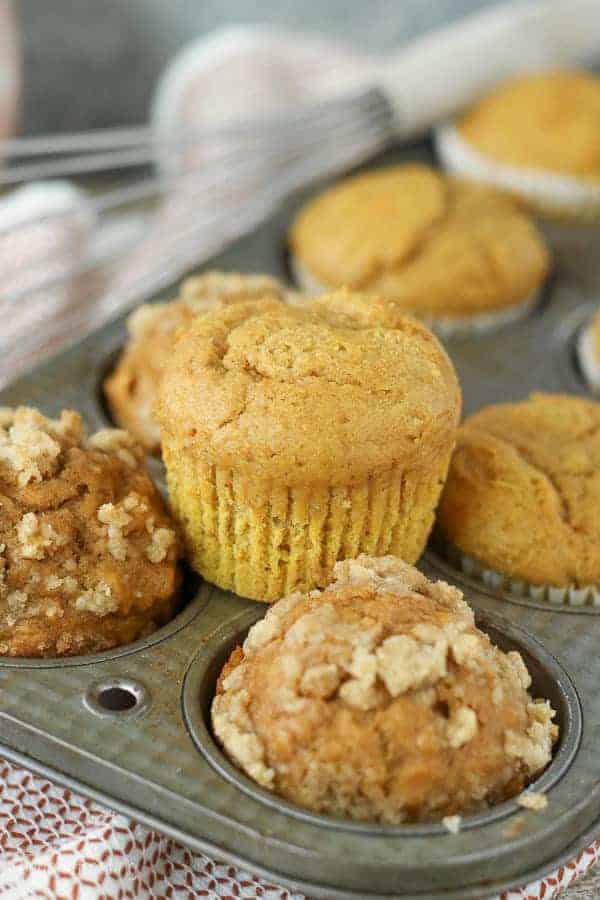 These Healthier Pumpkin Muffins are one way I can still get my pumpkin fix without worrying about all the calories.
I've swapped out half of the sugar in these muffins with Stevia In The Raw®, a zero-calorie sweetener. I've also substituted all the vegetable oil with unsweetened applesauce. The applesauce is such a great alternative here because it's helps add a lot of moisture to the muffins.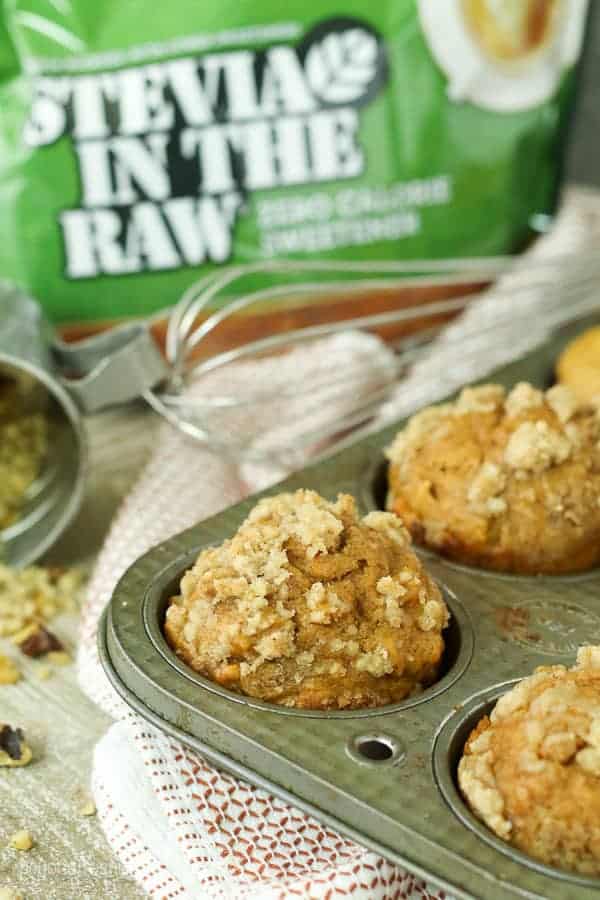 I've only recently started baking with Stevia In The Raw and I am excited to offer you some recipes that will make you feel a little less guilty! I call this the "skinny side of sweets." I learned that up to 700 calories are saved for every cup of sugar that is swapped out for Stevia In The Raw. It's important that I tell you must get the Stevia In The Raw® Bakers Bag because it measures cup for cup with your standard granulated sugar in baking recipes.
I love that fact that there is no math and conversion involved in trying to figure out how much Stevia In The Raw that I need to substitute.
This means that if you're recipe calls for 2 cups of sugar, you can use 1 cup of granulated sugar and one cup of Stevia In The Raw® Bakers Bag. However, if your recipe calls for something like 1 ½ cups of sugar, you should only replace up to HALF of the sugar in the recipe. The thing about granulated sugar is that it helps with caramelization and browning in the recipe, so you still need to have some in your recipe.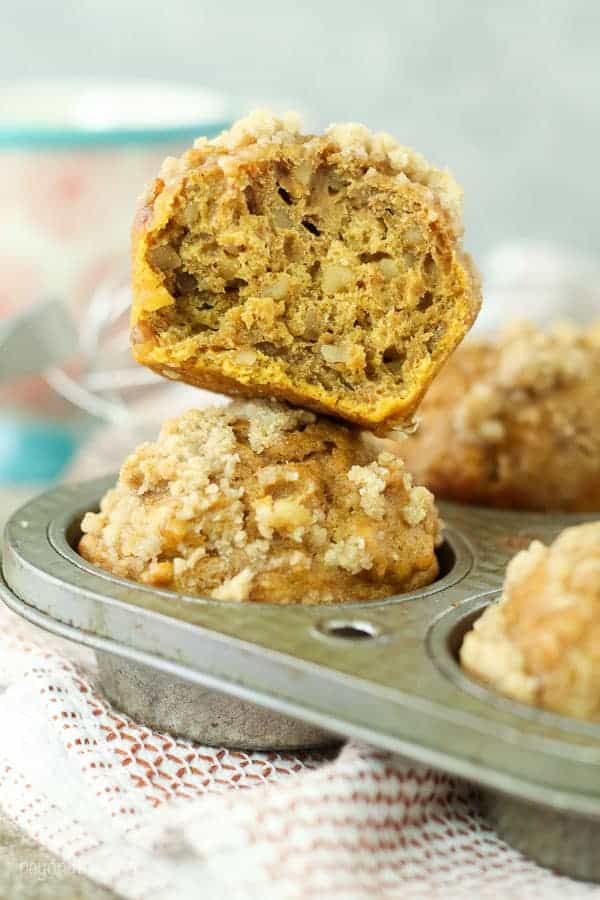 You can certainly make these pumpkin muffins your own. You can add walnuts or even pecans, and you might even consider adding some (sugar-free?) chocolate chips. I've also added a version here that has a brown sugar streusel.
Now I know you're going to ask me about how many Weight Watcher Smart Points these Healthier Pumpkin Muffins are, so I've done the math for you.
Without nuts these muffins are 7 points for 12 muffins and if you stretch this to 14 muffins, it would be 6 points each.
If you add 1 cup of walnuts it increases the points value to 9 points per muffin
If you choose to add the streusel, add another 2 points per muffins (whether it's 12 or 14 muffins doesn't seem to make a difference).
Now 7 points isn't going to break the weekly bank, especially considering that a slice of pumpkin bread from your favorite coffee shop is gunna run you around 15-18 points and I don't know about you but I am not willing to give up half my daily allowance for that!
I'd love for you to share some of your favorite Stevia In The Raw recipes, please leave me a comment with a link to your favorite recipes!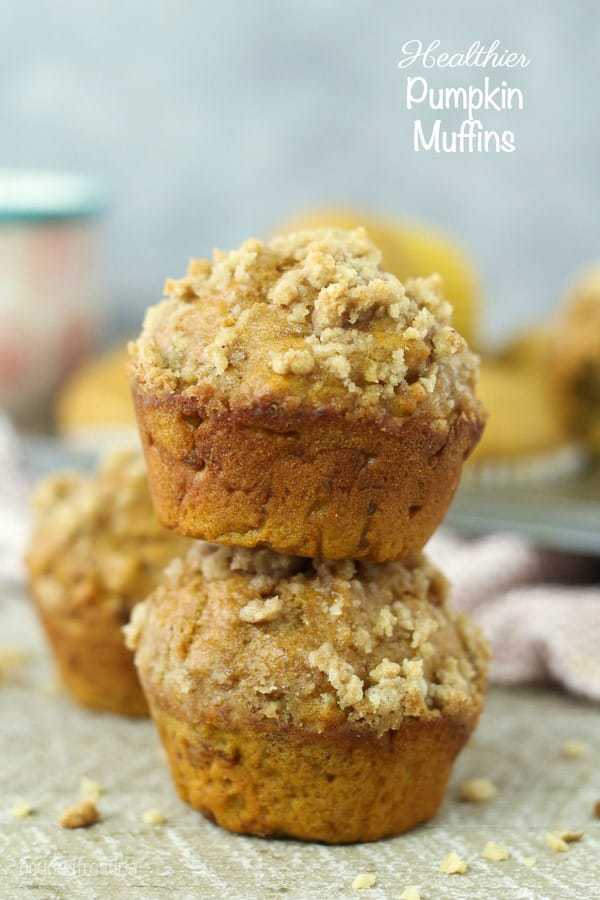 Follow Stevia In The Raw®
Facebook | Instagram | Pinterest
Follow Beyond Frosting:
Facebook | Twitter | Pinterest | Instagram
If you love no-bake recipes, be sure to check out my cookbook, No-Bake Treats!
Print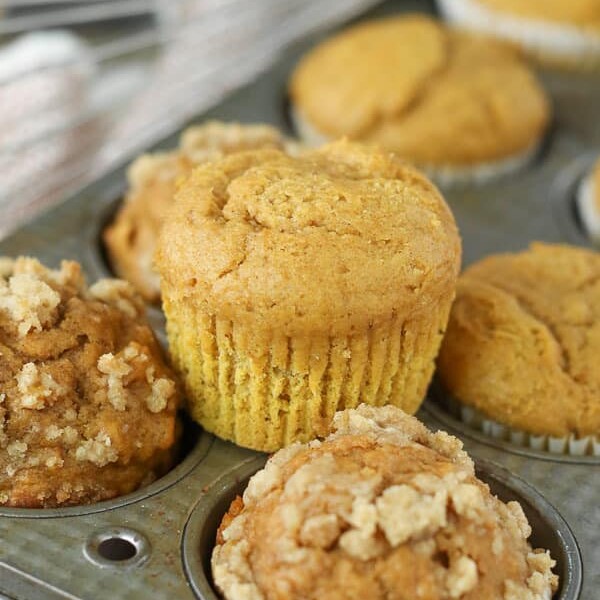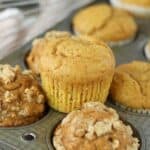 Healthier Pumpkin Muffins
Author:

Prep Time:

10 minutes

Cook Time:

18 minutes

Total Time:

28 minutes

Yield:

12-14 muffins
Description
These Healthier Pumpkin Muffins will satisfy your pumpkin craving without the extra sugar and calories.
Ingredients
1 cup

unsweetened applesauce

3 tablespoons

unsalted butter, melted

1 cup

Stevia In The Raw® Bakers Bag

1 cup

packed light brown sugar

2

large eggs

1 teaspoon

pure vanilla extract

1 cup

pumpkin puree (not pie filling)

2 ¼ cups

all-purpose flour

3 teaspoons

baking powder

1 teaspoon

pumpkin pie spice

½ teaspoon

salt

1 cup

walnuts, chopped (optional)
For the Streusel (optional)
3 tablespoons

all-purpose flour

4 tablespoons

light brown sugar

2 tablespoons

unsalted butter, melted
Instructions
Preheat the oven to 350°F. Line a nonstick muffin pan with baking liners, or spray with cooking spray (if not using liners).
In your mixing bowl, combine the apple sauce, melted butter, Stevia In The Raw® and brown sugar. Beat the ingredients until well combined.
Next add the eggs and vanilla extract, beating until combined. Then add the pumpkin puree and beat until it's well mixed.
In a smaller, separate bowl, combine all dry ingredients: flour, baking powder, pumpkin spice and salt. Stir to combine. Slowly add dry ingredients to wet ingredients and beat just until the flour is combined. Then stir with a spatula until the dry ingredients are well-mixed, turning the batter over from the bottom to the top. Finally, fold in the walnuts.
Prepare the streusel (optional). In a small bowl, combine the flour and the brown sugar. Add the melted butter on top and stir together until the butter is well incorporated and mixture is clumpy.
Divide batter evenly between 12-14 muffin cups, each one will be 3/4 filled. Sprinkle a heaping tablespoon of the streusel on top of each muffin.
Bake at 350°F for 18-20 minutes. Remove from oven and allow to cool for at least 10 minutes in the pan.
Notes
Make these your own by swapping in your favorite nuts or chocolate chips.
Category:

breakfast

Method:

baked

Cuisine:

american