This post may contain affiliate sales links. Please see my full disclosure policy for details
These Banana Pudding Cupcakes are made from scratch and are filled with a banana pudding and vanilla mousse and topped with dulce de leche.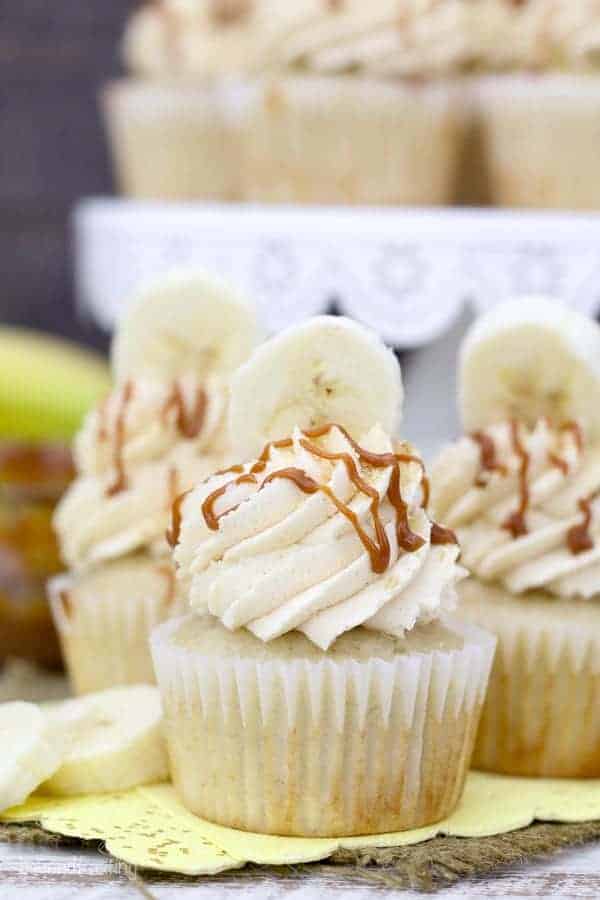 If you've been reading my blog for a while, you know that Lindsay from Life, Love and Sugar is by blogging bestie. Today is a SUPER special day because we're celebrating that she is about to have her first baby BABIES! Lindsay and her husband are being blessed with unexpected twins.
Lindsay has shared her journey through infertility, and after finally going through IVF last spring, they were thrilled find out they were pregnant with a baby boy. Then after one of her early ultrasounds, she texted me, "we're having twins". I immediately called her back and I think I dropped an f-bomb or two along with more than one "are you serious"? It's really just starting to set in with me. I couldn't be happier for her because I know how much these babies mean to them and I can't wait to meet them!!!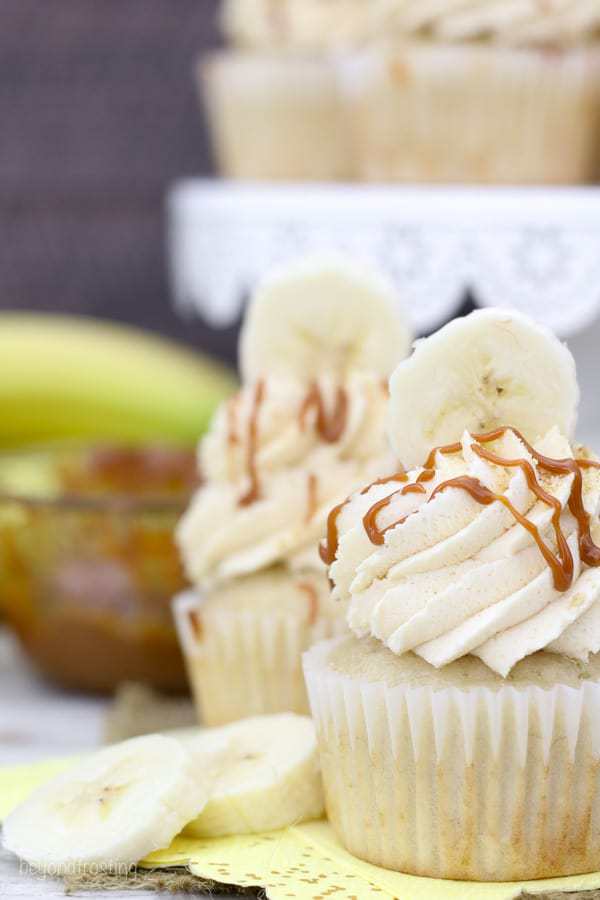 I have always wished we lived closer to each other because we have become such close friends and since I couldn't be there for her baby shower, it only made sense to ask some of our blogging friends to help me celebrate with a virtual baby shower. I know, it's like a weird blogger thing, but we all live so far apart!
It was SO hard for me to pick a dessert to share for the party, because even though I am a party of one over here, I really wanted to make some of Lindsay's favorites. She loves banana pudding, anything with caramel and dulce de leche and anything Bailey's-flavored. I'm convinced she is responsible for my banana pudding addiction as well. Finally, I decided on Banana Pudding Cupcake from scratch, with a banana pudding filling and a vanilla mousse on top.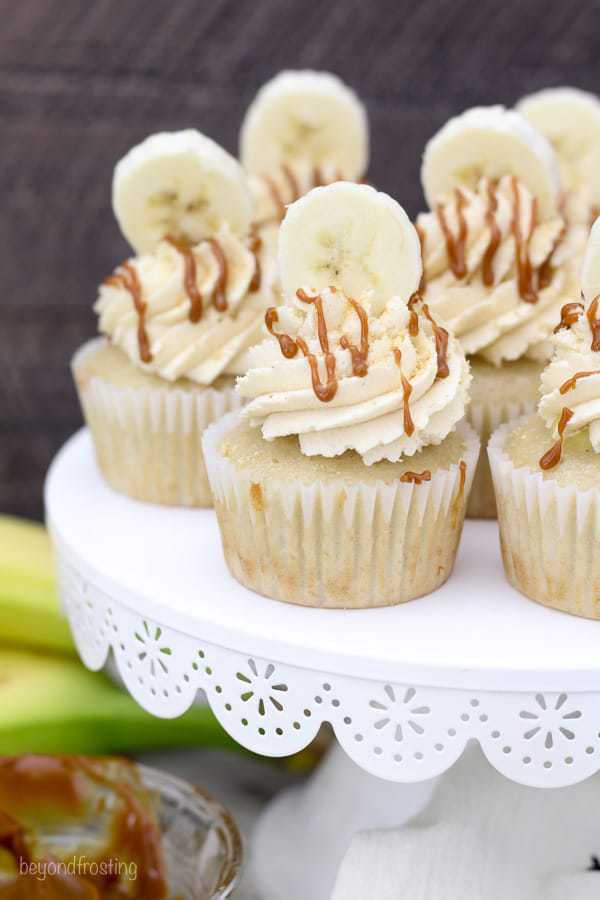 The homemade banana pudding cupcake is a variation of my moist vanilla cake. I scaled the recipe to make 12 cupcakes, but it could easily be doubled. This cupcake has a denser crumb with a rich banana flavor. The riper your bananas, the better these will be.
I wanted to add a filling to these because I just love a little surprise inside a cupcake. I opted for an instant banana pudding, but I only made a half batch since there's only 12 cupcakes. You could certainly use a vanilla pudding too, but I just love the added banana flavor. I used a knife to cut out the centers of each cupcake, but you can also use my favorite tool, the cupcake corer. Once the pudding has set, just use a small Ziploc bag to fill each cupcake.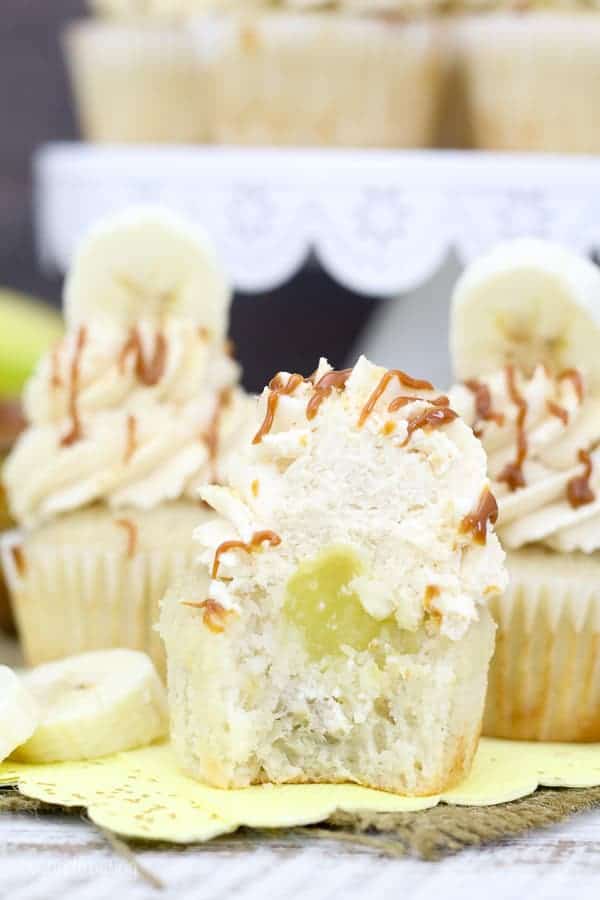 For the topping, I made a vanilla mousse with a touch of dulce de leche. It's made with heavy whipping cream, instant vanilla pudding and dulce de leche. First, you need to whip the heavy cream until soft peaks form, and then add the dulce de leche. Once it's been blended, add the instant vanilla pudding. This turns the whipped cream into a thick and stabled mousse. It's much denser than a whipped cream, but lighter in texture than a frosting.
For the garnish, I pipped more dulce de leche and also sprinkled on some Nilla Wafer crumbs (graham crackers work fine too!). You can also add a slice of fresh banana if you're serving these right away, or even banana chips. The garnish is totally optional.
These cupcakes need to be refrigerated, but they can be made the night before serving and stored in an airtight container.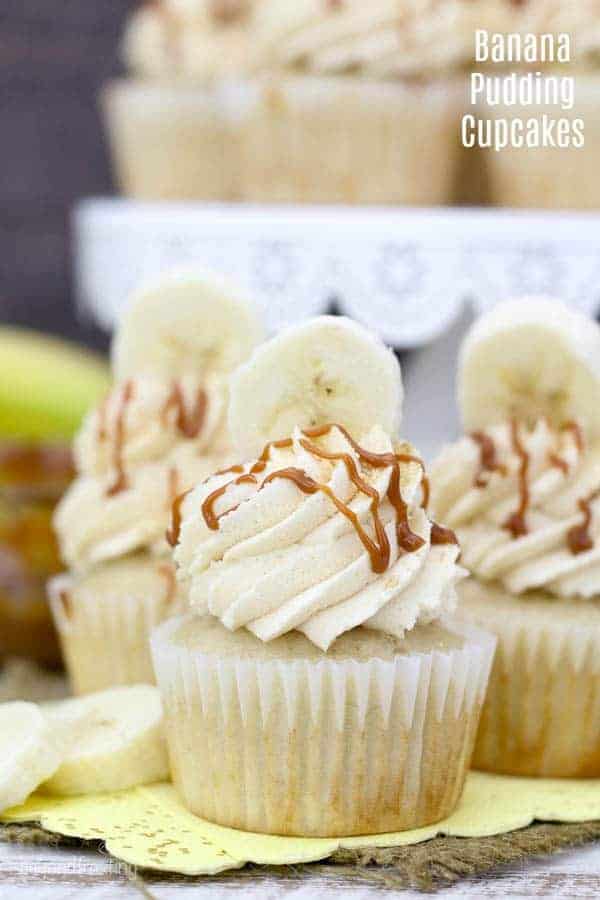 Dear Lindsay, as you are about to embark on this new journey of your life, everything is about to change. You have nothing but love to give these boys and I can't wait to see you as a mom. You and Ian have been through so much to get to where you are today and God has answered your prayers, twice! Just remember I am only a phone call away and one day, I'll show up with a much needed bottle of wine (well prosecco, duh).
See what everyone's bringing to the party!
Banana Pudding Cupcakes, Lemon Coconut Cupcakes, Chicken Salad Cups,
Soft and Chewy Chocolate Chip Cookies, Star and Moon Decorated Cookies,
Lemon Poppy Seed Cupcakes, Cream Cheese Cookies with Nutella Glaze,
Salted Caramel Popcorn Brownies, Sugar Cookie Bars, Funfetti Cheesecake Pie,
Banana Chocolate Chip Cheesecakes, Sweet and Sour Slow Cooker Smokies
Red velvet Bars, Veggie Egg Muffins, 2 Layer Espresso Chocolate Cake
Follow Beyond Frosting:
Facebook | Twitter | Pinterest | Instagram
If you love no-bake recipes, be sure to check out my cookbook, No-Bake Treats!
Print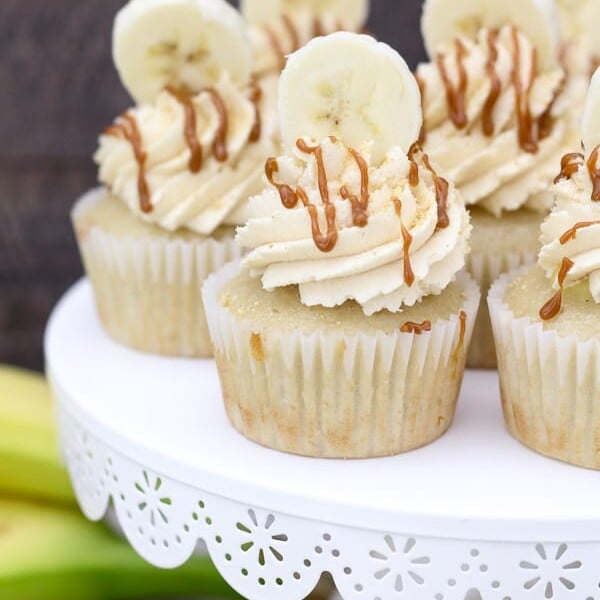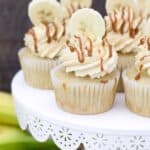 Banana Pudding Cupcakes from Scratch with Dulce De Leche
Author:

Prep Time:

1 hour

Cook Time:

16 minutes

Total Time:

1 hour 16 minutes

Yield:

12 cupcakes
Description
These Banana Pudding Cupcakes are made from scratch and are filled with a banana pudding and vanilla mousse and topped with dulce de leche.
Ingredients
For the Cake:
1 cup

granulated sugar

1/4 cup

vegetable oil

1

large egg

1

large egg white

2 teaspoons

vanilla extract

1

large banana, smashed (about

½ cup

)

1 1/4 cups

all-purpose flour

1 ½ teaspoons

baking powder

½ teaspoon

salt

¾ cups

milk (I use nonfat)
For the Filling:
¼ cup

instant banana or vanilla pudding powder

¾ cup

milk
For the Topping:
1 ½ cup

heavy whipping cream

1 tablespoons

dulce de leche

¼ cup

+

2 tablespoons

instant vanilla pudding
Additional dulce de leche for garnish
Instructions
For the Cake:
Preheat the oven to 350°F and line a cupcake pan with liners.
In a large mixing bowl, combine the sugar, vegetable oil, eggs and vanilla extract. Beat on medium speed until the eggs and oil are well incorporated and the batter is lighter in color, about 2 minutes. Scrape down the bowl as needed.
Next mix in the smashed and beat until well combined.
Add half the flour followed by the baking powder and salt, and beat on low speed while pouring in half of the milk and mix just until the flour starts to incorporate.
Finally add the remaining flour, mixing on low speed while pouring in the remaining milk and beating until all of the ingredients are well combined.
Use a spatula to scrape down the sides of the bowl and stir the batter from the bottom to the top to ensure it's well mixed. Use a large cookie scoop to divide the batter evenly between the cupcakes liners, filling about 2/3 full.
Bake at 350°F for 14-16 minutes, remove from the oven and allow to cool completely.
Test the cake for doneness by inserting a toothpick into the center of the cake. If the toothpick comes out clean, you cake is done. Allow the cake to cool completely.
For the Filling:
In a bowl, combine the instant pudding and the milk and stir until the powder dissolves. Refrigerate until the pudding is firm.
Once firm, pour the pudding into a Ziploc (or piping) bag. Cut out the center of the cupcake using a knife or a cupcake corer. Fill the center of the cupcake with pudding.
For the Topping:
Prepare your mixing bowl by placing in the freezer for 5-10 minutes to chill.
Pour the heavy whipping cream into the chilled bowl and beat until soft peaks form. Add the dulce de leche and beat until combined.
Finally add the instant pudding mix and continue beating. The whipped cream with thicken quickly, beat it just until you feel the powder is combined.
Use a large open star tip to pipe the mousse on to the cupcake. Garnish with dulce de leche. Keep refrigerated in an airtight container.
Category:

Dessert

Method:

Baked

Cuisine:

American
Keywords: banana pudding cakes, banana cupcakes, banana pudding cupcakes
You might also like: