This post may contain affiliate sales links. Please see my full disclosure policy for details
This No-Bake Oreo Funfetti Icebox Cake gives you the ultimate cake batter flavor but without all the work. Layers of Golden Oreos, funfetti mousse and whipped cream. This easy to follow recipe is a keeper!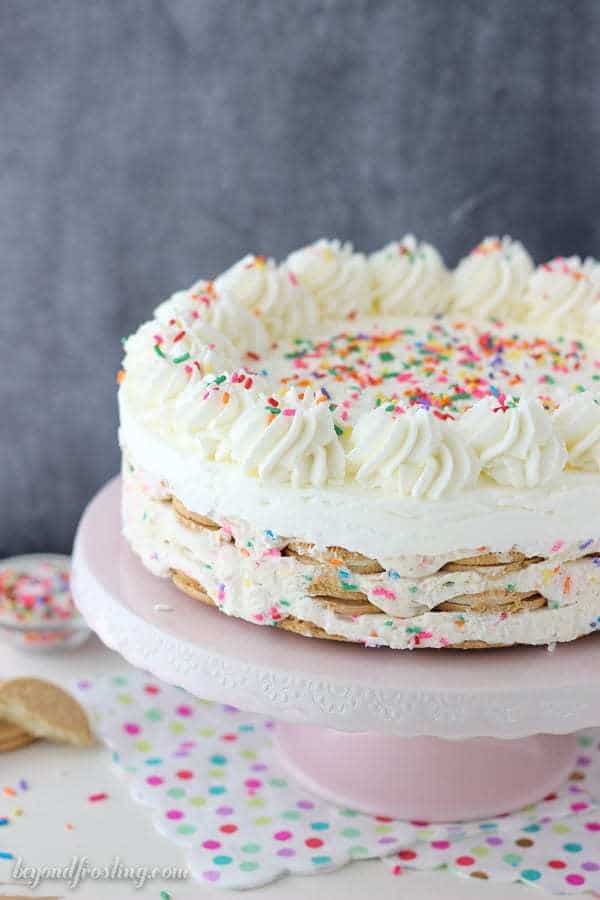 I think it's only fitting that I wish all the mama's out there a belated Happy Mother's Day. I don't know where I would be without my mother; she's always been there for me. She's pulled me out of some major ruts, talked me through my tears, she's braved the 405 to move me from San Diego to Santa Barbara, she's joined me on numerous vacations and most of all, she's always there for the biggest decisions (and the smallest).
Yesterday for instance, I called her because I need a new vacuum. How does one even start to look for a good vacuum? What would I do without my mother?
For real though, if you have any advice on a good vacuum, holler at me and leave me a comment. It needs to be carpet friendly but I also need to be able to use on hardwood floors.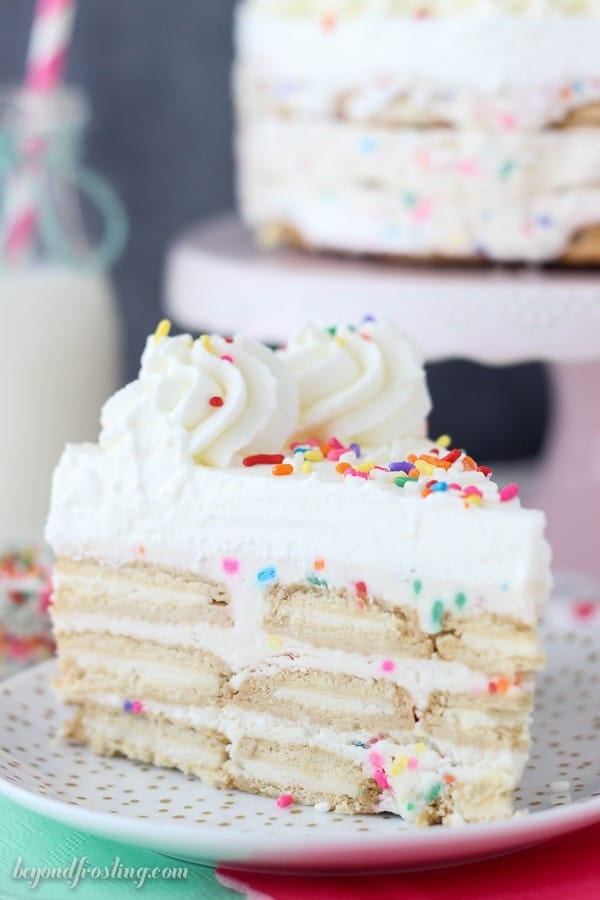 As Memorial Day is approaching, I'm stocking up on summer recipes, especially those of the no-bake genre. This No-Bake Oreo Funfetti Icebox Cake is all about the fun.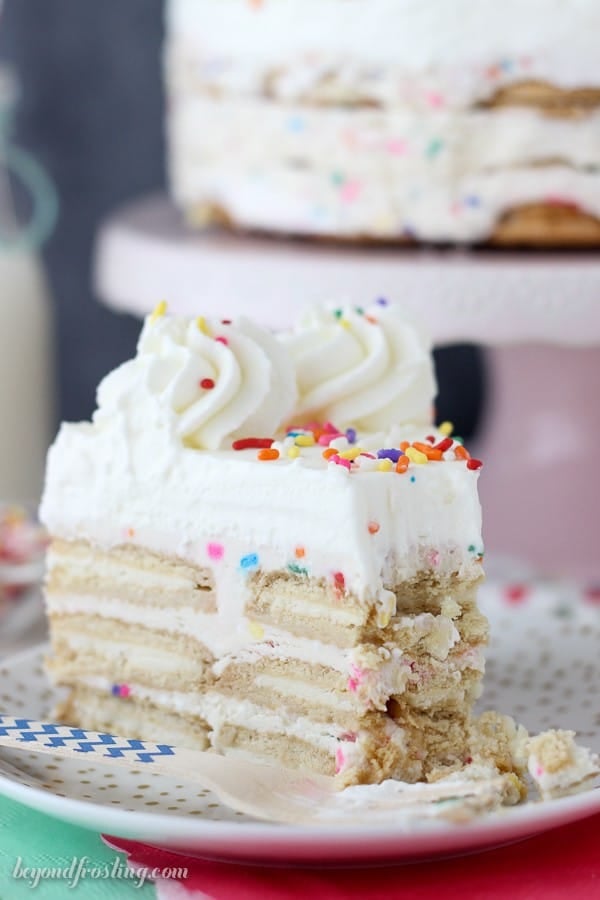 A couple of weeks ago I shared the Chocolate Oreo Icebox Cake, which is what inspired this funfetti version today. I'm switching up this recipe by using whole Golden Oreos and funfetti mousse that uses my favorite Cake Batter Whipped Cream. Seriously, I can't come up with enough excuses to make that whipped cream. It's a whipped cream sweetened with a dry vanilla cake mix, and it is beyond fabulous.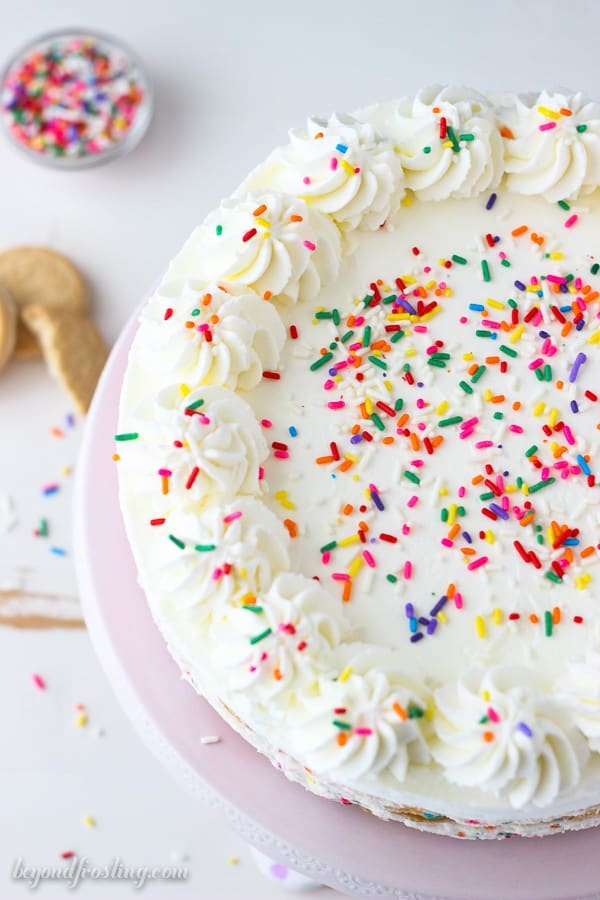 In this icebox cake, you'll find 3 full layers of Golden Oreos that have been dipped in milk to help keep them nice and soft. This is a technique I also used in my cookbook. After you dip them in the milk, it turns the Oreos into a cake-like texture, but still provides enough stability for the cake.
On top of all the layers of Golden Oreos and cake batter mousse, you have the top layer of homemade whipped cream to balance things out a little bit. Obviously you need you little more sprinkles in there.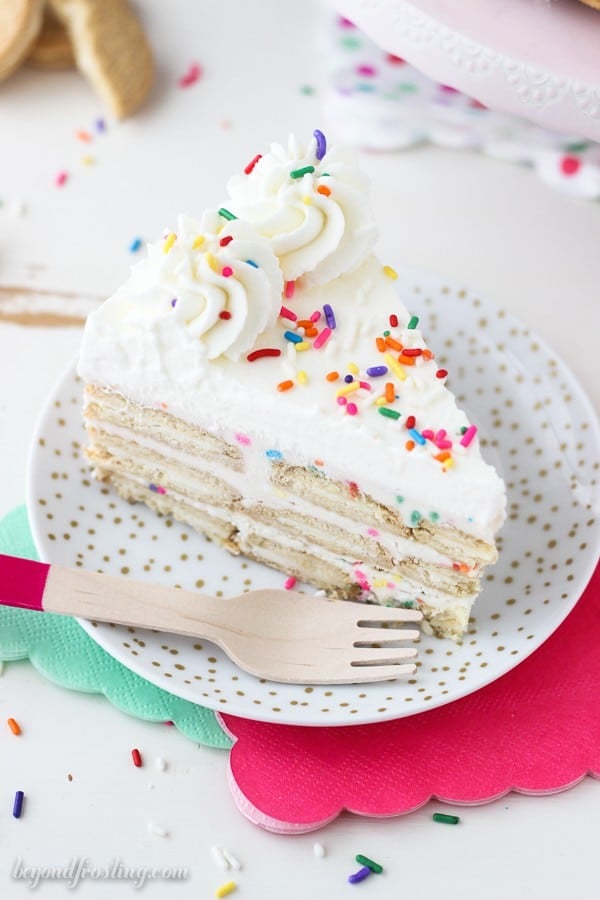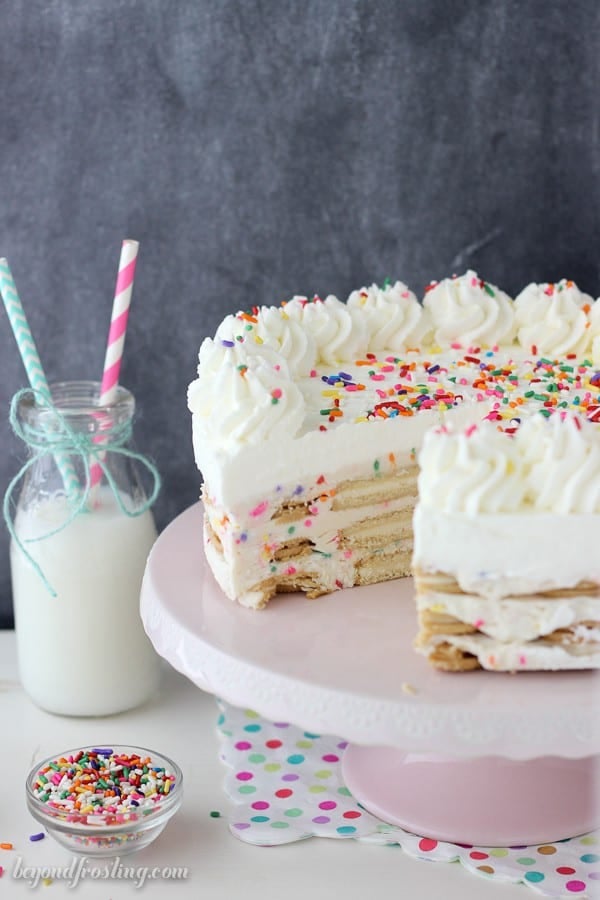 I made this dessert in my beloved 9-inch springform pan, but this is a great dessert you can make in a 9-inch square pan; just be sure it is at least 3-inches high. You should plan ahead to let this dessert sit in the refrigerator for a good 3 to 4 hours. If you want to prepare this in advance, you can also freeze it! However, I always like to let it sit in the refrigerator for 2 hours before I pop it in the freezer. This allows the cookies to soften and blend with the mousse. Happy no-baking!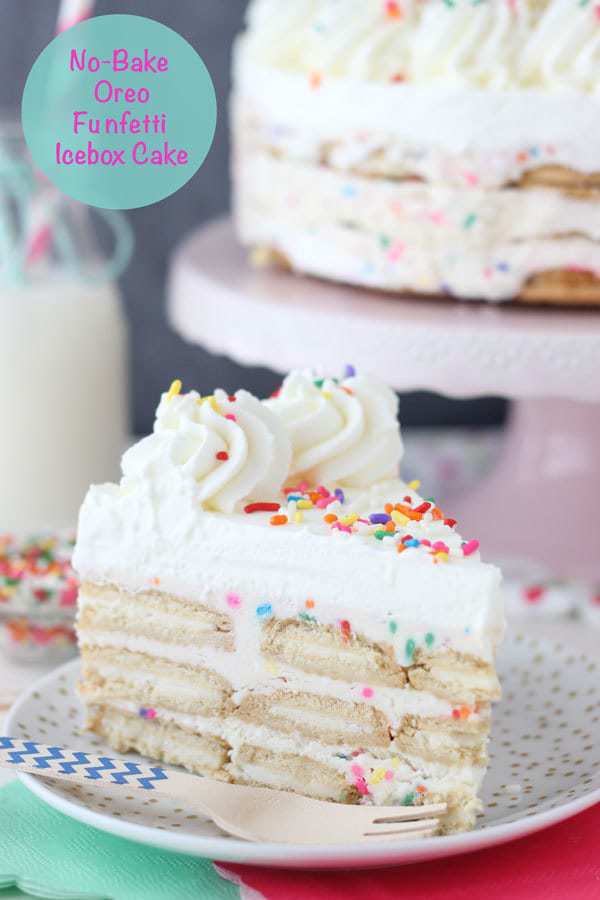 Keep up with all the happenings. Follow Beyond Frosting:
Facebook | Twitter | Pinterest | Instagram
If you love no-bake recipes, be sure to check out my cookbook, No-Bake Treats!
Print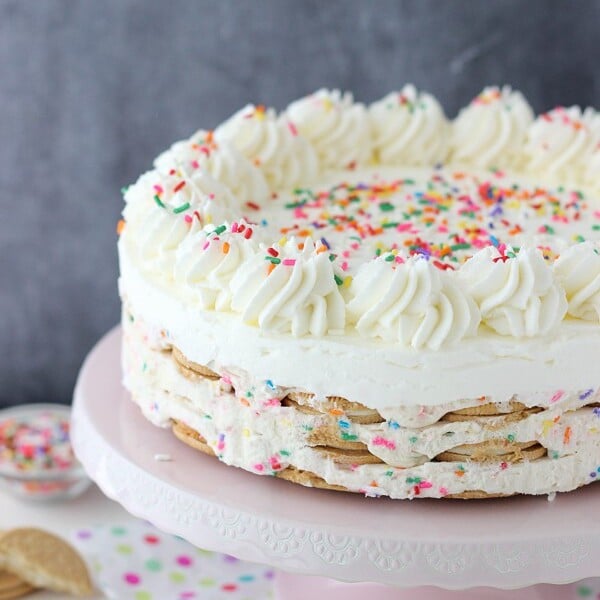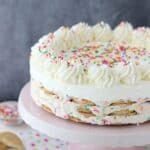 No-Bake Oreo Funfetti Icebox Cake
Author:

Prep Time:

25 mins

Cook Time:

4 hours

Total Time:

4 hours 25 minutes

Yield:

9 slices
Description
With layers of sprinkles and Oreos, this icebox cake is ready for any celebration!
Ingredients
8 ounces

cream cheese, soften

1 ¾ cups

heavy whipping cream

¾ cups

vanilla cake mix (dry)

1 cup

powdered sugar

¼ cup

granulated sugar

1 teaspoon

pure vanilla extract

½ cup

sprinkles

1 cup

milk

1 ½

packages (14.3 oz) Golden Oreos
For the toppings:

1 ½ cups

heavy whipping cream

¾ cup

powdered sugar
Sprinkles for garnish
Instructions
Allow the cream cheese to soften at room temperature for about 30 minutes or soften in the microwave. To soften in the microwave, remove the wrapper and place the cream cheese on a plate. Microwave for 15 to 20 seconds.
Put your mixing bowl and whisk in the freezer for 15 minutes until it is completely cold. Beat the heavy cream on medium-high speed for several minutes until it starts to thicken.
Slowly add the dry vanilla cake mix and powdered sugar and continuing beating until stiff peaks form. Set the whipped cream aside.
In your mixing bowl, beat the cream cheese on medium-high speed for 2 to 3 minutes. Proceed to add the granulated sugar and vanilla extract and continue beating for another 2 to 3 minutes until the sugar is well incorporated. Scrape down the bowl and fold the mixture with a spatula to ensure it's well mixed.
Next, combine the cream cheese together with the prepared whipped cream and fold until the cream cheese and whipped cream are well combined; slowly add the sprinkles as you are mixing.
To prepare the icebox cake, line the bottom of a 9-inch springform pan with parchment paper. If it sticks out the sides of the pan, that's okay, but close the springform edges around the parchment paper.
To build the layers, dip each Oreo in the milk (on both sides) and line the bottom of your pan as best as possible.
Divide the filling into thirds, spreading the first third of the filling over the bottom layer of Oreos. Repeat the above two steps steps for the next layers. You will have 3 layers of Oreos and 3 layers of funfetti mousse.
For the topping:
Put your mixing bowl and whisk in the freezer for 15 minutes until it is completely cold. Beat the heavy cream on medium-high speed for several minutes until it starts to thicken.
Slowly add the powdered sugar and continuing beating until stiff peaks form.
Set aside 1 ¼ cups of prepared whipped cream to pipe the borders of the cake. Spread the remaining whipped cream over the top of the cake and then pipe the borders with a large open star tip. Garnish the top with additional sprinkles.
Refrigerate the icebox cake for at least 4 hours. You can also freeze this cake if you want to prepare more than 24 hours in advance, however I do suggest to refrigerator for at least 2 hours before freezing so that Oreos will soften properly.
Notes
cook time is referring to the time in the refrigerator.
Category:

Dessert

Method:

Refrigerator

Cuisine:

American
Keywords: no bake pie, easy dessert recipes, no bake desserts
Visit Beyond Frosting's profile on Pinterest.
You might also like: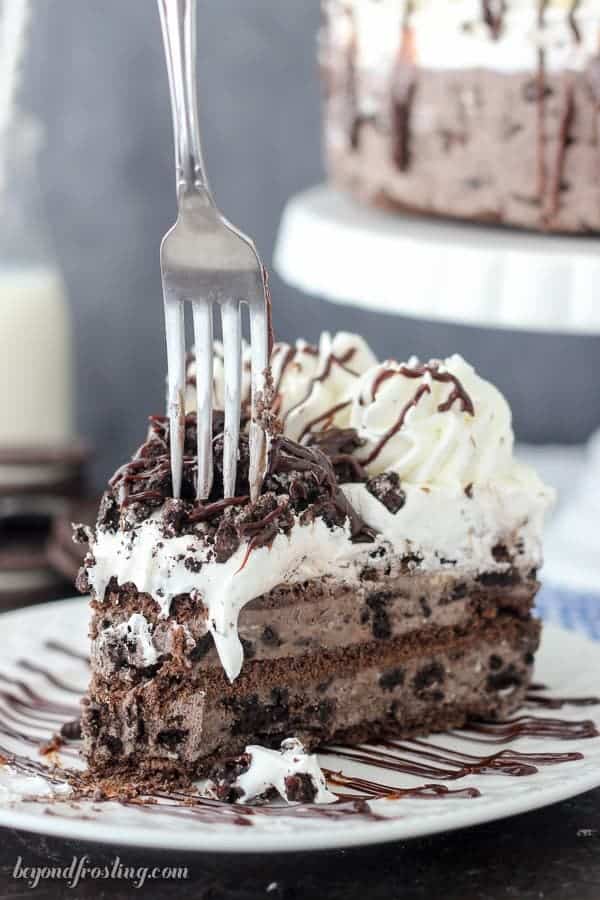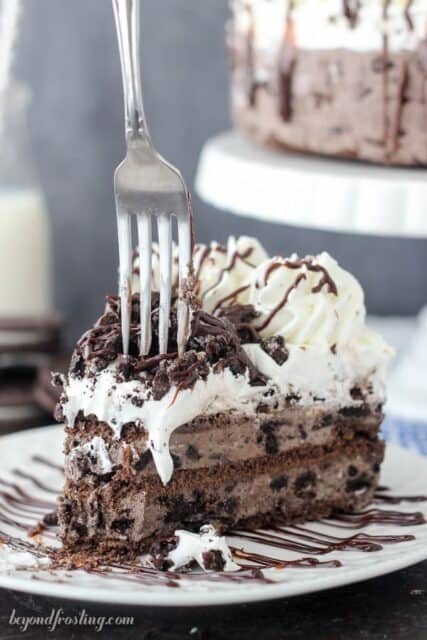 Banana Split S'mores Ice Cream Cake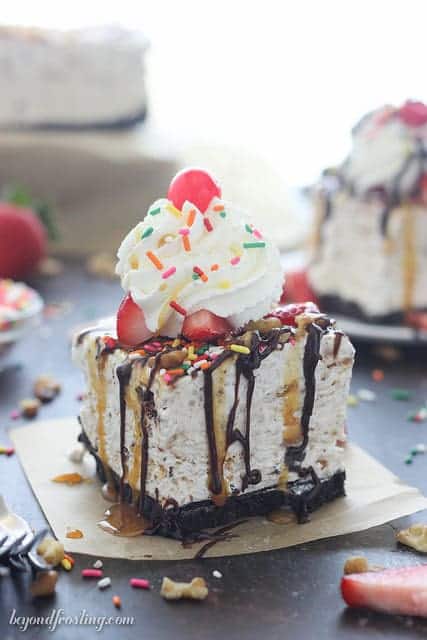 Funfetti Cookie Dough Ice Cream Pie