This post may contain affiliate sales links. Please see my full disclosure policy for details
These soft-baked Peanut Butter Thumbprint Cookies have a chocolate ganache filling and they're rolled in crushed peanuts for the ultimate peanut butter lovers cookie.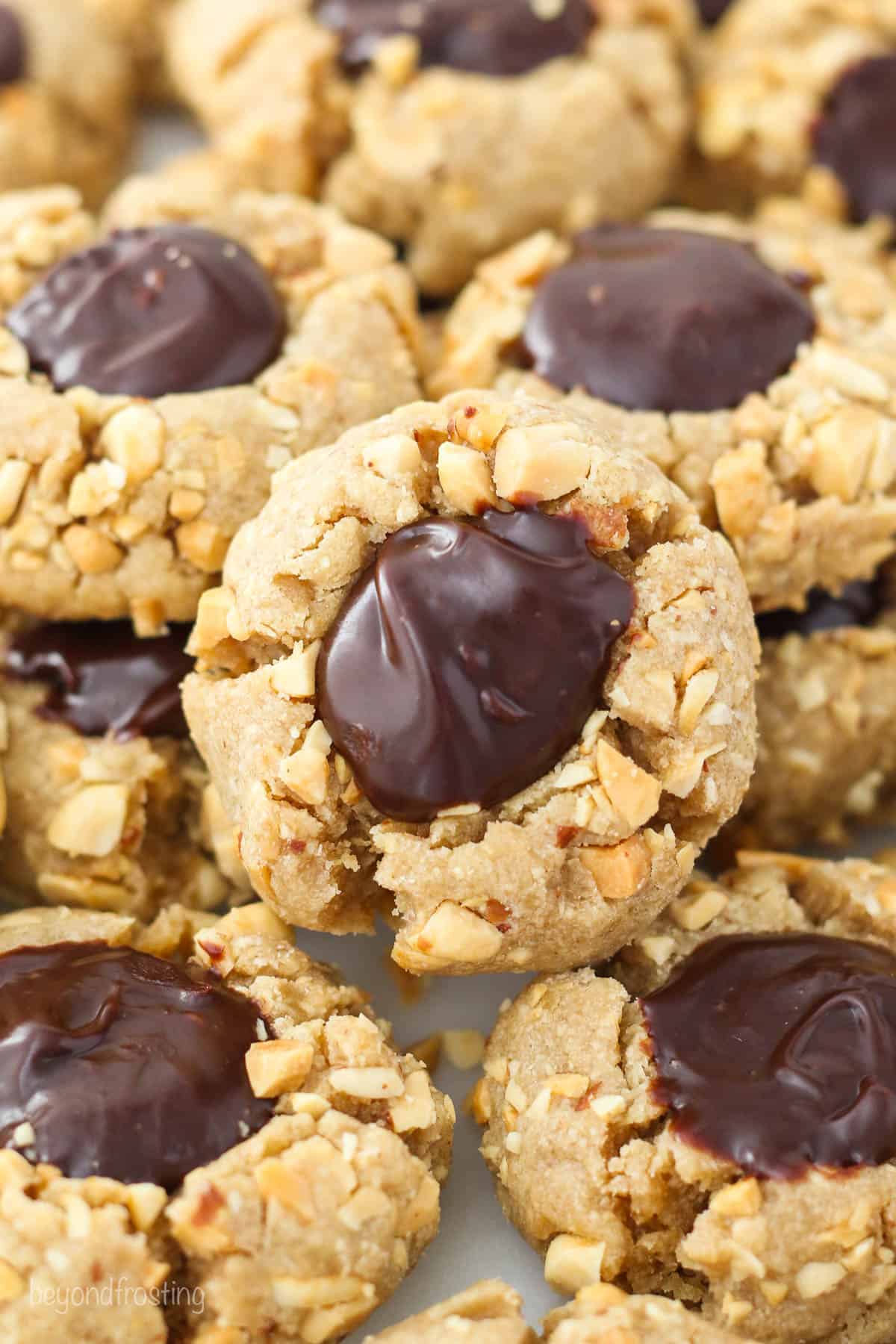 These cookies are from my friend Dorothy's cookbook Crazy for Cookies Brownies and Bars. If there is one thing I know about Dorothy, it's that she loves peanut butter. So, I knew when I saw these cookies that I had to try them. They did not disappoint.
These thumbprint cookies are soft-baked and loaded with peanut butter. To make it even better, they are rolled in crushed peanuts and then filled with a simple chocolate ganache filling. I love the texture of the crunchy peanuts with the soft cookie. You'll have no problem polishing off a few of these in one sitting.
Thumbprint cookies may look difficult, but it's super easy to do. These ones are pressed after they're baked. If you're looking for a simple cookie recipe to impress your friends, this is absolutely it.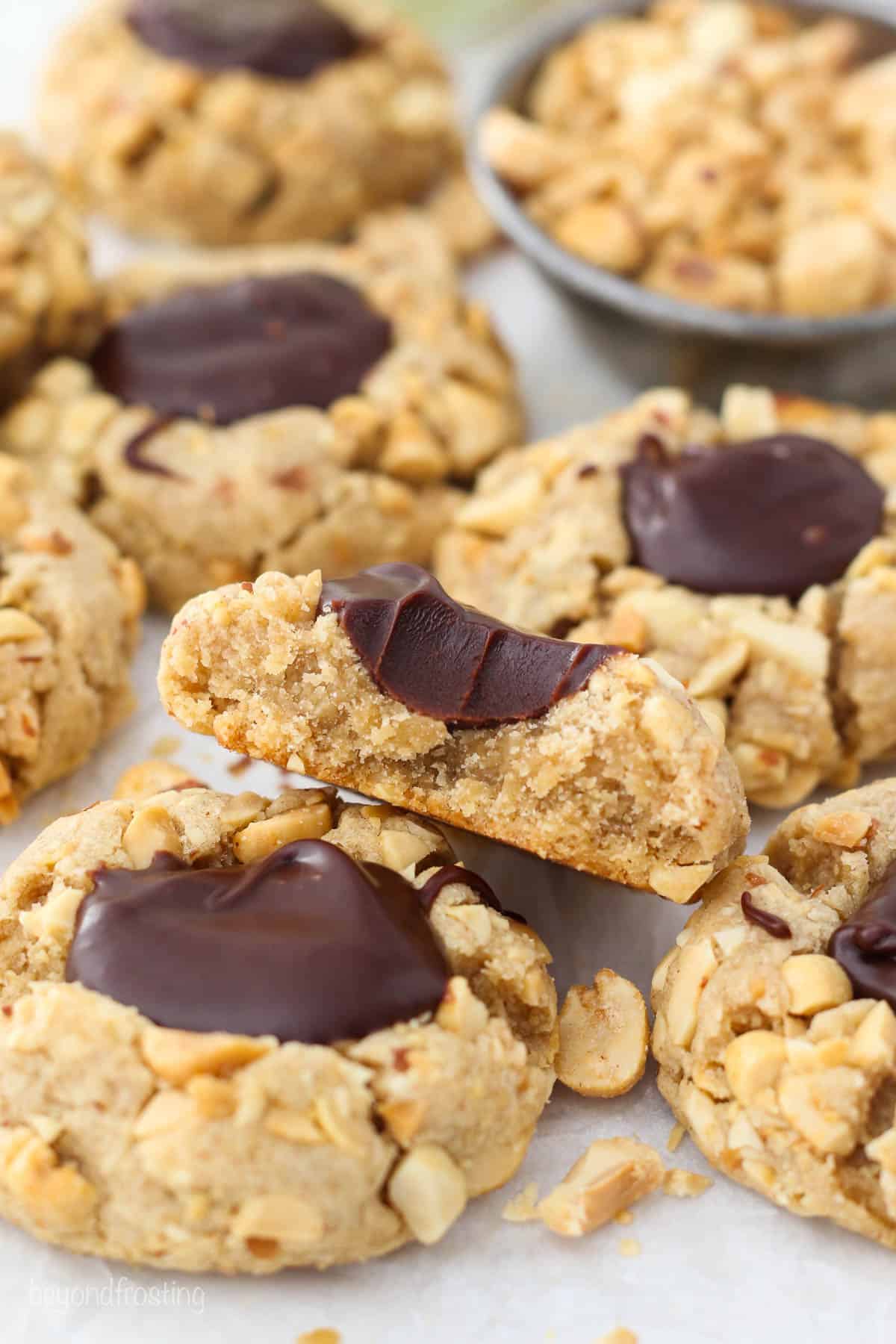 Unsalted butter– this should be at room temperature
Creamy peanut butter– make sure you use something like Jif or Skippy rather than an all-natural peanut butter. Peanut butter should also be at room temperature.
Brown sugar
Granulated sugar
Pure vanilla extract
Large egg
All-purpose flour
Baking Soda & Salt
Salted peanuts– these should be finely chopped
Semi-sweet chocolate chips- for the ganache filling. Any type of chocolate chip will work.
Heavy whipping cream
Prep: Preheat the oven to 350° F and prepare the cookie sheets by lining them with parchment paper or a silicone baking mat. Also, go ahead and chop up the peanuts so they're ready to go. The finer the better.
Beat the butter and peanut butter: Start by combining the peanut butter and butter in your mixer and beat it until it's well combined. If the butter and peanut butter are both at the correct temperature, it should be nice and smooth.
Add the sugars: Next, you'll add both the brown and granulated sugar and containing beating for a couple of minutes until the mixture is nice and fluffy.
Add the liquids: To the mixture, you'll add the egg and vanilla but also go ahead and add the salt and baking soda now. Mix this up until everything is well combined, and don't forget to scrape down the bowl as needed,
Add the flour: Lastly, you'll add the flour and beat this just until the dough starts to form.
Portion out the dough: It's helpful to use a cookie scoop to portion out the dough so all the cookies are the same size. My cookies are larger than Dorothy's, I used a medium-sized cookie scoop.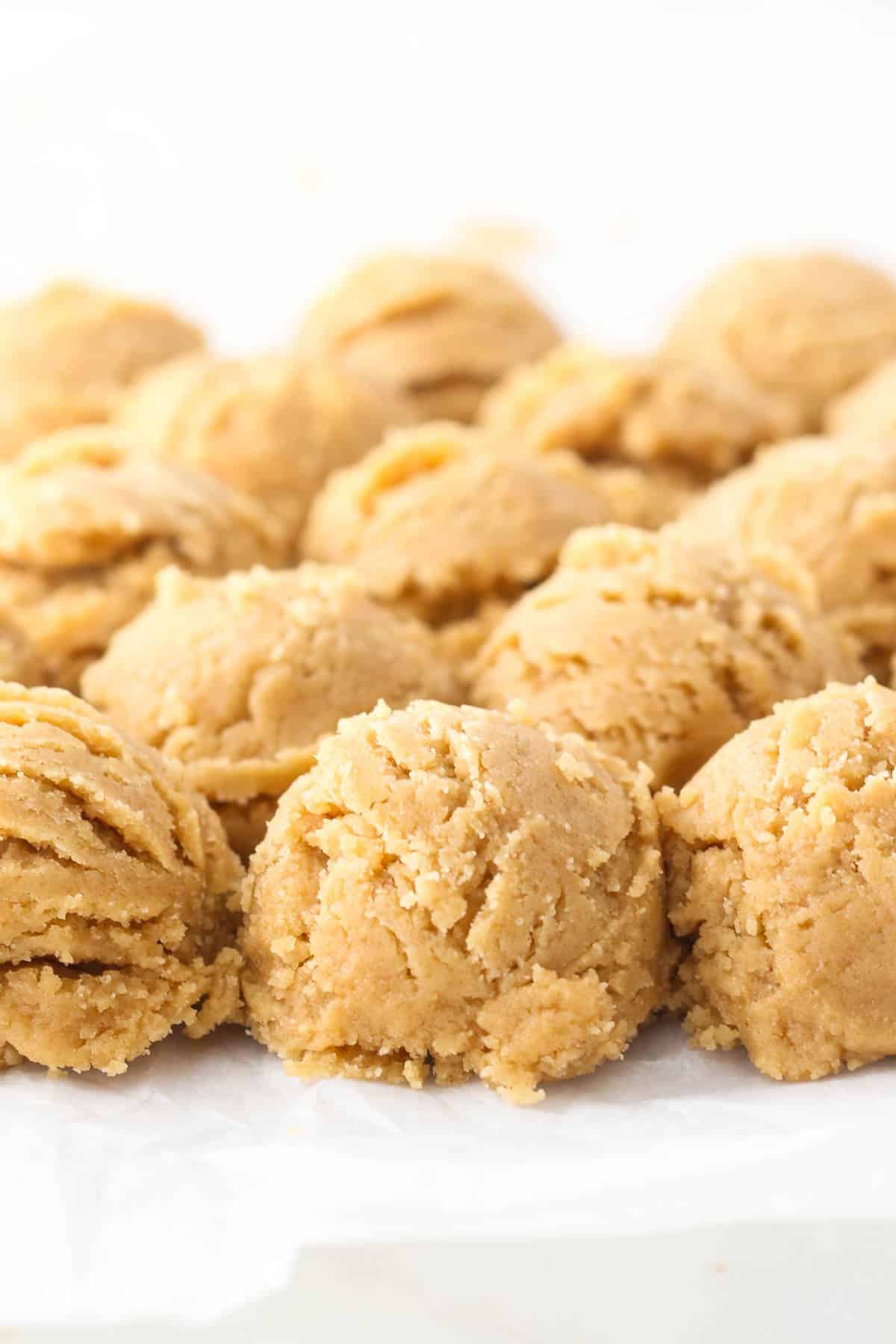 Roll in the nuts: Once the dough is portioned out, roll each ball in the palms of your hands until it's smooth then roll it in the peanuts. You may need to gently press the peanuts into the sides of the dough to help them stick.
Bake: Bake one tray at a time in the center of the oven for best results. These cookies won't spread when they bake, so they should stay in the ball form. This means you can fit quite a bit on one tray, but place them at least 1-inch apart. The suggested baking time is 9-11 minutes. They will have a slightly glossy sheen on top.
Create the thumbprint: When you pull these out of the oven, you want to add the thumbprint right away. Dorothy's tip is to use a teaspoon. You'll need to decide how big of a cavity you want, you can use ¼, ½ or 1 teaspoon size. You could also use a wooden spoon or melon baller, anything to press into the dough to form the cavity. Then let these cool completely.
Make the ganache and fill: The quick ganache filling is made by combining the heavy cream with the chocolate chips and microwaving until melted and smooth. Microwave for 60-90 seconds, stirring every 30 seconds. Once it's completely smooth, use a spoon to fill the cavity on each cookie.
Set and eat: The ganache will harden as it cools, so just let these sit until it's firm to the touch. Then eat at least 3 in one sitting because you can't help yourself.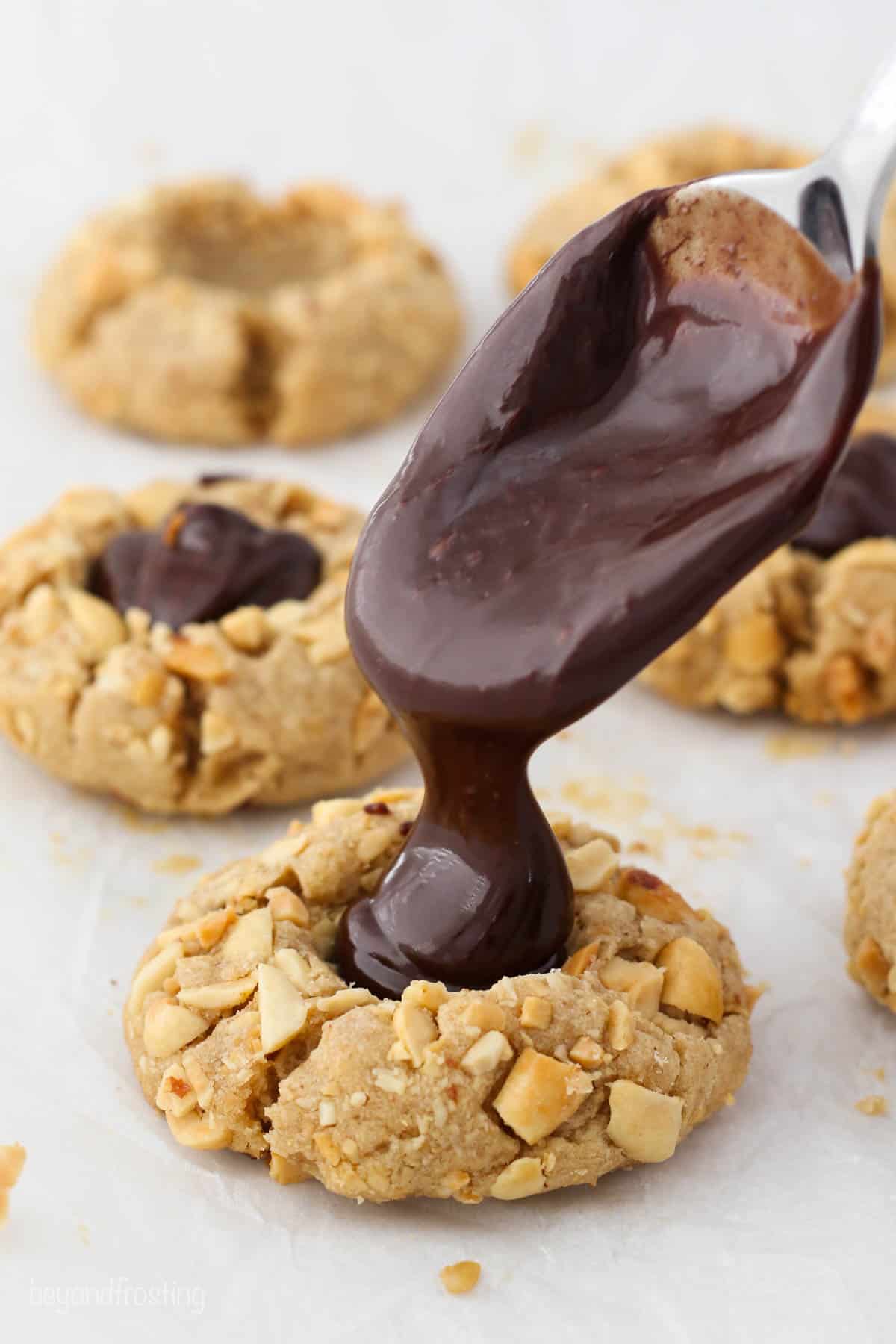 Use the Right Peanut Butter: When making peanut butter cookies, it's important to use the right kind of peanut butter like a Jif or Skippy brand. Natural peanut butters or anything that requires it to be stirred will cause the cookies to be dry.
The Easiest Way to Thumbprint: I had never seen this before Dorothy's tip in the book, but using the back of a teaspoon is the perfect way to add the cavity.
Swap Out the Chocolate Chips: You can change the flavor of the cookies by swapping out the chocolate chips for butterscotch chips, peanut butter chips or even white chocolate.
The ganache should be fully cooled and hardened before stacking cookies. These should be stored in an airtight container with a piece of parchment paper in between layers. These will stay fresh for 3 days.
Cookies can be frozen for up to one month.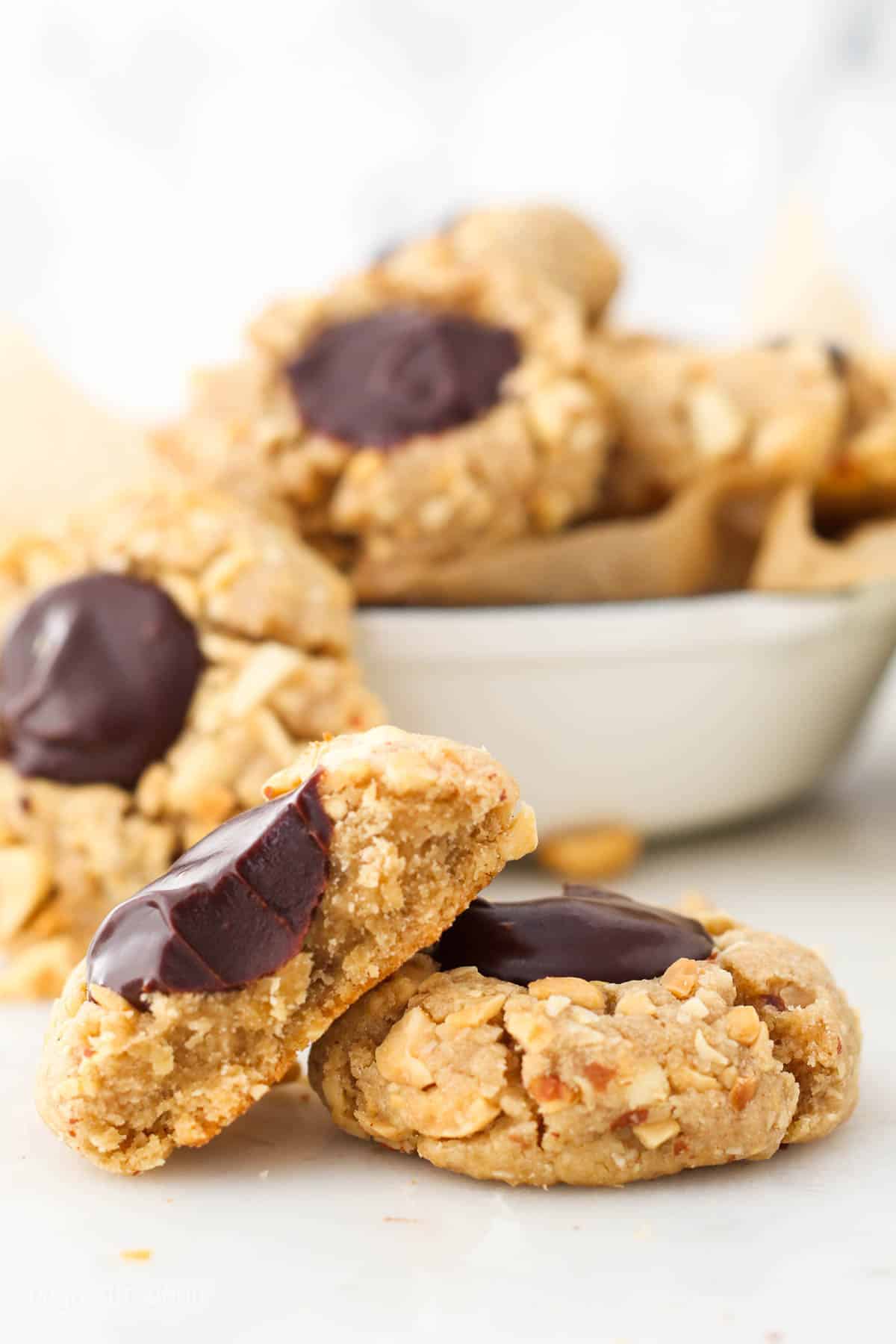 More Peanut Butter Cookie Recipes
Print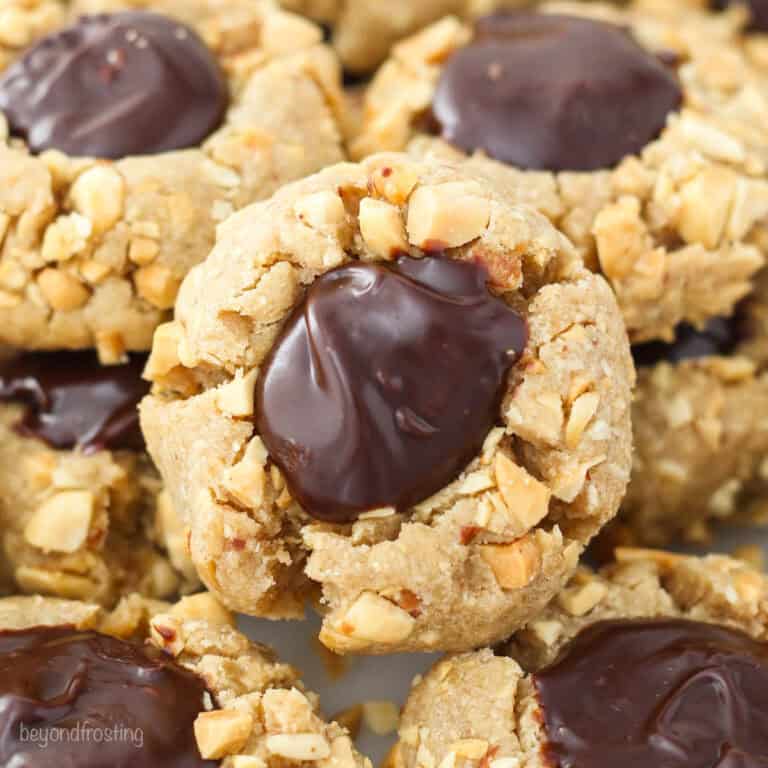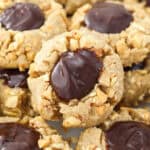 Peanut Butter Chocolate Thumbprints
Author:

Prep Time:

30 minutes

Cook Time:

10 minutes

Total Time:

40 minutes

Yield:

22 Cookies
Description
These easy Peanut Butter Thumbprint Cookies are rolled in crushed peanut and finished with a chocolate ganache filling.
Ingredients
For the Cookies
½ cup

(

133g

) unsalted butter, at room temperature

¾ cup

(

200g

) creamy peanut butter

¾ cup

(

150g

) brown sugar, packed

¼ cup

(

50g

) granulated sugar

1 teaspoon

pure vanilla extract

1

large egg

¼ teaspoon

baking soda

¼ teaspoon

salt

1 ¾ cups

(

217g

) all-purpose flour

1 cup

(

124g

) salted peanuts, finely chopped
For the Filling
1/3 cup

(

57g

) semi-sweet chocolate chips

¼ cup

(59ml) heavy whipping cream
Instructions
For the Cookies
Preheat the oven to 350° F. Line a large cookie sheet with a silicone baking mat or parchment paper.
Combine the softened butter with peanut butter and beat until completely smooth; scrape down the bowl occasionally. Next add the brown and white sugar and beat until well combined.
Add the vanilla, egg, baking soda and salt and mix until smooth. Then add the flour and mix just until the dough forms.
Place the chopped peanuts in a small bowl. Use a medium-sized cookie scoop to portion out the dough into balls, then roll each one smooth between your hands. Roll each ball in the peanuts, pressing lightly to adhere. Place on the prepared cookie sheet.
Bake for 9 to 11 minutes, rotating the pan halfway through baking just until they have a glossy sheen and the bottoms have started to brown. These will not spread during baking
Remove from the oven and use a teaspoon to press into the center of the cookie to create a cavity. Allow them to cool on the cookie sheet before transferring to a wire rack to cool completely.
For the Filling
Once the cookies have cooled, make the ganache. In a microwave-proof bowl, combine the chocolate chips and heavy cream. Microwave in 30-second increments, stirring frequently until the chocolate is melted and smooth.
Spoon the ganache into the center of each cookie. The ganache will harden as it cools.
Equipment
Notes
The original recipe from Crazy for Cookies Brownies and Bars yields 40 cookies, about 1 tablespoon size each. I wanted larger cookies and used a medium-sized cookie scoop to yield 22 cookies.
Be sure to use a room-temperature creamy peanut butter such as Jif or Skippy.
Storing cookies: The ganache should be fully cooled and hardened before stacking cookies. These should be stored in an airtight container with a piece of parchment paper in between layers. These will stay fresh for 3 days.
Category:

Cookies

Method:

Oven

Cuisine:

American
Keywords: Thumbprint Cookies, Peanut Butter Cookies