This post may contain affiliate sales links. Please see my full disclosure policy for details
This Raspberry Cabernet Cake is moist, rich, and full of fresh berries and intense chocolate flavor. Perfect for any special occasion!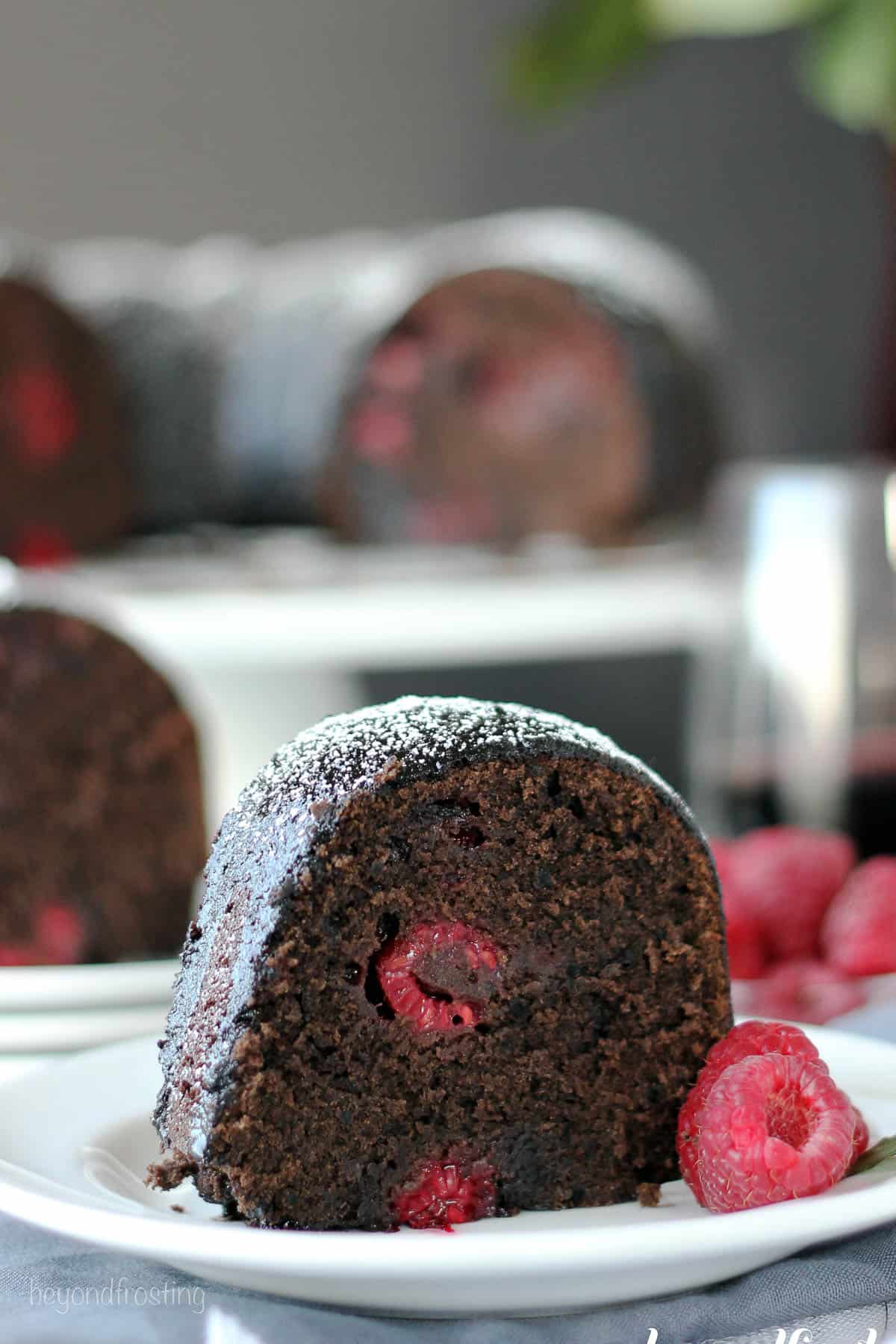 I am so struggling to get back into the swing of things at work. Thankfully, I only had 2 days in the office this week and then a weekend. Sorry, but I just LOVE being home for an extended period of time! I slept, a much needed sleep, every night. I stayed in my pajamas until whenever I felt like showering. I baked and photographed 10 new recipes- yet I still feel unprepared.
I caught up on tons of miscellaneous tasks as well, and get a few days on the mountain and well. Usually we spend all of our free time at the mountain in the winter, but after a few mishaps early on in our vacation, we were sidelined for a few days. I think we needed it.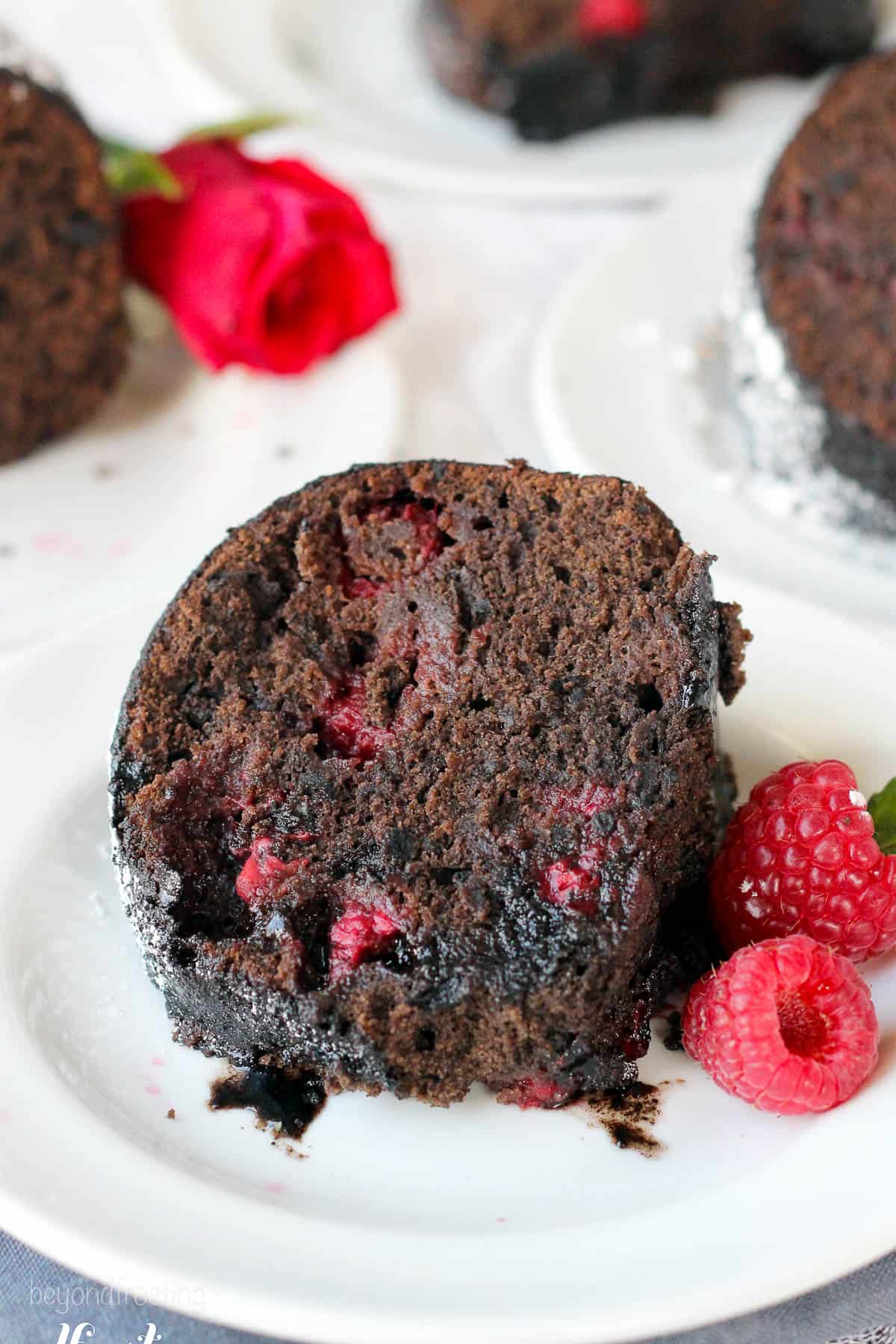 I discovered how much I truly love blogging and I am so focused on growing this space even further in 2014. Last year, I accomplished 4 out of 5 goals. Last night I went over my blog goals with my boyfriend, so he knew what I was working towards this year- he even came up with a few new ones he thought would be good for me!
I am looking forward to kick-starting those in a few short weeks when I travel to Utah for the Build Your Blog Conference. This will be the first smaller conference that I am attending (and only my 2nd one ever), and I am hoping to meet so many bloggers that I have come to know through this virtual space we call the internet. Eeek! I can't wait!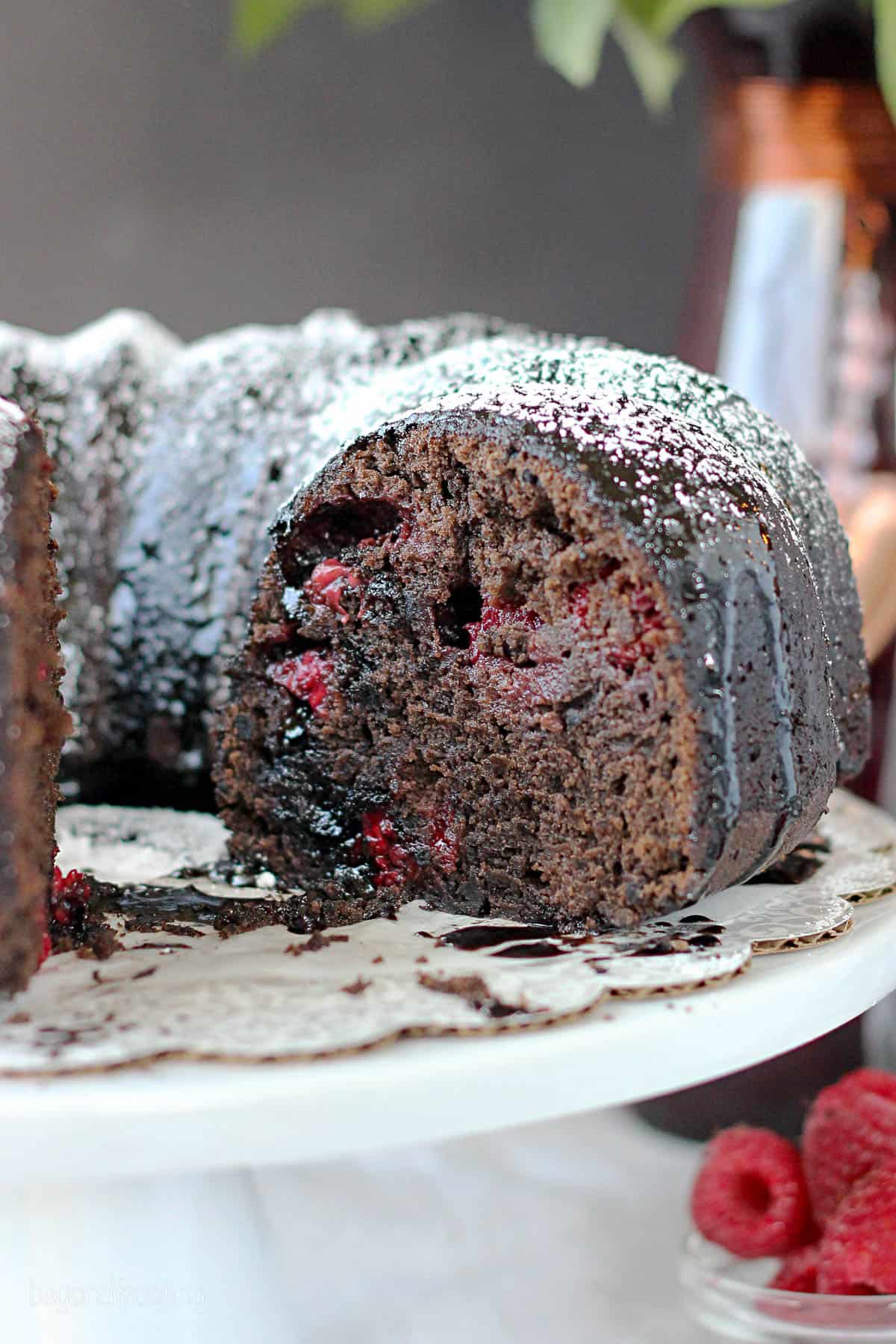 I figured that the only way to ring in the new year was with a decadent chocolate cake. Months ago, I clipped a recipe from my Better Homes and Gardens Magazine for a Sparkling Wine Pound Cake. It's been on my to-do list for quite some time.
So I took their recipe and adapted it into a red wine cake- this Raspberry Cabernet Chocolate Cake. I topped this cake off with a chocolate red wine glaze and sprinkled it with powdered sugar. Raspberries are just so amazing- and they add a needed tang to offset the sweetness of the chocolate cake. I brought this to one of our Christmas celebrations and left half of the cake there. It was gone just a couple days later. I guess it's a winner!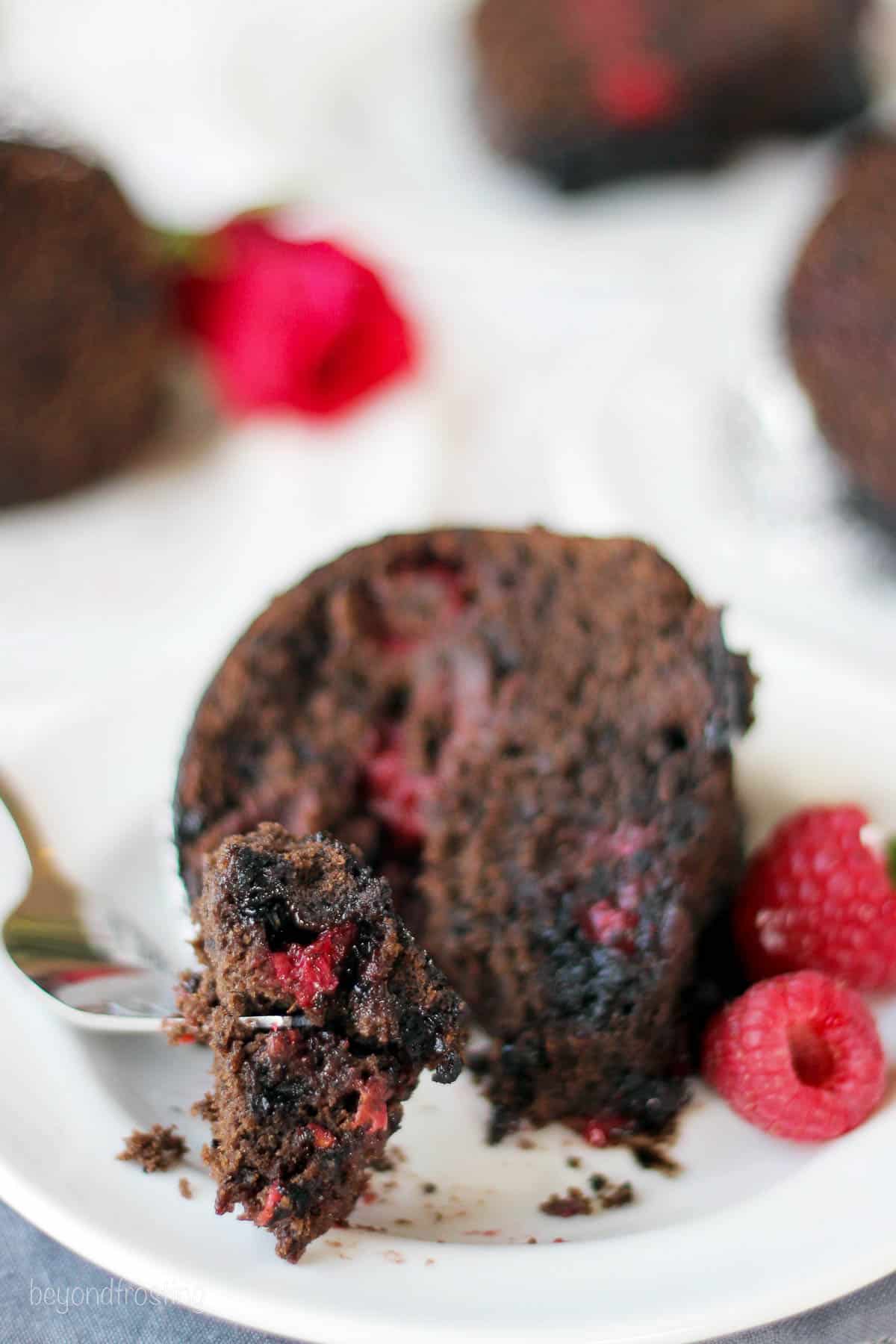 Print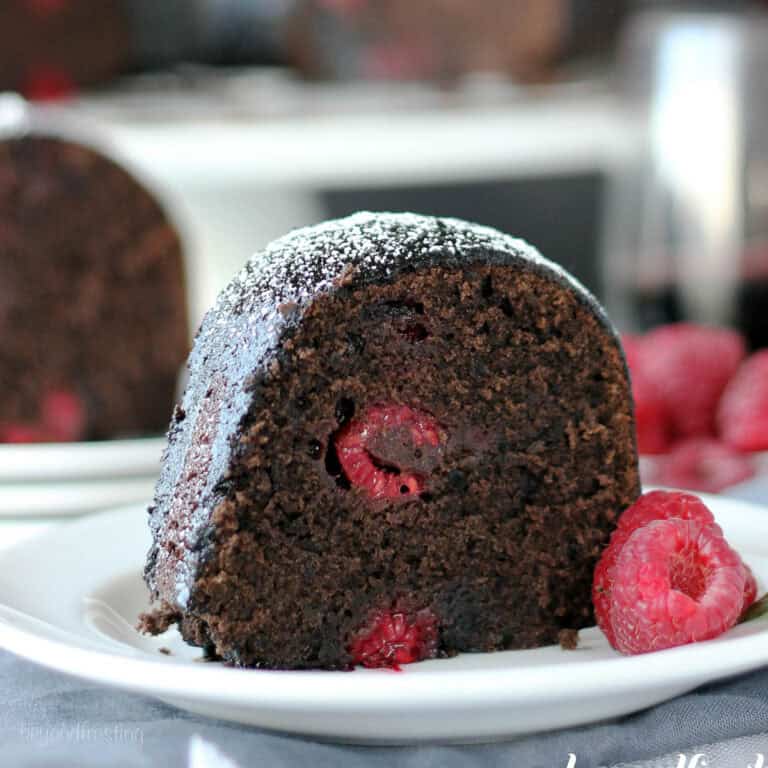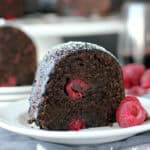 Raspberry Cabernet Cake
Author:

Prep Time:

15 minutes

Cook Time:

55 minutes

Total Time:

1 hour 10 minutes

Yield:

12 Servings
Description
This Raspberry Cabernet Cake is moist, rich, and full of fresh berries and intense chocolate flavor.
Ingredients
2

pks (6oz) Fresh raspberries

1/2

C Sugar

1

C Red wine

4 tbsp

Light sour cream

2 1/2

C Flour, sifted

3/4

C Dark chocolate cocoa powdered, sifted

1 tsp

Baking powder

1/4 tsp

Salt

3/4

C Unsalted butter, melted

1/4

C Vegetable oil

2

C Sugar

5

Large eggs

1 tbsp

Vanilla extract

1 tbsp

Chocolate extract
For the glaze:
2tbsp

Butter, melted

2 tbsp

Dark chocolate cocoa powder

1/4

C Heavy cream

1

C Confectionary sugar, sifted

1 tsp

Vanilla extract

2 tbsp

Red wine
Instructions
Preheat oven to 350° F. Grease a bundt cake pan and coat with cocoa powder instead of flour.
Rinse and dry raspberries. Put in a small bowl with ¼ C sugar and gently stir to coat the raspberries in sugar. Set aside.
Combine red wine and sour cream in a cup, stir until sour cream is mixed into wine. Set aside.
In a medium sized bowl, sift flour and cocoa powder. I usually sift my cocoa powder with a sieve instead of my actual sifter. Add baking powder and salt and set aside.
In a microwave safe bowl, melt butter. Combine melted butter in mixing bowl with oil and sugar. Beat on medium speed for 3 minutes until light and fluffy.
Add eggs, one at a time, ensure that each egg is well beaten before adding the next one. After all eggs have been added, add the vanilla and chocolate extract. If you do not have chocolate extract, add 2 tablespoons of vanilla extract instead.
Alternate adding the flour mixture and the red wine mixture. First, pour in half of the dry ingredients and beat for 30 seconds before adding half of the red wine mixture. Repeat with remaining flour mixture and remaining red wine mix.
Gently fold in Raspberries. I save a handful of raspberries to also sprinkle around on top of my batter once it was poured in the pan.
Pour batter in the greased coated bundt cake pan. Bake at 350°F for 50-55 minutes. Check for doneness by inserting a toothpick into the center of the cake. If the toothpick comes out clean, your cake is done.
Transfer to a wire rack to cool for 30 minutes. After 30 minutes, place the wire rack on top of the bundt pan and flip it over. Gently tapping the sides to release the cake. You may want to put a piece of parchment paper or a plate over the cake before you flip it so you can easily move it off the wire rack without sticking. If the cake does not release, take a butter knife and gently insert along the edge of the pan to help release.
Once cake has cooled, prepare the glaze. Melt butter over medium heat in a sauce pan. Once butter is melted, add cocoa powder and heavy cream. Whisk together until mixture is thick and stir constantly for two minutes over heat to prevent from burning.
Remove from heat and add sifted confectionary sugar. Mixture will become very thick. Add vanilla extract and red wine and whisk until smooth.
If the glaze is too thin, return it to the heat for another 2-3 minutes until bubbling, stirring constantly. As the glaze cools, it will become a little thicker.
Drizzle glaze over cooled cake. I always put my cake on a wire rack overtop of a sheet pan. Once all the glaze has been poured, I remove the wire rack and gather up the extra glaze and pour over the cake again.
Sprinkle glazed cake with powdered sugar.
Category:

Dessert

Method:

Oven

Cuisine:

American
Keywords: chocolate bundt cake, wine cake, chocolate raspberry cake