This post may contain affiliate sales links. Please see my full disclosure policy for details
This Root Beer Float Cake is a vanilla and chocolate marbled cake with a layer of chocolate cream and a root beer whipped cream.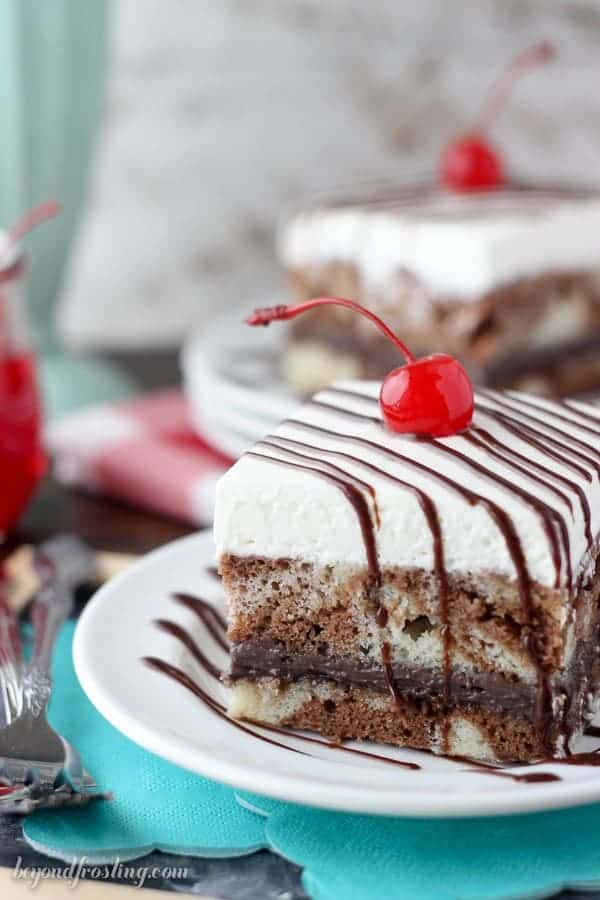 I didn't mean to post back to back Red Robin copycat recipes, but it just happened. Friday I shared the Sweet Potato S'mores Fries because I can always find a way to enjoy sweet potatoes. But there is something else on the menu at Red Robin that was always calling my name.
This Root Beer Float Cake is a vanilla and chocolate marbled cake with a layer of chocolate cream and a root beer whipped cream. The chocolate cake also happens to be flavored with root beer. This means every bite is rich in flavor and varies in texture between the three different layers.
I love going out to eat and browsing the dessert menu. Sometimes it's a combination of flavors that inspires me and something it's an actual dessert. It's really hard to order dessert because I find restaurants can be totally hit or miss and I've become kind of a dessert snob. When your life is consumed with all things sweet, it's becomes even more difficult to please my palette.
So I was more than excited when I tried the root beer float cake and really enjoyed it. The difference between the cake at Red Robin and my cake is that theirs is more of a dense vanilla cake with a swirl of chocolate cake.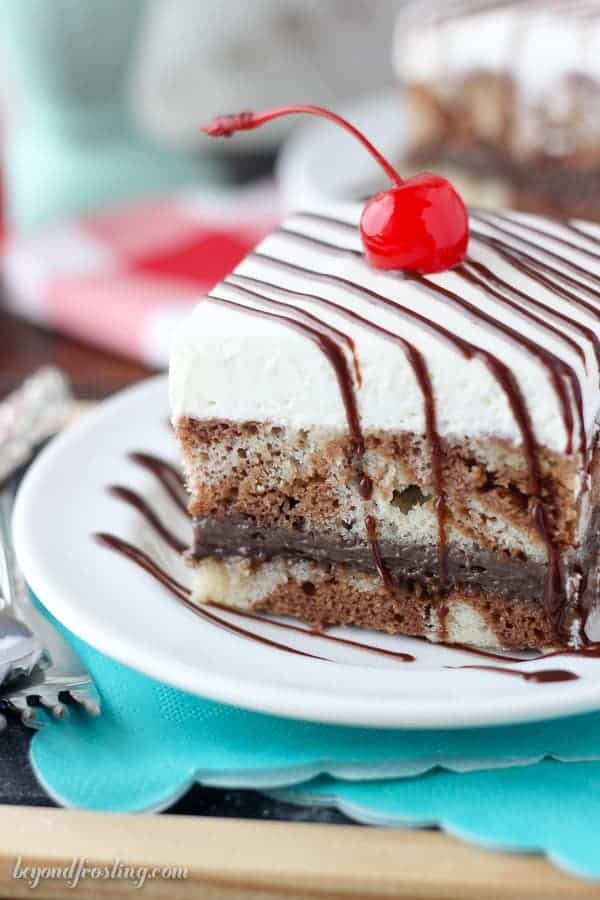 For my cake, I used one box of cake mix, and then divided it in half. For the chocolate cake, I mixed in melted chocolate chips and root beer extract. Whenever I have tried to make marbled cake before, I thought you had to mix in cocoa powder, but then my chocolate cake was always more dense than my vanilla cake.
After doing some research I noticed several recipes used melted chocolate, so I decided to try it and it totally works!
I thought I might make this into more of a poke cake, and pour some sweetened condensed milk on top but I have so many poke cakes, I wanted this one to be different.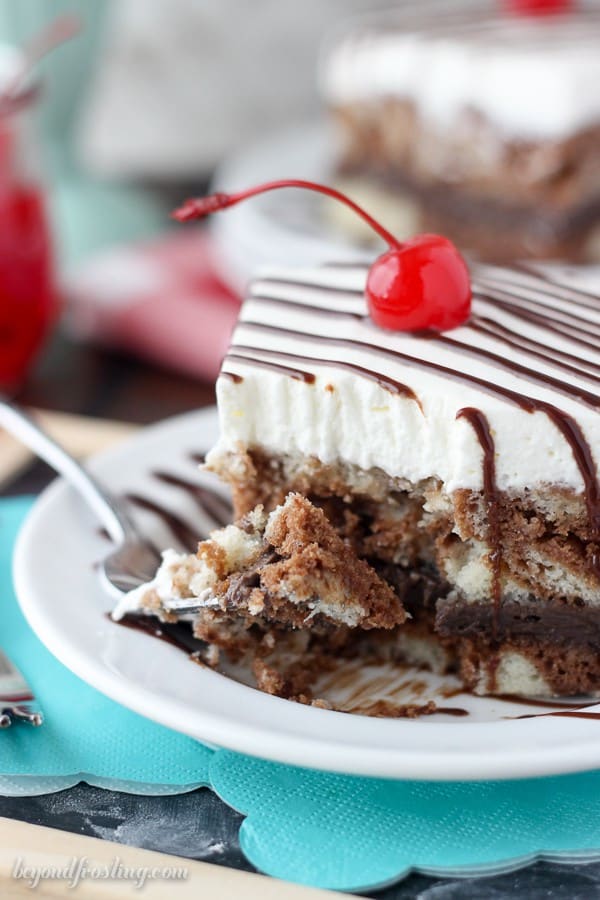 I flipped this cake out of the pan and sliced it in half and then I filled it with a chocolate cream. Splitting the cake in half takes a little bit of fine hands. I have a cake lifter (an oversized spatula), but a great tool to use would be a flat cookie sheet to slide between the layers, and maybe a piece of parchment paper to wiggle it off. Use a couple of your spatulas to help as well.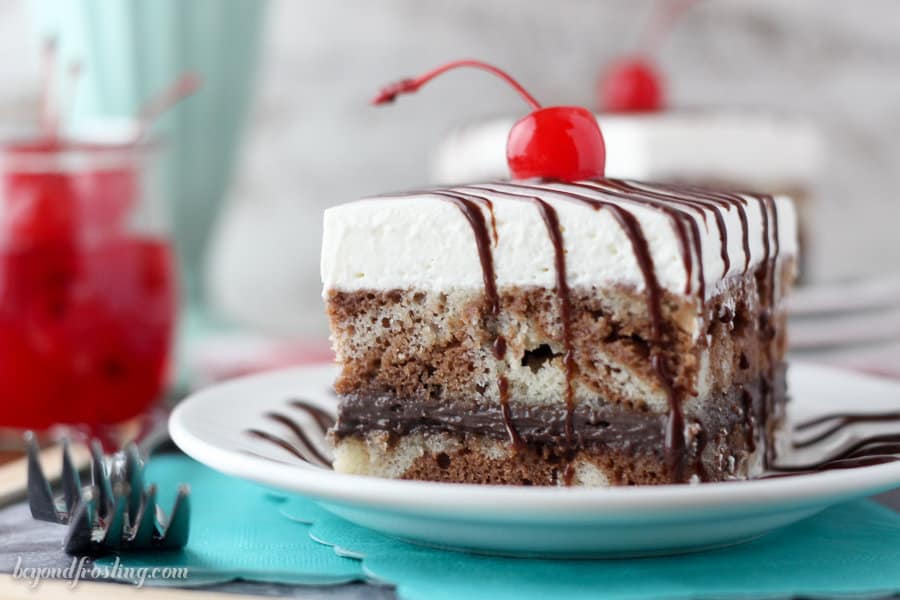 The thin layer of chocolate in a rich chocolate cheesecake, but it's soft and creamy and not tangy like a cheesecake. You hardly even realize it has cream cheese in it when you're eating this cake. After you spread the chocolate cream cheese on top, then put the top layer of cake on top.
Then comes the topping, Root Beer Whipped Cream! Oh MAN is this good! You have to be light handed with the root beer extract because it can be a little overbearing if you have too much. So I suggest to add only a couple drops in the beginning and add to taste. Then spread a generous layer of whipped cream on top and put a cherry on top of each slice!
I promise you that every bite is loaded with root beer flavor.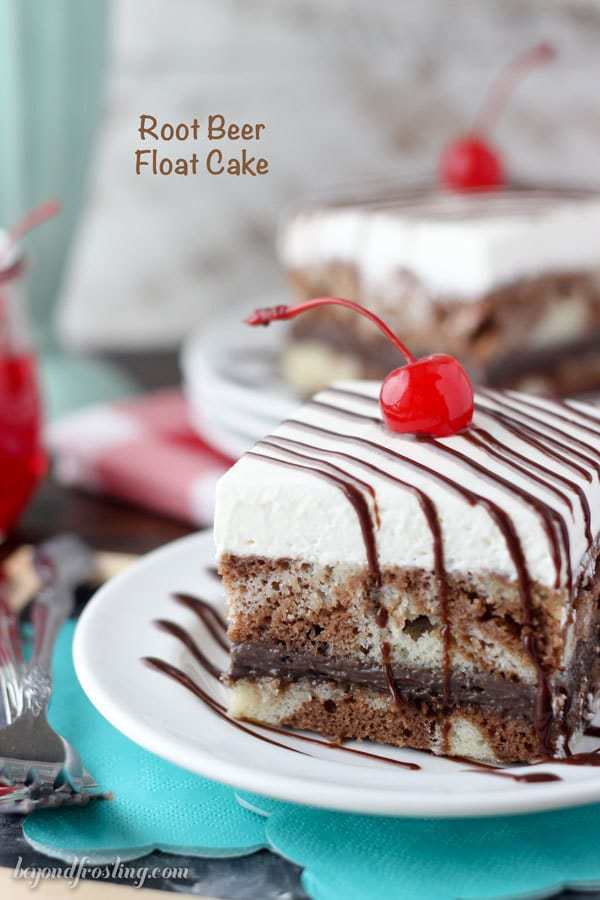 Follow Beyond Frosting:
Facebook | Twitter | Pinterest | Instagram
If you love no-bake recipes, be sure to check out my cookbook, No-Bake Treats!
Print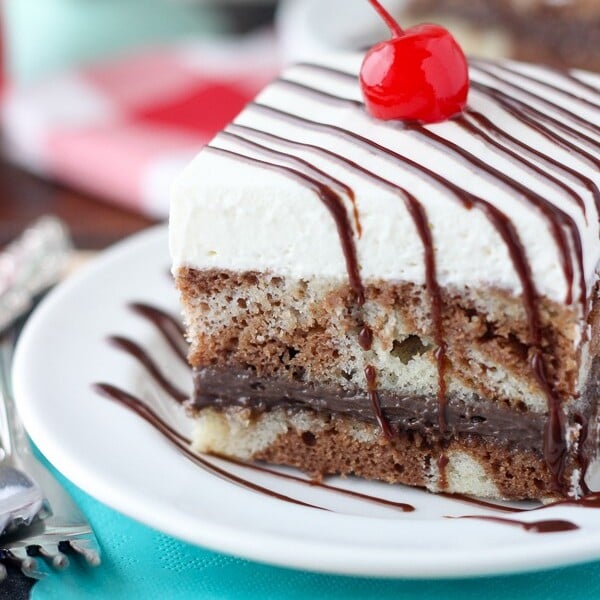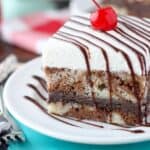 Root Beer Float Cake
Author:

Prep Time:

30 mins

Cook Time:

23 mins

Total Time:

53 minutes

Yield:

12-15 slices
Description
Everyone loved this Root Beer Float Cake!! The cake is a vanilla and chocolate root beer marbled cake with a layer of chocolate cream and a root beer whipped cream.
Ingredients
For the cake:

1

box white cake mix

3

large eggs

¾ cup

milk

½ cup

vegetable oil

1 teaspoon

vanilla extract

½ cup

chocolate chips

2 tablespoon

s milk

2 teaspoon

s root beer extract
For the chocolate layer:

8 ounce

s cream cheese, softened

2 cup

s powdered sugar

2 tablespoon

s cocoa powder

1 teaspoon

vanilla extract
For the topping:

1 ½ cup

heavy whipping cream

½ cup

+

2 tablespoon

s powdered sugar

½ teaspoon

root beer extract
Cherries for garnish
Hot fudge sauce for garnish
Instructions
For the cake: Preheat the oven to 350°F. Line a 9-inch by 13-inch baking sheet/pan with parchment paper and spray with cooking spray.
In a large mixing bowl, combine the cake mix, eggs, milk, vegetable oil and vanilla extract and stir until well combined.
In a microwave-safe bowl, combine the chocolate chips and milk and melt in 30 second increments, stirring occasionally until the chocolate is melted and smooth.
Stir 2 teaspoons of root beer extract into the melted chocolate and mix until smooth.
Divide the cake batter into halves. Stir the melted chocolate into half of the cake batter and mix until smooth.
Pour both cake batter into your pan, swirling the cake mix together with a knife.
Bake at 350°F for 20-25 minutes. To test the cake for doneness, insert a toothpick into the center of the cake. If the toothpick comes out clean, your cake is done. Allow the cake to cool completely.
Once cooled, run a knife around the outside edges of the cake. Place a piece of parchment paper on your counter top and quickly flip the pan over, tapping the bottom of the pan to help release the cake from the pan. Once released, use the parchment paper to help flip the cake back over so it is right side up.
Use a large serrated knife and divide the cake in half.
Take a flat cookie sheet and slid between the layers to separate them. Set the top of the cake aside.
Gently place the bottom of the cake back in the pan.
For the chocolate layer: Remove the cream cheese from the wrapper and microwave for 20 seconds. Beat the softened cream cheese for 1-2 minutes to remove the lumps.
Slowly add the powdered sugar, once cup at a time followed by the cocoa powder, scraping down the bowl as needed.
The cream cheese will start to thicken. Add the vanilla extract and mix until it's well combined.
Gently spread the cream cheese over the bottom layer of the cake.
Then slowly place the top layer of cake back into the pan, gently pressing into the cream cheese.
Refrigerate the cake until you're ready to add the whipped topping.
For the topping: Chill the mixing bowl and whisk into the freezer for 5-10 minutes to chill.
Pour the heavy whipping cream into the chilled bowl and use an electric mixer to beat the heavy cream on medium-high speed until the cream gets bubbly. Slowly add the powdered sugar and root beer extract and continue beating on high speed until peaks start to form.
Spread the whipped cream over the top of the cake.
This cake must be refrigerated. Serve with drizzled hot fudge sauce and a cherry on top.
Recipe Card powered by
You might also like:
Sinful Triple Chocolate Poke Cake