This post may contain affiliate sales links. Please see my full disclosure policy for details
This is a homemade Moist Vanilla Cupcake recipe using oil instead of butter to produce a dense and sponge-like cupcake. The results are perfect cupcakes every time! This is a quick and easy cupcake recipe that is also versatile and can be adapted to other flavors.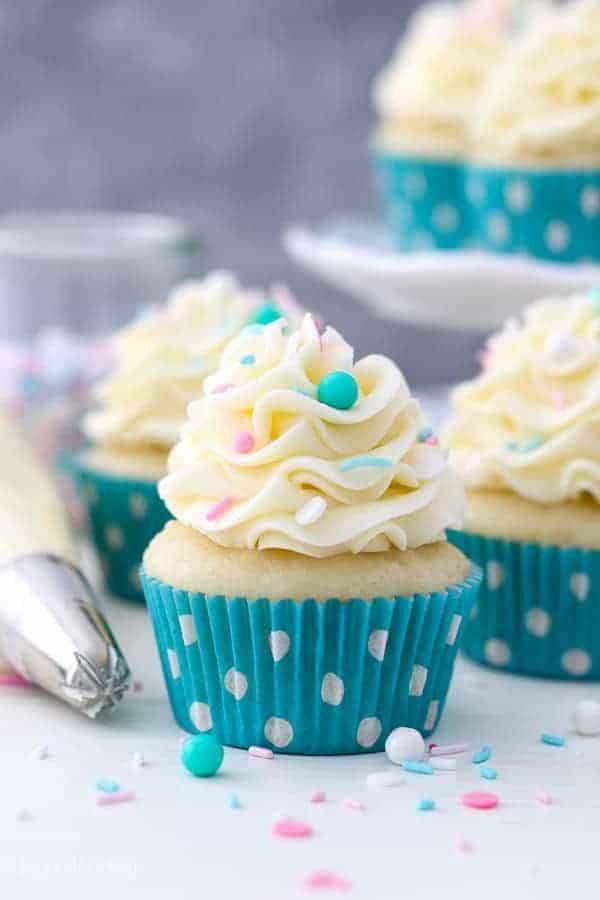 I think everyone needs a quick and easy cupcake recipe that they can make in a pinch. This, my friends, will become your go-to cupcake recipe. These Moist Vanilla Cupcakes are dense like a sponge cake, stays moist for days and are packed with vanilla flavor. These are topped with a whipped vanilla frosting. This is my idea of a perfect cupcake.
When I say this recipe is quick and easy, it's because this cupcake recipe uses vegetable oil instead of butter, so you do not need to wait for any butter to come to room temperature. You can literally come home from work and have cupcakes in the oven 10 minutes later. Chances are, you can prepare this recipe faster than your oven can preheat.
Let's discuss some of the components of this recipe. One of the reasons I like vegetable oil is because oil tends to make cakes more moist than a recipe with butter. It also makes the crumb and texture a bit more tender and tighter.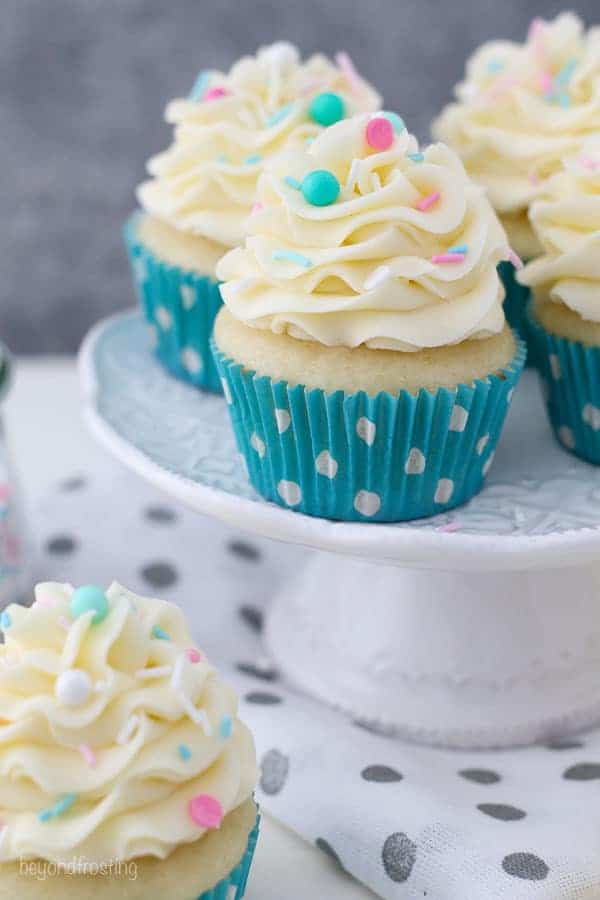 Be sure you get a high-quality REAL vanilla extract for this recipe because the vanilla is your main ingredient for flavor. You could even use vanilla bean paste if you prefer.
This recipe calls for light sour cream. I get a lot of questions about substitutions for the sour cream, and I recommend substituting with Greek yogurt. Personally, I find that the sour cream is essential for keeping the cupcakes moist after the first day. So, I do not recommend omitting it all together.
This vanilla cupcake recipe is very adaptable. I've made this recipe into funfetti, Oreo cupcakes, even lemon cupcakes or margarita. Best of all, it can be made in a 9×13 inch pan as a vanilla cake. The vanilla cake has rave reviews.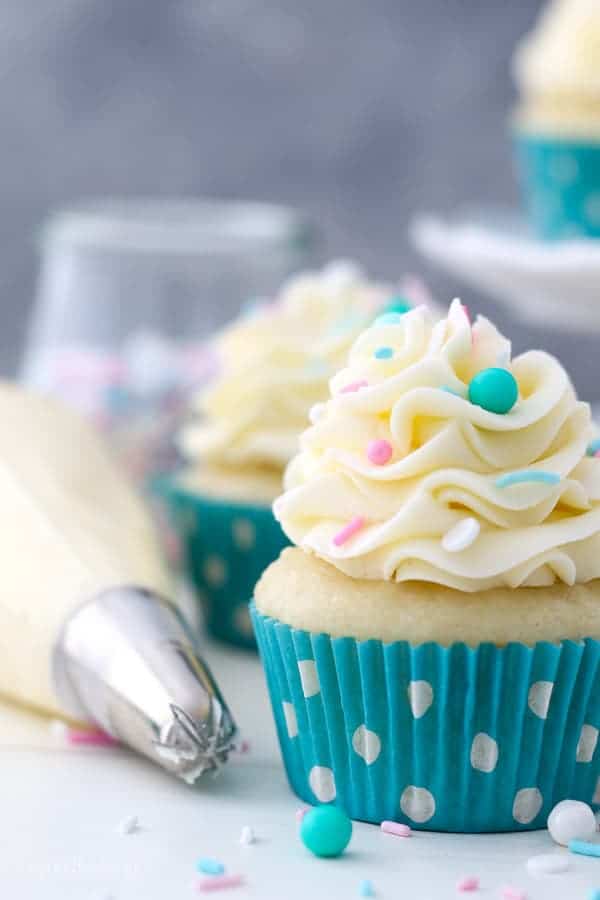 Let's talk real quick about the perfect vanilla frosting. This is my go-to frosting recipe because my recipe uses COLD butter. That's right, there's also no waiting for the butter to come to room temperature for this recipe either. However, this does mean that it takes a bit more time to beat the butter.
My secrets for the perfect frosting are to whip the butter in the beginning for several minutes, and then again at the end, which makes it light, airy and very pipeable. I also use heavy whipping cream which helps reduce the sweetness because there's quite a bit of powdered sugar in this recipe.
Again, you can flavor the frosting with your favorite extracts such an almond, lemon or even peppermint. A little lemon or lime zest also does wonders.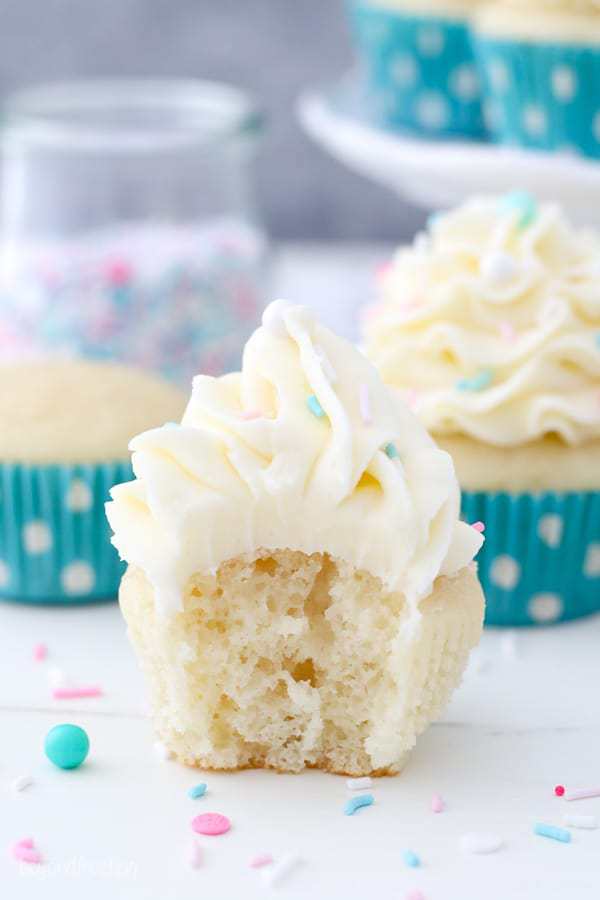 Helpful Tips for baking cupcakes
The best way to make the cupcakes is to use a large cookie scoop to ensure the batter is evenly divided between each liner. This batter is on the thinner side, so the cookie scoop works perfectly. I've shared plenty of tips for baking cupcakes, but using a cookie scoop is by far the best way to get consistent results.
Every cupcake pan cooks cupcakes differently. I have several of the Wilton Recipe Right cupcake pans which are a light color aluminum nonstick cupcake pan. These are great, inexpensive cupcake pans. For the best results you should store the finished cupcakes in an airtight container.
I get a lot of questions about my cupcake liners because they are so bright after baking. I special order the liners from Shop Sweets & Treats. They make grease-proof cupcake liners, which means that no matter what color your batter is, they stay nice and bright after baking. The paper quality is very thick, which is great. I will say though that sometimes, the cupcake liners start separating from the sides of the cupcake because the cupcake is so moist.
I hope you enjoy these Moist Vanilla Cupcakes as much as I do. And if you have any questions or feedback, be sure to let me know by leaving a comment below. Happy baking!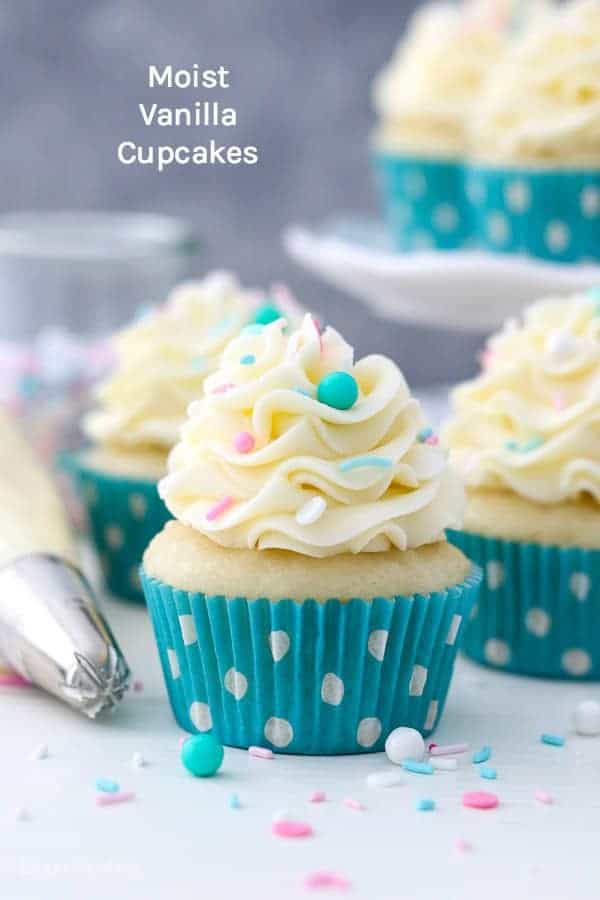 How can I make my cupcakes moist?
I find the simplest way to by adding sour cream or Greek yogurt. That is why you'll find that my cake and cupcake recipes usually contain this ingredient. Also taking care not to over mix your batter and over bake your cupcakes will help prevent them from drying out.
I also suggest storing them in an airtight container to maintain the moisture.
How do you know when my cupcakes are ready?
I usually set my timer for the minimum baking time and then I check on them every 30-60 seconds after that. I press down the top of the cupcakes and they should spring back up. I also always use the toothpick test. I poke the top of the cupcakes with a toothpick and if the toothpick comes out clean, your cupcakes are done.
Do I have to use Sour Cream cream?
As I mentioned above, sour cream helps keeps these cupcakes very moist. I recommend substituting the sour cream with non-fat Greek Yogurt if you do not have sour cream.
Can I make this as a layer Cake?
Yes, you can, here is my recipe for the Moist Vanilla Layer Cake.
Do I need to refrigerate my cupcakes?
If you live in a hot and humid environment then I would suggest that you refrigerate cupcakes that are frosted and allow them to come to room temperature before serving.
Since this frosting is all butter based, it will melt in high temperatures or in humid environments. If you are serving this buttercream at an outdoor party, be sure to keep it out of the sun, especially if temperatures are hot that day.
Otherwise I store my cupcakes in a cool, dry place in an airtight container for up to 3 days once they are frosted.
Follow Beyond Frosting:
Facebook | Twitter | Pinterest | Instagram
If you love no-bake recipes, be sure to check out my cookbook, No-Bake Treats!
Print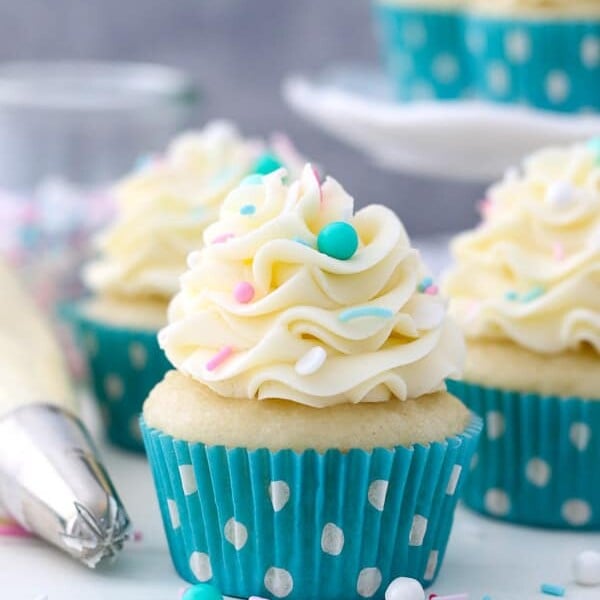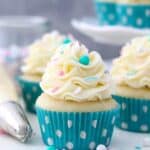 Moist Vanilla Cupcakes
Author:

Prep Time:

10 minutes

Cook Time:

15 minutes

Total Time:

25 minutes

Yield:

24-26 cupcakes
Description
This is a homemade Moist Vanilla Cupcake recipe using oil instead of butter to produce a dense and sponge-like cupcake. The results are perfect cupcakes every time!
Ingredients
For the cupcake:
2 cups

(

380g

) granulated sugar

½ cup

(

118

ml) vegetable oil

3

large eggs

1 tablespoon

(

14.8

ml) vanilla extract

½ cup

(

118

ml) light sour cream

2 ½ cups

(

350 g

) all-purpose flour

3 teaspoons

(

11.2 g

) baking powder

1 teaspoon

(

5 g

) salt

1 ¼ cups

(

296

ml) milk (I use nonfat)
For the frosting:
1 1/2 cup

 (

339

g) unsalted butter, cold

6 cups

(

780g

) powdered sugar

2 ½

(12 ml) tablespoons heavy whipping cream

2 teaspoons

(10ml) vanilla extract
Pinch of salt
Instructions
Preheat the oven to 350°F. Line a cupcake pan with cupcake liners.
In a large mixing bowl, combine the sugar, vegetable oil, eggs and vanilla extract. Beat on medium speed until the eggs and oil are well incorporated and the batter is lighter in color, about 2 minutes. Scrape down the bowl as needed.
Next mix in the sour cream and beat until well combined.
In a separate bowl combine the remaining dry ingredients: flour, baking powder and salt. Add half the dry ingredients, and beat on low speed while pouring in half of the milk and mix just until the flour starts to incorporate.
Finally add the remaining dry ingredients, and the remaining milk. Beat on low speed until all of the ingredients are well combined.
Use a spatula to scrape down the sides of the bowl and stir the batter from the bottom to the top to ensure it's well mixed.
Using a large cookie scoop, divide the batter evenly, filling each liner 2/3 full. Careful not to overfill.
Bake at 350°F for 14-16 minutes. Test the cupcakes for doneness by inserting a toothpick into the center of the cupcake. If the toothpick comes out clean, the cupcakes are done. Cool Completely.
For the frosting: Cut the butter into pieces. Using the paddle attachment, whip the butter for 5-7 minutes, scraping down the bowl occasionally, beating until the butter is very fluffy.
Add 3 cups of powdered sugar and mix on low speed until incorporated into the butter then add the vanilla extract and mix to combine. Beat for about 60 seconds.
Next, add an additional 2 cups of powdered sugar and beat on low speed until sugar is incorporated. Increase speed to medium-high and beat for 3 minutes.
Add the last 1 cup powdered sugar along with the heavy whipping cream. Beat on low until the ingredients start to mix together. Increase speed to medium-high and beat for another 3-5 minutes to whip additional air into the frosting. Pipe these cupcake with a large piping tip and top with sprinkles.
Notes
The batter will be quite thin. It's important that you stir the batter after mixing, to ensure everything on the bottom of the bowl is well mixed.
Sour Cream: You can substitute the light sour cream for Greek yogurt. You can also use full-fat sour cream if needed.
Gluten-free option: This recipe has been tested with a one for one cup gluten-free flour that already contains xanthan gum.
To make 12-14 cupcakes, halve all the dry and wet ingredients, but use 2 whole eggs, 2/3 cups milk
Storage suggestions: If you live in a hot and humid environment then I would suggest that you refrigerate cupcakes that are frosted and allow them to come to room temperature before serving. Otherwise they can be stored in an air-tight container at room temperature.
Make-ahead: These are best served within 2 days of preparation but will proper storage they can stay fresh for several days.
Freezing: If needed, flash-freeze the cupcakes on a baking sheet for 15 minutes than transfer them to an air-tight, freezer-safe container. Thaw in the refrigerator for several hours then bring to room temperature prior to serving. If possible, it's best to store them unfrosted.
Category:

Cupcake

Method:

Baked

Cuisine:

American
Keywords: Cupcake Recipe, Vanilla Cupcake, Easy Vanilla Cupcake, Moist Vanilla Cupcake
Recipe Card powered by
Other recipe that you can make with this recipe:
Mocha Cake with Kahlua Buttercream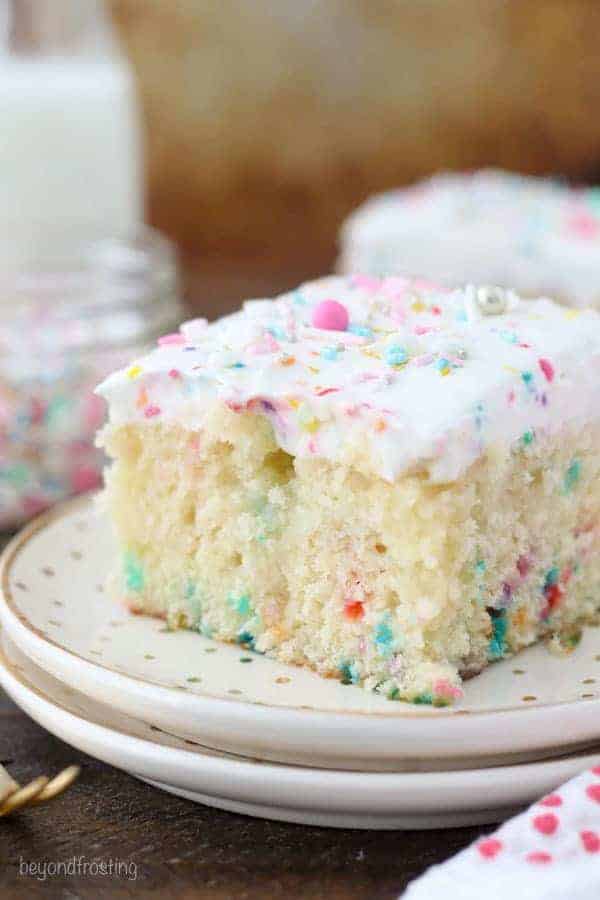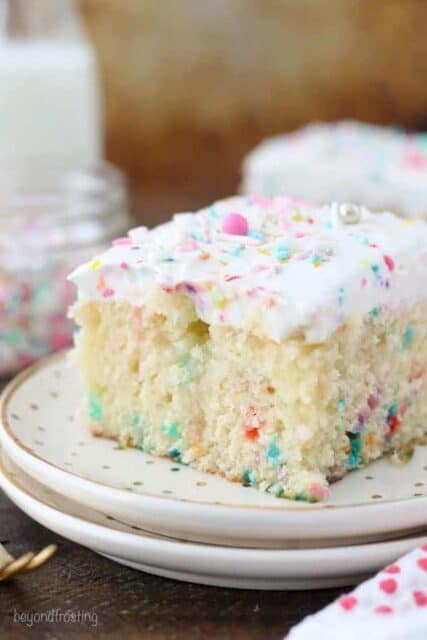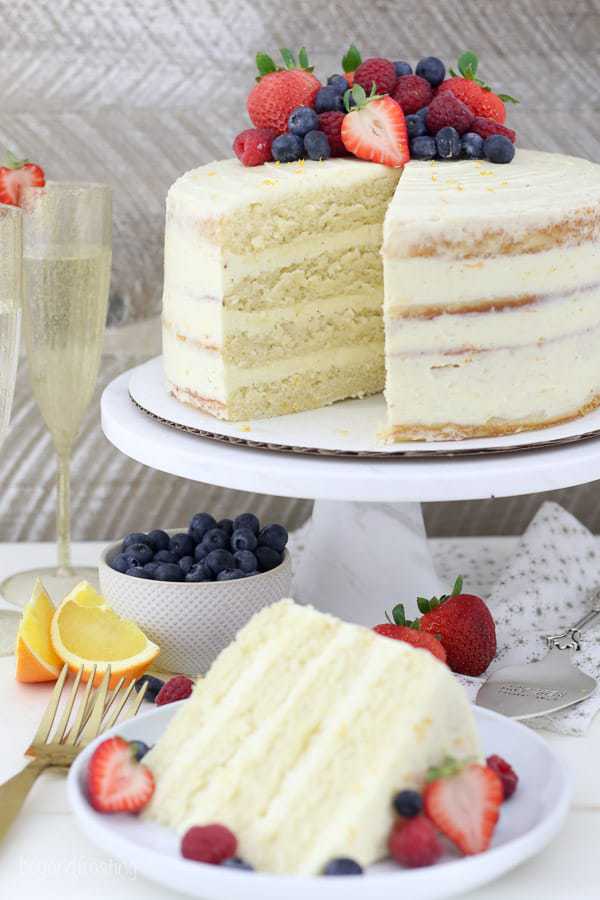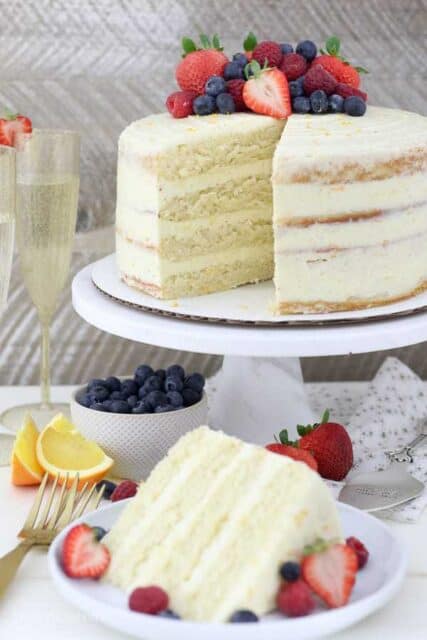 Blackberry Bourbon Smash Cupcakes