This post may contain affiliate sales links. Please see my full disclosure policy for details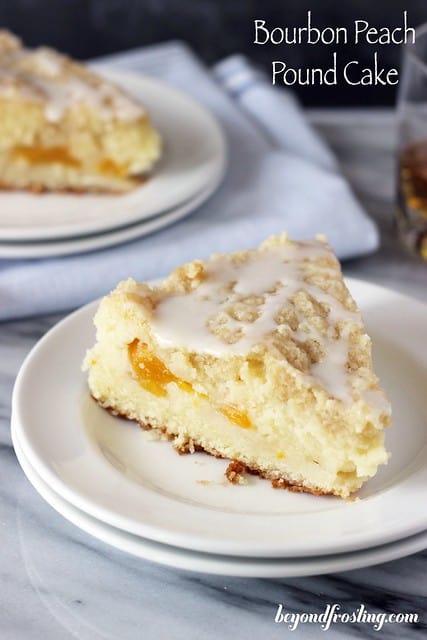 What a fun weekend I had! I joined a few bloggers in LA for a "garden to table" feast, which was potluck style. If you follow me on Instagram, you can see some of my photos, but I will be sharing more in my upcoming Monthly Mixer post! It was seriously straight-out-of-a-dream gorgeous. I made mini 4oz jars of my Mimosa Cheesecake.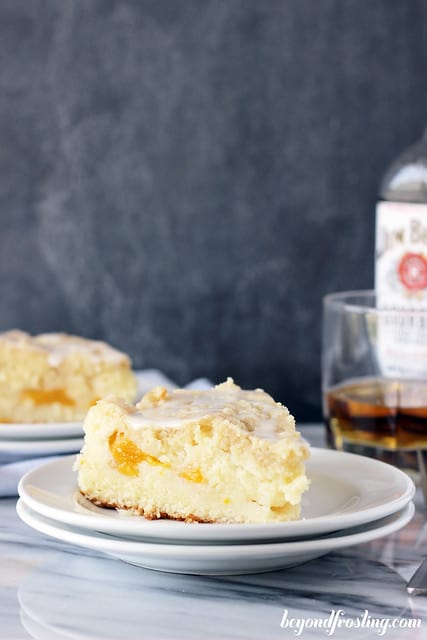 Yesterday was my friends one-year anniversary; maybe you'll remember when I baked 350 cupcakes for the wedding? I am also super excited because my old roommate is getting married this coming Saturday. I will be rolling up my sleeves and making eight blackberry pies for her rehearsal dinner! I made a practice pie to bring to LA and everyone said it was good, so I hope it works out!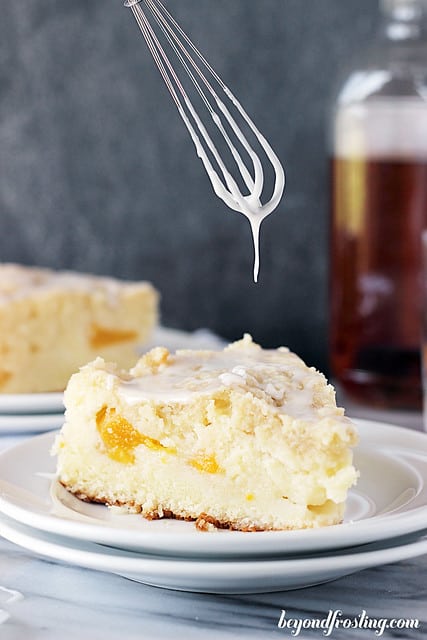 I love peach season! I could eat peaches for days. As such, I will be sharing a few different peach recipes with you over the next week! I am starting with a Bourbon Peach Pound Cake. I combined my grandmother's pound cake recipes with a touch of bourbon and some peaches to create a decadent streusel topped cake. For a little extra kick, I finished it off with a bourbon glaze! Can we say, "yes, please"?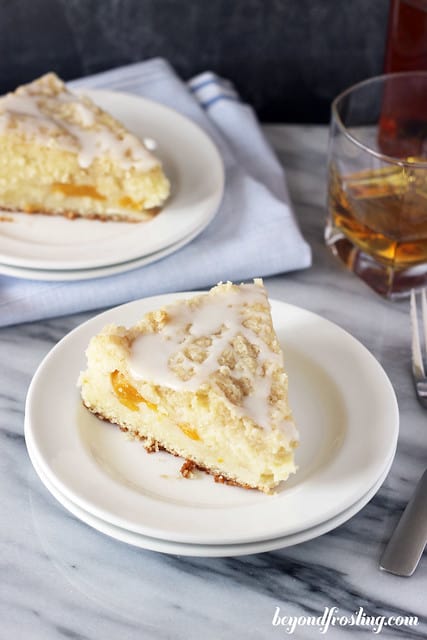 This recipe uses Lucky Leaf canned peach pie filling. Using a pie filling for this recipe helps eliminate some of the work, plus the juices help keep the cake extra moist! Pie filling can be your best friend in a pinch.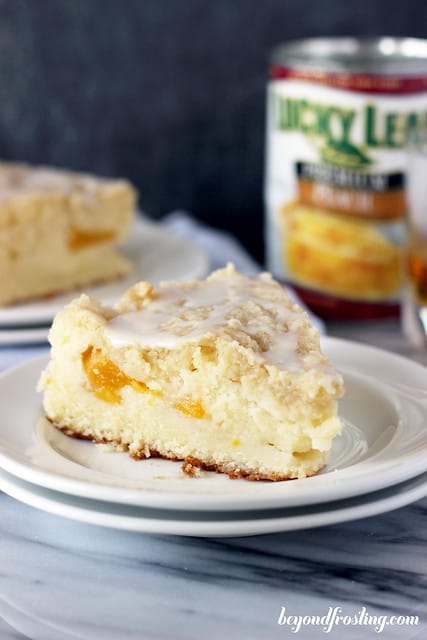 I decided to make this cake in a 9″ x 13" pan instead of a bundt pan. I love bundt cakes, but sometimes, I am not willing to risk the darn cake sticking to the sides of the pan! Plus, I thought if you made a this in a cake pan, it would be easier to bring to a summer picnic!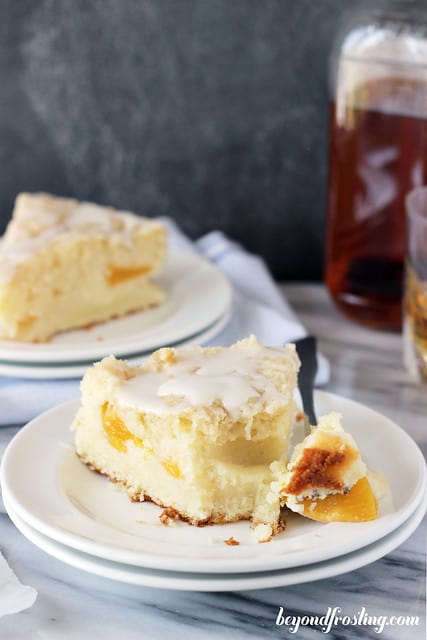 Since there is a LOT of batter, this cake has to bake for over an hour. I choose to swirl the peaches and the juice over top of the cake instead of making it into the batter. This allowed the juices to sink down into the cake. However, if you are a little intimidated, feel free to mix them right into the batter. You can also cut up the peaches from the pie filling, but I choose to leave them whole.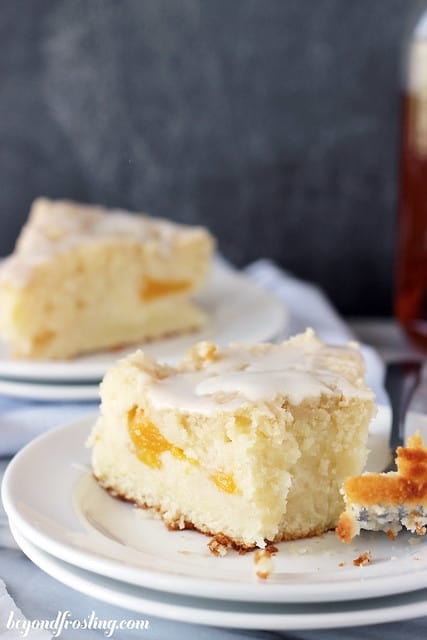 Once last thing, maybe you should stop your mixer before adding each egg. I *may* have dropped an eggshell into my batter while it was mixing. Take my word for it, egg shells do not get crushed in the mixing process and you *may* have to pick them out of your cake. Oops.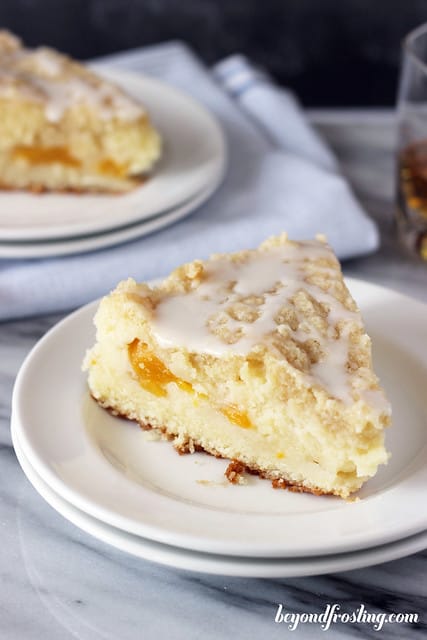 Follow Beyond Frosting
Facebook | Twitter | Pinterest | Instagram
Bourbon Peach Pound Cake
Author:

Prep Time:

30 minutes

Cook Time:

1 hour 10 minutes

Total Time:

1 hour 40 minutes

Yield:

12-16 slices
Description
A dense, buttery pound cake with peach pie filling, spiked with a bourbon glaze and sugary streusel.
Ingredients
1

C (2 sticks) Unsalted butter- at room temperature

1/2

C Crisco

3

C Sugar

5

Large eggs- at room temperature

2 tbsp

Bourbon

3

C All-purpose flour

1/2 tsp

Baking powder
Pinch of salt

1 1/4

C Milk- at room temperature

1

Can Lucky Leaf Peach Pie filling
For the streusel
3/4

C Flour

1/4

C Brown sugar

1/2

C (1 stick) Unsalted butter
For the glaze
1

C Confectionary sugar

1 tbsp

Bourbon

2

–

3

tsp Milk
Instructions
Preheat oven to 325°.
Allow eggs and butter to come to room temperature. Cream together the butter, and Crisco until smooth. Beat in sugar and cream it until well blended. Don't rush this step; allow to beat for at least 5 minutes.
Slowly add eggs 1 at a time and make sure each one is well mixed.
Once all eggs have been blended into the batter, add bourbon and mix to combine.
In a separate bowl, sift flour first and then measure out 3 cups.
Add half of the dry ingredients and then half of the milk, and mix until combined. Add the second half of your dry ingredients, followed by the remaining milk. Continue to beat until all ingredients are well combined.
Pour batter into a 9″ x 13" pan.
If you want to cut the peaches, remove the peaches from the can and cut into pieces. Otherwise, leave them whole and pour the whole can, juice and all over top of the cake batter. Swirl together with a spatula.
Prepare the streusel by combining the flour and brown sugar together. Cut the butter into smaller pieces and then crush into the flour mixture with a pastry cutter or a couple of forks. Mash together until the butter is crumbled into the flour. Sprinkle on top of cake.
Bake at 325° for 65-72 minutes. After about 45 minutes of baking, the cake will start to brown on top. You can cover with tin foil for 10-15 minutes. Then remove for the foil for the last few minutes.
Check to see if your cake is done by inserting a toothpick into the middle. If it comes out clean, your cake is done. Baking times may vary by oven. Allow to cool before cutting.
For the glaze
Sift powdered sugar into a bowl. Add bourbon and 2 teaspoons of milk. Whisk until smooth. To make glaze thinner, add additional milk. Drizzle on cooled cake.
Notes
Peaches can be sliced or left whole.
Recipes from my friends:
Peach and Cream Bars from Julie's Eats and Treats
Mini Spiced Peach Pies from Dessert for Two
Brown Butter Peach Milkshakes from The Little Kitchen