This post may contain affiliate sales links. Please see my full disclosure policy for details
Somewhere this spring, my passion for baking was revamped. Sure, every Christmas I partake in some sort of baking adventure, but then my baking takes a hiatus for the rest of the winter.
I was looking to fill my time during this particularly long summer ahead of me. I started by baking cupcakes for my coworkers for birthdays and other random non-occasions. I decided that I wanted to take some cake decorating classes and found out that Wilton offered classes at my local Michaels art store. I signed up for the first month long course in June.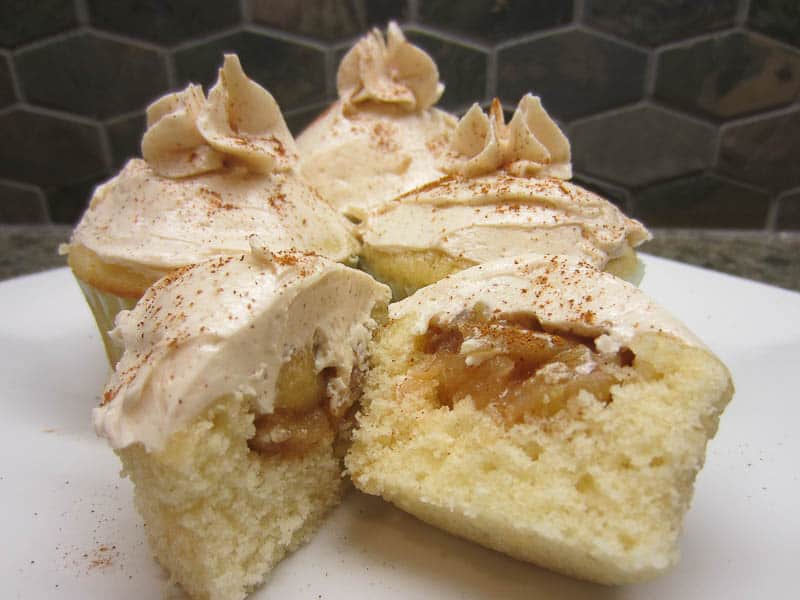 I was most excited for the baking portion of the class. In course 1, you make 2 cakes and some cupcakes. It was an opportunity for me to try some different recipes. I had made lots of frosting and worked with piping bags, but really knew nothing about using different tips to decorate cakes. I took my classes very seriously.
The first course was really learning a lot of basics about the tools used: how to properly frost a cake, learning about icing consistencies, and playing around with different tips to decorate. Piping is about learning the proper pressure and hand position. The classes have given me a much higher respect for professional decorators. By the end of course 1, I was ready for more!
Course 2 was about Flower and cake design. This course had no baking involved until the final class. We were learning about royal icing; which has to be made from scratch. Royal icing is a powdered meringue based frosting; it's very temperamental in my opinion. It has to be beaten for just the right amount of time in order to work properly; too much or too little beating and you have to start all over. It was my least favorite course, but I acknowledge the importance of needing to how to work with royal icing. Royal icing hardens to a very firm consistency. It allows you to make all sorts of flowers and decorations ahead of time to use for your cakes. There are lots of decorations and objects that can be made using royal icing as it acts as a very good "glue" for holding things together.
We also learned to make roses, daffodils, pansies and other various flowers. It was difficult for me to get the hang of these techniques, despite all the practice I did at home. In the final class, we learned how to do basket weaving on cakes, which I was excited for. Accordingly the instructor, it is a very basic decorating technique, but I still think there is a time and a place where it works well.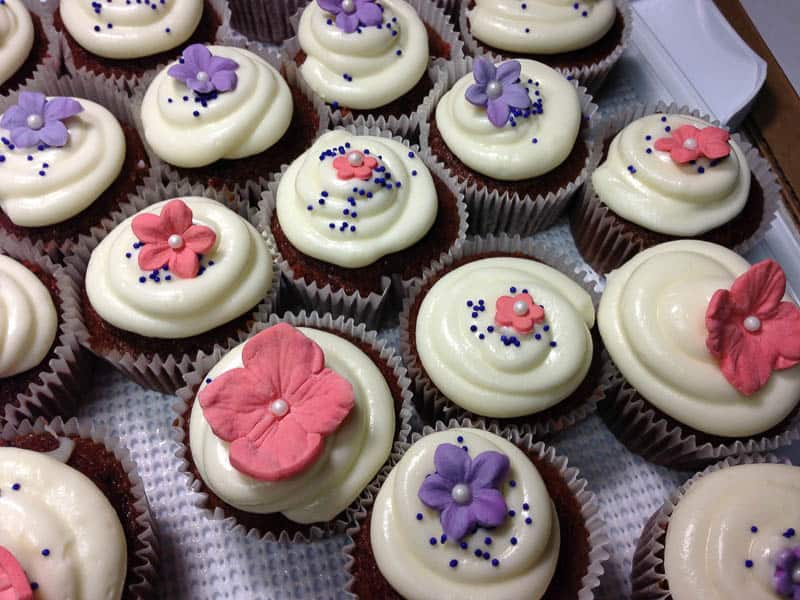 My final cake for course 2 was somewhat of a disaster. I underestimated the amount of buttercream needed for basket weaving. So my icing on my crumb coat layer was a different color than my basket weave. I chose my best flowers I made during the course and tried to make a creative arrangement on my cake. When I was finished, I was over it and ready to move on to course 3.
Course 3 was gum paste and fondant. I had never worked with fondant before, but knowing the endless possibilities, I was ready to begin. We learned how to make various flowers out of gum paste, which was much easier than royal icing. Gum paste is most comparable to play dough. It hardens nicely and also is used to make tons of various decorations. We learned roses, carnations, calla lilies, mums and daisies. The roses were my favorite. We learned how to cover cakes with fondant, which was by far the most daunting part to me.
I wanted my final for course 3 to be very special. I surfed the internet for a couple weeks trying to find cakes to replicate. I found my dream cake made by Amanda Oakleaf Cakes, Knowing that I could not replicate all the elements, I tried my best to pick my favorite parts.
I was extremely pleased with my results. I am somewhat of a perfectionist and am very often hard on myself. My teacher was so pleased with my work she asked if she could photograph my cake, of course I said! I was honored. Take a look at the photos below.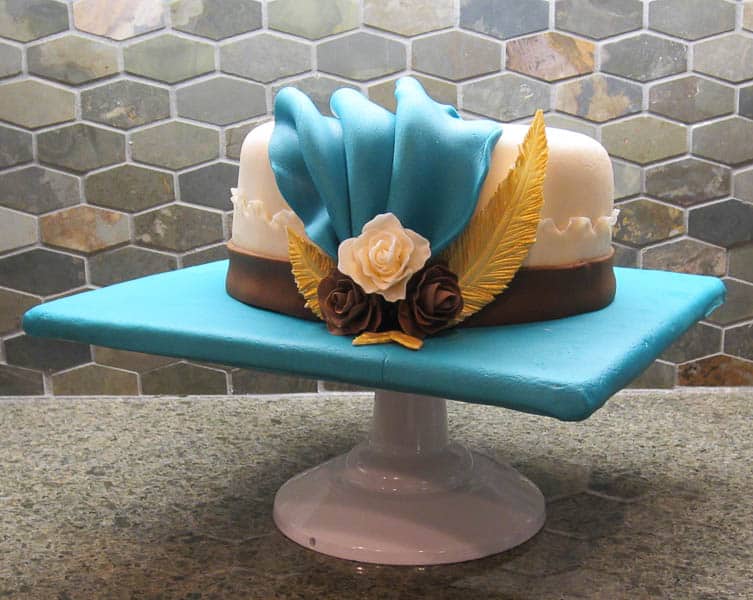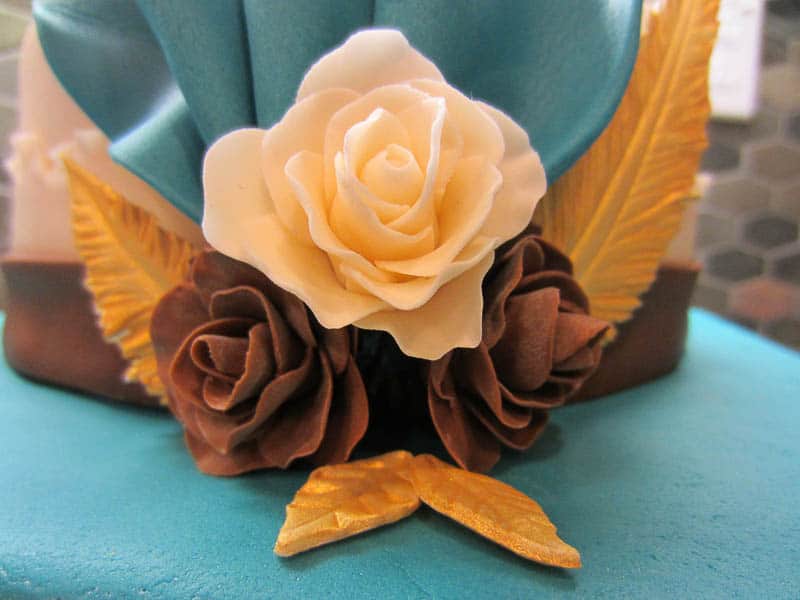 I decided not to take course 4, which was all about advanced gum paste flowers. After 3 months of weekly classes, I was ready for a break. I was headed back home to see my family in a couple weeks and things were picking up at work. The Wilton classes were a great starting point for me to learn the basic. I continue to use the skills I acquired every time I bake.
I really enjoyed taking these classes; they really inspired my creative side to come back and I couldn't be more thrilled.
The classes can get expensive though. If you choose to invest in all of the materials, I would recommend speaking with your teacher first to find out what items you actually need to purchase for each class. My instructor was very good about telling us what we did or did not need. In some cases, the tools were only used in one class.
It is also good if you can pair up with a classmate to share in some of the expenses of the tools. I would recommend these classes to anyone interested in learning the basic of cake decorating. You have to commit two hours a night for one night a week. Each course lasts four weeks. Best of all, you can sign up with your son or daughter too! For more information about classes, check our the Wilton website.
Good luck!