This Cherry Almond Bundt Cake is a traditional pound cake filled with cherry pie filling and topped with a cream cheese glaze.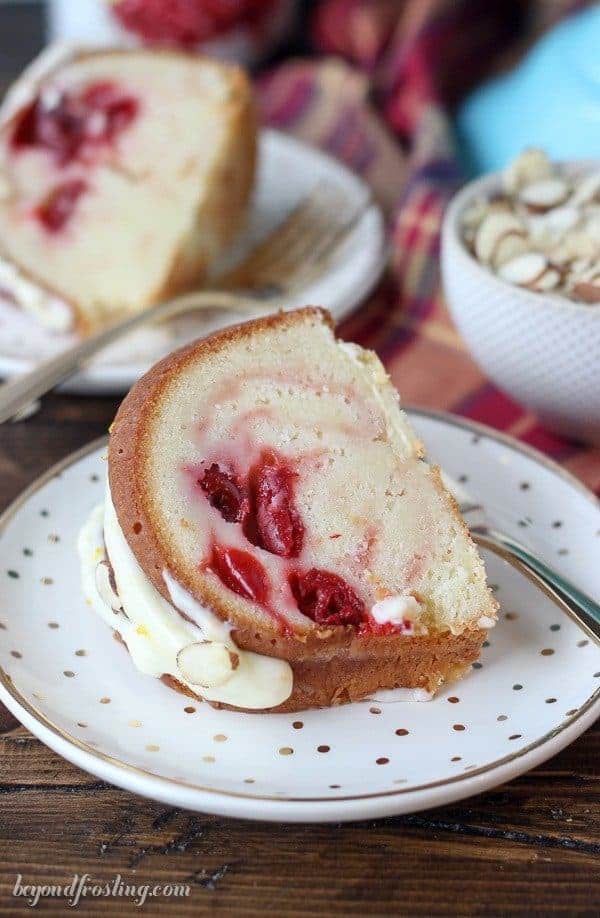 Oh it is a happy Monday if you're a Patriots fan! What was a seemingly frustrating game turned into an amazing comeback! Atlanta played an incredible game, I was very impressed.
If you're still here, you're probably wondering WHY we're talking about football. In my everyday full-time job, part of our team deals with major sporting events. So during these times I am usually paying very close attention to what's going on. Plus our family loves the Patriots, so we were particularly excited about this one.
We all know that the Superbowl is ALL about the food, especially if you're not a sports fan. And we all know that I am the one making the desserts for the Superbowl party, so there's that.
You know what makes good party food? Cake.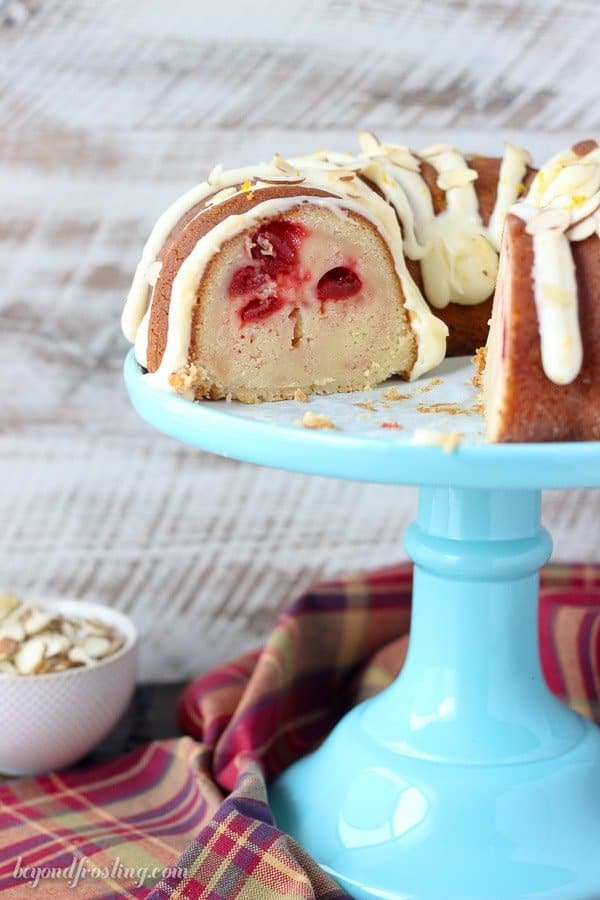 Today's cake is a homemade Cherry Almond Bundt Cake. This traditional pound cake is filled with cherry pie filling, a hint of almond extract and a cream cheese glaze. A touch of orange zest and a sprinkle of sliced almonds are the perfect way to finish off this cake.
Whenever you're making a pound cake, there's a few key steps that need to be taken. To start, all of the wet ingredients need to be at room temperature including the butter, eggs and milk.
Next, the butter and eggs need to be beaten together for several minutes until the butter becomes light in color. Do not rush this step, it needs at least 5 minutes at medium speed and you may need to scrape down the bowl occasionally.
My grandma would also tell me to make sure that I am sifting my flour, but I must admit, I've gotten a little lazy with this step.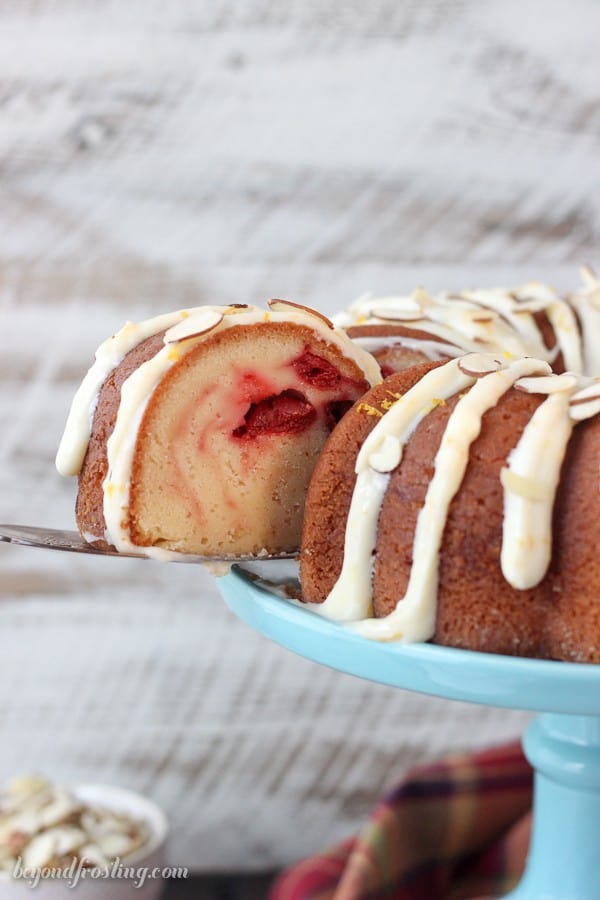 Once your batter is ready, make sure you thoroughly grease AND flour the pan. I am a fan of using Crisco shortening so that I can get into all the nooks and crannies of my bundt pan and then I generously flour it. Do not skip the flouring step, trust me.
Once the cake comes out of the oven, allow it to cool for a few minutes and you'll notice that it will start to pull away from the edges of the pan. Then take a knife and slowly slide it around the edges of your pan, especially the center column where the cake tends to stick. I only allow it to cool in the pan for about 20 minutes or so because I don't want it to stick.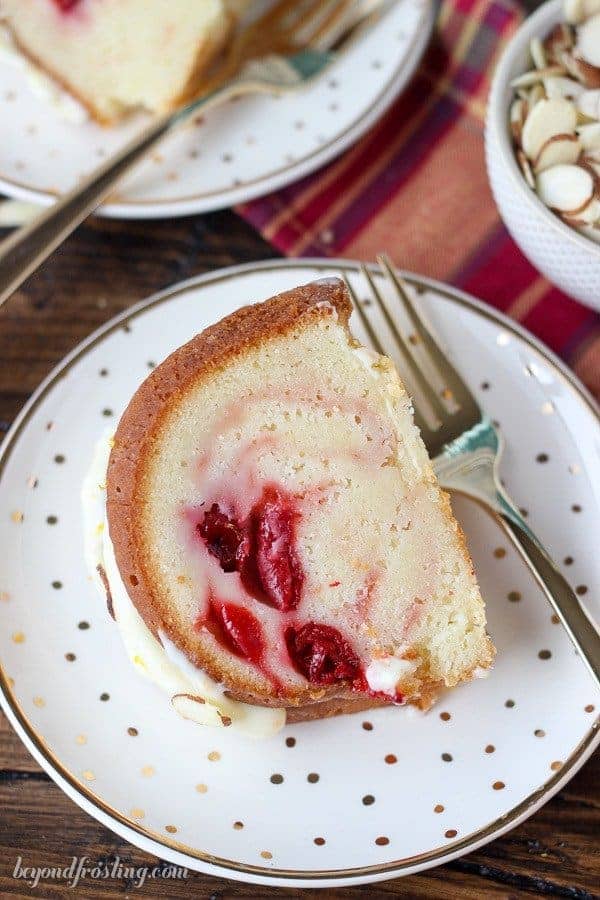 For the cherry pie filling, I grabbed a can of Lucky Leaf pie filling and I separated the cherries from the juice simply by pouring it through a fine mesh sieve. This allowed me to layer in the cherry pie filling and then swirl some of the juice in separately. I chose not to use the all of the cherry juice because it is significantly increased the amount of liquid in the batter.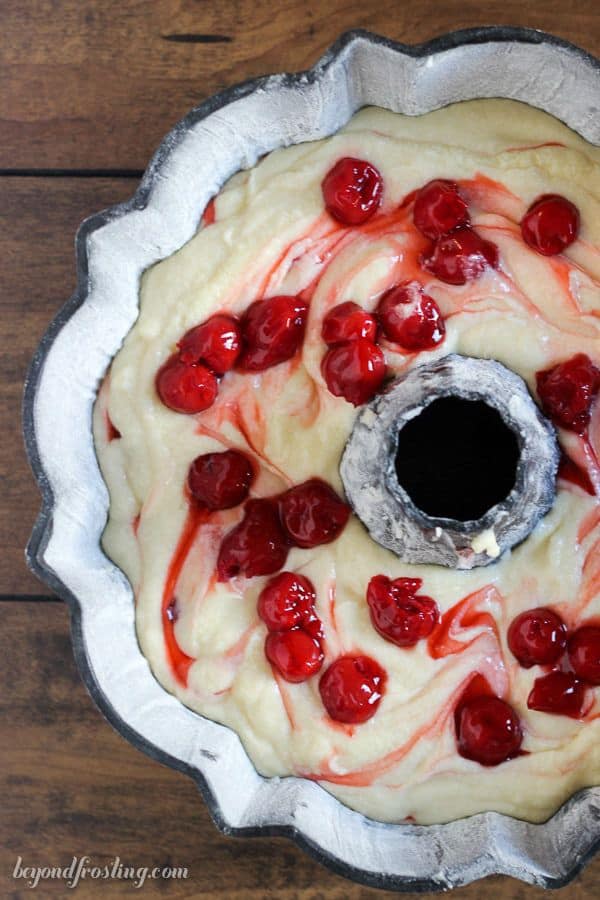 However, I did test this recipe using a full can of pie filling as well. There a couple of things I noticed. Of course the additional of all of the cherry juice filling added a lot of volume to the batter, so the baking time was increased by close to 10 minutes. Additionally the cake baked well above the edge of the bundt pan, so you want to be sure to use a pan that is at least 10 cup capacity pan. I found this article from King Arthur Flour to be particularly helpful when discussing the different size bundt pans that are available and how you can how large your pan is.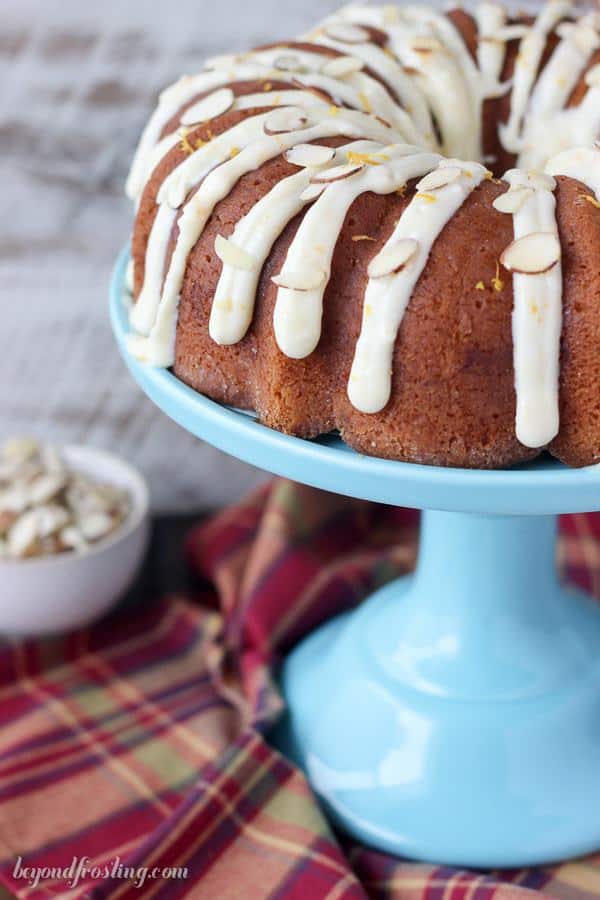 For the topping, I made a simple cream cheese glaze. It is thick enough that is can be piped and just ever so slightly drip down the sides of the cake. If you choose to pipe the glaze the way I have you will have leftover glaze. Or you could pour it over the top as well, and then you won't have any leftovers.
I've chosen to garnish this cake with some slices almonds and orange zest. There is not any orange zest in this cake, but it would certainly made a nice addition. I've been baking a lot of bundts lately, so I hope you're on board too!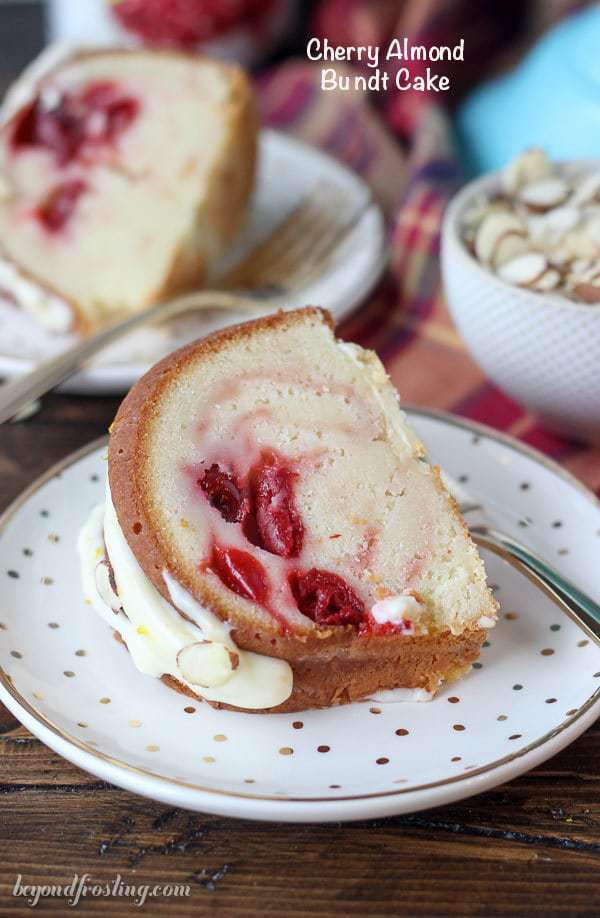 Follow Beyond Frosting:
Facebook | Twitter | Pinterest | Instagram | Bloglovin | Google+
If you love no-bake recipes, be sure to check out my cookbook, No-Bake Treats!
Don't miss a thing, subscribe to get recipes delivered to your inbox!
Print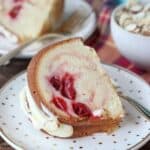 Cherry Almond Bundt Cake
---
Author:

Julianne Bayer

Prep Time:

45 mins

Cook Time:

65 mins

Total Time:

1 hour 50 minutes

Yield:

10-12 slices
Ingredients
For the cake
1 ½ cups (3 sticks) unsalted butter at room temperature
3 cups granulated sugar
5 large eggs at room temperature
3 cups all-purpose flour
½ teaspoons baking powder
Pinch of salt
1 ¼ cups milk at room temperature
2 teaspoons almond extract
1 can Premium Cherry Pie Filling
For the glaze:
4 ounces cream cheese, softened
2 cups powdered sugar
5-6 teaspoons heavy whipping cream or milk
1 large orange
¼ teaspoon almond extract
pinch of salt
---
Instructions
Allow the butter, milk and eggs to come to room temperature.
Preheat the oven to 325°. Prepare a generously greased and floured bundt pan. Do not skip this step.
Cream the butter until smooth and then beat in sugar and continue beating it until it's light and fluffy or for about 5 minutes.
Slowly add the eggs one at a time and make sure each one is well mixed before adding the next. Add the almond extract and beat until mixed.
In a separate bowl, sift the flour first and then measure out 3 cups. Then add the baking powder and salt.
Next, add half of the dry ingredients and then half of the milk, beating just until the flour is partially combined.
Then add the second half of the dry ingredients, followed by the remaining milk. Continue to beat until all ingredients are well combined.
Strain the Lucky Leaf Cherry Pie filling through a fine sieve to extract the cherries form the juice.
Pour about 1/3 of the batter into the bottom of the batter into the bottom of the pan. Spoon 1/3 of the cherries into the batter, spreading evenly.
Then add 2-3 tablespoons of the cherry juice and swirl it into the batter. Repeat these steps 2 more times so that the cherries and the cherry juice is layered throughout. You will have leftover cherry juice.
Bake at 325° for 60-65 minutes. You may need to cover the bundt pan with aluminum foil for about 20 minutes to prevent the bottom from browning.
Check to see if your cake is done by inserting a toothpick into the middle. If it comes out clean, your cake is done. Baking times may vary by oven.
After 10 minutes of cooling, gently run a knife around the edges of your bundt to help release it from the edge before flipping. Invert the cake onto a plate and allow it cool for 2-3 hours.
For the glaze: Soften cream cheese in the microwave for 20-30 seconds in the microwave, removing the wrapper first. It should be soft but not melted.
In a medium-sized bowl, combine the cream cheese with the powdered sugar and continue to stir.
Add the heavy cream, one tablespoon at a time until the glaze reaches the desired thickness. It should drip of the spoon, but not run off the spoon.
While you're adding the heavy cream, also add the orange zest, almond extract and the pinch of slat.
Once the glaze is nice and smooth, drizzle it over the cake. If desired, you can use a Ziploc bag to pipe the glaze the way I have, drizzling it down the sides of the cake.
This cake is best served within 2 days of baking.
You might also like: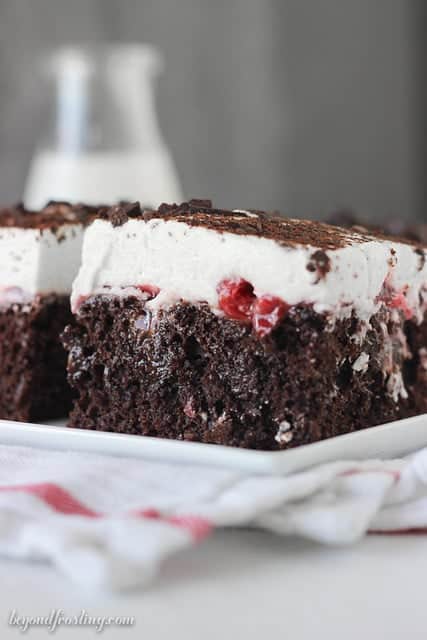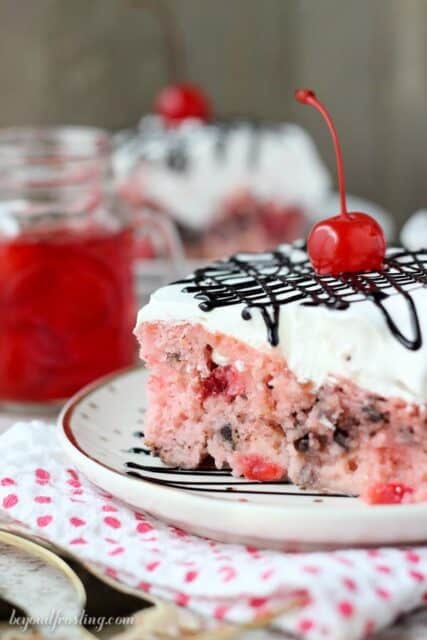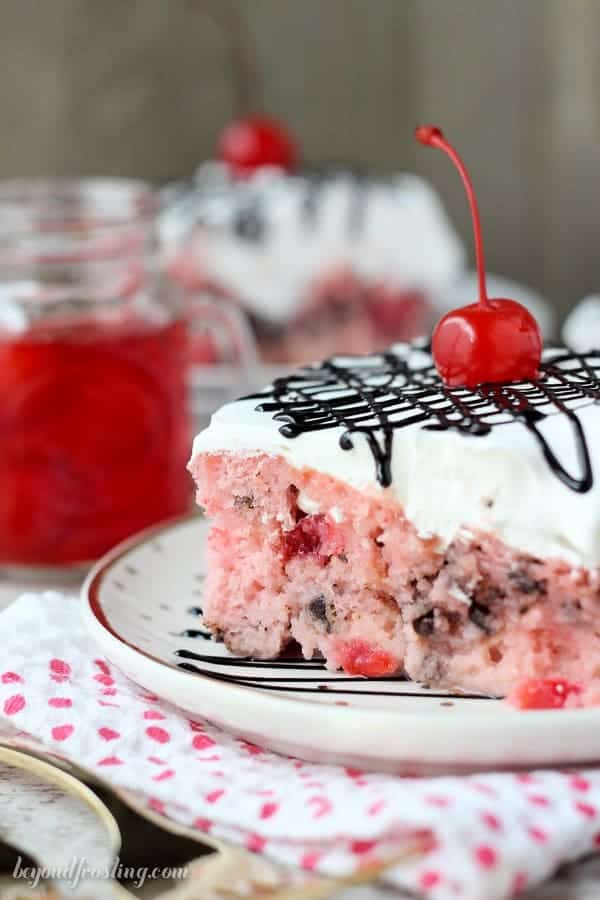 Cherry Funfetti Almond Cupcakes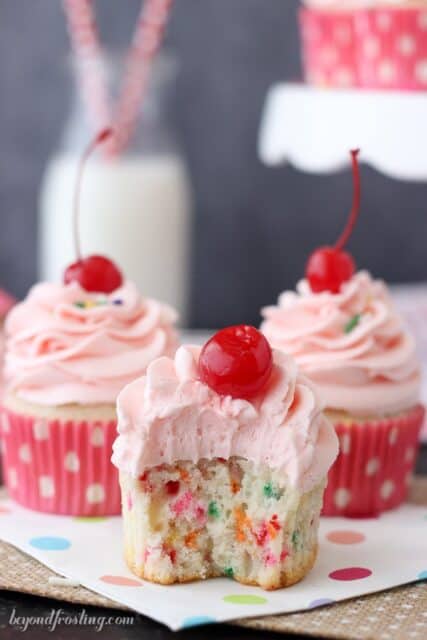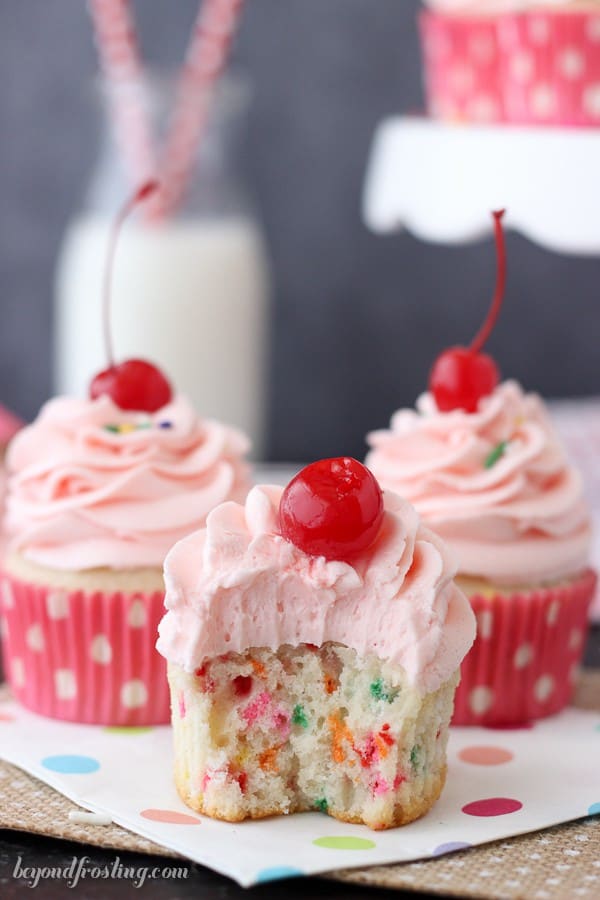 Fun recipes from my friends:
Cherry Cheesecake Monkey Bread from Girl vs Dough
Cherry Brownie Tart from The First Year Blog
Cherry Cheesecake Brownies from The Recipe Rebel
(Visited 103,525 times, 18 visits today)