This post may contain affiliate sales links. Please see my full disclosure policy for details
This Blueberry Almond Bundt Cake is a traditional pound cake filled with a homemade blueberry pie sauce and topped with a cream cheese glaze and almonds.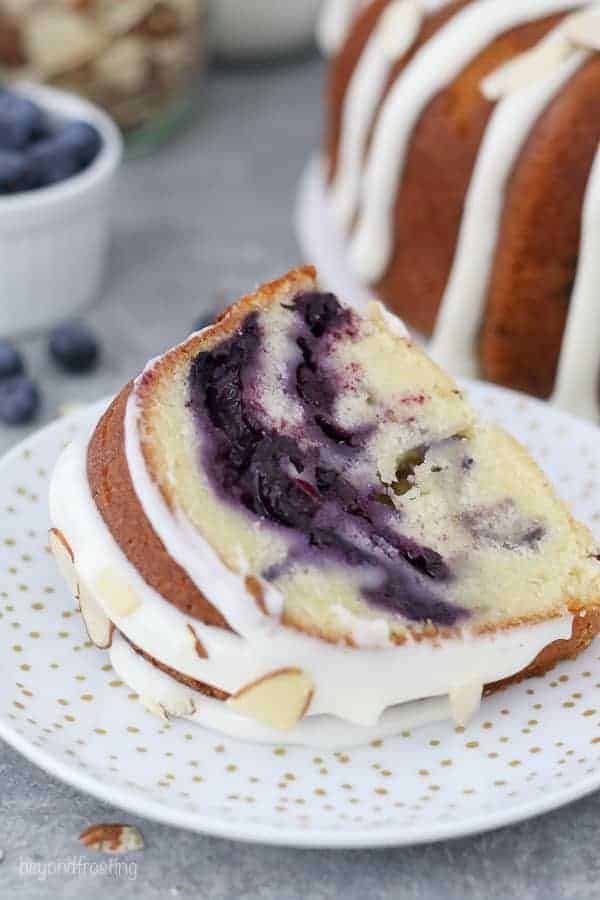 After seeing how much you guys LOVED my Cherry Almond Bundt Cake, I figured a blueberry variation was necessary. Thus, we have, Blueberry Almond Bundt Cake. Truth be told, blueberry is way more my speed than cherry. I would devour a blueberry muffin any day if you put it in front of me.
This blueberry almond bundt cake is actually a traditional pound cake swirled with a homemade blueberry filling and topped with a cream cheese glaze. Both the cake and the glaze are also flavored with an almond extract. It subtle but nice.
A long time ago, I made a lemon blueberry bundt cake using a similar recipe, but the difference between the two, is that this cake utilizes a blueberry filling (or sauce rather) rather than just fresh blueberries.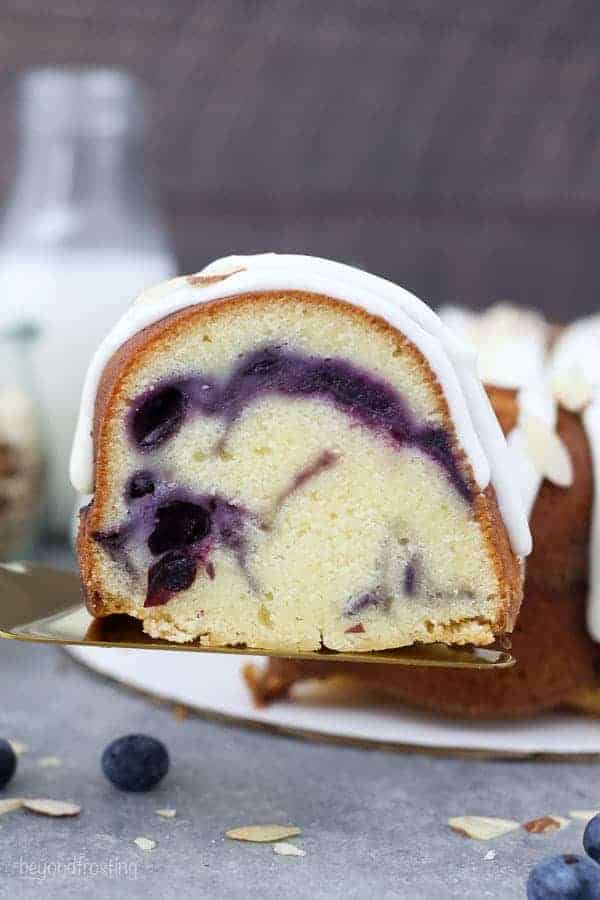 The blueberry sauce is made on the stovetop, and it's a simple recipe. It only requires blueberries (duh!) some sugar, flour and water.
This happens to be the same recipe I use for my Blueberry Cheesecake Poke cake, which also contains a video that shows you how to make the blueberry sauce. It's super simple. The sauce is not meant to be completely smooth, you'll still have chunks of blueberries in there like you see in this cake.
This is a traditional pound cake recipe in that is requires a LOT of butter, sugar and eggs- all the good stuff. There is one requirement though, the butter, milk and eggs should all be at room temperature. This helps all the ingredients incorporate better and ultimately produces better baked goods.
Lucky for you, the blueberry sauce also needs to cool down a bit, so when you start your sauce, take your ingredients out of the fridge and by the time your sauce is ready and cooled you'll be ready to start baking!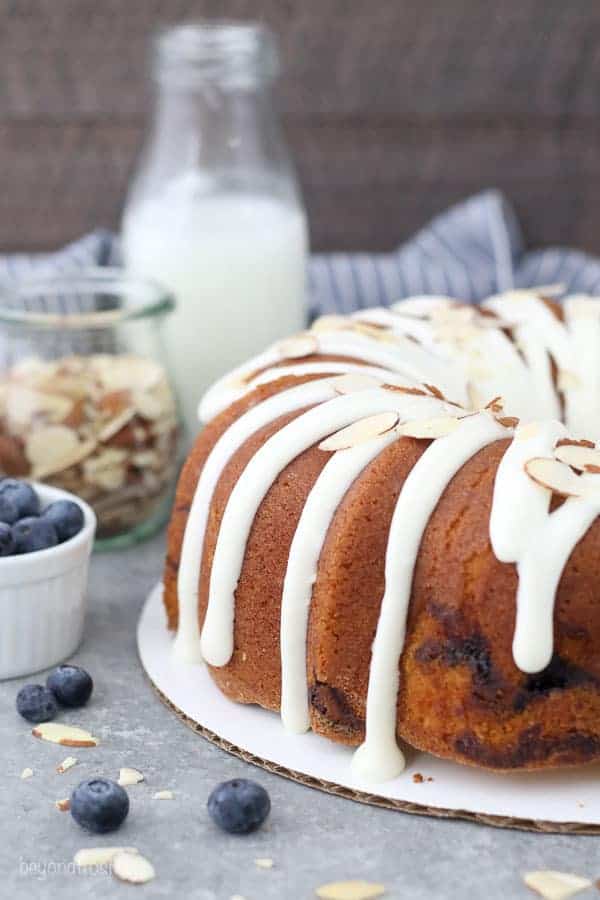 You'll also need to exercise a bit of patience when it comes to creaming the butter and sugar and eventually adding the eggs.
The butter and sugar need about 5 minutes of time to be creamed together until it's really light and fluffy and all that air has been incorporated into the mixture. Then we add the eggs, one at a time, again making sure each one is well mixed before adding the next.
Since we're dealing with quite a bit of flour here, you should be adding about half of your flour and half of your milk, mixing and then repeating. Adding everything all at one time would likely produce an unevenly mixed batter.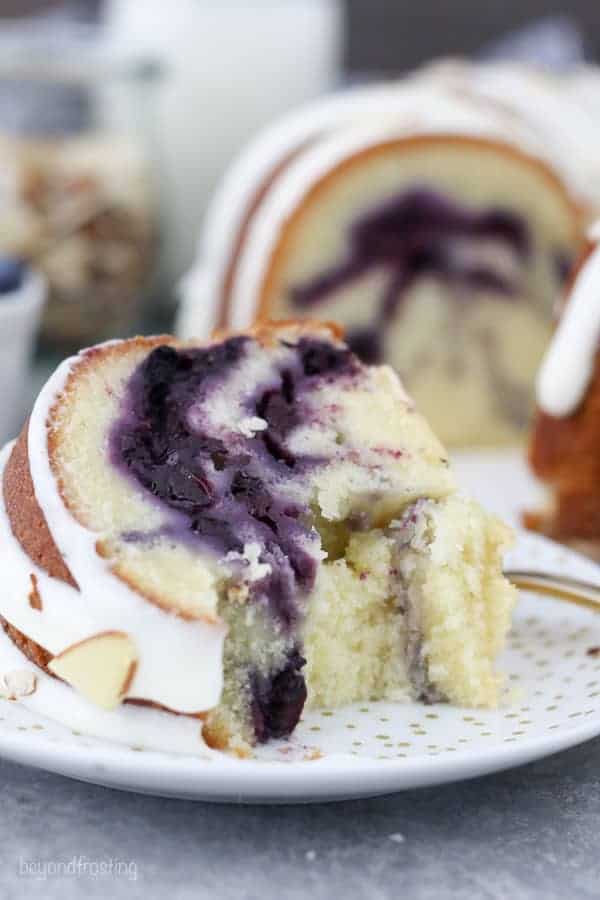 When your batter is finally ready, make sure you generously grease your bundt pan. I am a firm believer is using Crisco shortening myself and lather that baby up so nothing sticks to the pan.
To layer the blueberry sauce, you'll pour half of the batter in the pan, then half of your blueberry sauce and use a knife to swirl it together. Then repeat one more time. I just love how the sauce is layered through the cake.
Since we're dealing with a long volume of batter, the baking time is over 60 minutes. Finally, after all of your patience and waiting, you can make the cream cheese frosting once the cake cools. I promise it's worth the wait.
I know that technically this Blueberry Almond Bundt Cake looks like dessert, but it is actually also perfect for brunch, or heck, even breakfast in my house!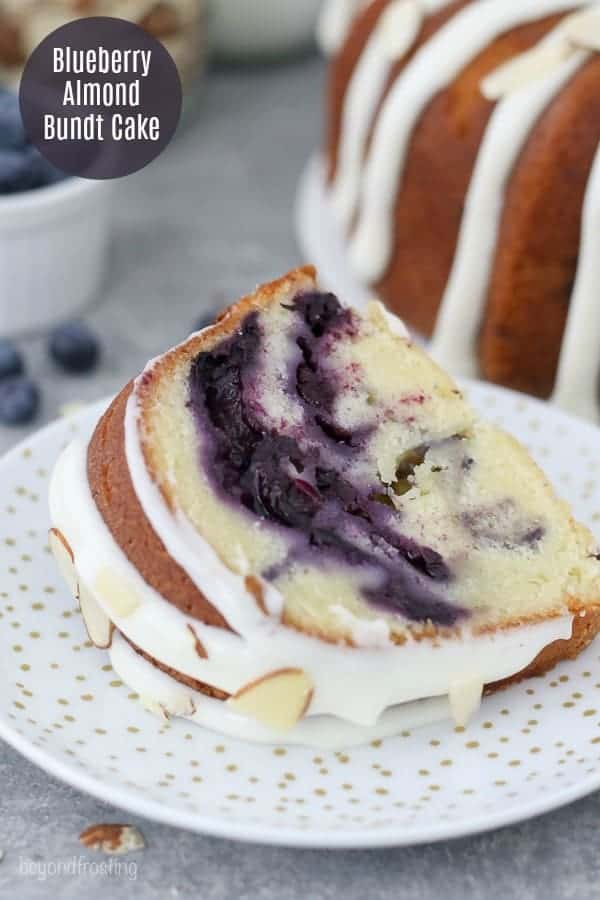 Follow Beyond Frosting:
Facebook | Twitter | Pinterest | Instagram
If you love no-bake recipes, be sure to check out my cookbook, No-Bake Treats!
Print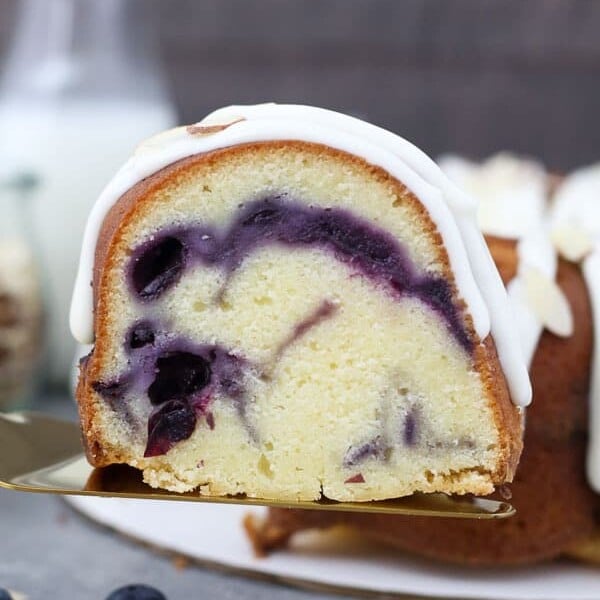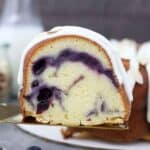 Blueberry Almond Bundt Cake
Author:

Prep Time:

60 minutes

Cook Time:

70 minutes

Total Time:

2 hours 10 minutes

Yield:

10-12 servings
Description
This Blueberry Almond Bundt Cake is a traditional pound cake filled with a homemade blueberry pie sauce and topped with a cream cheese glaze and almonds.
Ingredients
For the blueberry sauce:
12 ounces

fresh blueberries, rinsed

2 tablespoons

sugar

1 tablespoon

flour

1 tablespoon

water
For the cake:
1 ½ cups

(

3

sticks) unsalted butter at room temperature

3 cups

granulated sugar

5

large eggs at room temperature

3 cups

all-purpose flour

½ teaspoons

baking powder
Pinch of salt

1 ¼ cups

milk at room temperature

2 teaspoons

almond extract
For the glaze:
4 ounces

cream cheese, softened

2 cups

powdered sugar

5

–

6

teaspoons heavy whipping cream or milk

1

large orange

¼ teaspoon

almond extract
pinch of salt
sliced almonds for garnish
Instructions
For the filling: In a medium-sized sauce pan, combine blueberries, sugar, flour and water; stir well. Cook over medium-high heat until mixture starts to bubble, stirring often. Turn down heat and let simmer to allow the blueberries to soften.
Cook until sauce thickens; maybe 10-15 minutes. Stir often so the bottom does not burn. Allow to cool for 20 minutes, refrigerate if necessary.
For the cake: Allow the butter, milk and eggs to come to room temperature.
Preheat the oven to 325°. Prepare a generously greased and floured bundt pan. Do not skip this step.
Cream the butter until smooth and then beat in sugar and continue beating it until it's light and fluffy or for about 5 minutes.
Slowly add the eggs one at a time and make sure each one is well mixed before adding the next. Add the almond extract and beat until mixed.
In a separate bowl, sift the flour first and then measure out 3 cups. Then add the baking powder and salt.
Next, add half of the dry ingredients and then half of the milk, beating just until the flour is partially combined.
Then add the second half of the dry ingredients, followed by the remaining milk. Continue to beat until all ingredients are well combined.
Pour about 1/3 of the batter into the bottom of the pan. Spoon 1/2 of the blueberry filling into the batter, swirling and spreading evenly. Repeat and then finish with the remaining batter on top.
Bake at 325° for 65-75 minutes. You may need to cover the bundt pan with aluminum foil for the last 20-30 minutes to prevent the bottom from browning.
Check to see if your cake is done by inserting a toothpick into the middle. If it comes out clean, your cake is done. Baking times may vary by oven.
After 10 minutes of cooling, gently run a knife around the edges of your bundt to help release it from the edge before flipping. Invert the cake onto a plate and allow it cool for 2-3 hours.
For the glaze: Soften cream cheese in the microwave for 20-30 seconds in the microwave, removing the wrapper first. It should be soft but not melted.
In a medium-sized bowl, combine the cream cheese with the powdered sugar and continue to stir.
Add the heavy cream, one tablespoon at a time until the glaze reaches the desired thickness. It should drip of the spoon, but not run off the spoon.
While you're adding the heavy cream, also add the orange zest, almond extract and the pinch of salt.
Once the glaze is nice and smooth, drizzle it over the cake. If desired, you can use a Ziploc bag to pipe the glaze the way I have, drizzling it down the sides of the cake. Garnish with sliced almonds.
Notes
This cake is best served within 2 days of baking.
You MUST use at least a 10-cup sized bundt pan. Baking times will very by oven and type of pan used.
You can skip the blueberry sauce all together and just add the fresh blueberries directly into the batter, but I suggest tossing them with flour so they don't immediately sink. You baking time will be reduced since there is less liquid overall.
You might also like: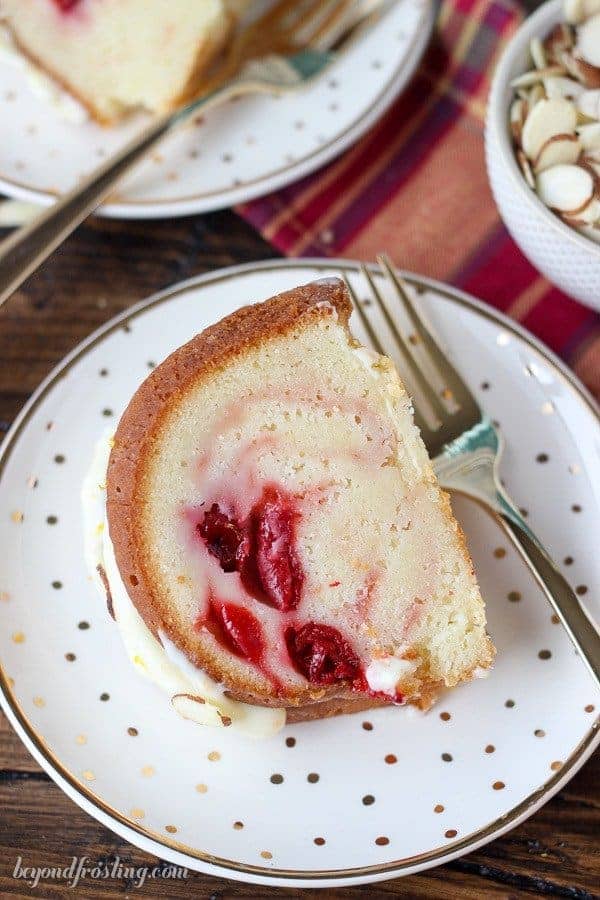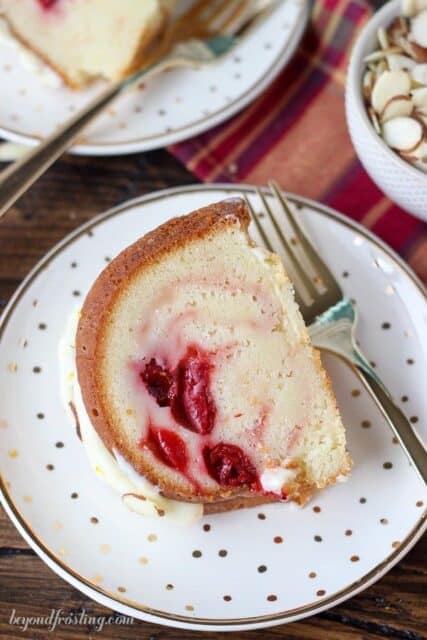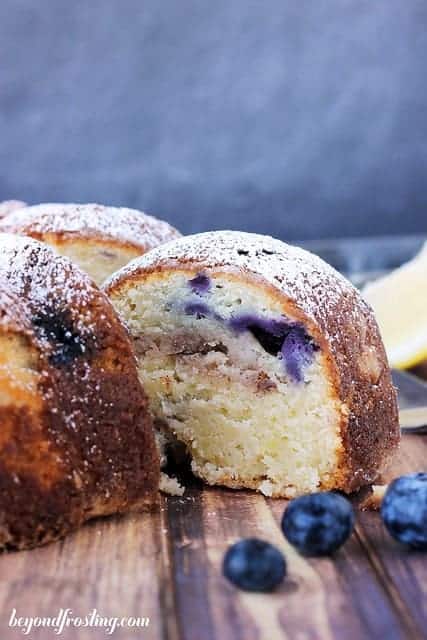 Blueberry Cheesecake Poke Cake