This post may contain affiliate sales links. Please see my full disclosure policy for details
These easy Oreo Brownies are incredibly soft and moist chocolate brownies with crunchy Oreo cookies and melty chocolate throughout. This is one of our favorite homemade brownie recipes, and it's impossible to resist.
If you love Oreo desserts, try this recipe for the infamous Slutty Brownies!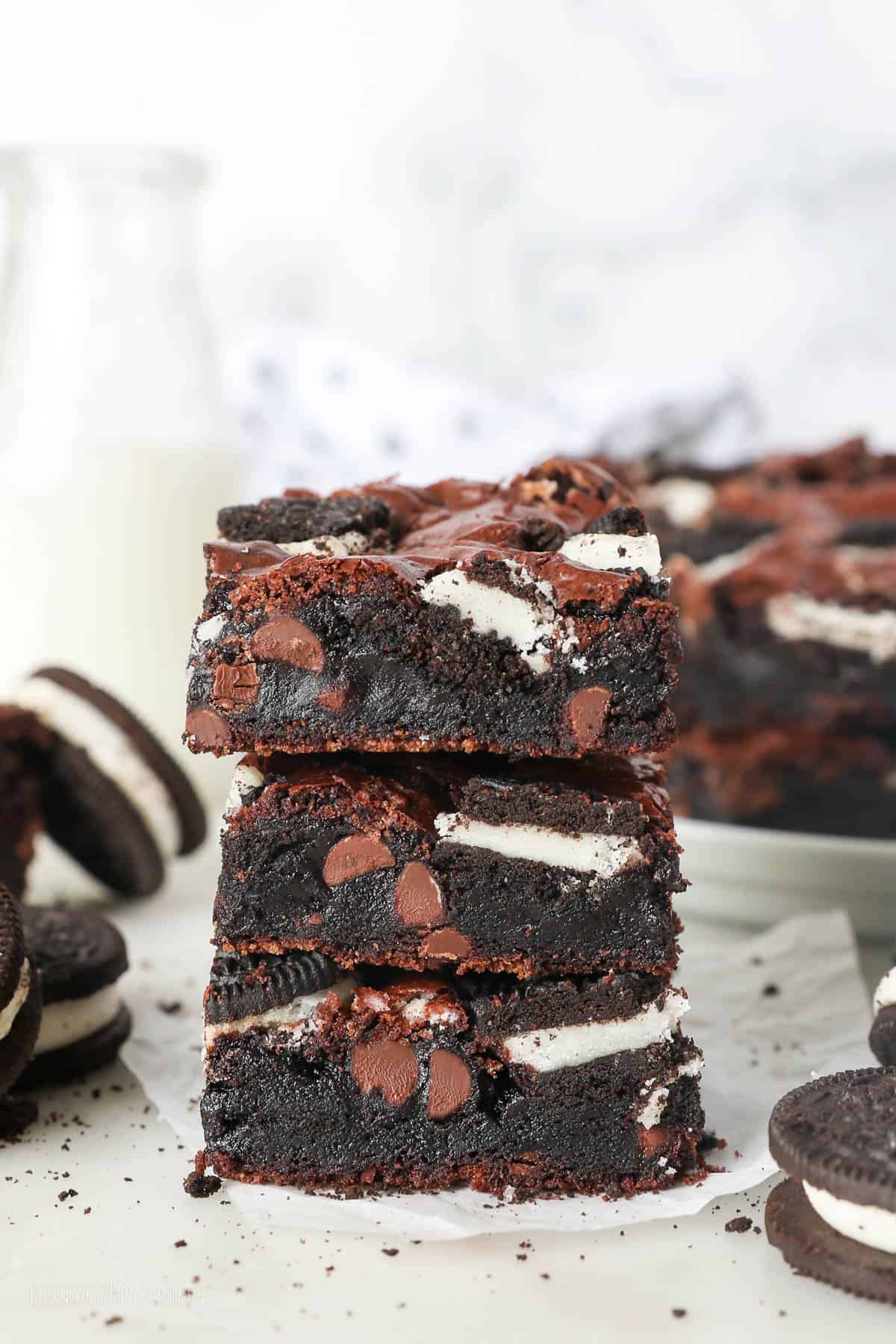 Better-Than-Box-Mix Oreo Brownies
Prepare to go wild for these decadent Oreo brownies! I've taken my Cocoa Powder Brownies and loaded them up with irresistible Oreo chunks and melty chocolate chips. These easy homemade brownies are a million (scratch that, and make it a BILLION) times better than anything you'll make from a box. And the level of effort is practically the same!
My Oreo brownies are just the right amount of fudgy, filled with rich cocoa flavor and delicious chocolate cookie crunch. I can't think of a single occasion that wouldn't be made better by an Oreo brownie. If you're a fan of the beloved sandwich cookies, wait until you bake them into brownies.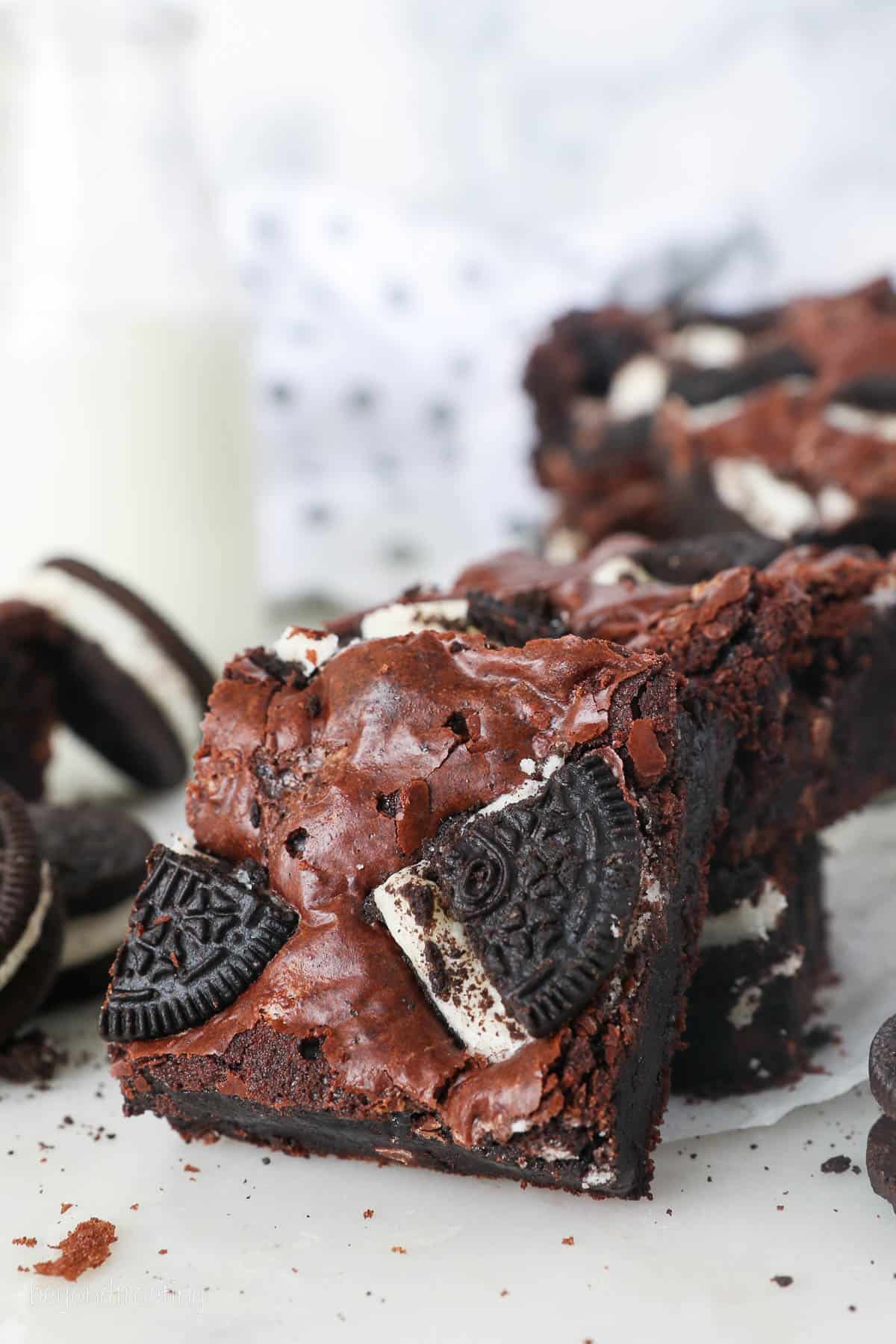 Why You'll Love This Recipe
If the thought of Oreos packed into perfect chocolate brownies isn't enough to sway you, here's what makes this recipe the best:
Over-the-top chocolate flavor. Cocoa, chocolate, Oreos: this recipe has it all. The flavors meld together perfectly and the cocoa powder brownies come out a bit lighter than traditional Fudgy Brownies.
Unbelievable texture. My Oreo brownies are soft and moist with crunchy cookies throughout. The combination is perfection.
Easy to make. Simple ingredients and 3 steps are all it takes to make this incredible Oreo brownies recipe.
Key Ingredients
You can make perfect Oreo brownies using only pantry staples. In addition to your baking basics like flour, eggs, and sugar, you'll need a handful of key ingredients, which I've outlined below. Remember to refer to the recipe card below the post for the full recipe details!
Oil – Using vegetable oil instead of melted butter keeps the brownie crumb extra moist.
Cocoa Powder – You'll want to use natural, unsweetened cocoa powder. See below for details.
Baking Soda – Baking soda helps create air pockets for light, boxed mix-style brownies.
Oreos – I used chopped Mega Stuffed Oreos for the extra cream filling, but you can use any type of Oreo you prefer.
Chocolate Chips – Along with Oreos, these brownies have melty chocolate chips strewn throughout for extra decadence.
What Type of Cocoa Powder Should I Use?
For these Oreo brownies, it's important to use natural cocoa powder and not the dutch processed kind. I go into detail on the difference between the two in my post, Natural vs Dutch Processed Cocoa Powder, but the reason comes down to the baking soda in this recipe.
Baking soda relies on the acidity in natural cocoa powder to activate and help the brownies rise. Dutch-processed cocoa powder is treated in a way that reduces acidity, which will lead to flat brownies that also have an unpleasant, metallic aftertaste.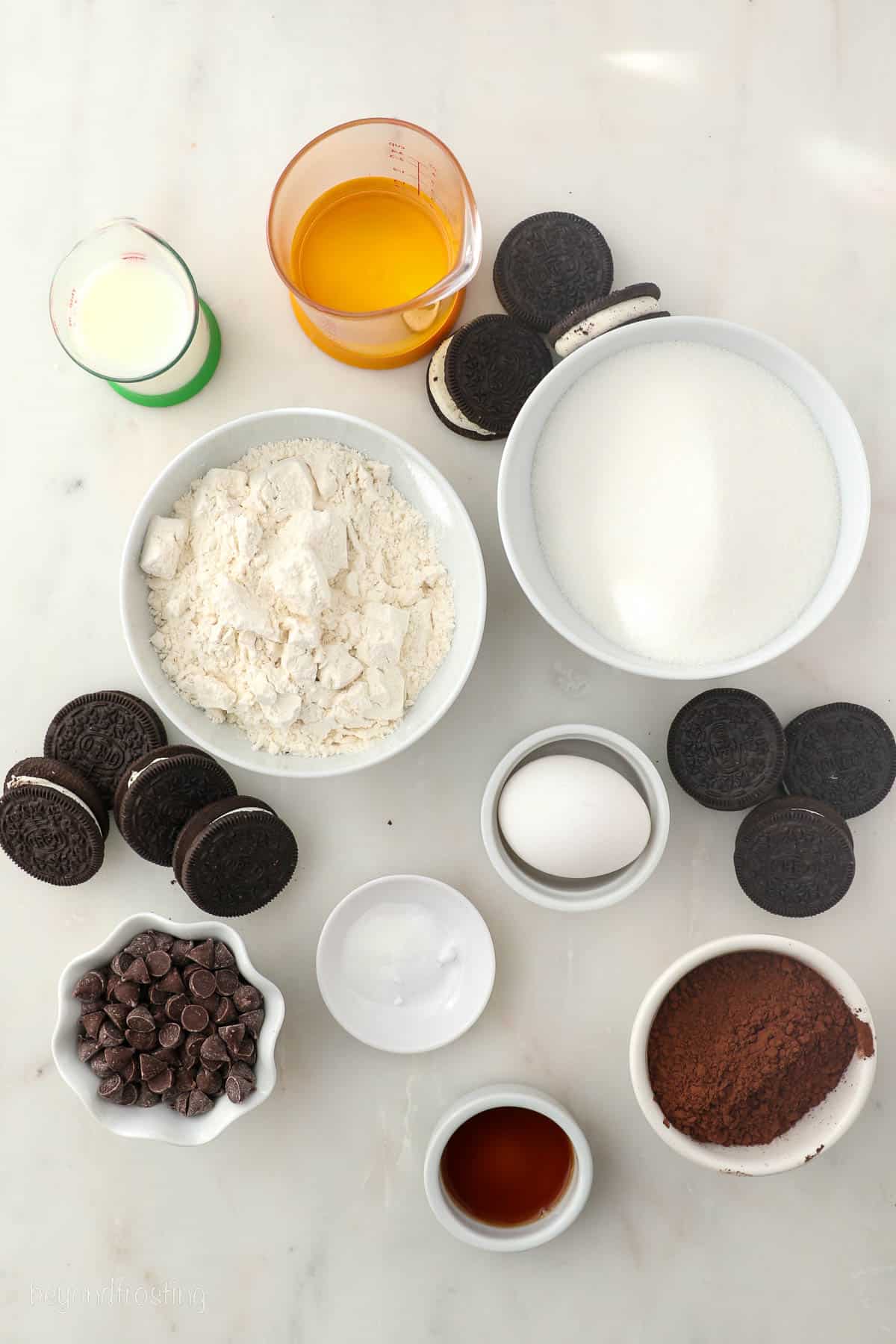 How to Make Oreo Brownies
Making Oreo brownies is basically a 3-step process. While your oven preheats to 350ºF, grease and line your 8-inch metal baking pan. You'll also want to roughly chop the Oreos, I quartered them to have larger pieces. Now, let's make some cookie-loaded brownies:
Mix the wet ingredients. First, beat together the sugar with oil, milk, and vanilla, followed by the egg.
Combine the dry ingredients. In a separate bowl, whisk together the dry ingredients, then add them to the wet batter. Once combined, fold in the Oreos and chocolate chips, leaving some aside for garnish.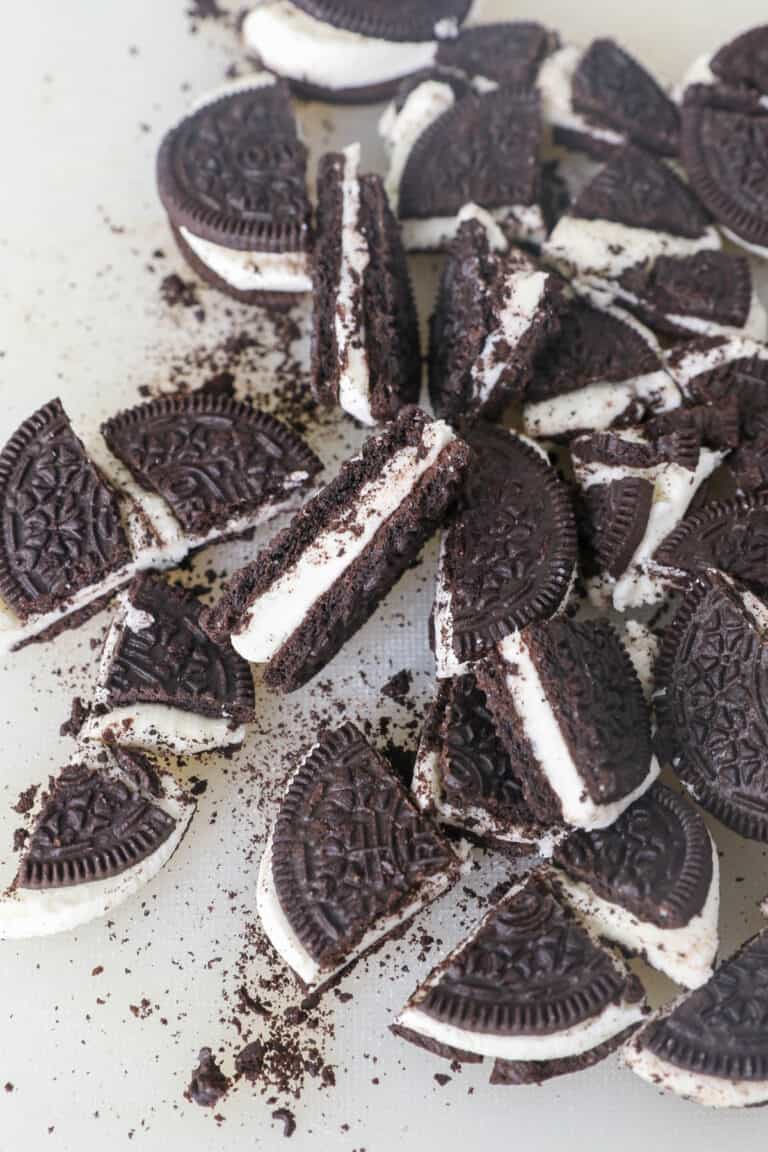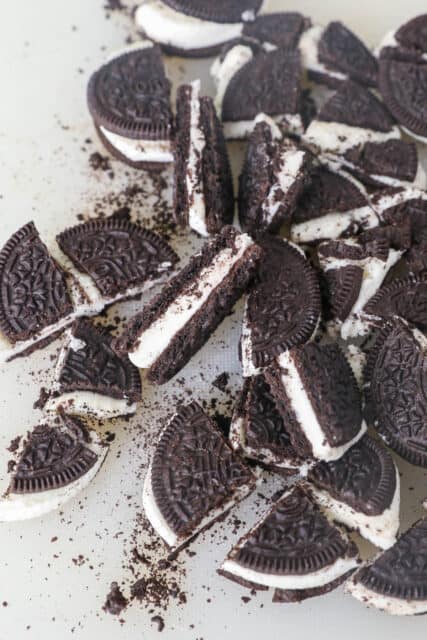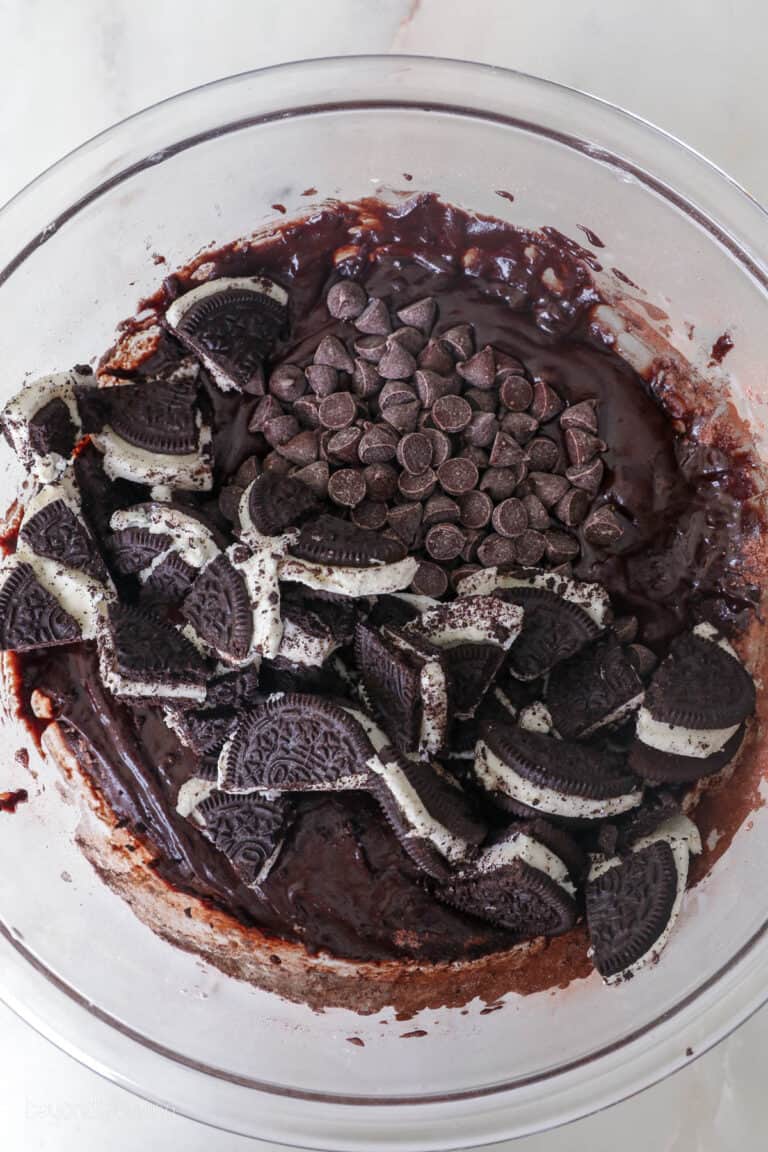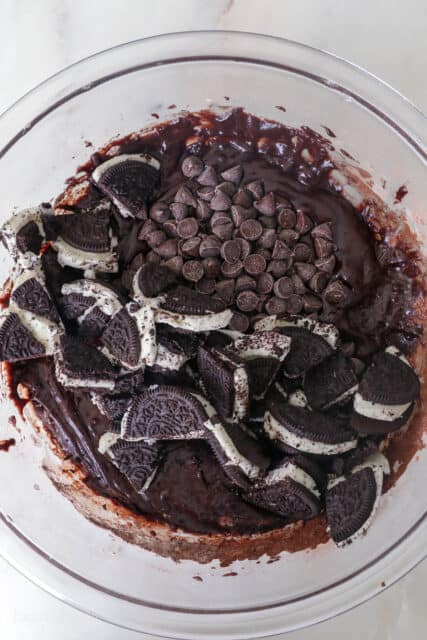 Bake. Next, add the batter to your prepared pan, and top it with additional chopped Oreos and chocolate chips. Bake the Oreo brownies for 32-36 minutes (baking times can vary depending on your oven and pan size, see my tips below). Afterward, leave the brownies to cool fully in the pan before cutting them into squares.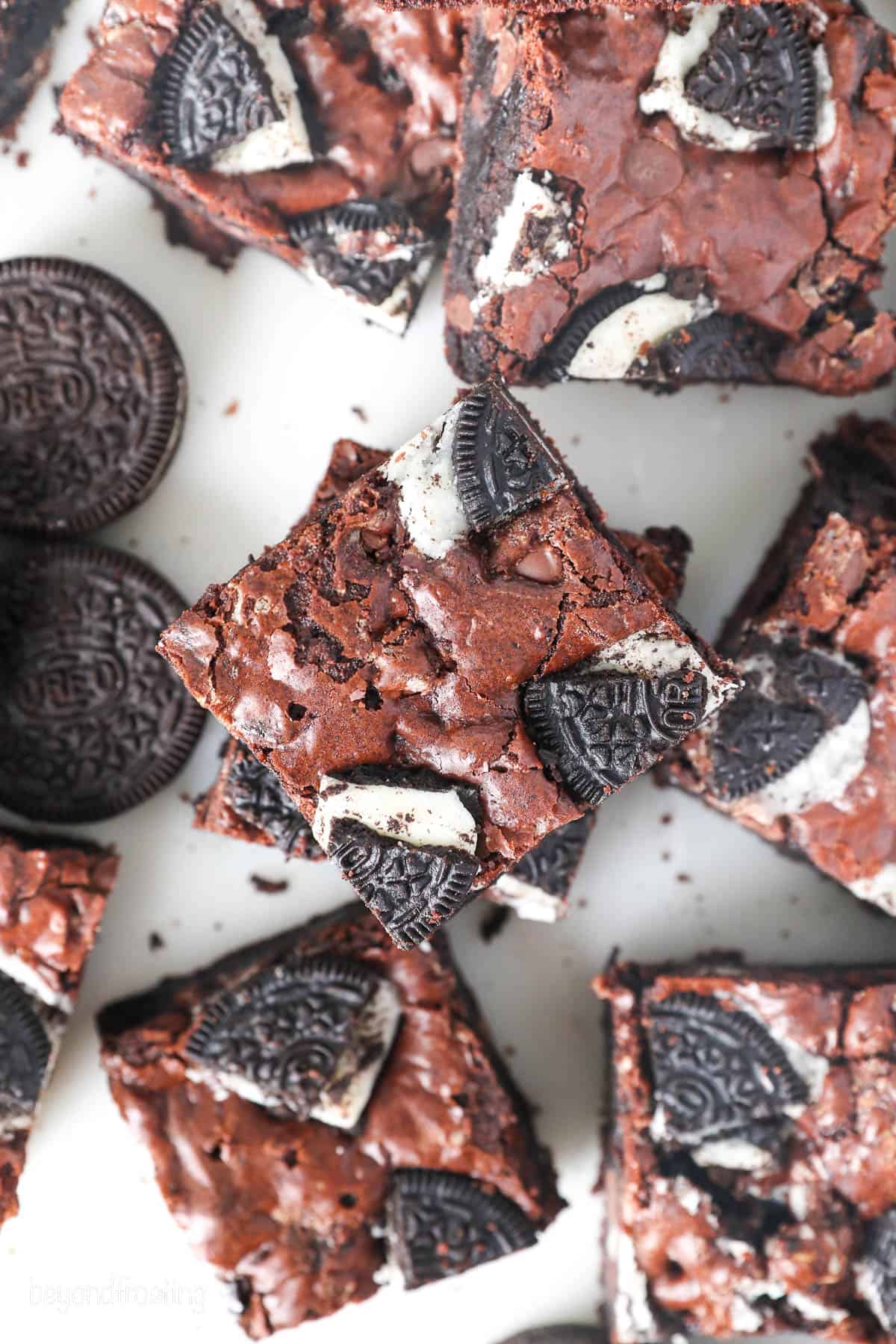 Tips for Success
As this brownie recipe uses my cocoa powder brownies as a base, it may be slightly different from what you're used to when making regular brownies. Here are some additional tips for getting these Oreo brownies perfect every time:
Don't overbeat the batter, especially once the eggs have been added. Because this recipe contains baking soda, overbeating the eggs will cause these brownies to puff up while they bake and then sink while they cool. They'll still taste great, but the thickness just won't be the same.
Use vegetable oil. While melted butter works in a pinch, I find that the brownies come out dry and crumbly. For this reason, I highly recommend using vegetable oil. Another neutral-flavored oil, like canola, will also work.
Use a metal baking pan. Metal baking pans conduct heat better than glass ones.
If you're baking these brownies in a 9-inch square pan, they will come out much thinner and will require a shorter baking time.
How to tell when your Oreo brownies are done: The exact baking time may vary, so use a toothpick inserted into the center of the brownies to check if they are done baking. The toothpick should come out a little damp with some crumbs, but not wet or gooey. Be careful to not overbake!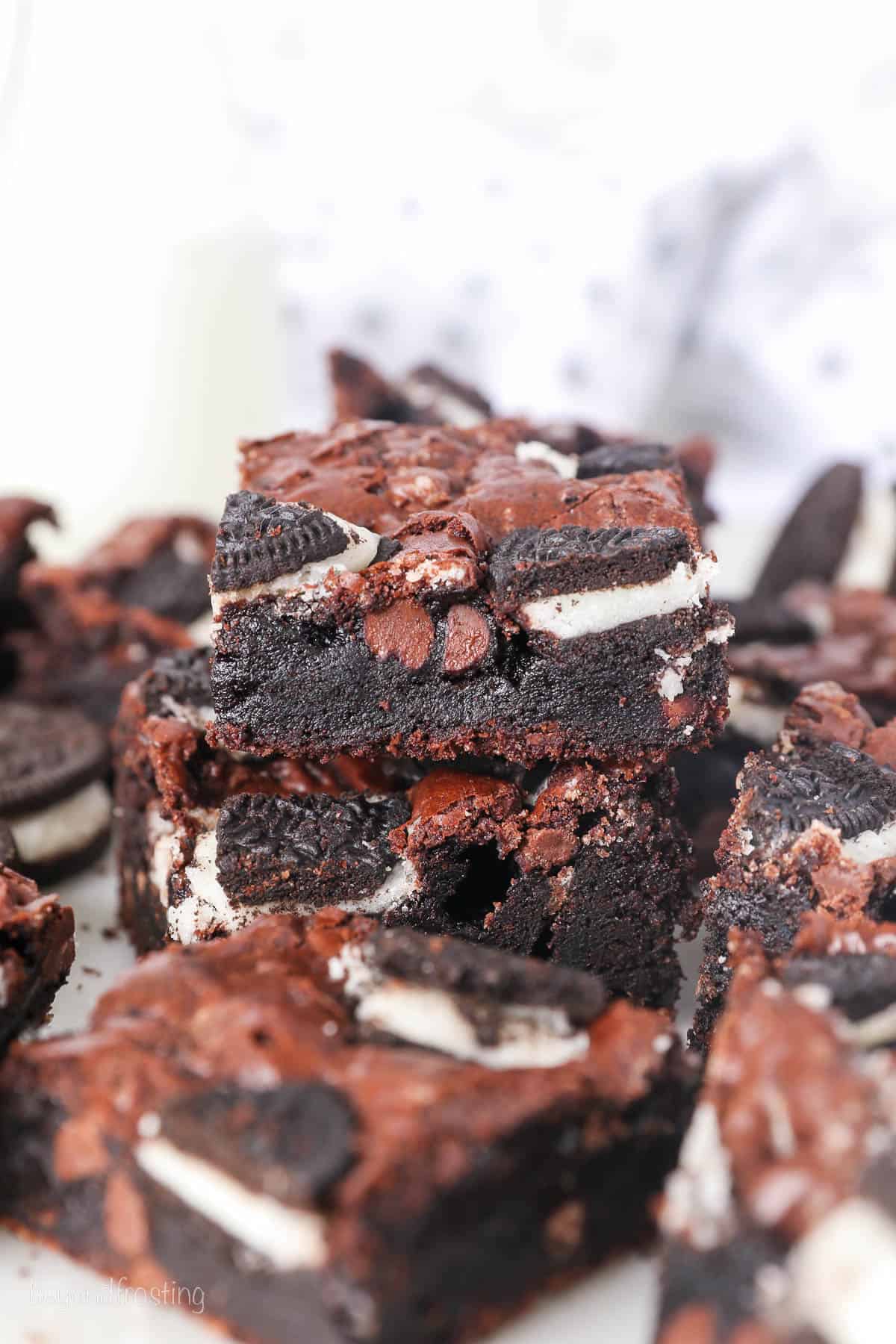 Add-Ins and Variation Ideas
Looking for easy ways to customize your homemade Oreo brownies? Try these fun variation ideas and possible add-ins:
Other Pan Sizes – I prefer to bake these brownies in an 8-inch square pan, but a 9-inch pan will also work (remember to reduce the baking time by a few minutes). You can also double this recipe if you're using a 9×13-inch baking pan.
Add Candy – Stir in M&Ms or chopped candy bars.
Add Nuts – Mix in chopped or crushed hazelnuts, pecans, or peanuts for added crunch.
Different Cookies – I mean, technically they won't be Oreo brownies, but you can make this recipe with any type of cookie you'd like. Try chopped chocolate chip cookies, peanut butter cookies, or Nilla wafers.
Pretzels – Add in chopped pretzels for a delicious salty-sweet contrast.
How to Store Homemade Brownies
Store these Oreo brownies in an airtight container on the counter for up to 3 days. You can also keep them in the fridge for up to 5 days.
Can I Freeze Oreo Brownies?
Absolutely! I recommend freezing the brownies individually, wrapped tightly in plastic wrap. This makes it easy to thaw as many brownies as you need at any time. Defrost frozen Oreo brownies in the fridge or at room temperature, or in the microwave if you're in a hurry.
Print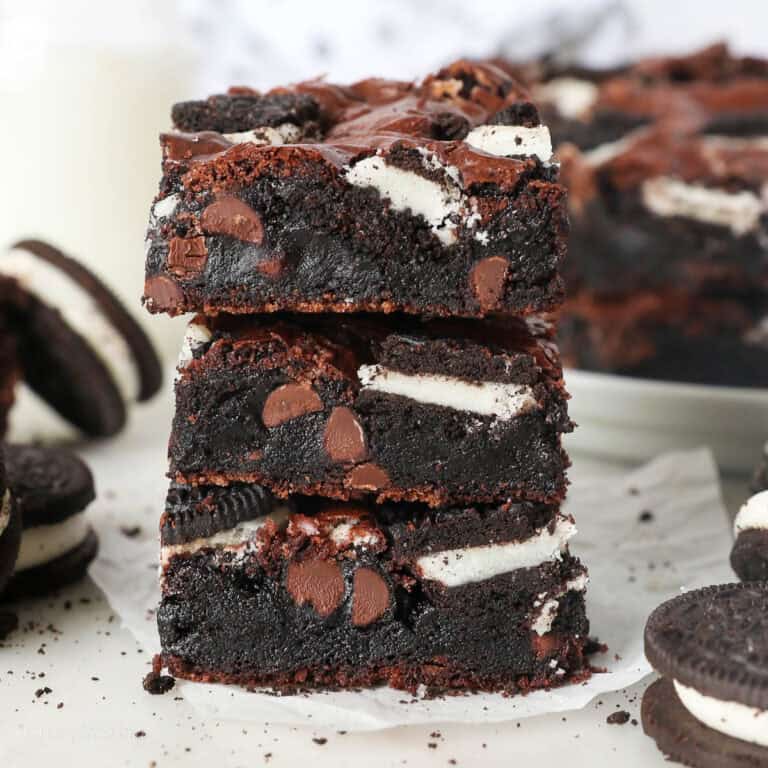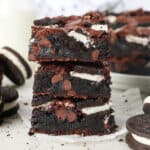 Oreo Brownie Recipe
Author:

Prep Time:

15 minutes

Cook Time:

32-36 minutes

Total Time:

17 minute

Yield:

12 brownies
Description
These easy Oreo Brownies are soft chocolate brownies loaded with crunchy Oreo cookies and melty chocolate throughout. This homemade brownie recipe is a million times better than a boxed mix and totally irresistible!
Ingredients
12

–

15

Oreos (I used mega stuffed), roughly chopped

1 ¼ cups

(

238g

) granulated sugar

1/3 cup

(78ml) vegetable oil

¼ cup

(59ml) milk

2 teaspoons

(10ml) pure vanilla extract

1

large egg

1 cup

(

140g

) all-purpose flour

½ cup

(

40g

) natural unsweetened cocoa powder

¼ teaspoon

baking soda

¾ cups

(

168g

) semi-sweet chocolate chips, plus additional for garnish
Instructions
Preheat the oven to 350°F. Generously grease an 8-inch baking pan and line it with parchment paper. Roughly chop the Oreos into smaller pieces, either quartered or smaller.
In a medium-sized mixing bowl, combine the granulated sugar with the oil, milk, and vanilla extract and beat together until well combined. Next, add the egg and beat just until combined, about 30 seconds or so.
Combine the dry ingredients in a separate bowl and stir to combine. Add the dry ingredients to the batter and mix just until combined. Add in most of the chopped Oreos, reserving some for the top, and the chocolate chips and fold into the batter with a spatula.
Spread the batter evenly in the prepared pan and sprinkle another handful of chocolate chips and Oreos over the top. Bake at 350°F for 32-36 minutes. A toothpick inserted into the center will be damp with some crumbs sticking to it, but not gooey or wet. Remove from the oven and allow to cool completely prior to cutting.
Notes
For these brownies, I wanted extra Oreo filling, so I used the Mega stuffed Oreos. You can make these with any type of Oreos you'd like.
Storing: These can be stored at room temperature in an airtight container for 3-5 days.
Category:

Brownies

Method:

Oven

Cuisine:

American
Keywords: oreo dessert recipes, chocolate brownies, homemade brownies
More Easy Brownie Recipes to Try