This post may contain affiliate sales links. Please see my full disclosure policy for details
Wondering how to heat treat flour to make edible cookie dough or other no-bake desserts made with flour? The process is quick and easy. All you need is flour and 20 minutes!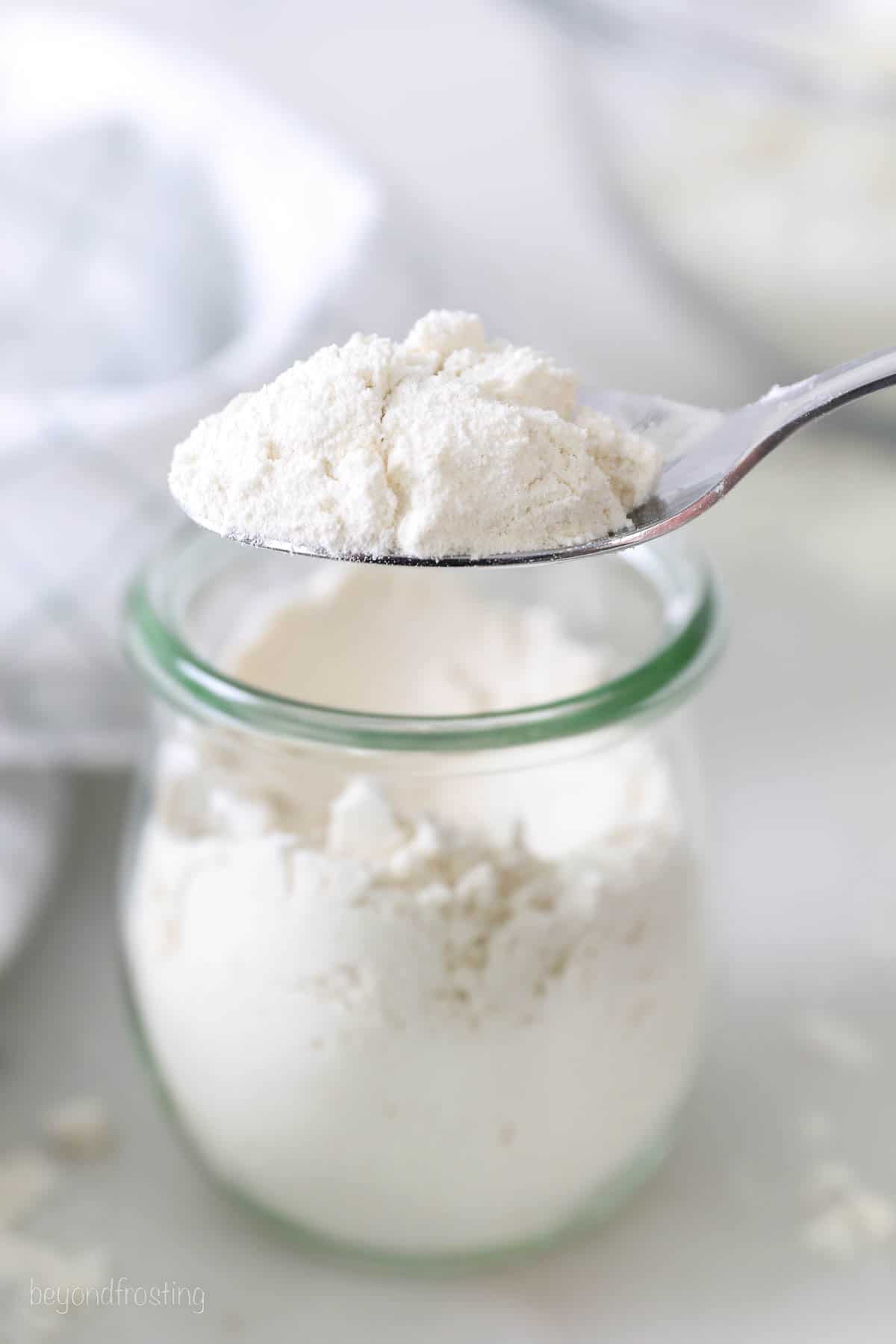 The Easy Way to Make Raw Flour Safe to Eat
Did you know that raw flour is one of the reasons you're not supposed to eat raw cookie dough? I think most people believe it's due to the raw eggs…but in reality, the flour can make you just as sick!
It may not seem like a regular occurrence as I'm sure most of us have indulged in a spoonful of raw cookie dough over the years, but it's not something you want to take a chance with – especially when baking raw flour to make it safe to eat is so easy!
When & Why Do You Need to Heat Treat Flour?
Raw flour can contain bacteria like e. coli or salmonella so it's important to always heat your flour to a temperature of 160F before eating. (This is what makes eating edible cookie dough safe!)
When do you need to heat treat flour? It should always be heated properly before being consumed – but that's something that likely doesn't cross your mind as it's typically used in desserts and other recipes that are cooked.
However, when it comes to using flour in any recipe that's not baked or cooked, it needs to be heat treated. This includes cake mixes used in things like my no bake funfetti cheesecake. If it contains flour and won't be baked, the must be heat treated before adding it to the recipe.
How to Heat Treat Flour in the Oven
So, how do you heat treat flour to make it safe for eating? Luckily the process is super quick and easy. The key is just heating the flour to a temperature of at least 160°F.
Preheat and prepare. Preheat the oven to 350°F. Prepare a baking sheet lined with parchment paper or a silicone baking mat.
Bake. Bake for approximately 7-10 minutes, or until the temperature of the flour reaches 160°F. I recommend stirring the flour once or twice to help break it up.
Sift and cool. Sift the flour through a fine mesh sieve before using and cool completely.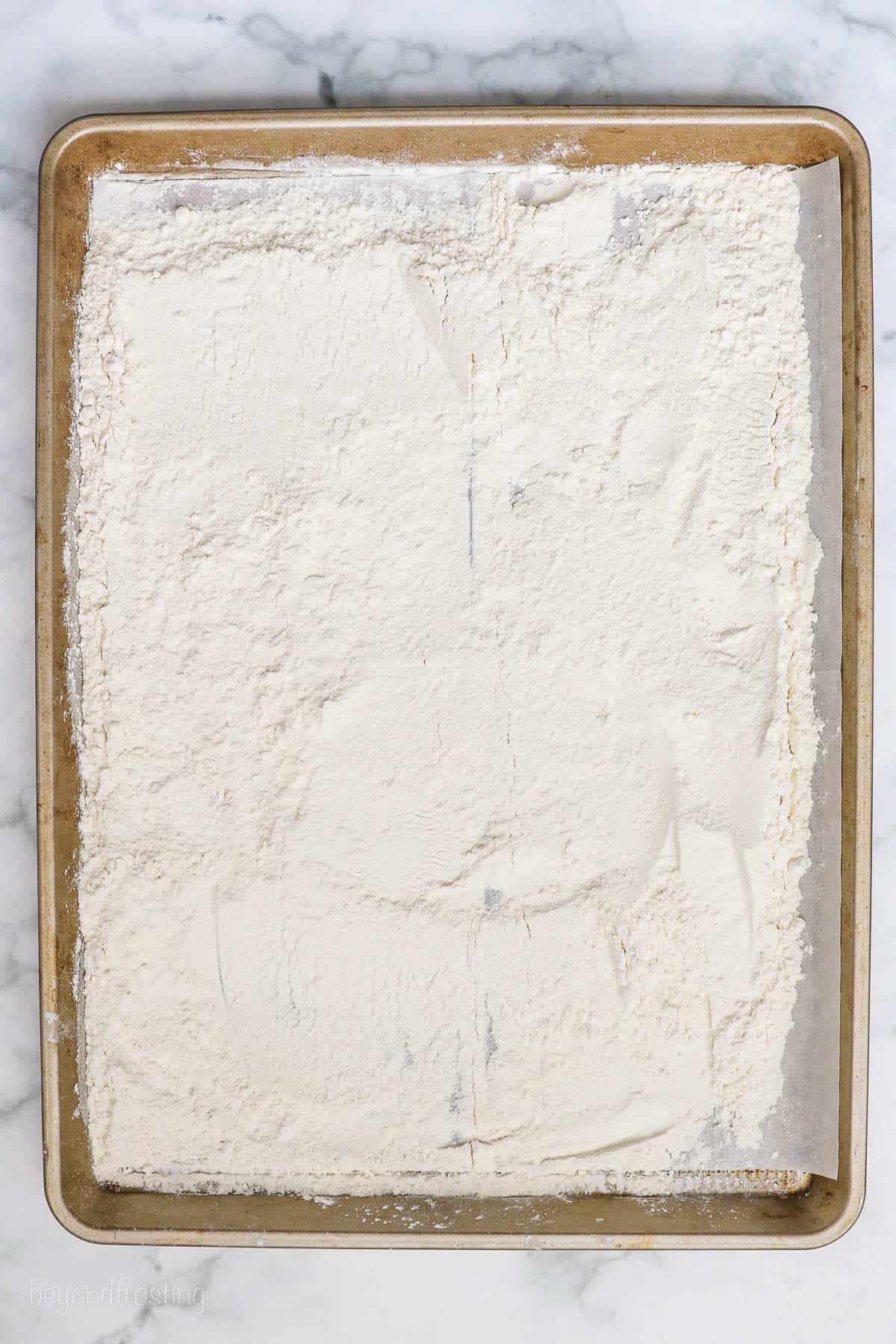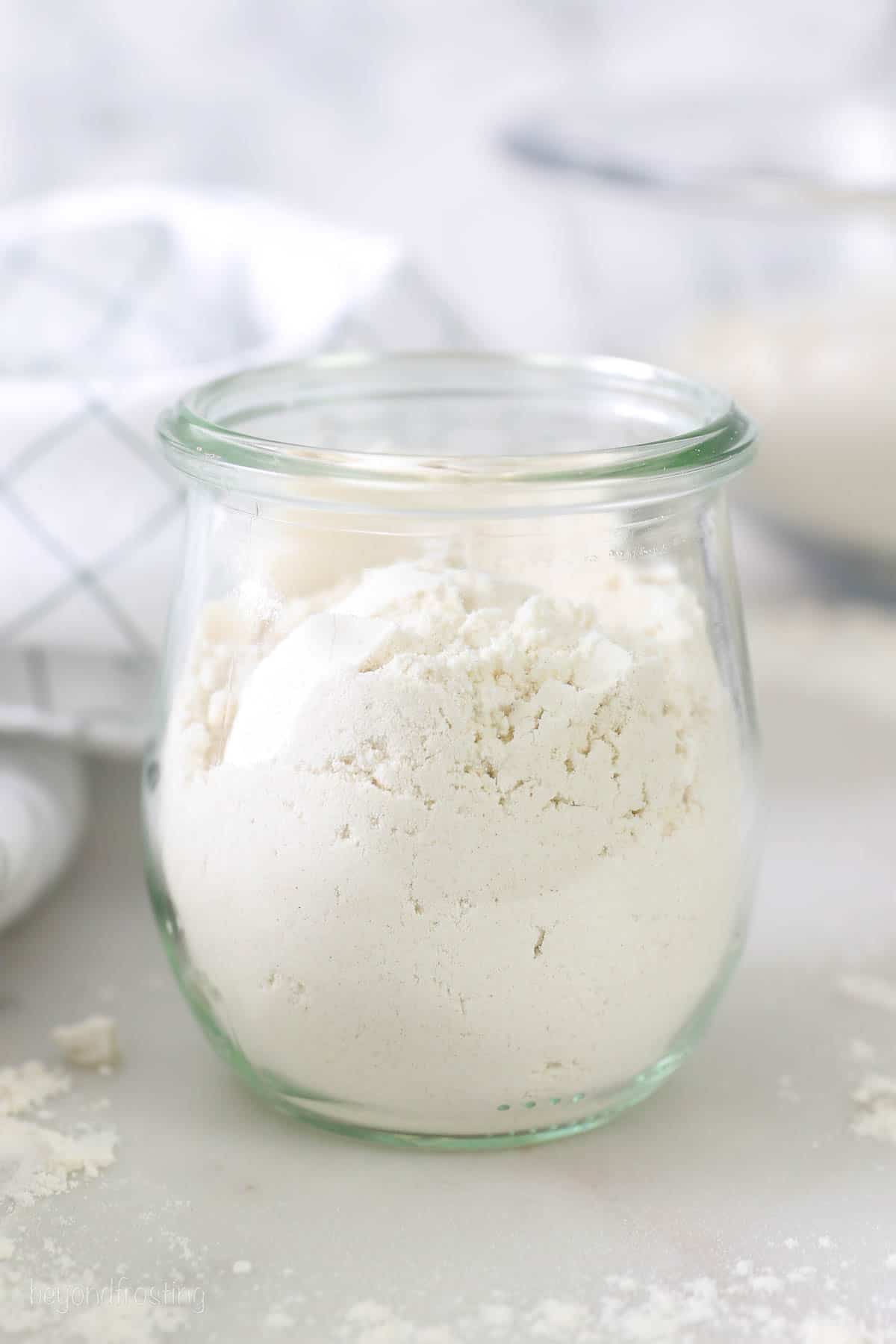 Can You Do This in The Microwave?
Whether or not you can heat treat flour in the microwave is a question I often receive on my posts. And the answer is yes, you can heat treat flour in the microwave.
The key, as I mentioned above, is getting it to reach a temperature of 160°F.
To do this in the microwave, just cook in 30-second intervals, stir, and continue microwaving until the temperature is reached. It should take just a few minutes.
I will say that this technique is much better if you only need a small amount of flour, like a cup. It's a bit difficult to microwave large amounts of flour – the oven is definitely better in those situations.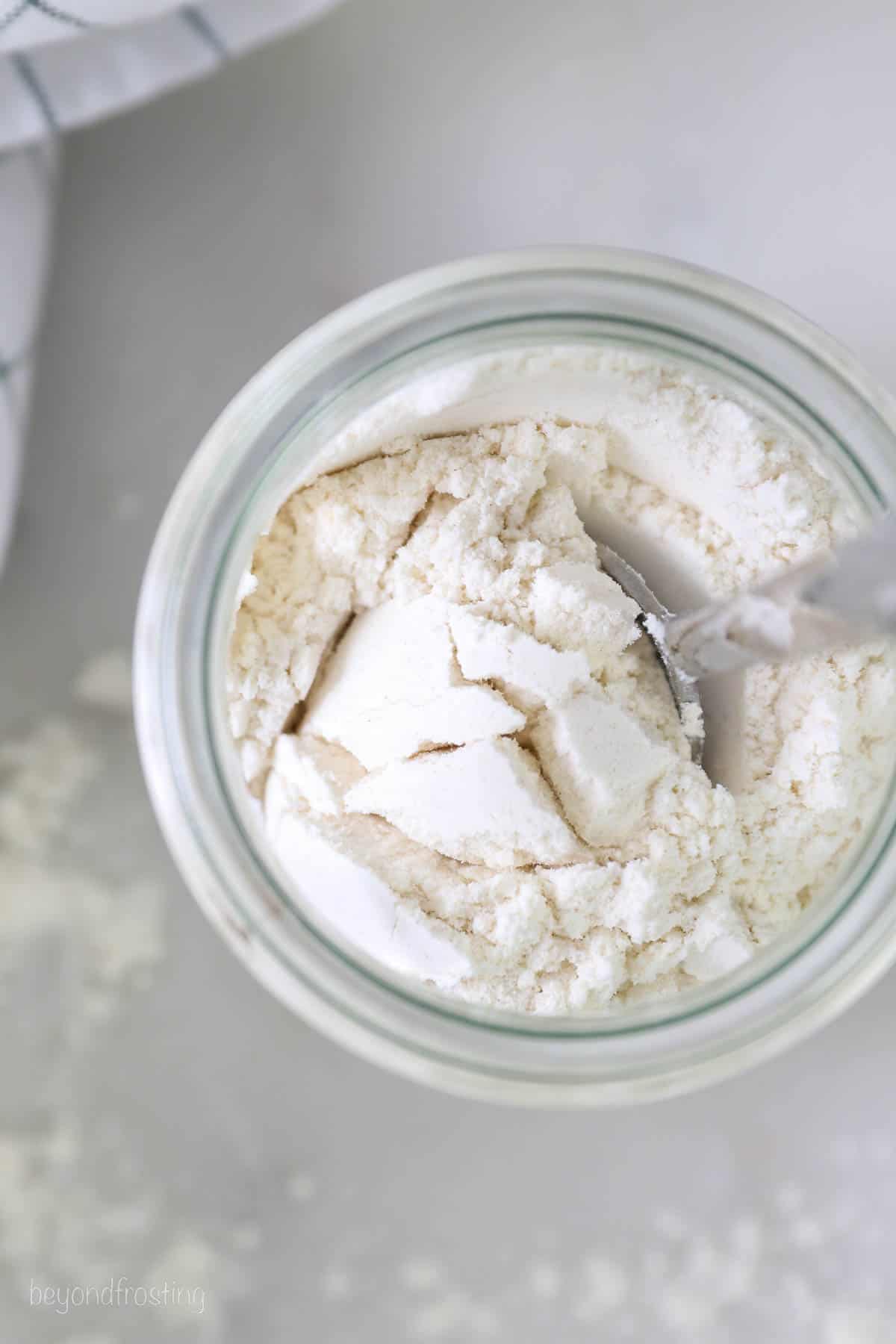 How to Take The Temperature of Flour
To ensure the flour reaches the appropriate temperature, make a pile of flour with a spatula and insert the thermometer into the flour (but don't touch the baking sheet). Once it reads 160°F you're good to go.
Tips for Success
Here are a few helpful hints for baking flour.
Sift after heat-treating. Be sure to sift any heat-treated flour, through a fine mesh sieve because the flour gets clumped together when it's baked.
Line the baking sheet. This helps to easily remove the flour from the pan into the sieve.
Do not overbake. If the flour is overbaked, it will be toasted and in which case you may not want to use it as it will alter the flavor of the flour.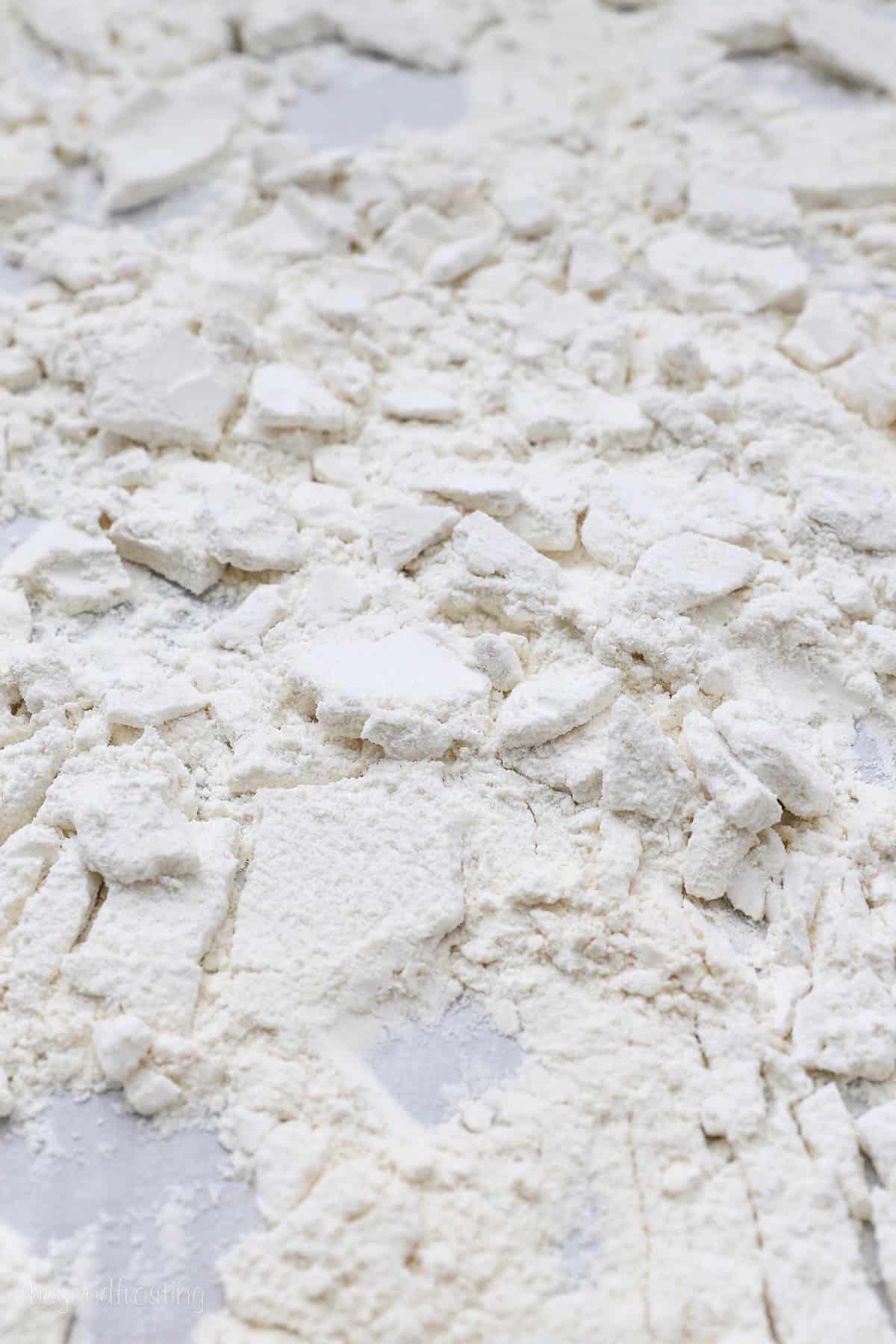 Can You Heat Treat Cake Mix?
Yes, you can also use this method to heat treat for cake mix if a recipe calls for raw cake mix like my Cake Batter Whipped Cream or No-Bake Funfetti Cheesecake. Since cake mix is made with raw flour, this is an important step to take!
How to Store it
Once cooled, heat treated flour can be stored in an airtight container. Keep in your pantry or another cool, dry location. I like to heat treat several cups at a time in the oven, so I always have some on hand whenever I want to whip up an edible cookie dough treat.
Recipes That Use Heat Treated Flour: