This post may contain affiliate sales links. Please see my full disclosure policy for details
This Moist Vanilla Bundt Cake recipe is perfectly sweet, tender, and filled with real vanilla flavor. It's one of my best homemade bundt cakes, with an easy-to-follow recipe that's ready to be whipped up for any occasion! Don't forget to top your slices with fresh berries and whipped cream.
If you're after a chocolate version, check out my recipe for the best Chocolate Bundt Cake!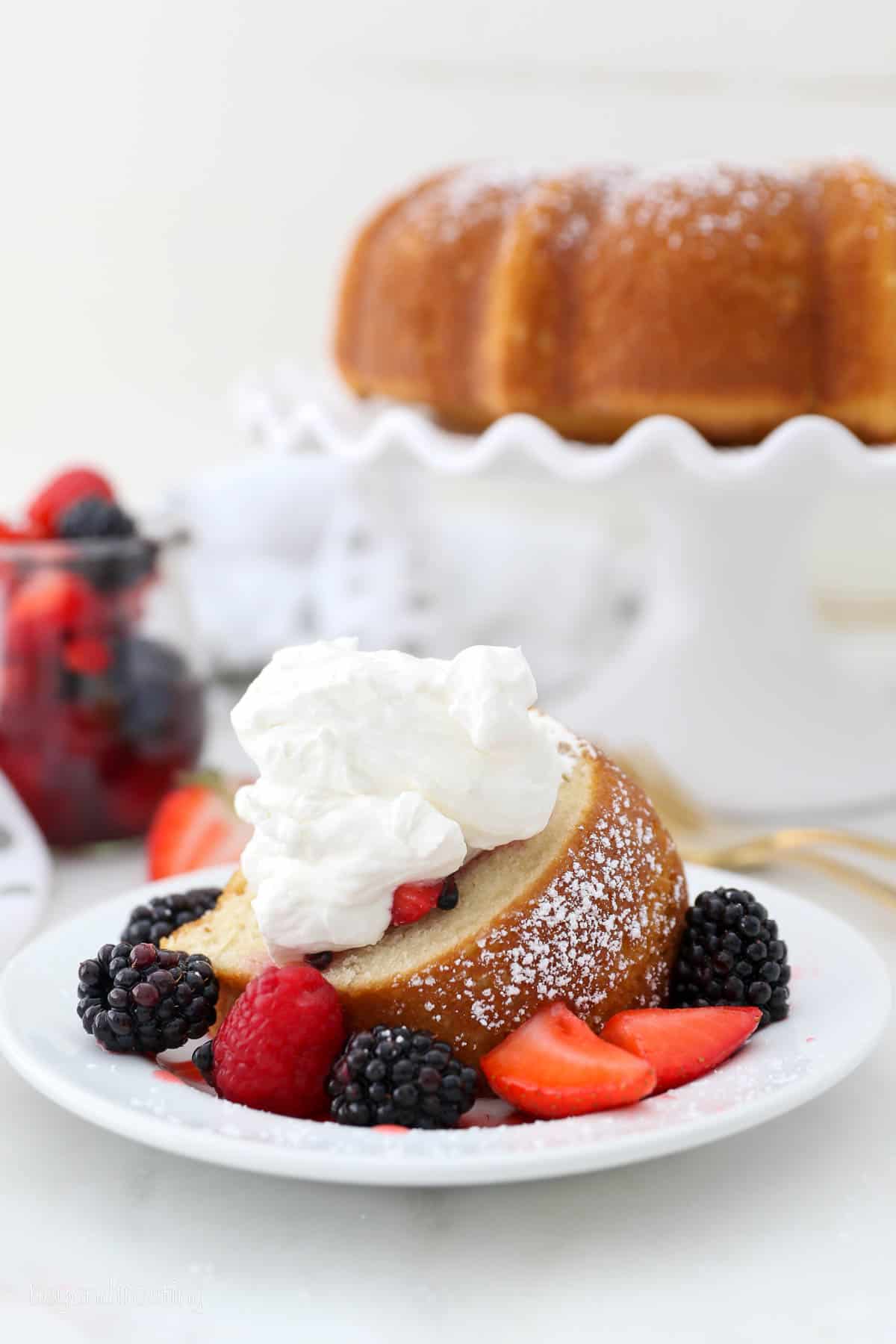 Moist and Tender Vanilla Bundt Cake
Testing cake recipes is always such a double-edged sword. On the one hand, you get to eat a lot of cake. On the other hand, you have to eat SO. MUCH. CAKE. While testing this vanilla bundt cake, in my quest to make it perfect, I thought I might explode.
It was totally worth it, though. Every bite of this cake is better than the last. It's moist, fluffy, and spongey all at once, a bit like a mash-up of my favorite Moist Vanilla Cake and a Pound Cake (only less dense).
I'm so thrilled with how this cake came out, I've been making it ever since for holidays like Easter, Memorial Day, or just because. This vanilla bundt cake recipe is such an easy dessert. Serve your slices topped with some fresh macerated berries and homemade whipped cream!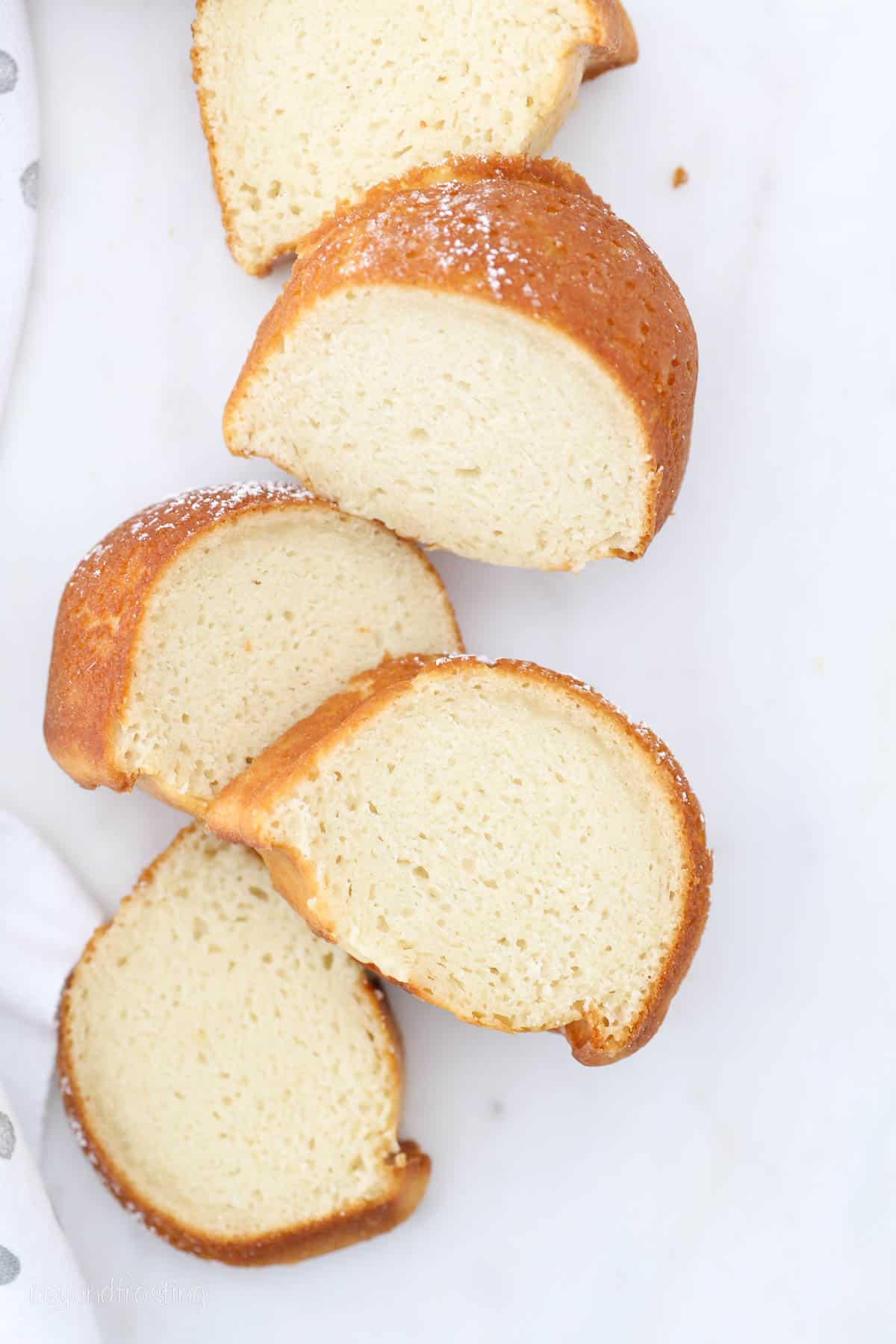 Key Ingredients
Bundt cakes are some of my favorite desserts to make, as they don't need any complicated ingredients. Aside from your usual baking suspects like flour, leavening, and sugar, there are just a few key ingredients that make this cake perfect. Find these below, and don't forget to refer to the recipe card for the full details at the bottom of this post.
Egg Whites – You'll need 4 large egg whites, whipped before combining them with the other ingredients.
Oil – Using oil in place of butter results in a tender, moist cake.
Vanilla Extract – A high-quality vanilla extract makes all the difference in terms of flavor.
Sour Cream – Sour cream is my essential ingredient for keeping cakes moist (more on this below).
Milk – I make this bundt cake using nonfat or skim milk, but you can use full fat if you prefer.
Mixed Berries – I've included a simple recipe for macerated blackberries, raspberries, and strawberries. All you need is some sugar, vanilla, and lemon juice! Fresh berries are perfect for serving over top of the cake.
What Does Sour Cream Do In Cakes?
Sour cream is a MUST for an incredibly soft, rich cake. It contributes loads of additional moisture to the cake crumb. Don't skip it! I prefer to use full-fat sour cream. If you don't have sour cream at all, use a nonfat Greek or plain yogurt instead.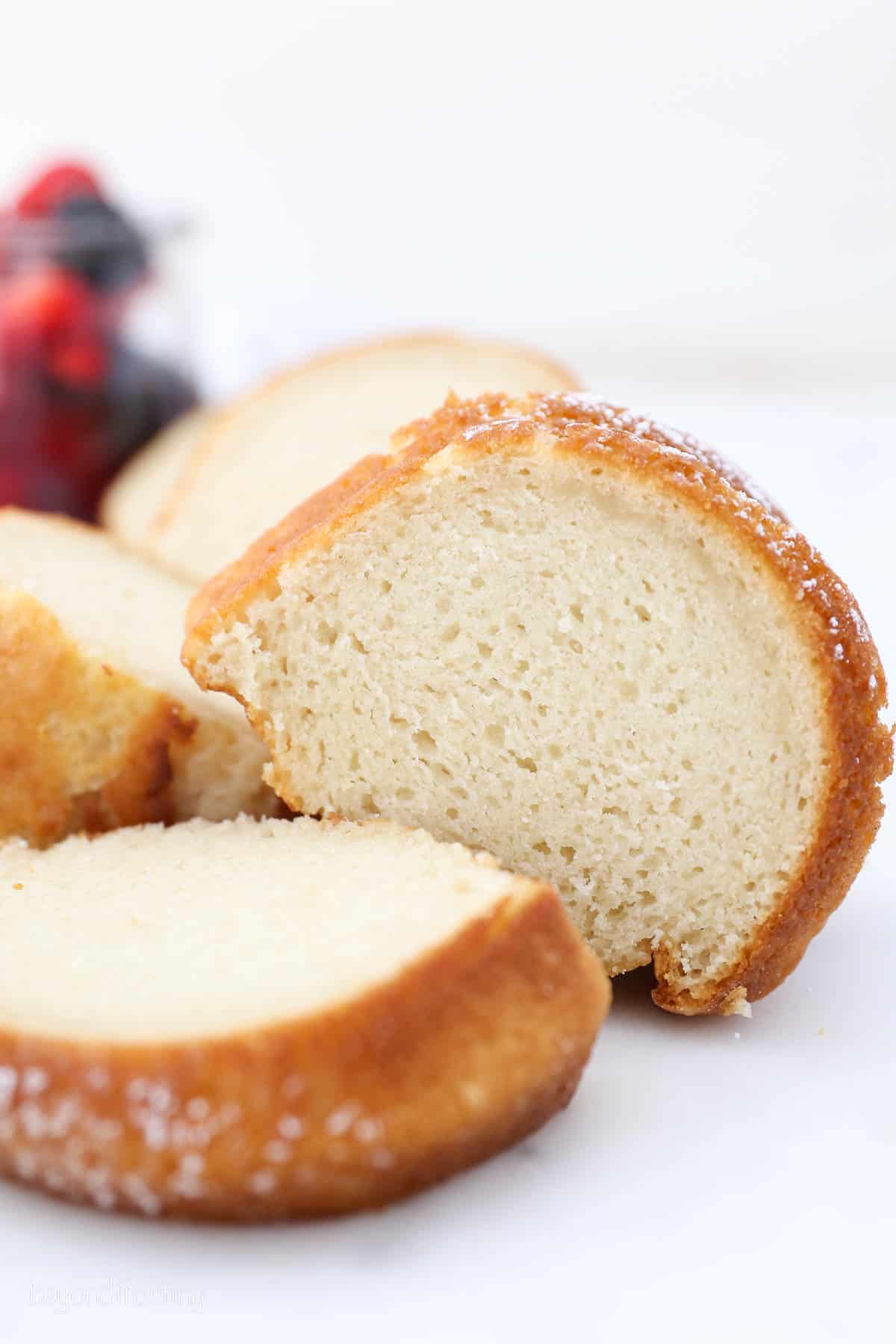 How to Make the Best Vanilla Bundt Cake
Who's ready to bake a perfect vanilla bundt cake? Be sure to allow time for the necessary ingredients to come to room temperature.
Combine the wet ingredients. You'll start by whipping the egg whites until they're fluffed and foamy. Next add the sugar, oil, and vanilla extract and beat until well combined. Add the sour cream and blend into the batter.
Add the dry ingredients. Sift and whisk the dry ingredients together in a separate bowl, then alternate adding the dry ingredients and milk to the batter, mixing until combined.
Bake. Pour the vanilla cake batter into a generously greased and floured bundt pan. Bake at 350ºF for 35-40 minutes. The exact baking time can vary depending on pan size, so keep an eye on the cake during its final minutes in the oven.
Cool. Allow the cake to cool in the pan for a few minutes before running a knife around the center and edges of the pan. Afterward, turn the cake out onto a parchment-lined cooling rack to cool completely.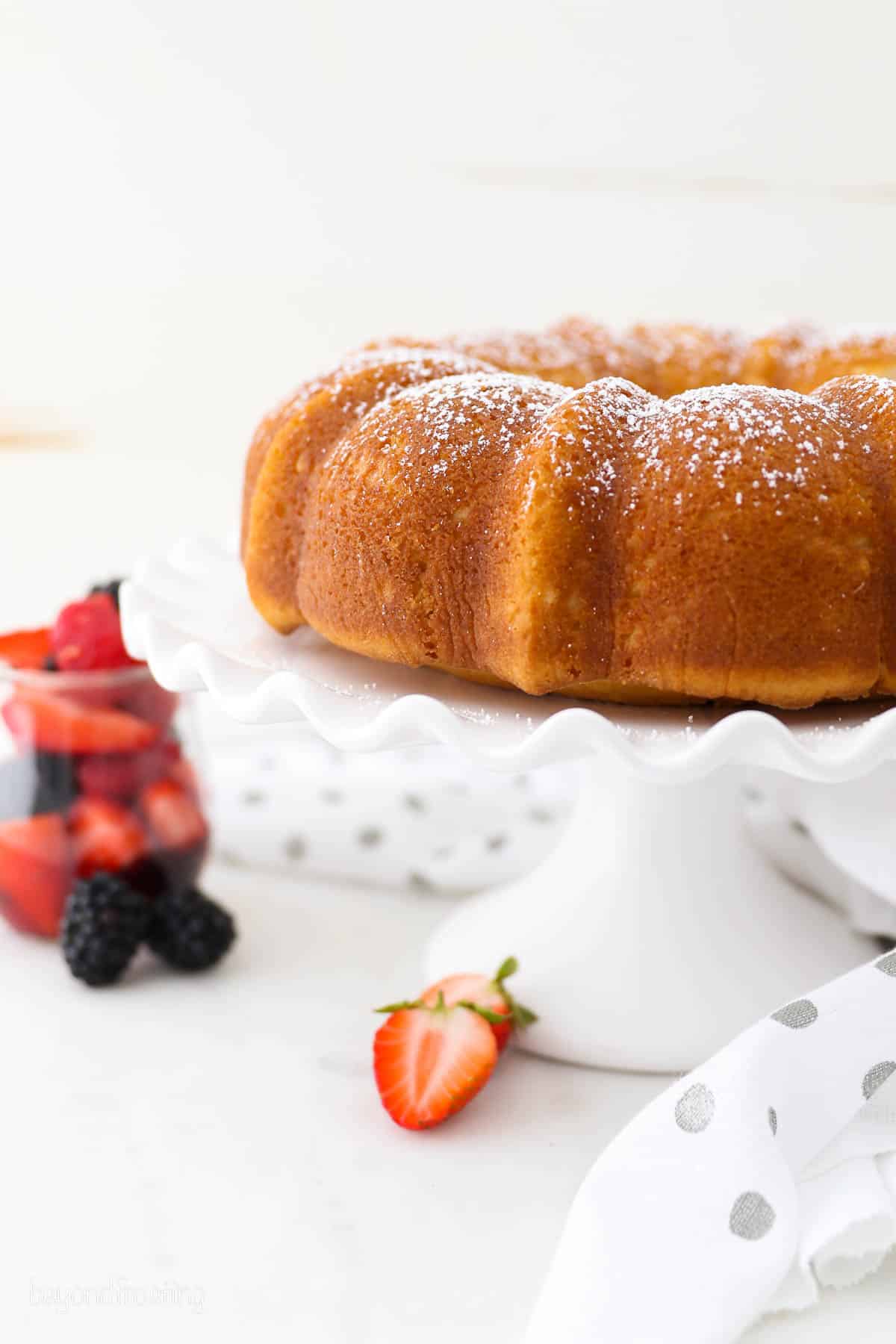 Toppings for Vanilla Bundt Cake
I had to serve this cake with fresh berries and whipped cream. These are some basic toppings that anyone can make, but they really bring something extra special to this cake! Scroll for more easy serving suggestions.
Macerating the Fresh Berries
These aren't just plain ol' mixed berries. These are JUICY mixed berries. Macerated berries are a cinch to prepare and definitely up the flavor factor:
Toss. In a bowl, combine and toss your mixed berries with sugar, vanilla extract, and the juice of half a lemon.
Let sit. Leave the berries to macerate for 10 minutes or so, but the longer the better. The sugar helps release the natural juices in the fruit that you can spoon over the cake.
Serve. You can serve your berries over the bundt cake with traditional whipped cream, or you can prepare your own (see below).
Homemade Whipped Cream
The homemade whipped cream for this recipe was inspired by a past trip to Vegas, where I had the most amazing whipped cream with a dessert there. The chef's secret? A couple of spoonfuls of sour cream. Trust me. It's genius! Here's how to make it:
Chill the bowl. Before you whip your cream, you'll need to chill your mixing bowl in the freezer for 5-10 minutes. This is the key to fluffy homemade whipped cream.
Combine. Once your bowl is cold, pour in the heavy whipping cream and beat until the consistency has thickened slightly. Add sour cream and vanilla extract.
Whip. Continue to beat the mixture until stiff peaks form. You can check out my tutorial for How To Make Whipped Cream which walks you through how to get a nice, stiff consistency.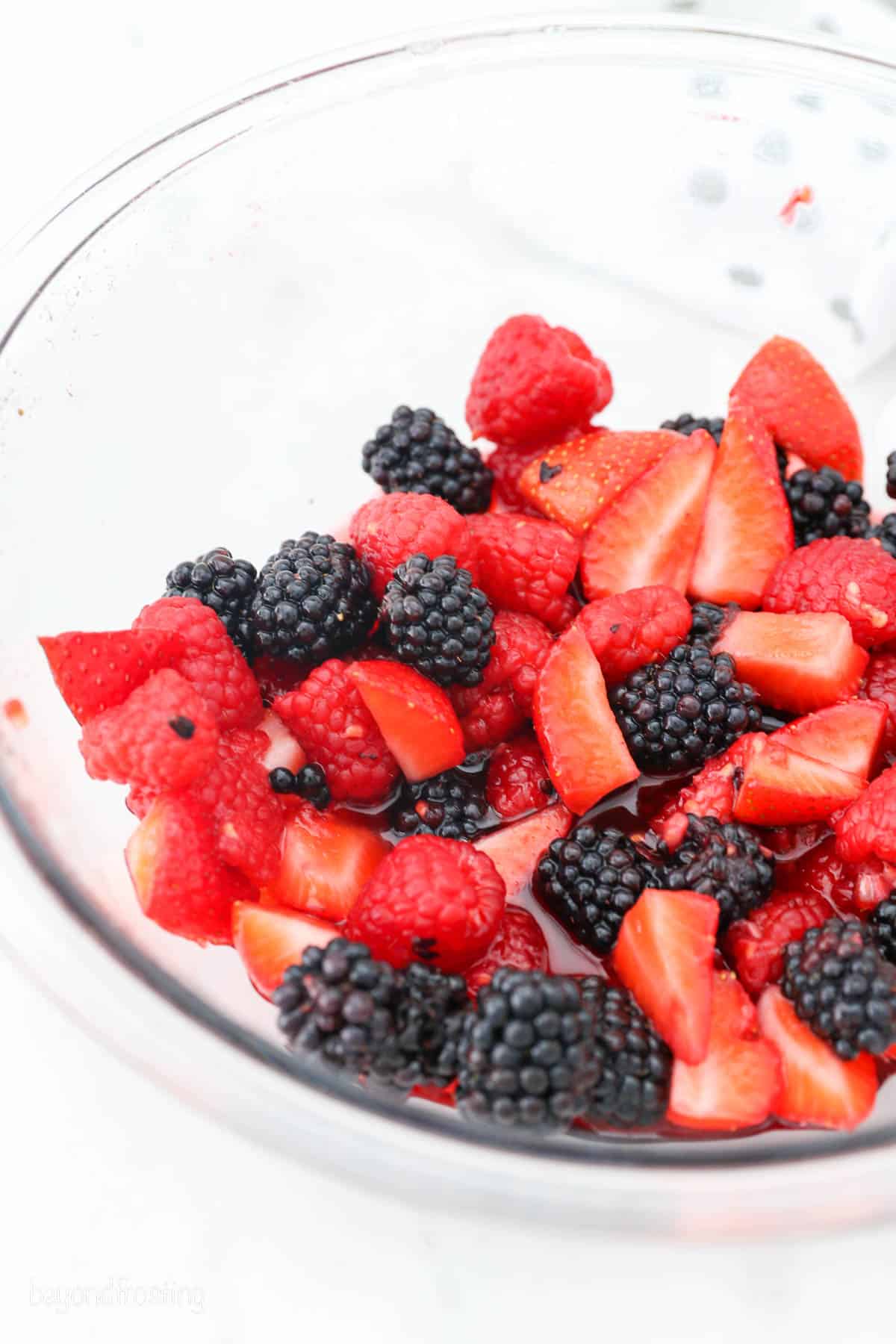 Baking Tips for Bundt Cakes
I love bundt cakes because it's really one of the easiest ways to turn out a cake that looks impressive but is actually SO simple to make. With a few easy tips, you'll have a gorgeous vanilla bundt cake in no time:
To test if your bundt cake is done, insert a toothpick (or a small knife) into the center of the cake in multiple spots. It should be completely clean. If the top of your cake still has areas that are glossy or shiny, it may need to stay in the oven a few minutes longer.

Check on the cake. The baking times will differ by your oven as well as the size and type of bundt pan you're using. Check your cake for doneness at the 30-minute mark and adapt the time accordingly, adding 5 or so minutes at a time as needed. Sometimes just a minute or two longer is all you need.

Remove the cake from the pan to cool. Not right away, but after 5 minutes or so, pop the cake out of the pan. Do not allow your cake to cool completely in the bundt pan or it might stick.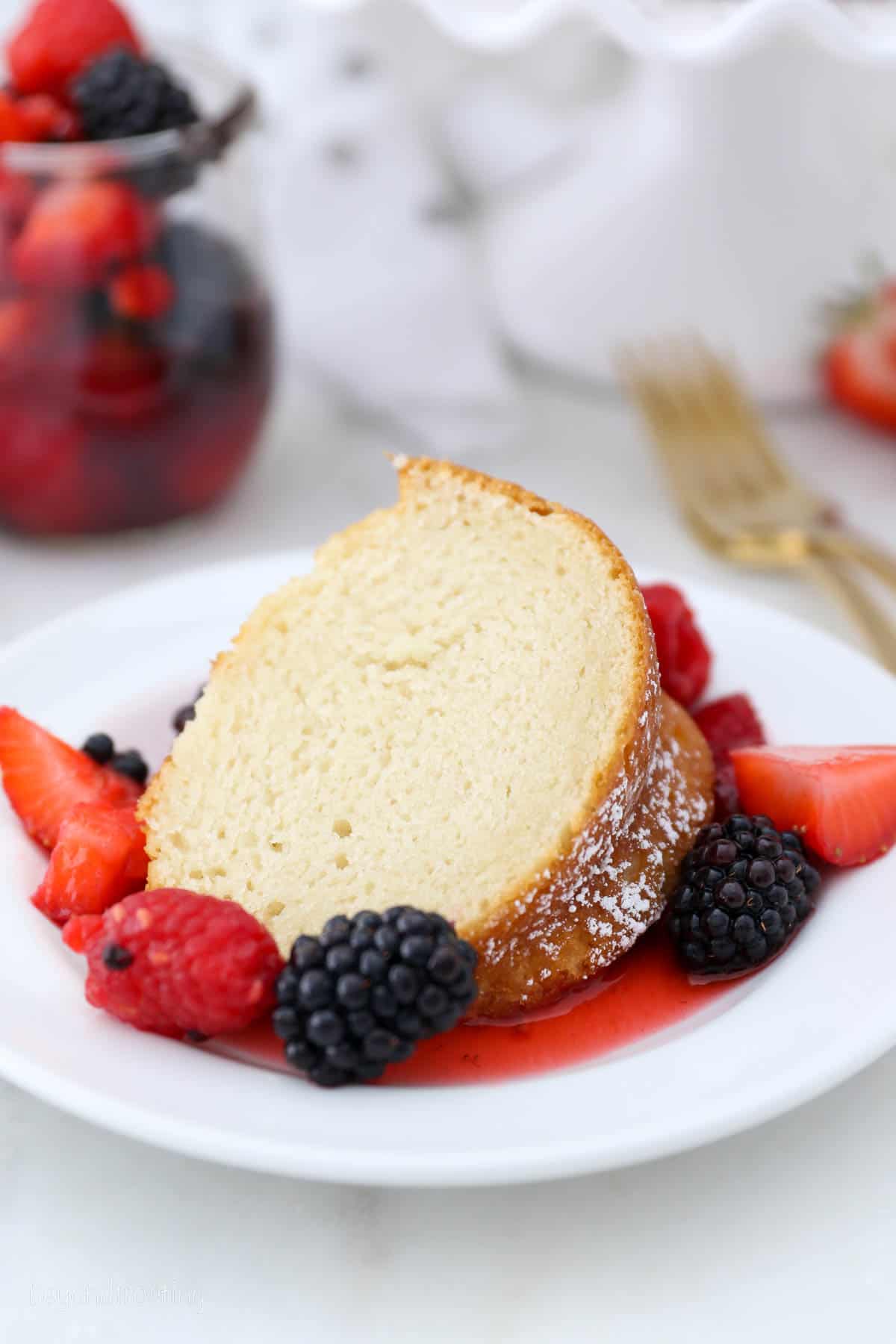 Common Questions
If you're new to baking bundt cakes, don't worry. Here are some common bundt cake FAQs:
What type of bundt pan can I use?
I tested this recipe with my beautiful Nordic Ware bundt pan, as well as a traditional bundt cake pan (also 10 cups). You can also make this cake in a 12-cup bundt pan, just remember to adjust the baking time accordingly.
How do I prevent a bundt cake from sticking?
The key is to really grease and flour your pan. I recommend using shortening, like Crisco, over cooking spray. Also, don't let the cake cool fully in the pan once it's out of the oven, as it is more likely to stick. Give it 5-10 minutes or so in the pan, then flip it out.
How do I get a cake out of a bundt pan?
The easiest way to do this is to run a knife around the edges of the bundt pan. Then, carefully invert it onto a sheet of parchment paper. If your cake is not releasing, tap the top of the pan a couple of times to loosen it. Don't shake the pan, as this risks breaking the cake.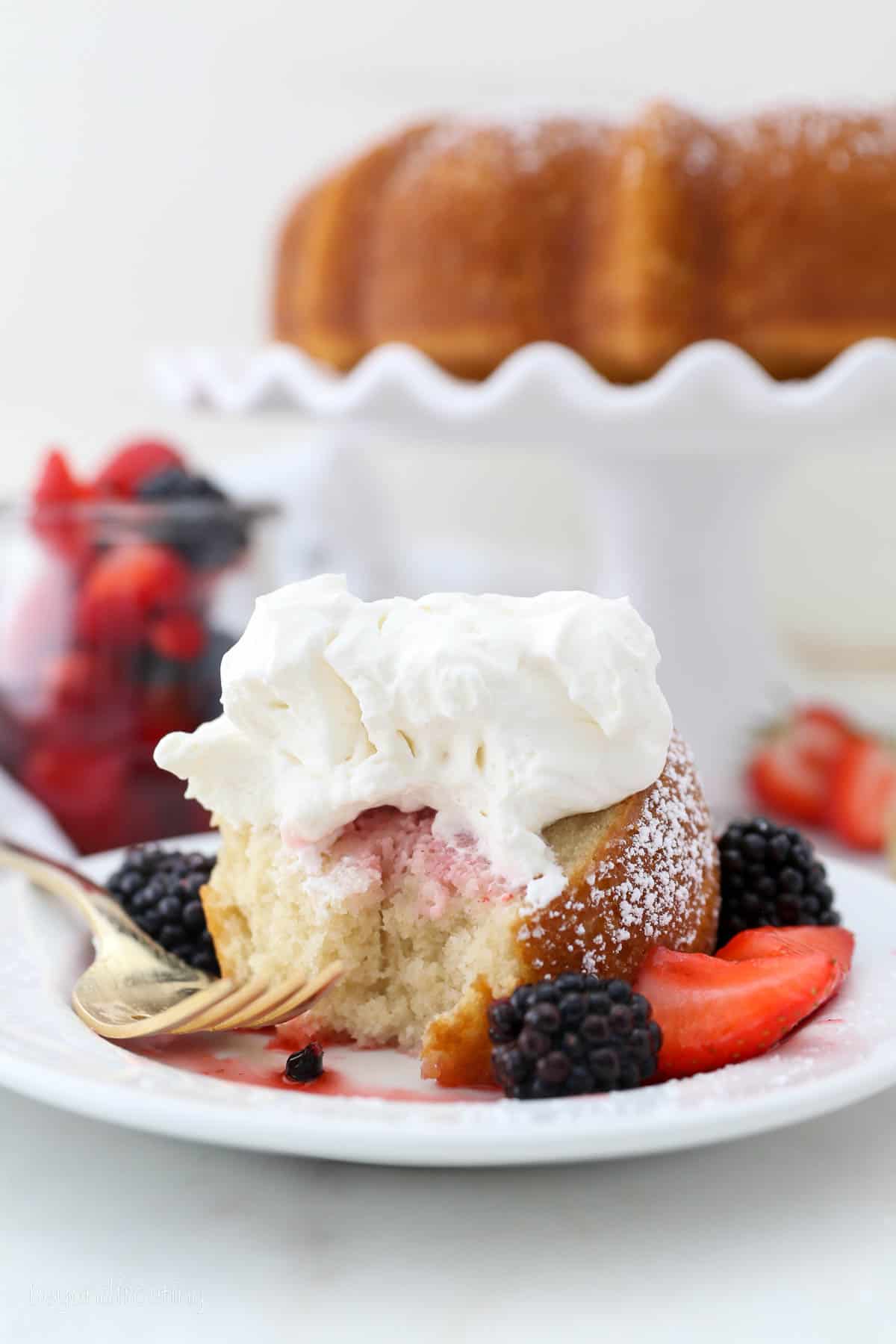 Variations and Serving Suggestions
This tender vanilla bundt cake is a perfect cake to serve with fresh fruit. I often leave mine unglazed, dusted with powdered sugar, so I can spoon the macerated mixed berries over slices and top them with freshly prepared whipped cream. It makes the best summertime dessert.
You can also serve this bundt cake with ice cream. Or, finish it with a simple vanilla glaze, and add a tablespoon of lemon or orange zest to kick it up a notch (I'll sometimes borrow the lemon glaze from my Lemon Bundt Cake!). It would be delicious topped with Mascarpone Whipped Cream, too.
You can also drizzle your cake with chocolate glaze, sprinkle over some rainbow sprinkles, or crushed nuts for a bit of texture. There are endless possibilities for decorating a traditional vanilla bundt cake!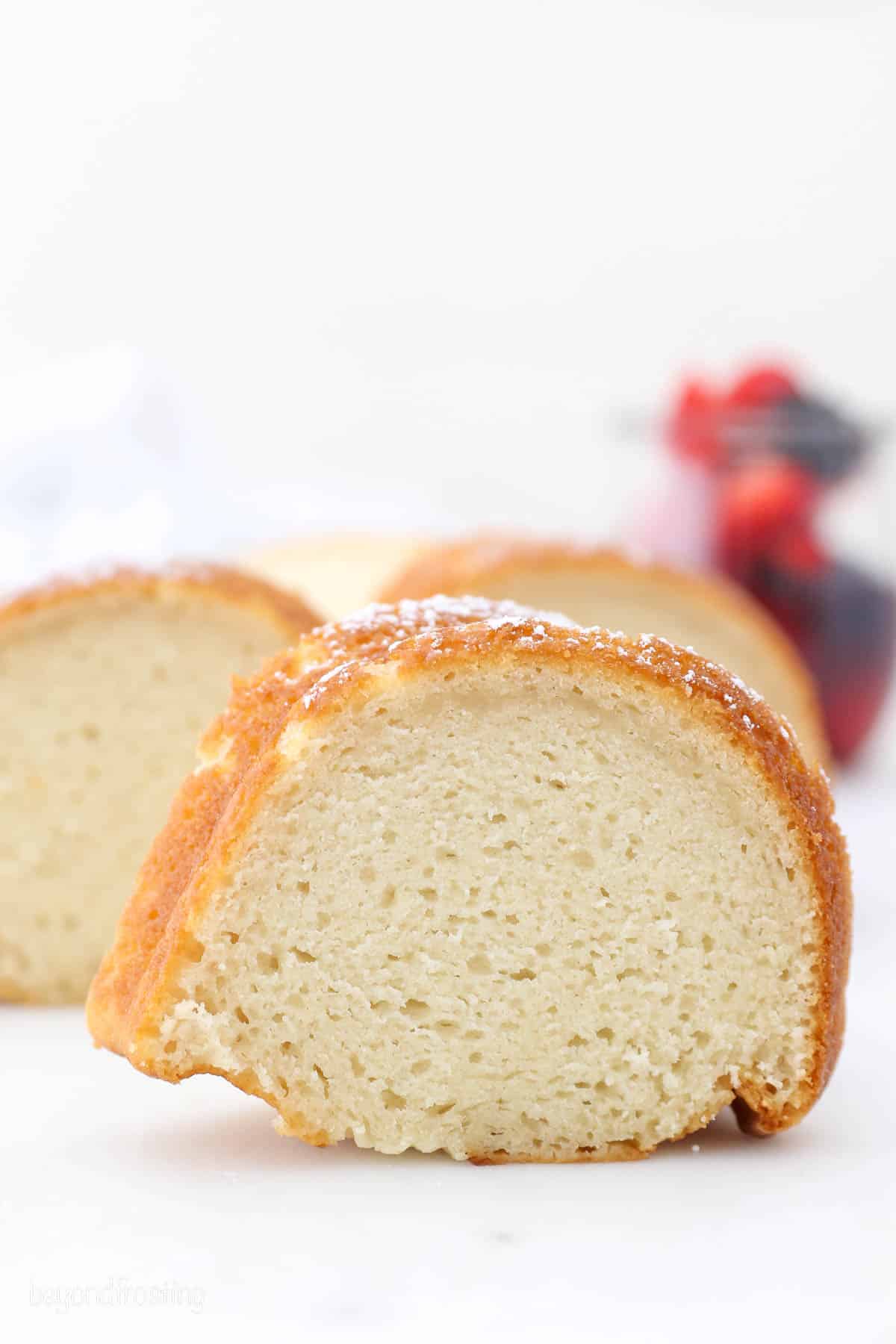 How to Store Homemade Bundt Cake
Store your baked vanilla bundt cake airtight on the counter for up to 3 days. I use a cake carrier and I cannot recommend it enough! You can also keep this cake in the fridge for up to 5 days. You'll want to take the cake out of the fridge ahead of serving, though, to let it come to room temperature again.
If you don't have a cake carrier, you can slice your cake into individual slices so that they're easy to store in another airtight container. It will still stay moist and soft.
Can I Freeze Vanilla Bundt Cake?
Yes, once your cake has cooled completely, it can be frozen for up to 1 month. Since the bottom of a bundt cake is very moist, I recommend placing it on top of a piece of parchment paper or on a cake board if you have one, before wrapping it tightly for freezing. You can also wrap slices to freeze them individually. Thaw the cake in the fridge or at room temperature prior to serving.
Print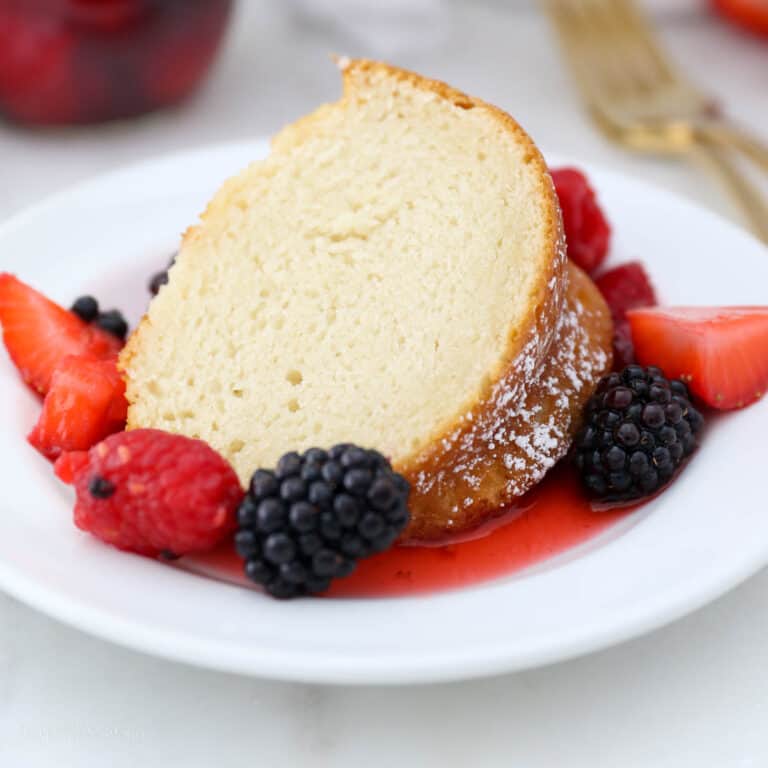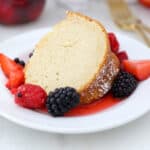 Vanilla Bundt Cake Recipe
Author:

Prep Time:

15 minutes

Cook Time:

38 minutes

Total Time:

53 minutes

Yield:

10 slices
Description
This tender and moist Vanilla Bundt Cake is flavored with real vanilla and is so easy to make! Serve slices of rich vanilla cake with fresh berries and homemade whipped cream for an easy summer dessert.
Ingredients
4

large egg whites, at room temperature

1 ½ cups

(

285g

) granulated sugar

½ cup

(118 ml) vegetable oil

1 ½ tablespoons

(22ml) vanilla extract

¾ cup

(

177

ml) full-fat sour cream, at room temperature

2 ½ cups

(

350 g

) all-purpose flour, sifted

2 teaspoons

(7.5 g) baking powder

½ teaspoon

baking soda

1 teaspoon

(5 g) salt

1 ¼ cup

(

296

ml) milk at room temperature
For the berries
1 pint

of blackberries

1 pint

of raspberries

8

–

10

strawberries, sliced
Juice

1/2

a lemon

1 teaspoon

(5ml) vanilla extract

1/4 cup

(

48g

) granulated sugar
For the whipped cream
1 cup

(236ml) heavy whipping cream, cold

2 tablespoons

(

30g

) full-fat sour cream, cold

1 teaspoon

(5ml) vanilla extract
Instructions
For the cake
Preheat the oven to 350°F. Generously grease and flour your bundt pan.
In a large mixing bowl, beat the egg whites for approximately 2 minutes until foamy.
Next add the sugar, vegetable oil, and vanilla extract. Beat on medium speed until well incorporated. Scrape down the bowl as needed. Next mix in the sour cream and beat until well combined.
In a separate bowl, combine the remaining dry ingredients: sifted flour, baking powder, baking soda and salt. Add half the dry ingredients and half of the milk and mix just until the flour starts to incorporate, then add the remaining dry ingredients and milk and mix to combine at a low speed. Use a spatula to scrape down the sides of the bowl and stir the batter from the bottom to the top to ensure it's well mixed.
Pour the batter into the prepared bundt pan and bake at 350°F for 40-45 minutes, keeping a careful eye on the baking during the last few minutes. Test the cake for doneness by inserting a toothpick into the center of the cake. If the toothpick comes out clean, the cake is done.
Remove from the oven and place on a cooling rack, and after 5 minutes, run a knife around the outside edge of your cake and in the center to release it from the sides of the pan. Turn it out onto a plate or cooling rack. Allow to cool completely.
Macerated berries
Combine all the berries and toss them with the sugar, vanilla extract, and lemon juice. Allow to sit for at least 10 minutes, the longer the better until the berries release their juice. Serve with berries and traditional whipped cream or prepare the sour cream whipped cream.
For the whipped cream
First place the metal mixing bowl in the freezer for 5 minutes to chill. Pour the heavy whipping cream into the chilled bowl and use an electric mixer to beat the heavy cream at medium-high speed until the cream starts to thicken. Add the sour cream and vanilla and continue beating until stiff peaks form.
Equipment
Notes
Baking times will vary by oven and type of pan.
To substitute the sour cream, use plain or non-fat Greek yogurt.
Storing: Store your baked vanilla bundt cake airtight on the counter for up to 3 days.
Freezing: Yes, once your cake has cooled completely, it can be frozen for up to 1 month. See blog post for specifics.
Category:

Cake

Method:

Baked

Cuisine:

American
Keywords: vanilla bundt cake, bundt cake recipes, easy vanilla cake recipe
More Homemade Bundt Cake Recipes