This post may contain affiliate sales links. Please see my full disclosure policy for details
This perfectly moist and fluffy vanilla bundt cake recipe is packed with real vanilla extract. This homemade vanilla bundt cake is an easy to follow recipe with no complicated ingredient. Serve this vanilla cake with fresh fruit and homemade whipped cream.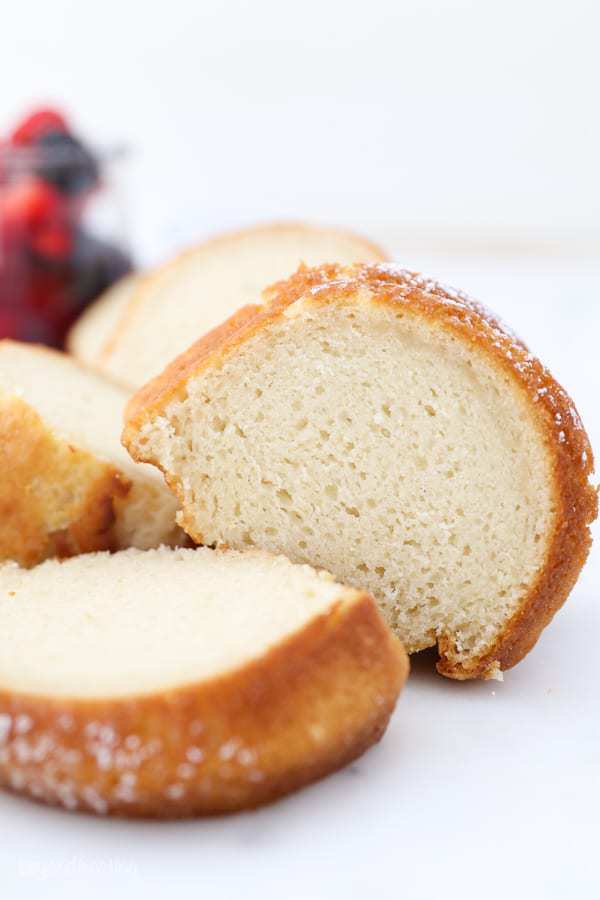 You guys, so much work went into this easy Vanilla Bundt Cake. Between my SIL and myself, we made this quite a few times until it was perfect.
If you're into the details of recipe testing, I talk more about my process below. But first let me tell you about this Vanilla Bundt Cake.
The cake is fluffier than my Moist Vanilla Cake, but still spongy. The crumb is tender but compact. The cake isn't overly heavy or too dense like a pound cake.
I have to tell you, I-ATE-SO-MUCH-CAKE when I was testing this recipe.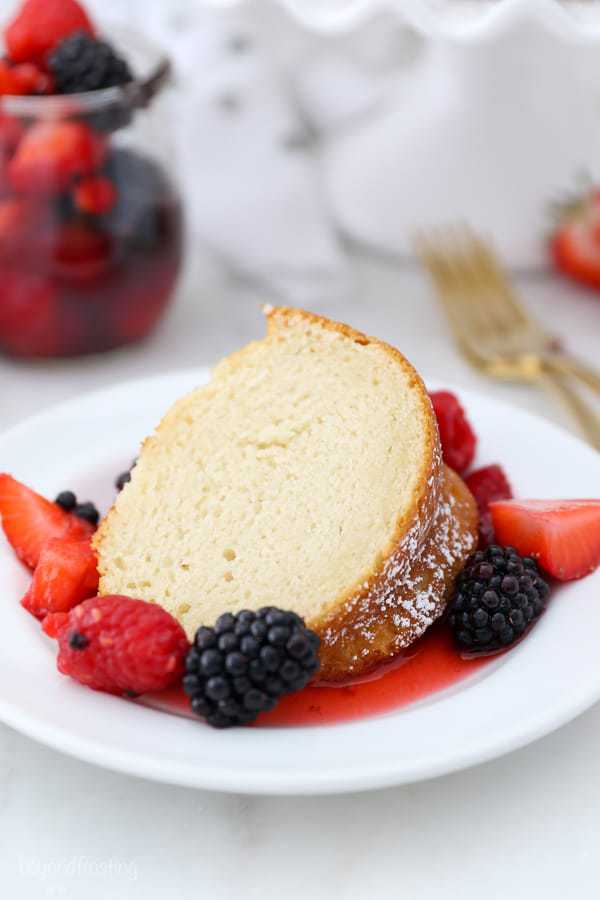 I'm so happy with the way this came out. I honestly didn't even need the fruit or whipped cream, I just shoved whole slices of cake down my throat.
I wanted to add a little something special to this cake, so I macerated the fruit with sugar and some lemon juice.
This is SO easy to do, you just stir the sugar into the fruit and then squeeze the lemon juice over top. The lemon juice helps balance out the sweetness.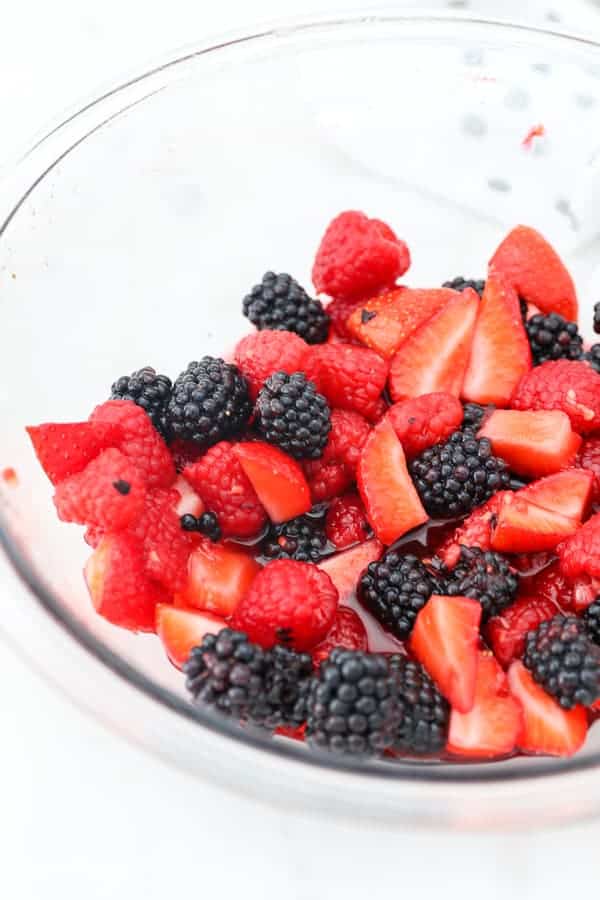 Let it sit for at least 10 minutes, but the longer the better. The sugar helps release the natural juices of the fruit that you can spoon over this cake. It's so much better than just plain fruit.
Also, I had to serve it with fresh whipped cream. Make sure you check out my tutorial for How To Make Whipped Cream first so you get a nice, stiff consistency.
However, I also added a touch of sour cream to the whipped cream. I know what your thinking- YOU DID WHAT?!
Trust me.
I went to Vegas with a bunch of my blogging friends and we had the most amazing whipped cream with the dessert, I had to ask the chef about it. He told me about the sour cream trick.
I thought it was a secret until I saw it on Bon Appetite. Anyway, just try it.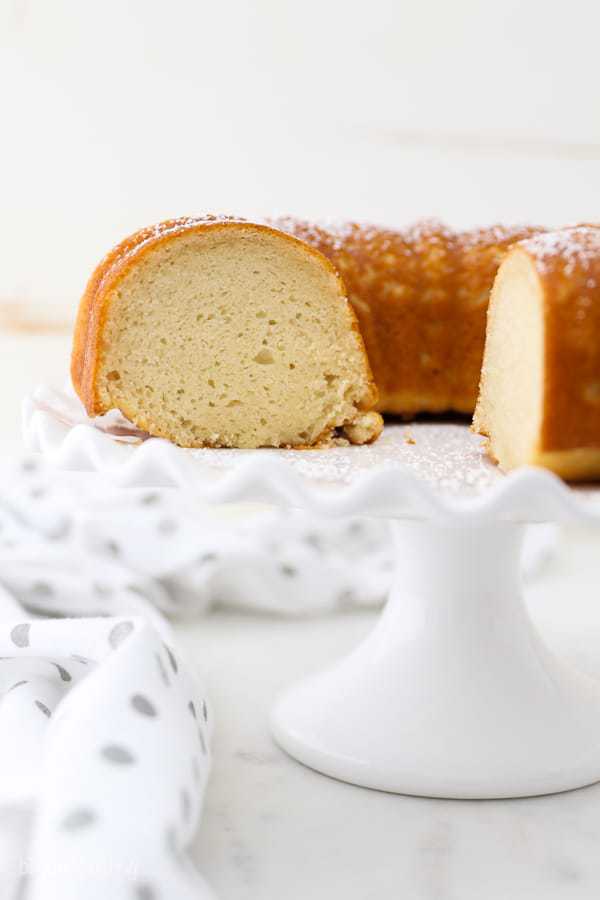 I am used to really sweet whipped cream because I always use powdered sugar, but in this case, I left the powdered sugar out because the berries and cake are sweet enough. It so FREAKING GOOD!
Okay I've rambled enough for now. I'm breaking down each part of the recipe below as well as answering some commonly asked questions. I can't wait to see your bundt cakes!
Recipe testing this Vanilla Bundt Cake
When I was testing the recipe for this Vanilla bundt cake, it took 6+ variations on the recipe to reach my desired results.
I was hoping my Moist Vanilla Cake would translate well to a bundt cake but as is, it was actually a little on the drier sides because of the added bake time.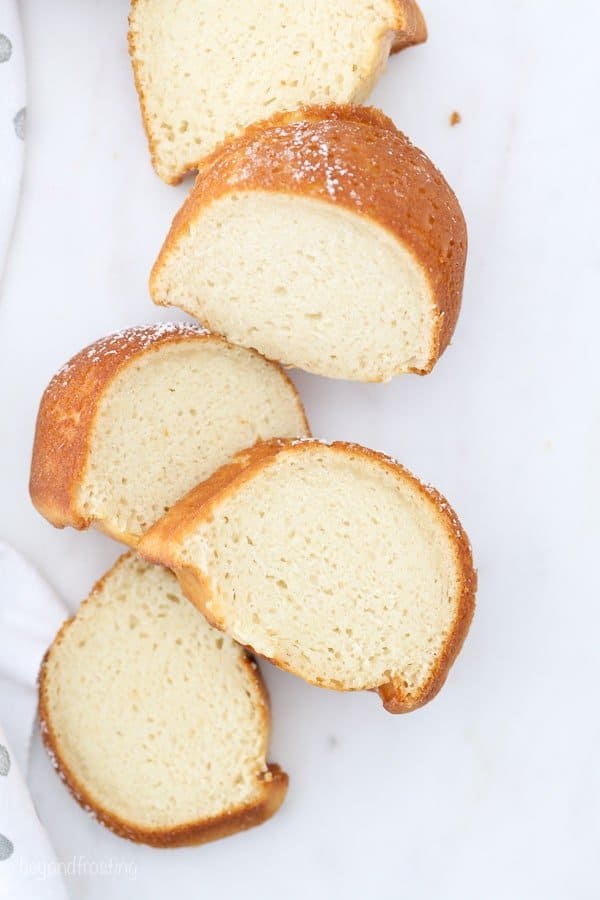 From there, I started altering the recipe. I was looking for a lighter and more pillowy texture than the moist vanilla cake, because that is very dense.
It needed to have a strong vanilla taste, still be a bit spongy and it needed to still be very moist even after a couple days. As with all my cake recipes, it had to be easy to make as well.
Eggs– I started altering the eggs and using a combination of egg whites and egg yolks but it was still to "eggy" tasting.I ended up using all egg whites, and using a method of whipping them first prior to adding the additional ingredients. Once the egg whites are whipped and foamy, you can start adding the rest of the ingredients to the bowl.
Sour cream– I also played around with the amount of sour cream. Sour cream is essential for keeping cakes moist, but you have to be careful because you can easily overdo it and weigh down your cake. This is one reason I like to use a light or reduced fat sour cream instead of full fat sour cream.
Baking powder– my vanilla cake recipe has 3 teaspoons of baking powder to help with the rise. For a bundt cake, we aren't as worried about a lofty rise, but we still need the gases to create those pillowy air pockets. I ended up reducing the baking powder and adding a little bit of baking soda.
Vanilla extract- A high quality vanilla extract makes all the difference.

How to make this Vanilla Bundt Cake Recipe
Start by whipping the egg whites using the paddle attachment and whip until the eggs are foamy and have grown in volume.
Next add the sugar, oil and vanilla extract and beat until well combined.
Add in the sour cream and blend into the batter.
Finally, alternate adding your dry ingredients the milk, half at a time. Continue mixing until the batter is well combined and use a spatula to scrape down the sides of the bowl.
Generously grease and flour your bundt pan and then pour in the batter. Bake at 350° F for 35-40 minutes. The baking time will differ by size and type of bundt pan used. Check it at 30 minutes and adjust accordingly.
To test if your cake is done, insert a knife into the center of the cake. It should be completely clean. If the top of your cake still has areas that are glossy or shiny, your cake may need a couple more minutes of baking time.
Cool for 5 minutes and then run a knife around the inside of your pan. Turn your cake out onto a piece of parchment paper on a cool rack. Do not allow it to cool completely in the pan or it might stick.

Commonly asked questions
What type of bundt pan can I use?
This recipe has been tested with a 10-cup traditional bundt cake, this is a 12-cup bundt pan but similar in shape.
I also tested this recipe with my beautiful Nordic Bundt pan, and even though it's a 10 cup it is narrower and deeper. The baking time needed to be adjusted accordingly. The batter also rose well about the pan but it didn't spill over.
Personally, for this cake I didn't prefer my Nordic pan because the top edge cooled a little too much and I prefer a softer finish.

How do I prevent a bundt cake from sticking to the pan?
With any bundt pan, be sure to generously grease and flour your pan. This will ensure the cake easily releases from the pan.
I use Crisco spread to grease my pan. I do not use cooking spray. I'm a firm believer in Crisco. Then dust it with flour.
To turn the cake out of the pan, first run a knife around the outside edge and center of your pan. Then flip it over onto a piece of parchment paper. If your cake is not releasing, tap the top of the pan a couple times instead of trying to shake it out.
You can also hold the cooling rack on top of your pan, invert it and give it a couple taps on the counter.Just try to avoid shaking the cake out of the pan because then it will stick in some areas when you're jerking it around and it might break your cake.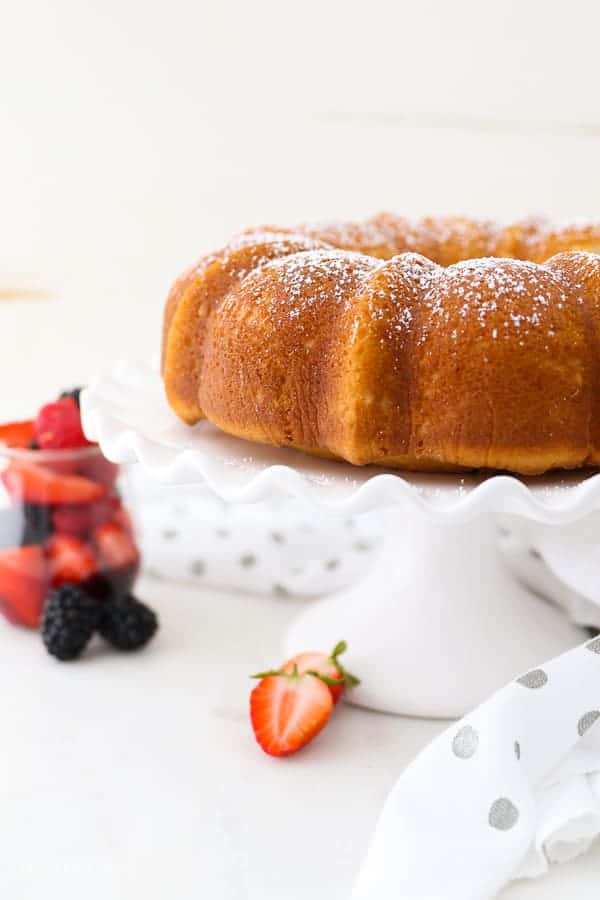 What to serve with this Vanilla Bundt Cake Recipe:
This is the perfect cake to serve with fresh fruit. For this recipe I made some macerated mixed berries and freshly prepared whipped cream. It was absolutely delightful and a refreshing summer treat.
You could also serve this with ice cream, or finish it the cake with a vanilla glaze. I recommend adding a tablespoon for lemon or orange zest to your glaze to take it up a notch. I left it unglazed and just dusted it with powdered sugar because the berries were already sweet.
How to store this cake so it stays fresh:
If you don't have a cake carrier, you can slice it into quarters or into individual slices and store in an airtight Tupperware. I find the Tupperware still makes this cake moist and soft.

Can I freeze this cake?
To be honest, I don't freeze my cakes. But if you want to you can. Just be sure the cake is completely cooled prior to freezing.
Because the bottom of the cake is very moist, I suggest placing it on a piece of parchment paper or even a cake board then double wrap it in plastic wrap.
If you don't want to thaw the whole thing at once, consider slicing it into small sections or cutting into slices, and then double wrapping them individually. This way you can enjoy it one slice at a time.
Do I have to use sour cream? What can I substitute for sour cream?
As stated above, sour cream is essential for keeping cakes moist, so you cannot or rather should not omit it altogether. If you do, I cannot be held accountable for the final results. Can we just agreed on that?
I recommend using a light sour cream so we aren't adding too much additional fats. If you don't have light sour cream, try reduced fat sour cream. But it you have to use full fat, it will not ruin the cake or anything like that.
If you don't have sour cream then use a Nonfat Greek or plain yogurt.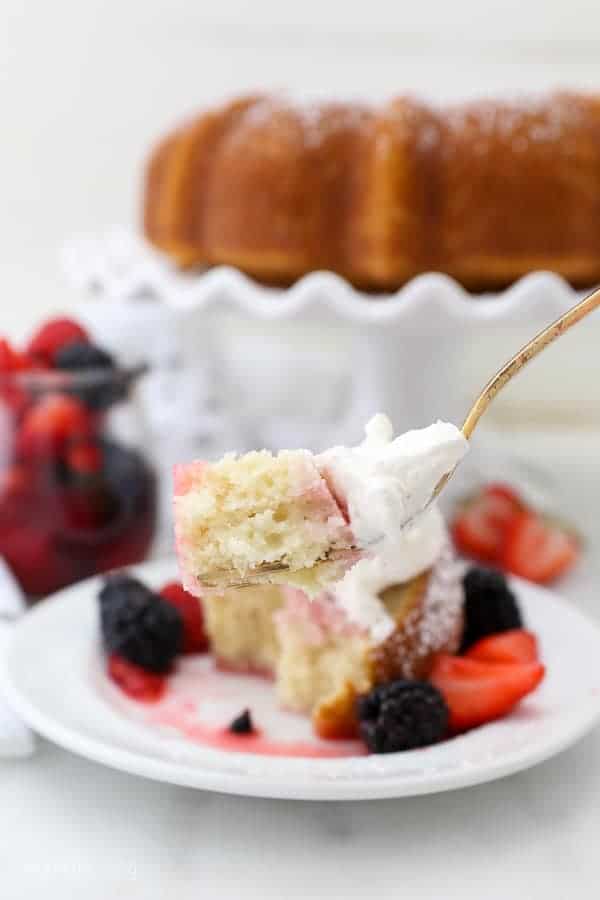 It's time for you to get started baking with Vanilla Bundt Cake recipe!
Follow Beyond Frosting:
Facebook | Twitter | Pinterest | Instagram
Print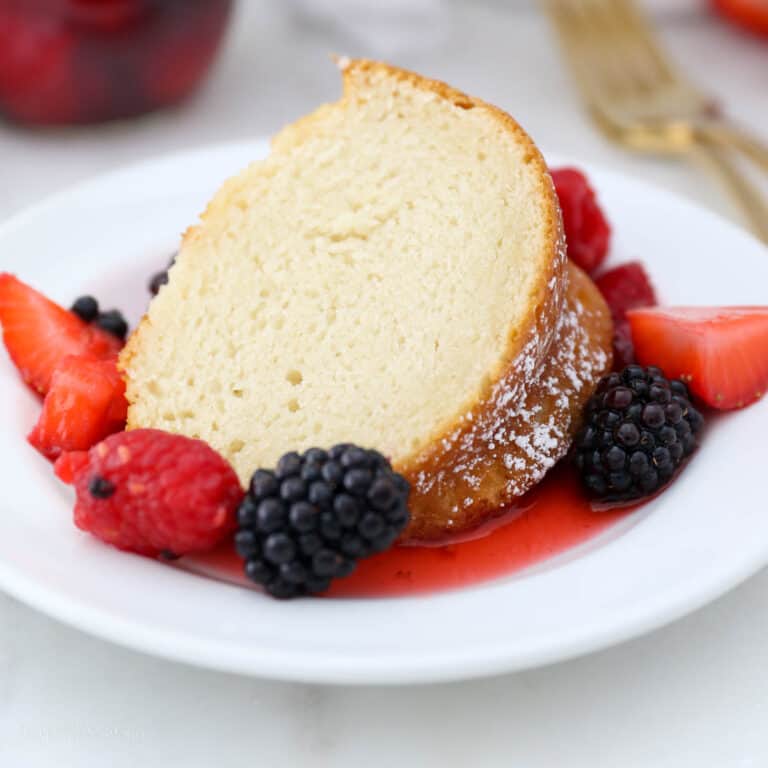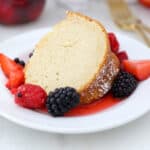 Vanilla Bundt Cake Recipe
Author:

Prep Time:

15 minutes

Cook Time:

38 minutes

Total Time:

53 minutes

Yield:

10 slices
Description
This tender and moist Vanilla Bundt Cake is flavored with real vanilla and is so easy to make! Serve slices of rich vanilla cake with fresh berries and homemade whipped cream for an easy summer dessert.
Ingredients
4

large egg whites

1 ½ cups

(

285g

) granulated sugar

½ cup

(118 ml) vegetable oil

1 ½ tablespoons

(22ml) vanilla extract

¾ cup

(177 ml) light sour cream

2 ½ cups

(350 g) all-purpose flour

2 teaspoons

(7.5 g) baking powder

½ teaspoon

baking soda

1 teaspoon

(5 g) salt

1 ¼ cup

(296 ml) milk (I use nonfat)
For the berries
1 pint

of blackberries

1 pint

of raspberries

8

–

10

strawberries, sliced
Juice

1/2

a lemon

1 teaspoon

(5ml) vanilla extract

1/4 cup

(

48g

) granulated sugar
For the whipped cream
1 cup

heavy whipping cream

2 tablespoons

light sour cream

1 teaspoon

vanilla extract
Instructions
Preheat the oven to 350°F. Generously grease and flour your bundt pan.
In a large mixing bowl, beat the egg whites for approximately 2 minutes until foamy.
Next add the sugar, vegetable oil, and vanilla extract. Beat on medium speed until well incorporated. Scrape down the bowl as needed.
Next mix in the sour cream and beat until well combined.
In a separate bowl, combine the remaining dry ingredients: flour, baking powder, baking soda and salt. Add half the dry ingredients and half of the milk and mix just until the flour starts to incorporate.
Finally, add the remaining dry ingredients and milk and beat until all of the ingredients are well combined.
Use a spatula to scrape down the sides of the bowl and stir the batter from the bottom to the top to ensure it's well mixed.
Pour the batter into the prepared bundt pan and bake at 350°F for 40-45 minutes, keeping a careful eye on the baking during the last few minutes.
Test the cake for doneness by inserting a toothpick into the center of the cake. If the toothpick comes out clean, your cake is done.
Remove from the oven and place on a cooling rack, and after 5 minutes, run a knife around the outside edge of your cake and in the center to release it from the sides of the pan. Turn it out onto a plate or cooling rack. Allow to cool completely.
To make macerated berries: combine all the berries and toss them with the sugar, vanilla extract, and lemon juice. Allow to sit for at least 10 minutes, the longer the better until the berries release their juice. Serve with berries and traditional whipped cream or prepare the sour cream whipped cream.
For the whipped cream: First place the metal mixing bowl in the freezer for 5 minutes to chill. Pour the heavy whipping cream into the chilled bowl and use an electric mixer to beat the heavy cream at medium-high speed until the cream starts to thicken. Add the sour cream and vanilla and continue beating until stiff peaks form.
Equipment
Notes
This would also pair very well with Mascarpone whipped cream.
Baking times will vary by oven and type of pan.
To substitute the sour cream, use non-fat Greek yogurt.
Nutritional information is for the cake only and is estimated.
Category:

Cake

Method:

Baked

Cuisine:

American
Keywords: vanilla bundt cake, bundt cake recipes, easy vanilla cake recipe