This post may contain affiliate sales links. Please see my full disclosure policy for details
These Black Forest Cookie Cups are a soft baked chocolate cookie filled with chocolate mousse and cherry pie filling. All topped with fresh whipped cream and chocolate shavings. This post originally appeared on Chocolate, Chocolate and More.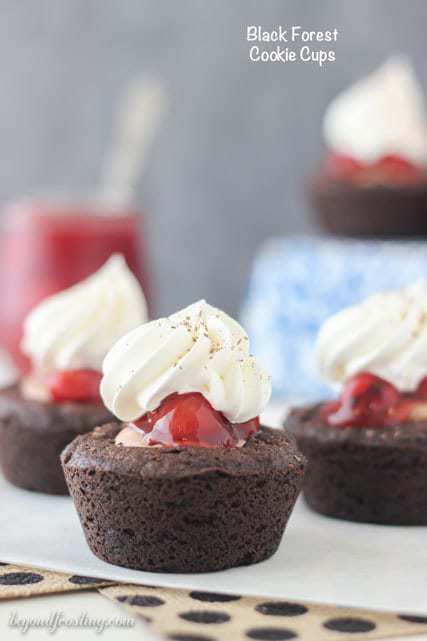 It is a little bittersweet to be posting this recipe today. This was the first recipe I posted on Joan's site, Chocolate Chocolate and More as a regular contributor. Just two days after this recipe was posted, Joan passed away in her sleep. She asked everyone to repost our recipes on our own site because Joan knew that it would in turn, help us grow our blogs. That is one of things I loved about her. She was a say business woman, but so SO supportive of other bloggers and wanted them to be successful. As I will be continuing to share recipes on Joan's site, I hope you will still join me over there as well.
I'm going to wipe away the tears and talk about these Black Forest Cookie Cups. I am cookie cup-obsessed. They are easier than cupcakes, but have the same wow factor. I am all about the wow factor. Kidding. Kind of.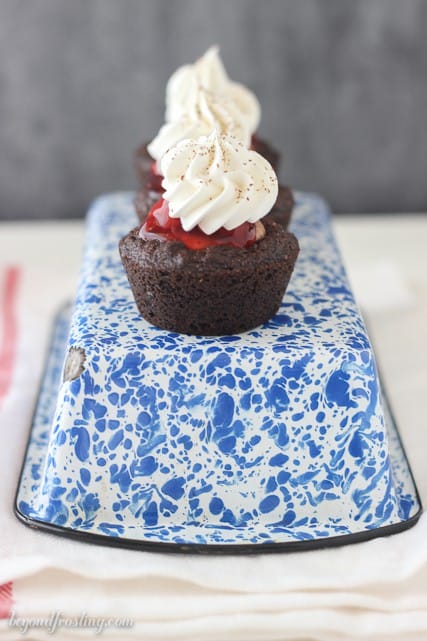 Every time I start a cookie recipe, my boyfriend's ears pop up. He wants to know what I am making. Then he actually finds out and sulks in the corner because I am "ruining" another recipe. He really just likes your basic desserts. So when I go and add a chocolate mousse, cherry pie filling and whipped cream to a chocolate cookie, he's over it. Whatevs.
The rich chocolate cookies stay super soft, even after being refrigerated. This is partly due to the addition of dry pudding mix that is added into the dough. Personally, I prefer Hershey's Special Dark pudding mix, because I am a dark chocolate kinda gal, but if you are unable to find it, regular chocolate pudding will do just fine. I also use a dark chocolate cocoa powder to help get that rich chocolate flavor.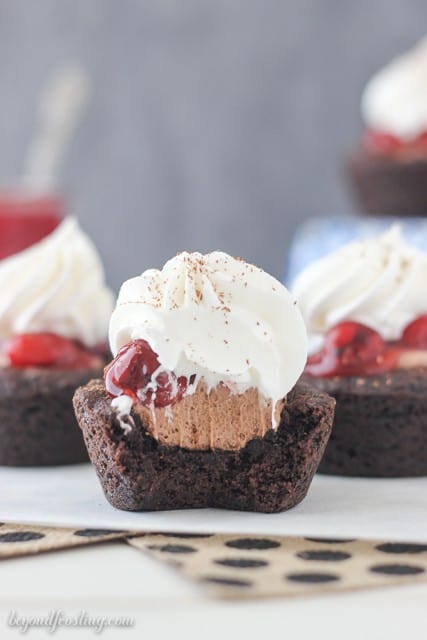 The filling for these cookie cups is a chocolate mousse made with a few simple ingredients: chocolate pudding mix (again, Hershey's Special Dark is preferred) mixed with milk and combined with homemade whipped cream. For the whipped cream, I add a lot of powdered sugar for stability.
This recipe is intended to be baked in a regular sized muffin pan, because there's a lot of filling. However, these will also work as mini cookie cups if you have a mini muffin pan. I use a tart shaper to press into the cookies, but if you don't have a tart shaper, I recommend using the back edge of a spoon, or even the back of a cookie scoop works well.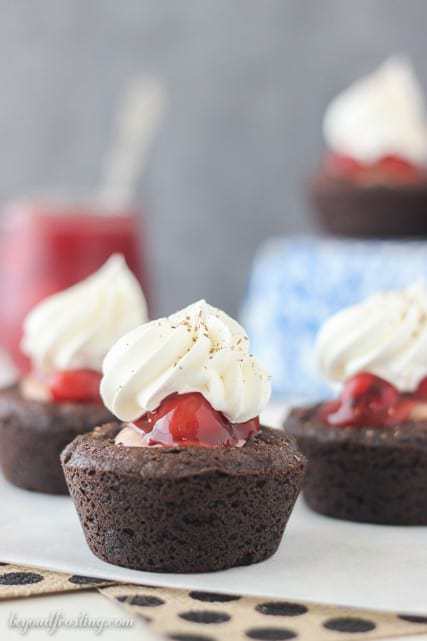 I have a TON of cookie cup recipes on my blog, just check out the cookie section under recipe index. I would also really appreciate if you click through some of Joan's cookie recipes. After all, Joan really knows her chocolate!
Keep up with all the happenings. Follow Beyond Frosting:
Facebook | Twitter | Pinterest | Instagram
Print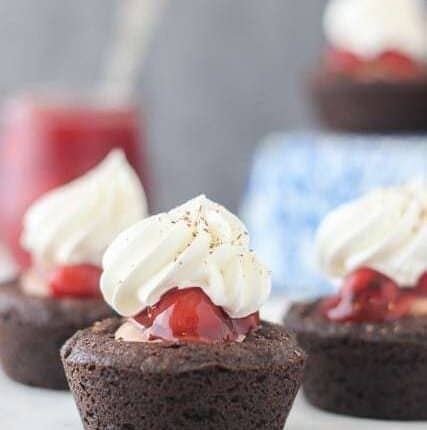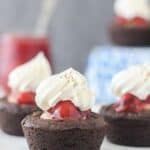 Black Forest Cookie Cups
Description
These Black Forest Cookie Cups are a soft baked chocolate cookie filled with chocolate mousse and cherry pie filling. All topped with fresh whipped cream and chocolate shavings.
Ingredients
1

C (2 sticks) Unsalted butter

1

C Sugar

¾

C Brown sugar

2

Large eggs

2 tsp

Vanilla extract

2¼

C Flour

1

pkg Hershey's Special Dark chocolate pudding mix (

3.4oz

)

¼

C Dark chocolate cocoa powder

1 tsp

Baking soda

½ tsp

Salt

2 tbsp

Milk
For the mousse

2

C Heavy whipping cream

1

C Powdered sugar

¼

C Hershey's Special Dark chocolate pudding mix (

3.4oz

)

1/2

C Milk

1/4

C Chocolate shavings

½

can Cherry pie filling (

21 oz

can such as Lucky Leaf)
Instructions
Preheat oven to 350° F. Grease a muffin pan with cooking spray or Crisco.
Combine butter and sugars in your stand mixer and beat on medium speed until light and fluffy.
Add eggs and vanilla extract. Beat into butter and sugar until thoroughly mixed.
In a medium-sized bowl, combine flour, cocoa powder, dry pudding mix, baking soda and salt. Stir to combine. Set aside.
Slowly add dry ingredients into batter and beat on low speed until dough starts to form. If dough is a little dry, add 1 tablespoon of milk.
Drop 3 tablespoons of dough into the greased muffin pan and bake at 350°F for 18-20 minutes. Cookies may deflate in the middle when cooling, but that's fine!
Remove cookies from oven and allow to cool for at least 5 minutes. Use a tart shaper or the back of a spoon to gently push down the middle of the cookies. Allow to cool for another 30 minutes in the pan. You may need to run a knife around the edge of the cookies to help release them from the pan.
For the mousse
Put bowl and whisk in the freezer for 10 minutes until completely cold. Whip heavy cream on medium high speed for several minutes until bubbly.
Add powdered sugar and beat on medium-high until stiff peaks form. Refrigerate whipped cream.
Use a sharp knife to cut a chocolate bar into small shavings. You will need a couple tablespoons for the pudding and some to sprinkle on top of the cookies.
Combine instant chocolate pudding mix with milk. Whisk until powder dissolves, pudding will be very thick. Refrigerate until pudding is firm.
Take 1 cup of the whipped cream and fold into pudding until mixed along with 2-3 tablespoons of chocolate shavings. Do not mix vigorously as it will deflate the whipped cream. Refrigerate until you are ready to assemble cookies.
To assemble the cookies, put the mousse in a Ziploc bag. Cut the corner off the end of the bag and gently fill the middle of the cookie cup with mousse up to the top.
Use a spoon and place 2-3 cherries on top of the mousse. Add a spoonful of the leftover whipped cream and chocolate shavings.
Cookies must be refrigerated in an airtight container after the mousse has been added.
Visit Beyond Frosting's profile on Pinterest.
You might also like:
Chocolate Cream Pie Cookie Cups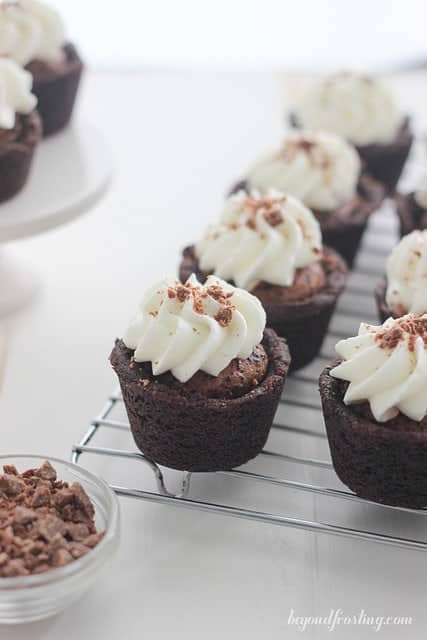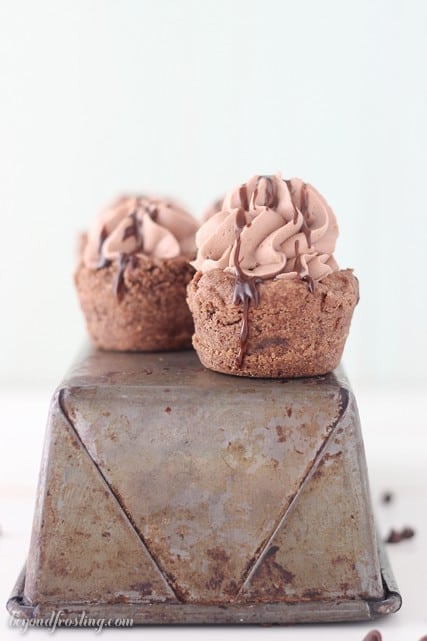 Brownie Brittle Tofffee Crunch Cookie Cups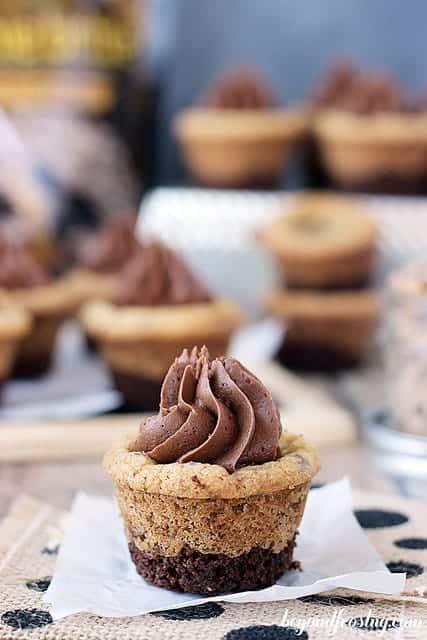 Funfetti Cream Pie Cookie Cups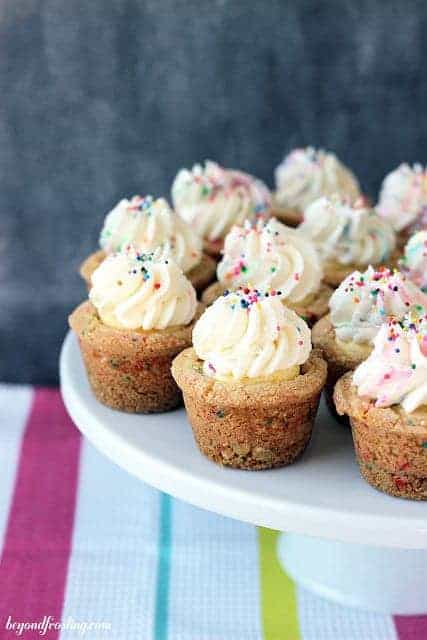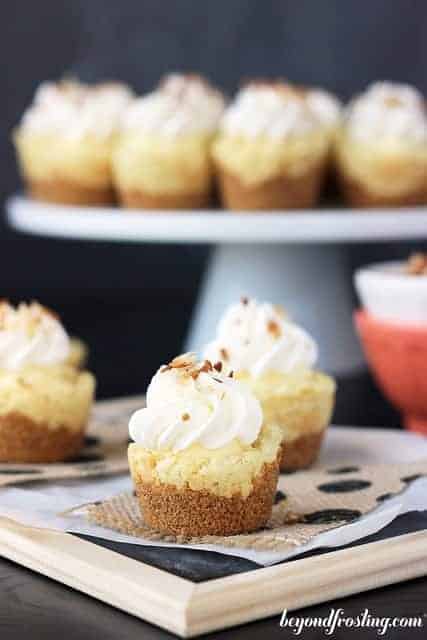 I love these from my friends:
Biscoff Pumpkin Pie Cookie Cups from Lemons for Lulu
Nutella Chocolate Cookie Cups from Life Love and Sugar
Lemon Meringue Cooke Cups from Mom on Timeout