This post may contain affiliate sales links. Please see my full disclosure policy for details
This Blueberry Peach Spritzer is an easy way to impress your friends with a homemade cocktail. A simple blueberry syrup is combined with peach juice concentrate and mixed with Prosecco or seltzer. It can be garnished with additional blueberries or rosemary. Thank you to Naturipe Farms for sponsoring this post.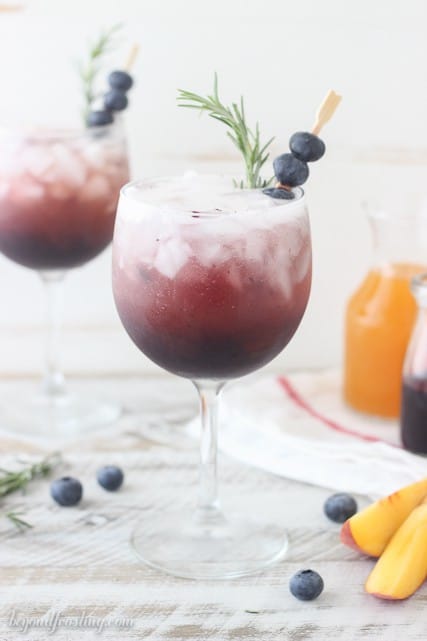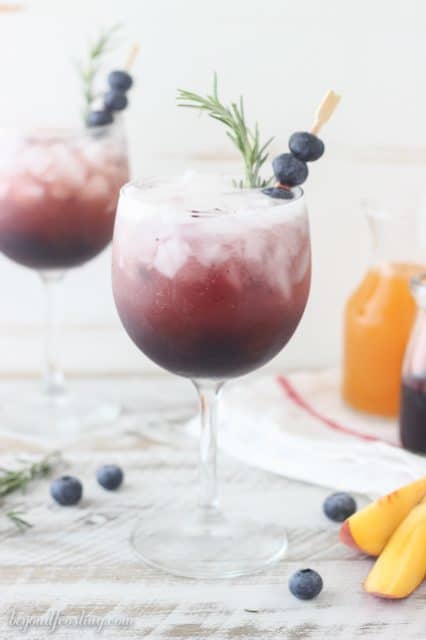 It's hard to believe it's already mid-August. Some of you are sending your kids back to school, people are already thinking about their fall menus and indulging in all the apple and pumpkin recipes. Well I declare summer is officially still going on. It's still super hot here in Southern California and the sun is still setting late into the evenings. I am trying to enjoy every last minute of it.
One of my favorite foods to enjoy during the summer is berries! I just love walking into the store and seeing $.99 containers of blueberries, raspberries and blackberries! I always pick up a few containers and throw the leftovers in the freezer for smoothies. Recently Naturipe invited me to participate in the #EatTheRainbow challenge. I was asked to create a drink recipe featuring blueberries. Well, you don't have to ask me twice! I've been chomping at the bit to share this drink with you because it is my very first cocktail recipe! Plus, you know I did plenty of testing for this recipe, wink wink.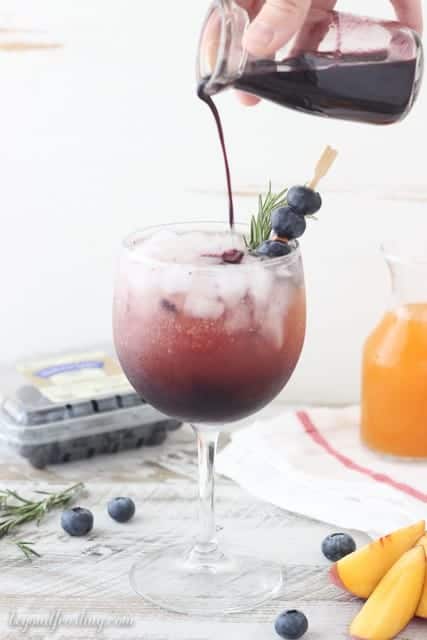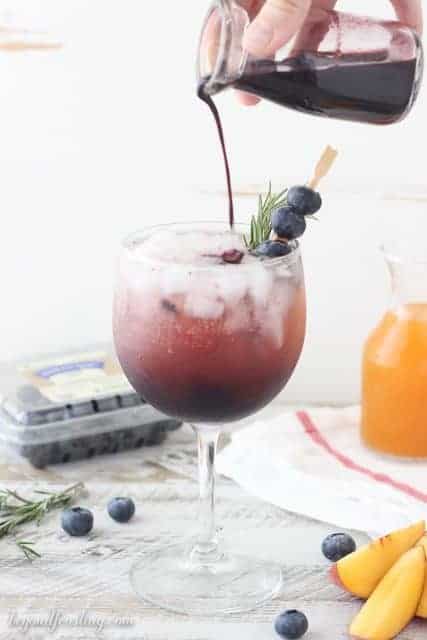 Let me tell you a bit more about my Blueberry Peach Spritzer. First I prepared a simple and fresh blueberry syrup which I combined with peach juice concentrate and topped it off with Prosecco. Now if you are looking for a virgin drink, this also works great with a little bit of seltzer as well. I garnished this drink with a blueberry stirrer and a pinch of fresh rosemary. You will be so surprised what a difference the rosemary makes!
The blueberry syrup is created by heating blueberries together with sugar and water. Once the juices start bubbling, give them a good smashing. For this next step, I used my immersion blender to get the syrup nice and smooth, but a food processor works great as well. You want to blend it all together to get the most of out the berries. Finally, I strained this with a fine sieve to get out any remaining larger pieces. If the syrup ever becomes too thick to pour, simply add water one teaspoon at a time and mix into the syrup.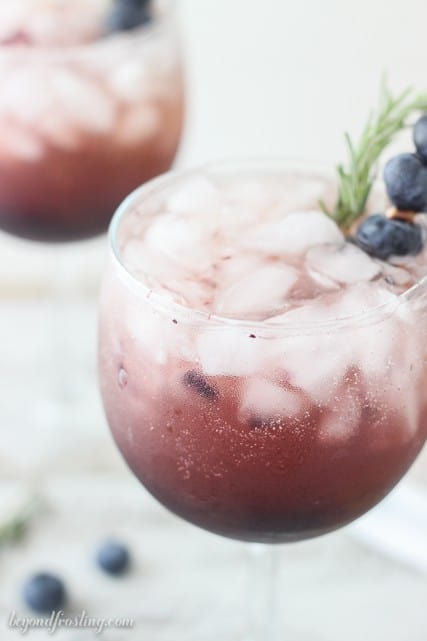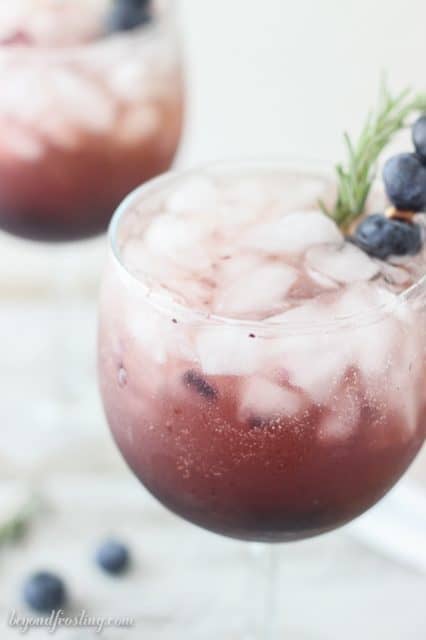 The great thing about this blueberry syrup is that it makes a large enough portion to enjoy a few cocktails, and it can be kept in the refrigerator to be enjoyed a day or two later!
I found the peach juice concentrate at Trader Joe's in my town, but if you don't happen to have one in your area, you can search the web for peach juice. You will see there are lots of brands out there that offer it. The best part about this cocktail is that it is totally customizable! It would be great with orange juice, or pineapple juice or even a blend of juices!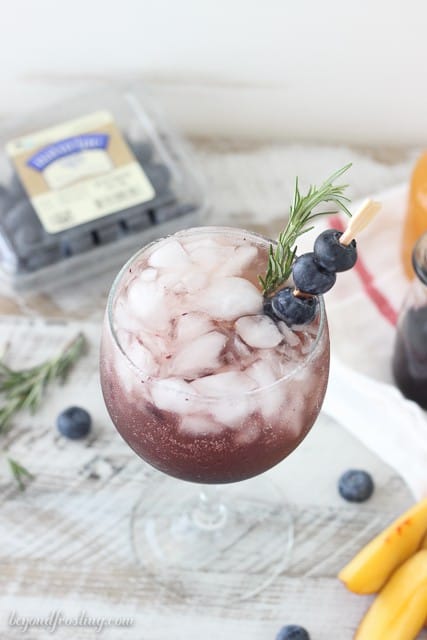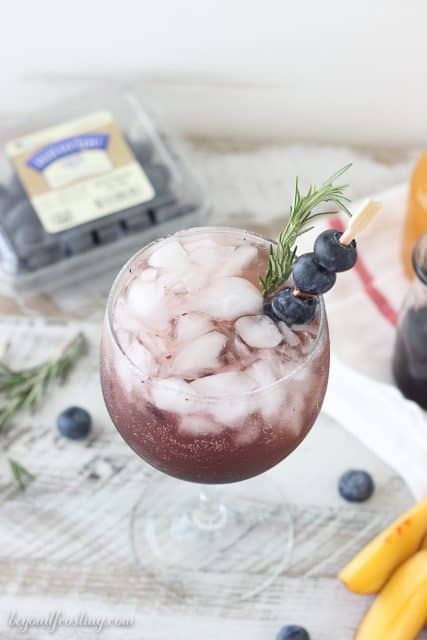 As I mentioned in previous posts, I discovered Prosecco this year and I just can't stop drinking it! Well sometimes a whole bottle is too much, so I buy mini 4-pack bottles of champagne (I like Korbel) and use those for my cocktails instead. They are great to have on hand. Also, as stated above, this can also be enjoyed as a virgin mocktail with seltzer water. I tried it with a plain seltzer, but feel free to try with a flavored seltzer as well!
To create the simple garnish, grab a long toothpick and put some berries on it then drop in a small stem of fresh rosemary. Your creative cocktails will totally impress your friends, and they will be even more impressed that it has fresh blueberry syrup that you made yourself!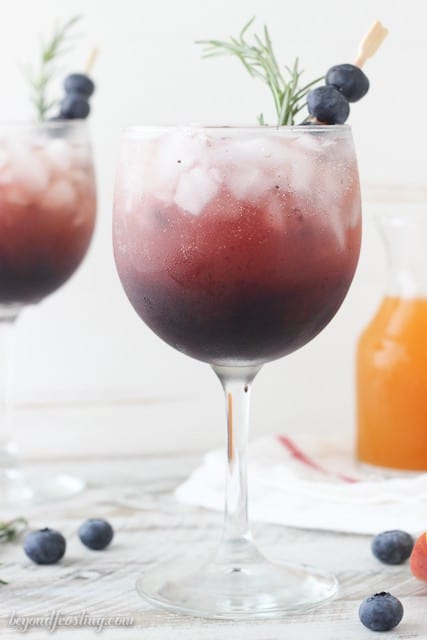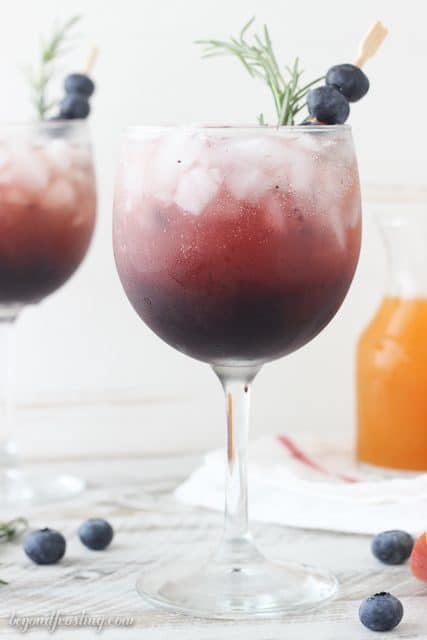 Visit the Naturipe Farms website for more details.
Disclosure:I have partnered with Naturipe for the #EatTheRainbow challenge to create this recipe. All opinions are my own.
Follow Beyond Frosting:
Facebook | Twitter | Pinterest | Instagram
If you love no-bake recipes, be sure to check out my cookbook, No-Bake Treats!
Print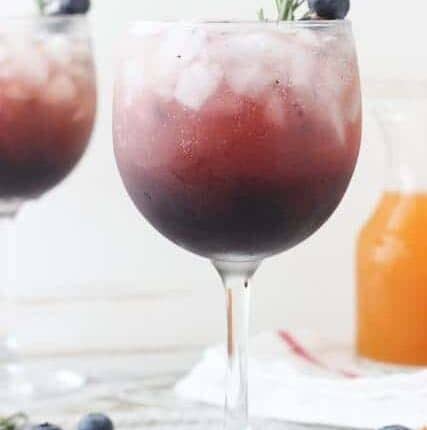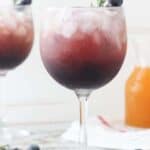 Blueberry Peach Spritzer
Author:

Prep Time:

15 mins

Cook Time:

10 mins

Total Time:

25 minutes
Description
This Blueberry Peach Spritzer is an easy way to impress your friends with a homemade cocktail. A simple blueberry syrup is combined with peach juice concentrate and mixed with Prosecco or seltzer. It can be garnished with additional blueberries or rosemary.
Ingredients
For the syrup

6oz

Blueberries

2 tbsp

Sugar

¼

C Water
For the drink

2 tbsp

Blueberry syrup

½

C Peach juice concentrate

½

C Prosecco or seltzer
Rosemary for garnish
Instructions
In a small saucepan, combine blueberries, sugar and water over medium heat. Once mixture starts to get warm, smash blueberries with a spatula. Cook over medium heat until mixture starts to boil. Remove from heat and allow to cool for at least 15 minutes. Use an immersion blender or empty mixture into food processor. Blend until mixture is smooth. Strain through a fine sieve to remove any excess pulp. Refrigerate until ready to serve.
To make a cocktail, fill you glass with ice. Pour 2 tablespoons of blueberry syrup over the ice. Pour ½ cup peach juice followed with a ½ cup of Prosecco or seltzer water. Garnish with additional blueberries and a stick of rosemary.
Notes
If at any time the syrup is too thick, simple add water 1 teaspoon at a time to thin out. This will make 4-6 cocktails. You will get ½ C of blueberry syrup for this recipe.