This post may contain affiliate sales links. Please see my full disclosure policy for details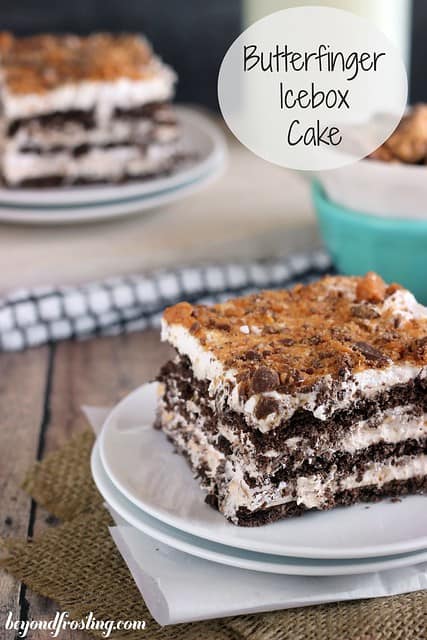 It's been a little while since I made you an Icebox Cake. I have been making plenty of no-bake recipe lately, but this Butterfinger Icebox Cake is pretty freaking awesome.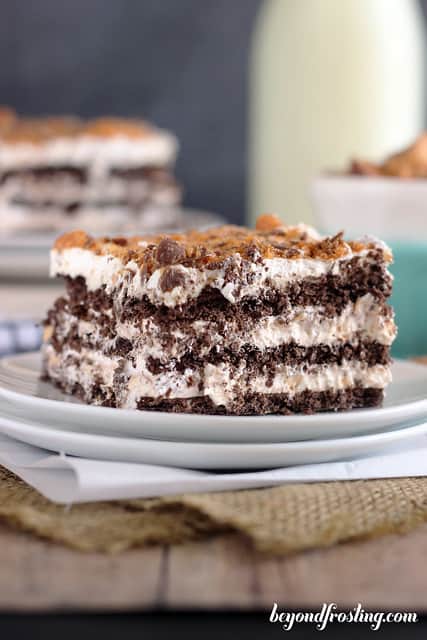 I contemplated calling this "Butterfinger Lasagna" since my Apple Pie Lasagna, Pumpkin Pie Lasagna and Peppermint Lasagna have all been so popular with my readers. However, since it's summertime and all, I felt like "icebox cake" was more fitting. It's a no-bake dessert that comes together pretty quick.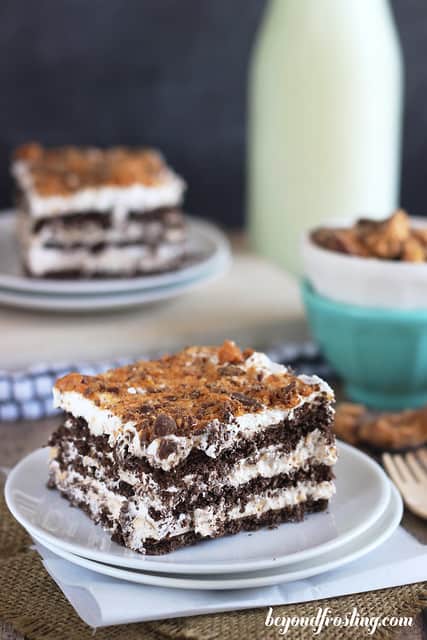 This cake is layered with chocolate graham crackers, a Butterfinger cream cheese and a little bit of butterscotch pudding. This dessert is for serious Butterfinger lovers.
What I love about the icebox cakes (or lasagnas) is that the graham cracker gets softer the longer it is in the fridge, so it almost resembles a thin cake layer. It's easy to cut through and since the graham crackers are large, it helps support the various layers.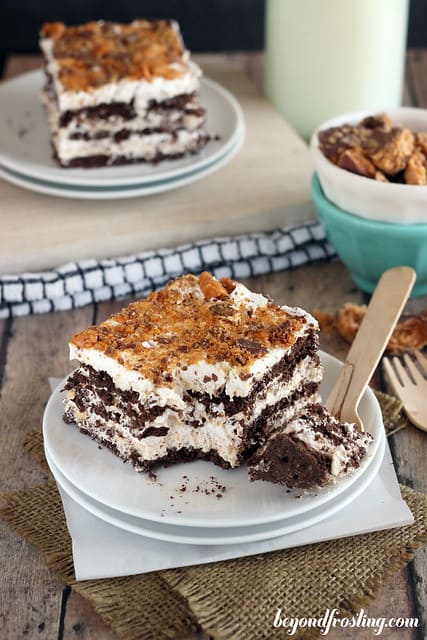 You will see from my recipe below that you need to do a little dividing of the cream cheese batter so you have enough for each layer. Also, be sure to save a little bit of Cool Whip to spread over the top of the cake before serving. Lastly, you will want to save some of your Butterfinger crumbs to sprinkle on top before serving. Try not to put these on too far in advance, the longer the Butterfinger crumbs sit on the top of the cake, the softer they get. I prefer the crunch of the candy instead.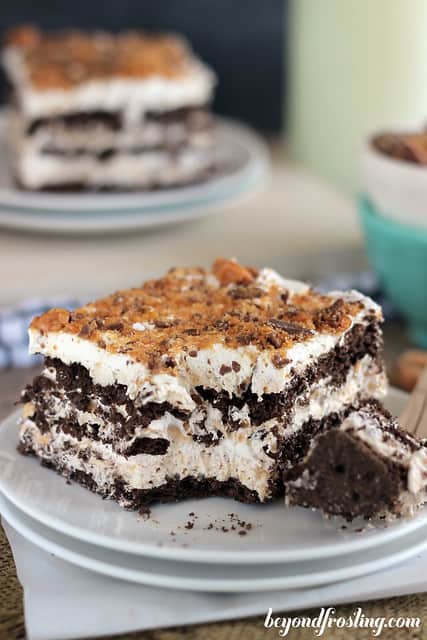 Since I made this entire cake when I was home alone, I ended up having to throw most of it out. It's a shame really, but I couldn't afford to gain 10 pounds by having this cake stare at me in the fridge every time I opened the door. I just couldn't resist it.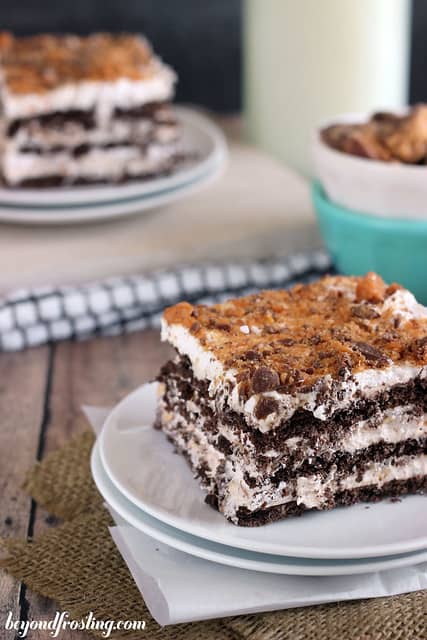 Print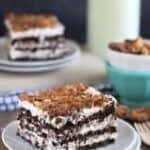 Butterfinger Icebox Cake
Prep Time:

20 minutes

Total Time:

20 minutes

Yield:

12-16 slices
Description
This no-bake icebox cake is layered with chocolate graham crackers, a Butterfinger cream cheese and a little bit of butterscotch pudding.
Ingredients
1

pk Instant butterscotch pudding

1 3/4

C Milk

11 oz

bag Butterfinger Fun size bars

8 oz

Cream cheese

1/4

C Brown sugar

1

C Powdered sugar

1/2

C Heavy whipping cream

2 tbsp

Caramel sauce

8 oz

Cool whip

2

–

3

pkg Chocolate graham cracker
Instructions
Prepare a 9×13" pan by lining it with wax paper or parchment paper.
Combine butterscotch pudding and milk, whisk until pudding mix is dissolved. Refrigerate for 5-10 minutes until pudding sets.
Use a food processor and grind up candy bars into crumbs. Measure out 1 ½ C of crushed Butterfingers for the filling and keep the rest to sprinkle on top.
In a mixing bowl, whip cream cheese on medium high speed until light and fluffy. Add brown sugar and mix to incorporate.
Scrap down the sides of the bowl. Add powdered sugar and beat on medium speed until powdered sugar is well mixed. Scrape down the sides of the bowl.
Next, add heavy whipping cream and caramel. Beat on medium speed to whip air into the cream for about two minutes.
Add 1 and ½ cups of the crushed Butterfingers and 2/3 of the Cool Whip to the mixing bowl and fold into the batter until well mixed.
To assemble the cake, line the bottom of your 9×13" pan with whole chocolate graham crackers. You may need to break a couple of crackers to line the edges.
You will need to divide the cream cheese batter into thirds and the pudding in half.
Spread 1/3 of the cream cheese batter over top of the graham crackers then layer half of the pudding on top of that.
Next, cover the pudding with a layer of chocolate graham crackers, followed by a layer of the cream cheese batter and remaining butterscotch pudding.
Add the last layer of chocolate graham cracker and top with remaining 1/3 of the cream cheese batter.
Return the icebox cake to the refrigerator for at least two hours. Right before serving, top the cake with remaining Cool Whip and sprinkle remaining crushed Butterfingers on top.
Notes
Allow to refrigerate for at least 2 hours, it will help the graham crackers soften and the cream cheese to set. Also, be sure to sprinkle the Butterfinger on top right before serving.