This post may contain affiliate sales links. Please see my full disclosure policy for details
These Chocolate Dipped Espresso Shortbread Cookies are traditional buttered shortbread cookies made with espresso powder and dipped in chocolate.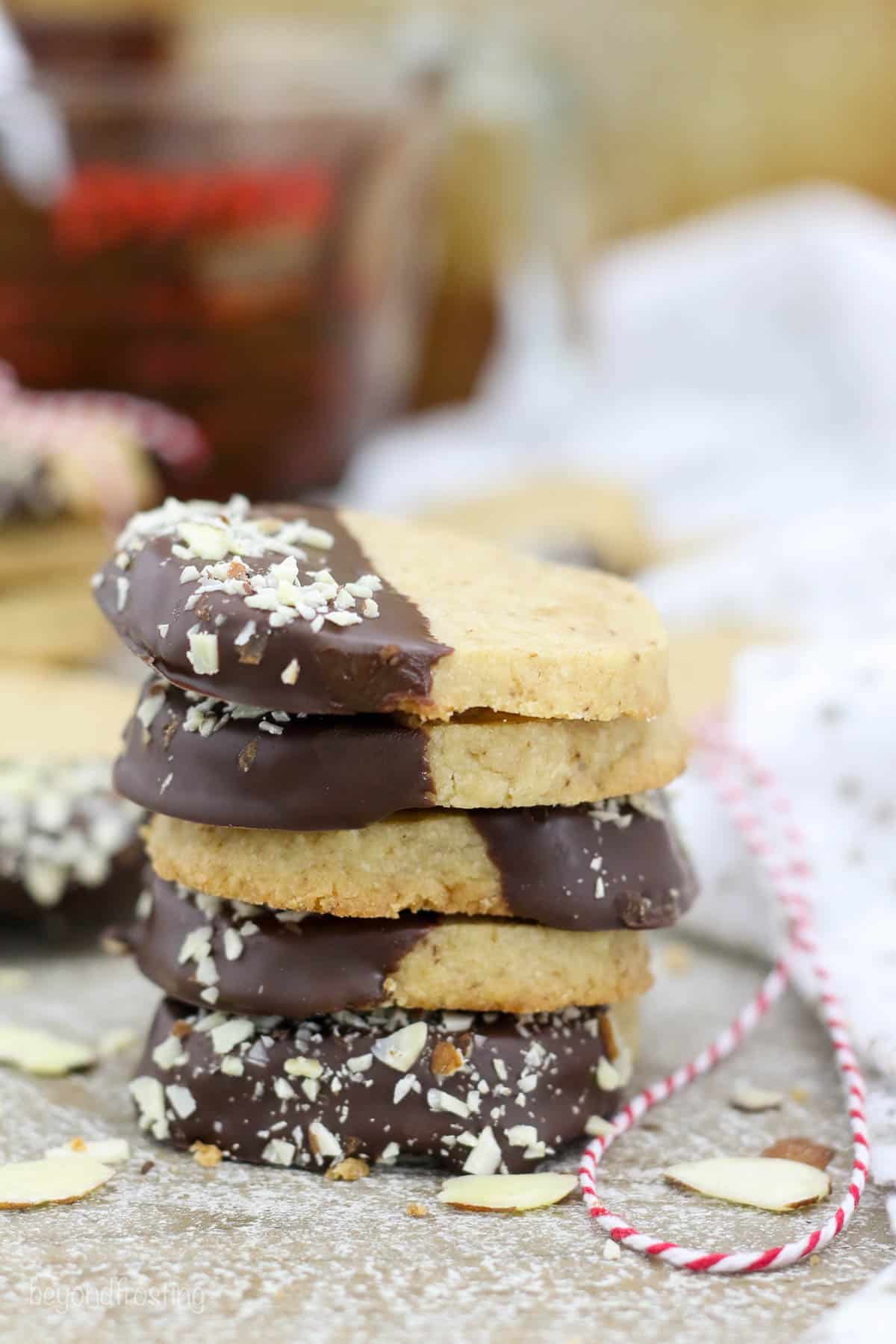 I'm a huge believer in homemade gifts…especially if those homemade gifts are cookies. These Chocolate Dipped Espresso Shortbread Cookies are the perfect gifting cookie. They're easy to package, so cute, and can easily be prepped ahead of time!
These cookies are a chocolate-y adaptation of these Cranberry Almond Shortbread Cookies. They're soft, buttery, melt-in-your-mouth, infused with espresso flavor, and dipped in melted chocolate.
Generally, shortbread cookies are crunchy and crumbly, but these cookies are the exact opposite. They stay nice and soft and just melt in your mouth. They also have a hint of espresso flavor which not only adds so much flavor to the cookies themselves but really ties in the chocolate! At one point, I was just breaking off pieces of the dough for myself before I even baked the cookies. Yeah, it's that good.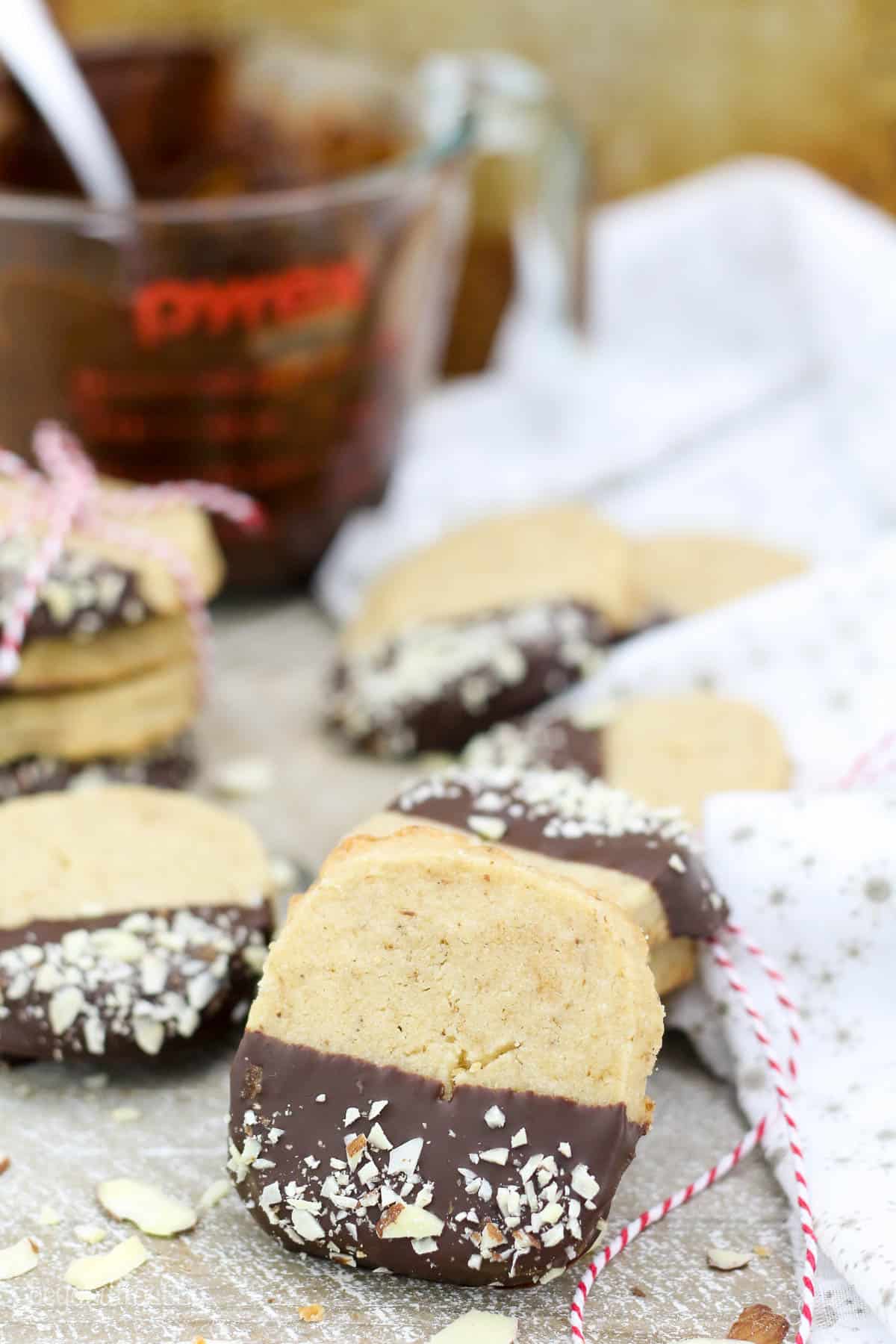 Butter – make sure you use unsalted butter and bring it to room temperature before incorporating it into the cookies.
Granulated Sugar
Vanilla Extract – you can also use 1 vanilla bean.
Espresso Powder – use finely ground espresso powder.
Salt
All-Purpose Flour
Dark Chocolate Chips and Chopped Almonds – you can also use chocolate melting wafers instead of chocolate chips.
Remember to plan ahead for these shortbread cookies. Although they're quick to make when it comes to hands-on time, you do need to chill the dough for at least 2 hours in the fridge. I do find that the longer the dough sits, the better the flavor is. So if you have 24 or even 48 hours of time, let the dough rest.
Make the dough. Mix together butter, sugar, and vanilla until it's creamed. Add in espresso powder, salt, and flour until a dough forms. The dough will appear crumbly at first but keep beating at a medium-high speed and the dough should come together.
Shape the cookies. Turn the dough onto a piece of parchment paper, divide into two halves, then shape each half into logs.
Chill Wrap the dough in plastic wrap and chill for at least 2 hours.
Slice: After the dough is chilled, slice the logs into 1/4″ slices.
Bake. Place the sliced dough onto a lined baking sheet, at least 2 inches apart as they do spread a bit. Onced baked, you'll want to cool them on the baking sheet for several minutes.
Dip. Melt the chocolate, then take each cookie and dip half into the melted chocolate. Sprinkle each dipped cookie with crushed almonds.
You'll know that the cookies are done when the edges start to brown. For me, this is always right around 10 minutes. Once the edges are brown, take the cookies out right away so they don't over-bake. If they bake too long they'll be crunchy instead of soft.
How to Prevent Shortbread Dough from Being Crumbly
Shortbread dough is notorious for being crumbly, but there are a few different ways you can prevent that!
Spoon and level the flour. Use a spoon to scoop the flour into a measuring cup then level it off with your finger. This prevents it from becoming too packed in. If there's too much flour, the dough will be dry.
Use room temperature butter. Softened butter helps the dough hold together better.
Use your hands. It can be difficult to get the dough to come together by just using a spatula or spoon. I recommend using your hands to mix it into a solid piece of dough.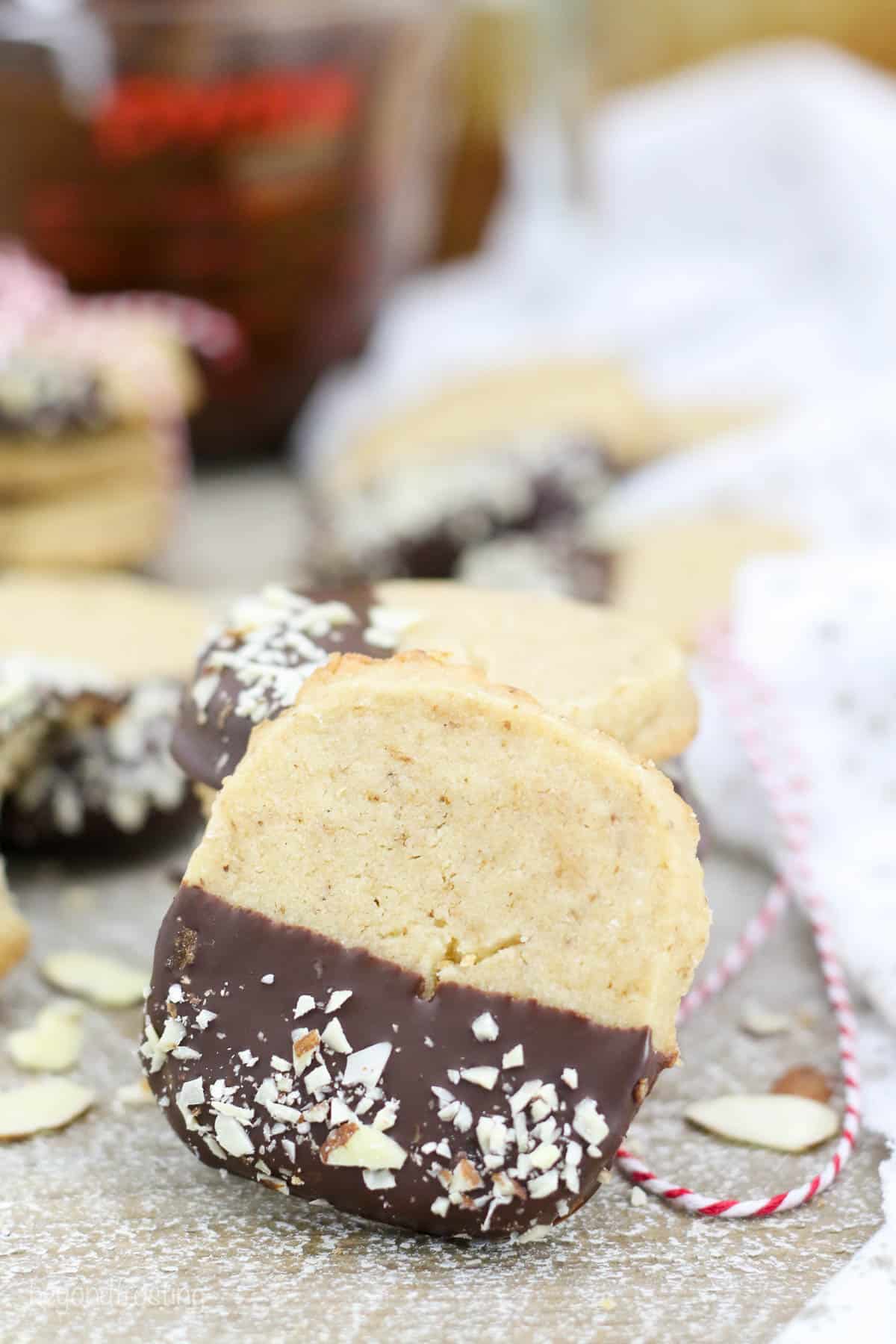 If any of the cookies are misshapen after they're baked, you can use the flat edge of a knife to press the edges back in. Make sure you do this while they're still hot!
Chill the dough. Cold dough holds its shape better. If you skip this step, the cookies will likely flatten too much as they bake.
Don't burn the chocolate. To prevent the melted chocolate from burning, microwave it at 50% power and stir every 30 seconds.
Use good chocolate! This goes without saying, but get the good stuff. It makes all the difference in flavor. An easy option is to use Ghirardelli chocolate melts. They melt smoothly and set quickly.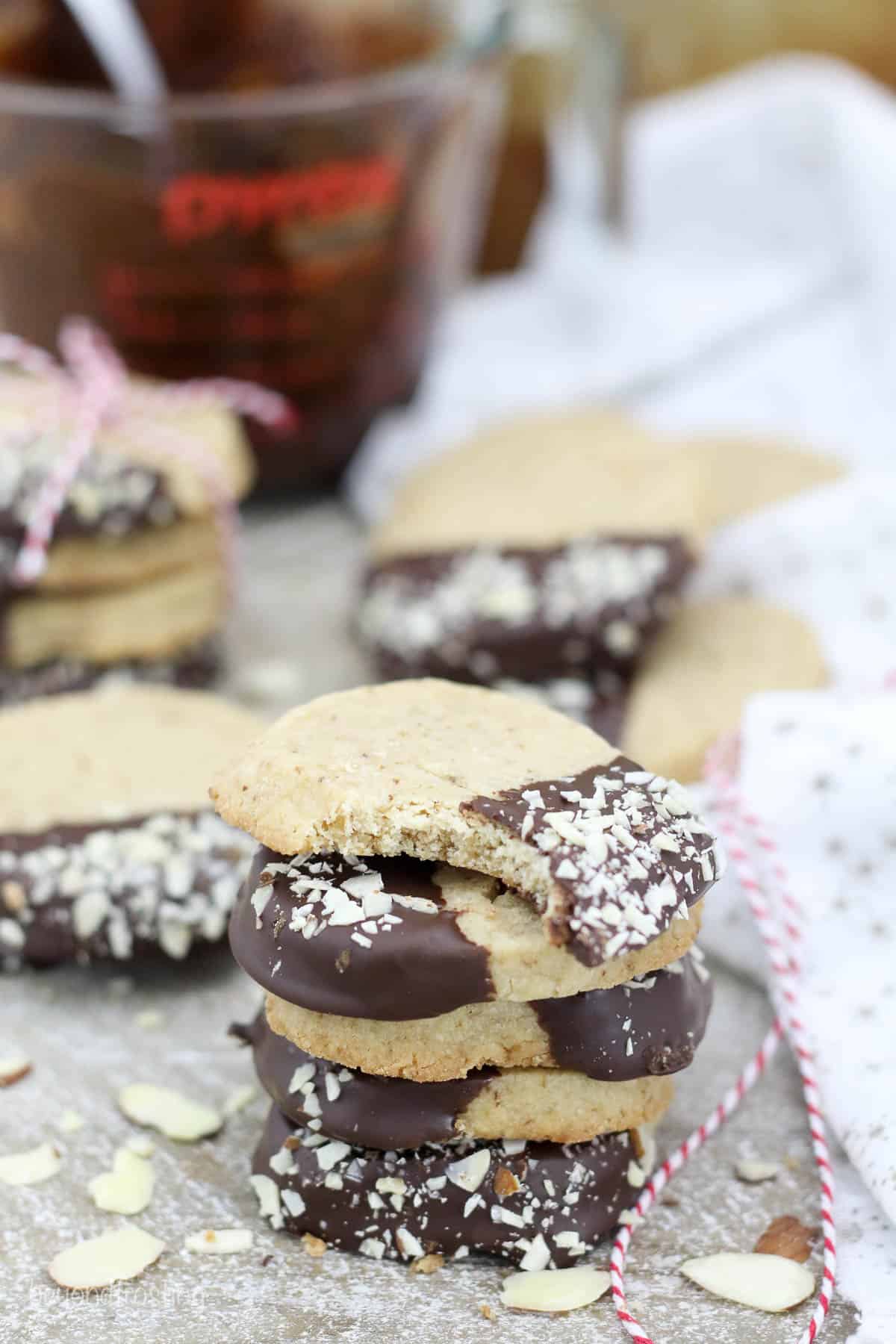 Yes! You can assemble the dough ahead of time up until it's wrapped in plastic. Once it's wrapped, you can store it in the fridge for up to 3 days before you bake it. You can also place it into a freezer bag and keep it in the freezer for up to 1 month.
When you're ready to bake, thaw the dough in the fridge if frozen then slice the dough and bake as directed.
The finished cookies will last in an airtight container at room temperature for up to a week, in the fridge for 10 days, or in the freezer for up to 3 months. If you're freezing the cookies, I recommend putting wax paper between the layers so they don't stick together. Be sure to allow the chocolate to set completely.
When you're ready to enjoy again, thaw the cookies in the fridge if frozen then serve cold or bring to room temperature.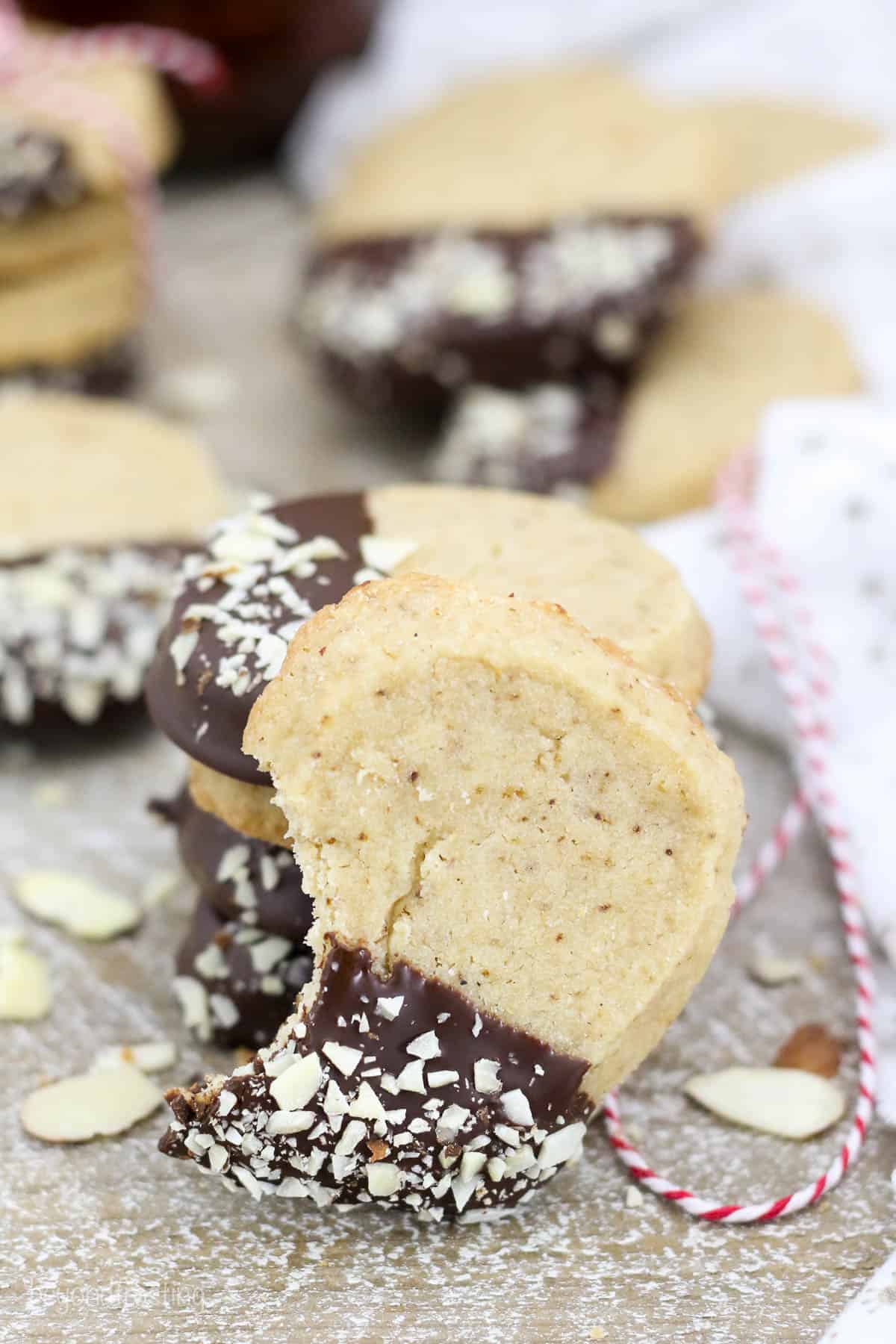 Print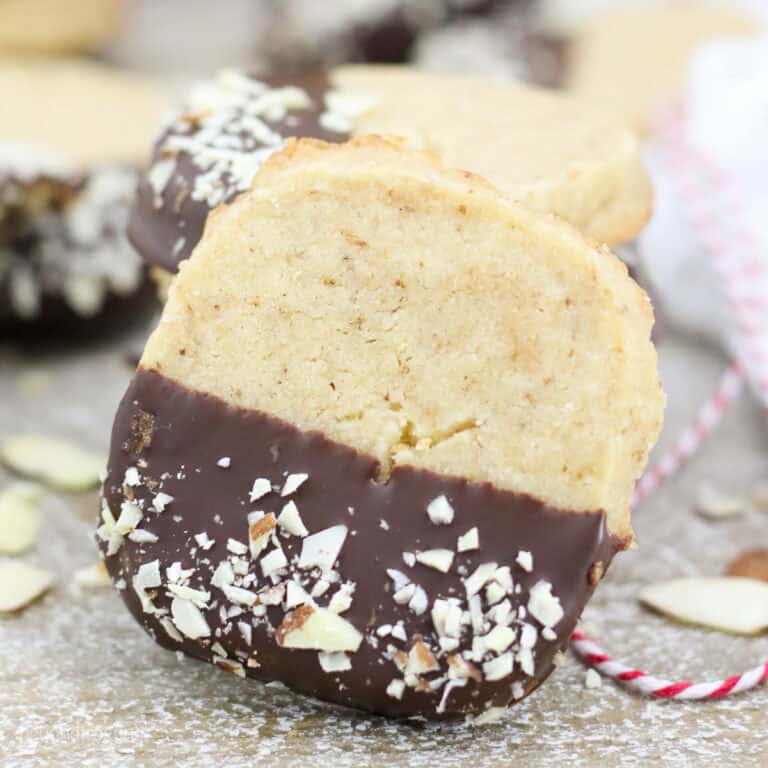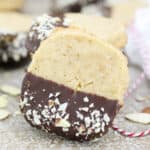 Author:

Prep Time:

30 minutes

Chill Time:

2 hours

Cook Time:

10 minutes

Total Time:

2 hours 40 minutes

Yield:

24 Cookies
Description
These Chocolate Dipped Espresso Shortbread Cookies are a traditional buttered shortbread cookie made with espresso powder and dipped on chocolate.
Ingredients
1 cup

(

226g

) unsalted butter, at room temperature

¾ cup

(

143g

) granulated sugar

1 teaspoon

(5ml) vanilla extract or 1 vanilla bean

2 teaspoons

(

4g

) fine ground espresso powder

¼ teaspoon

salt

2 cups

(

280g

) all-purpose flour
For the topping:
1 cup

(

226g

) dark chocolate chips or chocolate melting wafers

3 tablespoons

almonds, chopped
Instructions
In a large mixing bowl, beat the softened butter together with the sugar and the vanilla extract. Beat for 2-3 minutes until smooth.
Next add the espresso powder, salt, and flour. Next, slowly add the flour ½ cup at a time until all the flour has been added. Mix at a low speed until the dough is crumbly, then increase the speed to medium-high and beat only until the dough starts to come off the sides of the bowl and stick together in a ball.
Turn the dough out onto a piece of parchment paper. Divide the dough into two halves, press and shape into a log about 1 ½ inches thick and about 6-7 inches long. Tightly wrap the dough in plastic wrap and chill for at least 2 hours.
When ready to bake, preheat the oven to 375° F. Line a baking sheet with a silicone baking mat. Slice the dough into ¼ inch slices. Bake for 10 minutes or until the edges start to brown. Allow the cookies to cool for 10 minutes and then transfer to a wire rack to cool. If any of your cookies are misshaped, use the flat edge of a knife and press the edges towards the center of the cookies right when it comes out of the oven. Cool the cookie completely.
For the topping:
In a microwave-safe bowl, melt the chocolate in 15-second increments, stirring each time until the chocolate is melted and smooth. Dip half of the cookies in the chocolate and tap it against the side of the dish to remove excess chocolate.
Sprinkle with crushed almonds and place on a silicone baking mat and allow the chocolate to set. Refrigerate to allow the chocolate to harden quicker.
Notes
These can be frozen in an airtight container. Allow to thaw in the refrigerator.
Recipe adapted from Better Homes and Gardens
Category:

Cookies

Method:

Oven

Cuisine:

American
Keywords: Shortbread cookies, Christmas Cookies
More Easy Christmas Cookies You'll Love
Here's my full collection of Christmas cookies, I hope you'll find something you love!