This post may contain affiliate sales links. Please see my full disclosure policy for details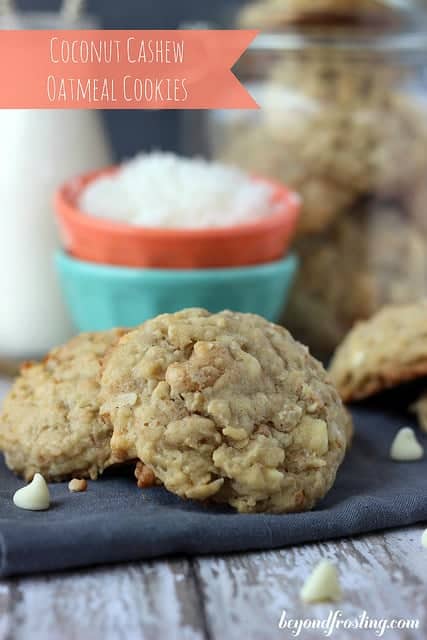 You guys, this cookie…oh my gosh this cookie. It is by far one of my most favorite oatmeal cookies. Now granted I have several other favorites, including my Bourbon Salted Caramel version, and a few more that have yet to be released. Why do I love these so much? They are so just soft! You get the sweetness from the coconut and white chocolate chips and the saltiness from the cashews. Today I am sharing this recipe over at Chef In Training.
I have become totally obsessed with coconut covered cashews, which my sister introduced me to. There is a version at Trader Joe's which is awesome! And there is a less healthy version at Costco, which is coated in vanilla and then toasted coconut. Basically, I bought a Costco jar and half through half of it in one weekend. That's when I knew I needed to do a coconut cashew cookie!
I even took this cookie with my on my Yosemite hike last month! Depending on the time of year, a lot of my recipes cannot be mailed or shared with my long distance friends. However, these cookies were perfect to freeze and bring with me on our lake trip to share with friends!
Please stop by Chef-in-Training for the recipe!