This post may contain affiliate sales links. Please see my full disclosure policy for details
This Oatmeal Chocolate Chip Cookie Recipe has crispy edges with a soft and chewy middle. It's loaded with chocolate chips and swirls of salted caramel with a flaky sea salt finish. This is the only Oatmeal Chocolate Chip Cookie Recipe you'll need.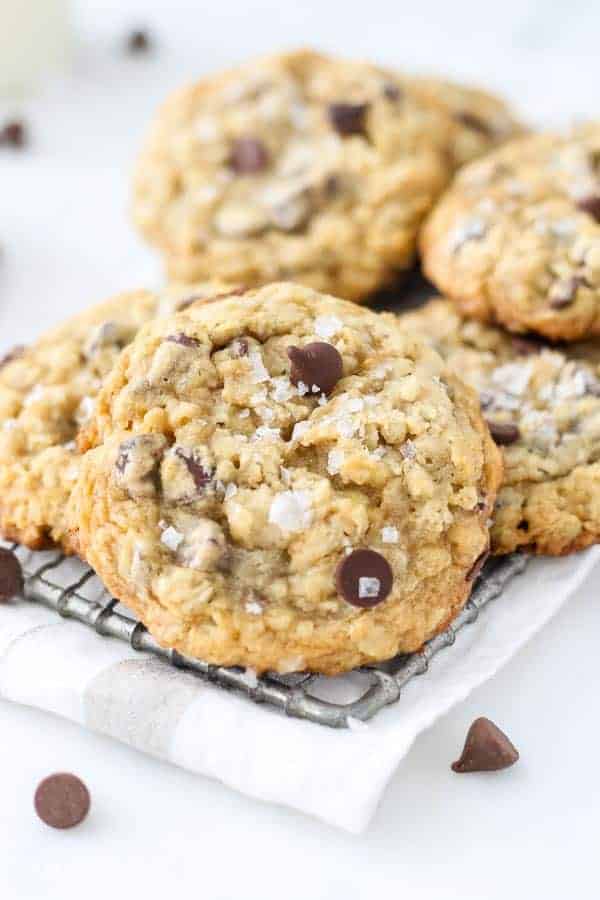 There's one thing I can guarantee with these Salted Caramel Oatmeal Chocolate Chip Cookie recipe, and that is that they will disappear fast.
I'd normally expect my husband to turn his nose up in the air when it comes to adding things like salted caramel to my oatmeal cookies, but the jokes on him because these are AH-mazing and now he could eat a whole batch if I left him.
In fact, I made this batch to bring on a business trip but they didn't make it to the freezer. And now, as I write this post, we are having major cravings for these cookies and I find myself softening butter at 10pm. The struggle is real.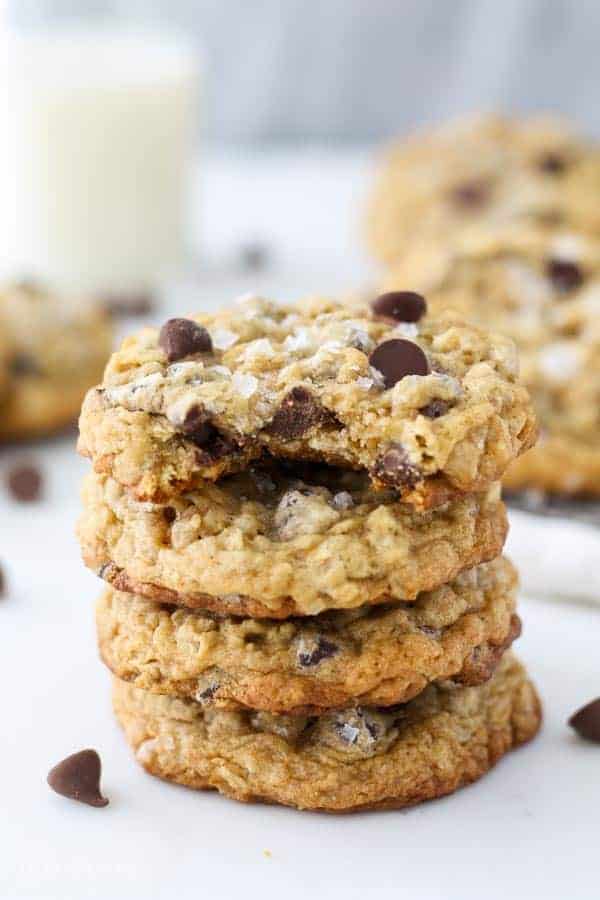 WHY are Oatmeal Chocolate Chip Cookies SO good?? I have zero restraint myself.
These are crispy on the edges, nice and soft in the middle with plenty of chewiness. But my favorite part is the salty sweet combination of the salted caramel and chocolate chips.
My idea of a perfect Oatmeal Chocolate Chip Cookie is just that. Crispy edges, super chewy in the center and plenty of chocolate chips with a salty finish.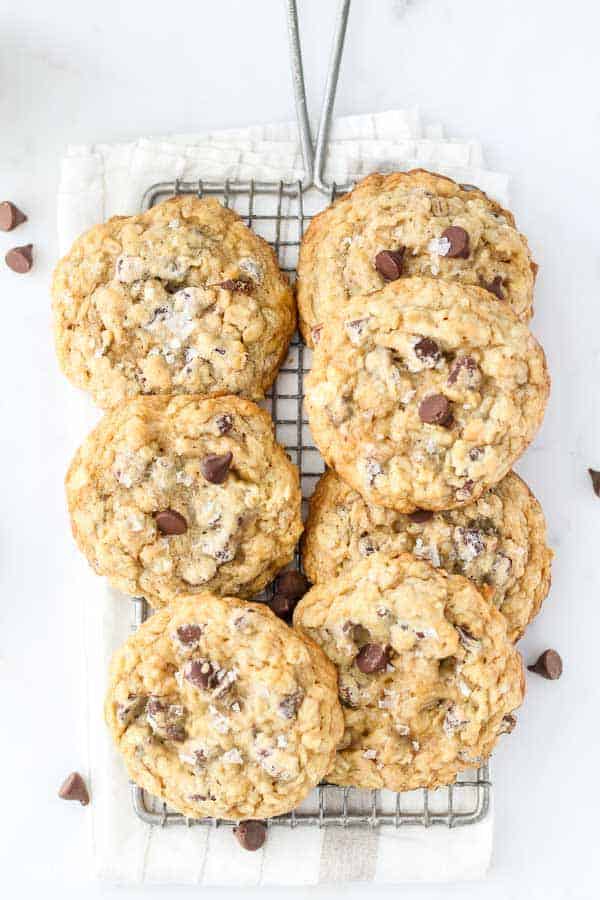 To make this Oatmeal Chocolate Chip cookie recipe, you'll need both granulated sugar and light brown sugar. The light brown sugar helps makes these nice and chewy while the granulated sugar is for caramelization.
I have plenty of variations on this oatmeal chocolate chip cookie recipe. You can add things like bourbon, butterscotch chips or my personal favorite, cashews. They all start with this base recipe.
You can add any type of chocolate chips to these oatmeal cookies. My personal favorite is dark chocolate, but I'm definitely a snob when it comes to my chocolate chips, I require high quality chocolate because it's such an important ingredient.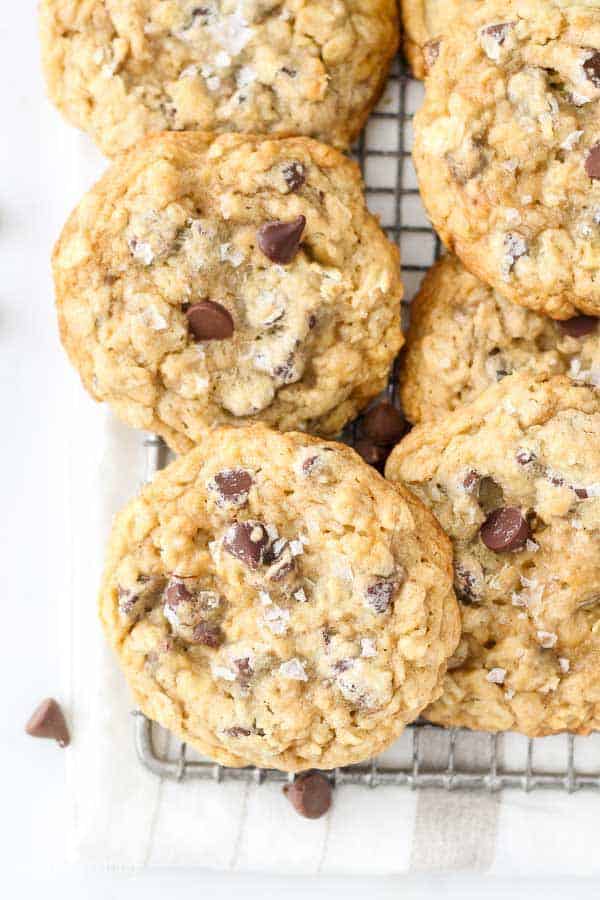 Different types of chocolate chips contain different amounts of cocoa butter. You might be used to seeing chocolate bars on the shelves in the grocery stores which indicate different percentages of chocolate. The higher the cacoa, the darker the bar. You can think of chocolate chips in a similar fashion.
For a while we were on a milk chocolate kick, but it just doesn't seem to the same as a dark or semi-sweet chocolate chip which tends to less sweet than milk chocolate.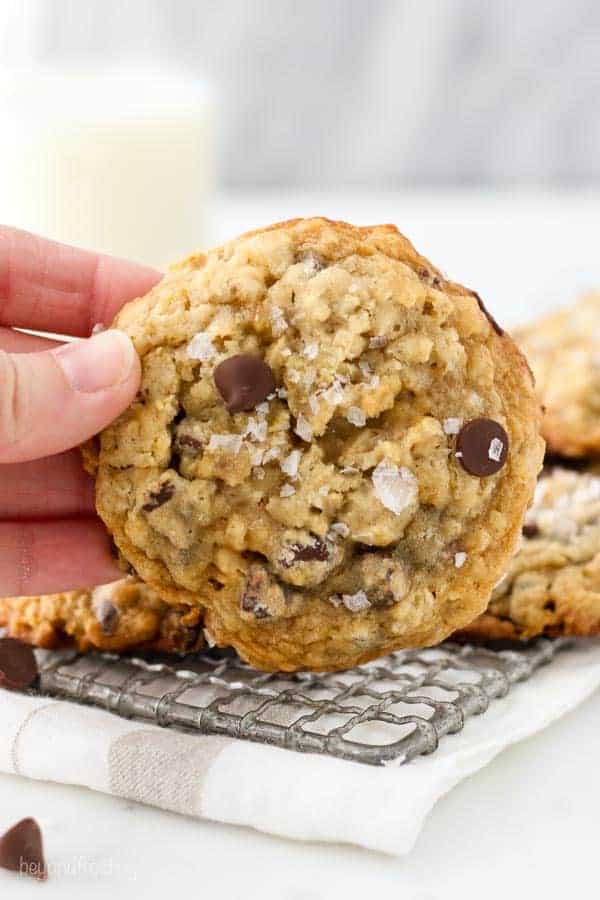 I was intimidated to make caramel cookies for the longest time. Every time I felt like my caramel got too hard once it cooled. It was so long ago, but I remember when I finally cracked the code and it was a game changer for cookies!
The caramels are melted with milk! The milk helps keep the caramel from hardening back up after it's baked. For the caramels I just use the individually wrapped Kraft caramels. These are often found in the baking section of the grocery store.
When mixing the caramel into the dough, it should be warm to cool. If it's too hot, it will just melt the chocolate. I don't like to mix it into the dough completely, otherwise you don't get those nice caramel ribbons in your cookies.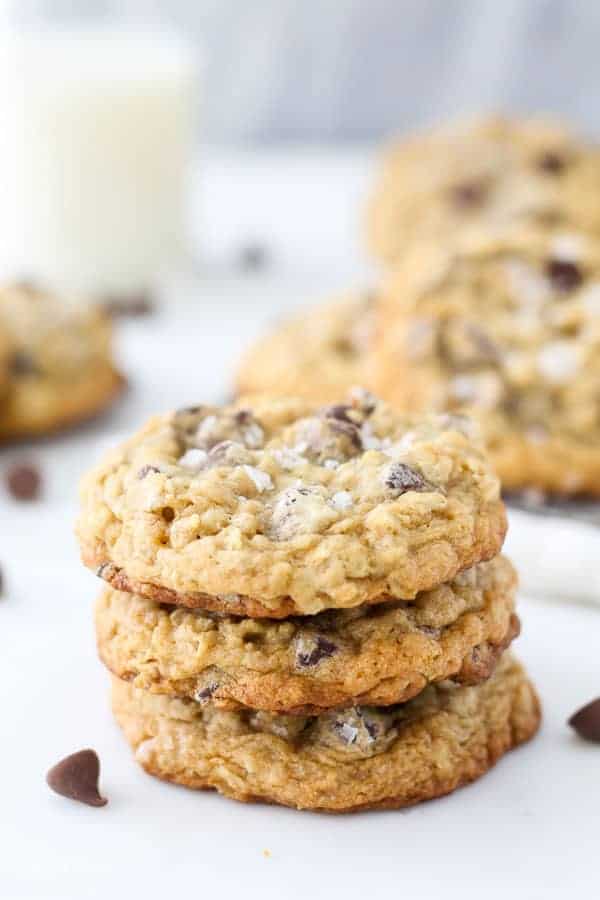 The dough needs to be chilled for at least 1 hour or more. The caramel really softens the dough, and it needs to harden a bit before baking, otherwise the cookies will just spread.
Now even if you get some spreading with your cookies, you can totally fix this. Take an angled spatula, the flat edge of a knife or a spoon and right when the cookies come out of the oven, push the edges back towards the center of the cookie.
I mentioned one of my favorite parts of these cookies is the sprinkle of salt on top. I was forever in the dark about flakey sea salt, nothing seemed quite what I was looking for. Then I discovered Maldon Sea Salt Flakes and it's been life changing- seriously.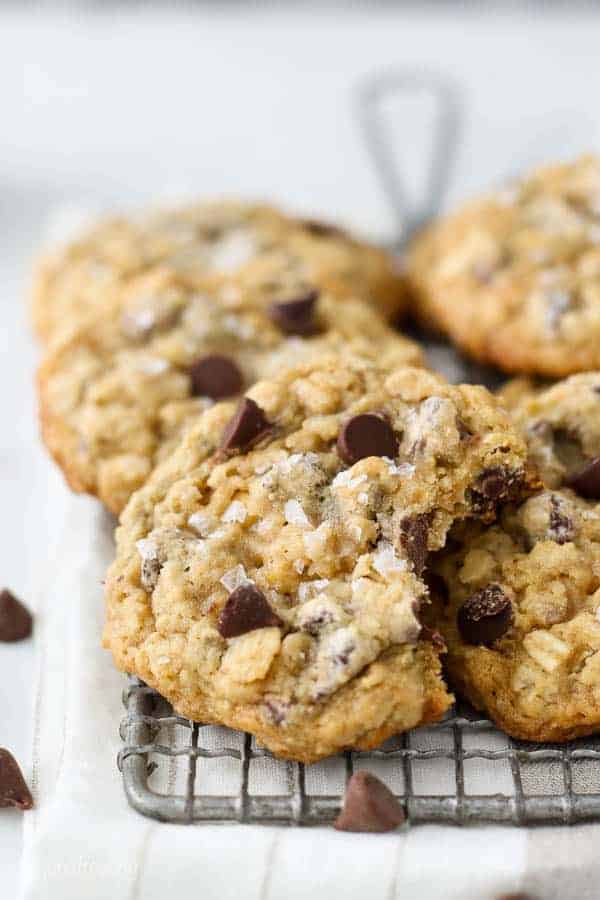 A little bit of salt on top of the chocolate is definitely not a bad idea. Salt tends to bring out the different flavors in baked goods. So, don't skimp on the finishing touches- sprinkle a healthy pinch of sea salt flakes on top of the dough before you pop them in the oven.
When baking, I definitely pull the cookies out before they bake all the way through in the middle. This helps keeps the cookies extra soft and chewy. As the cookies cool, they will get a little darker in color and the centers will cook just a touch more as they cool on the baking sheet. The hardest part is waiting for them to cool before you dig it.
How to make Salted Caramel Oatmeal Chocolate Chip Cookies
Start by melting the caramels and the milk. When melting the caramel, it's important that you don't burn it or yourself. I always recommend microwaving it at 50% power and stirring often. Once it's melted and smooth, I stir in a little bit of salt. Set that aside to cool.
Next, cream together the butter and sugar until well combined. Start with butter that is slightly softened but not melted. Then add the eggs and vanilla extract and mix until well combined. The mixture will be wet and grainy.
In a separate bowl, mix together all the dry ingredients. The dough will thicken quickly as the dry ingredients are added. So, before the flour is fully mixed in, add the chocolate chips so they can be incorporated together with the dry ingredients.
The final step is to add the melted caramel. It can be warm but it is important that it is not hot. If it's too hot it will melt the chocolate. You do not need to mix the caramel in completely to the dough because then you won't get those nice caramel ribbons throughout the dough.
Scoop your dough onto a cookie before refrigerating. To ensure your cookies bake evenly, use a cookie scoop to keep the cookies are the same size

What kind of Oatmeal is best for cookies?
Rolled oats are best for cookies. They make for a really nice texture in the cookies and they also give them more chewiness.
Can I use quick oats instead of rolled oats for cookies?
Yes, you can use quick oats if that's all you have. Quick oats tend to absorb more moisture and get a little mushier. So, for baking a cookie, they're not the best option for the structure of the cookie, but the taste will be relatively the same. If you want to know more, check out The Kitchn's article about the difference between the types of oats.
Can I freeze these cookies?
Yes! These freeze nicely. I usually place a piece of parchment paper in between the layers so the caramel doesn't stick. If you're like me, and can't stay away, thaw one in the microwave for 10-15 seconds before eating.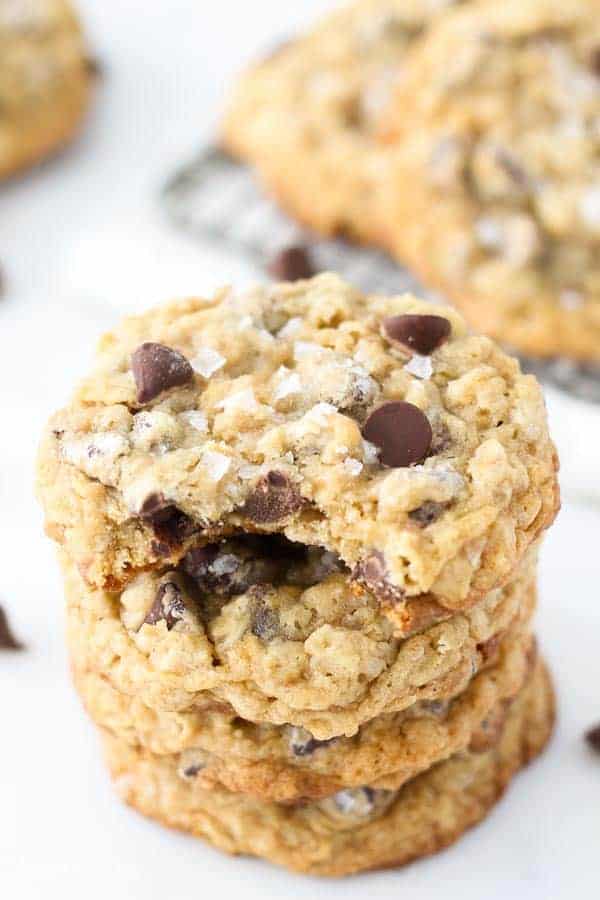 Follow Beyond Frosting:
Facebook | Twitter | Pinterest | Instagram | Bloglovin
If you love no-bake recipes, be sure to check out my cookbook, No-Bake Treats!
Print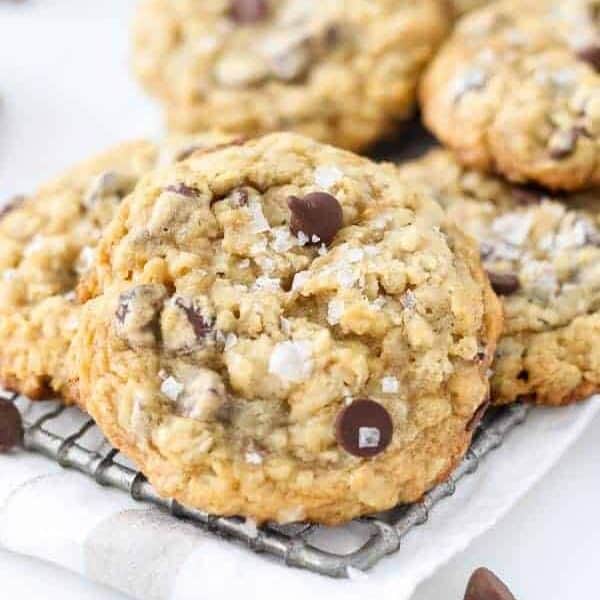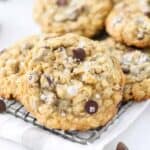 Oatmeal Chocolate Chip Cookie Recipe
Author:

Prep Time:

75 minutes

Cook Time:

12 minutes

Total Time:

1 hour 27 minutes

Yield:

24 cookies
Description
This Oatmeal Chocolate Chip Cookie Recipe has crispy edges with a soft and chewy middle. It's loaded with chocolate chips and swirls of salted caramel with a flaky sea salt finish. This is the only Oatmeal Chocolate Chip Cookie Recipe you'll need.
Ingredients
20

Kraft caramels, unwrapped

2 tablespoons

(30ml) milk

1 cup

(

226g

) unsalted butter

1 cup

(

220g

) light brown sugar

3/4 cup

(

143g

) granulated sugar

2

large eggs

2 teaspoons

(7.5ml) pure vanilla extract

2 ½ cups

(

315g

) all-purpose Flour

2 ¼ cups

(

181g

) rolled oats

2 teaspoon

(

10g

) salt, divided

1 teaspoon

(

4g

) baking soda

1

bag (11oz) chocolate chips
Flakey sea salt for garnish
Instructions
In a microwave-safe bowl, combine caramels, milk and sea salt. Microwave in 20 second increments, stirring each time. Caramel will be very hot and can burn easily. Stir in 1 teaspoon salt. All the caramel to cool.
Soften the butter in the microwave for 10-15 seconds. Combine the softened butter with the brown and granulated sugar. Beat on medium speed until well combined, 2-3 minutes.
Next add the eggs and vanilla extract and continue beating until well incorporated.
In a separate bowl, combine the flour, oats, salt (1 tsp) and baking soda. Stir to combine and slowly add the dry ingredients into the dough, mixing on low speed until dough starts to form.
Before the dough thickens, add the chocolate chips. Beat a couple of times until they start to incorporate.
Once the caramel is cooled, add to cookie dough. Beat just until combined.
Pre-scoop the dough using a large cookie scoop and place on a sheet pan. Sprinkle with flakey sea salt. Refrigerate for at least one hour and up to 24 hours in advance. Remove each batch 10-15 minutes before baking.
Preheat the oven to 350° F. Line a baking sheet with parchment paper or a silicone baking sheet. Bake for 11-13 minutes. The center of the cookie should be slightly under baked but not too gooey. Allow to cool on the baking sheet for 5-10 minutes before transferring to a wire rack to cool.
Notes
These must be refrigerated for a minimum of one hour, but the longer the better.
These cookies can be frozen once baked. Place on a cookie sheet with layers of parchment paper in between each layer. Once frozen transfer to an airtight container.
When your cookies come out of the oven and they do spread or are misshaped, take a flat edge, such as a knife and press the edges of the cookie back towards the middle of the cookie, shaping it into a circle.
Category:

Cookies

Method:

Oven

Cuisine:

American
Keywords: oatmeal cookies, Oatmeal chocolate chip cookies, cookie recipe
You might also like: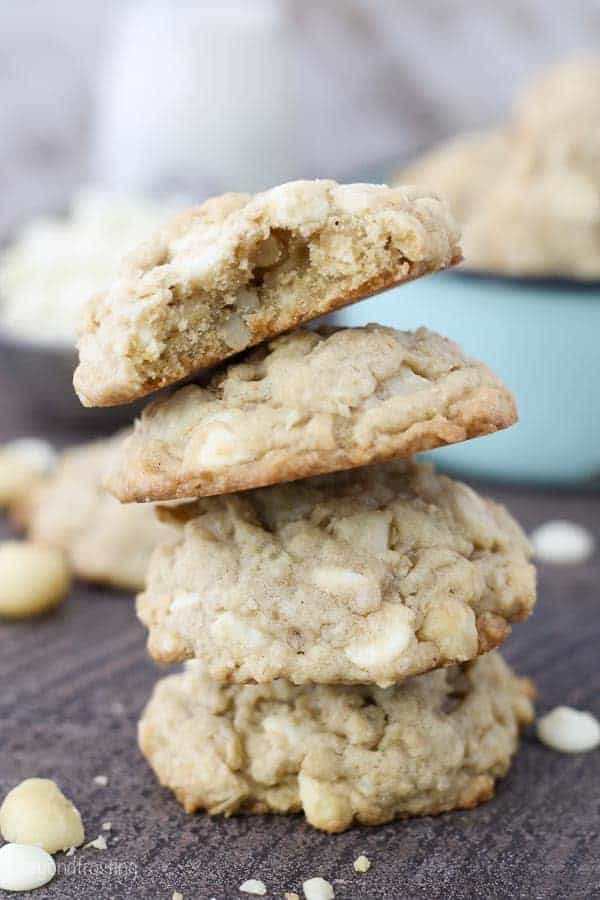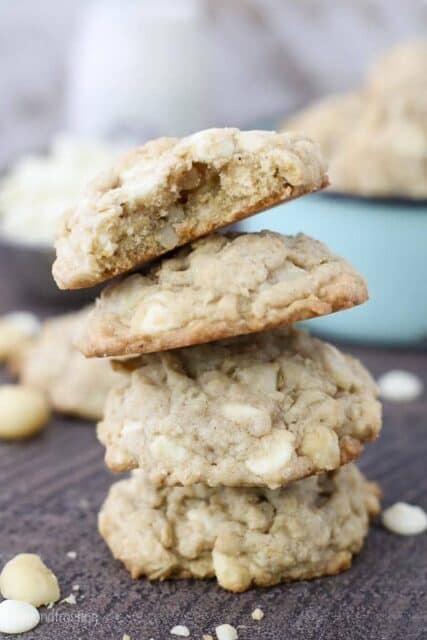 Coconut Cashew Oatmeal Cookies