This post may contain affiliate sales links. Please see my full disclosure policy for details
This No-Bake Samoa lush is an icebox cake featuring an Oreo cookie crust, a layer of caramel cheesecake, coconut mousse and a whipped cream topped with caramel, hot fudge and toasted coconut.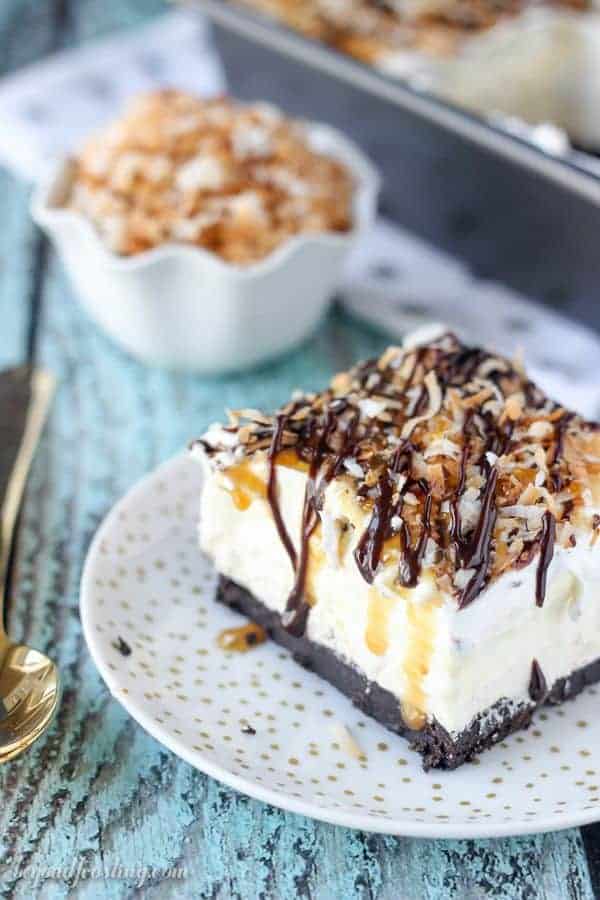 Well my Dad is visiting this week, and if you remember when he visited last summer, I filled his time doing dishes and running to the store when I ran out of cream cheese and heavy whipping cream. That's right, he came right in the middle of cookbook craziness! He watched the madness unfold as I pumped out popsicles and cheesecakes and maybe a pie or two all within a day. One thing hasn't changed since then; I am still paying him in desserts.
This time I am keeping him busy putting up shelves, fixing random items in the house and building me an Ikea dresser. Yesterday I took him to Ikea, and he's never been to one. He just kept asking me, "where are we going? Does this store ever end?". HA! Warning, there's a rant coming, so feel free to skip to the recipe.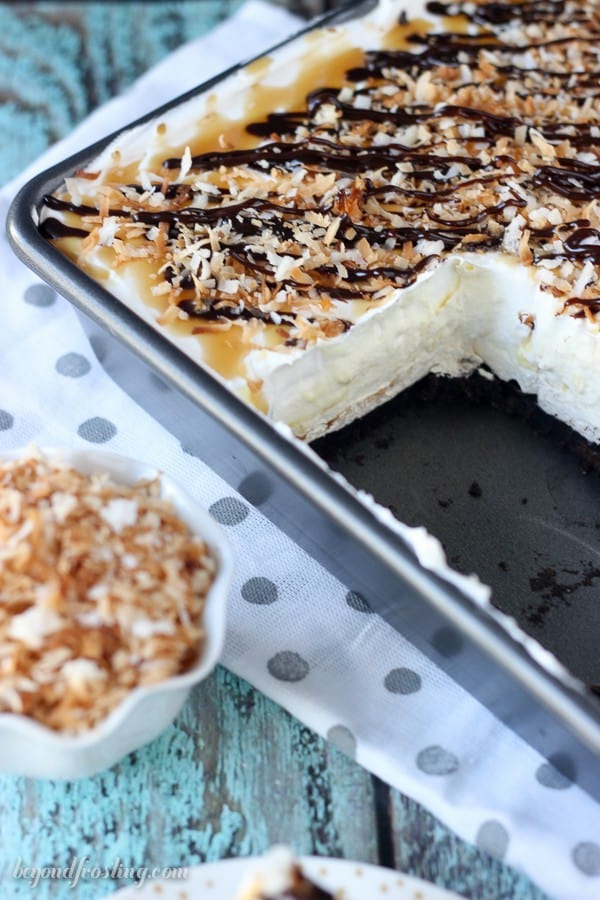 Well let me tell you the closet Ikea is at least an hour away, LA traffic dependent. Once we finally got to the dresser section, I come to find out that my sought after Hemmes dresser has been discontinued, like within the last week.
I know Ikea just recalled a bunch of dressers, but the one I wanted wasn't one of those dressers. Now I haven't owned a dresser since I moved from Vermont to California about 7 years ago, because I moved around a ton. I've been putting it off and putting it off, but it FINALLY came time to buy one, and I wanted it to match all of our other Ikea furniture. I was on the verge of a meltdown as the sales lady was telling me they sold out and are not restocking until further notice, on account of Ikea redesigning the whole Hemmes collection.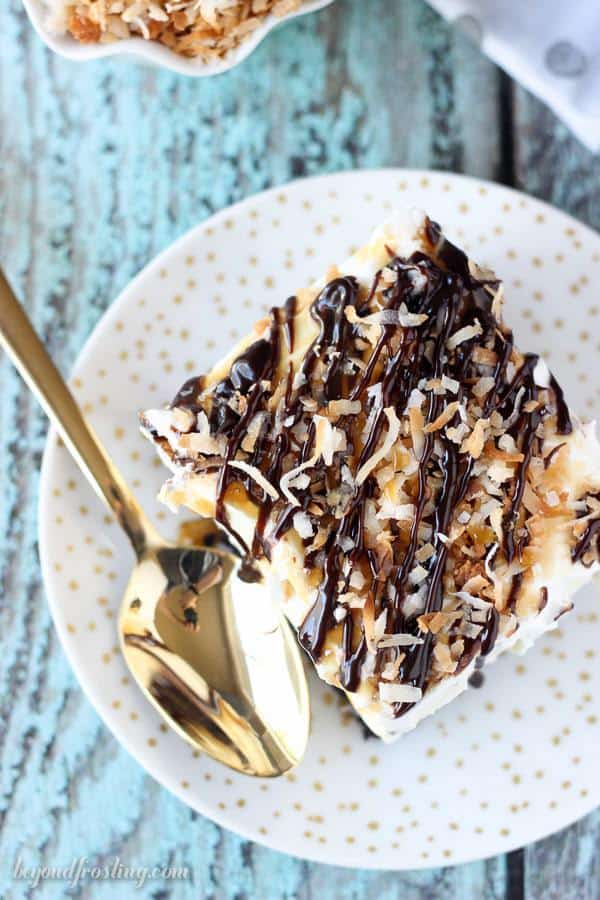 I couldn't even comprehend what the sales associate was telling me. "Wait, what?? I just spent over an hour in the car to drive here for this dresser, which is always in stock, which matches my other furniture. No you don't understand, after 7 years of keeping my clothes in plastic bins and drawers, I am here to buy my dresser. Surely you can't be talking about my dresser." Well, it turns out she was. Sigh. So I had to buy the only dresser in that collection they had left which is entirely way to big but both my boyfriend and my father told me to "just get it". So the jokes on you, because you guys have to build it! Sorry bout it.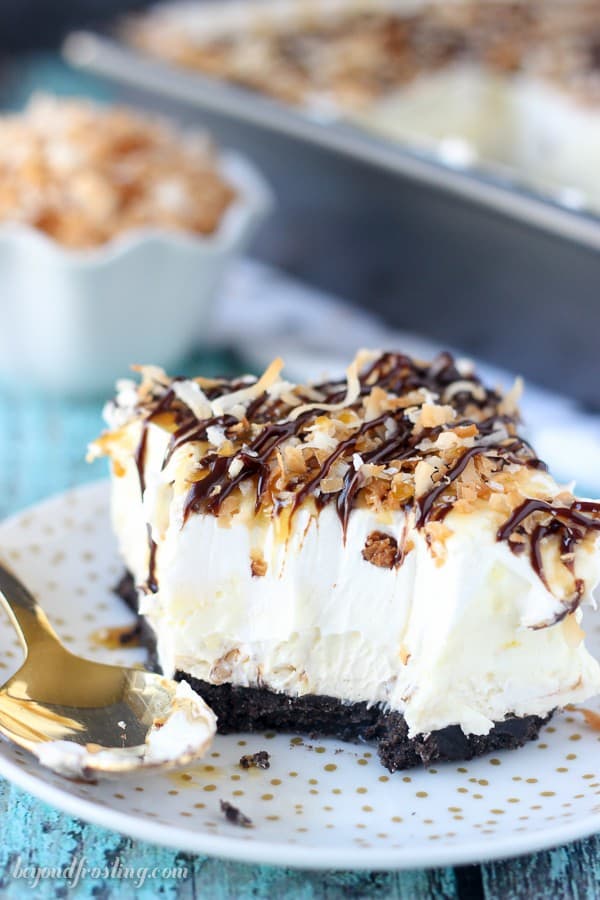 I've been stock pilling the freezer with different treats for my dad to try in the weeks leading up to his visit, but one thing I didn't save him a slice of is this No-Bake Samoa Lush. I know what you must be thing, "what the heck is a lush?", and no, it's not drinking related.
Actually this is the first lush dessert I have on my blog, but I have been eyeing my friend Dorothy's lush recipes since the beginning of time, and I searched for a samoa version and couldn't really fine one, so alas, I bring you Samoa Lush. I kinda have a thing for samoa recipes, and even no-bake desserts (but you guys already know this).
Oh, but if you don't love caramel & chocolate, you might want to head over to Lisa's blog because she recently made a Pina Colada Lush that looks to die for (edited to add she also made a cookie dough lush which I must have immediately).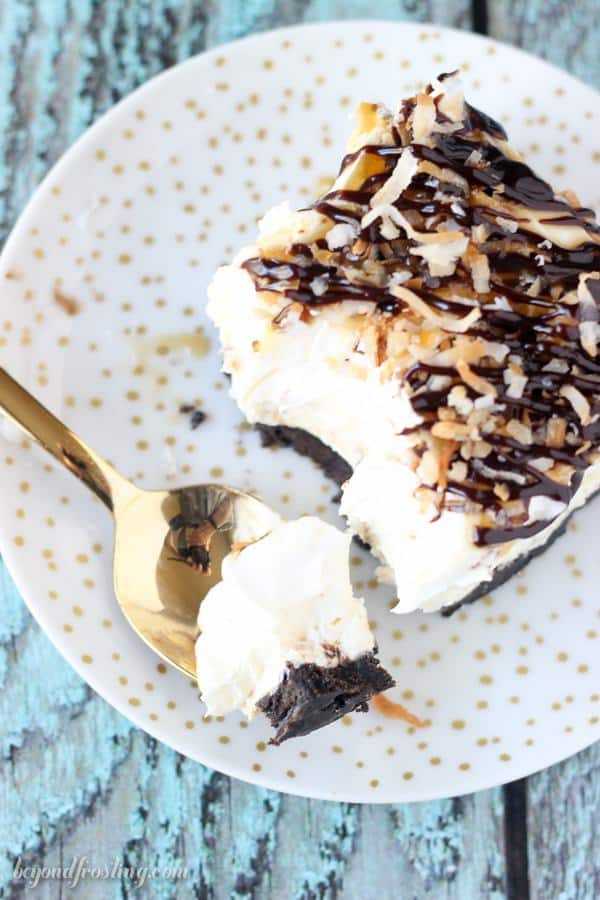 I still haven't answered your question about what a lush dessert actually is. It is similar to a dessert lasagna in that is has various layers of stuff, but I don't use the graham crackers in between the layers here. However there are 4 glorious layers to this dessert and you can cut yourself off a big 'ol slice and never get tired of it.
For the Samoa Lush, it starts with a thick layer of Oreo cookie, next comes a layer of no-bake caramel cheesecake, followed by a layer of coconut mousse and topped off with whipped cream, toasted coconut, hot fudge and caramel. Technically this recipe is no-bake unless you have to toast the coconut. I like buy pre-packaged toasted coconut, or sometimes I toss some coconut in the oven while I am making another desserts so I have it on hand. Really though, you need the toasted coconut with a samoa dessert.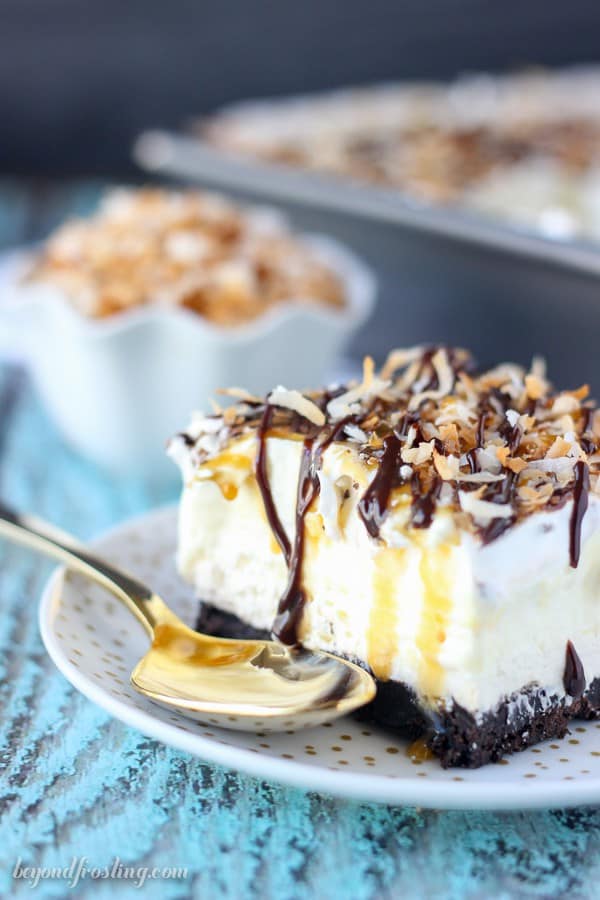 I used a 9-inch square pan, so every layer was nice and thick. The Oreo cookie crust is a combination of crushed cookies and butter pressed into the pan. Then the cheesecake layer is cream cheese, sugar and some Cool Whip (or whipped cream). I also added some caramel sauce to sweeten it up a bit.
To make the mousse layer, you first need to make some instant coconut pudding, I usually buy this at Walmart, but if you can't find it, then you can use some instant vanilla pudding with a touch of coconut extract. You will only use half the amount of milk as it calls for on the box. Once it has been refrigerated and firm you can mix in the Cool Whip (or heavy cream) to make the mousse.
To finish this off, there's another whole container of whipped cream on top along with plenty of the coconut, hot fudge sauce and caramel to go around. I prefer to add the toppings right before serving so that the coconut stays crunchy and the sauces are gooey and drippy. You can cut this up and serve it in slices or you can spoon it into parfait glasses, but make sure you get plenty of the crust in there!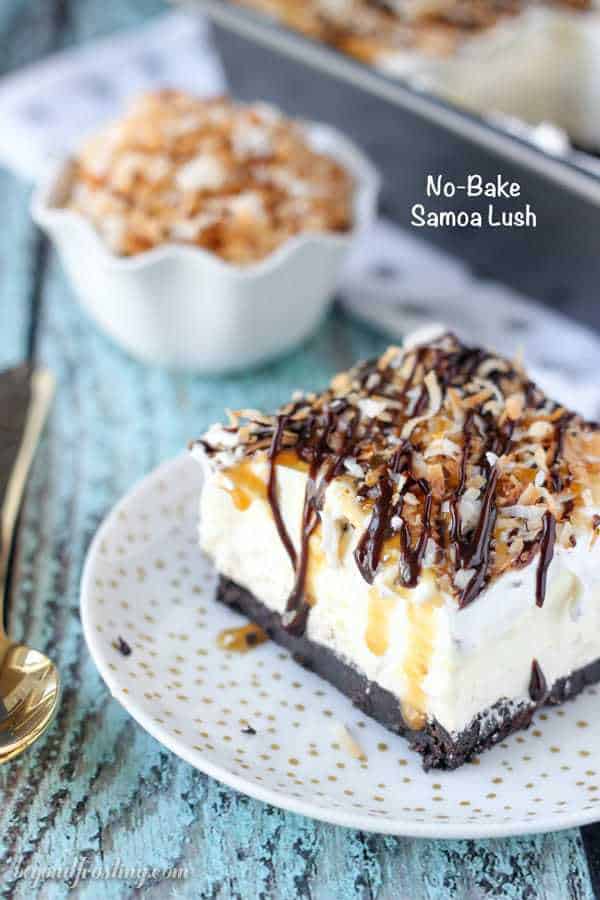 If you love no-bake recipes, be sure to check out my cookbook, No-Bake Treats!
Facebook | Twitter | Pinterest | Instagram
Print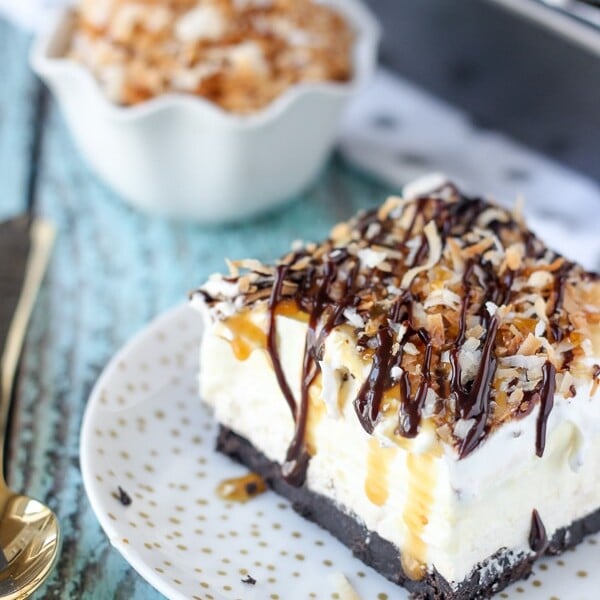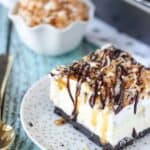 No-Bake Samoa Lush
Author:

Prep Time:

25 mins

Total Time:

25 minutes

Yield:

9 slices
Description
A no-bake dessert featuring an Oreo cookie crust, a layer of caramel cheesecake, coconut mousse and a whipped cream topped with caramel, hot fudge and toasted coconut
Ingredients
For the crust

1

package (14.3 oz) Oreo cookies

8 tablespoons

unsalted butter
For the filling

1

package (3.4 oz) instant coconut or vanilla pudding (see note)

1 ¼ cups

milk (I used nonfat)

8 ounces

cream cheese

2

–

8

ounces containers Cool Whip, divided

¼ cup

granulated sugar

4 tablespoons

caramel sauce, divided

1 ¼ cups

toasted coconut

2 tablespoons

hot fudge sauce
Instructions
For the crust: Grind the cookies into a fine crumb using a food processor or blender.
In a small bowl, melt the butter in the microwave for 30 to 45 seconds. Pour the melted butter over the cookie crumbs and stir until the crumbs as well coated. Press into a 9-inch square pan. Refrigerate this while you are preparing the filling
For the fillings: In a small bowl, combine the instant coconut pudding with the milk and whisk until the powder mixture is dissolved. Refrigerate the pudding until firm, about 10 minutes.
Soften the cream cheese in the microwave by removing the wrapper and place the cream cheese on a plate. Microwave for 15 to 20 seconds.
In your mixing bowl, beat the cream cheese on medium-high speed for 2 to 3 minutes. Proceed to add the granulated sugar and continue beating for another 2 to 3 minutes adding 3 tbsp of the caramel sauce and beating until the sugar is well incorporated, scraping down the bowl as needed.
Mix in half a container (4 oz) of the Cool Whip and mix into the cream cheese, turning over from the bottom to the top until it's well mixed. Spread the cream cheese mixture over top of the cookie crumbs.
Remove the pudding from the refrigerator and mix in the remaining half of container (4 oz) of Cool Whip and stir into the pudding until it's well mixed. Spread the mousse over the cream cheese.
Add the top layer, a full container of whipped cream and refrigerate for at least 2 hours, but the longer the better.
Before serving top with toasted coconut and drizzle hot fudge sauce and caramel sauce. Heat the hot fudge sauce according to the instructions on the jar.
Notes
*If you don't have coconut pudding, you can get instant vanilla pudding and add ½ teaspoon of coconut extract
*If you need to toast the coconut, do so at 400 degrees, laying the coconut out flat on a sheet pan. Toast 5 to 10 minutes until the coconut is light brown. Watch it carefully.
Category:

Dessert

Method:

Refrigerator

Cuisine:

American
Keywords: dessert bars, easy dessert recipes, no bake desserts
Visit Beyond Frosting's profile on Pinterest.
More no-bake samoa recipes: