This post may contain affiliate sales links. Please see my full disclosure policy for details
Thick, creamy, and smooth, this vanilla Pastry Cream (Crème Pâtissière) is ready in just 30 minutes. Flavored with real vanilla beans, this recipe is perfect for filling cream puffs, eclairs, doughnuts, or fruit tarts.
Perfect Vanilla Bean Pastry Cream
A while ago, I set out to make my own pastry cream. Today, I'm sharing the results! This homemade pastry cream turned into the biggest success story, and it only takes about 30 minutes to make it.
Rich, creamy, and filled with warm flavors of vanilla bean, it's hard to resist devouring this pastry filling with a spoon. What starts as a simple custard becomes a thick, luxurious pastry filling flecked with real vanilla that you can pipe over anything and everything. The flavor is just impossible to beat.
My pastry cream recipe has the perfect consistency for filling cream puffs and other pastry desserts. It's smooth, silky, and tastes just like it came from a bakery!
What Is Pastry Cream?
Traditional pastry cream, or crème pâtissière, is a rich vanilla custard that's thickened with eggs and starch. It's commonly piped into desserts like cream puffs, profiteroles, and eclairs.
Despite the name, pastry cream is used in many types of desserts, not just pastries. You'll also find it as a filling in cakes and cupcakes, doughnuts (think: Boston cream), fruit tarts, and as a base for puddings. The consistency is thick enough that it can be piped or spread easily.
See further down in the post for more ways to use your homemade pastry cream.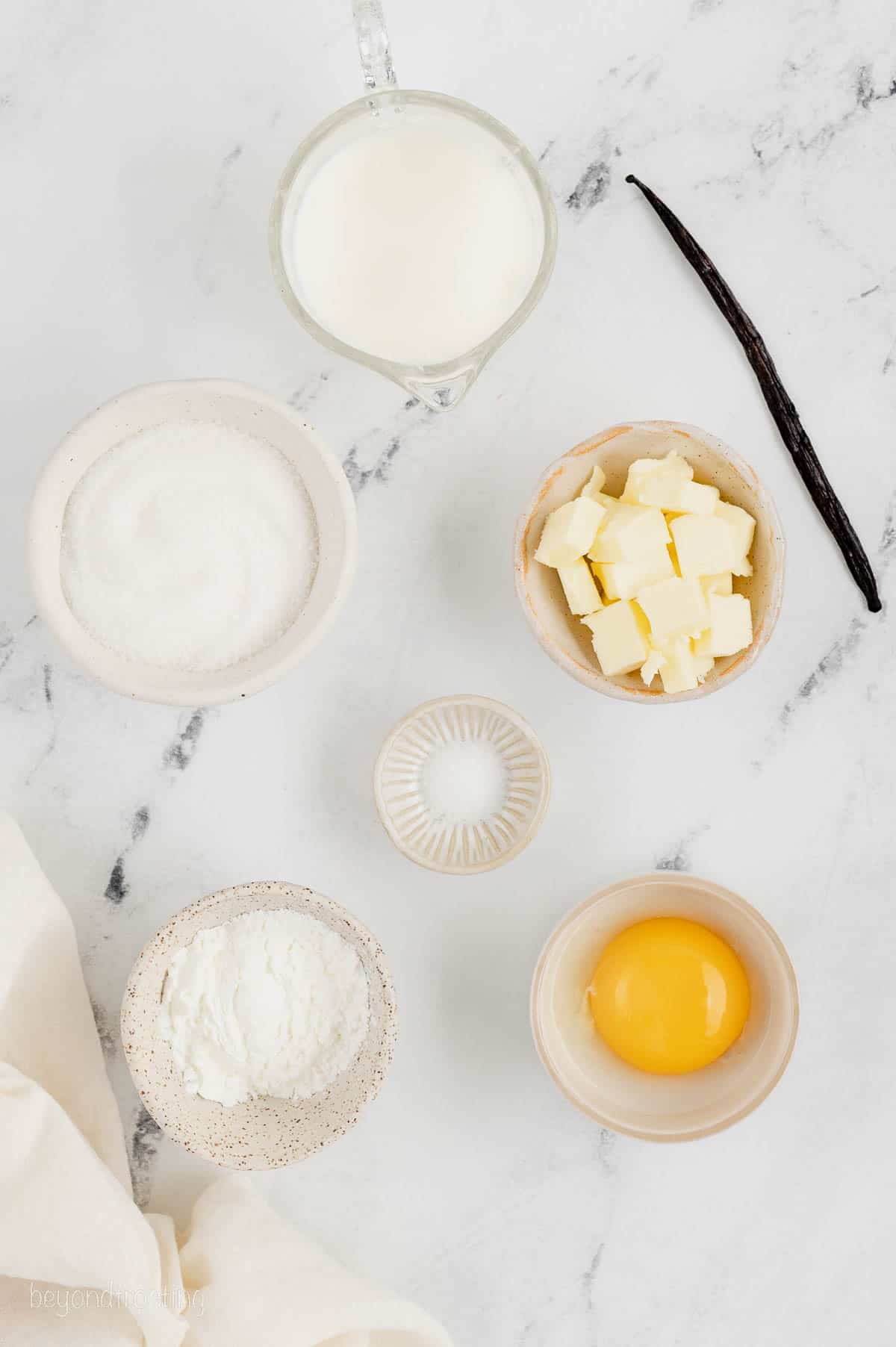 Ingredient Notes
Below is a short overview of the key ingredients you'll need to make the perfect pastry filling. Don't forget to scroll to the recipe card for the full details.
Milk – Whole milk or half-and-half has the best fat content to carry the flavor and consistency of homemade pastry cream. Low-fat milk will not work for this dish.
Vanilla Bean – I love using a real vanilla bean to flavor the custard. Remember to split it down the middle, so that the flavor can escape. Vanilla bean extract will work as well. See the FAQs for how to substitute vanilla extract.
Eggs – As in most custard recipes, egg yolks form the base of the vanilla custard in this recipe.
Cornstarch – Pastry cream is different from pourable custards, like Crème Anglaise, as it's thickened with starch. In this case, we use cornstarch. Some recipes will use flour, however, I much prefer the light, clean flavor and texture of cornstarch.
Sugar – Granulated sugar serves a dual purpose in crème pâtissière recipes. It brings sweetness to the cream, but it also helps to keep the egg yolks from coagulating too quickly in the heat, allowing them to cook through without curdling.
Butter – I recommend using unsalted butter, cut into small cubes.
How to Make Pastry Cream
The idea of making pastry cream from scratch may sound intimidating (Tempering eggs? Constant whisking? Eek!), but in reality, it's a lot less complicated than you'd think.
The key to a successful crème pâtissière lies in heating the custard base enough so that it's thick and smooth, though still spreadable and easy to pipe. I promise you'll get the hang of it in no time:
Simmer the milk and vanilla. First, add the vanilla bean to milk in a saucepan, and heat just to a simmer. Watch for small bubbles around the edge of the pot, and take the milk off the heat, setting it aside to let the vanilla steep. After about 15 minutes, scrape any leftover vanilla seeds into the milk, and return the pot to the stove to simmer again.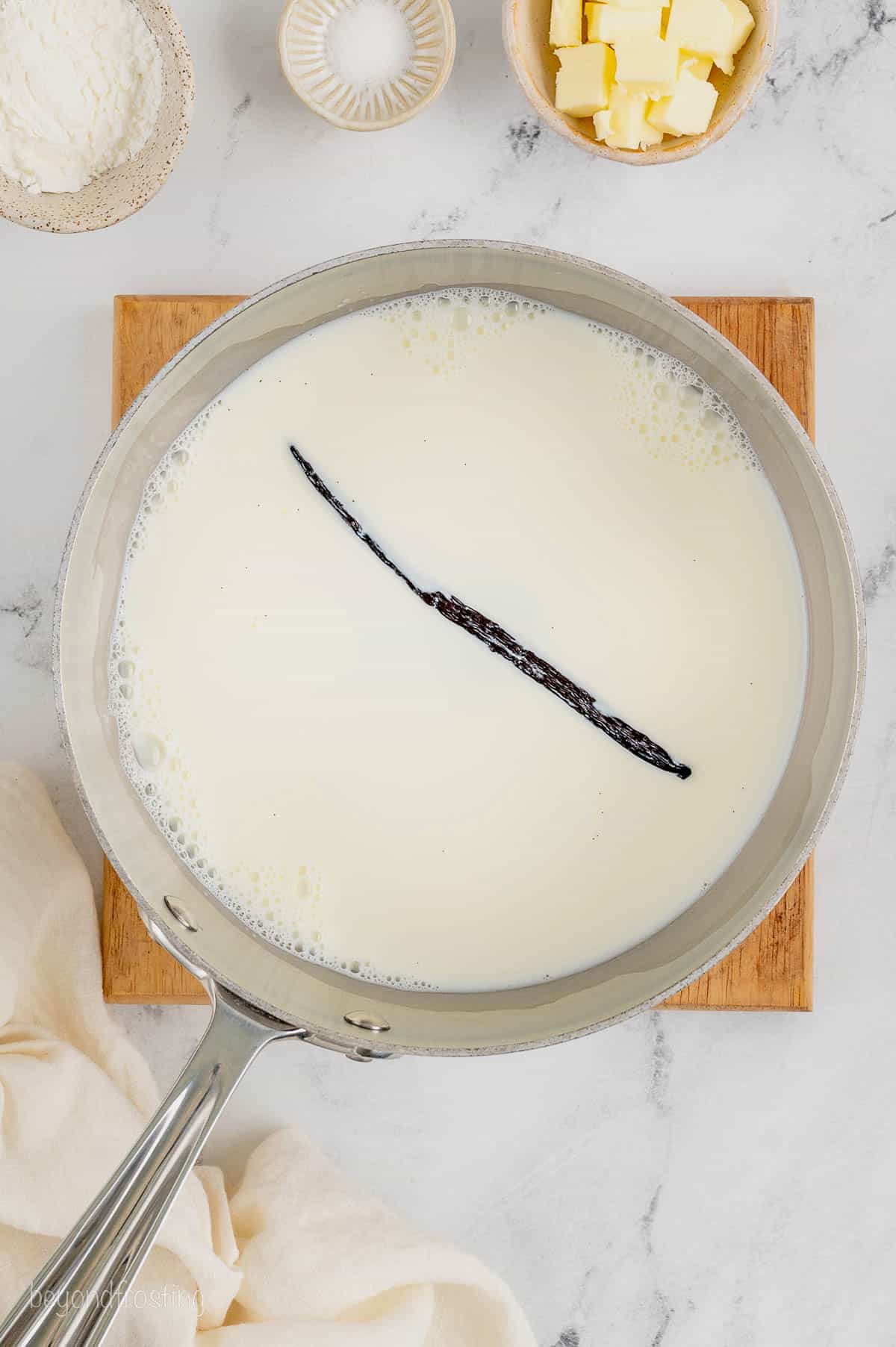 Prepare the custard. Meanwhile, whisk the egg yolks with sugar, cornstarch, and salt for a couple of minutes, until thick.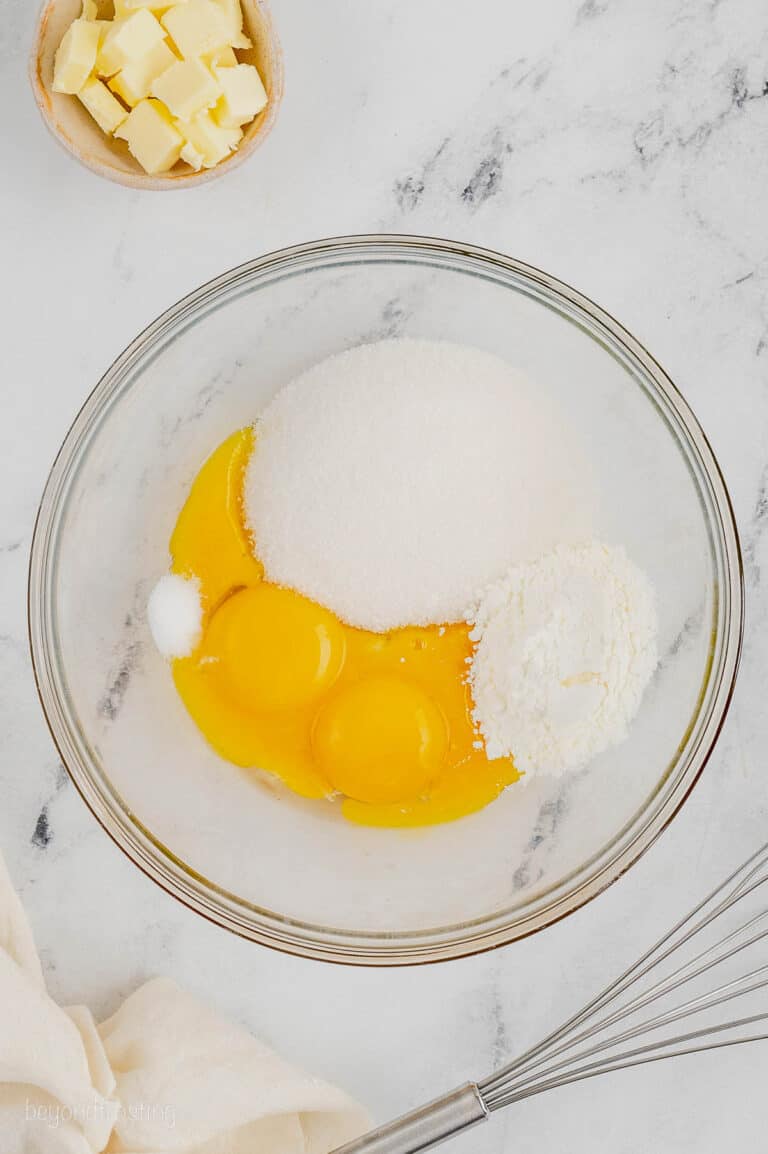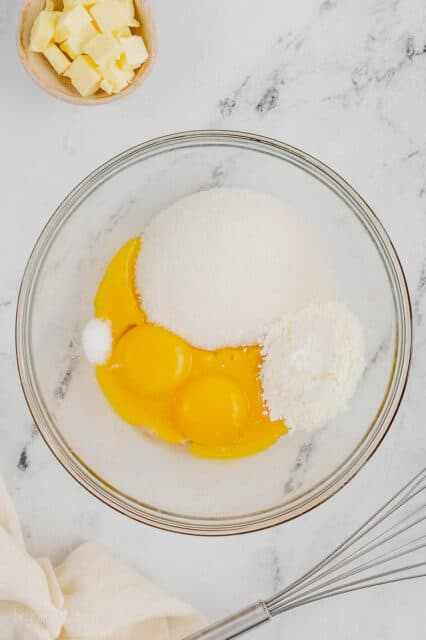 Temper the egg yolks. Next, slowly whisk some of the simmering milk into the eggs to temper them. This is so that you don't wind up with scrambled eggs in the next step.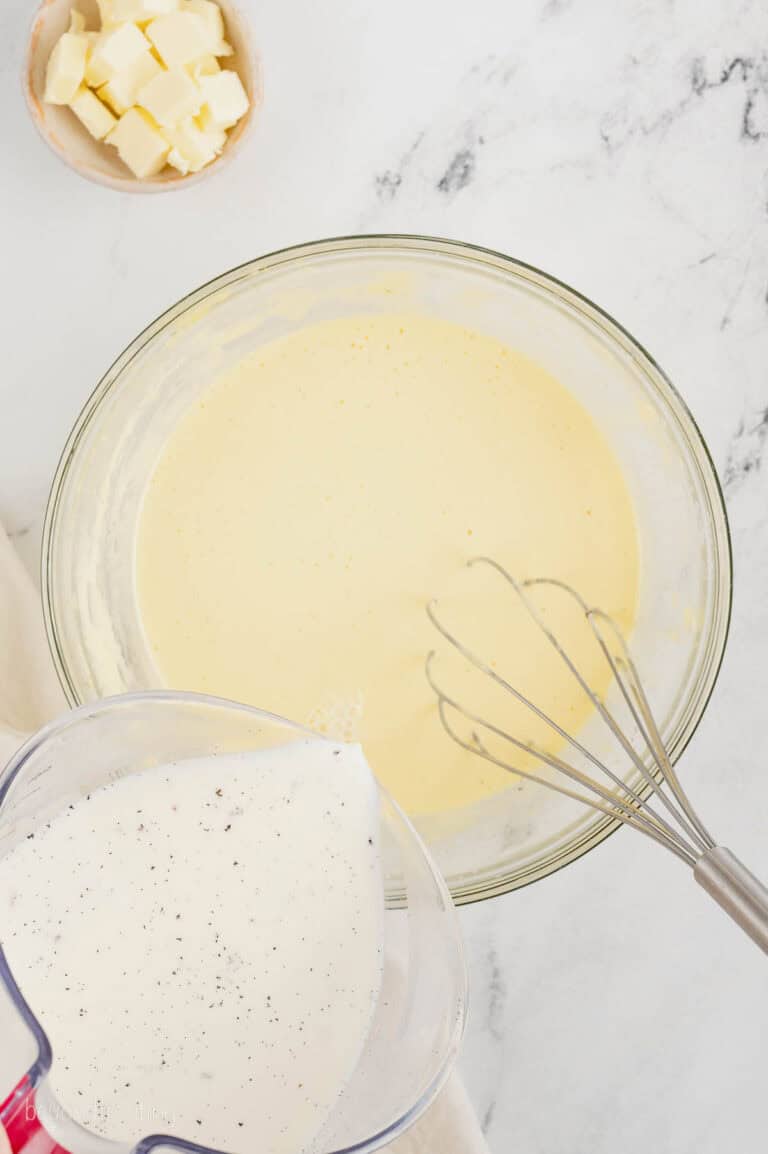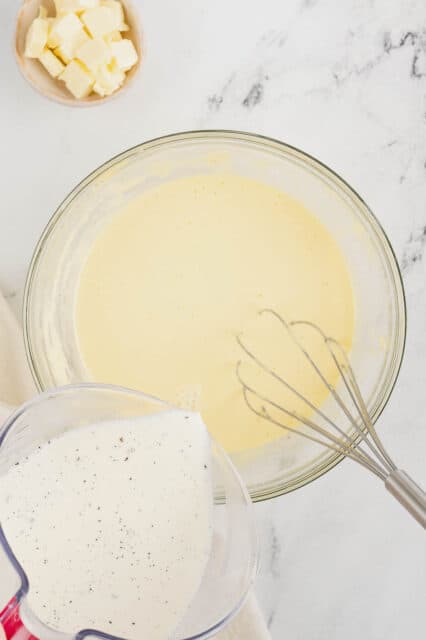 Heat. Pour the egg and milk mixture back into the saucepan with the remaining milk, whisking to combine. Over low heat, continue to whisk the custard as it warms. It will start to bubble once it reaches temperature. Give it one minute more, then take the cream off the heat and strain it into a large bowl.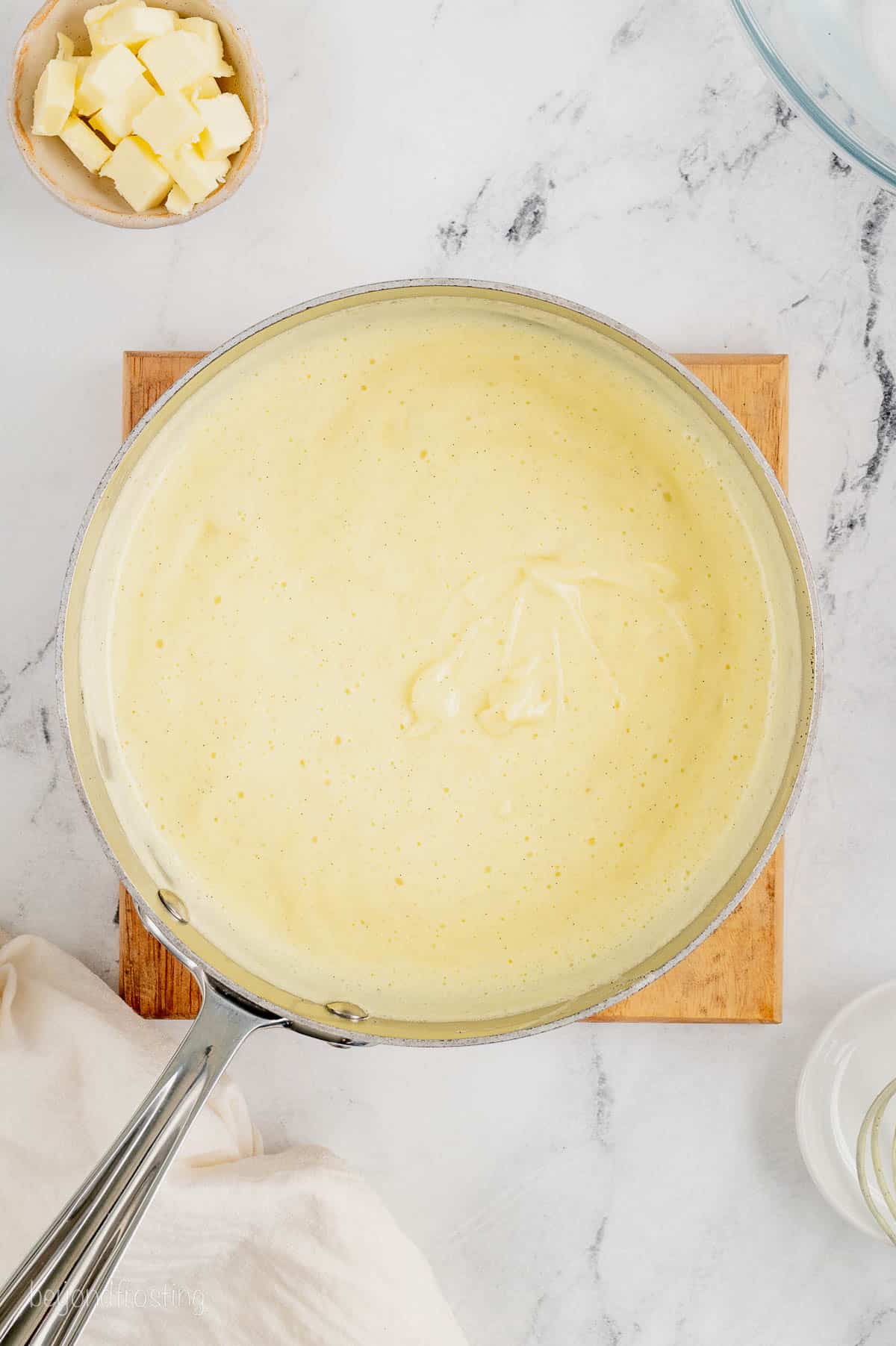 Add butter. Lastly, stir in the cubed butter so that it melts into the cream. Place the bowl into an ice bath and stir as the mixture cools. Let it cool all the way to room temperature before storing.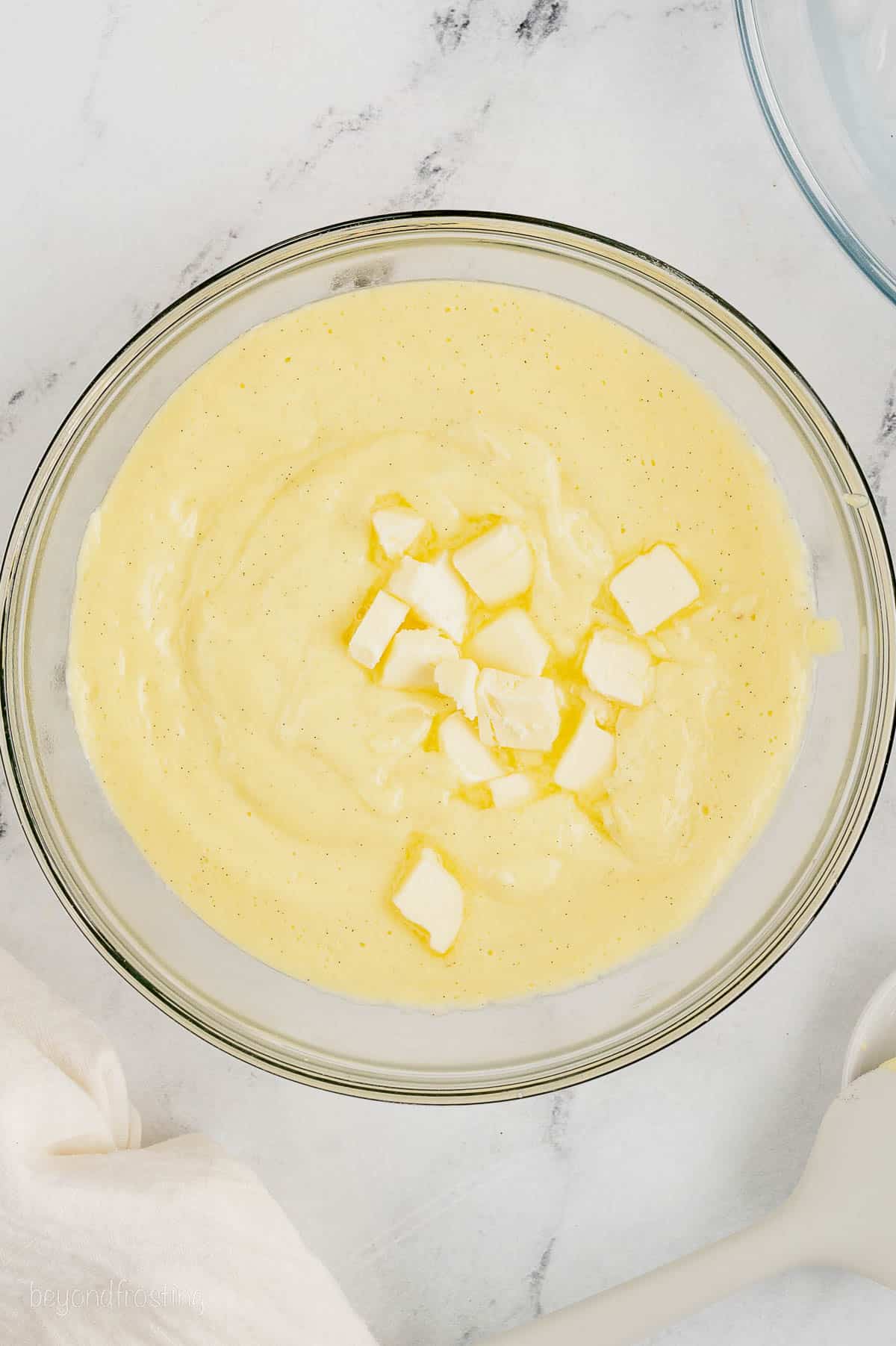 Chill. Finally, store the pastry cream airtight with a layer of plastic wrap pressed directly onto the surface of the cream (this prevents a film from forming). Place it in the fridge to chill completely.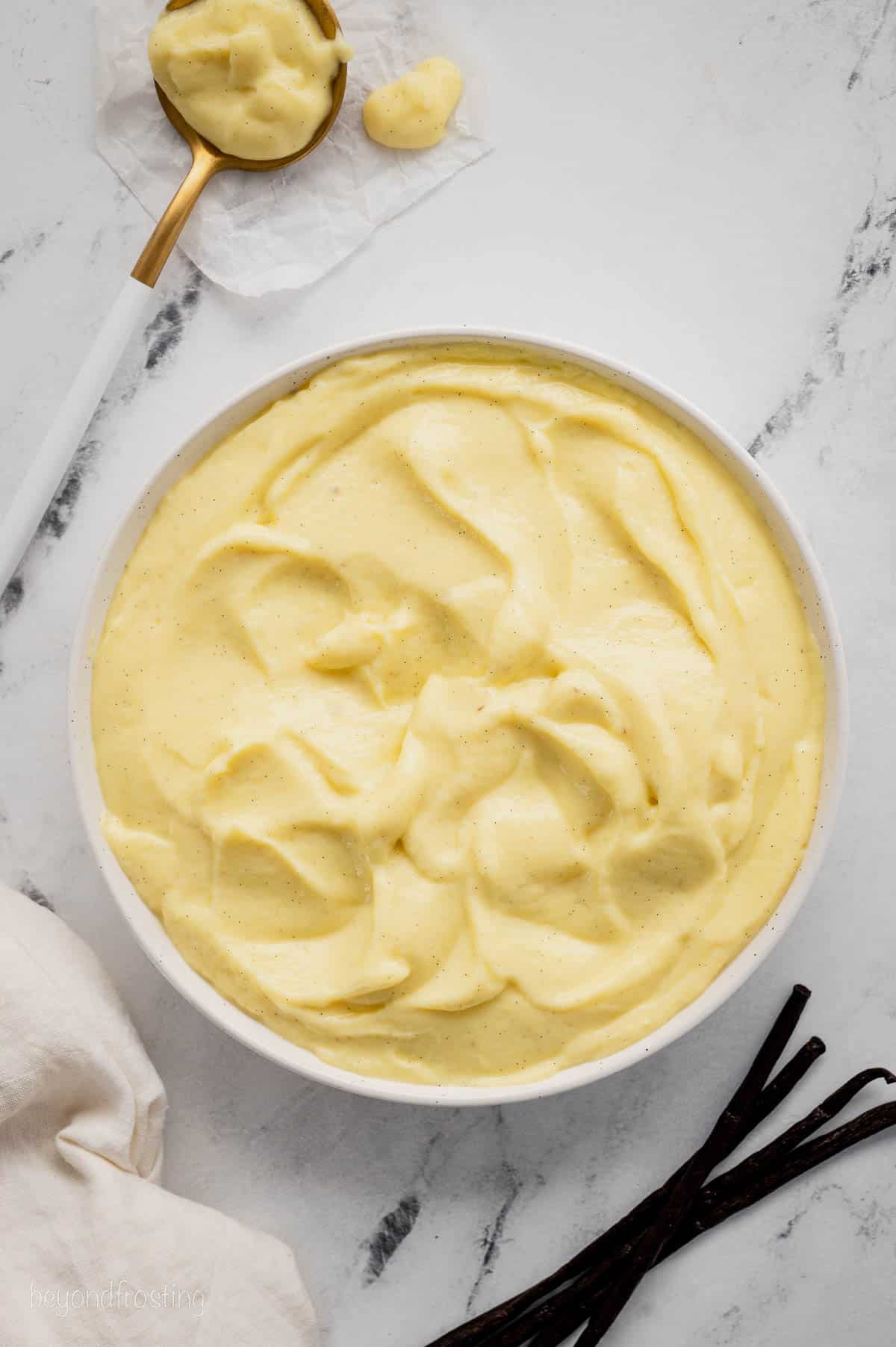 Getting your vanilla custard to the right temperature and consistency doesn't have to be difficult, but it does take some close attention (and constant whisking). Here are some recipe tips to help achieve the perfect pastry cream:
Prep your workspace. Make sure you have all of your tools and ingredients ready to go when you start the cooking process. This includes a clean bowl to transfer the cooked cream into when it comes off the stove as well as the ice water bath for cooling. Pastry cream needs to be stirred frequently, so it's best to give it your full attention.

When tempering eggs, use a heat-safe glass measuring cup or ladle to stream the hot milk into the yolks. This makes it easier to pour slowly and steadily. It can also help to place a towel or nonslip mat under the bowl.

How to prevent a runny pastry cream: It's imperative for the longevity of your crème pâtissière that you cook the mixture for 60 seconds after it begins to burp large bubbles. This is because eggs contain an enzyme called amylase that breaks down the structure of starch molecules over time. Cooking the cream at a boiling temperature for at least another minute will help to neutralize these enzymes and keep your pastry cream from weeping and becoming runny.

How do I fix a runny pastry cream? Unfortunately, if you find that your pastry filling is too thin, you'll likely need to remake it, making sure to cook it at the boiling stage for long enough. If you're after a particularly thicker, stiffer pastry cream, use up to 3 tablespoons of cornstarch.
Common Questions
Can I use vanilla extract?
If you don't have vanilla beans, you can simply add a teaspoon or two of vanilla extract to the pastry cream instead. Do this after it comes off of the stove when you add in the butter.
Why do I need to strain the pastry cream?
Putting the final cream through a fine mesh sieve is a great way to ensure a perfect, silky-smooth texture. If you accidentally scrambled some of the egg, or there's the odd clump of cornstarch, the strainer will keep it out of your final product.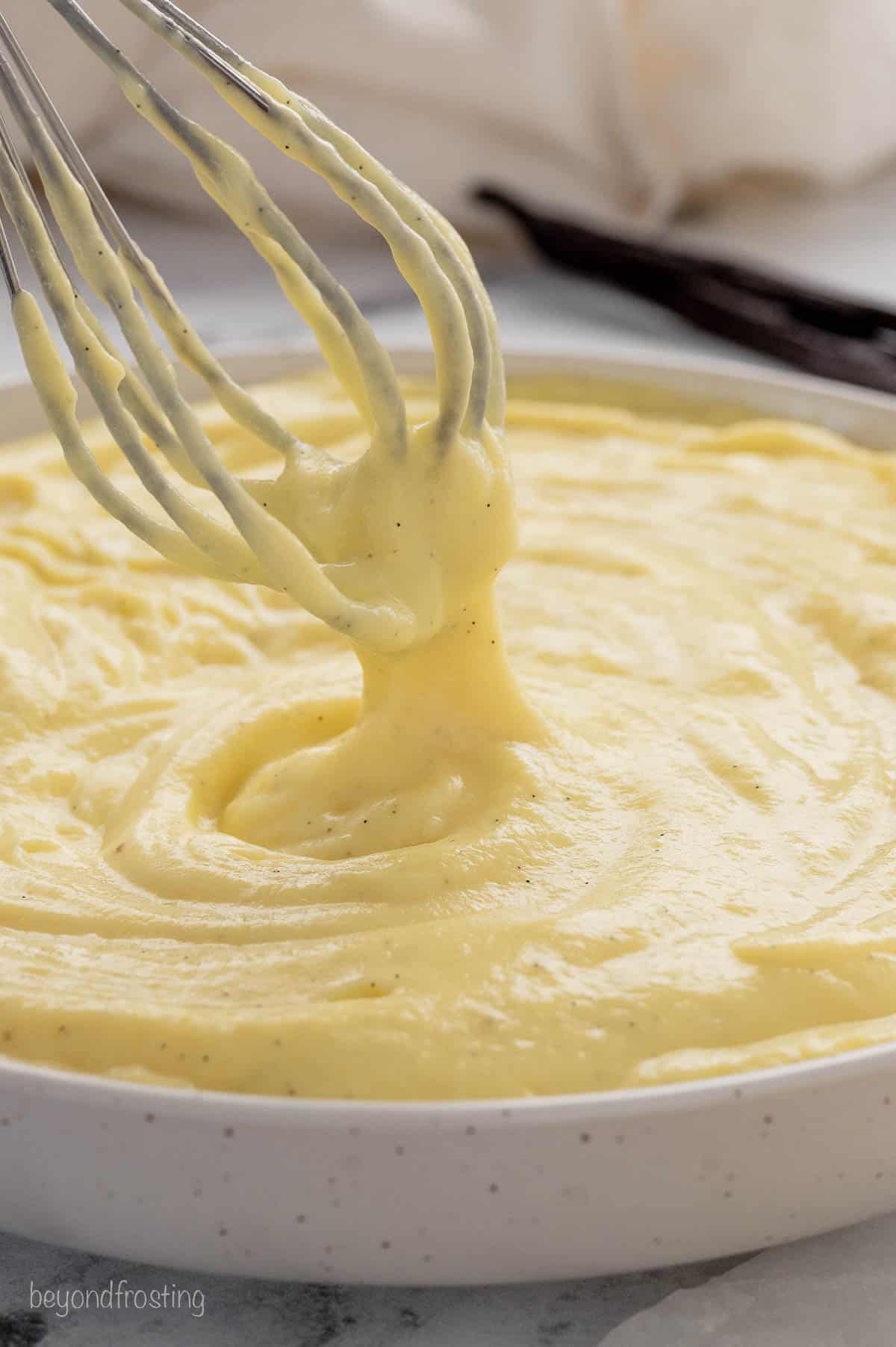 Pastry Cream Variations
Once you feel confident in making this basic version of pastry cream, the variations are endless. Play around with flavorings such as citrus zest, or melt finely chopped chocolate into the still-hot custard for chocolate pastry cream.
You can also try different infusions by steeping herbs like mint, spices, teas, or even coffee in the hot milk. Liquid add-ins, like honey, juices, or oils can be offset by using a little extra cornstarch in the custard.
Make a lighter cream, a.k.a. crème légère, by folding Homemade Whipped Cream into your pastry cream. This lightened-up version is perfect for filling cream pies and cream puffs.
Ways to Use Pastry Filling
This homemade crème pâtissière recipe can be used to fill everything from cream puffs to eclairs, doughnuts, and fruit tarts (like my Meyer Lemon Pudding Tarts). It's also stiff enough to pipe into layer cakes, as a filling inside cupcakes, or to use in pies.
You can also use this thickened vanilla custard as a base for homemade pudding recipes.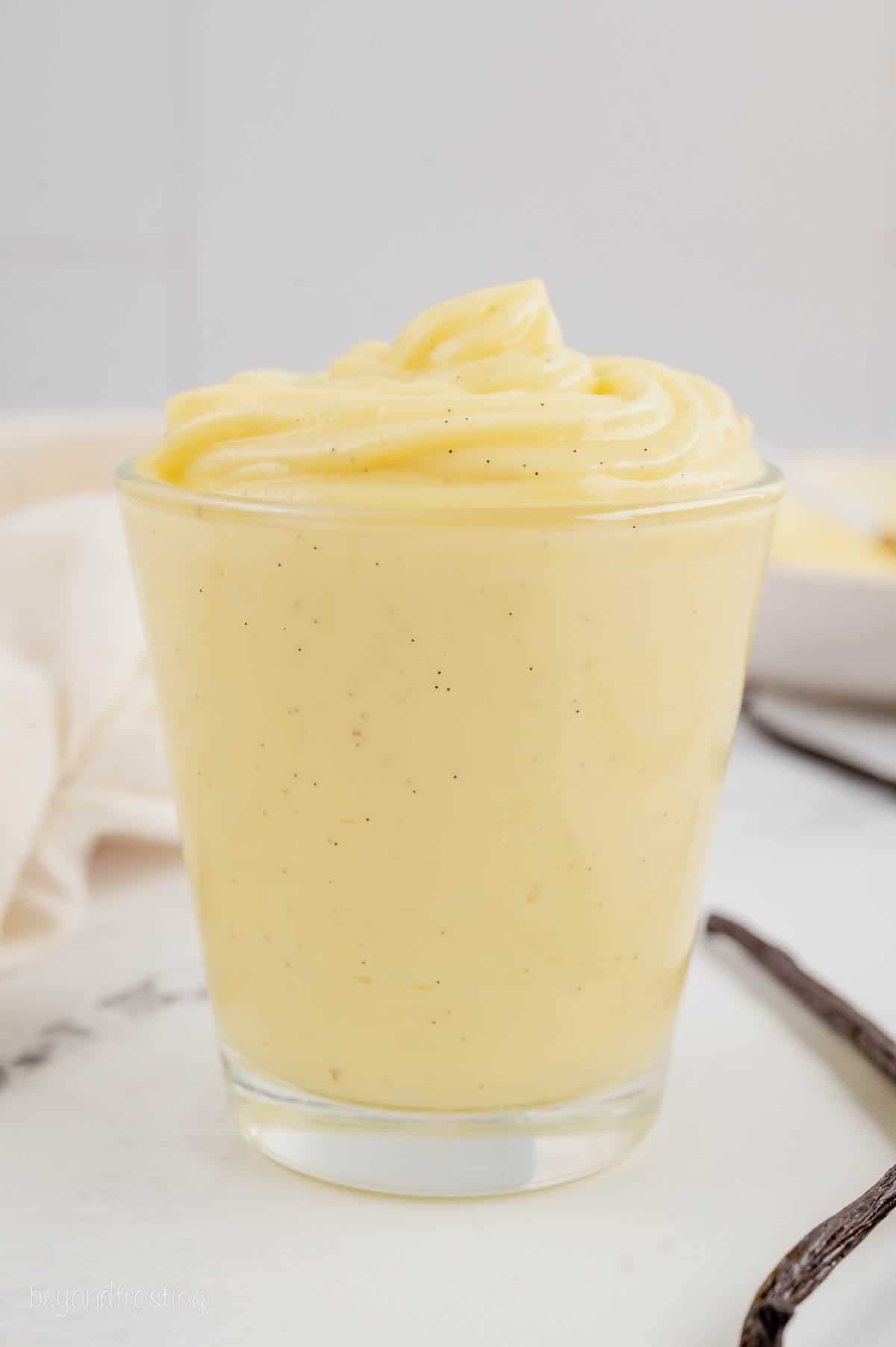 How to Store Pastry Cream
Store your pastry cream covered airtight, with a piece of plastic wrap placed directly overtop. Properly stored, it will keep in the fridge for up to 4-5 days. Remember to give it a fresh whisk before each use. Pastry cream can't be stored frozen as it tends to separate once thawed.
More Homemade Frosting and Filling
Print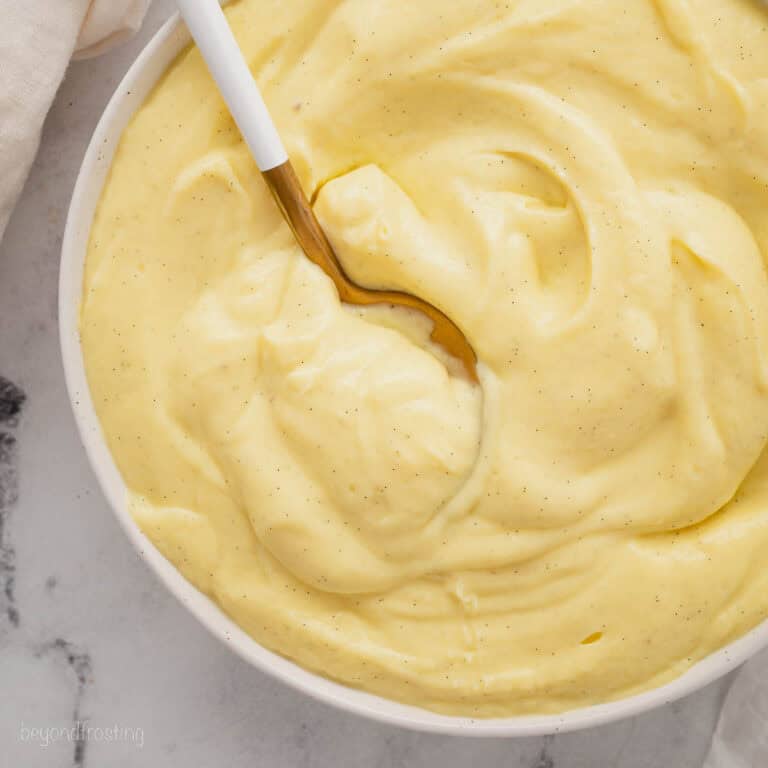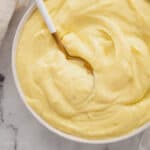 Pastry Cream (Crème Pâtissière Recipe)
Author:

Prep Time:

30 minutes

Chilling Time:

2 hours

Total Time:

2 hours 30 minutes

Yield:

2 ½ cups
Description
Thick, creamy, and smooth, this Vanilla Pastry Cream can be made in about 30 minutes. Use this recipe to fill your cream puffs, eclairs, doughnuts, or fruit tarts.
Ingredients
2 cups

(473ml) whole milk

1

vanilla bean, split down the middle

4

large egg yolks

½ cup

(

95g

) granulated sugar

2 Tablespoons

(

18g

) of cornstarch

¼ teaspoon

kosher salt

2 tablespoons

(

28g

) unsalted butter, cut into small cubes
Instructions
In a medium saucepan, bring the milk and vanilla bean to a simmer. Remove from the heat as soon as the milk starts to show bubbles around the edge of the pan, right before it hits a boil. Remove from the heat and let the milk and vanilla bean steep for 15 minutes.
Remove the vanilla bean and scrape the pods with the back of a small knife to remove any extra seeds and place them back into the milk. Return the steeped milk to the stove and bring it back to a low simmer, making sure not to boil.
While the milk warms, in a small bowl whisk together the egg yolks, sugar, cornstarch, and salt. Whisk this until the mixture becomes very thick and pale yellow and leaves a "trail" or " ribbon" behind when the whisk is dragged through it. This should take 1-2 minutes of vigorous whisking.
Next temper the egg yolks. When the milk comes to a simmer, turn off the heat and slowly pour half of the hot milk into the egg mixture in a steady and thin stream, while continuously whisking at the same time. Then gently whisk the egg mixture into the pan with the remaining milk.
Place this mixture over medium-low heat and whisk constantly until the mixture starts to burp big bubbles. Once your mixture starts bubbling, continue to cook for 60 seconds longer, and then immediately remove it from the heat and put it into a clean bowl.
Quickly stir in the butter until melted and combined with the cream mixture. Place this bowl into another bowl filled with ice water and gently stir around, making sure to not get any water into the pastry cream to help the mixture cool.
Once the cream is cooled to room temperature, place it into an airtight container and place a layer of plastic wrap directly on top of the pastry cream to keep skin from forming on the top. Cool completely in the fridge.
Notes
Storing: Pastry cream can be stored in a covered container in the fridge (with a piece of plastic wrap placed right on top of the cream) for up to 4-5 days. Just make sure to whisk it well before use. Pastry cream cannot be frozen, as it will leach out moisture when it thaws.
Vanilla Beans: You can use vanilla bean paste or if you don't have vanilla beans, you can simply add a teaspoon or two of vanilla extract to the pastry cream instead. Do this after it comes off of the stove when you add in the butter.
Category:

Dessert

Method:

Stovetop

Cuisine:

American
Keywords: pastry cream recipe, crème pâtissière, vanilla custard