This post may contain affiliate sales links. Please see my full disclosure policy for details
Make the best Apple Pie Filling to use in your favorite fall desserts, including homemade apple pie! This quick and easy stovetop recipe is made from tender cinnamon apples caramelized with brown sugar.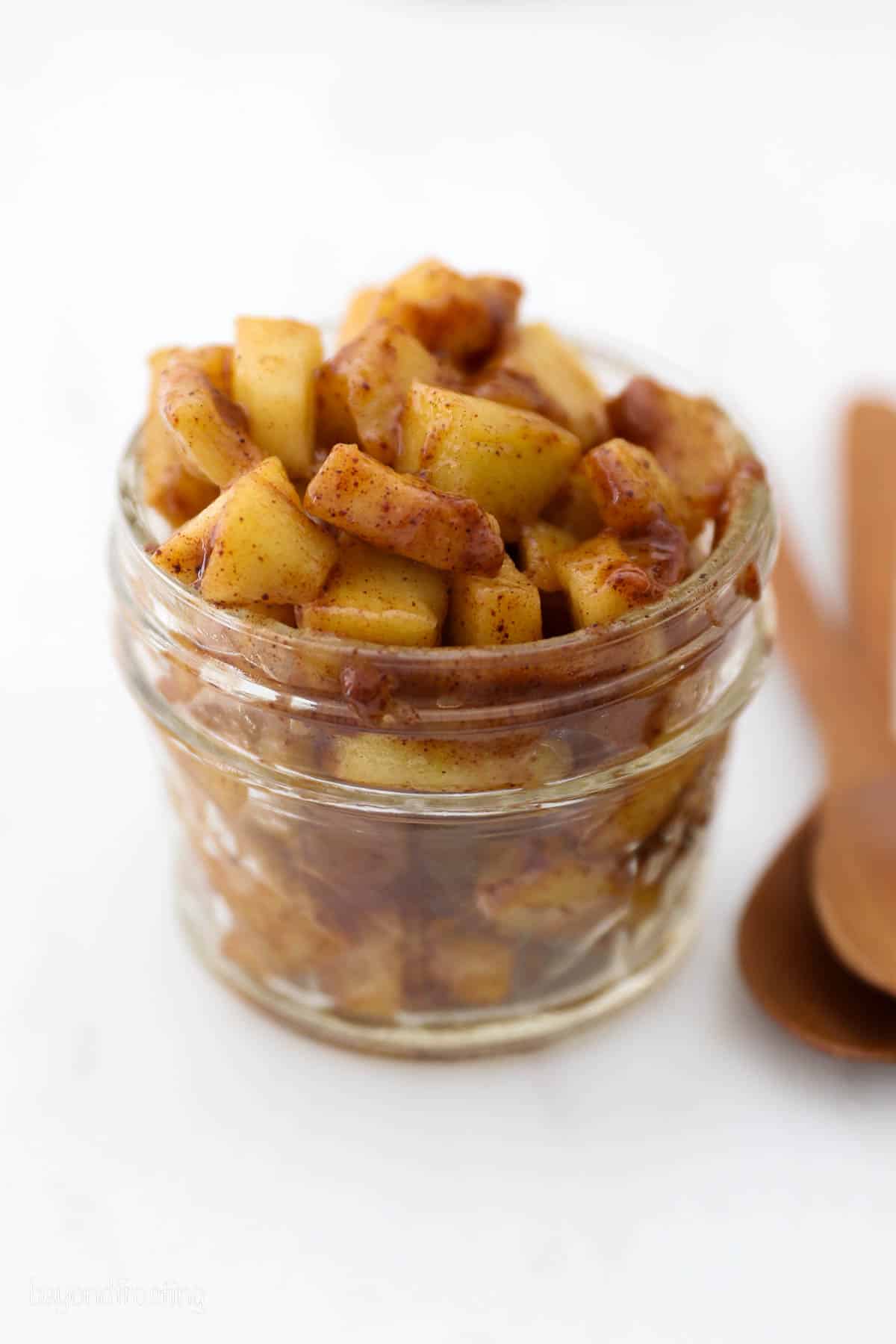 The Best Homemade Apple Pie Filling
In my family, fall is filled with memories of apple picking at our favorite orchard in Vermont. We'd come home with bushels of fresh apples (MacIntosh and Granny Smith were always my faves), and turn our bounty into all sorts of delicious desserts. Obviously, this includes apple pies!
I've been making this simple yet perfect homemade apple pie filling for eons, well before I started blogging. I've used this stovetop recipe in everything from classic apple pies to apple crumble pie, and many more apple desserts over the years. It's packed with sweet-tart apples tossed in warm cinnamon spice, with caramelized brown sugar and a touch of maple syrup for sweetness.
Why You'll Love This Apple Pie Filling Recipe
You don't need to wait until the fall to enjoy this delicious homemade apple pie filling. I have so many recipes that use these sweet cinnamon apples because, quite frankly, I am obsessed. Here's why you'll be, too:
Simple to make. With only 6 ingredients, this pie filling is so easy! All you need is peeled and diced apples, a few seasonings, and a saucepan to cook with. It all comes together quickly on the stovetop.
Perfectly tender. These spiced apples turn out soft and buttery (not mushy) and hold up perfectly in pies, tarts, muffins, and more. You'll never want to buy canned apple pie filling again.
Sweet and fragrant. Disclaimer: your house will smell incredible. Caramelized brown sugar balances the tartness of the apples in this apple pie filling, with plenty of cozy spice. I drizzle in some maple syrup for added sweetness. It's nearly impossible not to sneak a bite!
Ingredients You'll Need
You can count the ingredients for these tender cinnamon apples on one hand. Find an overview here, and be sure to scroll to the full recipe below the post for the full amounts and details.
Apples – Choose your favorite sweet-tart baking apples or a combination of apples (see below).
Lemon Juice – A squeeze of fresh lemon keeps the apples from browning too quickly, and it also gives the pie filling a nice hit of acidity.
Brown Sugar – Adds depth of flavor and caramelizes the apples in the pan. I like the extra richness of brown sugar, but white granulated sugar will also work.
Spices – I load up my apples with plenty of cinnamon. You can also use pumpkin pie spice, or a combination of spices, like nutmeg and cloves.
Maple Syrup – My secret weapon and one of my favorite fall ingredients. Real maple syrup adds a touch of sweetness while also helping to caramelize the apples.
What Kind of Apples Are Best for Pie Filling?
I recommend a firm, crisp baking apple, like Granny Smith, Gala, Fuji, or MacIntosh apples. These varieties hold up well in the heat and won't turn mushy once they're baked. Feel free to use a combination of different apples to give your filling more texture and flavor.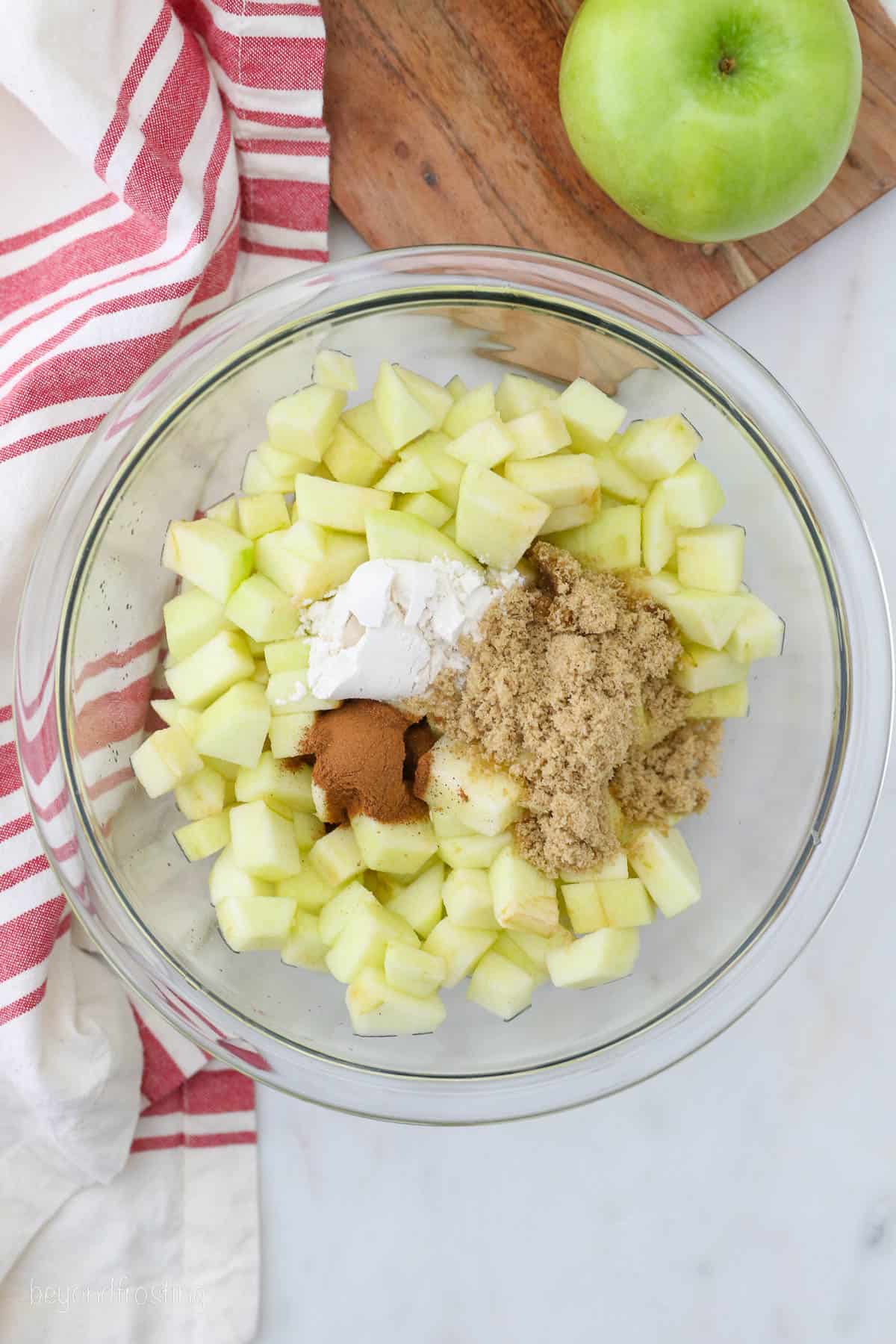 How to Make Apple Pie Filling
Making the best apple pie filling from scratch is a simple, 3-step process on the stovetop. All you need is a saucepan! Here's how to make your pie filling:
Prepare the apples. First, peel and dice your apples into bite-sized pieces, then toss them with lemon juice right away. The acidity in the juice helps prevent the apples from browning.
Combine. Next, whisk together the brown sugar with flour and cinnamon. Add the apples and toss to coat, and finally, pour over the maple syrup.
Cook. Add your cinnamon apples to a saucepan on the stovetop and then let them cook, stirring often, for about 15-20 minutes. If the apples become too sticky or dry, add a spoonful or two of water to help loosen the caramel sauce. Once the apples are softened, take the pan off the heat and let them cool.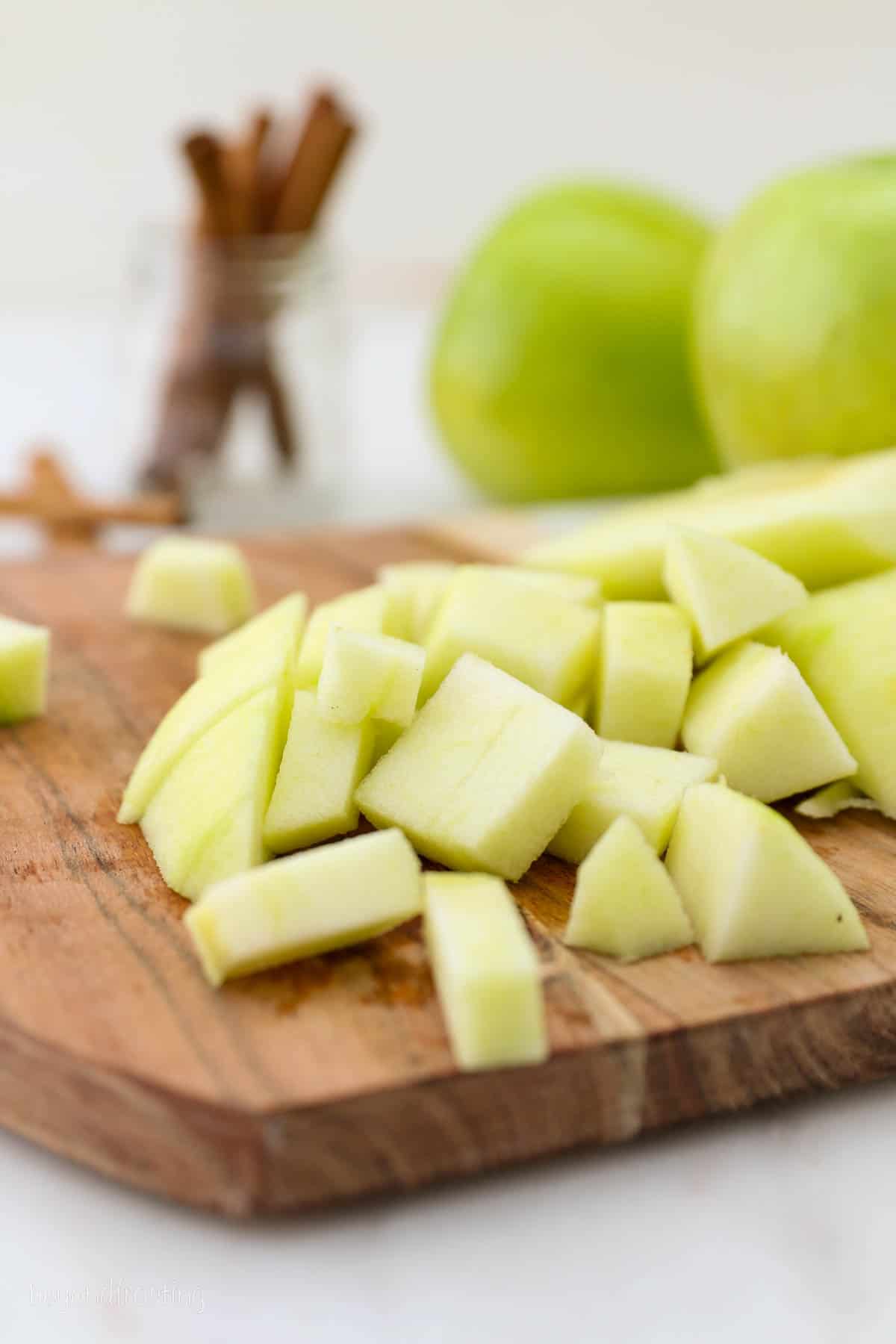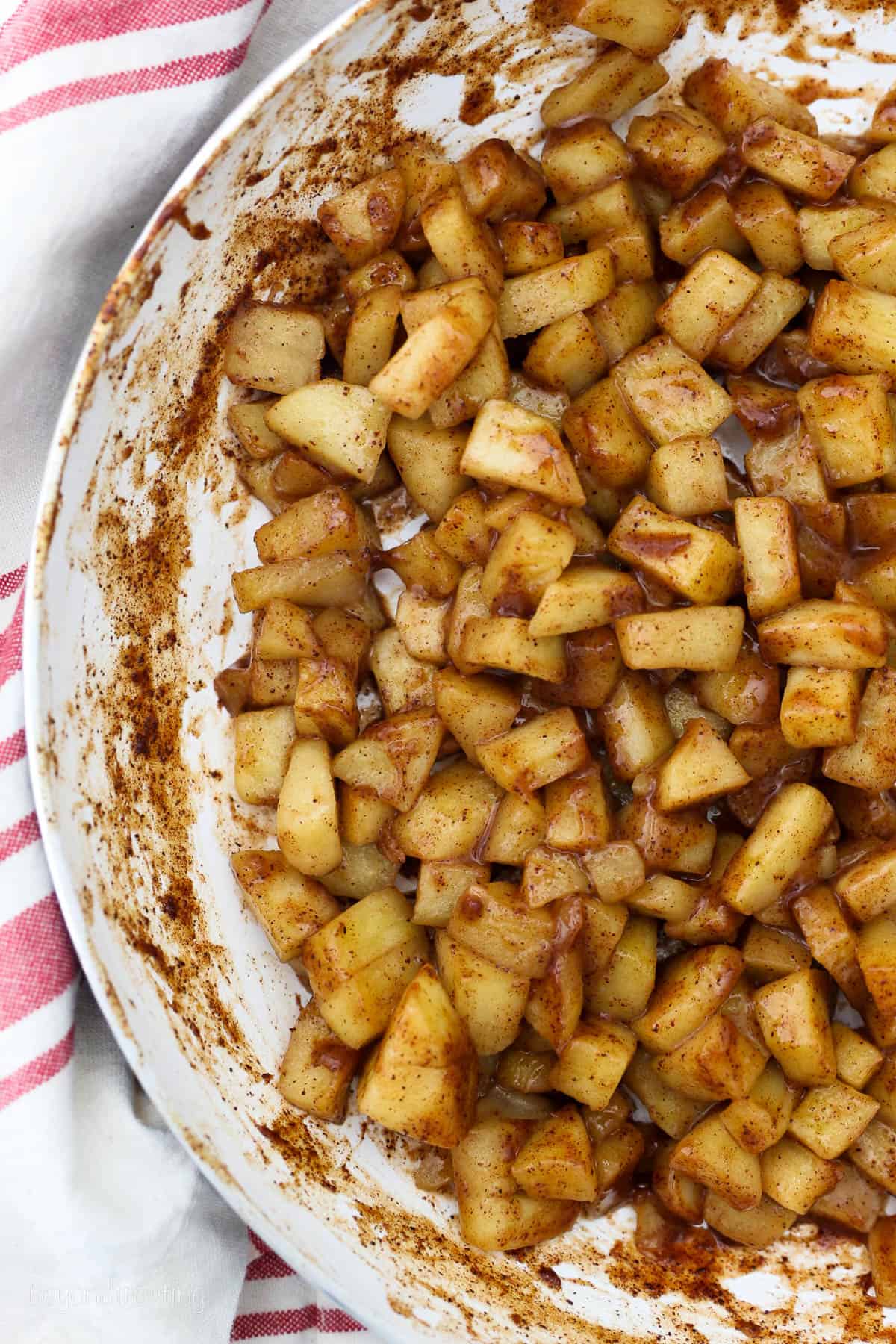 Tips for Success
Keep these finalt tips and variations in mind when making your stovetop apple pie filling:
Cut the apples into same-sized pieces. This way they'll cook evenly. You can choose to cut your apples into slices or dice them, whichever you prefer.
Keep stirring the apples. Every saucepan heats differently, so don't forget to stir the apples frequently while they're cooking. If you notice that the filling is sticking, add a splash of water, and turn down the heat as needed.
Double the recipe. I love making a big batch of apple pie filling. I'll use some right away and then freeze the rest for future desserts. It's easy to double this recipe. Use 5 apples instead of 3, and double the rest of the ingredients.
Add more flavor. Stir a few drops of vanilla extract or rum extract into the apples at the very end to deepen the caramelized flavors.
Common Questions
Should I cook apples before putting them in a pie?
Yes! In fact, precooking the apple pie filling is the secret to a perfect apple pie. You'll get just the right amount of sweetness and your pie is less likely to become soggy. It also avoids the dreaded "gap" between the filling and the top crust that can happen when fresh apples cook down.
How do I thicken apple pie filling?
This is where a thickener, like flour, comes in. If your pie filling is too thin, consider whisking in additional flour. If you're making this recipe gluten-free, use cornstarch instead. Cornstarch will thicken the filling more than flour will, however, so go sparingly.
Why did my apple pie come out runny?
This could be because your apples were overripe, your pie filling was too thin, or because the pie was too hot when you sliced it. Make sure that your filling is thickened enough, and give your pie enough time to set after baking.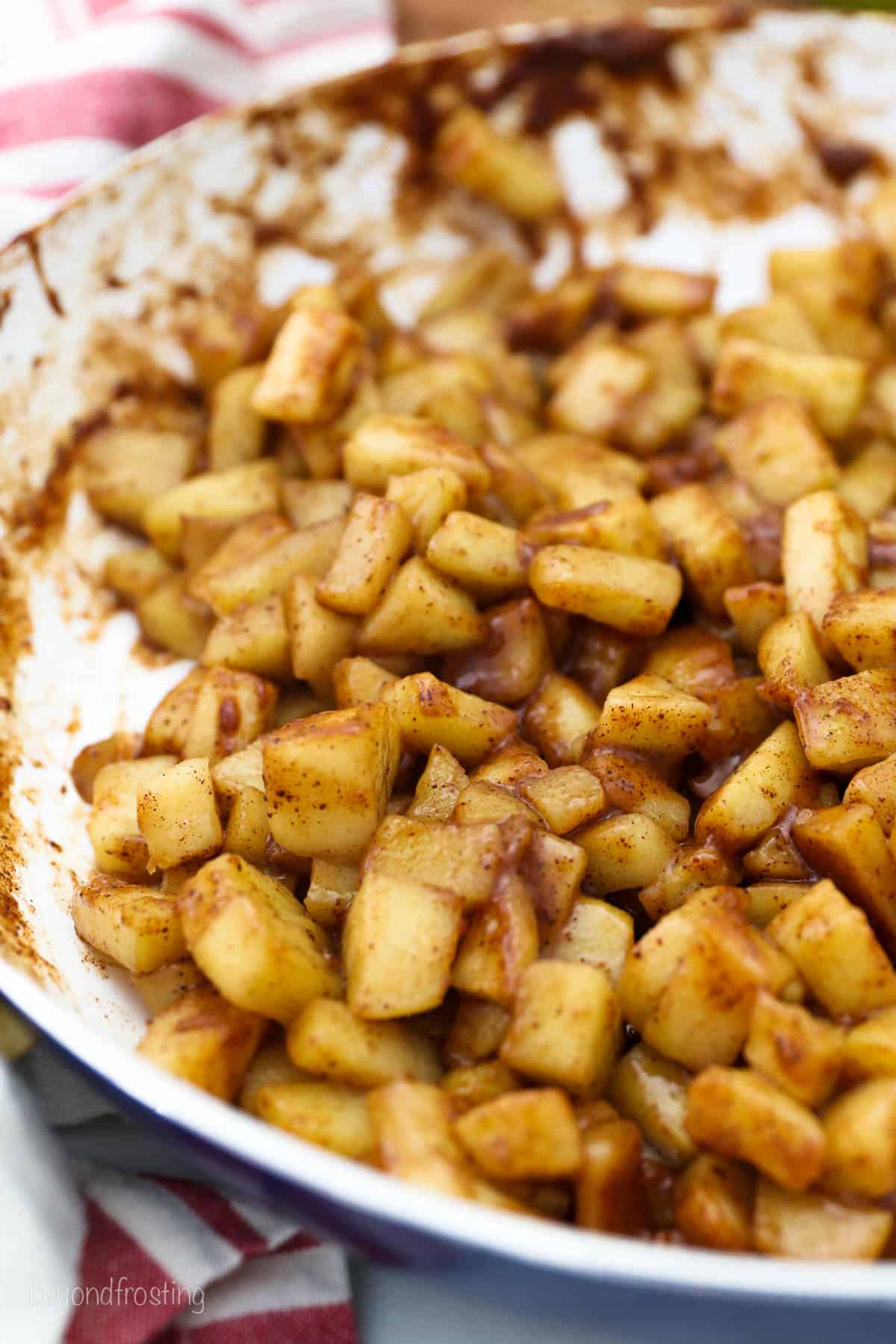 Ways to Use Apple Pie Filling
Of course, you can use this pie filling to make easy homemade apple pie or another yummy variation like apple blueberry pie. It's also easy to get creative! There are so many ways to use this rich stovetop apple pie filling that go beyond actual pie. Just take my apple pie dessert pizza, for example! This apple pie filling is the perfect addition to loads of fall desserts. Here are more ideas: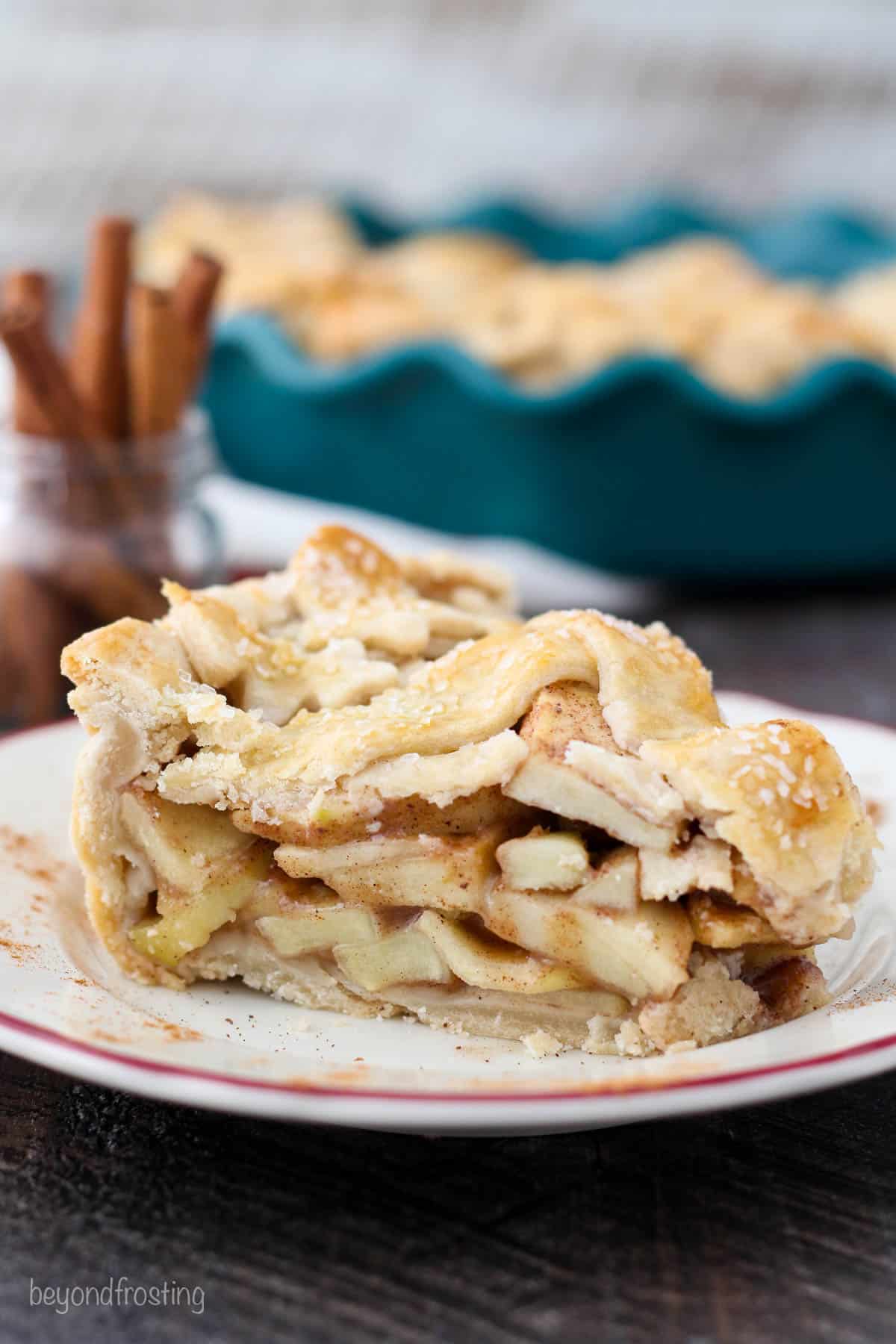 How to Make Ahead and Store
Homemade apple pie filling is easy to prepare ahead, and stores well. Store leftover apple pie filling airtight in the fridge for up to 3 days.
Can I Freeze Homemade Apple Pie Filling?
Absolutely. Make sure that the pie filling is completely cooled before freezing. Store the apples airtight in a container or freezer bag with the air pressed out, and keep them frozen for up to 3 months. Defrost the apple filling to room temperature before you use it, and keep any leftovers in the fridge.
More Apple Desserts
Print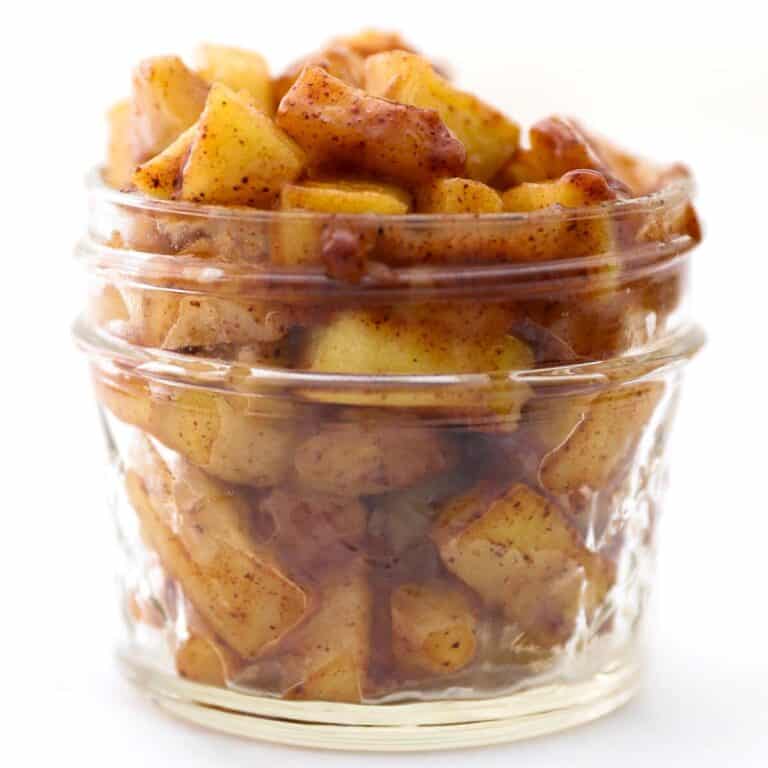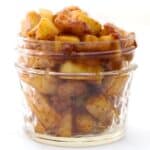 Apple Pie Filling Recipe
Author:

Prep Time:

10 minutes

Cook Time:

15 minutes

Total Time:

25 minutes

Yield:

3 cups
Description
This Homemade Apple Pie Filling recipe is quick and easy, with only 6 ingredients! Made from sweet cinnamon apples caramelized right on the stovetop.
Ingredients
3

medium apples, peeled and diced

1 tablespoon

(15ml) lemon juice

1 tablespoon

(15ml) maple syrup

2 tablespoons

(

28g

) light brown sugar, packed

1 tablespoon

(

9g

) all-purpose flour

1 teaspoon

ground Cinnamon

2 tablespoons

(15ml) water
Instructions
Peel and dice the apples into small pieces (about the size of a dime) and squeeze a lemon over top and stir to combine.
Combine the dry ingredients and then toss together with the apples until fully coated. Pour the maple syrup over top and gently stir.
Heat apples on the stove over medium heat for 15-20 minutes until soft. Stir occasionally. You want the apples to be soft. If the apples are sticking to the pan add 1-2 tablespoons of water to the saucepan as needed. Set aside and allow to cool, refrigerating if necessary.
Equipment
Notes
If you need a large batch, use 5 apples and double all the dry ingredients!
Category:

Dessert

Method:

Stovetop

Cuisine:

American
Keywords: apple pie filling, apple pie filling recipe, how to make apple pie filling, stovetop apple pie filling