This post may contain affiliate sales links. Please see my full disclosure policy for details
This Reese's Peanut Butter S'mores Dip is made with layers of peanut butter eggless cookie dough, crunchy graham cracker crumbs, and toasted marshmallows.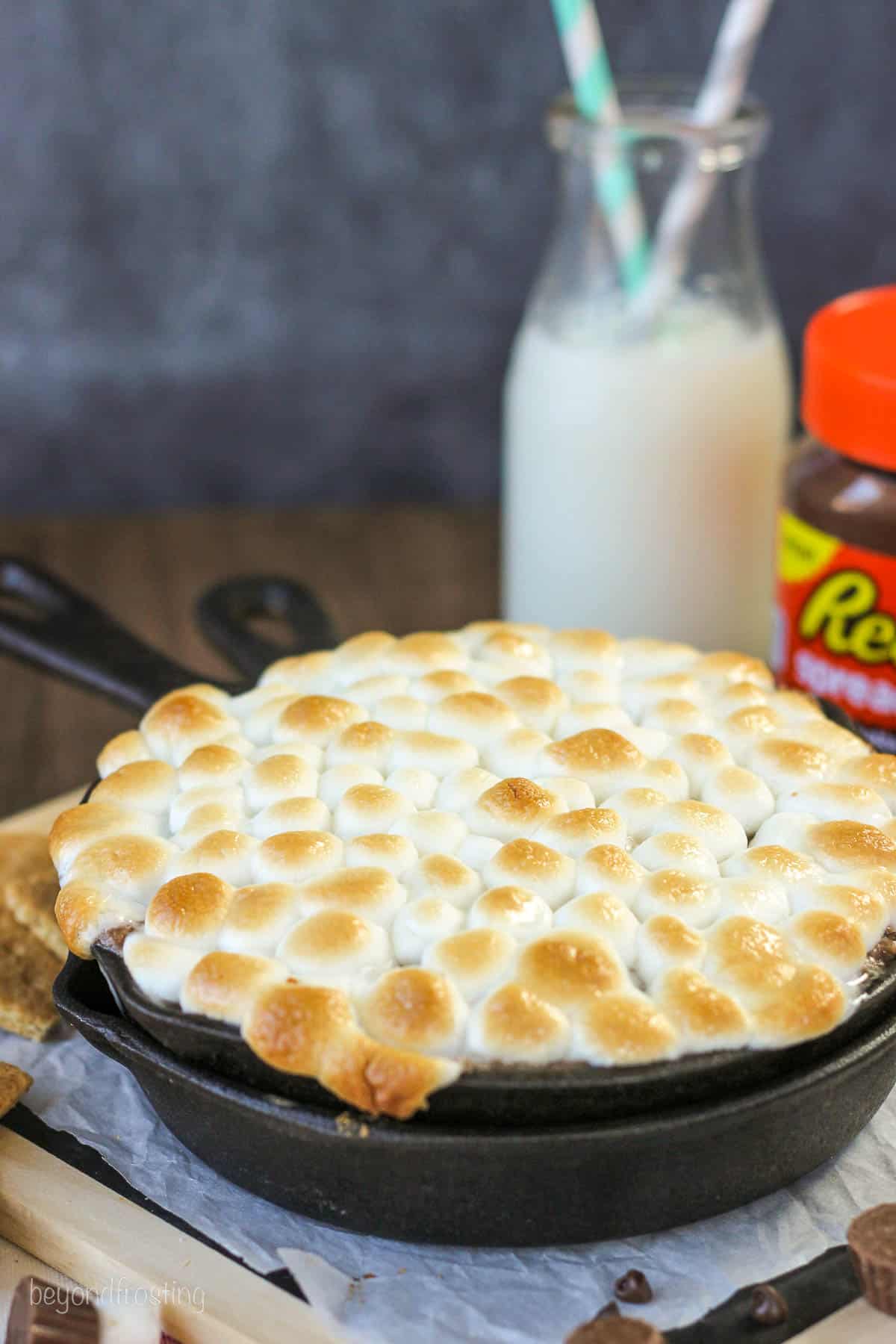 When things like Reese's Peanut Butter Cups are combined with cookie dough and topped with melty mini marshmallows, you get this fabulous explosion of flavor. This Reese's Peanut Butter Cup S'mores Dip needs to be in your dessert rotation.
Last summer, my friend Lindsay and I decided to host a cookie dough week, and one of the things I made for cookie dough week was a Cookie Dough Smore's Dip. Since it's been FOREVER since I shared a cookie dough recipe (p.s. what was I thinking?), I thought it was time to change that.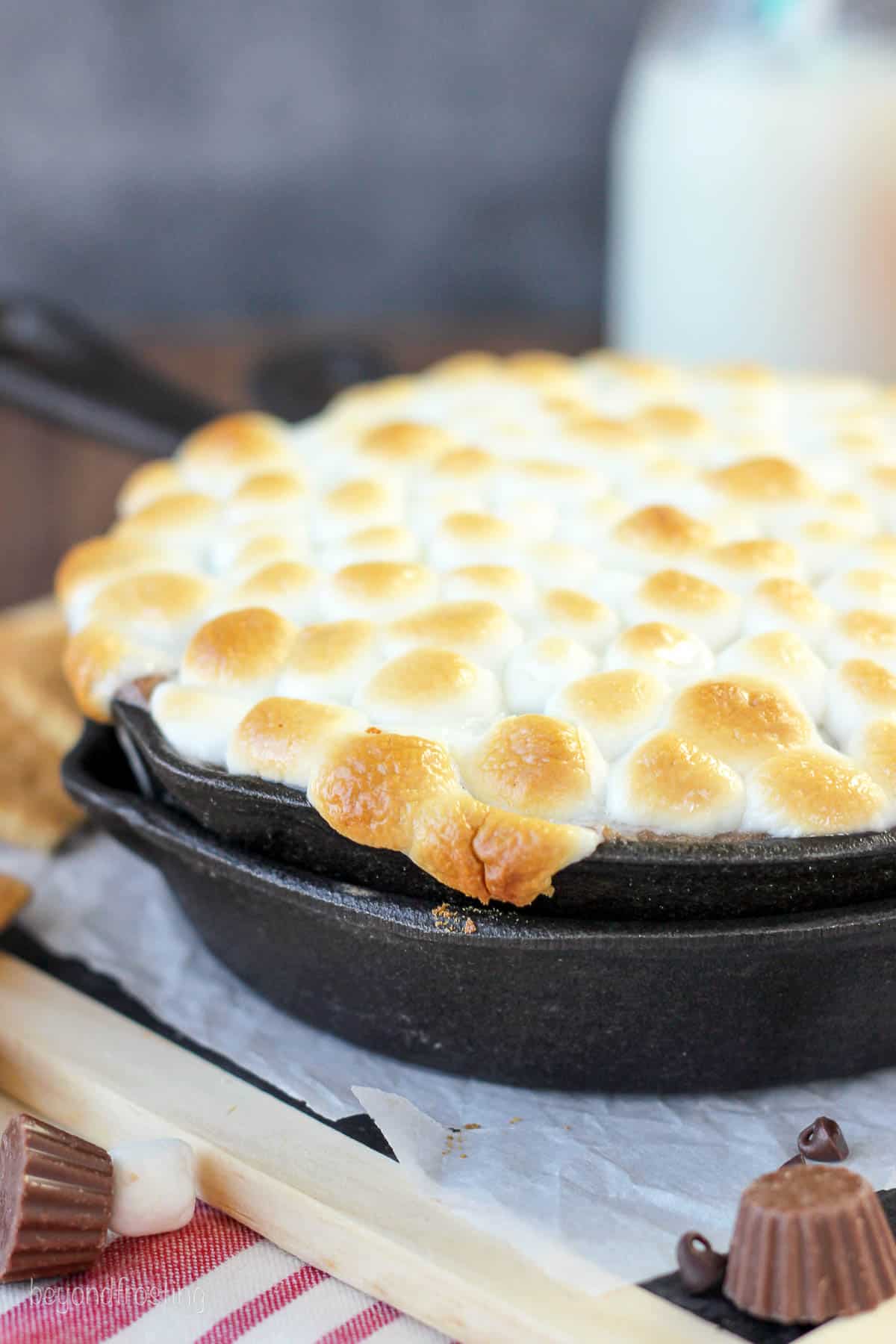 I've been thinking about this peanut butter and chocolate S'mores dip for awhile. I knew I wanted to have a chocolate cookie dough base with chunks of peanut butter cups, but I wasn't sure how exactly I was going to make the cookie dough. Then Reese's Chocolate Peanut Butter Spread came into my life, which is just down right insane. It basically tastes like the inside of a peanut butter cups, but it is spreadable like peanut butter. I mean COME ON. Does it get better than that? Sorry Nutella.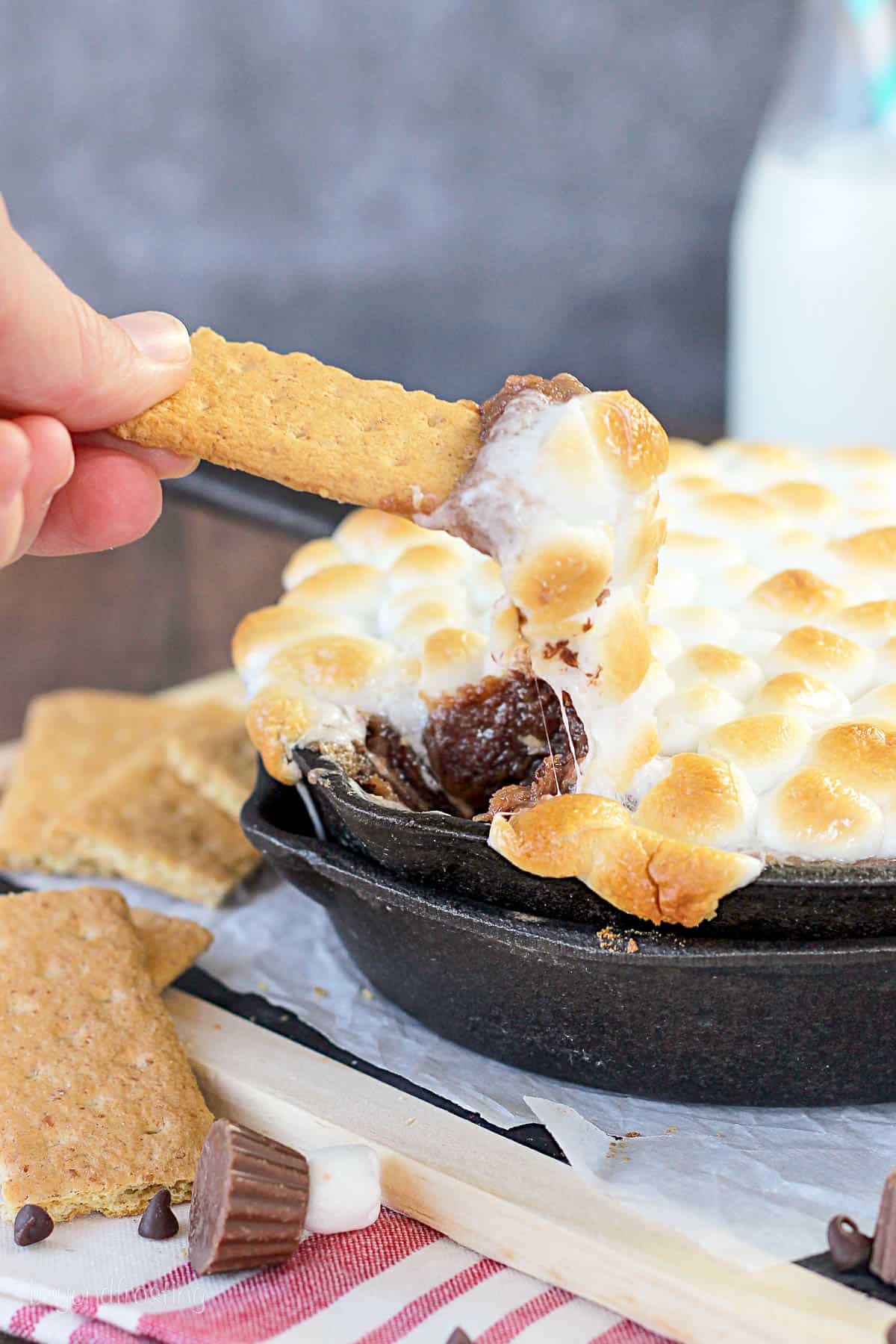 Alas, I knew that I would make my cookie dough with the Reese's Spread, and I would get the peanut butter chocolate flavor I was looking for. Now this cookie dough is eggless, meaning that you do not need to bake it first. With just a few ingredients, this cookie dough comes together quickly.
To make the dip, you need a layer of crushed graham crackers on the bottom, then your layer of cookie dough and top it off with some mini marshmallows. I put all the ingredients in my mini skillet and then put it in a pre-heated oven until the marshmallows are toasted.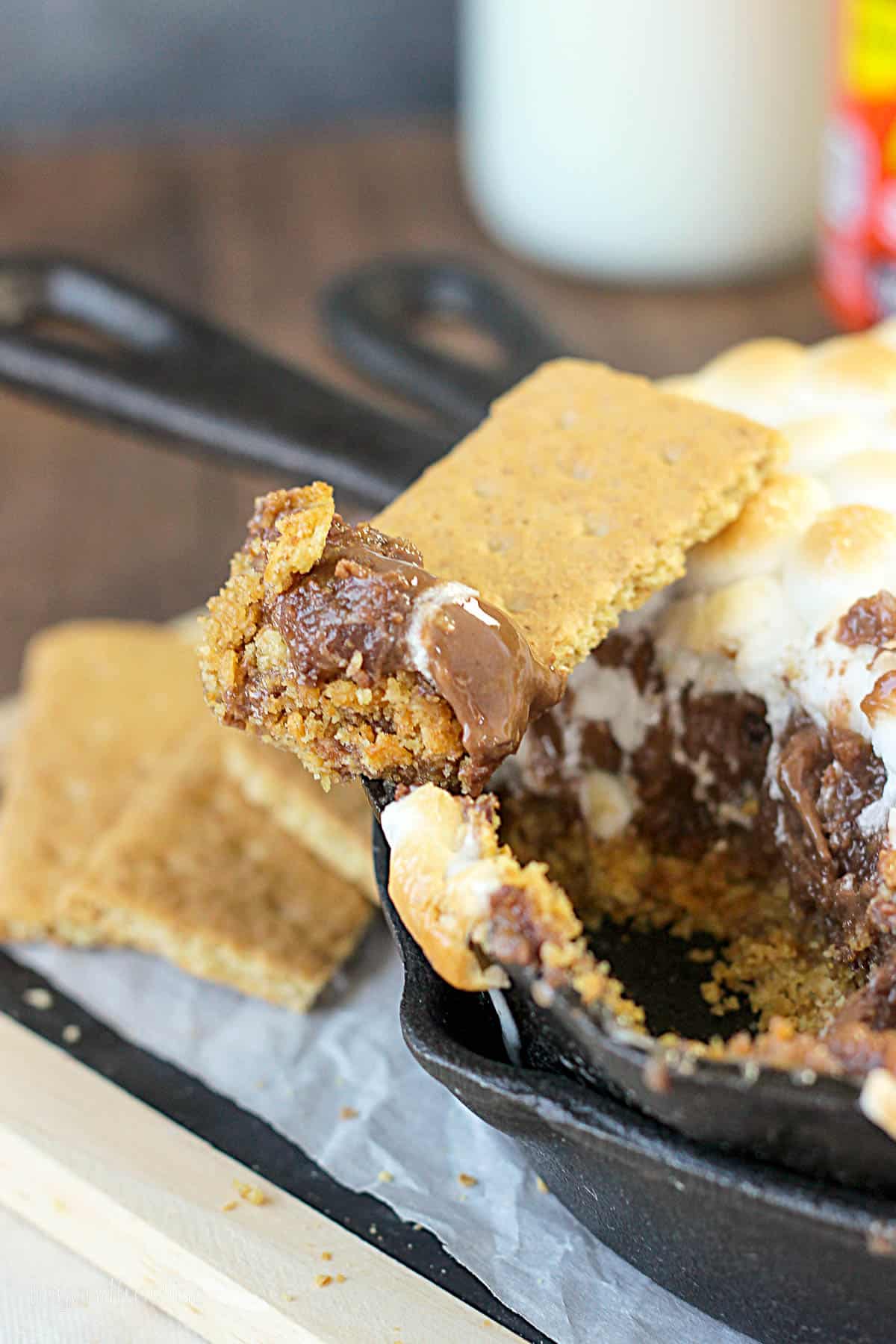 Wonderful things happen when the marshmallow are toasting. The chocolate chips in the cookie dough melt, so that every bite of this dip it literally ooey gooey goodness. Now you can also toast the marshmallows with a kitchen torch, but then there is nothing to melt the chocolate chips, and trust me when I say, you want the chocolate to be melted!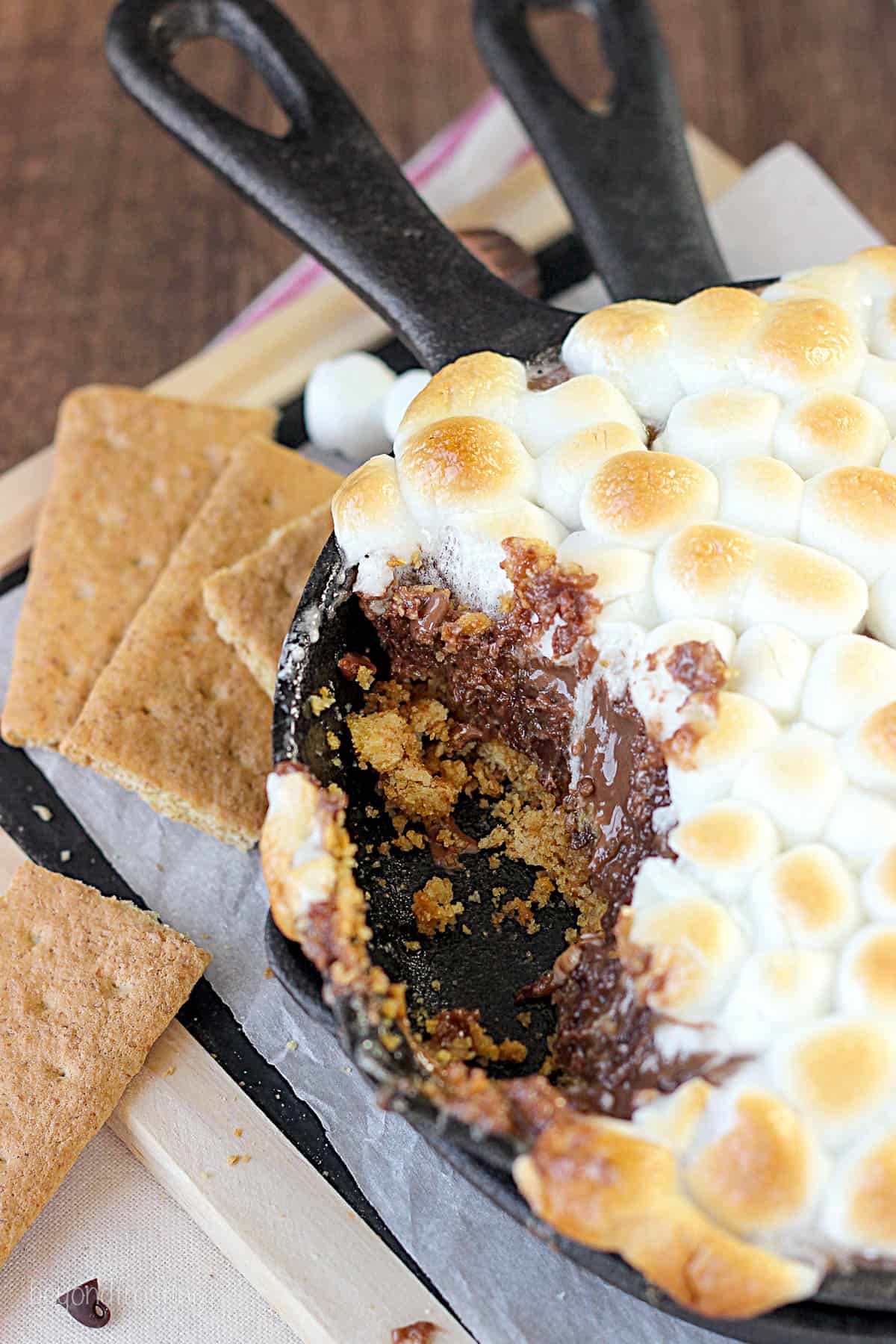 This dip is best served immediately after you make it. But if you need to prep it ahead of time, you can also refrigerate it and then throw it in the oven right before serving. This recipe was made in a 6" skillet, so it is meant to serve 4-6 people, depending on how hungry your friends are. You can easily make this in any oven-safe dish you have. Don't forget about the dippers! Choose your favorite chip or cracker to serve with this.
Print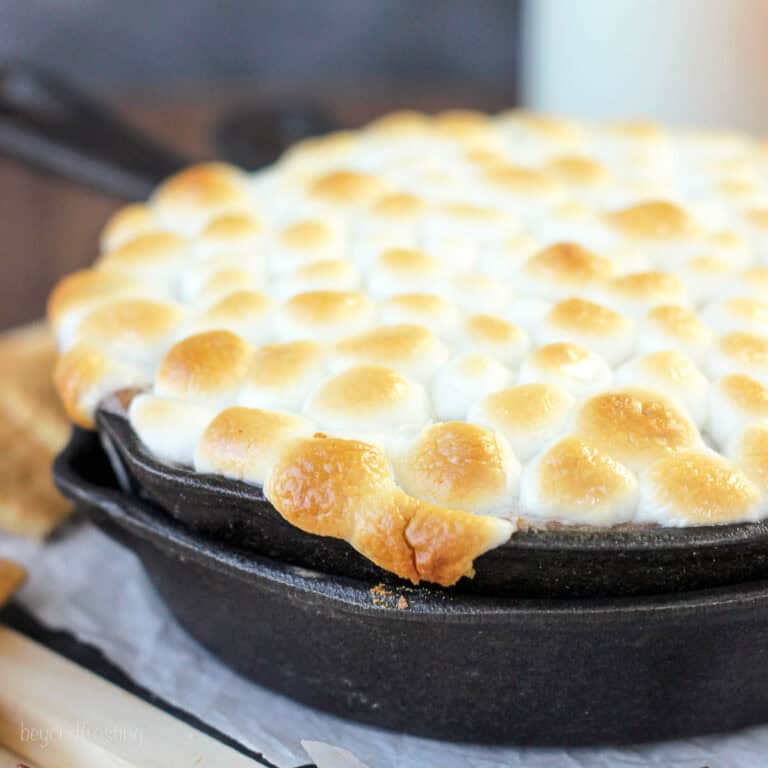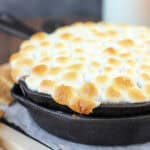 Reese's Peanut Butter Cup S'mores Dip
Author:

Prep Time:

20 mins

Total Time:

20 minutes

Yield:

4 Servings
Description
When things like Reese's Peanut Butter Cups are combined with chocolate, and then you throw in some cookie dough and top it with mini marshmallows, you get this fabulous explosion of flavor.
Ingredients
¼

C Unsalted butter

¼

C Reese's Peanut Butter Chocolate Spread

½

C Sugar

1

C Flour
Pinch of salt

2 tbsp

Vanilla extract

1

–

2

tbsp Milk

¼

C Mini chocolate chips

¼

C Reese's Minis

2/3

C Mini Marshmallows

½

C Graham crackers

2 tbsp

Unsalted butter
Instructions
Preheat oven to 425° F
Microwave butter for 15 seconds to soften.
Using a handheld mixer, beat butter on medium speed until soft. Add Reese's Spread and beat until smooth.
Combine sugar into mixing bowl. Beat until smooth. All chunks of sugar and butter should be broken up.
Add flour and salt and mix just until combined. Mixture will be crumbly.
Add vanilla extract and milk (1 tablespoon at a time) Mix until dough is soft.
Fold in chocolate chips and Reese's Minis.
If using whole graham crackers, use a food processor to grind into a fine crumb.
Melt butter in a microwave-safe bowl and mix with graham cracker crumbs. Pour graham crackers into the bottom of your skillet. Gently press into the bottom of the pan.
Spread cookie dough evenly and gently press on top of the graham cracker. Sprinkle additional Reese's Minis and then top with mini marshmallows.
Heat at 425° F for 10-12 minutes to melt the chocolate and toast the marshmallows.
Serve immediately with graham crackers or cookies.