This post may contain affiliate sales links. Please see my full disclosure policy for details
These Santa and Elves Donuts are made with Pillsbury Grands!® Biscuits, filled with a chocolate buttercream and decorated santa heads and elves.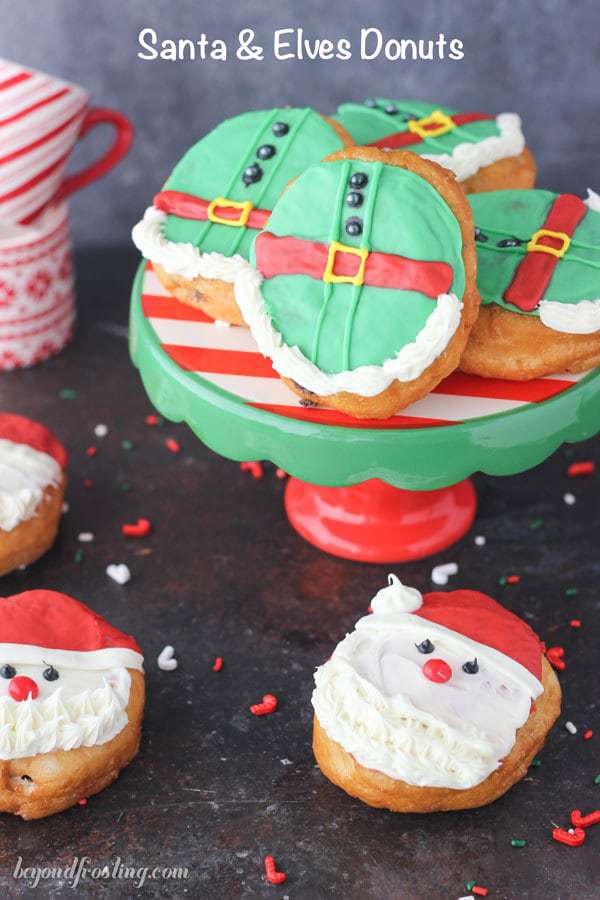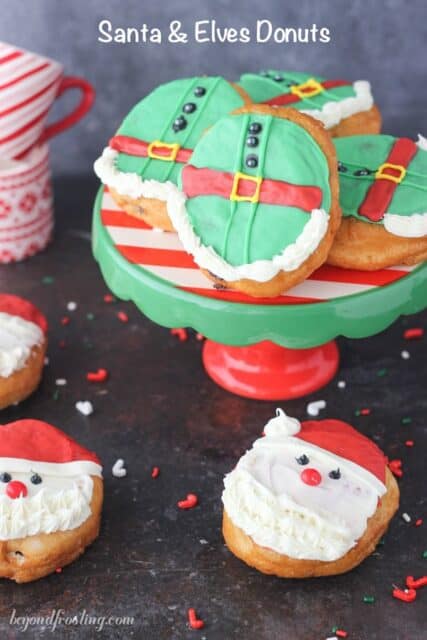 As we are closing in on Christmas, I am left wondering when I am even going to have time to do my Christmas shopping. Thus far I have sent out no gifts and definitely no cards. This is so unlike me, but I have just been so distracted lately. I seriously better get my act together because otherwise, my parents will have nothing to open on Christmas morning. Umm hi mom and dad, sorry in advance!
I am SO excited to be partnering with Pillsbury to share these Santa and Elves Donuts with you today. I don't make a whole lot of donuts around here, but these are just so cute and so dang fun! Normally I will make cinnamon rolls on Christmas morning, but I just might have to switch it up this year. They may look complicated, but I've made it easier than you think.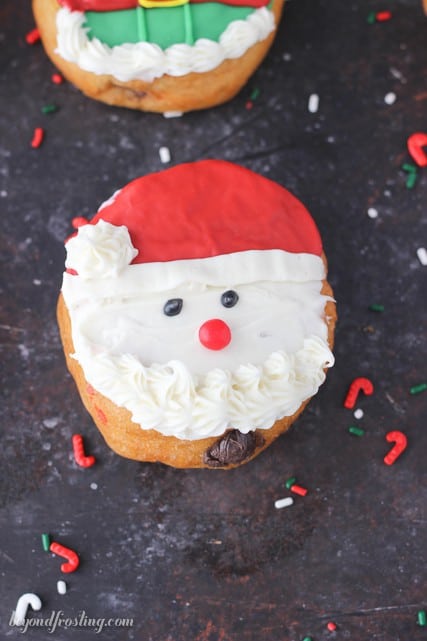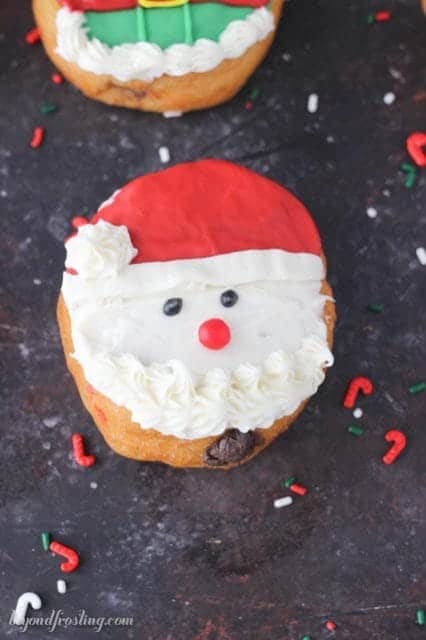 Prior to food blogging, I had no idea you could make donuts by using Pillsbury Grands!® Biscuits. Since I discovered this phenomenon, I have made a few variations of donuts including cookie dough stuffed donuts, donut French fries with maple bacon glaze, and even donut dessert nachos. However, I have never made a cream filled donut! That surprises me because Boston cream donuts are my absolute favorite!
The donuts are simple really. I use Pillsbury Grands!® Homestyle Original or Buttermilk Biscuits. Make sure not to use ones with flaky layers, they do not fry up as nicely. I heat about half a bottle of vegetable oil in a saucepan on the stove. I like to use a candy thermometer to be sure the oil stays around 360° F, which is optimal for frying donuts. It takes a while to heat up, and then I turn the temperature down if it gets too hot.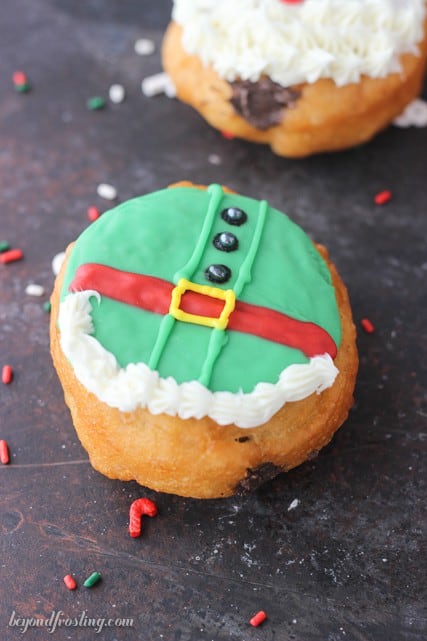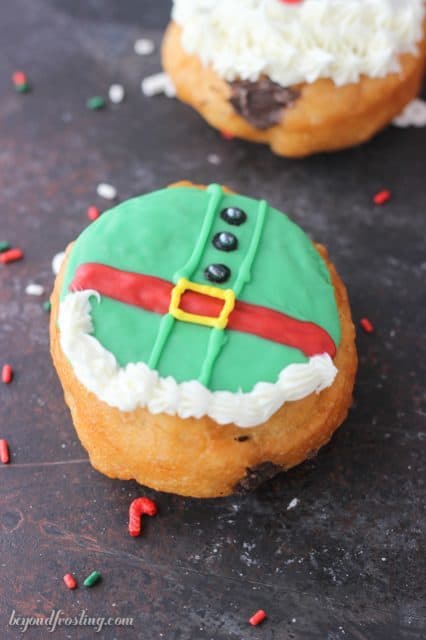 Once the oil is heated, I gently drop the Grands! into the oil. Just carefully remove the biscuits from the packaging and do not flatten. When they are golden brown, I remove them and dry them on a paper towel. They need to be completely dry and cooled before decorating. Some of your donuts might turn out more oval than round. Those are perfect for the elf donuts. The round ones are better for the Santa faces. I have included a full decorating tutorial in the recipe.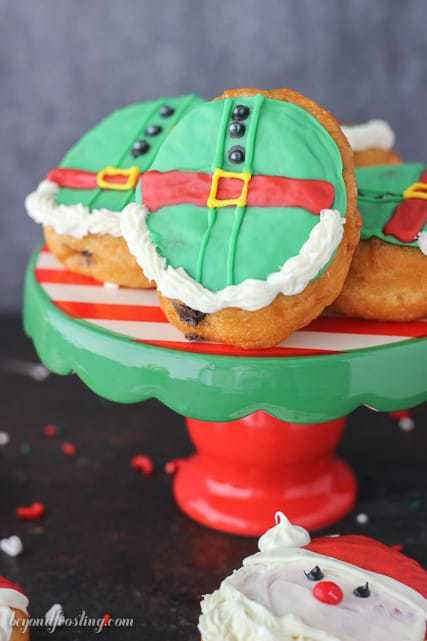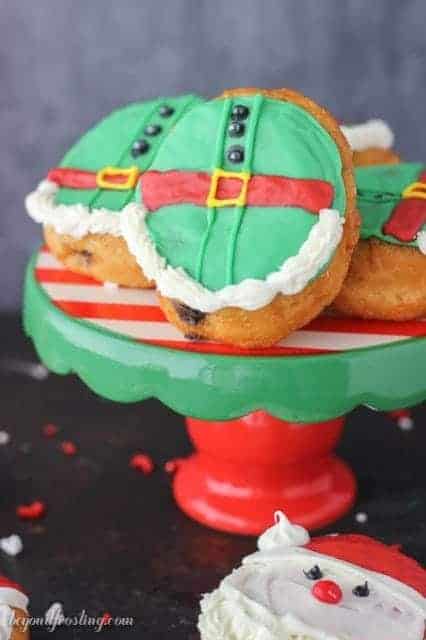 The filling for these donuts is a fluffy chocolate buttercream. I use extra heavy whipping cream and beat the filling with my whisk attachment on high for a few minutes to whip some extra air in it. Technically you don't NEED a filling, but who doesn't love a good filled donut (except jelly donuts- yuck!)? Feel free to substitute with a pastry cream or something like that for the filling instead.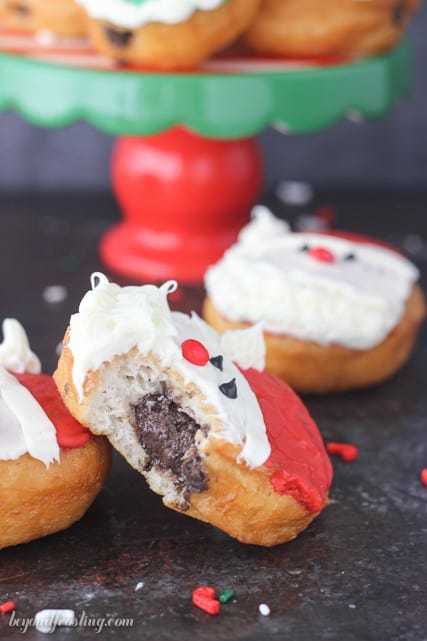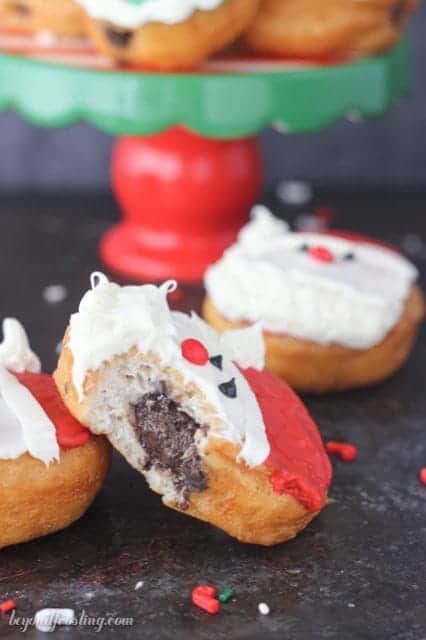 To fill the donuts, I stick the round end of a wooden spoon in the middle. Some of my donuts sunk a little bit in the middle, but I just used the end of the spoon to fluff them up and make a cavity in the middle of the donut. I used a piping bag to fill the donuts; it makes it super simple. I prefer to use a piping tip, something like TIP 18, or a round TIP to stick into the donut; it just gives the bag some structure. The donuts must be filled with buttercream before decorating.
I had so much fun decorating these donuts, and I am sure your kids would too. One of my favorite parts of the holidays as a child was all the fun baking and of course the extra sugar just seemed to be "allowed" around this time of year. I look forward to making these types of memories with my future family (when I decide to have one that is). For now, it's just yelling at my boyfriend from the kitchen to come look at what I am doing. HA! Or texting pictures to my food blogging friends, you know who you are.
Let's break down the different layers. The red and green base is a simple glaze made with powdered sugar, milk and vanilla extract. It will harden enough to pipe the decorations on top, but it stays soft in the middle. I made one batch of glaze and shared it between the two colors. You will have plenty of leftover glaze, but that's ok. It's always nice to have a little extra instead of running short.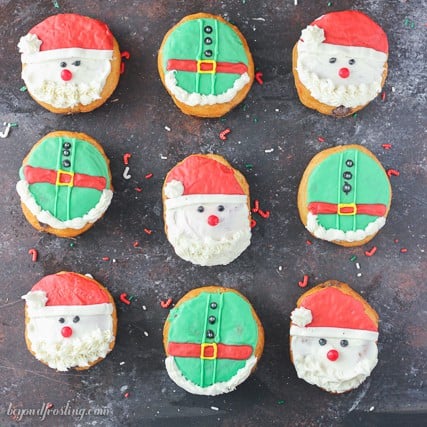 The white frosting is a Pillsbury vanilla frosting, which I also used for the color the yellow frosting. I just took about a tablespoon of frosting and mixed in some yellow food coloring. Here's the tutorial to decorate each donut. At the end of the day, the frosting was so easy to add on top, and quick too!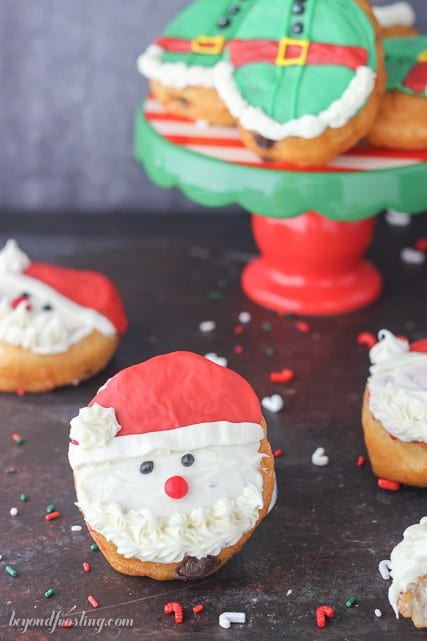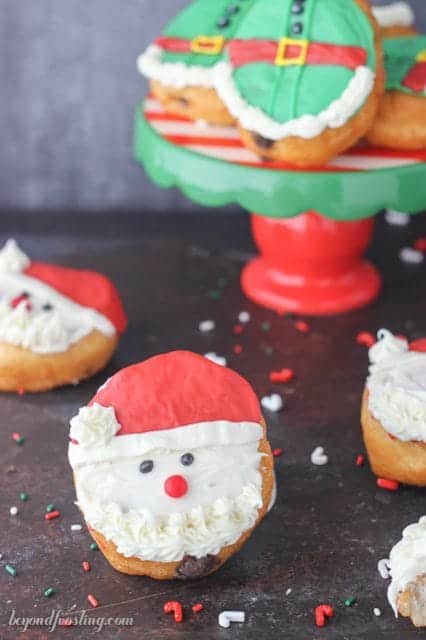 Sometimes it can be difficult to find all the ingredients you need. I often shop at Walmart for my baking items. I am fortunate to live near a pretty big Walmart that has a giant baking aisle packed with all sort of things I can't find at a regular grocery store. They also happen to have a huge selection of Pillsbury products. I can never get out for under $100. I was able to find everything I needed for these donuts (including the materials to decorate these) at Walmart.
I love love love these donuts. Mostly because I hardly ever do really cute desserts and I was so impressed with myself. Yea, I said it.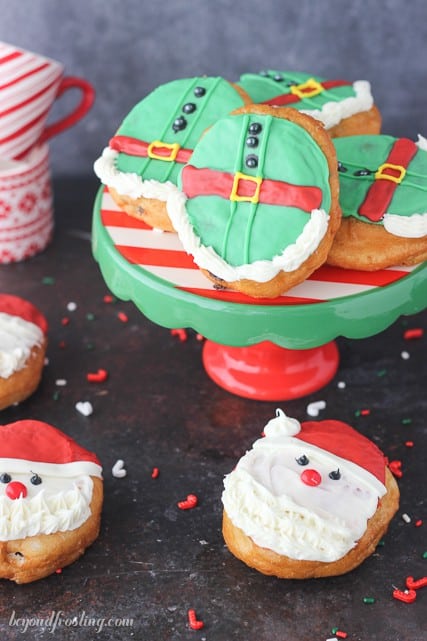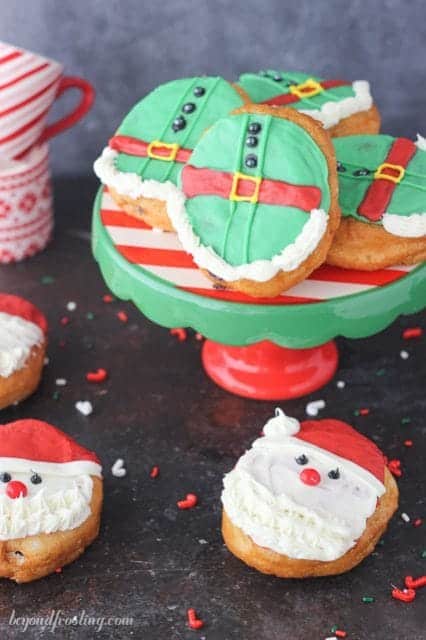 This is a sponsored conversation written by me on behalf of Pillsbury. The opinions and text are all mine.
Keep up with all the happenings. Follow Beyond Frosting:
Facebook | Twitter | Pinterest | Instagram
Print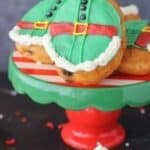 Santa and Elves Donuts
Author:

Prep Time:

1 hour

Cook Time:

3 mins

Total Time:

1 hour 3 minutes
Ingredients
For the donuts:

1

bottle Vegetable oil (

48 ounces

)

2

pkgs Pillsbury Grands! Homestyle Biscuits (

8

biscuit count)
For the filling:

½

C Unsalted butter

2

C Powdered sugar

2 tbsp

Cocoa powder

1 tsp

Vanilla extract

2

–

3

tbsp Heavy whipping cream
For the glaze and decorations

2

C Powdered sugar

2

–

3

tbsp Heavy cream (or milk)

1 tsp

Vanilla extract

1

can Pillsbury vanilla frosting
Red, Green, Yellow food coloring
Instructions
For the donuts:
In a medium-sized saucepan, pour about 3 inches of oil. Heat oil over medium heat until it reaches a temperature of 360°F. Caution! Oil will be extremely hot! Reduce heat as necessary to prevent oil from over heating. Check oil periodically when frying donuts to maintain temperature.
Fry donuts two at a time for about 30 seconds per side. Flip again and fry an additional 15 seconds per side until lightly golden brown. Use metal tongs to remove from donuts from oil, tapping gently on the side of the saucepan to remove excess oil. Place on a paper towel lined plate and allow to cool completely.
Use the round end of a wooden spoon and insert into the middle of the donut. Gently move the spoon back and forth to create a crevasse for the filling in the middle of the donut.
For the buttercream filling:
Soften butter in a microwave for 15 second. Using your whisk attachment, beat butter on medium-high until extra light and fluffy (about 3-4 minutes), scraping down the sides of the bowl occasionally.
Slowly add powdered sugar, alternating with heavy cream to prevent frosting from becoming dry and crumbly. Add cocoa powder and vanilla extract. Once all ingredients have started to blend together, increase the speed to medium-high. Beat at medium-high for 3-4 minutes to whip extra air into the filling. Fill piping bag with buttercream.
The donuts must be filled with buttercream before decorating. To fill the donuts, stick the round end of a wooden spoon in the middle and move around to create a crevice. Use a piping bag to fill the donuts. I prefer to use a piping tip, something like TIP 18, or a round TIP.
For the glaze:
If you can, sift powdered sugar in a small bowl. Add heavy cream, one tablespoon at a time, and vanilla extract until glaze is thick but still runs off your spoon. You may need to add additional milk. Divide glaze into two bowls. Dye one red and one green. Fill a small piping bag with a coupler and tip #3. Set aside.
To decorate:
For the elf donuts:
To glaze the donut, use a piping bag with a coupler and a #3 size tip. Start by outlining the edge with green. Then go along the inside edge a couple times and fill the middle like you would flood a cookie with royal icing. Spreading it gently with a knife if needed. A toothpick also works to fill in any gaps. Just wiggle the toothpick around to move the frosting. Allow the glaze to harden over the top.
To decorate, first pipe the belt with red glaze using a piping bag with a #3 tip. I pipe the outline and then filled the middle. Make the vertical green lines about ½" apart. Once those have dried, add the yellow belt buckle on top. Gently place black sugar pearls above the top of the belt buckle. For the white boarder, pipe with Pillsbury vanilla frosting using a piping bag with a #18 tip.
For the Santa donuts:
Pipe the top third of the donut with red glaze. You should make a half-moon shape. Allow the glaze to harden over the top. Use a flat edge of a knife to spread the white frosting on the bottom of the donut for the face. It's okay if there is a small gap in between the white and the red because you are going to cover it with white frosting using your #47 piping tip (basket weave tip) with the flat edge side up. If you don't have this tip, you can also use a #18 star tip and drag it from edge to edge.
For the beard, pipe the white frosting with a #18 piping tip. Pull the piping tip straight up and pipe close together, make 2 or three rows. Add a pom pom to the beanie with your #18 tip, moving it in a small circle and pull straight up. Lastly, add the black sugar pearls for the eyes. I had large cinnamon sprinkles, but if you don't have those, pipe the nose using the red glaze.
Allow donuts to set before serving! These are best served the same day.
This is a sponsored conversation written by me on behalf of Pillsbury. The opinions and text are all mine.