This post may contain affiliate sales links. Please see my full disclosure policy for details
Topped with crispy bacon bits, your favorite hot fudge sauce and a creamy homemade maple glaze, these Loaded Donut Fries are totally drool-worthy! They're easy to make in about 30 minutes.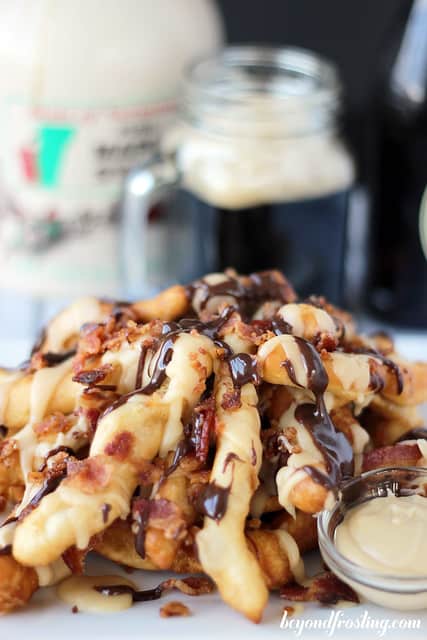 Loaded Maple Bacon Donut Fries
This is one weekend where I wish I had Monday off. I am in stressville- lots to do at home and at the office. Friday started around 5am when I dropped my boyfriend off at the airport. My day ended at the office around 8:30pm. I hit Walmart on the way home to stock up on the weekend baking needs. I can only stand to go to Walmart at the most unnecessary hours of the day to avoid the crowds.
As soon as I got home, I was putting my groceries away and I knocked a jar of MNMs out of my cabinet. The jar shattered and there was glass and MnMs everywhere. I quickly worked to vacuum up all the debris and finished putting away my groceries. Mind you it was almost 10pm at that point. Apologies to my neighbors for all the noise!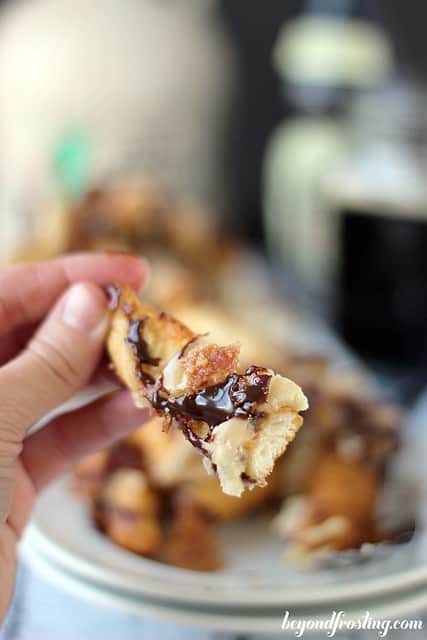 I still had a couple hours of baking ahead of me to prepare for Saturday. I've found that if I can bake on Thursday or Friday, it makes my Saturdays go much easier and I can get so much more done. I whisking and mixing and measuring. I was measuring some sugar and went to put the bag back on the counter, and it tipped over- ALL OVER my stove. It was like the higher powder trying to tell me to go to bed. There was no way that I was going to be able to clean this up very easily, so I hauled up the vacuum- again. At this point, I figured my neighbors probably hated me and I was expecting a knock at the door.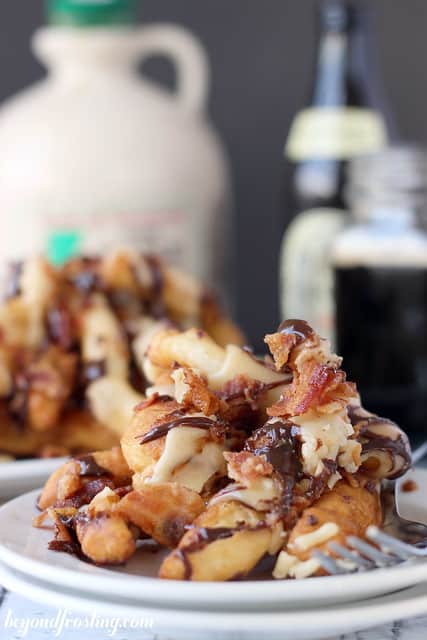 So I woke up Saturday morning and made donuts- Loaded Maple Bacon Donut Fries to be exact. I watched a recent episode of Donut Showdown and one of the bakers made a sweet version of poutine donuts and I knew I wanted to try something similar at home!
I used the same brown butter maple glaze that I used on this Apple Pie Coffee Cake. Then I drizzled them with chocolate and crumbled bacon. These fries most closely represent a maple bar topped in bacon. These would be prefect for game day- say, the Superbowl perhaps? I mean, I don't care about the Superbowl because the Patriots lost and let's face it, I don't know a whole lot about Football. I do know that there's lots of food and beer. Sounds like a good time to me.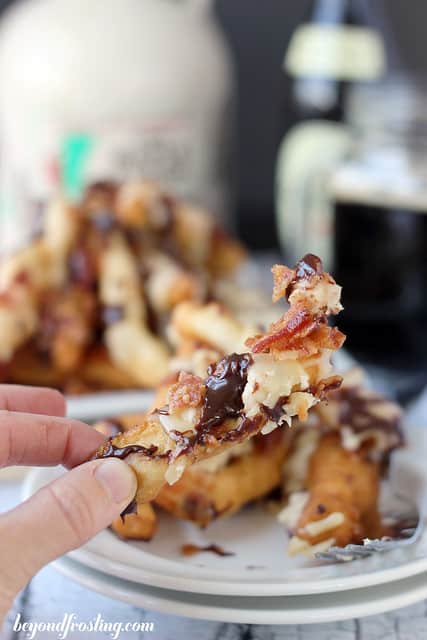 How to Make Loaded Donut Fries
For these donut fries, I used Pillsbury Grand Biscuits and some thick cut bacon. I heated a bottle of oil on my stove top and used a candy thermometer to monitor the temperature. Then I took each biscuit and cut it into strips.
Then you roll each strip thinner and thinner and drop it in the hot oil. The thinner the better because the biscuits will puff up when they are fried.
Make a batch of brown butter maple glaze and drizzle chocolate on top. You won't be sorry, I promise. All I can say is that 3 or 4 biscuits is enough to serve 3-4 people because these are SO sweet. But again, it's worth it. Especially after you broke a jar full of MNMs and spilled sugar all over your stove.
Print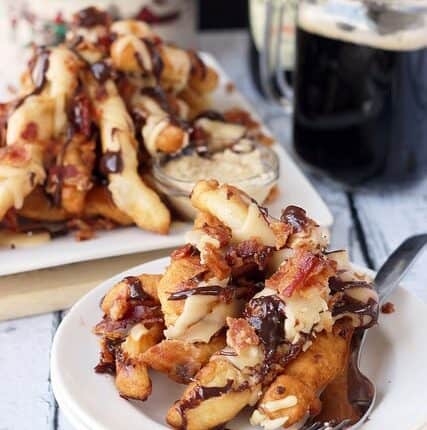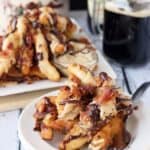 Loaded Maple Bacon Donut Fries
Author:

Prep Time:

20 minutes

Cook Time:

15 minutes

Total Time:

35 minutes

Yield:

6
Description
Topped with crispy bacon bits, your favorite hot fudge sauce and a creamy homemade maple glaze, these Loaded Donut Fries are totally drool-worthy! They're easy to make in about 30 minutes.
Ingredients
For the Donut Fries
1

Bottle Vegetable oil (

48oz

)

1

Pkg Bacon

1

Sleeve Pillsbury Grands Homestyle Biscuits (

48oz

)
For the Maple Glaze
1

C Powdered sugar, sifted

1/4

C Unsalted butter, browned

2 tbsp

Pure maple syrup

2 tbsp

Milk
Hot Fudge sauce for drizzling
Instructions
Make the Donut Fries
In a medium sized pot, empty a full container of vegetable oil. Attach a candy thermometer to the size of the pot. Heat oil over medium heat until it reach 360-375° F. Turn your heat down slightly to prevent the oil from getting too hot. Use extreme caution, oil will be very hot.
While oil is heating, preheat oven to 425°F. Line a baking sheet with tin foil. Make sure it is a baking sheet with raised edges. Spread bacon out over baking sheet and bake for 18-20 minutes until desired crispness. About halfway through, remove from oven and pour out excess oil. Caution, bacon and oil will be very hot! When bacon is done, put on a paper towel to absorb excess grease. When cooled, chop into small pieces. Set aside.
Remove biscuits from container and cut into fourths lengthwise. With your hands, roll each cutting into a long string, about the thickness of a pencil. Cut in half if necessary.
Once oil is heated, slowly drop biscuits into oil. Bake for about 20-30 second a side until golden brown. Remove with a pair of tongs and set on a paper towel lined plate to drain the excess oil. When finished deep frying, leave your candy thermometer in the oil until it is completely cooled.
Make the Glaze
Sift powered sugar. This step is necessary to create a smooth glaze.
Melt butter in a saucepan. Once melted, continue to stir until butter turns a golden brown.
Pour melted butter over powdered sugar. Add maple syrup and milk.
Whisk until smooth.
For a thicker glaze, add only 1 tablespoon of milk instead of two. Or add additional powered sugar. To make glaze thinner, add additional milk.
I prefer to use a Hot fudge sauce (such as Hershey's or Smuckers) to drizzle over the fries. Heat fudge sauce in the microwave for 30-60 seconds until thin.
To assemble the fries, please bottom layer of donut fries on the plate and drizzle maple glaze and chocolate syrup. Sprinkle with bacon. Repeat for as many layers as you want to make.
Notes
Makes 4-8 servings.
A whole canister of biscuits will serve a crowd. You may want to double the glaze recipe if you make the whole canister of biscuits at one time.
Category:

Dessert

Method:

Stove

Cuisine:

American
Keywords: maple bacon donut, donuts with bacon, maple glazed doughnut
More Easy Dessert Recipes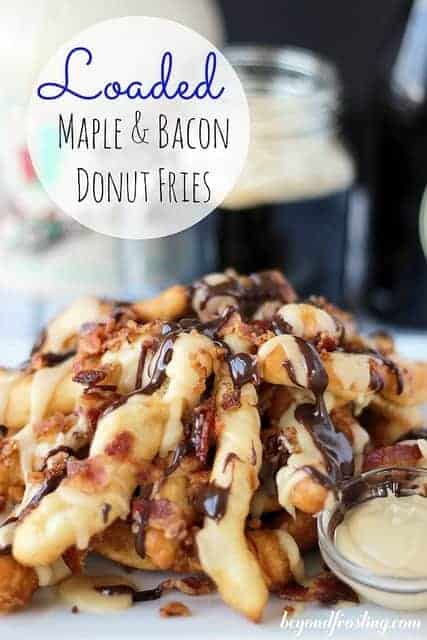 Follow Beyond Frosting:
Facebook | Twitter | Pinterest | Instagram
If you love no-bake recipes, be sure to check out my cookbook, No-Bake Treats!