This post may contain affiliate sales links. Please see my full disclosure policy for details
These Triple Chocolate Truffle Cookies are a chocolate lovers dream. Crisp on the outside and gooey in the middle, this brownie-like cookie is from Dahlia's Bakery in Seattle.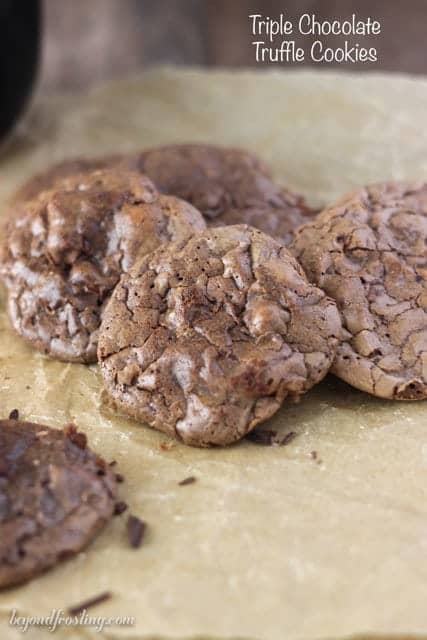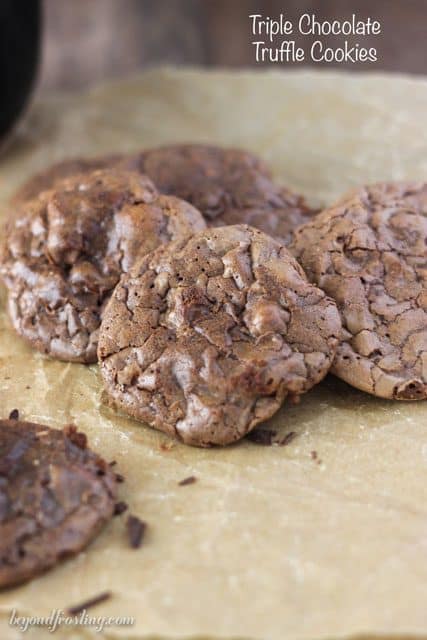 As I sit down to write this post, I am already fighting through the tears. I just keep telling myself that someone up there must have needed a little dessert in their after life and I hope Joan is serving up something good. While we are celebrating because it's National Chocolate Day, I am also mourning the loss of a very special person. This post is dedicated to Joan from the popular blog, Chocolate Chocolate and More.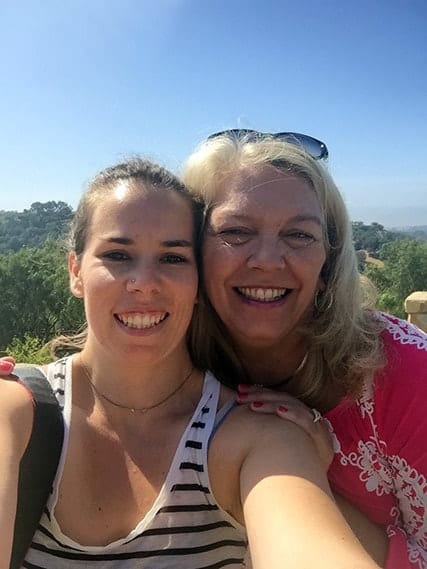 Some of you may be aware that Joan passed away unexpectedly last week. She died peacefully in her sleep of a heart attack. I am still in complete shock and denial. How can someone so amazing be taken so suddenly out of our lives? Unfortunately, this is something I have experienced quite a few times in my life, mostly with young friends, and regardless of the situation, it is never easy.
Grief is a very difficult thing to process and one that I don't deal with well. My heart is broken for the three children that Joan leaves behind, who are going through the most difficult time in their lives. I cannot even begin to image what that is like to lose a parent at such a young age. My heart breaks for Joan's family and closest friends who have gotten to know her over the years and are left with a void that cannot be filled.
If you are not a blogger, you might have a difficult time understanding how friendships form and grow online. We meet through our blogs and online social forums, we follow each other on Instagram or Facebook and get a peek into their everyday lives. If you are fortunate enough, you get to meet in person. The blogging community is a tightknit, supportive community. Joan was a pillar in the community. While she was considered to be an expert when it comes to Facebook, she was also extremely business savvy and a wealth of knowledge: knowledge that she was more than happy to share. More than that, she was so friendly, it didn't seem to matter to her how big or how small your blog was. She was very welcoming and impact so many of us.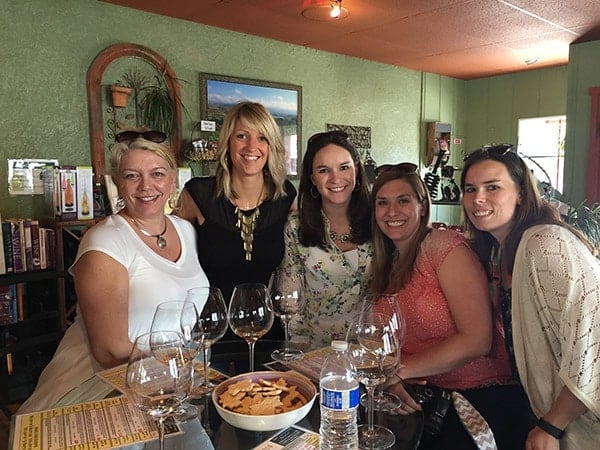 I only met Joan in person earlier this year, when she attended a blogging retreat I co-hosted, but I had gotten to know her online. I was looking forwarding to seeing her in Chicago next week for BlogHer Food, as were many others.
During one of our lunches out, I found that Joan had snuck off to get a peek at what was being served for dessert. It was a deconstructed chocolate truffle and Joan wanted to talk to the chef about what he was making. I was laughing at her huddled around the corner in the kitchen trying to go unnoticed!
Joan was testing recipes for my cookbook- chocolate ones of course. Just a few days before she passed, she let me know that there was a recipe of mine in her fridge that was waiting for the finishing touches. I hope she had a chance to enjoy it. I also just recently started to contribute to Joan's blog, and my first post went live just a couple days before she passed. I am so honored she welcomed me into her space with my Black Forest Cookie Cups.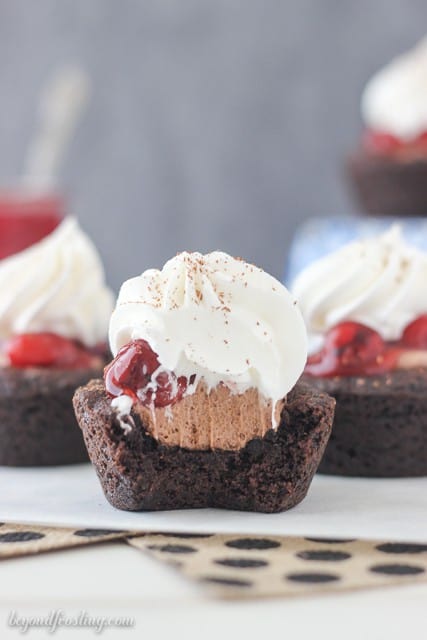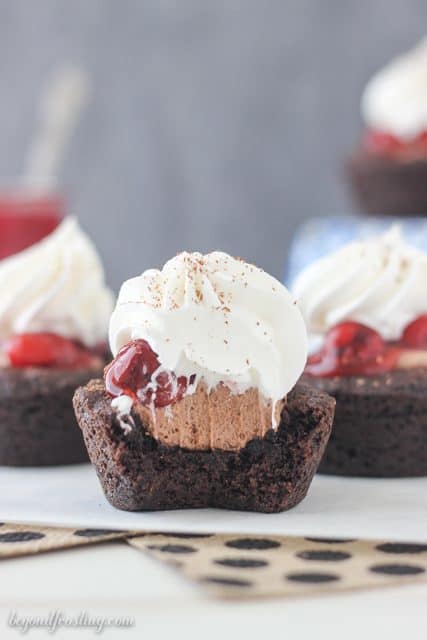 When Joan's family posted about her passing on her Facebook page, it quickly filled up with an outpouring of love and support, showing how truly unique Joan was. Comments left on her Facebook talk about how much her readers loved her recipes and how she made them feel as though they were baking right alongside her.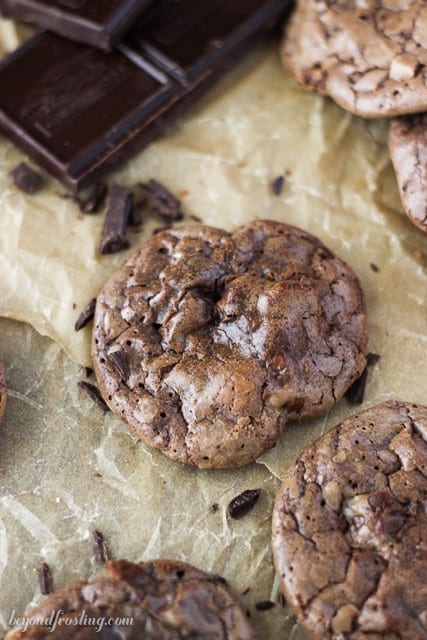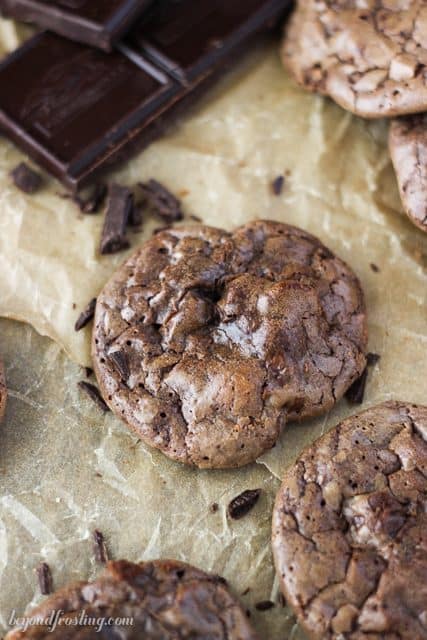 I would like to share with you why I chose to make this Triple Chocolate Truffle Cookie. If there is one thing we all know about Joan, it is that she loved her chocolate and she believed it "makes everything better". Even just scrolling through her homepage, nearly every recipe is chocolate related. I just loved the way she pronounced chocolate.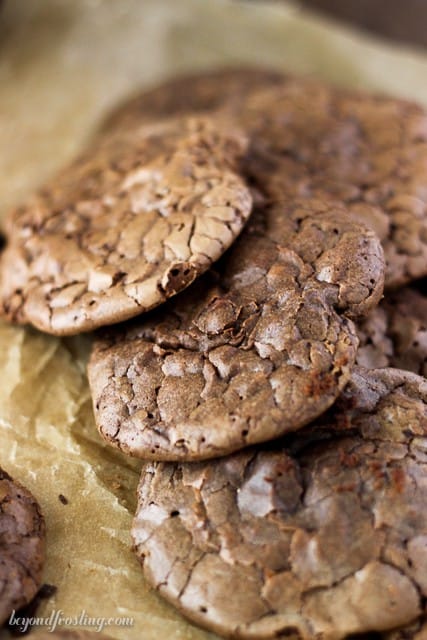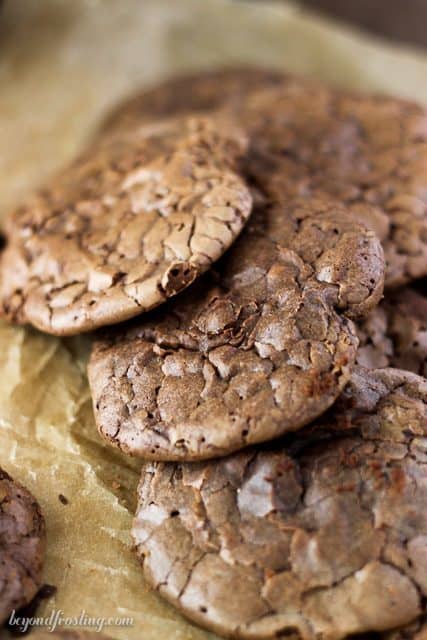 A few weeks ago, I traveled to Seattle. Part of my trip was spending time with a new client of mine and then other half was spent exploring the city with my boyfriend. We had the most amazing time. I knew that Joan was in Seattle the week prior for a different blogging event with a few of her friends. During her trip, Joan took a Chocolate Tour, which was so fitting for her.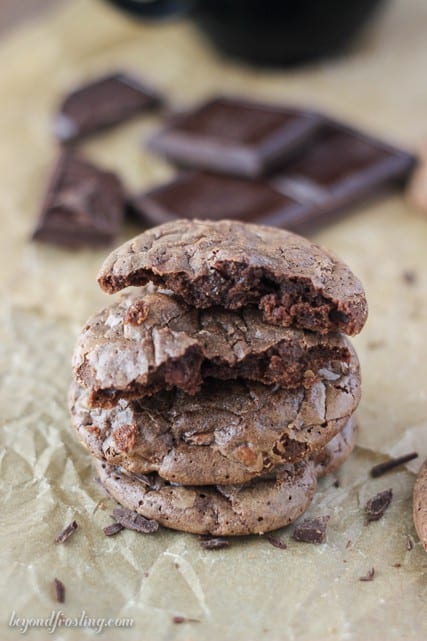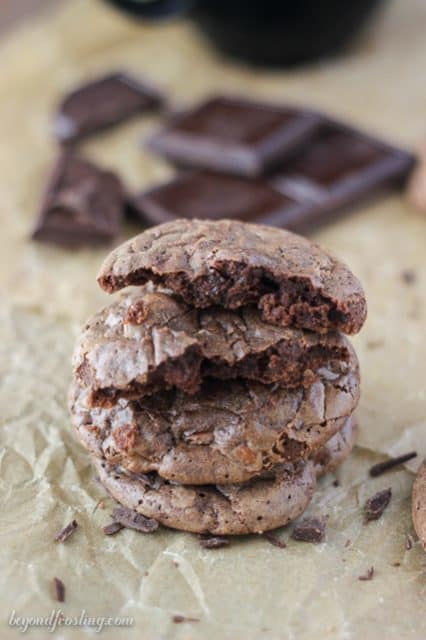 Days before I left for my trip, I saw Joan's post for Dark Chocolate Truffle Cookies from Dahlia's Bakery in Seattle. I knew that if it was good enough for Joan to make at home, then I HAD to try it. Dahlia's was the first bakery I went to (I had previously heard about their amazing Coconut Cream Pie as well), and I picked up a couple of bite-sized pies and a chocolate truffle cookie. The cookie was jaw-droppingly delicious. I saved half for my boyfriend who was arriving the next day. We both agreed it was amazing.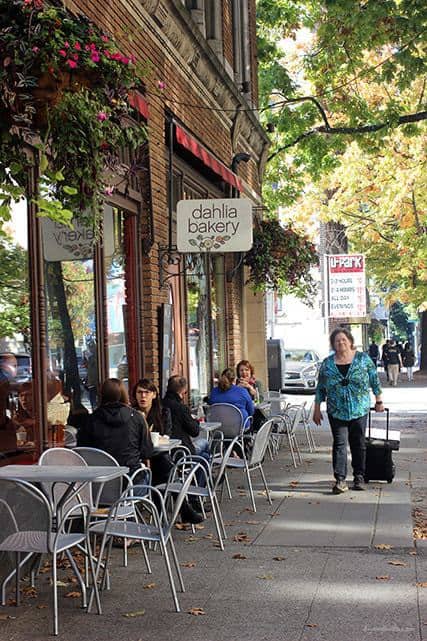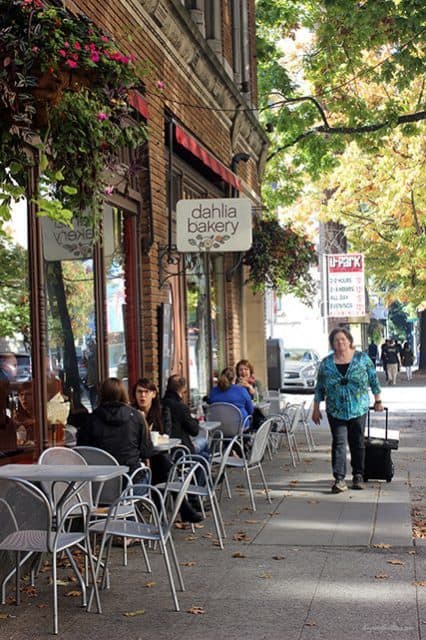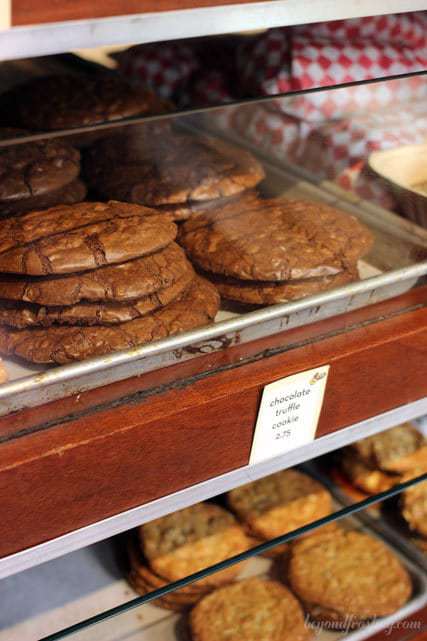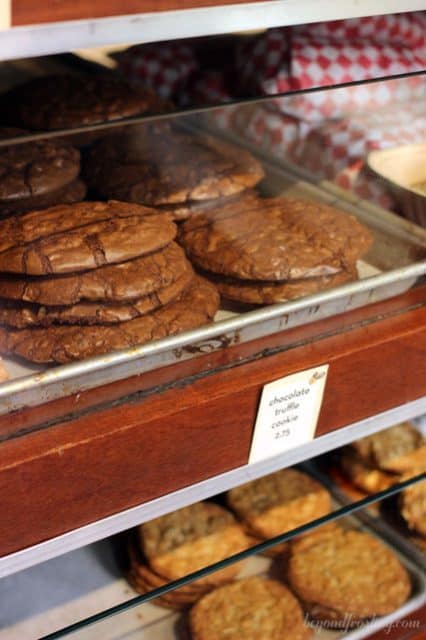 Dahlia's turned out to be my favorite spot in Seattle. We returned the following day for a breakfast sandwich, which I had seen on Yelp and had to have, and I kid you not, it was the best breakfast sandwich I've ever had (so much so that I also went back the NEXT day for a third time, and got it again). Each time I stopped into Dahlia's, I picked up a chocolate truffle cookie and even enjoyed one on the plane ride home.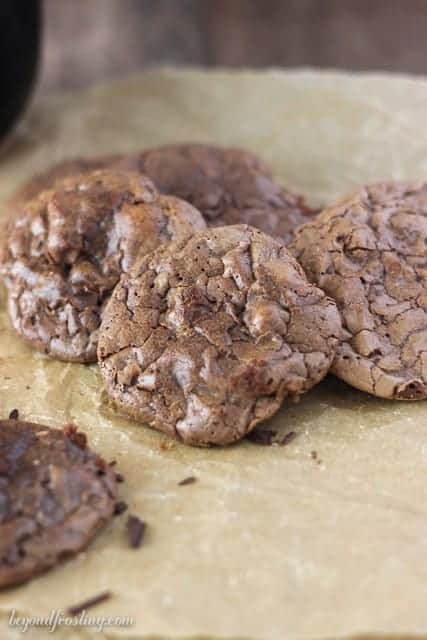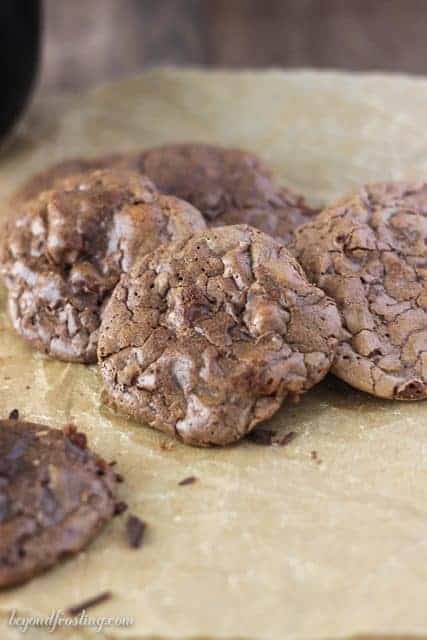 It just seemed like the perfect dessert to bake in Joan's honor this past weekend. And you know what? My boyfriend ate more than half the batch. I am sure he would have eaten the other half if I didn't give them to his dad, who also loved them. After seeing the recipe, who wouldn't love these? It is made with a total of 3 bags of chocolate chips!!
Now I have a favor to ask of you. I mentioned previously that a group of people are working to keep Joan's legacy alive both on her blog and on her Facebook page. So if you are ever looking for a good chocolate recipe, please visit her Pinterest page , or scroll through her recipe index. You may not know this, but everytime you share her recipes or visit her site, not only are you helping to keep her passion alive, but you are also supporting her family. Joan's site will continue to function, and the income earned from advertisements will go to her children. Thank you so much for helping to support her family.
May you rest in peace my friend. Hugs.
Please click over to Joan's Chocolate Truffle Cookie for the recipe.
I also love her Ding Dong Cake, just look at that thick layer of cream in the middle!
She also has a from-scratch Devil Food Cake that looks downright insane.
After Joan returned home from the SB Foodie Escape, she made a Coffee Ice Cream with dark chocolate flecks. . I loved when she said she wished her kids didn't like the ice cream so she could keep it all to herself!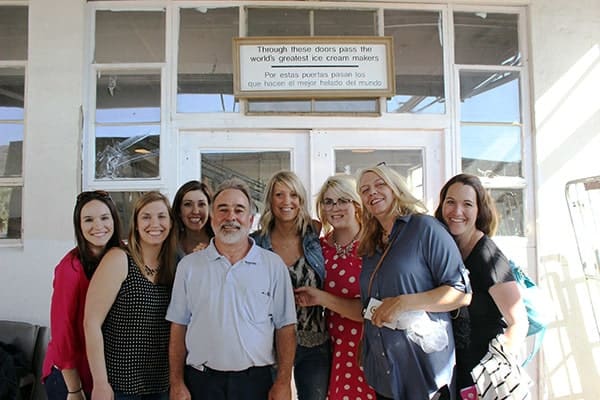 I've always admired her Triple Chocolate Cheesecake Bars because they have the perfect swirl of chocolate on top.
Like I said before, if you are ever looking for a chocolate treat, Joan has a fantastic round up of 50 Chocolate Treats. By now you should trust me when I say, the woman knew her chocolate.
Print
Triple Chocolate Truffle Cookies
Ingredients
20 ounces

dark chocolate, chopped (I used dark chocolate chips)

1

1⁄4 cups all-purpose flour

1/4 cup

unsweetened cocoa powder

1⁄2 teaspoon

baking powder

1⁄2 teaspoon

salt

10 Tablespoons

butter, softened

2

1⁄4 cups sugar

6

large eggs, lightly beaten

1 tablespoon

vanilla extract
Generous

2 cups

dark chocolate chips
Instructions
Place 20 ounces dark chocolate in a large microwave safe bowl and heat in microwave on high for 1 minute. let chocolate rest for a minute and then stir. If needed heat for an addition 30 seconds until chocolate is completely melted and smooth. Set aside to cool.
For the rest of the instructions, please visit Chocolate Chocolate and More
Notes
one quick note about these cookies. They do spread pretty thin. I found it is best to bake them on parchment paper instead of a silicone baking sheet and also to chill the dough in 10-15 minute increments. Do not chill the dough for an extended amount of time or it will be difficult to scoop.