This post may contain affiliate sales links. Please see my full disclosure policy for details
This Bacon Delicata Salad is mouthwatering. It's loaded with crispy, pan-fried bacon, sautéed delicata squash, parsley, apple cider vinegar and crumbled bleu cheese. If you're looking for a savory squash recipe, look no further! This recipe can be served warm or cold and can be prepared ahead of time!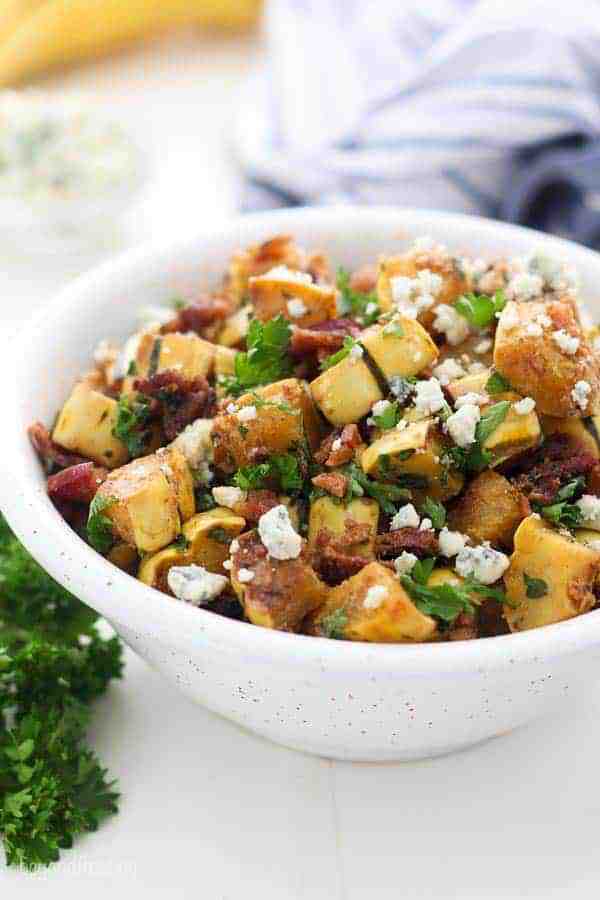 I'd much rather eat a squash over a green vegetable most days, and winter squash is my absolute favorite!
At my house, it's important to change up the way I make winter squash so it doesn't always feel like we're eating the same thing. Boy, do I have something different for you today!
This Bacon Delicata Salad is everything.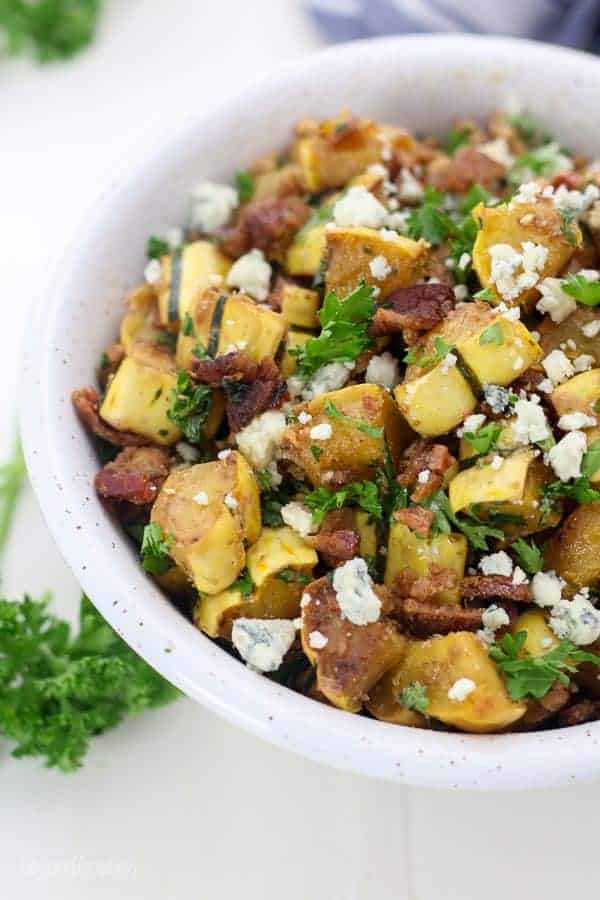 It's crispy, pan-fried bacon with delicata sautéed in bacon grease (yeah!), parsley, apple cider vinegar and bleu cheese crumbles. It's that simple and that amazing.
Never in my wildest dreams would I have thought of pairing delicata with bacon, let alone bleu cheese. Now in hindsight, pretty much everything is better with bacon and bleu cheese, so umm, DUH Julianne.
I can't really take credit for the idea for this salad, I actually found it in one of the grab and go food stations at work and I knew immediately I'd be recreating it. It was actually served as a cold salad. Also gotta give a shout out to my sister-in-law who helped me develop this recipe because she's the squash queen.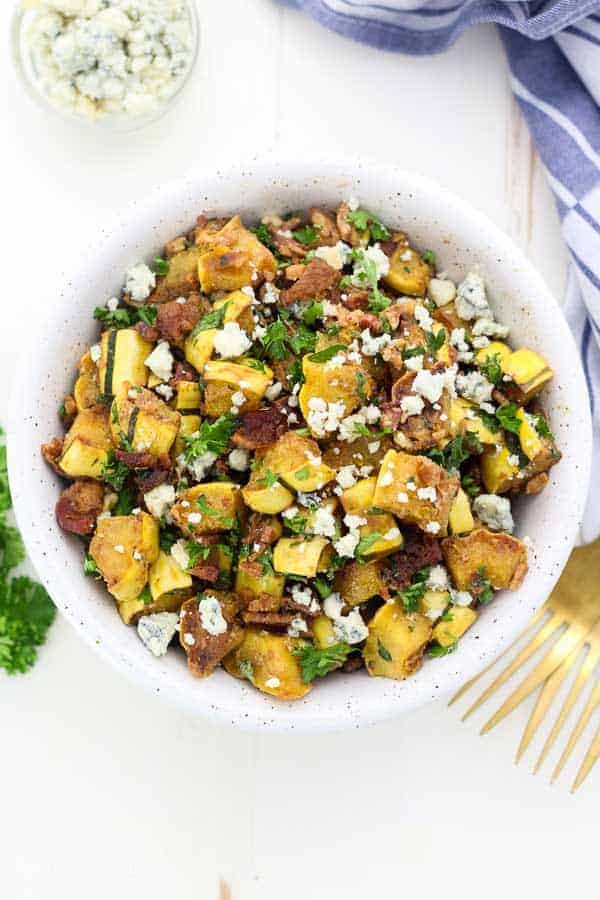 Once I made and tested this recipe, I felt like it could be served warm or cold, probably because I simply could not stop eating it. However, even when I ate it cold, I preferred when it microwaved it for 60 seconds just to take the edge off. I did find myself going into the fridge through out the day and sneaking more bites in between photoshoots.
I'm ALL about the winter squash and this time I've managed to take a healthy vegetable and make it not so healthy, but it's worth it.
For the bacon, I prefer a thick cut because it offers the best texture when crumbled. I cooked the bacon in a large fry pan on my stovetop and once it was cooled, I used a sharp knife it cut it into small pieces and crumbled it to together with the squash.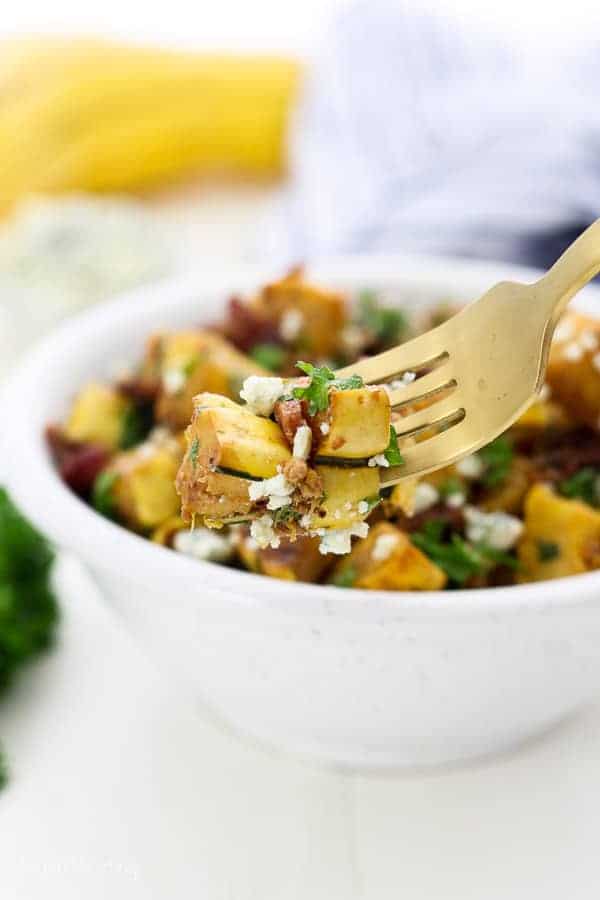 The reason I chose to make the bacon on the stove top is because I used that bacon grease to cook the delicata. It definitely helped to infuse extra flavor into the squash.
I recommend slicing the delicata into small pieces and sautéing them that way. Not only do they cook faster, but it allows more of the surface area to soak in the flavors. There's no need to remove the skin because it softens as it cooks and help to maintain the structure of the squash.
Once the bacon and the squash were cooked, I tossed it together with some apple cider vinegar and chopped parsley. I used the apple cider vinegar sparely, because I didn't want to taste it, and vinegar can be very over powering.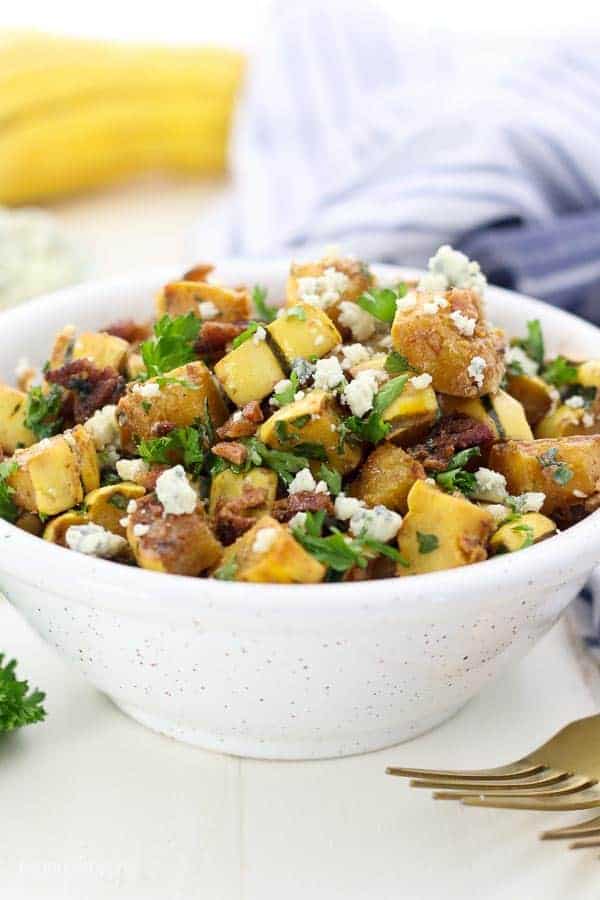 The vinegar adds a little bit of tartness to balance out the tangy bleu cheese and sweetness of the squash.
Okay let's talk about the bleu cheese for a minute.
I highly recommend adding it right before serving whether you're serving hot or cold. If the squash and bacon are too hot, it will melt a little bit. And if you're serving it cold, I like the freshness that it adds when it's crumbled on top.
Since bleu cheese can be over powering, I suggest you add and taste as you go because you can always add more but you can't really take it out once it's been added. I used a crumbled bleu cheese that I got from the specialty deli section of the grocery store.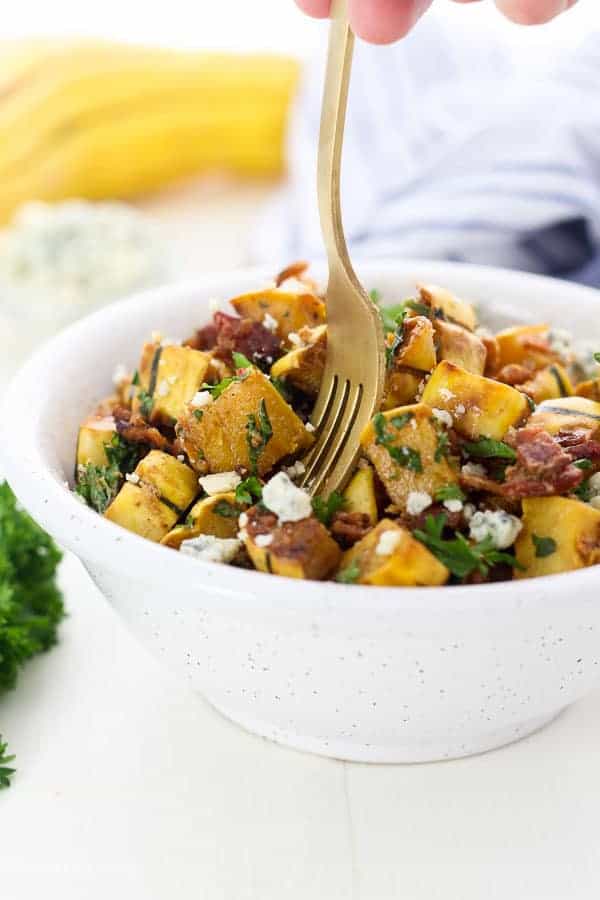 As Thanksgiving is approaching, I thought you might also be interested in changing up your side dishes. It's a great dish because you can prepare it ahead of time and when you're prepping for a big meal like Thanksgiving dinner, make ahead dishes are so key!
If you're looking for more side dishes, be sure to visit my savory recipes category!
Follow Beyond Frosting:
Facebook | Twitter | Pinterest | Instagram
If you love no-bake recipes, be sure to check out my cookbook, No-Bake Treats!
Print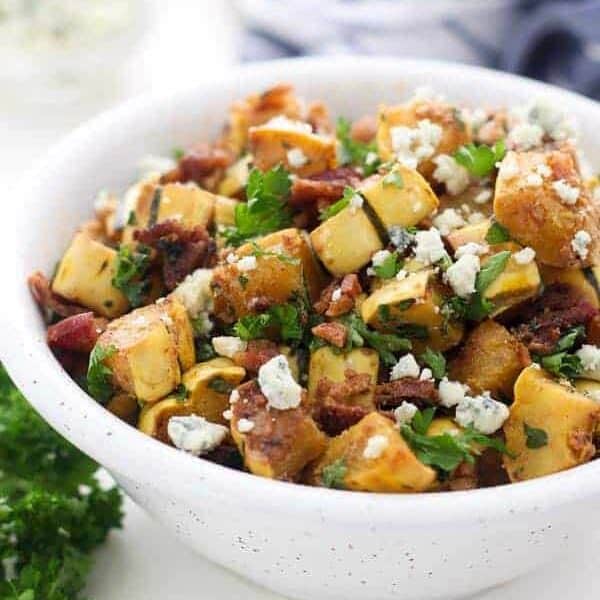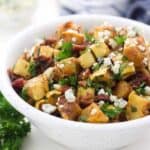 Bacon Delicata Salad
Author:

Prep Time:

10 min

Cook Time:

30 minutes

Total Time:

40 minutes

Yield:

4 servings
Description
Crispy, pan-fried bacon with sautéed delicata, parsley, apple cider vinegar and bleu cheese crumbles.
Ingredients
5

–

6

slices of thick cut bacon

1

large delicata squash (about

3 cups

chopped)

1

handful parsley (about

3 tablespoons

chopped)

½

–

¾

teaspoon apple cider vinegar

3

–

4

tablespoons crumbled bleu cheese (to taste)
Instructions
In a large skillet, cook the bacon over medium-high heat until crispy. Once cooked, set on paper towel to remove excess grease and allow to cool.
Drain most of the grease from your skillet, leaving a few tablespoons in the pan.
Slice the delicata in half and remove the seeds and the ends. Then slice it into pieces about 1/4" – 1/2" thick.
Once your squash is sliced into thin piece, quarter them so you end up with pieces about the size of nickel.
Sauté the squash, about 2 cups at a time in the leftover bacon fat and cook 5-6 minutes until the squash is fork tender and the skin is soft. Set aside to cool.
Chop the bacon into small pieces and combine in a medium-sized bowl with the cooked squash, parsley and ½ teaspoon apple cider vinegar. Add additional vinegar to taste is desired. Gently toss to combine.
If serving cold, then store the salad in an airtight container in the refrigerator.
When ready to serve, toss together with the bleu cheese.
Notes
Serve warm or cold. If serving cold, I suggest to microwave for 60 seconds before serving.
Keywords: delicata, delicata squash, delicata salad
This Bacon Delicata Salad would pair well with these Baked Cheeseburger Sliders or Herb Roasted Turkey Breast.
More Side Dishes!