This post may contain affiliate sales links. Please see my full disclosure policy for details
This Old Fashioned Coconut Custard Pie recipe tastes like a coconut crème brulee! An easy coconut pie with a flaky crust that's filled with loads of shredded coconut set in a baked custard.
This recipe and photo have been updated in 2018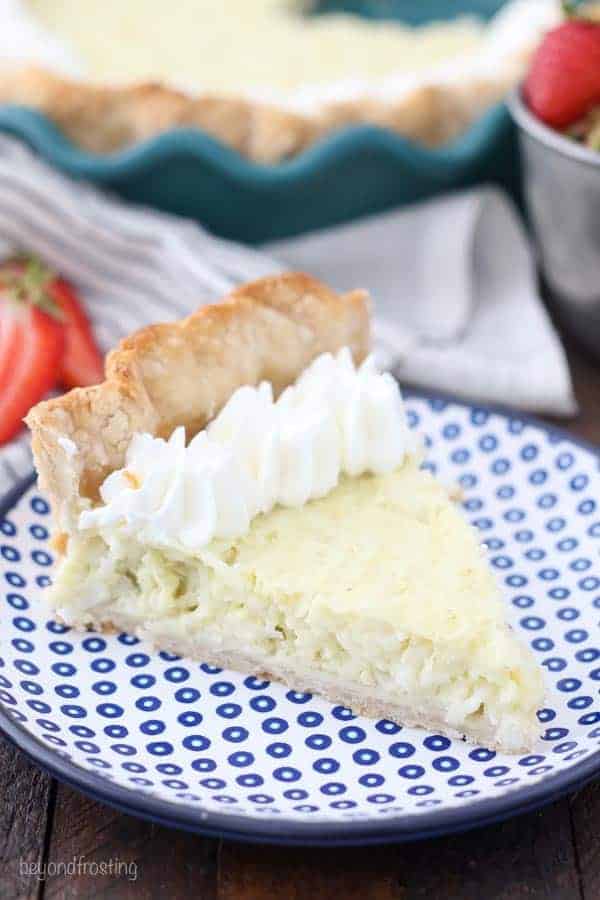 Homemade Coconut Custard Pie
I am constantly trying to push my comfort zone when it comes to baking. The best way to challenge yourself is to try and try again! Often times, I will test recipes from cookbooks, new and old. What I love about older cookbooks, is that the details are very vague, and it leaves the interpretation up to you.
This Old Fashioned Coconut Custard Pie was adapted from a cookbook that was copyright from 1933, and this edition was printed in 1937. The pages are an aged yellow, and it smells like the library. There are some notes inside the front cover from the pervious owner, and all the photos are in black and white. These are the best kind of cookbooks!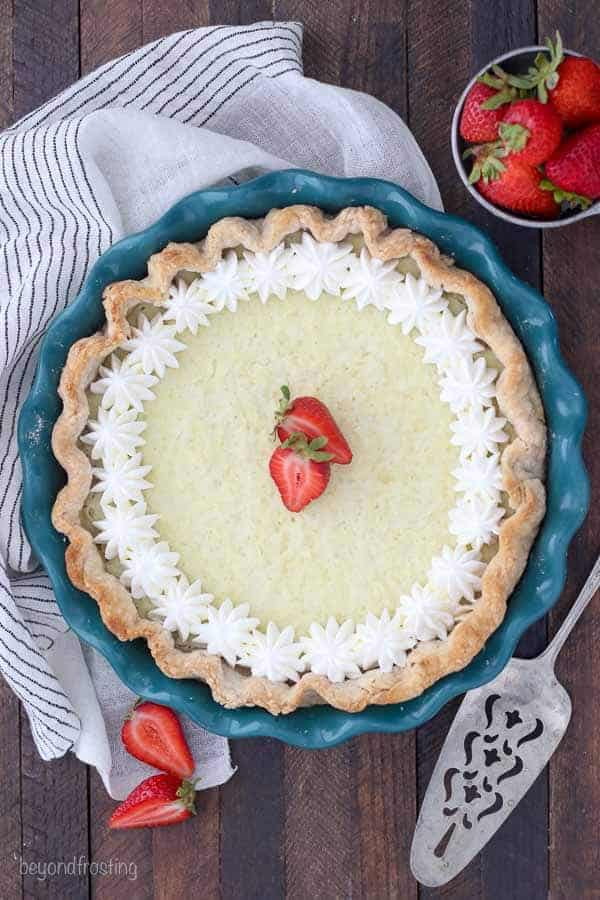 The original name for this was "Vanity Fair Coconut Custard Pie". I have never baked anything like this before. The ingredients are simple: 3 eggs, sugar, a dash of salt, milk and lots of coconut. After it is baked, it reminds me of crème brulee in that the filling is a baked custard.
When I originally cut into this pie, I wasn't sure if it was quite right, but after looking through several updated versions of the recipe, I saw that it in fact resembled the vintage pie.
I baked this recipe a second time, adding my own spin to the recipe. Instead of using all regular milk, I substituted 1 cup of coconut milk. The original recipe, while full of coconut flakes, did not have enough flavor for me. So I decided to also add one teaspoon of coconut extract, and I doubled the amount of coconut flakes that the recipe called for. I was much happier with the second version.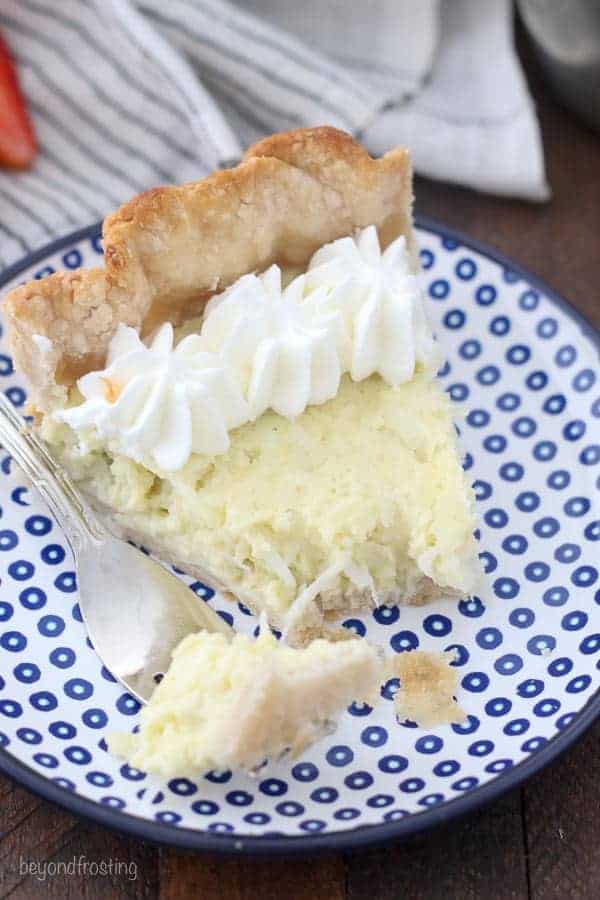 Since the filling is pretty much pure liquid, I was not sure if the crust would get soggy. Turns out it was actually perfect! It was soft, yet flaky. I decided that I would keep this pie refrigerated, but the recipe did not specify. I think I liked the idea of a cold pie better for the summer anyway!
This pie definitely needs to cool all the way before serving. The filling will still be a bit jiggly, which will make you question whether it is done for not. I still used a toothpick to see if it was baked through, and it was. As it cools, it will become more firm. This is typical with custard pies.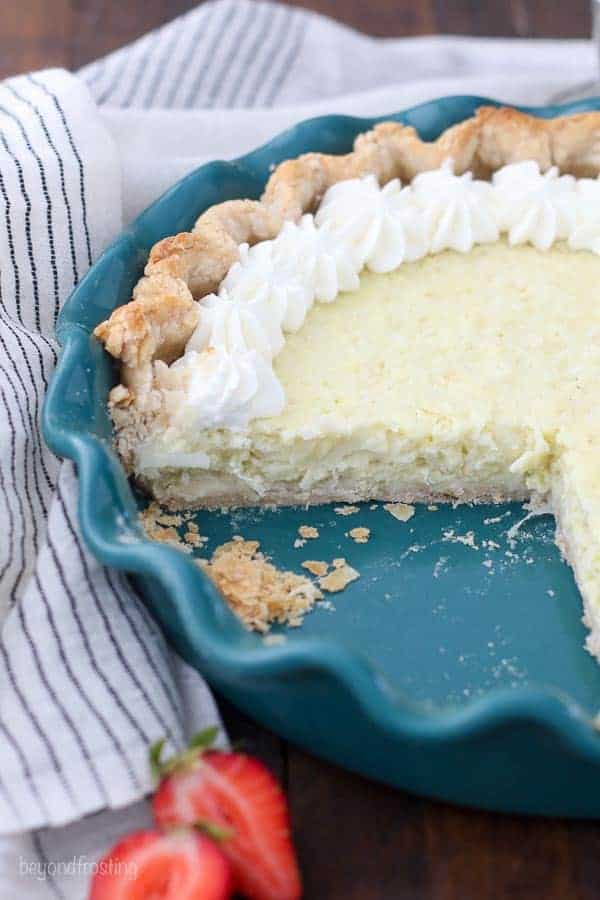 For the crust, you should use your favorite recipe or you can try my favorite easy pie crust. I usually end up freezing one. I also have a gluten-free pie crust that you can also use.
Remember, that with any pie crust, it is better to work with it cold! I struggle to make the prettiest edges, but practice makes perfect, right? I find that I have been more successful with a Crisco based pie crust recipe. The edges tend to shrink less because Crisco has a higher melting temperature.
This pie can be made in a standard 9-inch pie dish in either a regular or a deep dish pie. Since I updated the recipe that is significantly less liquid, and a deep dish pan is not needed.
When I served this pie to my friends, they suggested that it would be awesome with a drizzle of raspberry sauce, and I couldn't agree more!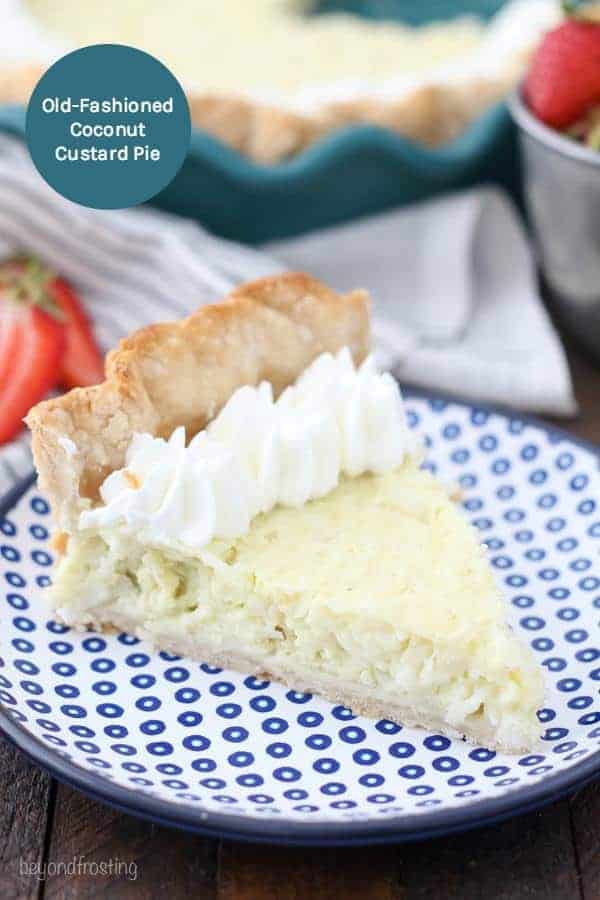 Follow Beyond Frosting:
Facebook | Twitter | Pinterest | Instagram
If you love no-bake recipes, be sure to check out my cookbook, No-Bake Treats!
Print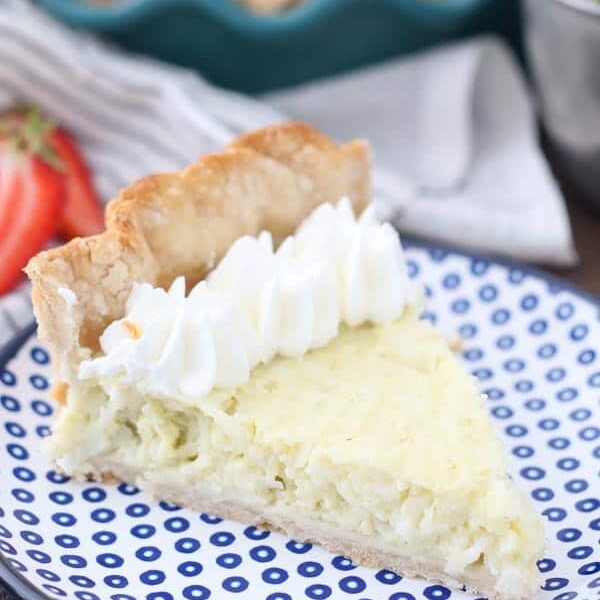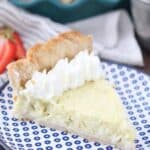 Old Fashioned Coconut Custard Pie
Author:

Prep Time:

30 minutes

Cook Time:

40 minutes

Total Time:

1 hour 10 minutes

Yield:

8 slices
Description
This Old Fashioned Coconut Custard Pie is similar to what you would imagine a coconut crème brulee might be. The flaky pie crust is filled with loads of shredded coconut set in a baked custard.
Ingredients
1

Pie crust shell, prepared

3

Large eggs, beaten

½ cup

granulated sugar

1/8 teaspoon

salt

1 teaspoon

coconut extract

1 cup

milk (I used non0fat)

1 cup

coconut milk, mixed

2 cups

shredded coconut, sweetened
Whipped cream for garnish
Instructions
Preheat oven to 450° F.
Prepare a pastry pie shell, roll about and place in pie plate. Trim and flute the edges.
To prepare the filling start by whisking the eggs, gradually adding in sugar and salt. Whisk until smooth and frothy.
Add coconut extract, milk and coconut milk. Be sure to mix the coconut milk before adding to the eggs.
Last, add the shredded coconut and whisk into the filling. Pour batter into prepared pie shell.
Place pie plate on lower rack in your oven. Bake at 450°F for 20 minutes.
After 20 minutes, turn the oven down to 350° F and cover the crust with foil to prevent burning. Bake for another 20-25 minutes.
Pie will still be slightly jiggly on top, but stick a toothpick around the pie to ensure the filling has baked. If there is any bubbling or liquid on top, dab it lightly with a paper towel.
Allow pie to cool completely before serving. I suggest to refrigerate and serve cold. Serve with whipped cream or a raspberry sauce.
Notes
This recipe and photo have been updated in 2018 to reduce the amount of liquid in this recipe.
Category:

Pie

Method:

Baked

Cuisine:

American
Keywords: coconut pie, coconut custard pie, coconut desserts, easy coconut pie recipe
More Coconut Pie Recipe you might like:
Coconut Cheesecake Pie from Taste and Tell
Coconut Chess Pie from Crazy for Crust
Almond Joy Pie from Life Love and Sugar
Other recipes from Beyond Frosting you might like: