This post may contain affiliate sales links. Please see my full disclosure policy for details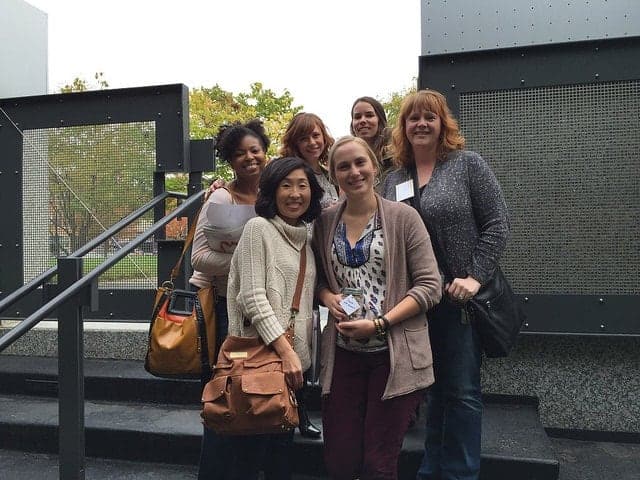 We started the evening with a tour of the Better Homes and Gardens test garden and test kitchen. Yes, they have a year round garden on site. I was fortunate enough to have had a very thorough tour of the testing kitchen and photo studio during my visit with the Iowa Corn Growers but I was eager to see it again! I wanted to include extra photos of the prop room, so be sure to check out the end of this post! One of the best parts about the events was spending time with small group of bloggers attending the event. I absolutely ADORE these ladies. Alice, Jocelyn, Allie, Amanda and Kenzie Kramer who is the Associate Social Media Editor. Kenzie's mom was in tour of the event too and she was so much to hang out with!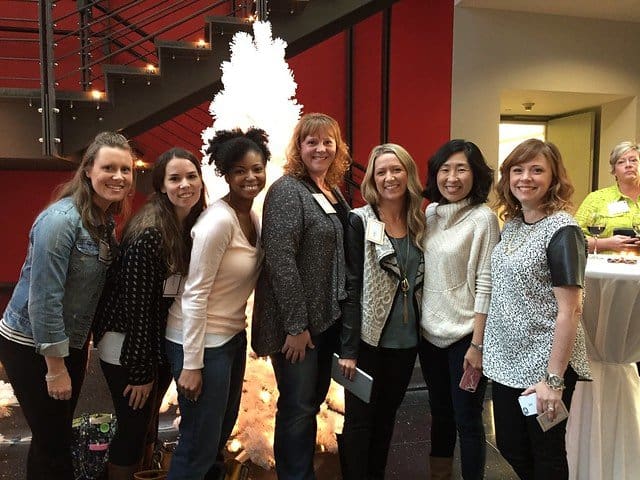 We began with an evening reception where we sipped on sangria and wine. I don't drink Sangria often, but the one I had was so good! All the appetizers were dishes from the new Red Plaid Better Homes and Gardens Sixteenth Edition which was just released. I was lucky enough to chat with Jan Miller, who is the Editor of the new cookbook. We joked about the picky eaters that are our significant others. I had no idea what was in store from Jan the next day but she was quite the presenter. I also got the chance to snap a photo with Editor-in-Chief Gayle Butler!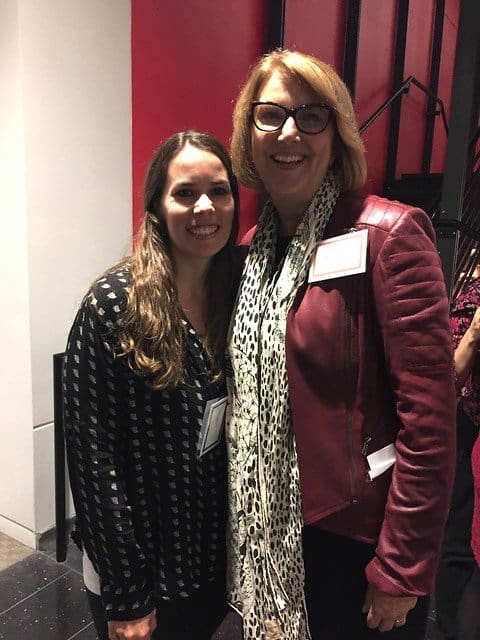 Saturday morning started bright and early with a pancake breakfast from OXO. We got to test out their new pancake dispensers , which are actually perfect for drawing shapes. I am not sure what they made the bacon with, but it was the best bacon ever! Plus I fell in love with Chobani pumpkin greek yogurt which is the first greek yogurt I have truly enjoyed.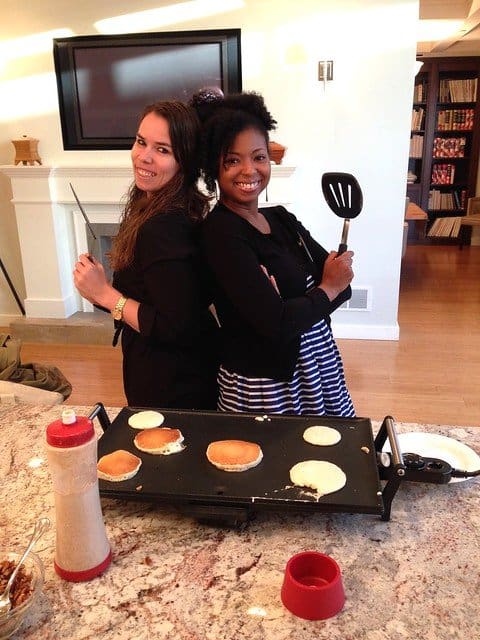 The first session was hosted by Nancy Hopkins, Senior Deputy Food Editor. The session focused on tips for hosting a holiday party. We talked about different dishes to prepare in advance and how to style a table. I just recently tried my own version of one of those dishes so stayed tuned! I'm not going to lie, I really want that pink tinsel tree and I don't even like pink! One take away I have is that "Tonight's party dress can always be tomorrow's table runner!" A scarf makes a great wrap around the bottom of a dish! Thanks Nancy!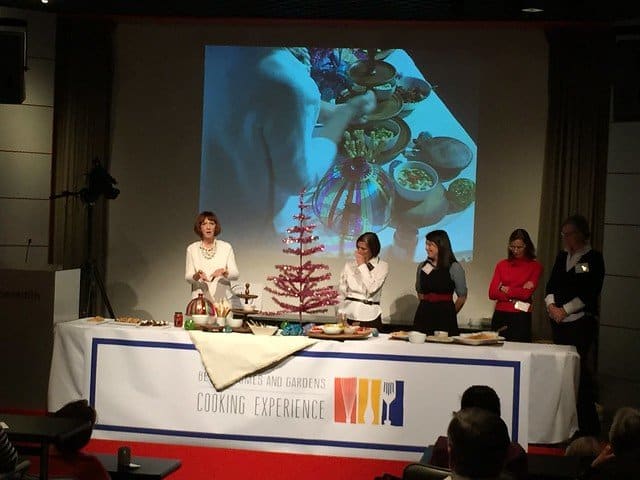 The morning sessions of cooking demonstration was hosted by Chef Scott Peacock. Holy cow, what a gem that man is. The first thing I learned is that he is serious about his egg whites and only whips by hand; I was super impressed. I really could just listen to him talk all day, especially with his southern accent. Our lunch that day were recipes from Chef Peacott as well. The desserts was a buttermilk pudding with a pomegranate compote and OMG I quit literally almost licked the bowl clean. This is one dish I need to try and make at home!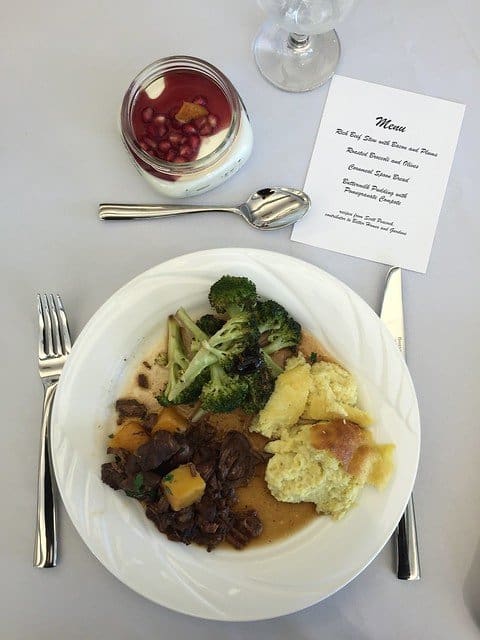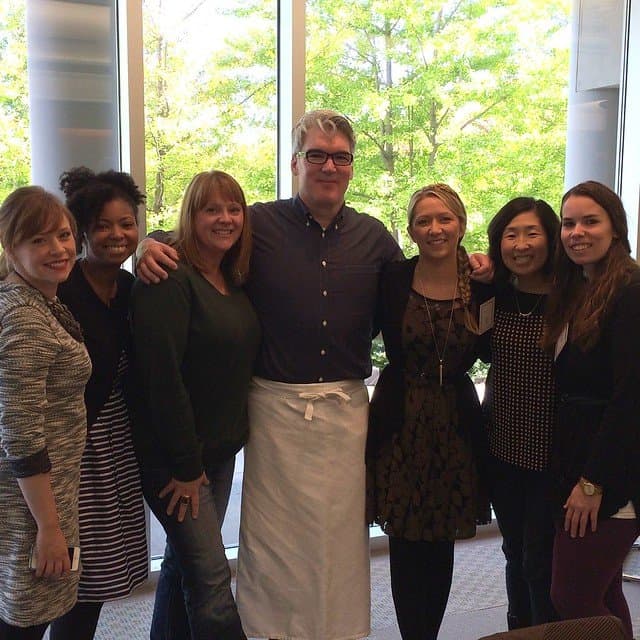 In between the cooking demonstrations, there were "hands on" hours where we could go up to the test kitchen and try our hand at different skills and techniques. They had everything: using piping bags, skinning garlic (video here), sugar cookie decorations, gift jars and knife skills. I sat in on the knife skills class hosted by Chef Jeffery Elliot for a little while, where we learned how to properly hold a knife and different ways to slice and onion. Did you know that if your eyes are watering while you are chopping onions, that you can stick your head in the freezer and the cold air will help stop your tears? Mind blowing.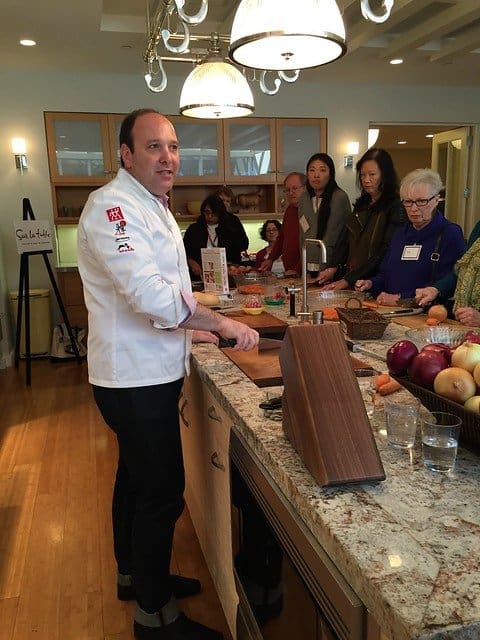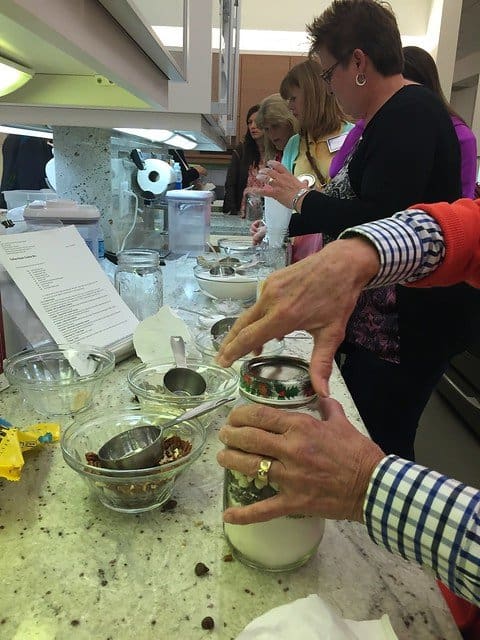 There were also a handful of sponsors on site to keep our bellies full. I got to take a look at some of the new products from Wilton. The new melting pot has a collapsible and dishwasher safe bowl! I need to get my hands on one of those! I also got to hang out with ladies from Betty Crocker! They just launched a new mobile app that I was really impressed with. You can bring up the recipe on your phone and it allows you to create shopping lists, and you can check off each step as you are baking the recipe! I also finally got the chance to try the maple bacon cookie! It was delicious!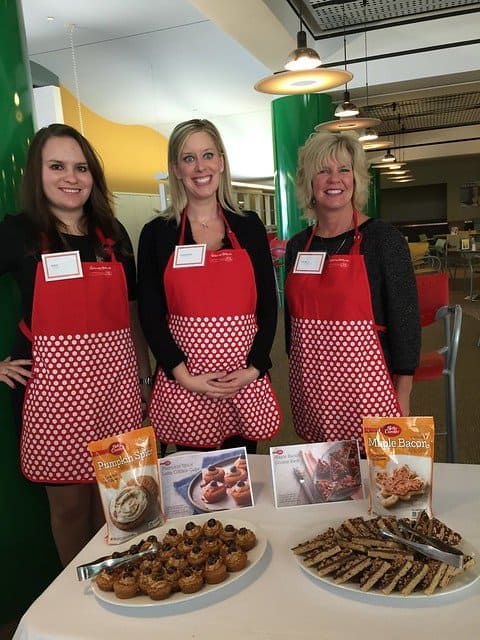 We had an afternoon dessert demonstration from Gesine Bullock-Prado, who actually lives in central Vermont! I had no idea! The dessert from our evening dinner was one of her almond cakes that was spectacular. The day finished with a slow cooker session hosted by Jan Miller. It was also an ugly sweater party, which I am totally into. At the very end of the session, Hamilton Beach surprised everyone with a slow cooker!! How cool is that?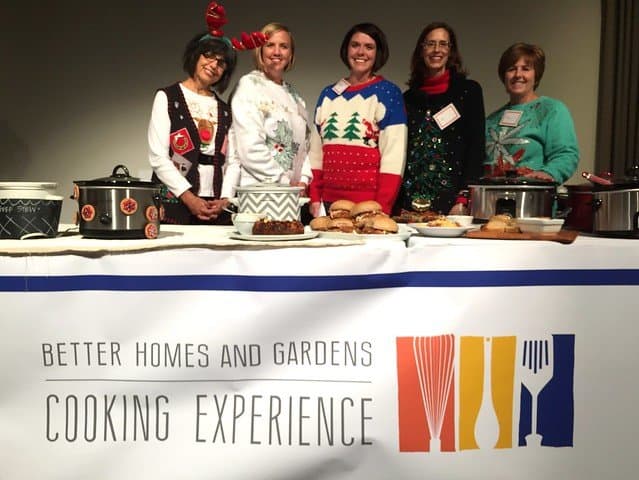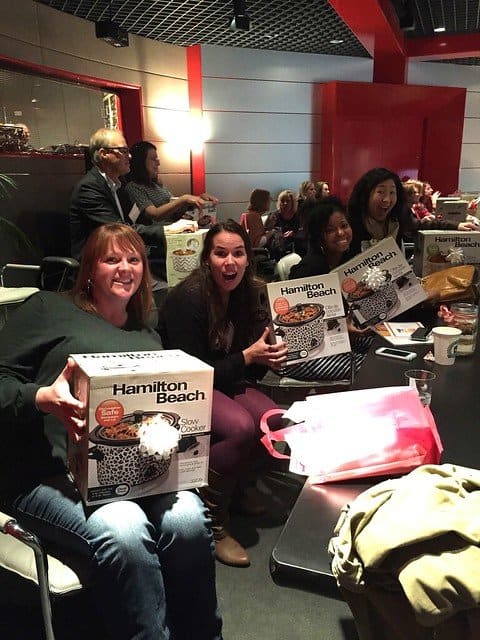 I had the opportunity to attend an intimate dinner Saturday evening. It started with champagne and cheese from Kerry Gold. I wanted to take home the whole plate of the aged cheddar with Irish Whiskey.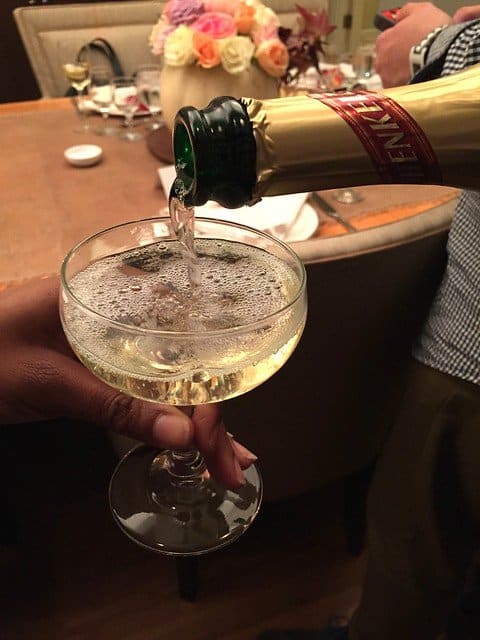 I was lucky to have a table full of new friends where we shared a family style dinner with more dishes from Scott Peacock. The scallop russet and sweet potatoes were my favorite. I hope to make that dish for a holiday dinner! Since this event was open to the public, it was really cool to talk to everyone else who was attending, which were mostly readers and fans of the magazine. There were so many stories, celebrations and reunions happening.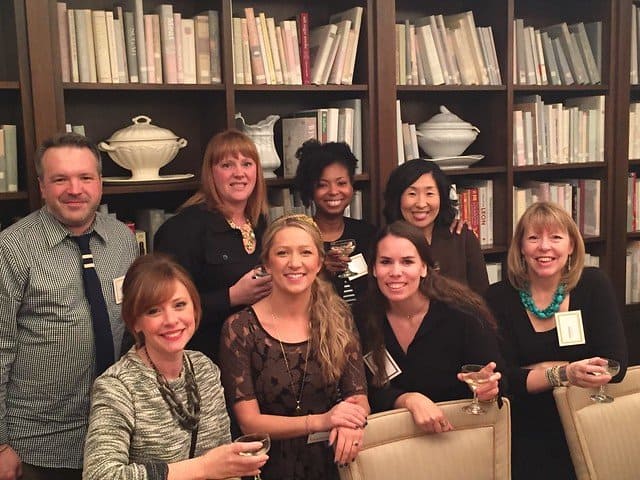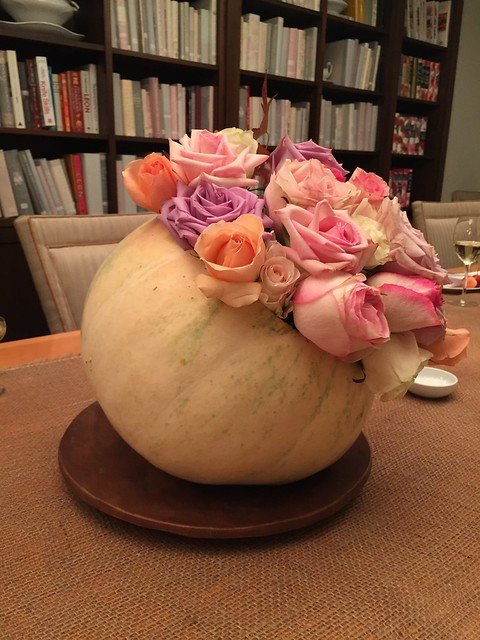 I feel very fortunate to have had the opportunity to attend the first ever Better Homes and Gardens Cooking Experience. I just so happened to already be in Des Moines for the Iowa Corn Quest Tour and quickly changed my plans to stay the weekend. Just a few of my highlights for the weekend included getting to spend the time with new friends, meeting the staff from Better Homes and Gardens and having the unique opportunity to hang out in the test kitchens! This was the first time they have ever opened it up the public.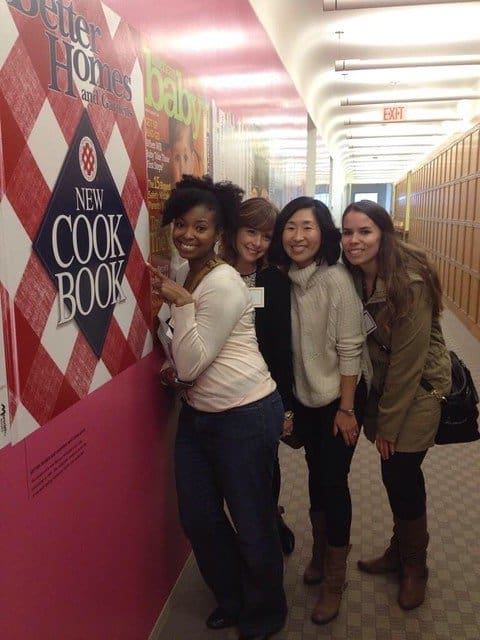 I would like to thank the staff from Better Homes and Gardens and the Meredith group for such a well put together weekend. I hope to be able to attend another event some time in the future! Be sure to check out the recaps from my friends: Grandbaby Cakes, Baking a Moment, Hip Foodie Mama, I am Baker.
Part of our tour gave us a behind the scenes look at the test kitchens and what all goes into planning each issue of Better Homes and Gardens.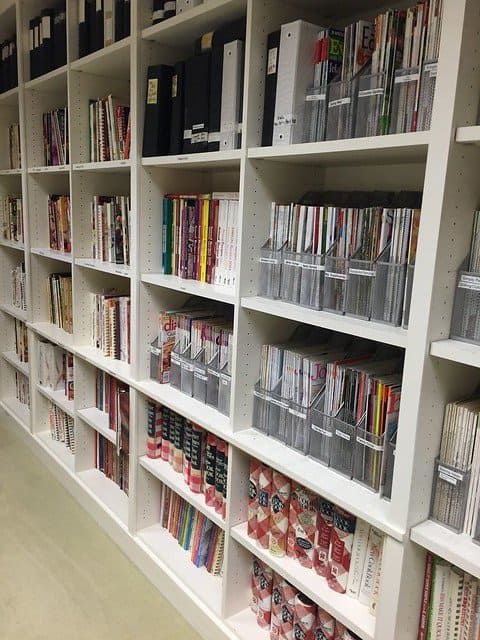 Now for the prop room tour! This is especially for my food blogging friends. Amanda and I spent a little time ooing and awing over the cake stands! Besides the test kitchens upstairs, they also have two kitchen stations down in the photography studio so they can shoot food fresh from the oven.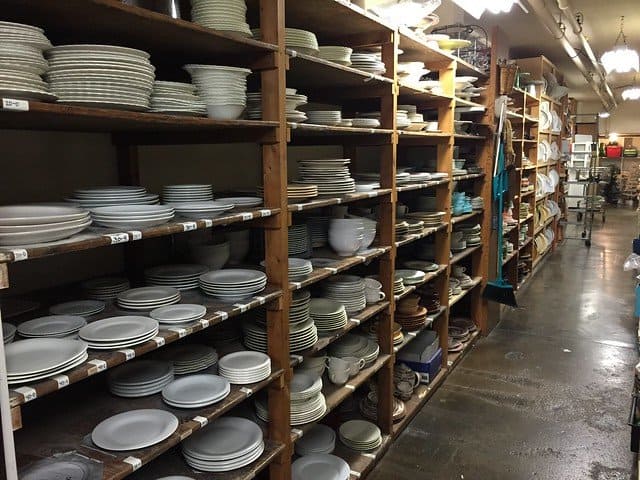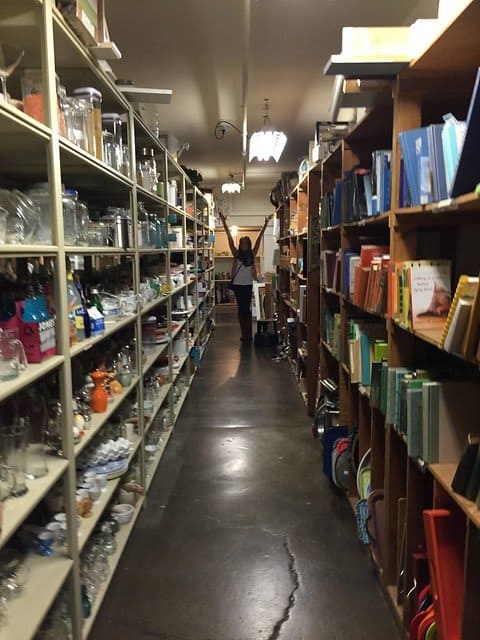 I sure wouldn't mind a shelf of rolling pins to choose from!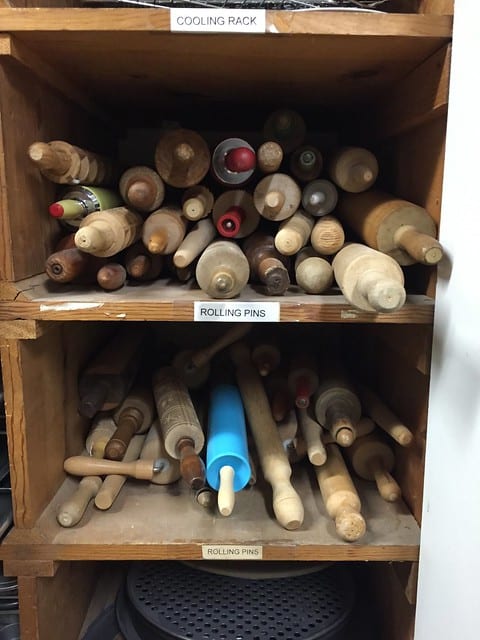 Look at all those cutting boards!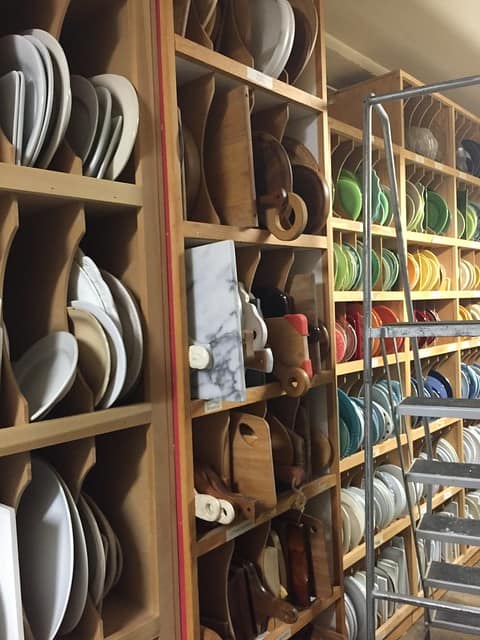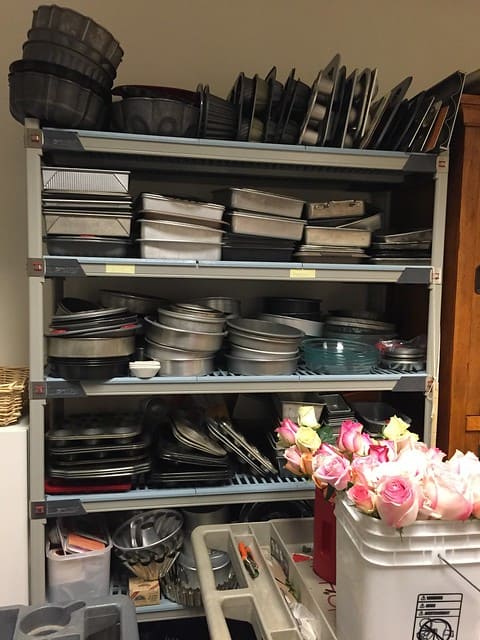 I had the chance to see them staging one of the home decor set ups. This was Thursday during my tour with the Iowa Corn Growers Association. When I returned on Friday evening, this room was completely transformed. Notice all the wood planks? They build the floors for the set!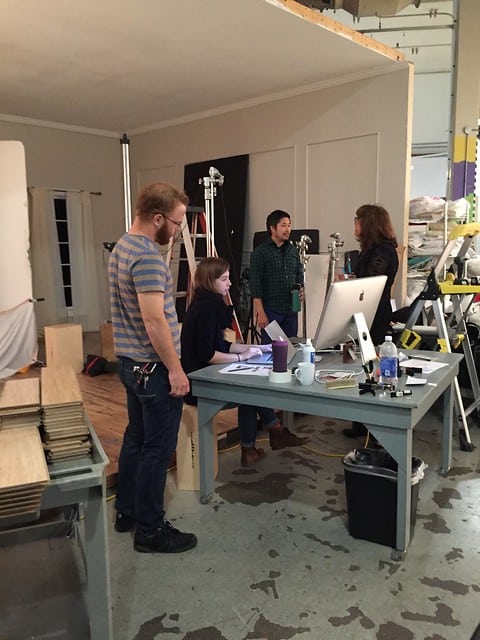 They have a full time grocery shipped on staff, who grocery shops everyday. How cool is that? I did learn that a lot of planning goes into what needs to be tested each week/day, but sometimes this change and they have to switch gears.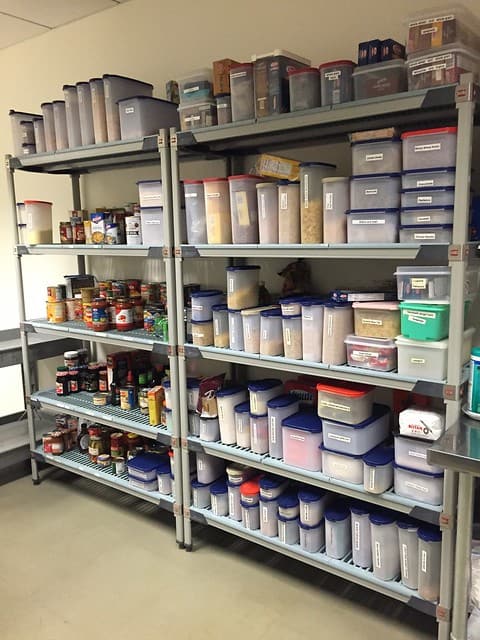 Disclaimer: I attend the event on my own accord. All thoughts and opinions are as a result of experience. This post may contain affiliate links.