This post may contain affiliate sales links. Please see my full disclosure policy for details
Here we are, 3+ months after our wedding day and I still feel like I am on cloud nine. I've wanted to share all the details with you guys for quite some time and I am a storyteller at heart, so this post is going to be quite long, but you're welcome to just scroll through the photos as well. So here it goes!
All images copywrite to Kimberly Kay Photography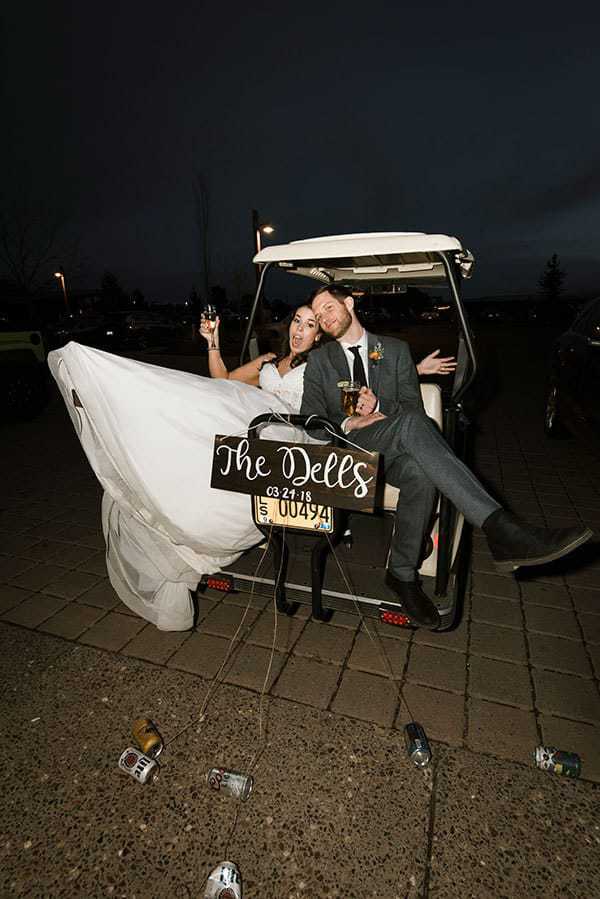 Our wedding weekend was more than we could have asked for and we are entirely grateful for our friends and family who made the trek. Some of them through delayed or canceled flights thanks to an East coast Norester.
We originally wanted to plan a winter destination wedding, but after realizing the challenges involved, we decided to look for something that would offer a variety of things we were looking for: close proximity to a mountain with a local airport, lots of things for our guests to do. a good view from the ceremony site and stellar food.
We planned our destination wedding in Bend, Oregon. Besides ourselves, only a handful of our guests were from Portland. Everyone else flew in from all over the US to be with us for a few days. After touring several venues, we chose Brasada Ranch.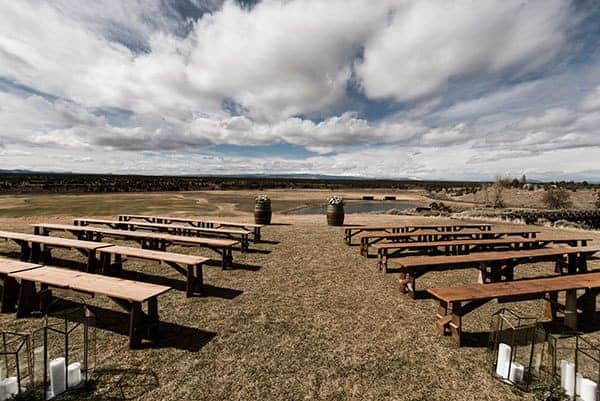 I can't say enough about Brasada. We did one site visit last summer and boy did we fall in love with that place! The property is filled with cozy, upscale cabins, which was perfect for our destination wedding, everyone could stay on property. There are so many things you can do there. Some of our friends went horseback riding, others rented biked, went to a yoga class or hung out in the game room. Brasada is also known for their views of the Cascade mountain range and the gorgeous dessert sunsets. I know we will be going back year after year for a visit.
Brasada is about a half hour outside of Bend, but we found that our guests rented cars anyway and they were off to explore the city and local attractions such as Smith Rock, if you've never been, it should be on your bucket list!
Knowing our friends were traveling, we made sure we planned plenty of activities for them to join in with us including a casual dinner, a welcome reception and a post wedding brewery tour. It made the whole weekend extra special because we had the chance to really visit with our friends and family.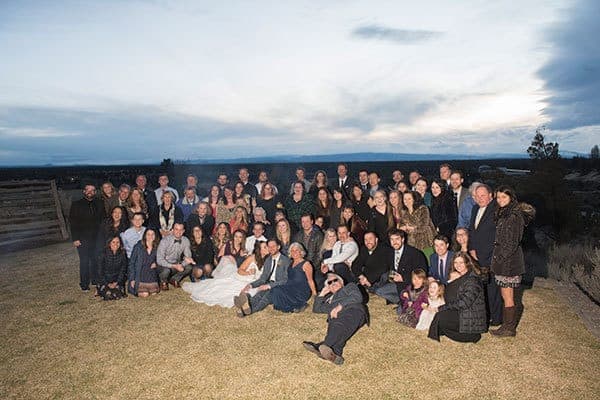 We made sure everyone was very well fed and enjoyed lots of cocktails throughout the weekend, and if you've ever visited Bend, you know that's not hard to do.
After the wedding, about a dozen of our friends stayed for a couple days to snowboard with us at Mt. Bachelor. Even though we did not get married in the dead of winter, we had a couple of very awesome days on the mountain with a mix of powder turns and sunny skies. For some of us, it has been almost 8 years since we snowboarded together. I know I will not have the opportunity to get all my best friends together again like that and it was truly special.
Our wedding day
My husband and I chose not to have a formal bridal party, but I still got all my best girlfriends together for the momentous occasion. I got ready with my girlfriends, my mom and my aunts in our cabin that morning. They helped me with all the last minute details like my seating charts, photos and favor bags.
My hairdresser, Lori from Edge Hair & Makeup came out to my cabin, which made the whole day a lot smoother and more relaxing. She did hair and makeup for me and my girlfriends.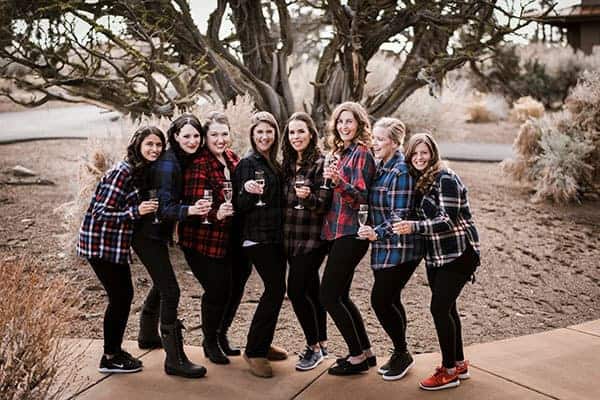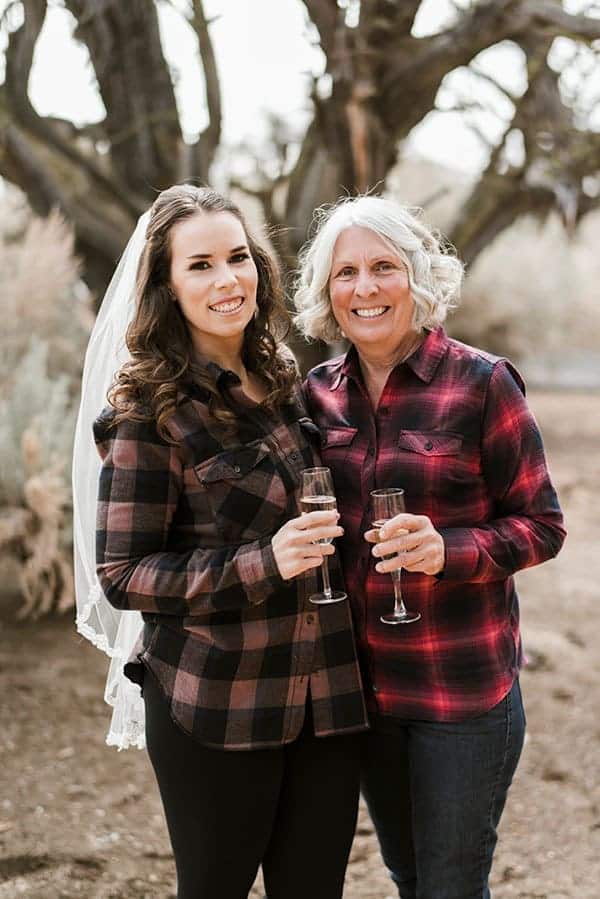 Our flower girl just stole my heart all weekend. All she wanted to do was be by my side, we tried to take her home with us, and almost had her mom convinced. Instead we just decided we needed to get together again soon! I got her a gold sequin dress at H&M and some gold sequin converse shoes with a matching jean jacket.
On our wedding day, we decided we wanted to do a first look. This was an opportunity for us to share some time together before the ceremony and get out some of those nerves so we could just enjoy the moment. As to be expected, I was full of tears and I've also learned I am not the prettiest crier ever.
However, during the actual ceremony I actually held it together pretty well….until I started my vows.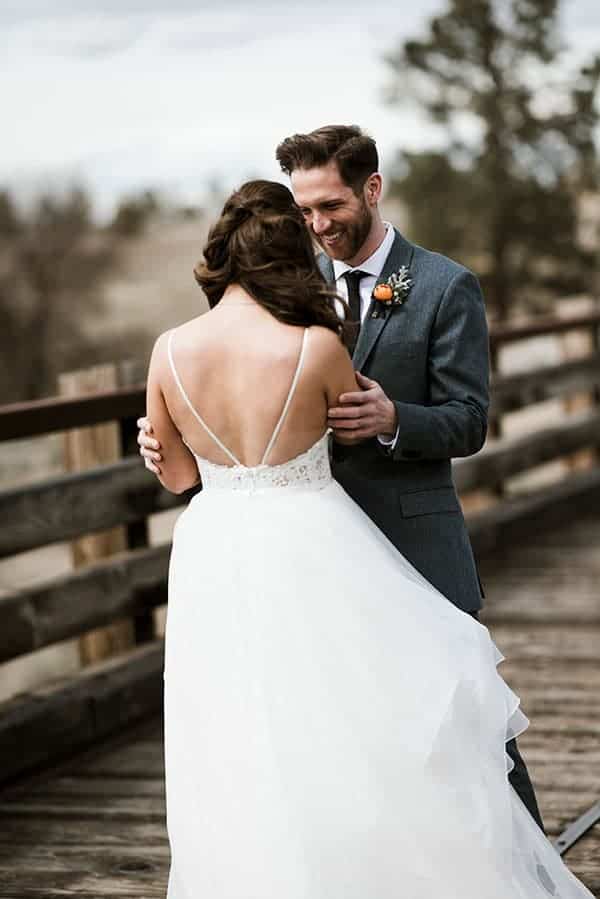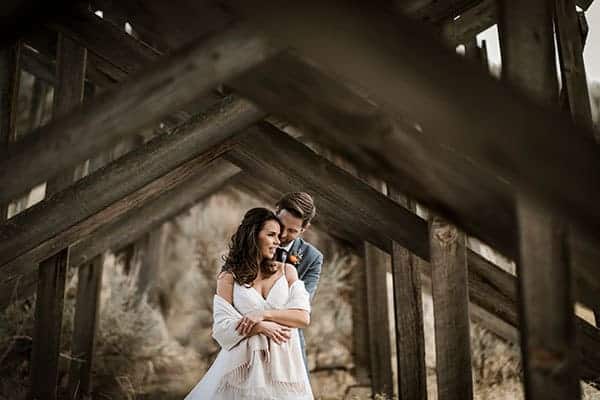 I also did a first look with my dad. It was a very special moment for us. Note the ugly cry. It was quite windy and cold during this time but I somehow managed to survive with just my $5 H&M scarf & Old Navy Jean Jacket. Just keeping it casual over here.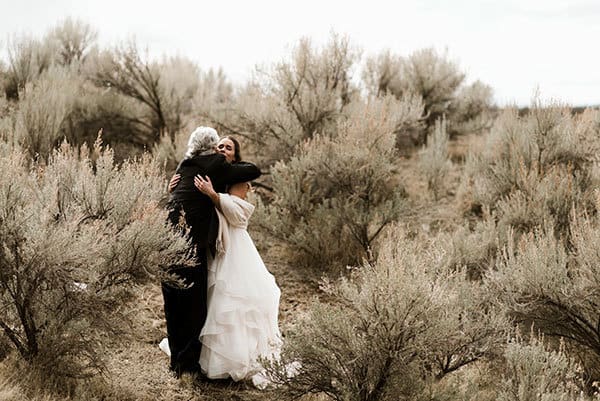 The weekend was a little bit cold as I mentioned, especially for all my California friends, and each morning we woke up to a dusting of snow, which was gorgeous. But on our wedding day, when we woke it was crystal blue skys and the Cascade Range was glowing in the distance. Halfway through the day the clouds rolled in and the wind picked up, which my photographer, Kimberley, told me was better for photos, so there's that!
One thing I dreamed about was getting married in the snow, and I knew that based on the time and location of where we were getting married, that was unlikely. But then, you guys, right before I got out of the van to walk down the aisle, the flurries started. I couldn't freaking believe it, I just lit up with joy. I turned to my AMAZING wedding planner, Amanda and we both just were in disbelief.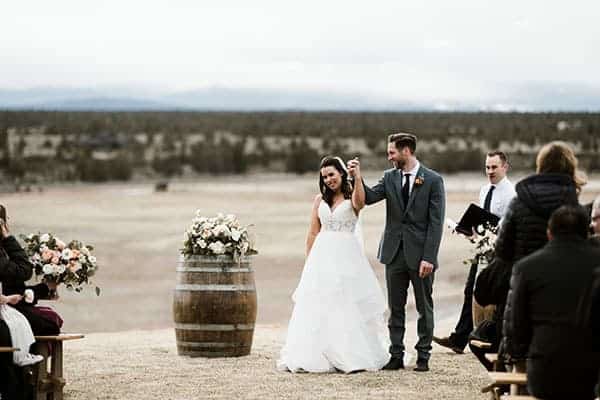 Despite the cold temperatures and wind during the ceremony, my friends told me that once I started walking down the aisle, the sun poked out. Then during the ceremony, unbeknownst to me, a bald eagle flew over while we were reciting our vows. Like really? That has to be good luck, right?
Magical is the only word I could use the describe it.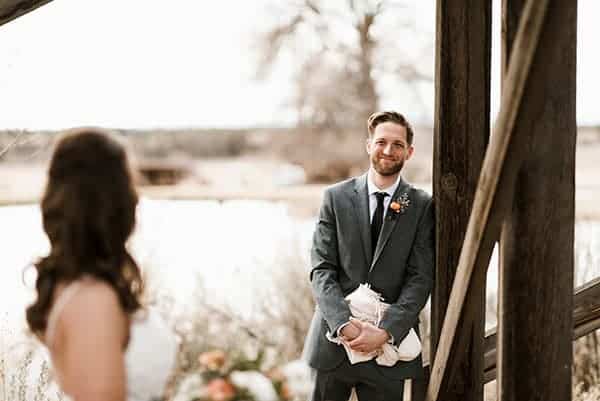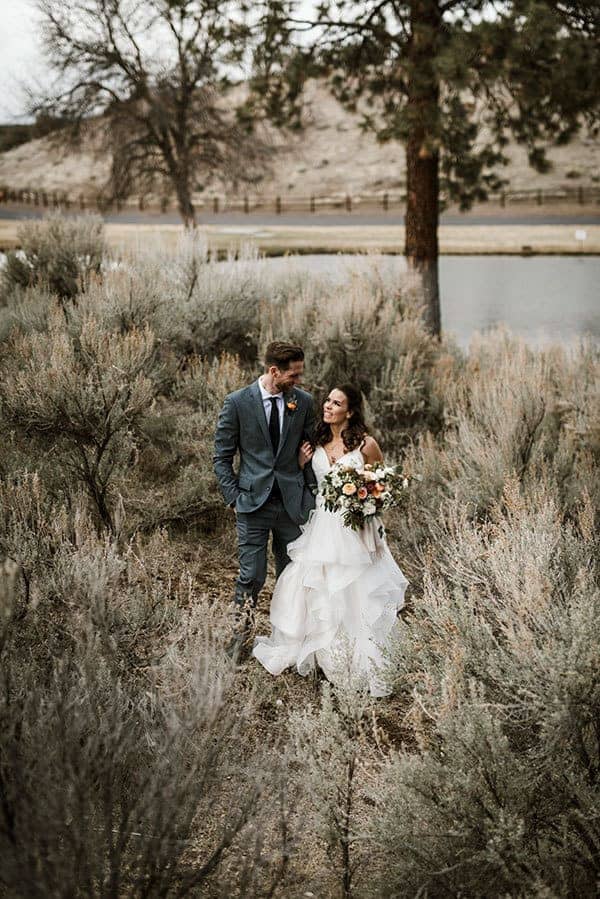 Our officiant was a friend of ours that we used to work with and who also lives in Portland. It was pretty special for us to have him marry us. So much so, that we iced him when he was signing our marriage certificate. Ah, memories.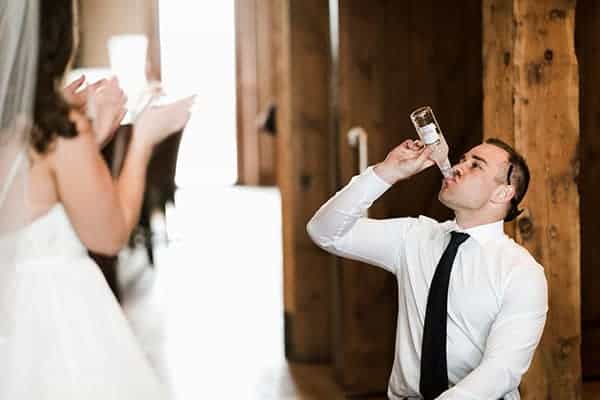 We danced the night away in the barn & cozied up at the fire pit. I also want to remember to remind my husband that "Getting Jiggy With It" is indeed one of the best wedding songs and everyone was dancing their butts off. Thank you to Flip Flop Sounds for keeping it fresh. Yes, they played Hanson, Spice Girls and the Backstreet Boys. Best night ever.
The catering staff at Brasada Ranch knocked it out of the park. We did a BBQ buffet and some late night snacks (pizza and warm pretzels). We got so many compliments on the food from our friends which meant so much to us, because we carefully selected our favorites from the menu. Our pre-wedding tasting was no joke.
My dress is from Mikella Bridal, and my mom and I found it at The White Dress Portland. I dreamed about the day my husband would see me in that dress. I wore it for about 2 hours in the shop, HA!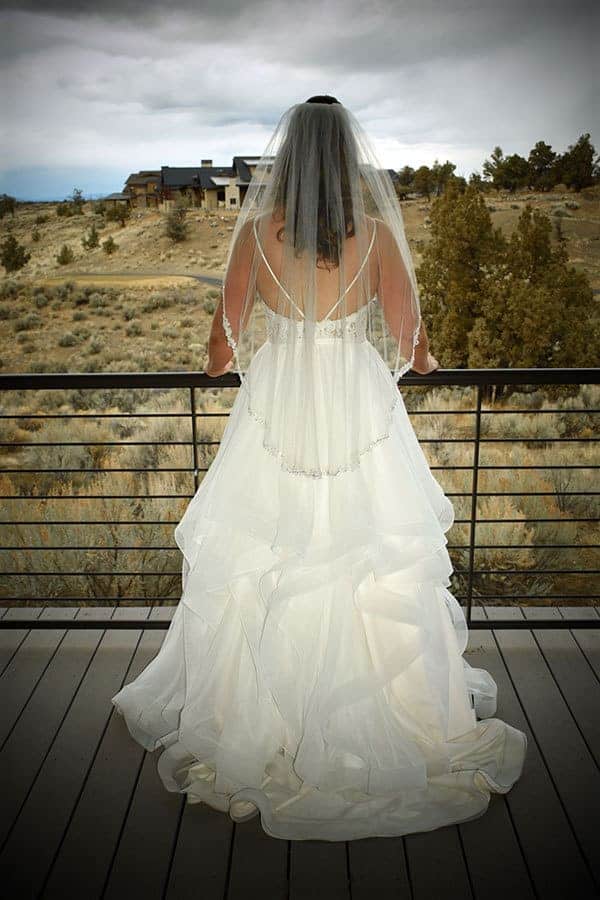 The details
So much thought and planning went into this weekend, especially since we had planned some extra events. I wanted to include personal touches everywhere I could.
In lieu of a rehearsal dinner, we got together for an intimate dinner with our immediate family. We knew that once the weekend started, we wouldn't have the chance to get very much alone time with them. This was also the first time everyone was in the same room together!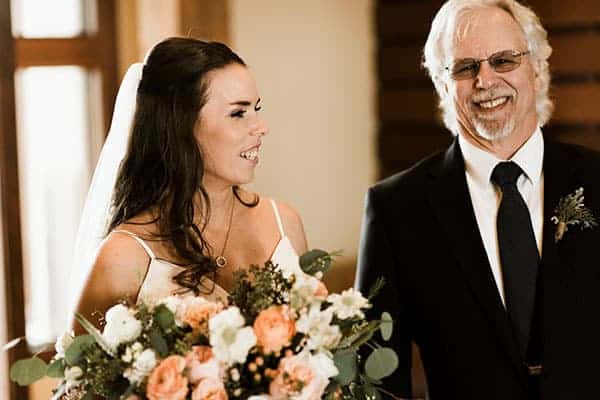 Friday night we invited all of our guests to a welcome reception where we served drinks, appetizers and s'mores. Brasada makes their owns s'more kits including the graham crackers and marshmallows. We got plenty of use our of those fire pits.
On Saturday, we got married in the late afternoon. Knowing it was going to be cold, we had planned to serve coffee and hot chocolate along with donut holes from a local donut shop before the ceremony. I ordered the donut bags from Etsy (Rooted Manor) with a custom design. I loved seeing our friends snuggled under blankets sipping on hot chocolate during the ceremony. We're a pretty laid back couple, so this was just perfect for us.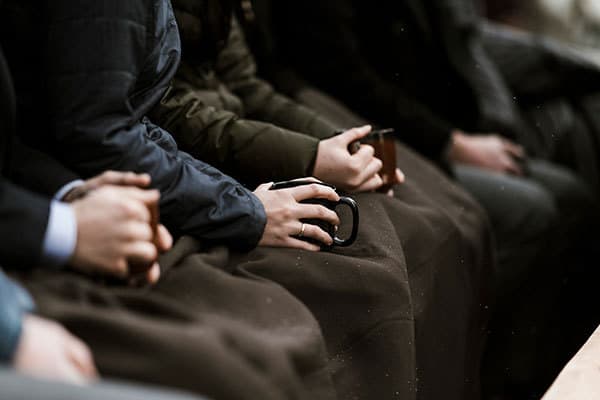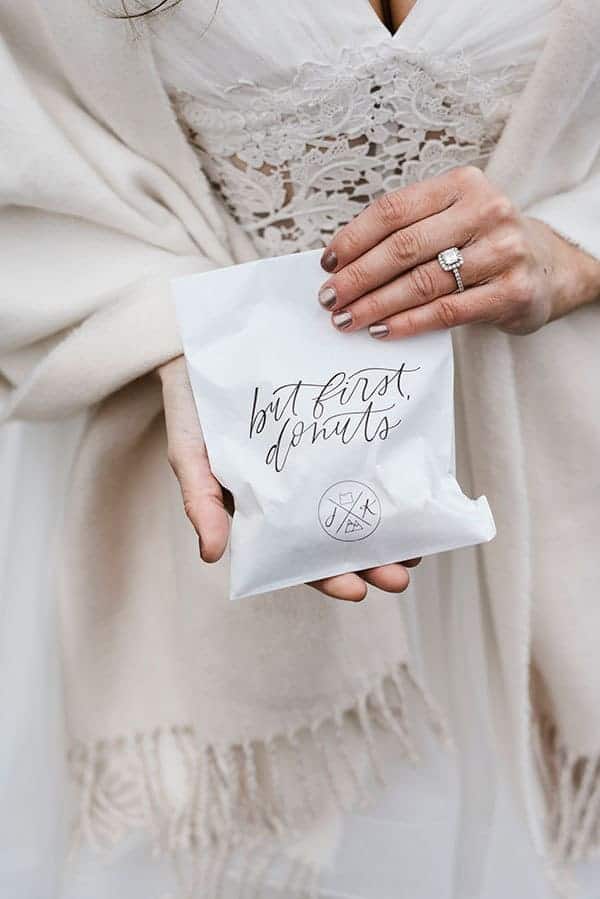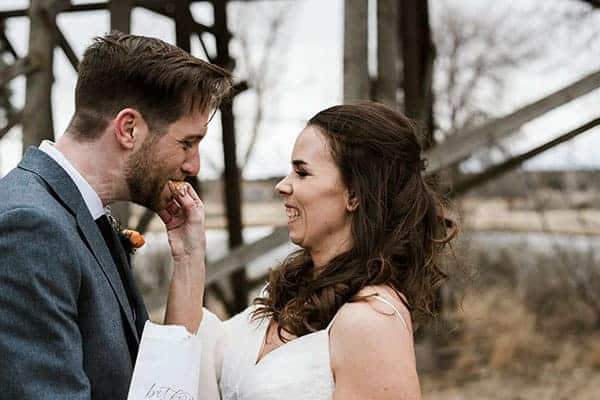 Our friends from Vermont surprised us with custom made sunglasses at the reception for all of our guests. It was such a sweet surprise. It also made for some fun photos on the dance floor!
For our wedding favors, I really struggled to come up with an idea. Finally, I decided on homemade cookies and I am so glad I did! As we made our way to talk to all of our guests, they had devoured the cookies before dinner and some of them were even trading flavors. In each bag, there was three different cookies. I made my Salted Caramel Cashew Oatmeal Cookies (seriously THE BEST), Soft & Chewy Snickerdoodles and my husband's favorite chocolate chip cookie.
I made all the cookies in advance and kept them frozen. My girlfriends and I assembled the bags together. I made the custom tags in Adobe Illustrator and printed them on brown card stock paper. I had this grand plan of cutting them on my silhouette, but it wasn't working right, so I hand cut each one and then poked a hole using a large needle. I love the way they turned out and it was totally worth it!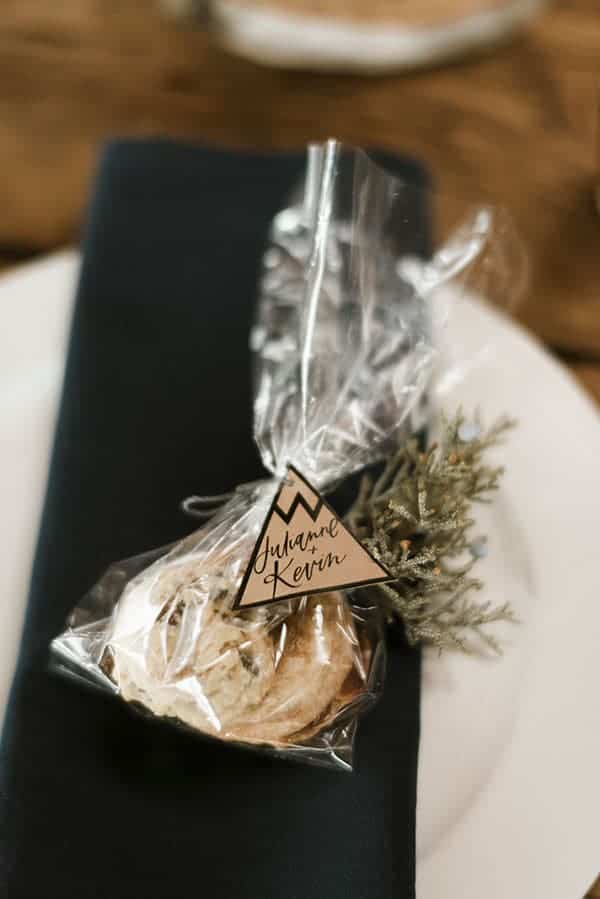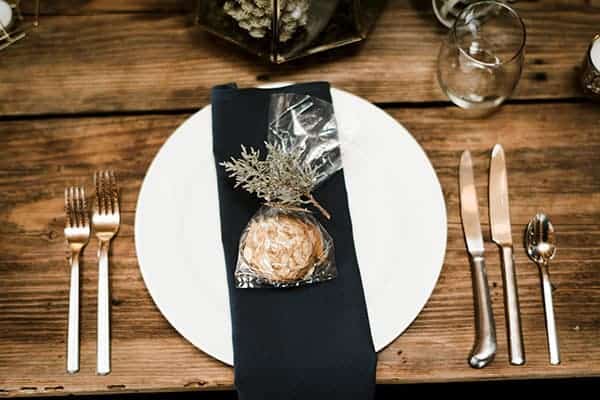 My bouquet and the all the florals and centerpieces were made by Katie from Petals. She truly made my vision come to life. We sort of had two themes, rustic mountain and modern chic and she found the perfect blend of our style. I didn't get to meet Katie in personal until my wedding day but we talked so many times, I felt like she was a close friend.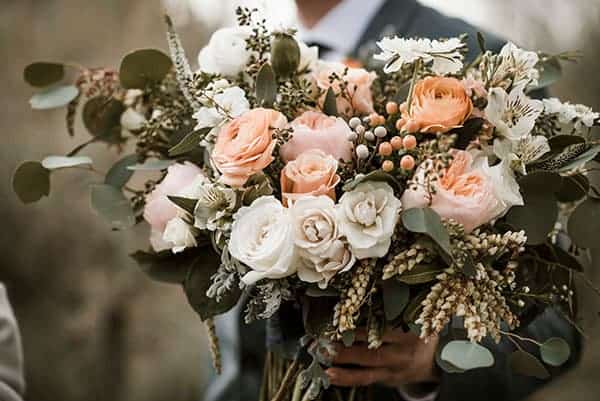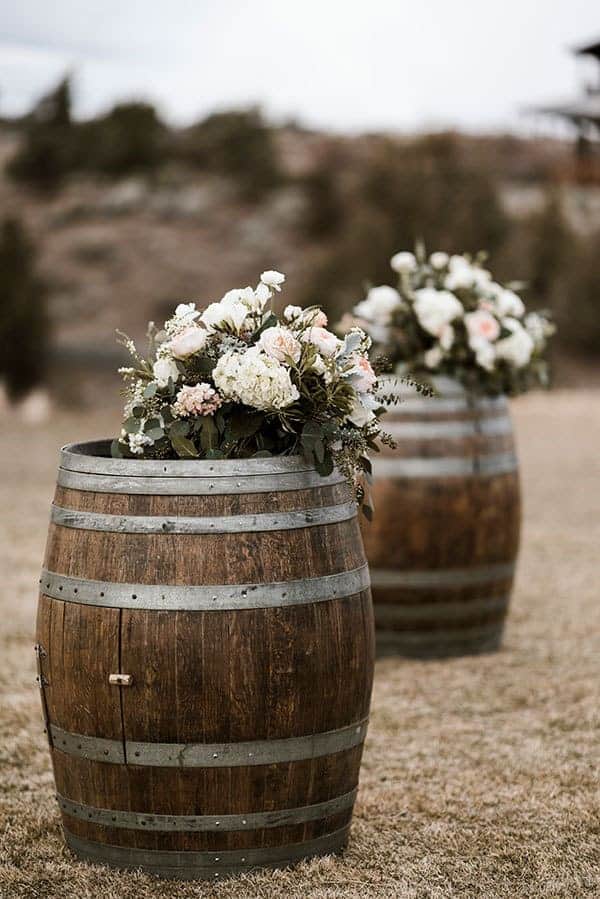 The tables were styled with gold lanterns, mini gold votives and geometric tea light holders. Katie used a mix of whites, greens and peach to compliment my bouquet. She also used a lot of juniper, which grows all over the desert there. I love the garland over the fire place. Most of the gold lanterns were rented from AE Creative through my florist, although I did purchase a couple from Hobby Lobby for myself.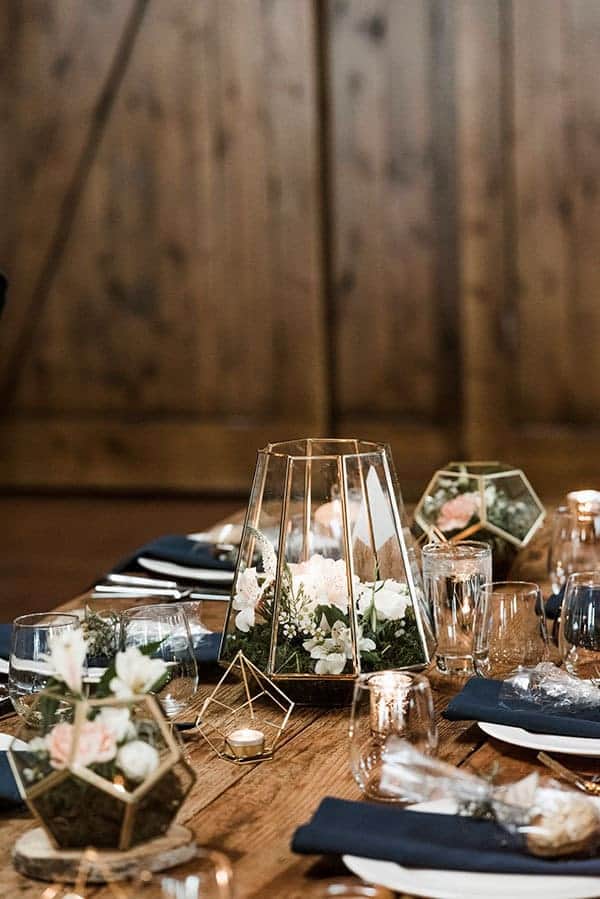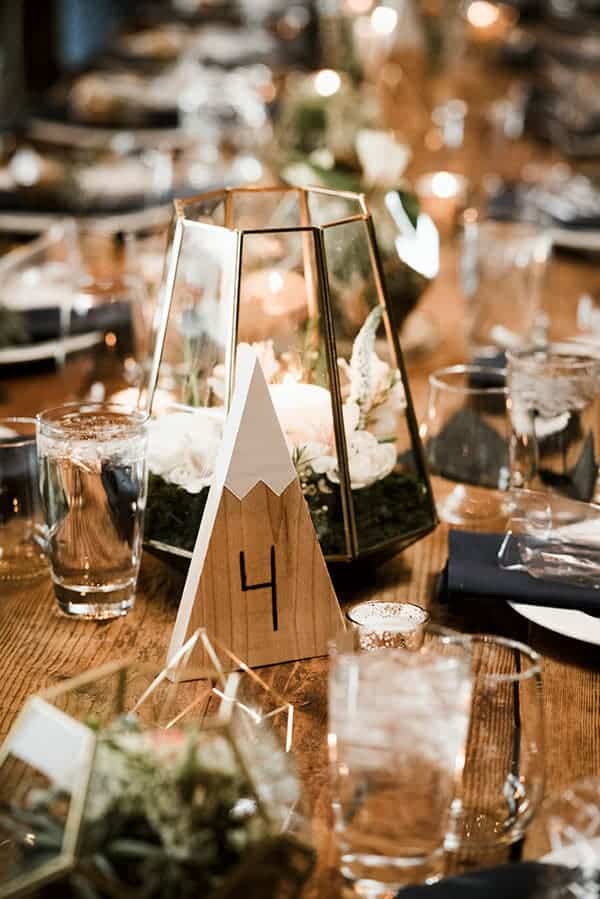 My dad made me the table numbers. After seeing a picture of Pinterest, I sent it to him and asked if he could make them for us. In true fashion, he brought me samples of various woods for finish, texture and thickness. Then he cut and painted each one. I enlisted the help of a local friend who burned the numbers into the wood. I got so many compliments on these!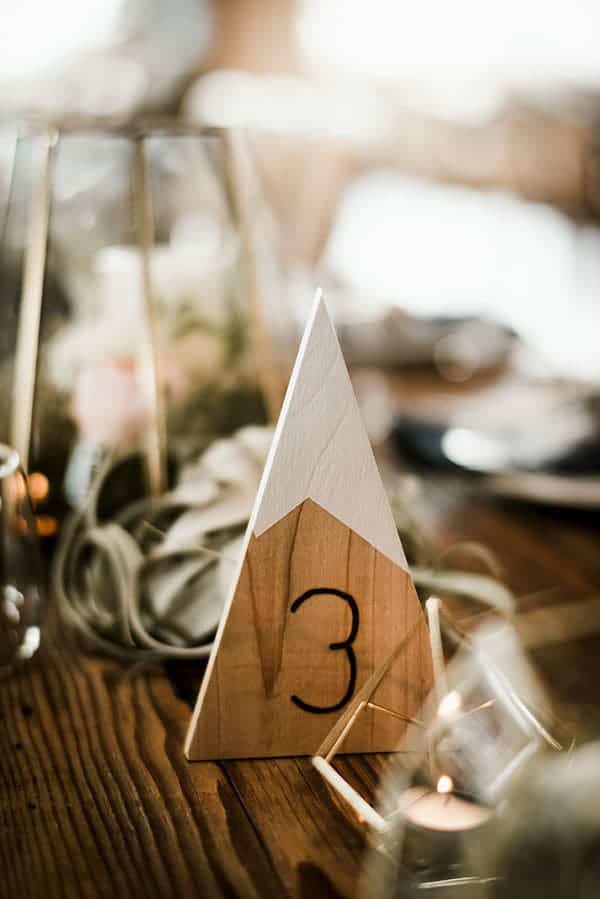 I also found this amazing wall art on Etsy featuring a mountain range made out of small wood planks that are painted or stained to create the scene. Sure enough, my dad came through big time with this piece. It might be one of my favorite gifts from the wedding, and something we now have hanging in our house.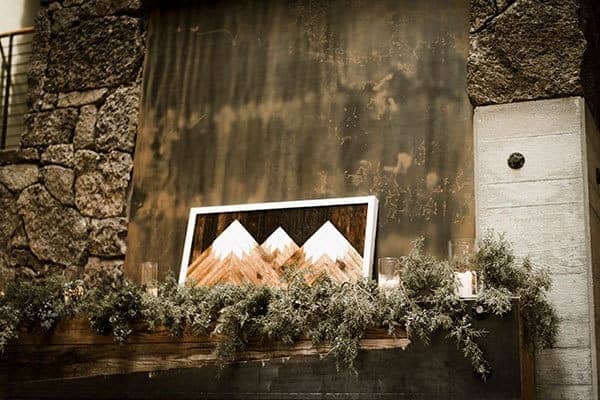 For the bar, I enlisted the help of The Swig Rig. How adorable is this vintage camper? This was a major splurge for me. Originally it was out of our budget, but I just couldn't stop thinking about it. After attending a local wedding show, they were offering a deal if you booked it that week. I knew I couldn't pass it up a second time. I want one for my house.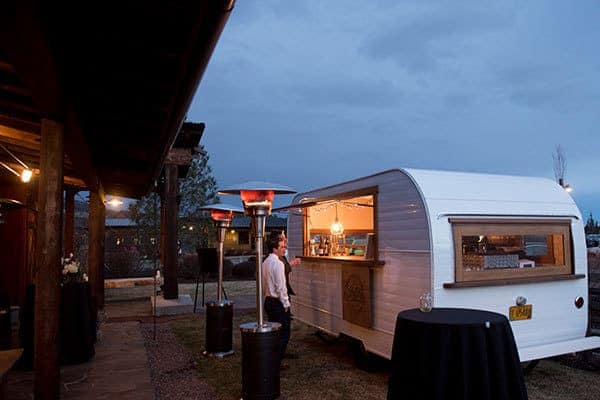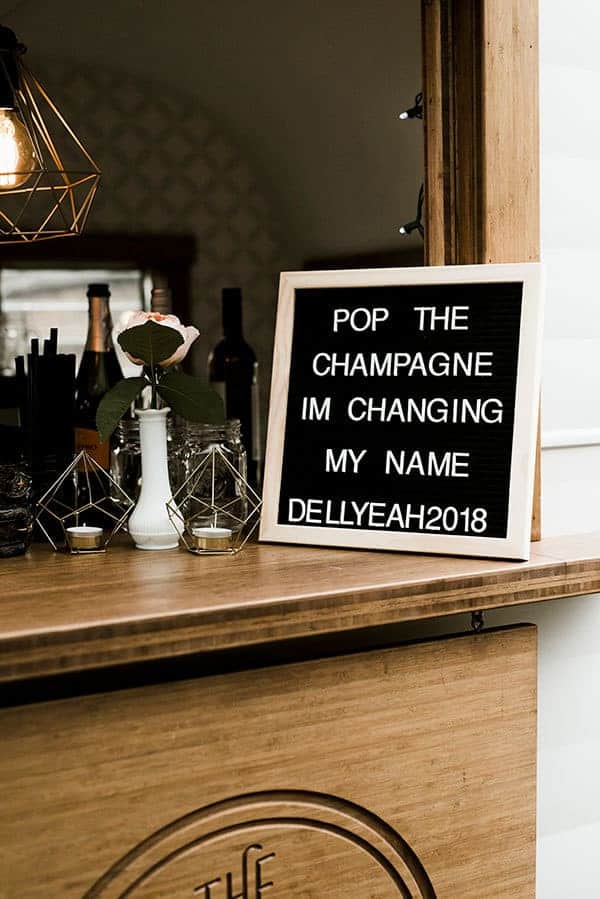 The seating chart was a thorn in my side. I really wanted to do something personal but affordable and I search for HOURS. I am not a crafty person, but I finally found some wooden window panes at a local craft store. I attached some wire to the backside and then hung pieces of paper with hand written names on them. Thank goodness for my girlfriends and their penmanship.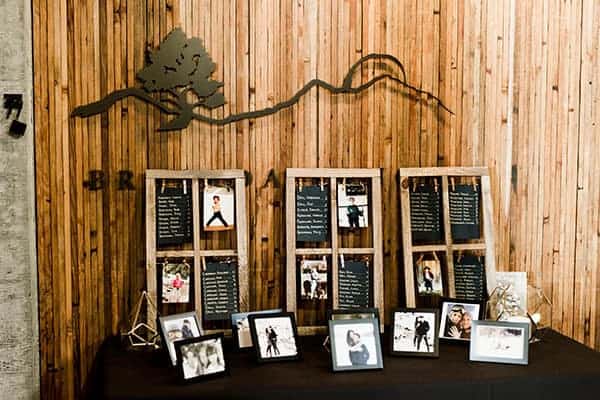 After lots and lots of searching on Etsy, I came across Lit Lettering who custom designed our invitations. I could not have asked for anything more. We chose to print them at a local paper press in Portland so that we could choose the paper type and what not. Invitations were another thing I really stressed over, but I love the way they turned out!
The dessert table
I know everyone's been asking me what I served for dessert, and believe me, there was plenty of it! I stressed about how to style this dessert table for days! I laid it all out in my office before hand, but it didn't really come to life until I got to the venue.
I have styled several large scale dessert tables before, which seemed to be way easier for me. I have acquired a few pieces over the years but actually putting it all together was much harder. I am glad we got married within a drivable distance so I could style this table myself. My car was packed full of stuff.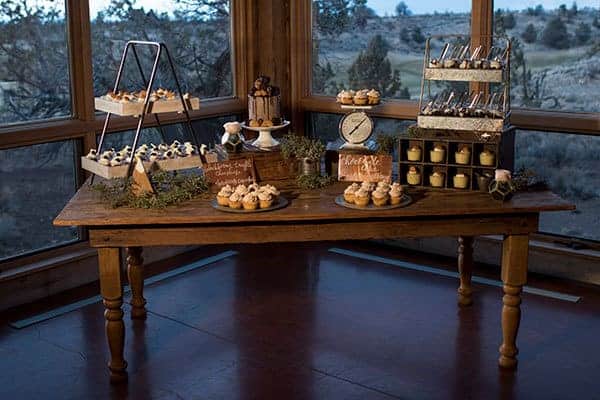 I went with a mix of rustic and vintage bakeware including a kitchen scale, flour sifter, measuring cups and wire whisk. I also had a couple of wooden crates that I used to add height. I purchased one from an antique store last summer and the other one I borrowed from the venue.Then I added some more modern pieces with galvanized metals.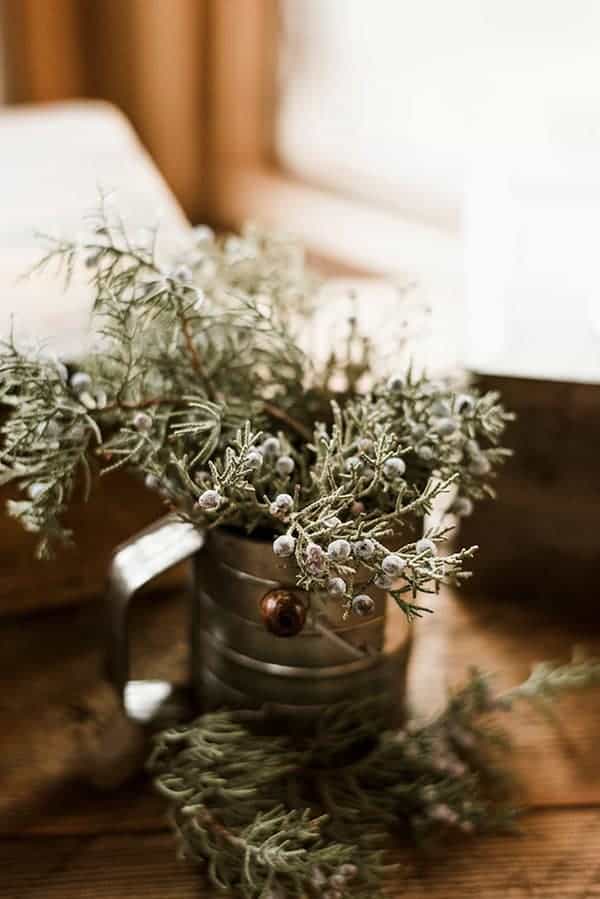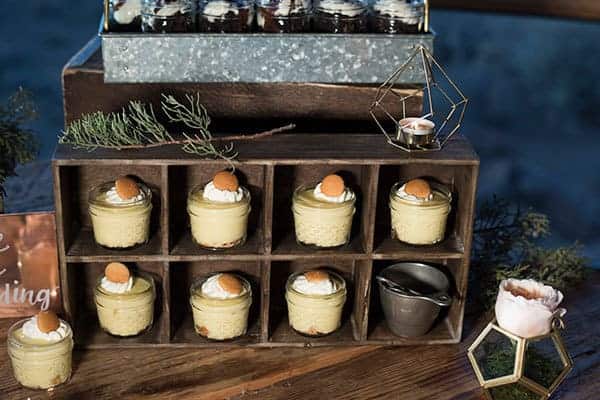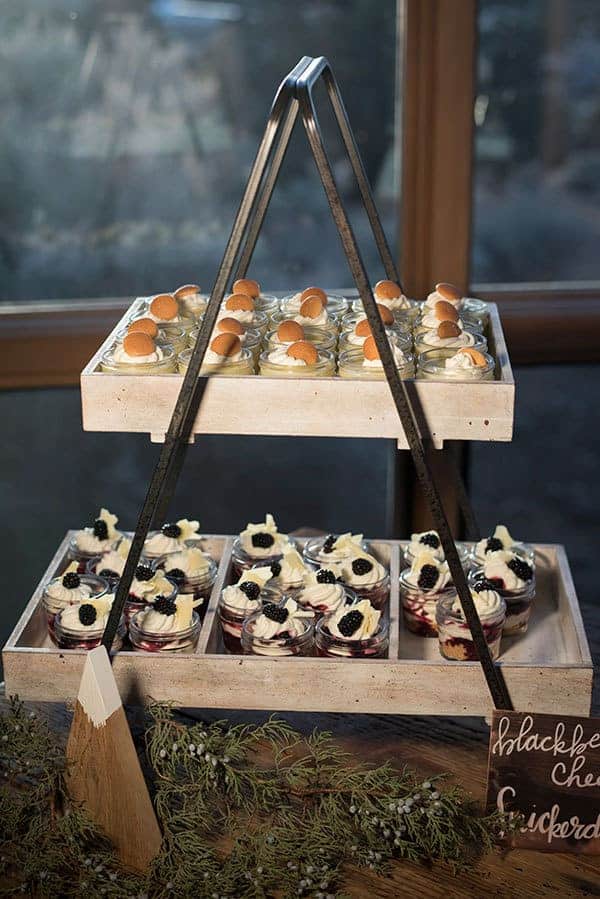 All the desserts on the table (with the exception of one!) were either from my cookbook or from my blog. Originally I wanted to go with all no-bake desserts, but after trying the chocolate cake from the pastry chef, Cindy, I knew we had to incorporate that. Cindy did SUCH an amazing job for us.
For the parfaits, we served banana pudding (Brasada Ranch recipe) and a no-bake white chocolate blackberry cheesecake which is the cover recipe for my cookbook. This can easily be made into parfaits! We also served Coffee Cake Snickerdoodle Cupcakes because they are a family favorite. Finally, we served the chocolate cake with some fudge sauce and the chocolate stout pudding recipe from my cookbook. These were INSANE!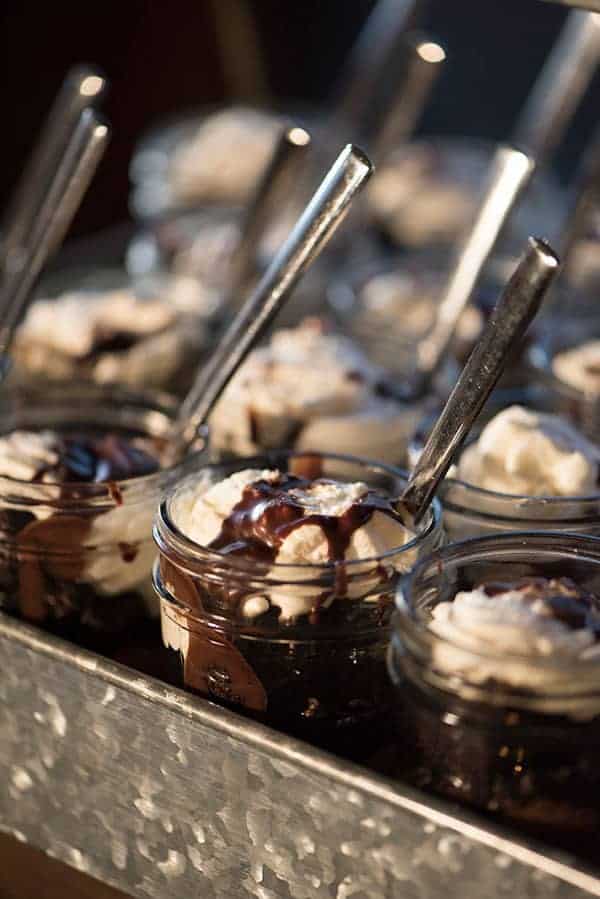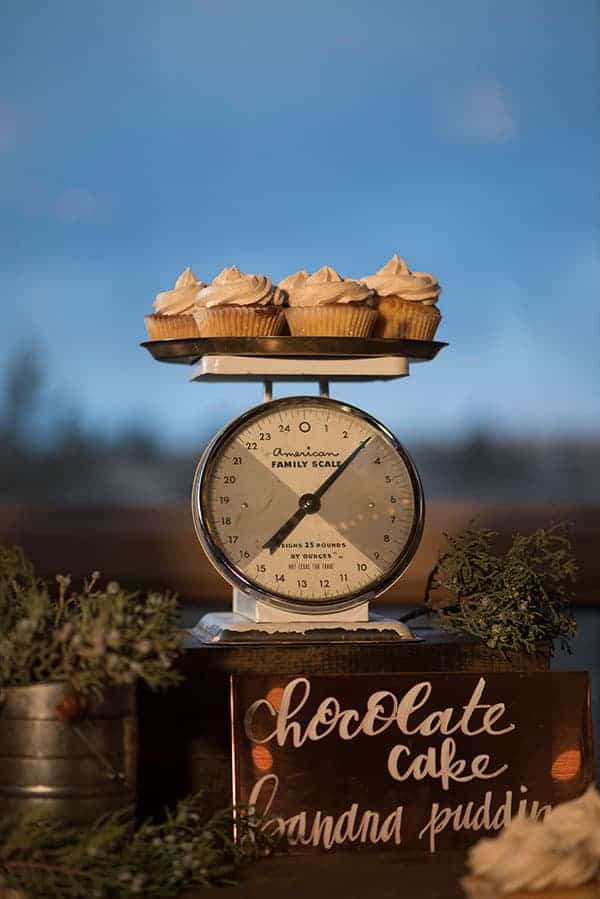 Most of my friends walked away from the table with multiple desserts in hand, which is exactly what we wanted!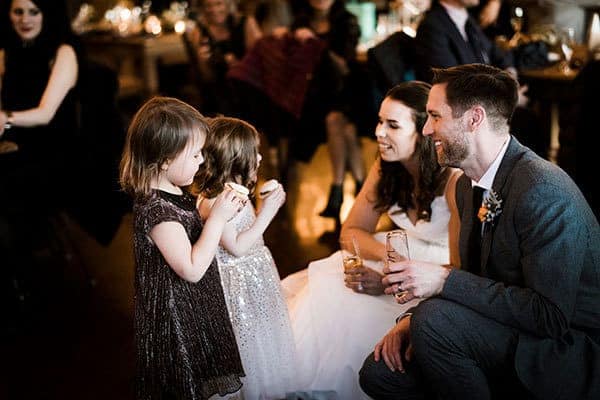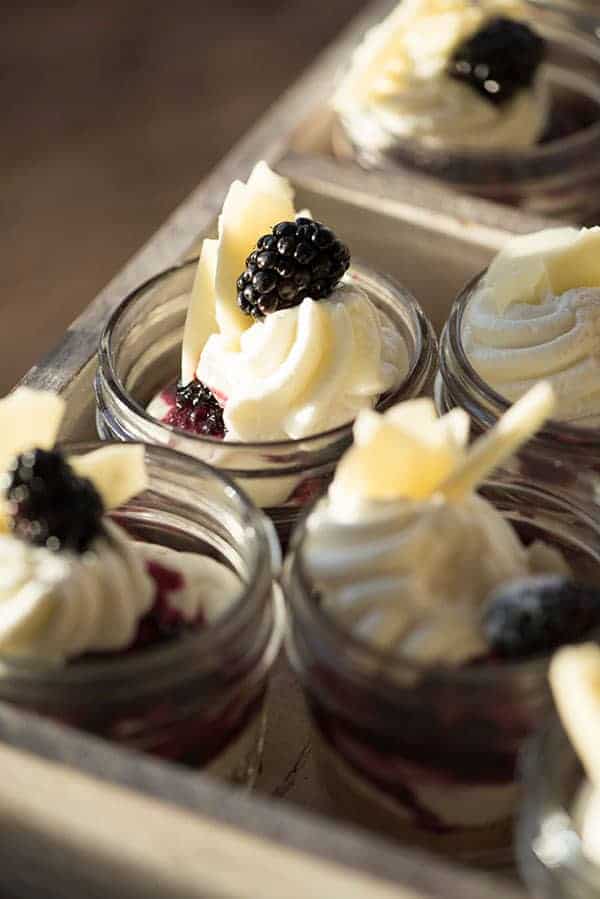 For our cutting cake, I kept this a secret from my husband, although he never even asked me what we were doing??? Weird. Eventually, maybe a month before the wedding, he overheard a conversation as I was telling my friend that I was surprising him with the cutting cake. I wanted it to have an Oreo frosting because that is his favorite! I ended up choosing a Brookie Cake because I wanted a real show stopper! Isn't she beautiful?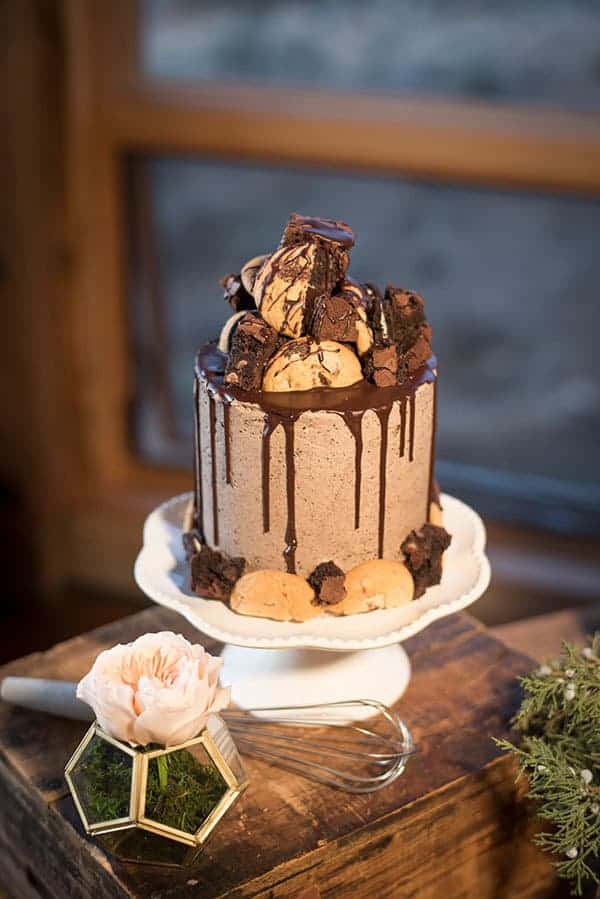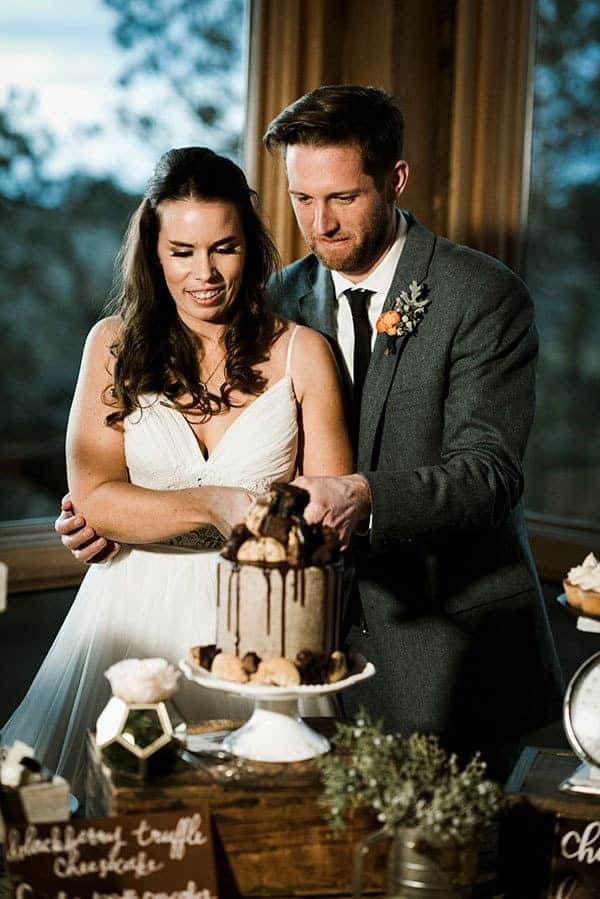 Phew! I think that's about everything. Thank you so much for letting me share our special day! I know that I will be able to look back on this post some day and relive all these memories! Next up, we will be heading to Japan for our honeymoon in January 2019. If you've ever been and have any recommendations, please get in touch with me by leaving me a comment or sending me an email!
This weekend could not have been possible without my amazing vendors!
Venue: Brasada Ranch
Dress- The White Dress Portland, designer Mikaella
Photographer: Kimberly Kay Photography
Hair and Makeup: Lori, Edge Hair and Makeup
Florals & Decor: Petals Flowers by Katie
DJ- Flip Flop Sounds
Mobile Bar- The Swig Rig
Lighting and wine barrels: Illuminate the Night
Catering and desserts: Brasada Ranch
Invitation design: Lit Lettering
Invitation printing: PaperJam Press
Donut Favor Bags: Rooted Manor