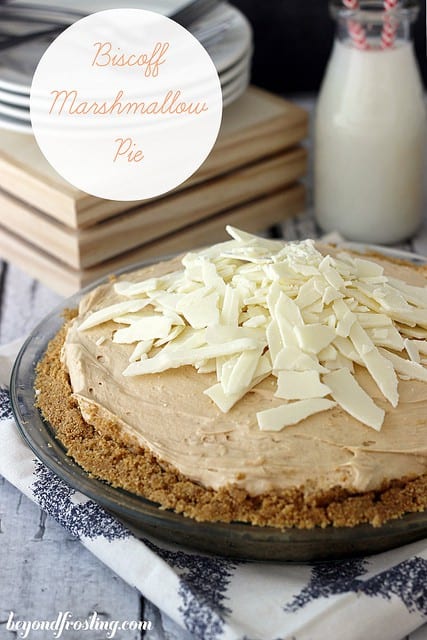 Hey guys, it's Pi day!! 3-14-14. I have this friend, who is a highly educated college math professor (and a killer snowboarder), and I know that she is going to the love this post, because she loves "Pi" and prime numbers. She's such a nerd, but I love her; I think it is because our birthdays are only 4 days apart. She is one of the few people in California that I have met that I call a true friend. Since I moved north, I only get to see her regularly during the winter months when we snowboard on the weekends. I really wish she lived closer to me because I hardly know anyone in my area outside of work. So enough about the number Pi, let's talk P-I-E.
A group of fantastic bloggers is filling up your inbox with PIE recipes today in celebration of Pi day. There is everything from banana to strawberry to chocolate. My contribution is this amazing Biscoff Marshmallow Pie. Bonus, it's also a no-bake recipe. The thing about pies is that they can very finicky. You can burn the crust, they can be difficult to cut; and let's face it the crust is the most important part. So for me, no-bake recipes are preferred when it comes to pie (although apple pie always has a special place in my heart).
I apologize in advance, but this recipe is not waist friendly. In fact, I suggest you grab a pair of sweatpants and a fork and leave your guilt at the door. I promise you won't be sorry. It is packed with a jar of Biscoff, a block of cream cheese, a jar of marshmallow fluff and a container of cool whip. Just because I think chocolate makes anything better, there is also melted white chocolate in the pie filling. For the crust, I used a standard graham cracker crust; extra graham crackers and extra butter. Hey, I warned you, right?
When you are preparing the filling, it will look a bit soft, like a custard texture. After a couple hours in the fridge, it will firm and has a consistency like a no-bake cheesecake; light, fluffy and full of air. You will notice that the filling is piled high above the crust; this is intentional. I love the look of a large slice of pie! I chose to top my pie with additional white chocolate chunks, simply because I thought it needed something else. I made my chocolate shaving with Candiquik, because they melt to the perfect consistency, spread easily and once cooled, they break apart with ease. You could also crumble additional graham crackers on top if you would like.
You can see all the amazing pie recipes being shared today by clicking the images below.

Follow Beyond Frosting:
Facebook | Twitter | Pinterest | Instagram
Print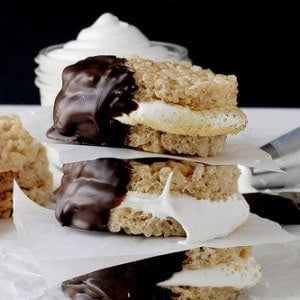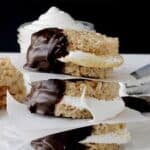 Biscoff Marshmallow Pie
---
Prep Time:

10 minutes

Total Time:

10 minutes

Yield:

8-10 slices
Description
A no-bake pie with a white chocolate, Biscoff and marshmallow filling.
---
Ingredients
For the crust
2 1/4

C Graham cracker crumbs

6 tbsp

Unsalted butter- melted
For the filling
4 oz

White chocolate

2 oz

Heavy cream

1

pk (8oz) Cream cheese

1

Jar (14oz) Biscoff spread

1 tsp

Pure vanilla extract

2 tbsp

Heavy whipping cream

1

Jar (7oz) Marshmallow fluff

1

pk (8oz) Cool Whip (thawed)
For the chocolate shavings
6 oz

White chocolate Candiquik
---
Instructions
If using whole graham crackers, use a food processor to grind into a fine crumb.
Melt butter in a microwave-safe bowl and pour melted butter over graham crackers. Stir to combine until all crumbs are moistened.
Press into a 9" pie pan using a spoon or measuring cup to compress crust. Set aside.
For the filling
Combine white chocolate and heavy cream in a microwave-safe bowl. Microwave on high for 45-60 seconds until melted. Vigorously stir until all the chocolate is melted. Allow to cool for about 10 minutes or so, pop it in the fridge if needed.
Using the paddle attachment of your Kitchen Aid mixer, whip cream cheese on medium speed until light and fluffy for 2-3 minutes. Add Biscoff spread and continue to beat until well mixed.
Add melted white chocolate and mix until combined, scraping down the side of the bowl if necessary.
Add the vanilla extract and heavy whipping cream, increase mixing speed to medium-high and whip for 2-3 minutes to add air into the batter.
Empty container of marshmallow fluff into batter and mix thoroughly.
Once all ingredients are mixed together, add Cool Whip and beat into batter. Scrape the bottom of the bowl with a spatula and mix together.
Chill in the refrigerator for at least two hours. Serve chilled.
While pie is chilling, prepare chocolate shavings. Melt Candiquik in the microwave for 45-60 seconds. Stir until smooth. Spread an even, thin layer on parchment paper or a baking mat. Allow to set completely. This can be refrigerated as well. Once firm, fold in the edges of the parchment paper to start breaking it into pieces. Sprinkle on top of the pie.
---
Notes
To help cut your pie, run the knife under hot water and dry it before cutting into the pie.
Recipe Card powered by