This post may contain affiliate sales links. Please see my full disclosure policy for details
This brown butter frosting recipe is ultra-rich and creamy with flecks of toasty browned butter throughout. It's an easy way to take your basic buttercream up a notch!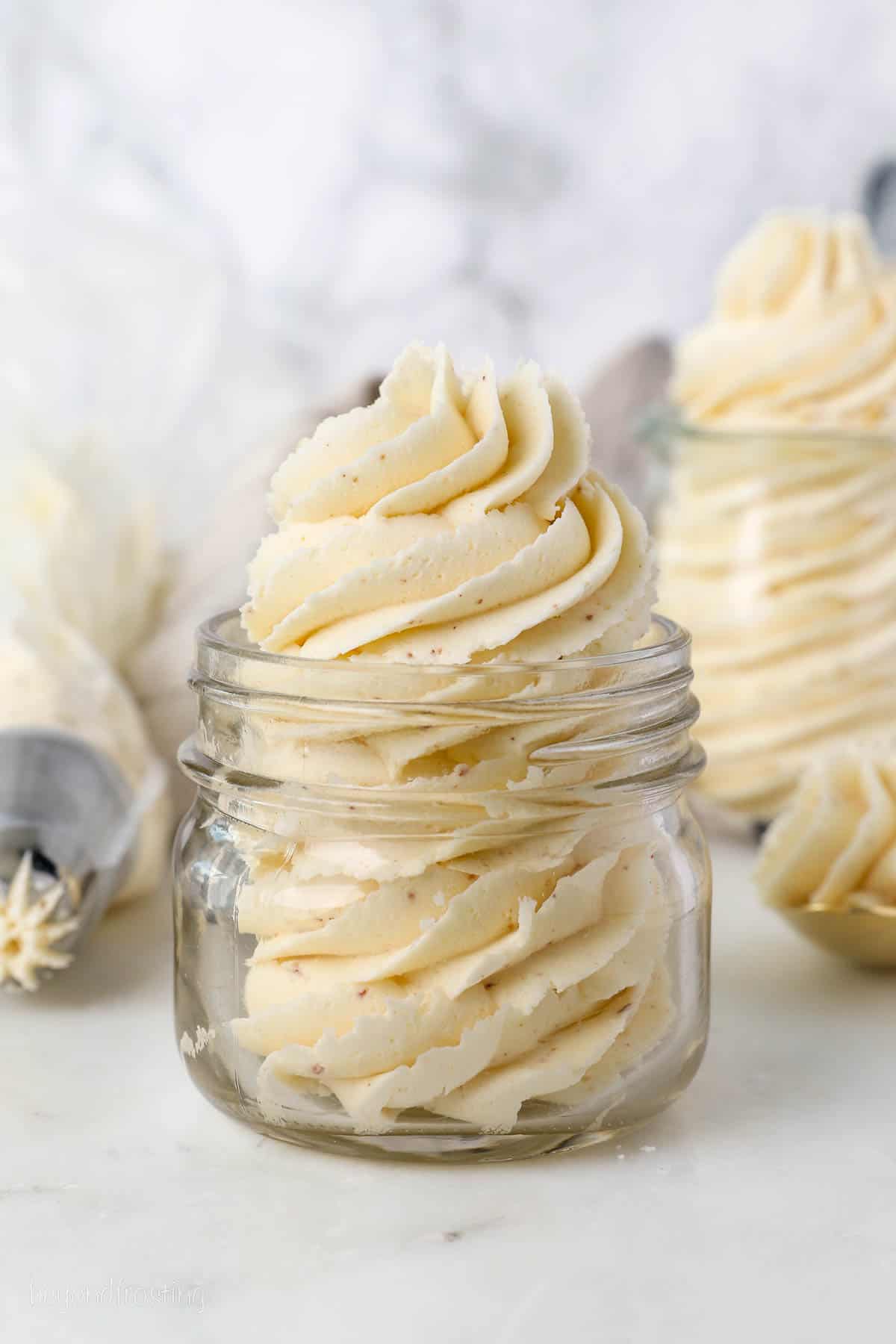 The Best Brown Butter Buttercream Frosting
You may be aware already, but I'm a teensy bit in love with brown butter. Recently, I tested out a variation of my perfect vanilla buttercream with brown butter in the mix. Can I just say, whoa!
This brown butter frosting is rich and creamy, with deep, toasted flavors. It pipes perfectly, creating delicious buttery swirls that complement so many cakes and cupcakes.
I loved piping it over my favorite chocolate cupcakes, and I can't wait to try it on even more desserts. The browned, nutty flavors would be incredible with so many treats. Especially fall baking! You need to give this frosting recipe a try.
Why You'll Love This Frosting Recipe
Between adding browned butter to blondies and chocolate chip cookies, it's like a secret weapon that instantly boosts the flavors in just about any dessert. Here's why you'll love this brown butter frosting:
Flavorful. Browned butter brings rich, nutty flavor to your basic vanilla buttercream. It's seriously the best frosting! Sweet but not overly sweet, balanced with a pinch of salt.
Versatile. Brown butter frosting pairs wonderfully with everything from chocolate cupcakes to brownies, vanilla cake, carrot cake, and sugar cookies. It pipes beautifully, and it would be amazing with fall or winter baking, too.
Easy to make. This homemade frosting recipe uses simple ingredients and an easy technique to make something truly sensational.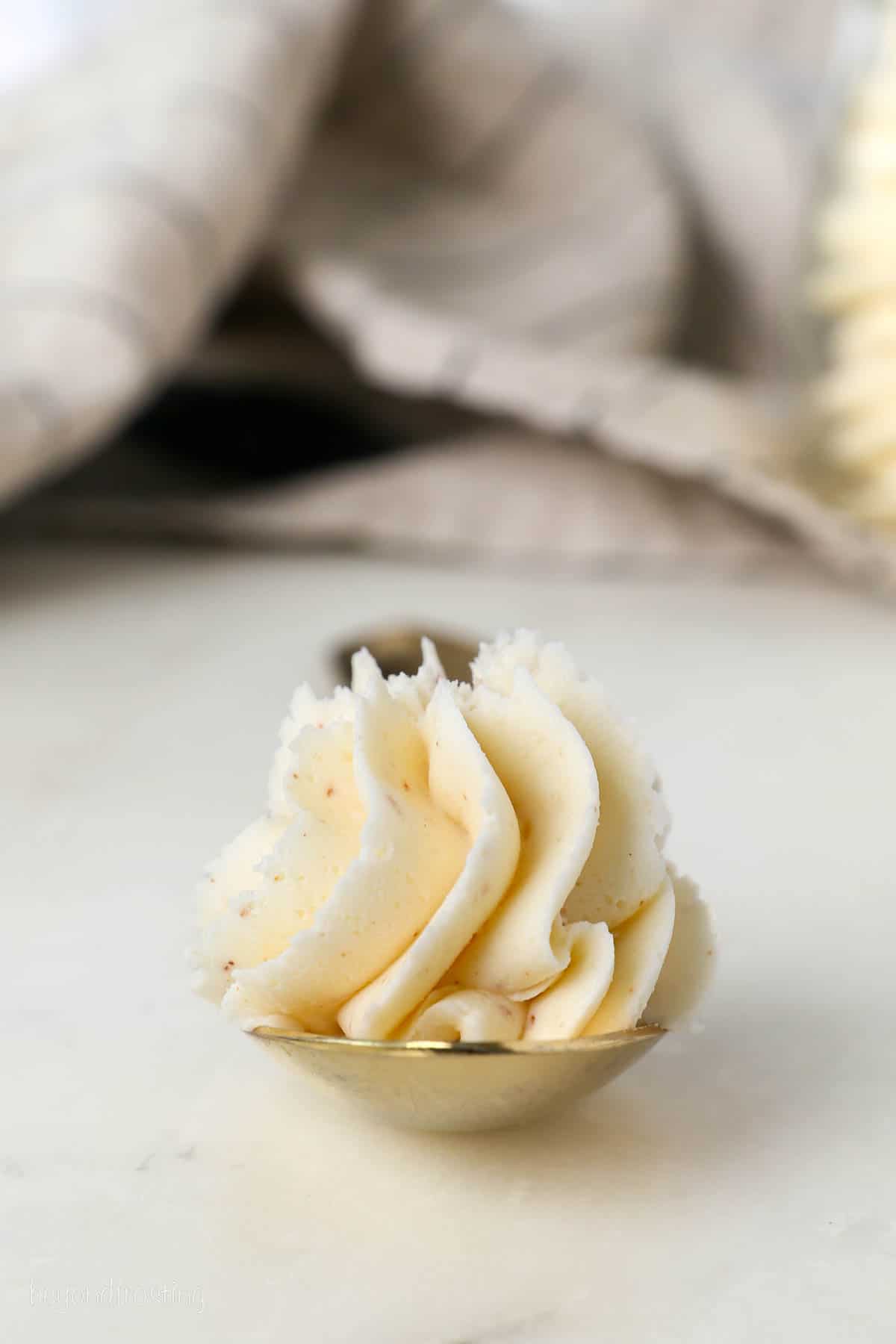 Frosting Ingredients
You only need 4 ingredients to make this easy browned butter buttercream frosting. Be sure to scroll to the recipe card below the post for the full recipe details and instructions.
Butter – We'll be browning unsalted butter, then allowing it to cool and re-solidify before combining it with cold butter for the frosting. If you use salted butter, you'll omit the additional salt.
Powdered Sugar – Also called confectioner's sugar.
Heavy Cream – For the creamiest frosting, make sure to use full-fat heavy whipping cream.
Pure Vanilla Extract
Salt
How to Brown Butter
Browning butter opens doors to all sorts of delicious recipes, including this frosting. I have a full tutorial on how to brown butter that you can refer to if needed. It's very easy to do:
Heat. Begin by cutting ¾ cup of butter into small cubes. Add these to a saucepan to heat over medium-low.
Brown. When the butter reaches a boil, stir constantly as the milk solids in the butter turn golden brown (see photo). Once darkened, take the saucepan off the heat and transfer the butter to a heatproof bowl.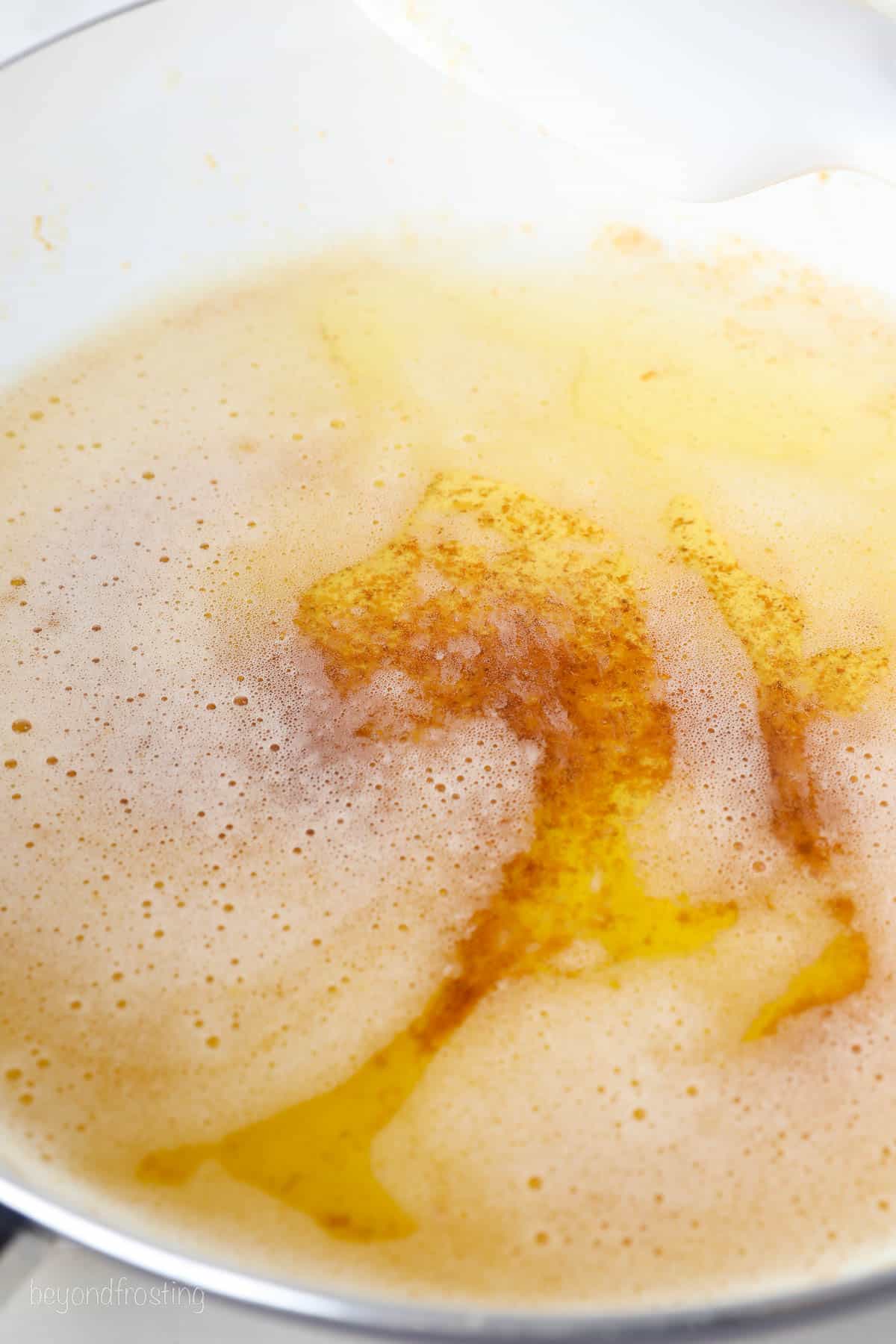 Chill. Transfer the browned butter to the fridge or freezer to chill until it re-solidifies to the point where you can easily run a spoon through it (see additional notes below) Afterward, stir the butter together to reincorporate the browned milk solids.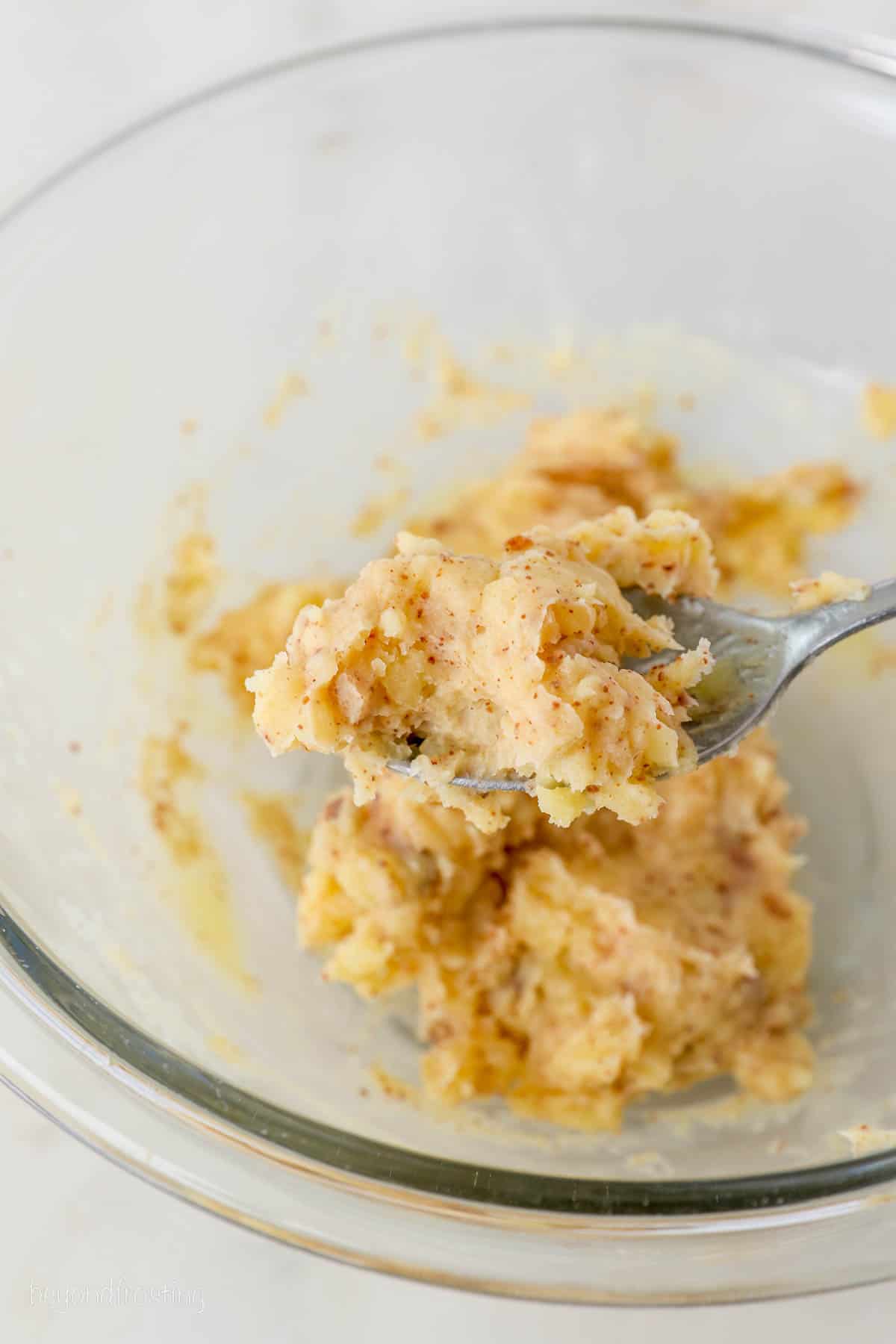 Properly Preparing the Butter for Frosting
Having the right butter consistency is key to blending the regular butter with the brown butter and avoiding lumps of butter in the frosting.
When chilling the butter, you want to chill it long enough so that it's not a liquid consistency and can be remixed easily. Similar to ice cream, you want to be able to smoothly scoop it from the bowl.
Let's say you want to get ahead and prepare the brown butter for a later time, or perhaps you let it sit in the refrigerator or freezer for too long and now it's rock hard, then what?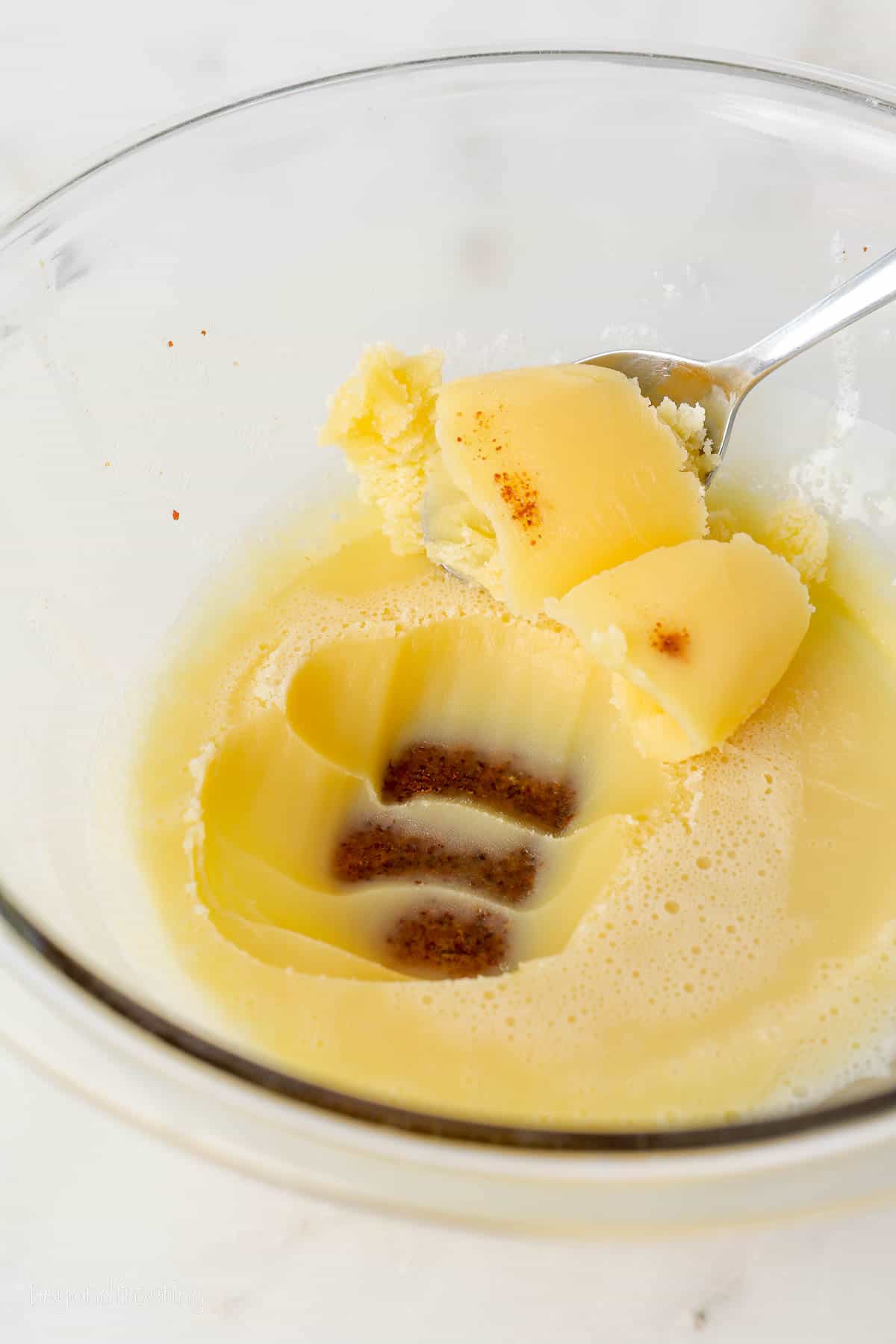 There is some loss of moisture during the browning process resulting a very firm consistency. If you try to add this rock-hard butter to the mixing bowl, it's difficult to get it to whip smoothly.
So what you'll need to do is either allow it to sit out at room temperature for about 30 minutes until you can easily stir it back together or microwave it for 10 seconds at a time to soften it up just enough so it can be stirred back together as pictured in the step-by-step instructions.
How to Make Brown Butter Frosting
Once your browned butter is ready, it's time to make the frosting! From here on out, this brown butter frosting follows a similar process to most buttercream recipes.
Whip the butter. Cube your remaining cold butter (that has not been browned), then give it a good whip in the bowl of your stand mixer for 5-7 minutes, until smooth and creamy. You want it to be the same consistency as the brown butter. Once it reaches that consistency, add in the browned butter and beat until combined.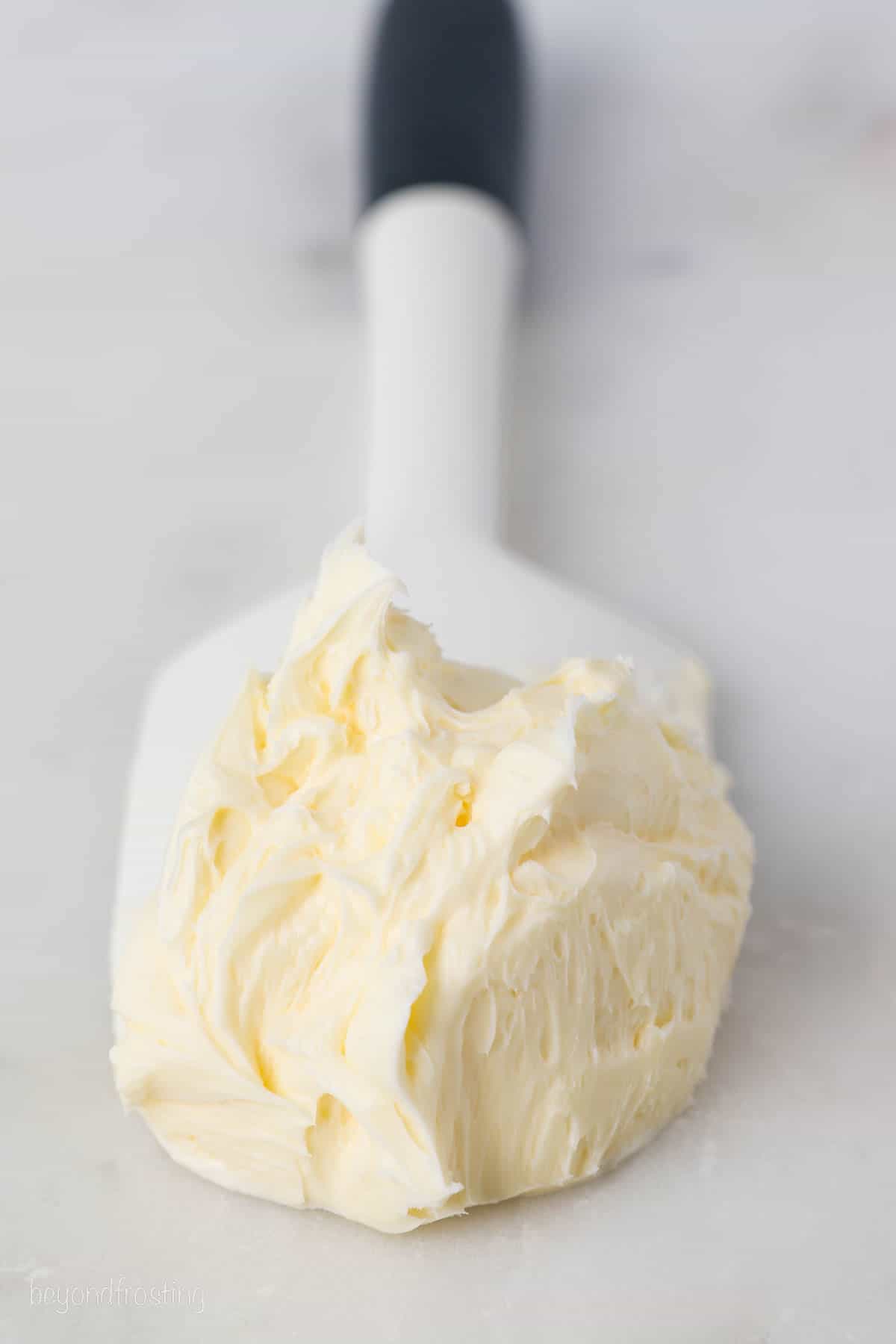 Combine. Add half of the powdered sugar along with salt and vanilla. Beat for a couple of minutes until it's whipped and fluffy, then mix in the remaining powdered sugar with the heavy cream until combined.
Whip again. Once everything is mixed together, beat on high for 2-3 minutes to really whip air into the frosting. Your brown butter frosting is ready to use or store!
This recipe doesn't require a ton of technique, but there are a few things to keep in mind when making your homemade frosting. Here are some final tips:
Remix the browned butter. All the milk solids settle at the bottom of the bowl while the brown butter chills in the fridge. To make sure that they're redistributed throughout the frosting, give your brown butter a mix before you start.
Cool the browned butter completely before you use it. Adding warm butter to cold frosting ingredients will cause the frosting to turn out runny.
If your buttercream frosting is too thick, add additional heavy cream one spoonful at a time to help thin out the consistency. If you notice that your frosting is on the runny side, add a bit more powdered sugar.
Make sure to really whip the cold butter for a few minutes, to get it smooth and free from lumps. All of my frosting recipes begin with cold butter. Beating the butter when it's cold from the fridge takes a bit of extra effort, but it yields the fluffiest frosting.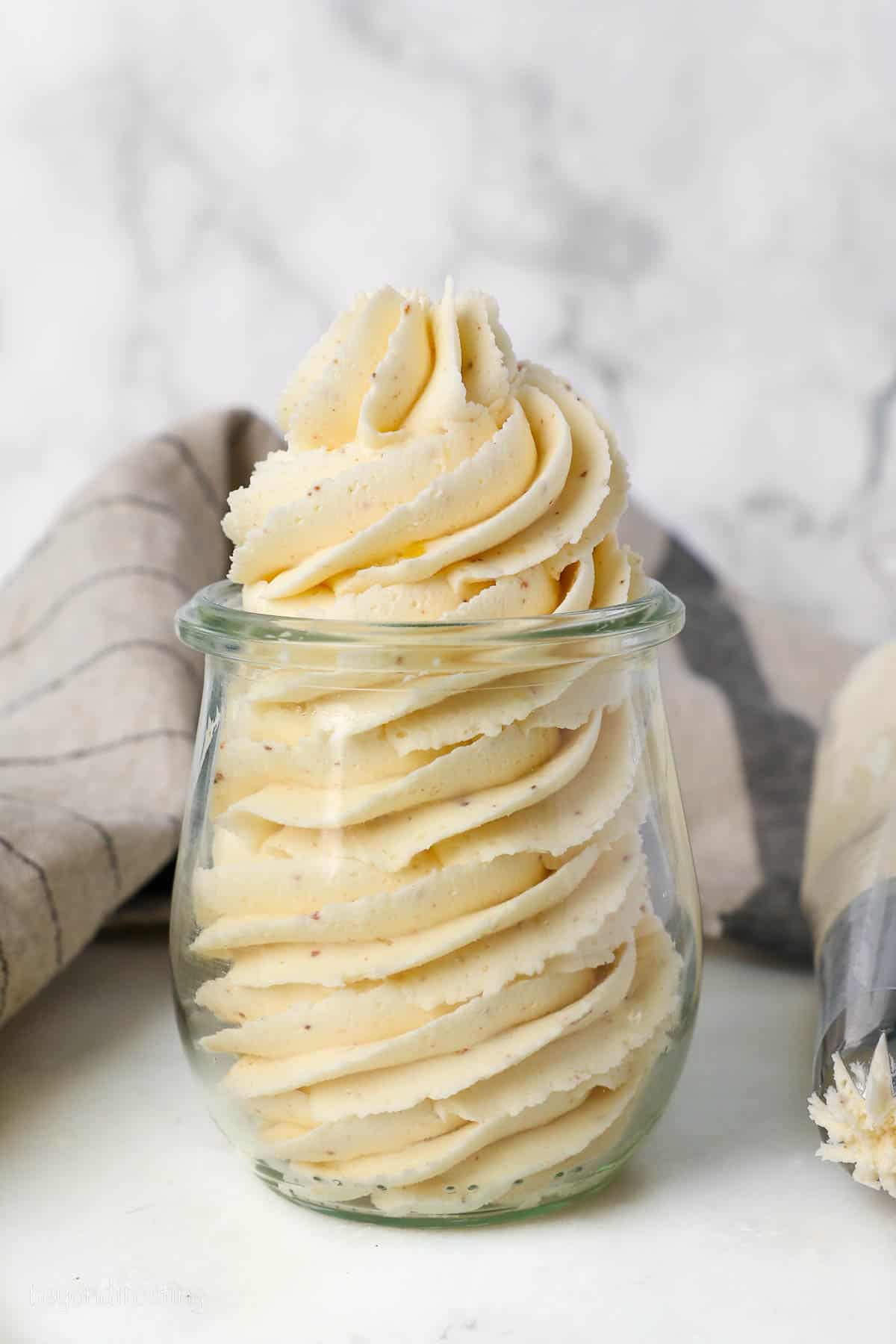 Ways to Use Brown Butter Frosting
Use your brown butter frosting as a frosting or a filling for so many delicious desserts! This recipe yields enough frosting for two dozen cupcakes or a 6" two-layer cake. You can even halve the recipe for a 9×13" sheet cake.
Pipe swirls over chocolate cupcakes, or spread this frosting over fudgy homemade brownies. This frosting is also perfect for frosting brown sugar cookies or a fluffy carrot cake (or, carrot cake cupcakes!). I love the mellow, cozy flavors of this brown butter frosting for fall baking, too. It would taste amazing with this pumpkin cupcakes recipe!
Once you have your basic brown buttercream frosting, there are plenty of flavor combinations that you can try. Here are some ideas:
Maple Syrup. Perfect for fall! When using liquid or syrupy add-ins, reduce the amount of heavy cream slightly, so that the frosting doesn't come out runny.
Spices. Try adding ground cinnamon or pumpkin pie spice for a cozy kick.
Alcohol. A touch of rum or bourbon tastes amazing in this frosting! Check out the browned butter rum frosting in my banana cake recipe, and this decadent salted caramel butterscotch cake with brown butter frosting spiked with bourbon.
Pecans. Crush up toasted pecans or walnuts to mix into this frosting recipe or add on top.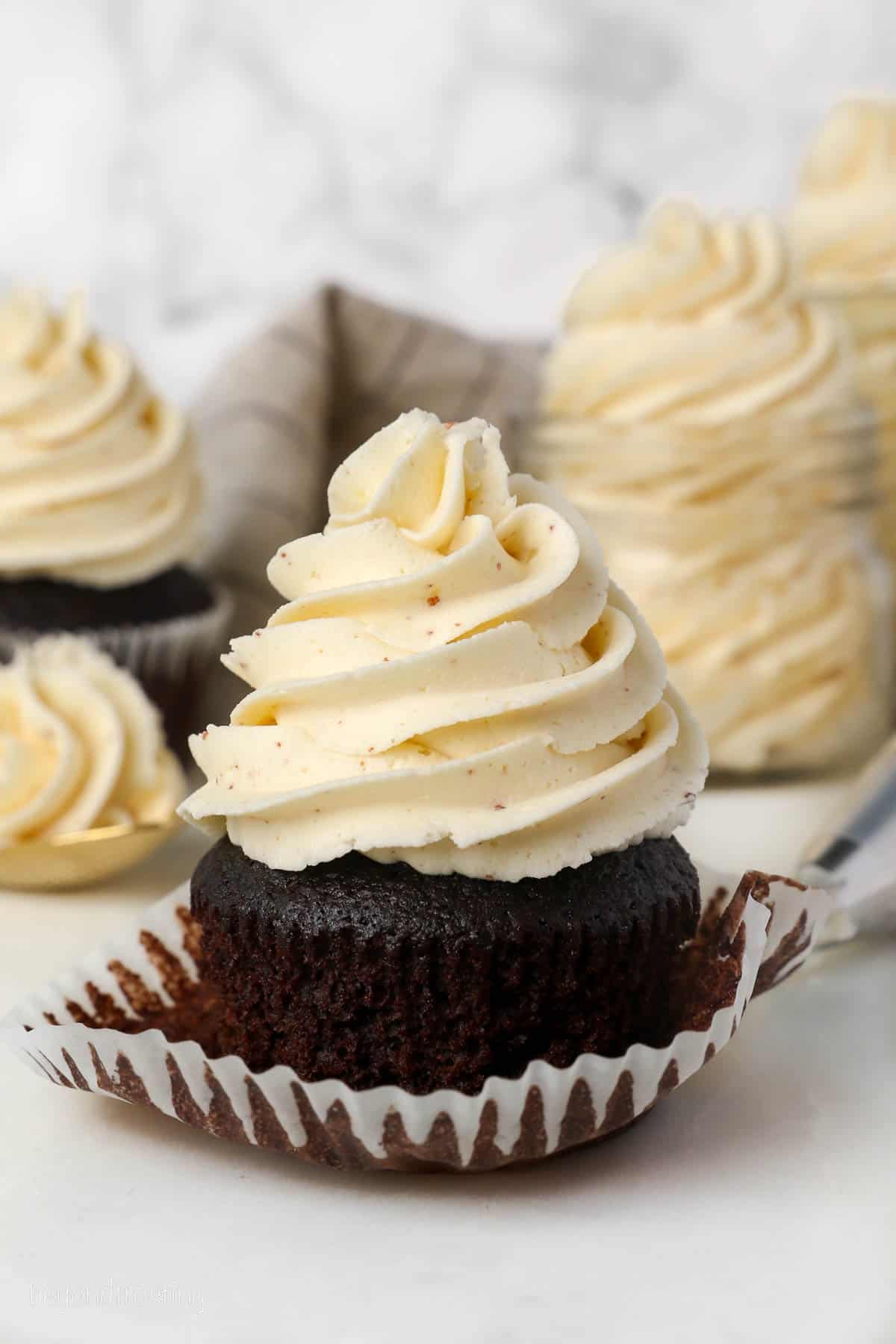 How to Store
Brown butter frosting as well as frosted baked goods are fine to keep at room temperature for up to 2 days. After that, I'd recommend either refrigerating or freezing. Here's how to properly store this buttercream frosting:
Fridge: Store leftover frosting in an airtight container in the fridge for up to 7 days. Frosted cakes and cupcakes can also be covered and refrigerated, though I recommend taking them out ahead of serving to let the dessert come to room temperature.
Freezer: Freeze this frosting airtight for up to 1 month. Thaw the frosting at room temperature and give it another good whip with your mixer before you use it.
Print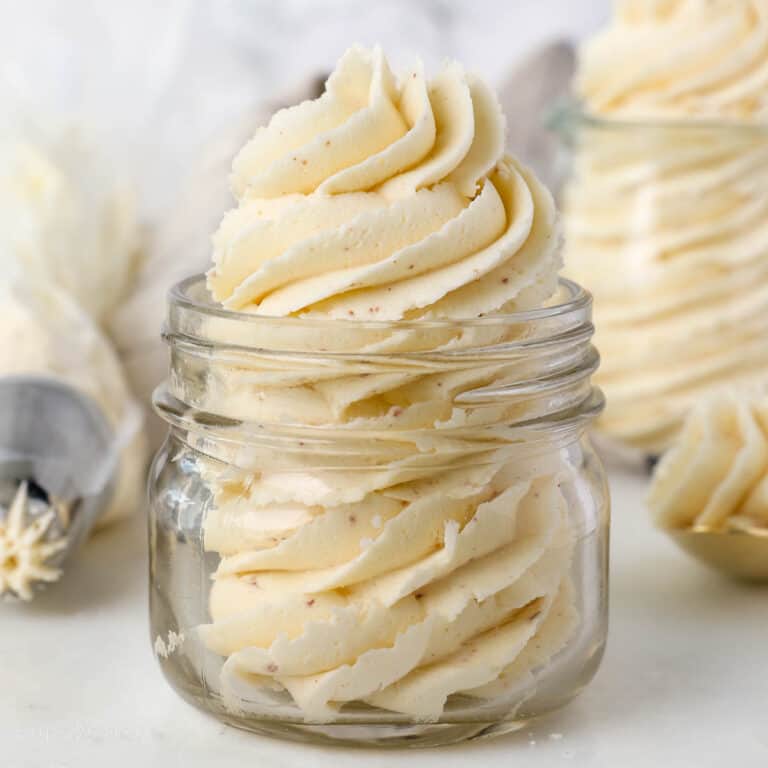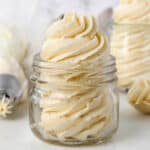 Brown Butter Frosting
Author:

Prep Time:

40 minutes

Total Time:

40 minutes

Yield:

4 cups
Description
Take your basic buttercream up a notch with this creamy brown butter frosting with flecks of toasty, nutty browned butter throughout.
Ingredients
1 ½ cups

(

339g

) butter, cold

6 cups

(

780g

) powdered sugar

3 tablespoons

(45ml) heavy whipping cream

2 teaspoons

(10ml) pure vanilla extract

¼ teaspoon

salt
Instructions
Divide out ¾ cups of butter. Cut the butter into 1 tablespoon size pieces and place in a saucepan. Turn stovetop on to medium-low heat slowly bringing the butter to a boil, stirring occasionally. Once boiling, the bubbles will go from big to small, and once the milk solids start to turn golden brown, stir constantly until the golden color starts to darken. Immediately remove from the heat and pour into a heatproof bowl.
Refrigerate the browned butter for 20-30 minutes until it solidifies but it's not too hard. This can also be placed in the freezer to speed up the process. Once chilled, stir the browned butter together with a spoon until the milk solids are mixed back into the butter.
Cut the remaining cold butter into tablespoon-size pieces. Using the paddle attachment, whip the butter for 5-7 minutes, scraping down the bowl occasionally until the butter is whipped and easily spreadable. Then beat in the browned butter until well combined.
Add 3 cups of powdered sugar, the salt, and the vanilla extract and beat at a medium-high speed until well combined, then beat for another 1-2 minutes.
Next, add the remaining powdered sugar with 2 tablespoons of heavy cream and beat on low speed until sugar is incorporated. Increase speed to medium-high and beat for 3-5 minutes, adding additional heavy cream to thin the frosting as needed. Use immediately or store.
Equipment
Notes
When chilled, all the milk solids settle to the bottom of the bowl, that's why the butter needs to be remixed. Refer to the section of the blog post about properly chilling the butter.
Storing: Store frosting in an airtight at room temperature for up to 2 days, after which you can keep it in the fridge. Refrigerated frosting will usually keep fresh for up to 7 days.
Freezing: Store the frosting airtight and freeze it for up to 1 month. Defrost to room temperature and re-whip it again before you use it.
Frosted desserts: Frosted cakes and cupcakes can be stored in an airtight container at room temperature. If you live in a hot and humid environment, refrigerate and serve at room temperature.
Category:

Frosting

Method:

No-bake

Cuisine:

American
Keywords: brown butter frosting, homemade buttercream, browned butter frosting
More Homemade Frosting Ideas