This post may contain affiliate sales links. Please see my full disclosure policy for details
Homemade Chocolate Cream Cheese Frosting is rich and fudgy, perfect for piping onto your favorite cakes and cupcakes! This silky smooth frosting melts in your mouth and is also incredibly easy to make.
Looking for more chocolate frosting recipes? Try my Chocolate Swiss Meringue Buttercream!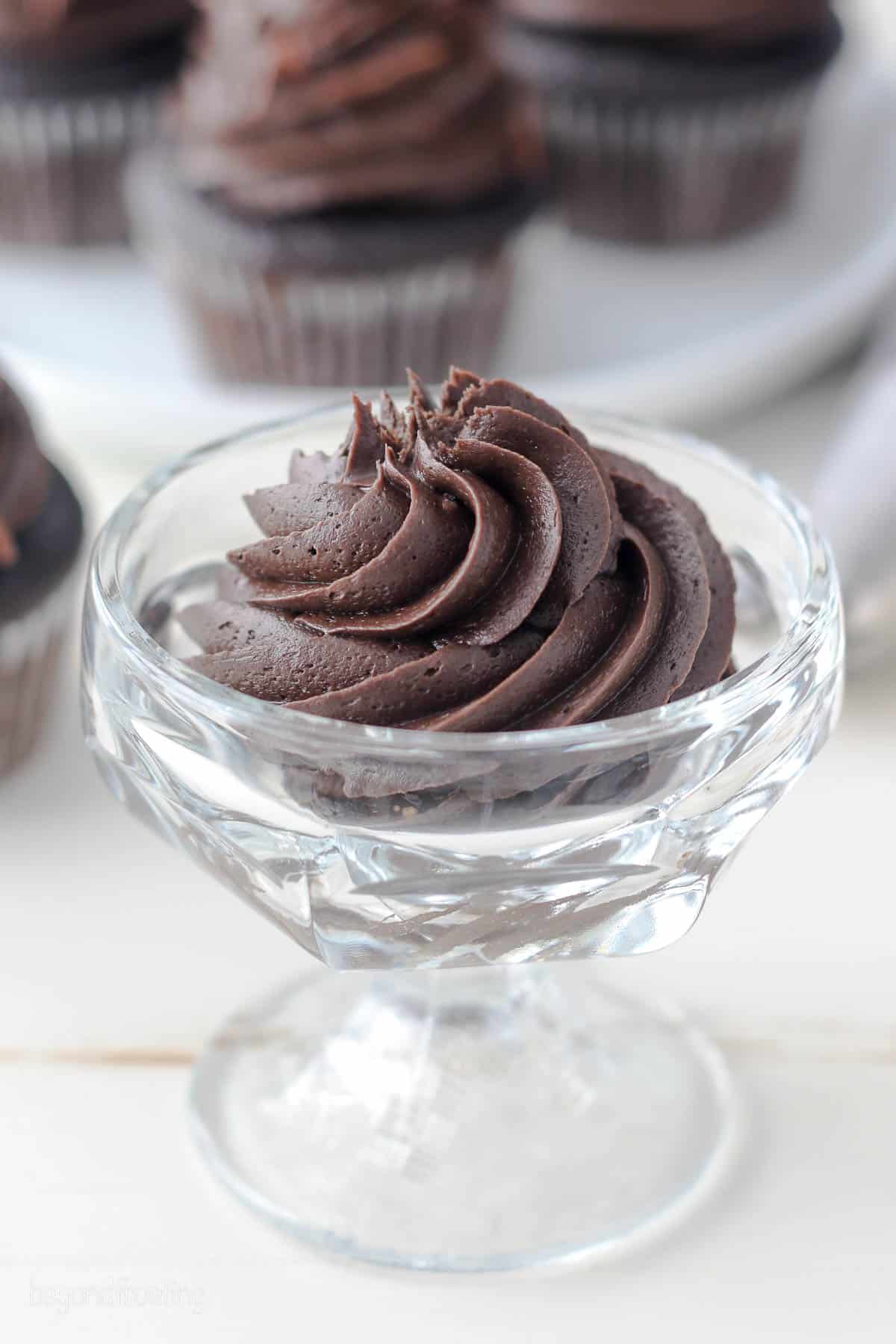 Fudgy Homemade Chocolate Cream Cheese Frosting
My Chocolate Buttercream Frosting and Cream Cheese Frosting are longstanding favorites for all things decorating. And when two become one, you get this rich and decadent chocolate cream cheese frosting that's just SO GOOD.
This frosting recipe is seriously mouthwatering. It's full of fudgy cocoa flavor, met with the irresistible tang of cream cheese. The texture is silky smooth and perfect for piping and spreading on everything from Yellow Cake to Chocolate Sour Cream Bundt Cake. It's hard to resist eating this chocolate frosting all on its own!
That being said, if anyone needs me, I'll be over here, devouring chocolate cream cheese frosting by the spoonful.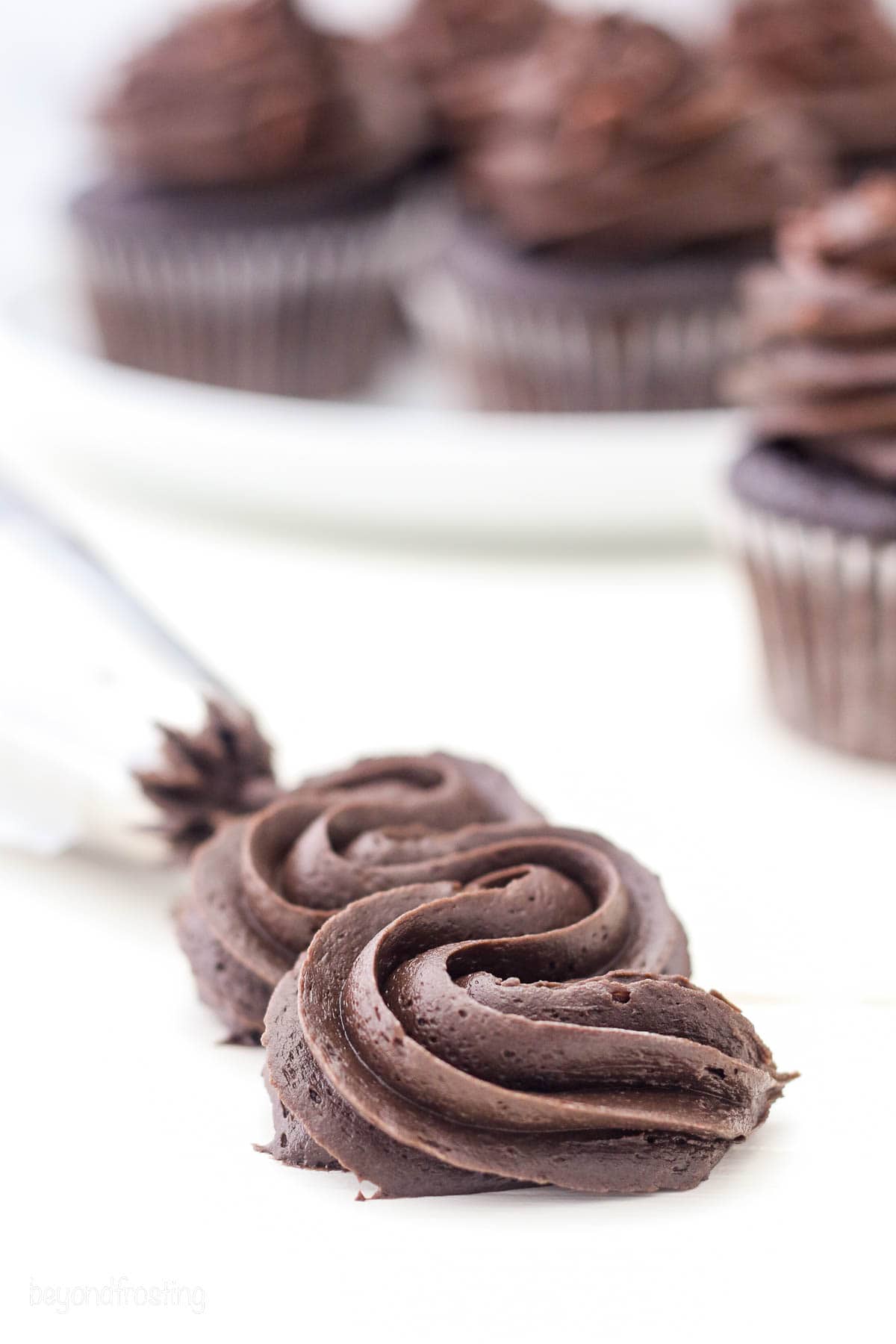 What Is Cream Cheese Frosting?
This easy cream cheese frosting recipe begins with equal parts cold butter and cream cheese. The combination results in a thicker, creamier, more stable frosting that is less likely to wilt when piped.
Combined with fudgy cocoa, this chocolate cream cheese frosting is a variation of Classic Buttercream Frosting that's ultra-light and fluffy, perfect for frosting a Chocolate Cake (and anything else, for that matter).
Frosting Ingredients
Below is a quick overview of what this chocolate cream cheese frosting is made of. I've included the key ingredients here, though be sure to refer to the recipe card for all the recipe details!
Butter – I recommend using unsalted butter that's cold from the fridge. It's easier to let your mixer whip the butter into a creamy consistency than wait for it to come to room temperature!
Cream Cheese – Our next star ingredient, you'll also want to use cold cream cheese when making your frosting. Use the blocks of cream cheese, and not the spreadable kind that comes in tubs.
Cocoa Powder – Since most of the flavor comes from cocoa powder in this recipe, make sure you use high-quality cocoa. See below for details!
Powdered Sugar
Milk – Or, use heavy whipping cream for extra rich cream cheese frosting.
Vanilla Extract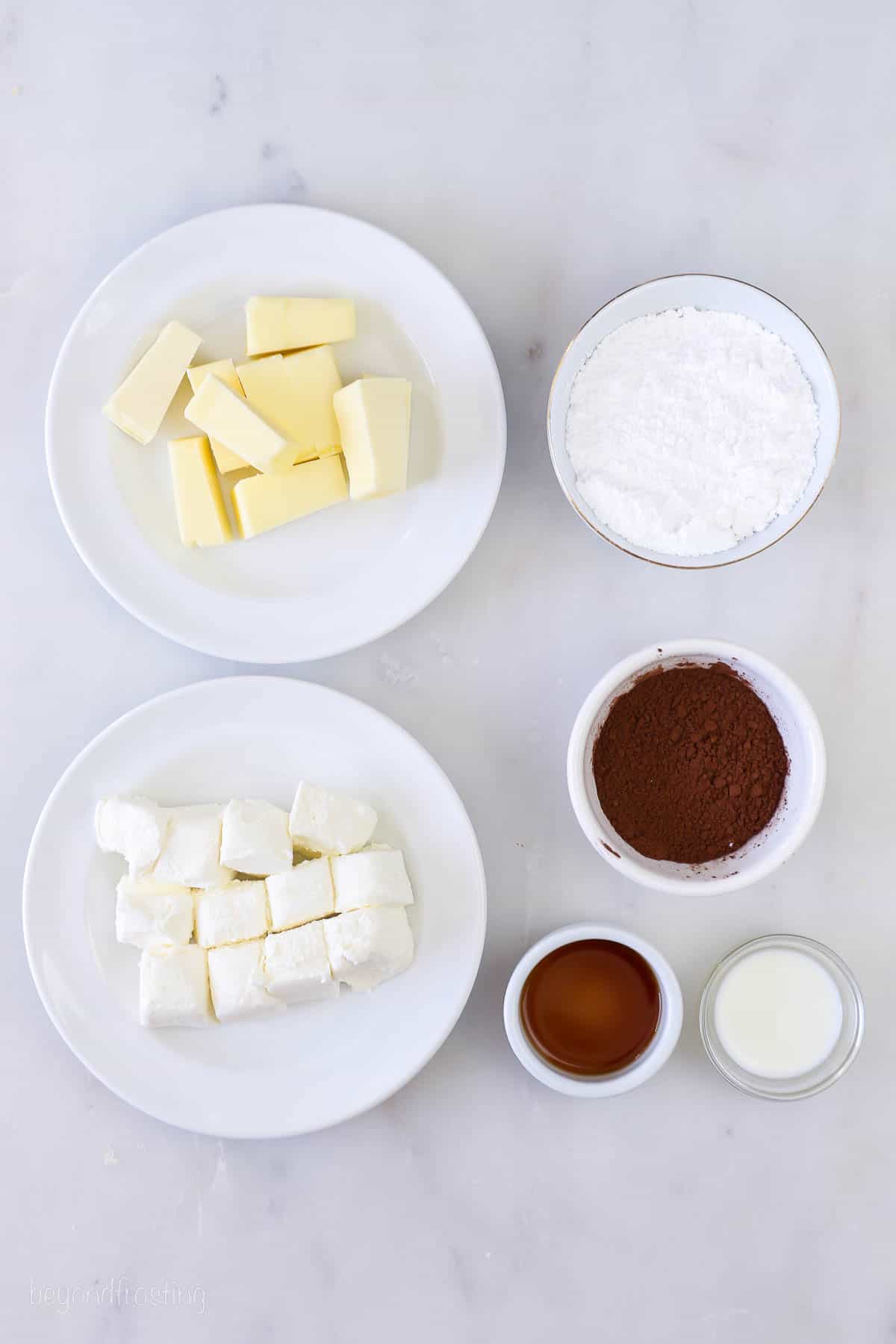 What Kind of Cocoa Should I Use?
You can use any kind of cocoa powder you'd like when making chocolate frosting, whether it's a dutch processed cocoa powder, regular cocoa powder, or sweetened cocoa powder. The key is that it's high quality.
Also, note that your chocolate frosting may end up darker or lighter depending on the type of cocoa powder you use. I'm partial to Hershey's Special Dark cocoa powder because it's sweetened and yields an extra dark, fudgy color.
How to Make Chocolate Cream Cheese Frosting
One of the best things about this fudgy chocolate cream cheese frosting recipe is that it's wonderfully simple to make. Here's how:
Beat the butter. Begin by cutting chilled butter into 1-inch blocks. Beat the butter with a stand mixer or an electric mixer until it softens a bit.
Add cream cheese. Next, add cold cream cheese. Cream the butter and cream cheese together until light and fluffy. It helps to stop and scrape down the bowl as you go.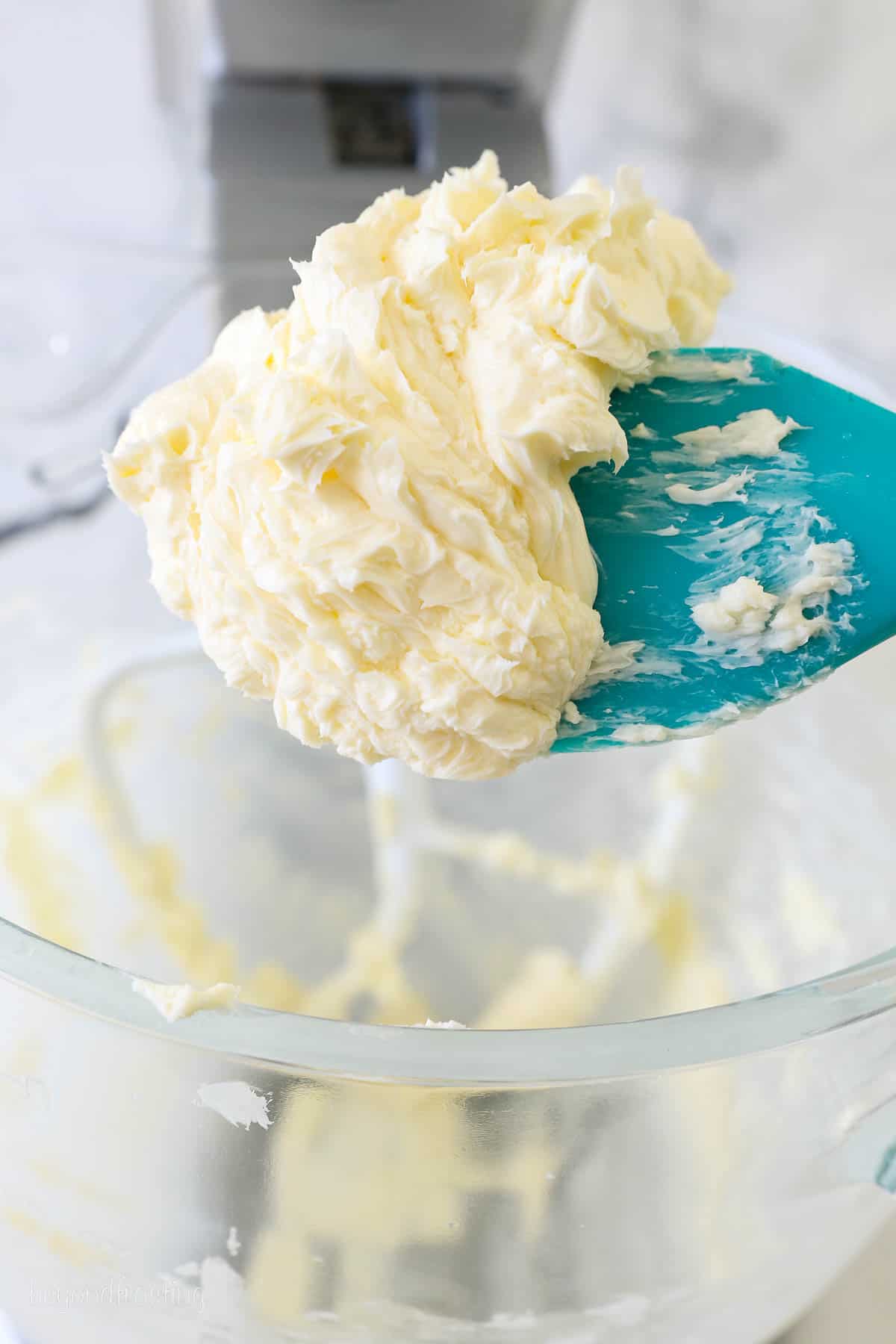 Add cocoa and vanilla. Now, it's time to beat in the cocoa powder and vanilla extract. I like to add the cocoa powder first so that it really gets incorporated into the frosting.
Slowly add sugar and cream. I recommend alternating the powdered sugar with heavy cream to avoid the frosting from becoming lumpy.
Beat until fluffy. Finally, beat the frosting until it's smooth and creamy to your liking. Your frosting should be nice and airy, resembling a whipped texture by this point. All that's left is to round up your baked goods and get frosting!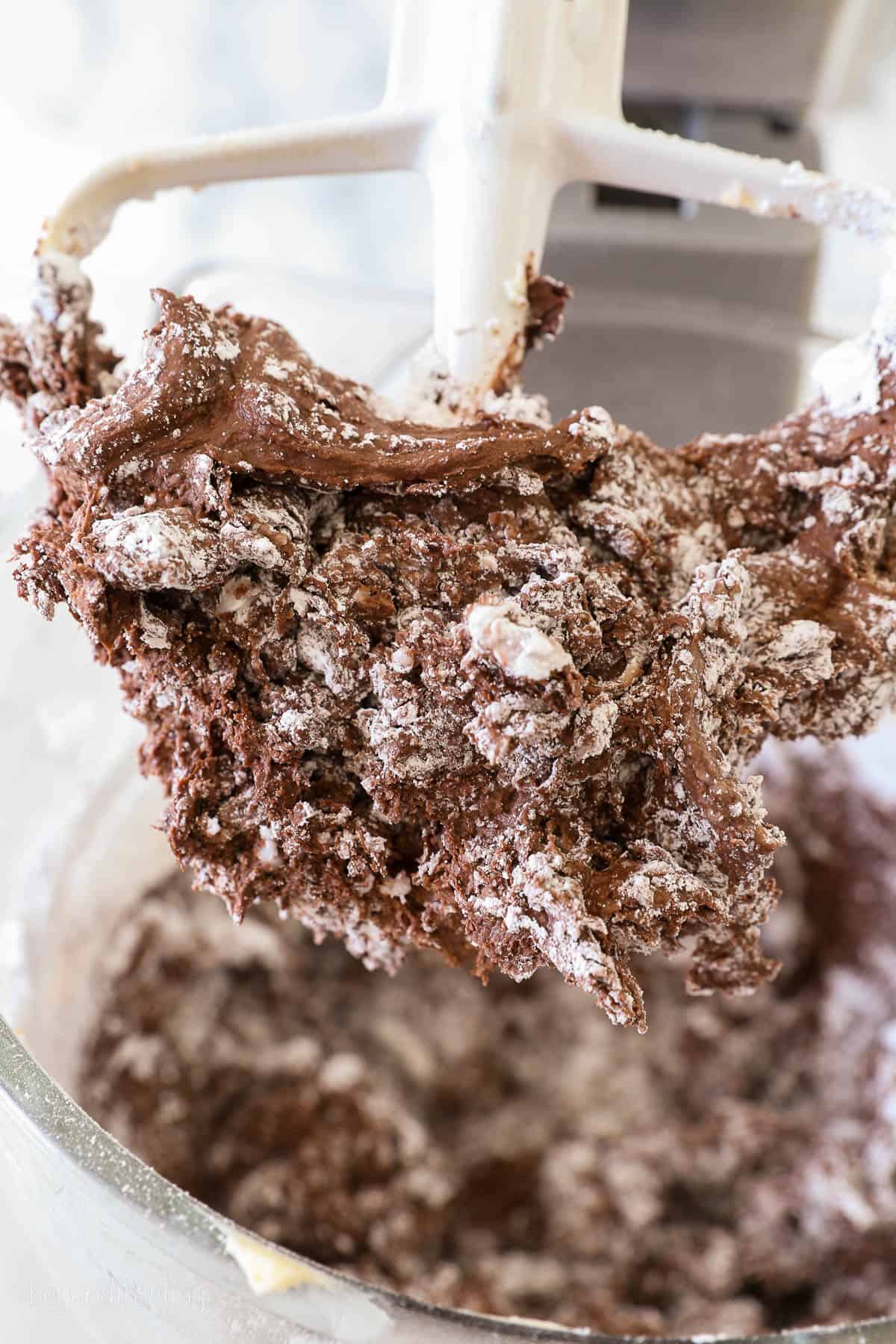 Recipe Notes
Here are my tips to keep in mind when making this perfect chocolate cream cheese frosting from scratch:
If you use unsweetened cocoa powder in this recipe, you may find that you need to compensate with a bit of additional vanilla extract or milk to help to smooth out the flavors. Adding extra liquid also contributes to the overall creaminess of your chocolate cream cheese frosting, which never hurts.
Make sure to beat the frosting well. Don't rush the process. Beating in between adding ingredients, and again at the end is what really aerates the frosting so that it's light and fluffy.
This recipe makes enough chocolate frosting for one 9" x 13" sheet cake. It also yields enough for a dozen cupcakes, with frosting to spare. If you need to frost 24 cupcakes, unless you want a ton of extra frosting, I recommend scaling the recipe by 1.5x rather than doubling it. Then again, a ton of leftover frosting isn't necessarily a bad thing in this house (has anyone seen my spoon!?).
Make sure your baked goods are completely cool before frosting. Otherwise, your chocolate cream cheese frosting will melt.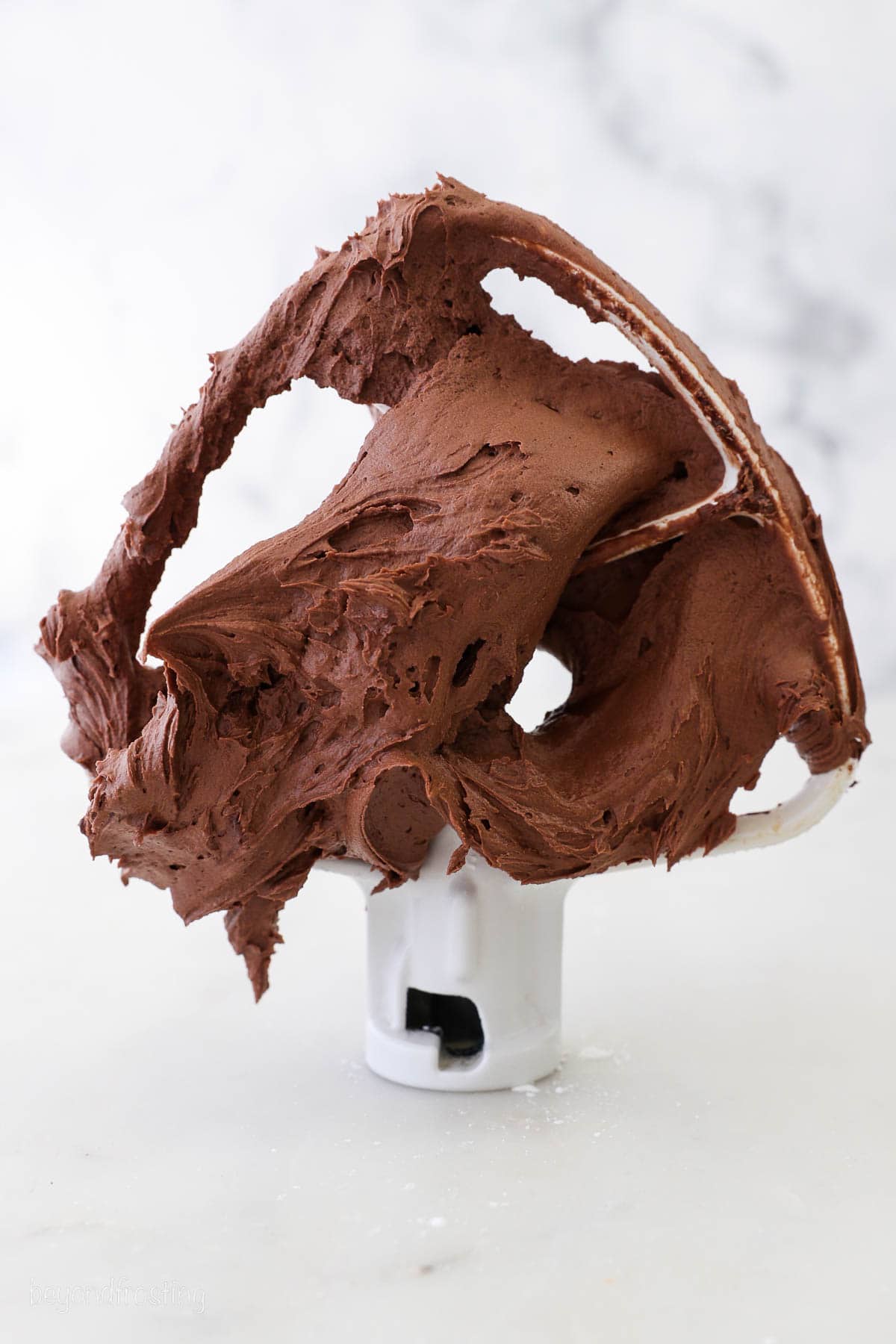 Ways to Use Chocolate Frosting
There are so many ways to use your chocolate cream cheese frosting! Spread it over cooled Chocolate Cake or Yellow Cake with Chocolate Frosting, and then shower it with sprinkles (everything is better with sprinkles). I'm partial to piping gorgeous frosting swirls on top of my favorite Chocolate Cupcakes.
Make the most of a fresh batch of fudgy frosting and spread it over Homemade Brownies or use it jazz up some Sugar Cookies.
This cream cheese frosting is also thick and stiff enough to use as a filling in sandwich cookies. Try piping it between two Chocolate Cookies, or Spritz Cookies for a holiday treat. You won't regret it!
We also love to dip strawberries into our chocolate frosting as an easy sweet treat.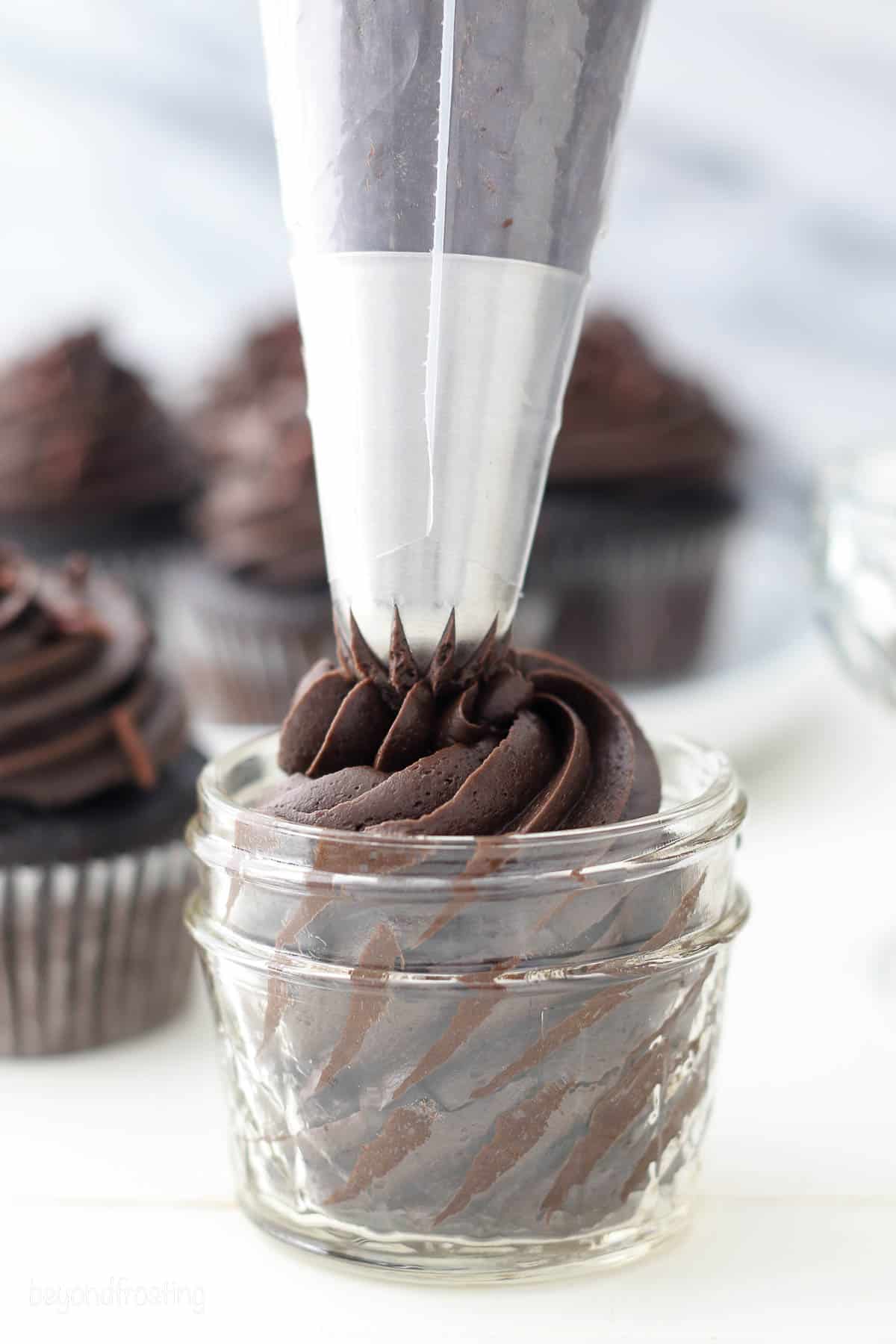 How to Store Chocolate Cream Cheese Frosting
The frosting can sit out at a cool room temperature for a few hours, whether it's by itself or on top of baked goods. Any longer than that and it will need to be kept refrigerated. Leftover chocolate cream cheese frosting can be stored in an airtight container in the fridge for up to 3 days.
For the same reason as above, it's a good idea to store frosted cakes and cupcakes in the fridge after a few hours, too. However, most cakes and cupcakes are best served at room temperature, so allow time for the cake or cupcakes to come to room temperature before serving.
Can I Freeze Cream Cheese Frosting?
Yes! You can freeze your chocolate cream cheese frosting for up to 1 month. Store it airtight for freezing, and thaw it in the fridge whenever you're ready to use it. I recommend rewhipping in the mixer for best results.
Print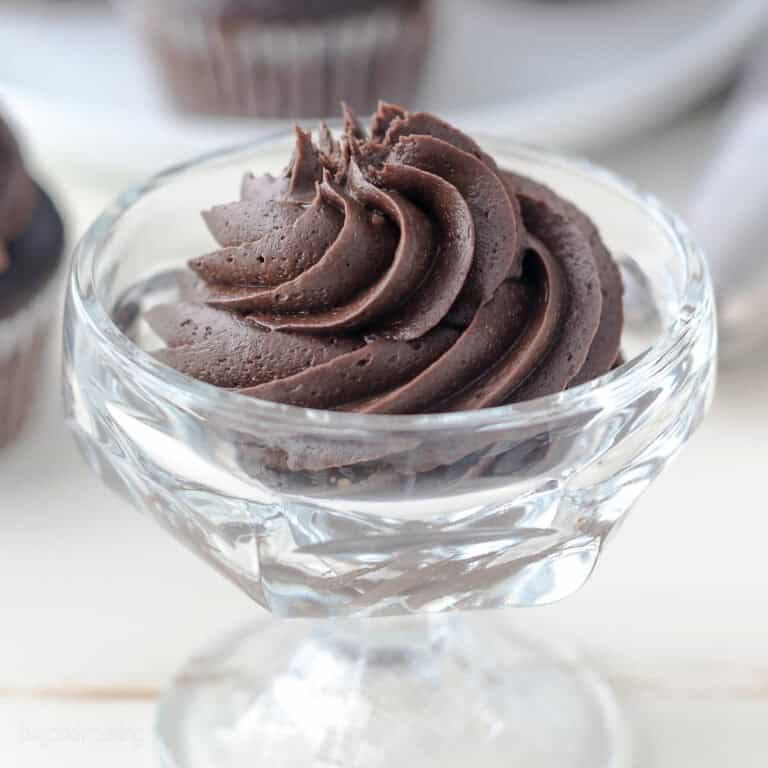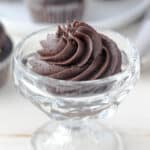 Chocolate Cream Cheese Frosting
Author:

Prep Time:

10 minutes

Total Time:

10 minutes

Yield:

3 cups
Description
Chocolate Cream Cheese Frosting is a silky whipped chocolate frosting that melts in your mouth. This easy cream cheese frosting recipe is perfect for piping onto cakes and cupcakes!
Ingredients
½ cup

(

113g

) unsalted butter, cold

6 ounces

cream cheese, cold

½ cup

(

56g

) cocoa powder

4 ½ cups

(

585g

) powdered sugar

2 tablespoons

(30ml) milk or heavy whipping cream

1 tablespoon

(15ml) pure vanilla extract
Instructions
Cut the butter into 1-inch blocks. Beat the butter for 1-2 minutes until it is slightly softened.
Then add the cream cheese and cream together for 2-3 minutes until fluffy and free of lumps, scraping down the bowl occasionally.
Add the cocoa powder and vanilla extract and beat until well combined,
Next, add the confectionary sugar 2 cups at a time, followed by one tablespoon of heavy whipping cream, and beat for 60-90 seconds until completely smooth.
Add the remaining powdered sugar and heavy whipping cream and beat until desired consistency, at least 2 minutes.
Spread frosting over the cooled cake and then cover it with sprinkles. Keep in an airtight container.
Notes
This recipe yields enough frosting for a 9-inch by 13-inch cake and more than enough for 12 cupcakes. If you're looking to frost 24 cupcakes, just multiply the recipe by 1.5. If you double the recipe, you will have a lot of leftover frosting!
Category:

Frosting

Method:

Mixer

Cuisine:

American
Keywords: cream cheese frosting, chocolate frosting, easy frosting recipe
More Easy Homemade Frosting Recipes