This post may contain affiliate sales links. Please see my full disclosure policy for details
This is the creamiest Peanut Butter Frosting recipe that's silky smooth, full of flavor, and perfect for piping onto cakes and cupcakes. Just try to resist devouring it by the spoonful!
Fluffy and Creamy Peanut Butter Frosting
Peanut butter lovers, brace yourselves. Today we're making the ultimate smooth and creamy peanut butter frosting. This homemade frosting takes my super popular Vanilla Buttercream and infuses it with irresistibly sweet-salty peanut butter, for bucketloads of delicious flavor.
Like my original buttercream recipe, this peanut butter icing uses a base of cold butter to create the silliest frosting consistency. It couldn't be more perfect for piping onto cakes and cupcakes.
I'll never run out of ways (or excuses) to use this peanut butter frosting on so many desserts. Pipe it over Chocolate Cupcakes or fill the layers in a Chocolate Peanut Butter Cake for a classic chocolate and peanut butter combo. Or, use it to frost these easy Peanut Butter Marshmallow Cupcakes. It's also just as easy to eat this rich and creamy frosting by the spoonful!
If you love this peanut butter frosting, you can easily turn it into Nutella Frosting.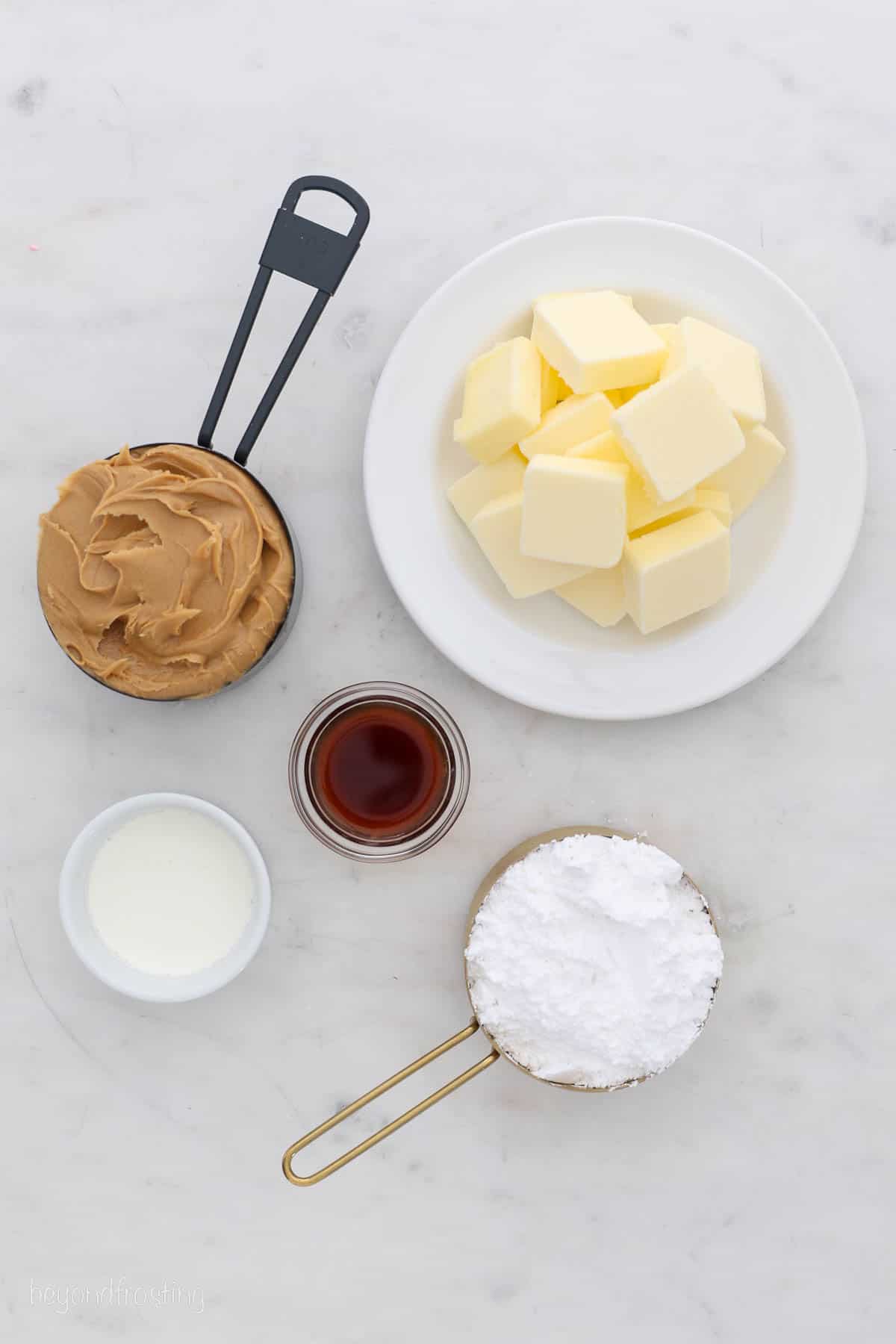 Frosting Ingredients
You need just 5 ingredients to make this easy peanut butter frosting. Below is an overview, with the full recipe details and amounts available in the recipe card below the post.
Unsalted Butter – All buttercream starts with a butter base, but mine starts with cold butter. Trust me, the extra whipping it takes to get it soft makes all the difference! I always recommend using unsalted butter when making frosting, as you can better control the overall saltiness.
Peanut Butter – Make sure that you're using creamy, shelf-stable peanut butter to make this frosting (see below).
Powdered Sugar
Heavy Whipping Cream – For the richest, creamiest frosting, use heavy whipping cream. Milk can be used as a lighter substitute if you prefer.
Vanilla Extract
What's the Best Type of Peanut Butter to Use?
The best kind of peanut butter to use in frosting recipes is "no-stir" creamy peanut butter, like the kind from Jif or Skippy. Avoid natural peanut butter as it's hard to mix properly and the oil tends to separate.
How to Make the Best Peanut Butter Frosting
Before you start, take your cold butter out of the fridge and cut it into cubes, it helps the mixer to break it down a lot quicker. Now, let's whip up some fluffy peanut butter frosting:
Whip the butter. Add your cubed butter to a bowl, and whip it with the paddle attachment of your stand mixer for a good 3-4 minutes. The consistency you're looking for is easily spreadable. Scraping down the bowl occasionally will help tremendously.
Add the peanut butter. Next, scoop in your creamy peanut butter and continue to beat until combined.
Add the remaining ingredients. Finally, add the powdered sugar 2-3 cups at a time, alternating with the vanilla and heavy cream. Make sure to allow the powdered sugar to incorporate fully into the frosting before adding more, as it will be harder to beat the ingredients together as the frosting thickens.
Whip again. Once your frosting is combined, it's time to give it one last whip. Up the mixer speed and beat air into the frosting for another 3-4 minutes, until fluffy.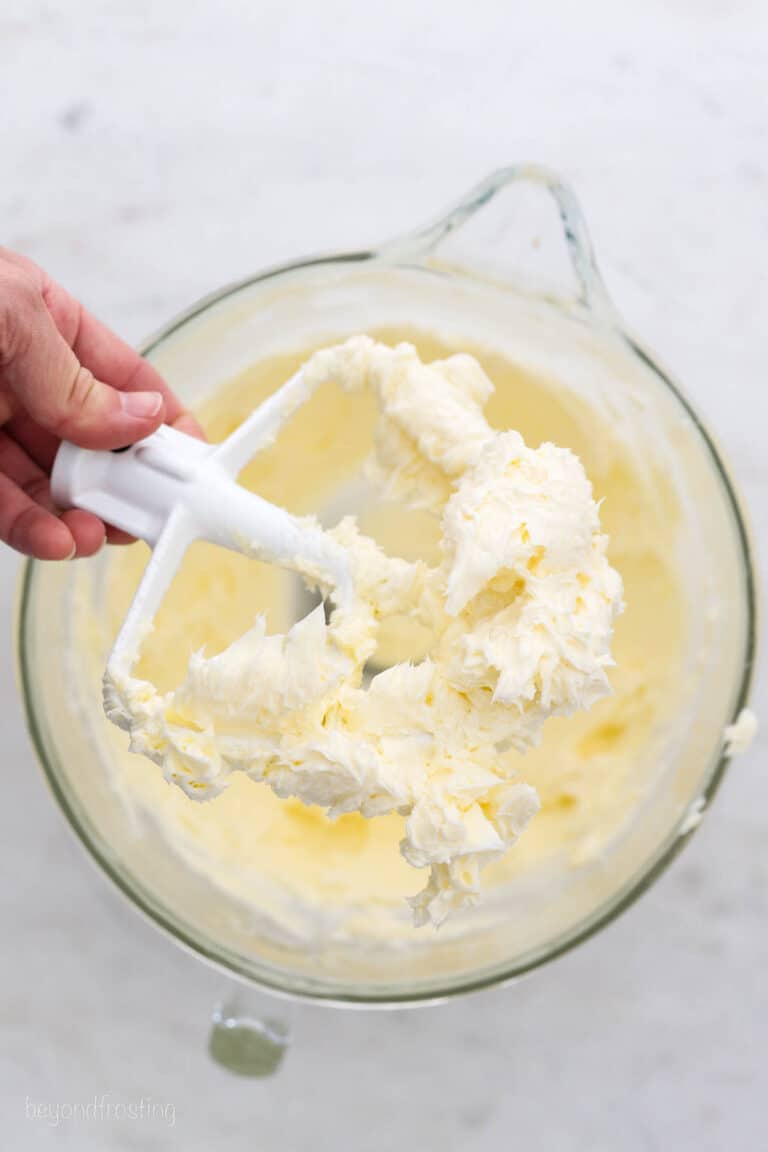 Follow these tips for achieving the perfect peanut butter frosting:
Butter temperature: As mentioned, my secret to ultra-light and pillowy homemade frosting is cold butter. It takes a bit longer to get it smooth and creamy, but beginning with cold butter allows you to better control the consistency of the frosting.
Beat the frosting thoroughly. Take the time to beat the frosting at each stage. This is key to a soft and creamy frosting that's easy to pipe.
To thin out frosting that's too thick, beat in an additional spoonful of whipping cream until you reach the right consistency. If your frosting is too thin, mix in additional powdered sugar.
Trouble reaching the right consistency? Try removing half of the frosting from the mixing bowl, and beating only half of it at a time.
To remove air bubbles, mix the whipped frosting by hand with a spatula, or reduce the mixing speed to low and slowly work out the air bubbles.
Common Questions
New to making your own frosting? No worries! Here are a handful of FAQs:
How much frosting does this recipe make?
This recipe makes enough frosting to generously frost a 3-layer 8-inch cake. To frost 24 cupcakes, you can halve the recipe.
Can I make this with a hand mixer?
Any frosting can be made with a hand mixer, but it comes with some challenges as you don't have the power and strength of a stand mixer. If you're using a hand mixer, making the frosting in smaller quantities is necessary. Also starting with slightly softened butter will help. Allow the butter to sit at room temperature for 30 minutes.
Why is my peanut butter frosting grainy?
The secret to smooth, creamy buttercream frosting is making sure that it's well-whipped. Follow the steps as written and be sure to spend enough time beating the frosting until it's light and fluffy.
Sometimes sifting the powdered sugar will help, particularly if the powdered sugar came from a box, it tends to be more clumpy. Also, be sure to follow the recommendations for the best type of peanut butter to use.
Why did my frosting separate?
This could happen because your butter was warm. Make sure that you're starting this recipe with cold butter for the best results.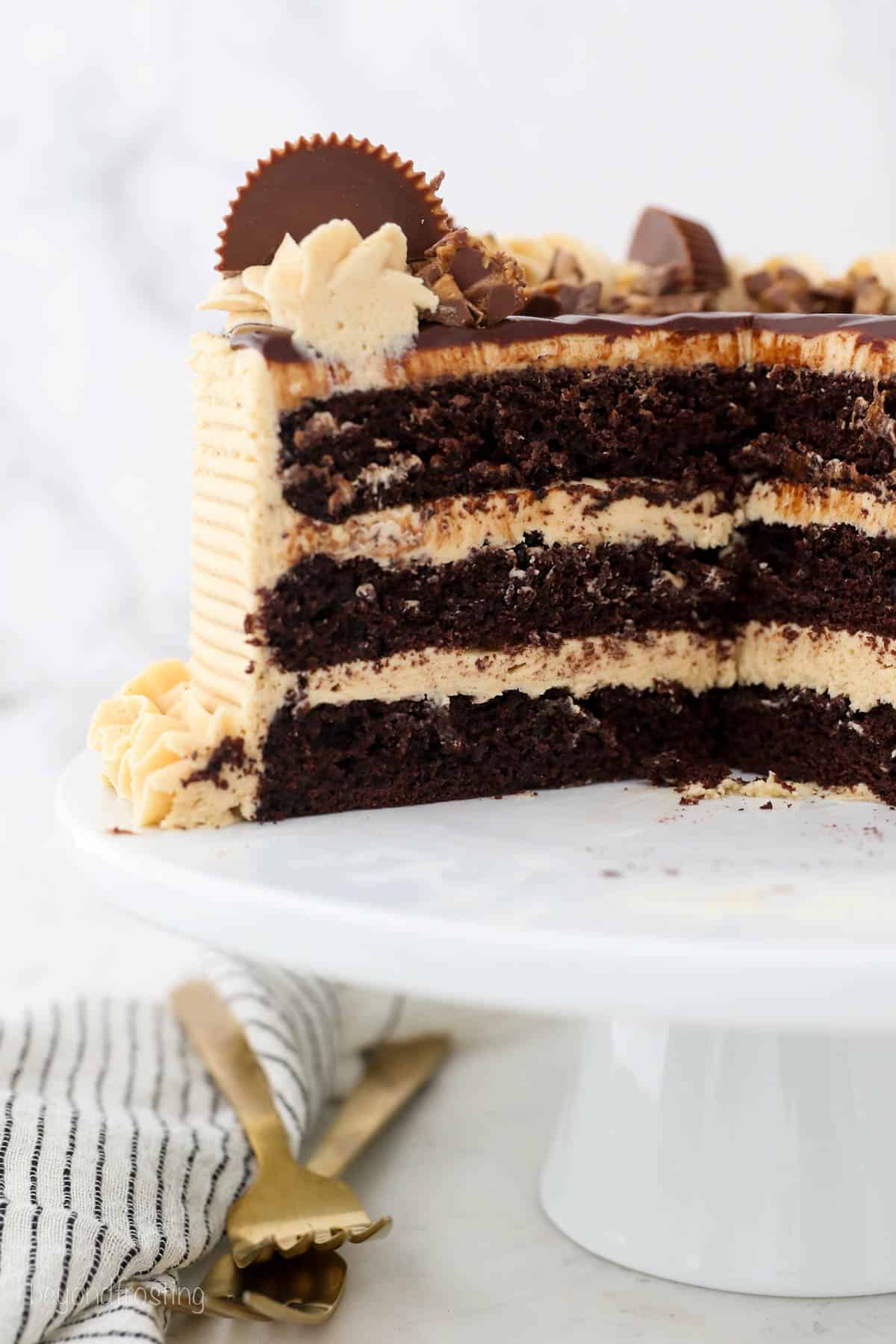 Ways to Use Peanut Butter Icing
There are so many delicious ways to use your creamy peanut butter buttercream frosting. Here are just a few easy ideas to try: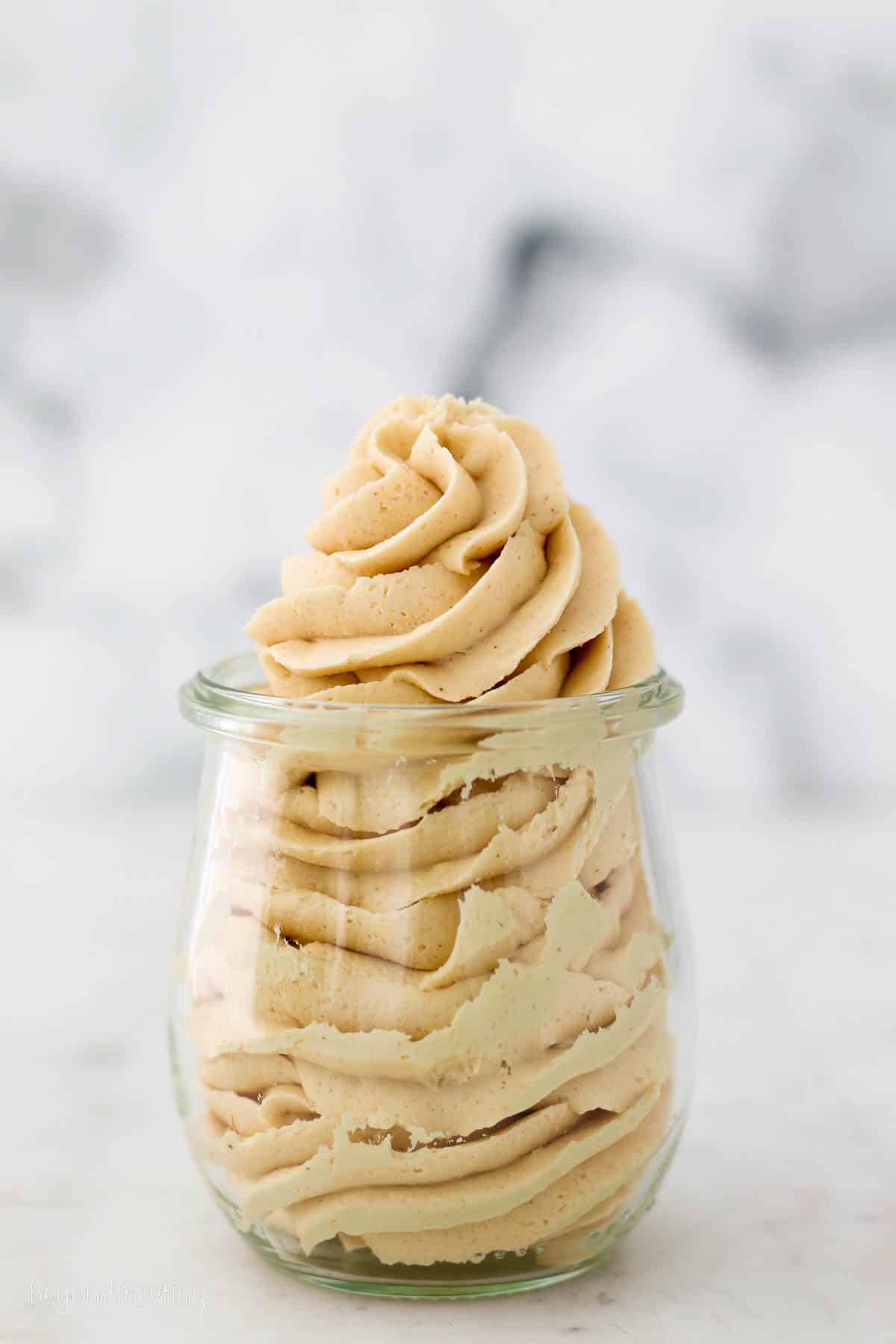 How to Store Homemade Frosting
Your homemade peanut butter frosting can be stored airtight at room temperature up to 1 day ahead, after which you can keep it in the fridge. Refrigerated frosting will usually keep fresh for up to 7 days.
Allow the frosting to soften for a couple of hours at room temperature before using it, and I recommend giving it a quick re-whip to restore its fluffy consistency. This easy buttercream frosting also freezes well for longer-term storage, see the next section.
Storing Frosted Cake and Cupcakes
Once frosted, these can be stored in an airtight container at room temperature as long as you don't live in a hot and humid environment, then refrigerate and serve them at room temperature.
Can I Freeze Peanut Butter Frosting?
Yes, store the frosting airtight and freeze it for up to 1 month. Defrost the peanut butter icing in the fridge, then let it come to room temperature and re-whip it again before you use it.
Print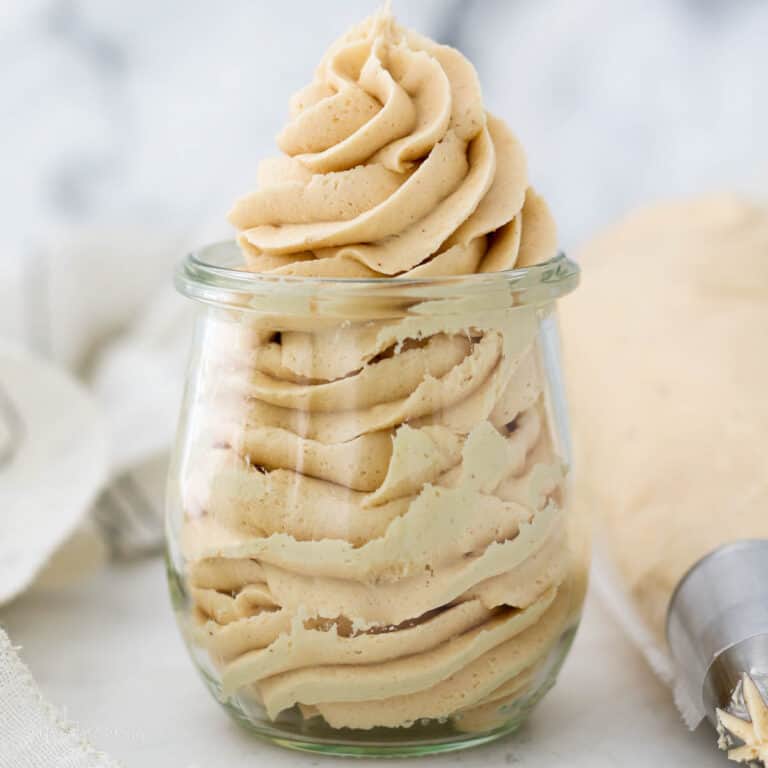 Easy Peanut Butter Frosting
Author:

Prep Time:

10 minutes

Total Time:

10 minutes

Yield:

6-8 cups
Description
The creamiest Peanut Butter Frosting recipe that's silky smooth and perfect for piping onto cakes and cupcakes. Just try to resist eating it by the spoonful!
Ingredients
3 Layer Cake
2 cups

(

454g

) unsalted butter, cold

1

heaping cup (

180g

) creamy peanut butter (up to

1 1/4 cup

)

7

–

8

cups (911-1

041g

) powdered sugar

4 tablespoons

(60ml) heavy whipping cream or milk

1 tablespoon

(15ml) pure vanilla extract
Pinch of salt (optional)
24 Cupcake or 9×13 inch cake
3/4 cups

(

170g

) unsalted butter, cold

1/2

cup (

90g

) creamy peanut butter (up to

1 1/4 cup

)

5

–

6

cups (650-780

g

) powdered sugar

1

–

2

tablespoons (15-30ml) heavy whipping cream or milk

2 teaspoons

(10ml) pure vanilla extract
Pinch of salt (optional)
Instructions
Cut the butter into tablespoon-sized pieces. Using the paddle attachment, whip butter for 3-4 minutes, scraping down the bowl occasionally. Beat until the butter looks light in color. Next, beat the peanut butter until well mixed.
Alternate adding 2-3 cups of powdered sugar at a time with the liquid ingredients: vanilla extract & heavy cream. Ensure all the powdered sugar is well combined and beat for 2-3 minutes before adding additional powdered sugar.
Once all ingredients have been added, whip for 3-4 minutes until the frosting is light and airy. If the frosting is too thick, add additional heavy whipping cream 1 tablespoon at a time. Add a pinch of salt if needed to cut the sweetness.
Notes
What the best type of peanut butter? I recommend using a mixed or "no-stir" peanut butter (such as Jif) as opposed to a natural one that requires you to mix the oil into the peanut butter.
How to prepare ahead of time and store:

Room temperature: This recipe can be made and stored at room temp for 24 hours in advance.
Fridge: Store in the fridge for up to 7 days before serving.
Freezer: You can also freeze this frosting in an airtight container for up to a month.

Storing frosting cupcakes and cakes:

Can be stored in an airtight container at room temperature as long as you don't live in a hot and humid environment, then refrigerate and serve them at room temperature.
Category:

Frosting

Method:

Mixer

Cuisine:

American
Keywords: peanut butter frosting, peanut butter icing, frosting recipe
More Frosting Recipes You'll Love