This post may contain affiliate sales links. Please see my full disclosure policy for details
Grandma's classic carrot cake is covered with my favorite cream cheese frosting. This recipe is perfect for holidays and birthday parties. It's quick and easy to make.
If you love carrot cake, you'll have to try this Sweet Potato Cake. The frosting is to die for!
Easy Carrot Cake Recipe
This recipe may be simple but it's certainly not basic. It's moist, full of spice and the texture is perfect. This is Grandma's recipe, so you know it's gotta be good. It's loaded with shredded carrots and walnuts.
Obviously, this has the most amazing cream cheese frosting, because really, is there any other way to enjoy a carrot cake? There's plenty of frosting to go around, so expect every bite to be better than the next.
Carrot cake is a year-round family favorite, it's been a part of plenty of birthdays and I even made it as a wedding cake. I hope you'll love it as much as we do.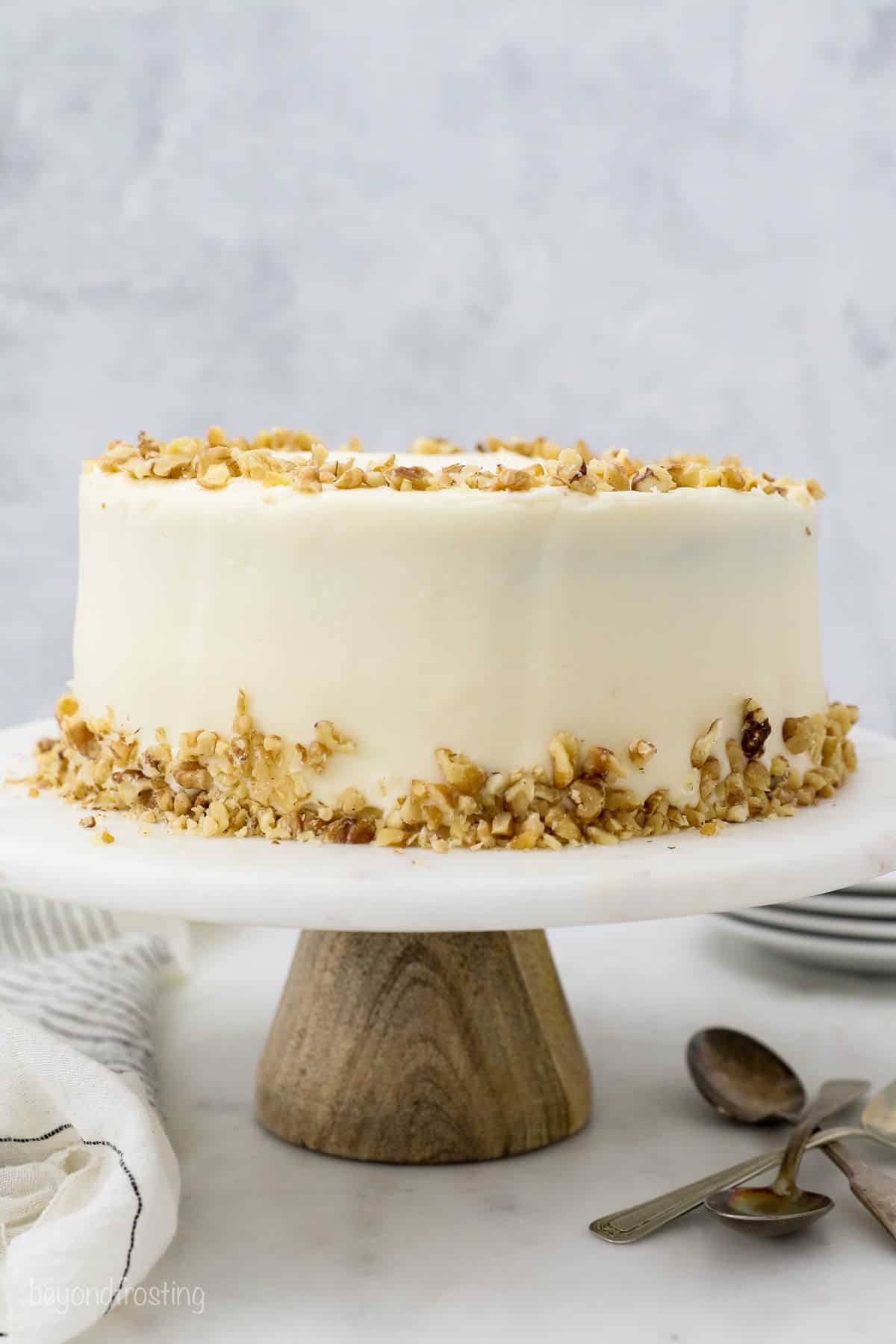 Cake Ingredients
Raw carrots- finely chopped. See my tip below!
Large eggs
Granulated sugar
Vegetable oil
All-purpose flour- this can be substituted with a measure for measure all-purpose gluten-free flour for a gluten-free option.
Ground cinnamon and Nutmeg
Baking soda
Salt
Chopped nuts: Use either walnuts or pecans. These can be toasted for added flavor.
The Easiest Way to Shred Carrots
I don't know about you but shredding carrots with a handheld shredder to messy and takes too long. Instead, peel the carrots, chop into a few smaller pieces and pulse them in a food processor until they're broken into small pieces. This will also maximize the carrots in each bite of cake.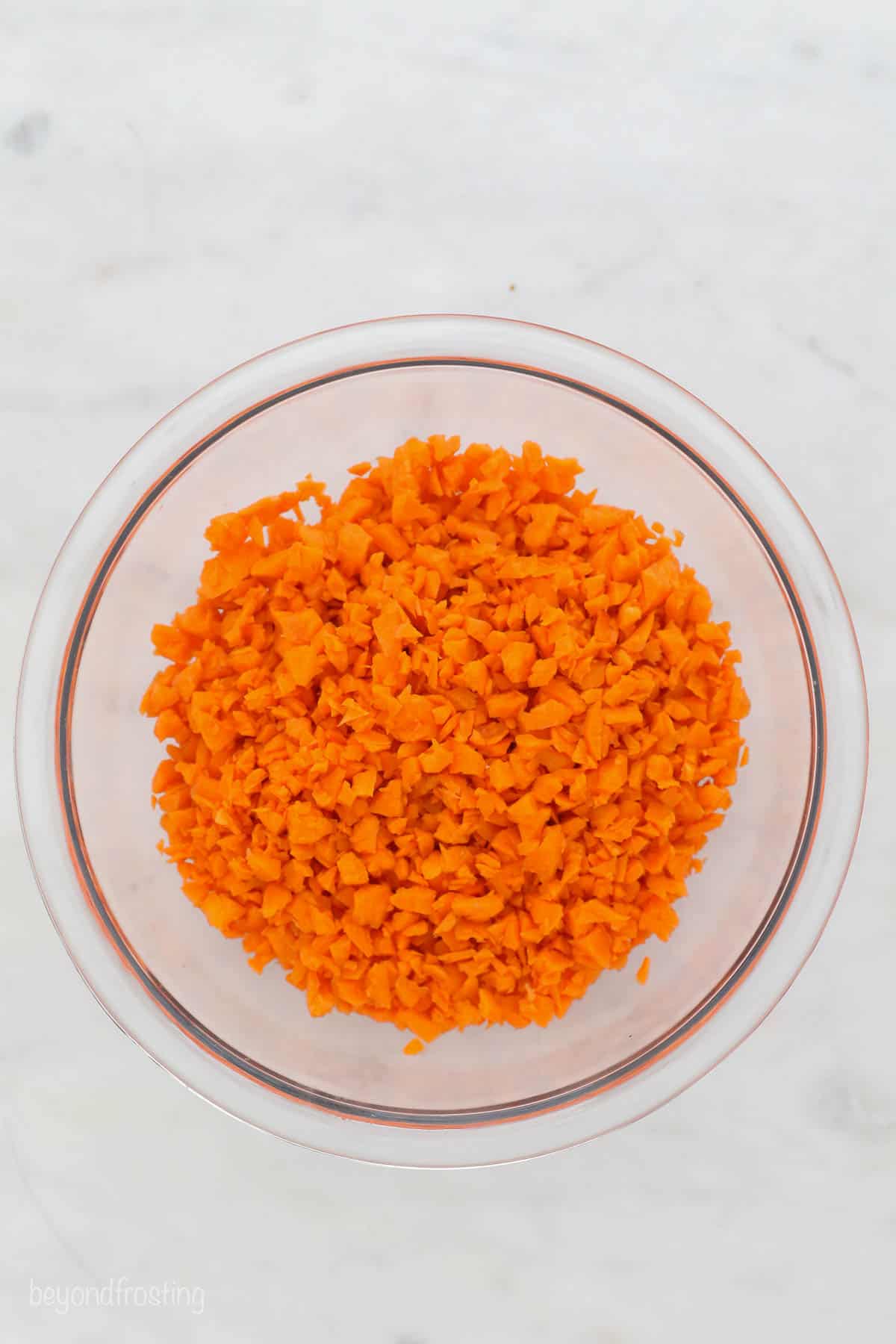 How to Make Carrot Cake from Scratch
Prepare the pans and preheat the oven: Make sure the pans and greased and lightly dusted with flour. I also love to line my pans with parchment paper.
Shred the carrots- see my above tip!
Beat the eggs- beat them until they're nice and fluffy.
Add the sugar and oil- first, beat the eggs and sugar, then add the oil
Combine and add the dry ingredients
Fold in the carrots and walnuts- I like to do this by hand so I don't overmix the batter
Pour batter in the prepared pan- divide evenly between the two pans. Use a measuring cup for the most accurate results. This will ensure evenly baked cakes.
Bake, Cool, Decorate
This Cream Cheese Frosting is Amazing
Perhaps the best part of carrot cake is the frosting, and if you look at my slices, you'll see a nice thick layer in the middle which means frosting with every bite.
Okay fine, I'll share my secrets to make the perfect cream cheese frosting
Start with cold ingredients – To achieve a smooth texture, be sure to really beat the butter until it's smooth prior to adding the cream cheese.
Butter to cream cheese ratio– butter adds stability to the frosting
Full fat cream cheese- this is not the place the cut calories. Be sure to use full-fat cream cheese for the best result.
The combination of these things helps to make a nice, thick frosting that isn't too soft, it's great for piping too. If you do find that your frosting is thin or runny, you can either add additional powdered sugar, or put it in the fridge for 20-30 minutes.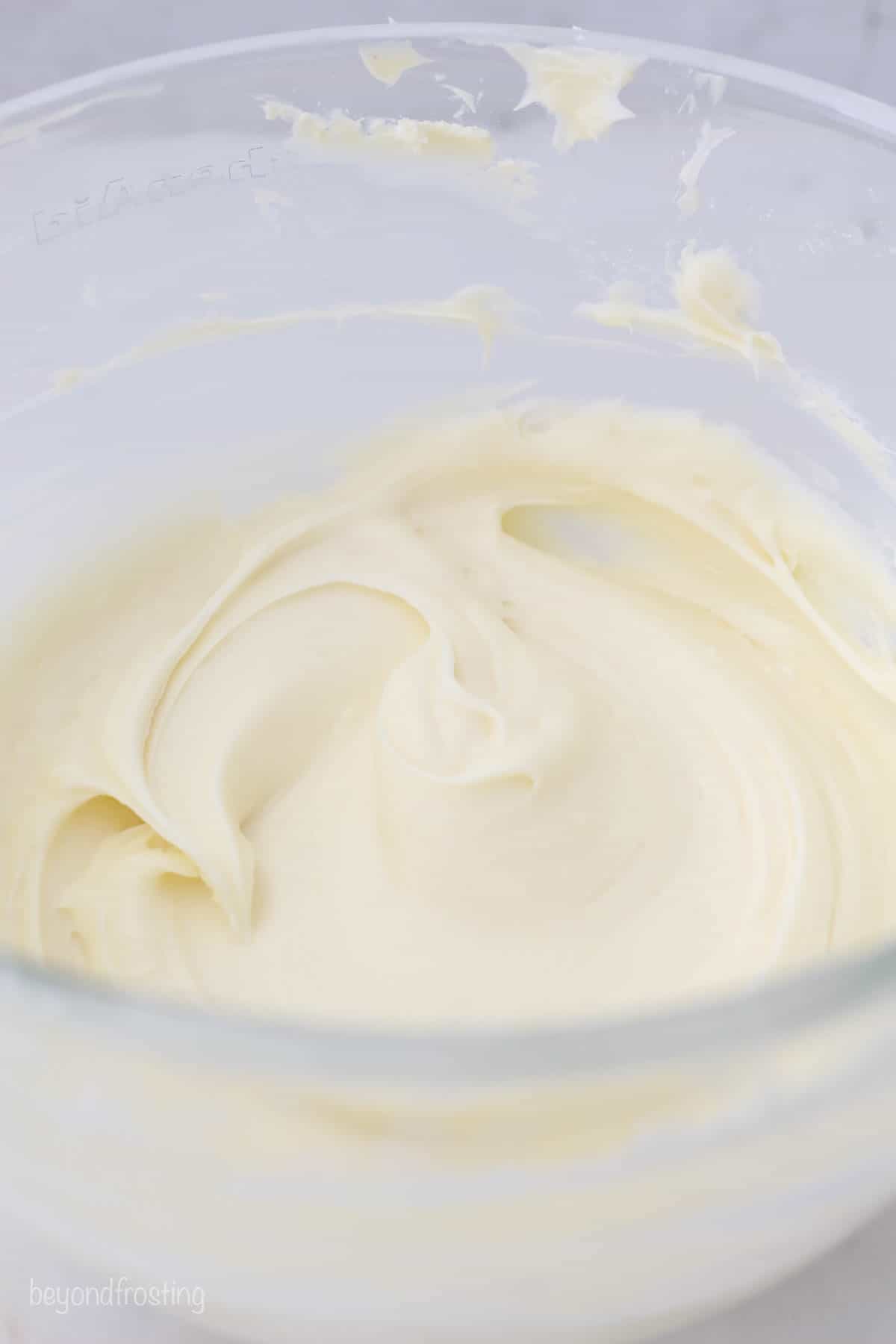 Frosting Ingredients
Unsalted butter- this should be cold
Full fat cream cheese– make sure it's also cold
Powdered sugar
Pure vanilla extract
Heavy whipping cream or milk
How to Make the Frosting
It's helpful to cut the butter and cream cheese into cubes before starting.
Beat the butter: Whip the cold butter for several minutes until it's fluffy and reaches a spreadable consistecny.
Add the cream cheese and beat together with the butter until the consistecy is smooth. It will first look like cottage cheese, but continue beating until it incorporates even more.
Slowly add the powdered sugar, 1-2 cups at a time and beat until incorprated before adding more. As you add the powdered sugar, add in the liquid ingredients slowly.
One final mix: Once all the ingredients are added, beat for another 1-2 minutes.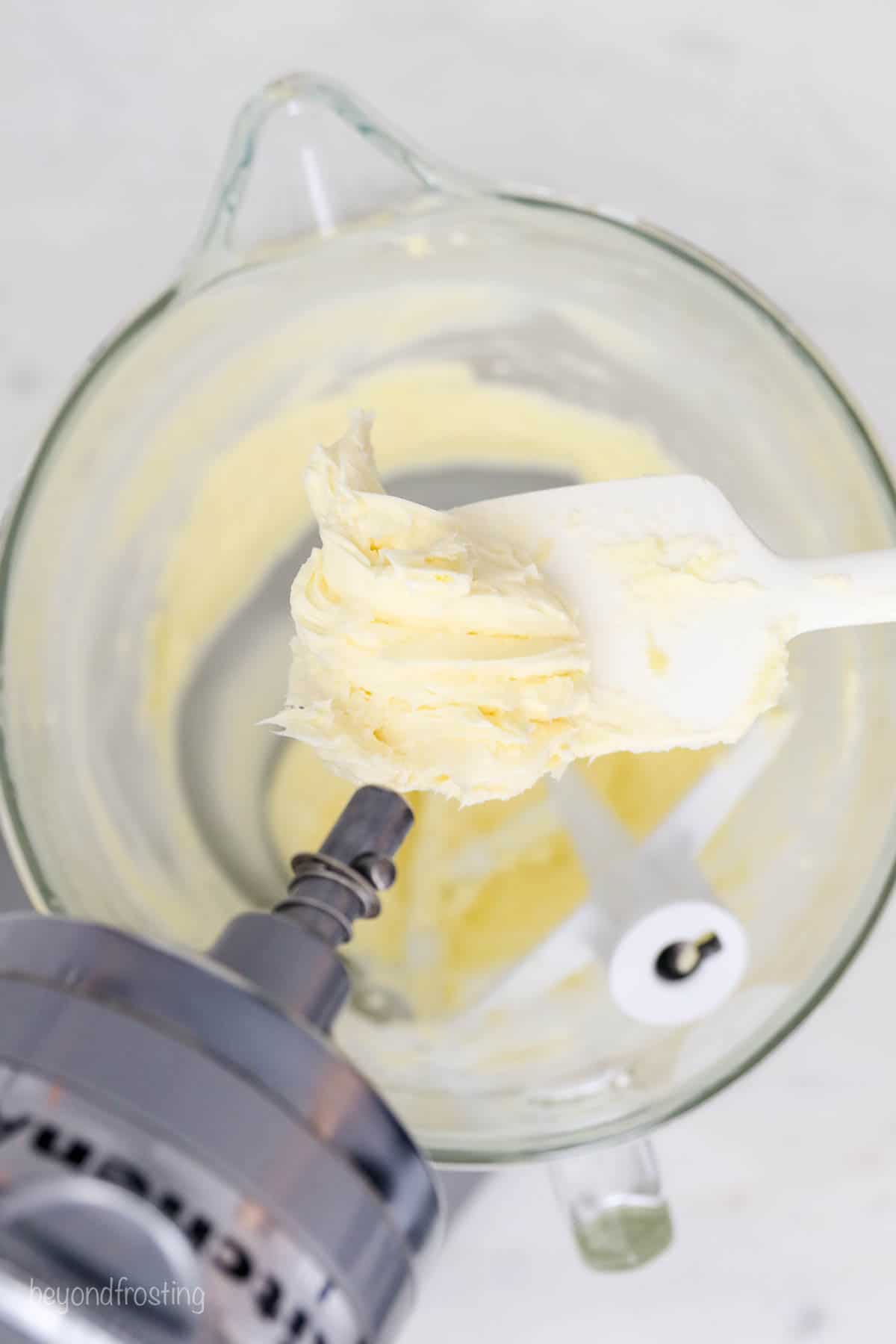 Tips for Decorating This Cake
I kept it pretty simple here, but I wanted to share a couple of tips with you to frost this cake. I do recommend adding a crumb coat layer, as the edges of this cake tend to be a little flakey. Once the crumb coat is added, pop it in the refrigerator or freezer for a few minutes to let it set before adding the final layer of frosting.
I like to invert my layers, so the top of the cake is nice and flat. Don't worry about all that uneven space, we're going to fill that in with frosting. Lastly, To add the walnuts, it's best to do so before the frosting has set.
How to Store a Frosted Carrot Cake
I store my cake for 2-3 days at room temperature in an airtight container. I love my cake carrier for storing cakes. If you live in a hot or humid environment, then you'll need to refrigerate this cake. However, be sure to serve it at room temperature for best results. So give it about 20 minutes to sit on the counter before serving.
Print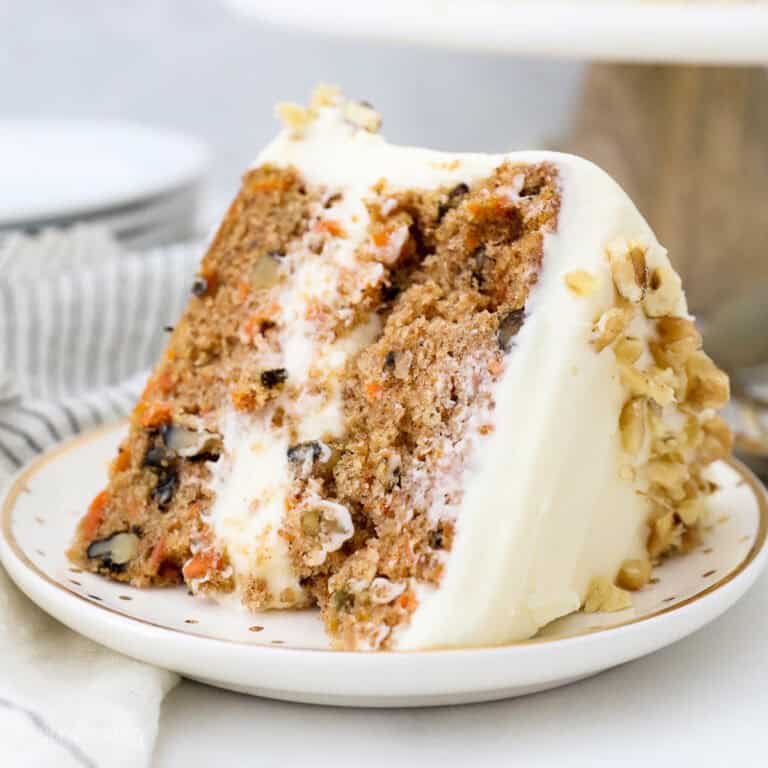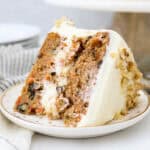 Homemade Carrot Cake Recipe
Author:

Prep Time:

30 minutes

Cook Time:

32 minutes

Total Time:

1 hour 2 minutes

Yield:

12-15 slices
Description
This classic carrot cake is moist and tender, perfectly spiced, and loaded with chopped walnuts. It's topped with the most amazing cream cheese frosting.
Ingredients
Carrot Cake
3 cups

raw carrots, peeled and grated

4

large eggs

2 cups

(

380g

) granulated sugar

1 cup

(236ml) vegetable oil

2 cups

(

280g

) all-purpose flour

2 teaspoons

(

5g

) ground cinnamon

2 teaspoons

(

8.5g

) baking soda

1 teaspoon

(

5g

) salt

1/4 teaspoon

nutmeg

1 cup

(

116g

) walnuts or pecans, chopped (optional)
Cream Cheese Frosting
1 cup

(

226g

) unsalted butter, cold

12 ounces

(

339g

) full fat cream cheese, cold

6

–

7

cups (911g) powdered sugar

1 tablespoon

(15ml) pure vanilla extract

2 teaspoons

(9ml) heavy whipping cream or milk

1 ½ cups

(

174g

) walnuts, chopped (optional)
Instructions
For the cake:
Preheat the oven to 350°. Prepare two 8-inch round baking pans, line the bottom with parchment paper and grease the sides, lightly dust with flour.
Peel the carrots and use a grater or food processor to shred into small pieces. Set aside.
Beat the eggs until light and fluffy. Add the sugar and beat on low speed until smooth. Next add the oil and continue beating at low speed until well mixed.
In a medium bowl, combine the remaining dry ingredients. Slowly add the dry ingredients to wet ingredients and beat until incorporated. Fold in walnuts and carrots.
Pour the batter into the prepared pans, dividing evenly. Bake for approximately 28-35 minutes or until a toothpick or knife inserted into the center of the cake comes out clean. Allow the cake to cool completely.
For the frosting:
Cut the butter into pieces, about 1 tablespoon size. Using the paddle attachment, whip butter for 3-5 minutes, scraping down the bowl occasionally until the butter is light and fluffy.
Then add the cream cheese and cream together with the butter for 2-3 minutes until they are whipped and free of lumps, scrape down the bowl occasionally.
Slowly add confectionary sugar, 2-3 cups at a time, alternating with the liquid (vanilla extract and heavy cream), and beat until desired consistency is reached. Add salt if desired.
To assemble the cake:
Level off the cakes by removing any domes. Place a dollop of frosting on your cake board and place the bottom layer of cake centered on a cake board.
Pipe a layer of frosting in circles working outside the edge to the middle. Spread evenly with an offset spatula. Add the second layer of cake, inverted. Apply a crumb coat to the cake and put it in the freezer for 5-10 minutes. Remove from the freezer and add remaining frosting to the side and top of the cake. Use your hands to gently push the walnuts into the side of the frosting.
Notes
To make gluten-free: Use a one-for-one cup gluten-free flour replacement
Storage and make ahead: The cake layers can be made up to 2 days in advance. Cool completely and wrap tightly in plastic wrap or store in an airtight container. Once frosted, store in an airtight container in the refrigerator such as a cake carrier. Serve at room temperature for best results
This recipe can also be made as cupcakes
Category:

Cake

Method:

Oven

Cuisine:

American
Keywords: Cream cheese frosting, Cake recipe, Easter cake