This post may contain affiliate sales links. Please see my full disclosure policy for details
Homemade Carrot Cake Cupcakes, just like your grandma used to make topped with the best cream cheese frosting. This simple Carrot Cake Cupcake Recipe will be a family favorite.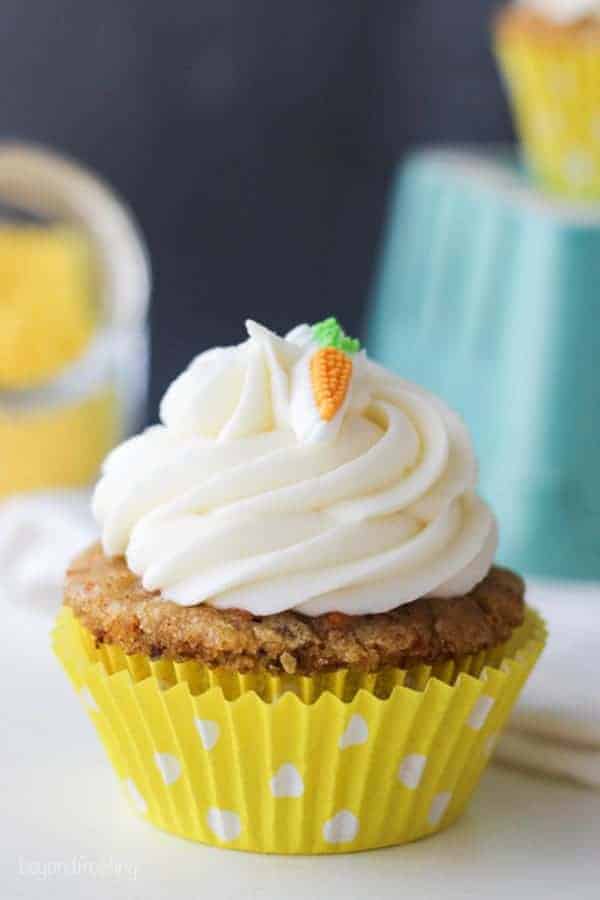 Carrot Cake Cupcake Recipe
My go-to dessert for a party is always cupcakes.
I always make my Grandmother's Carrot Cake. People love carrot cake, and this recipe is by far the best one I've made. It's moist, packed with flavor and super easy to make. They also make the perfect Carrot Cake Cupcake.
This recipe is so easy because it uses oil instead of butter, meaning you don't have to wait for the ingredients to come to room temperature, or worry about really creaming together the butter and sugar.
I also recommend using shredded carrots (like the ones you'd top a salad with) and then pulsing them in a food processor to get the smaller pieces. It's so much easier than have to shred your own carrots.
When you make these into cupcakes, they do not rise a lot. It's okay though because you are going to cover it with the most amazing cream cheese frosting!
You can choose to make this into a layer cake instead of cupcakes too. I've baked it using two 8-inch pans for my Sweet Potato Cake.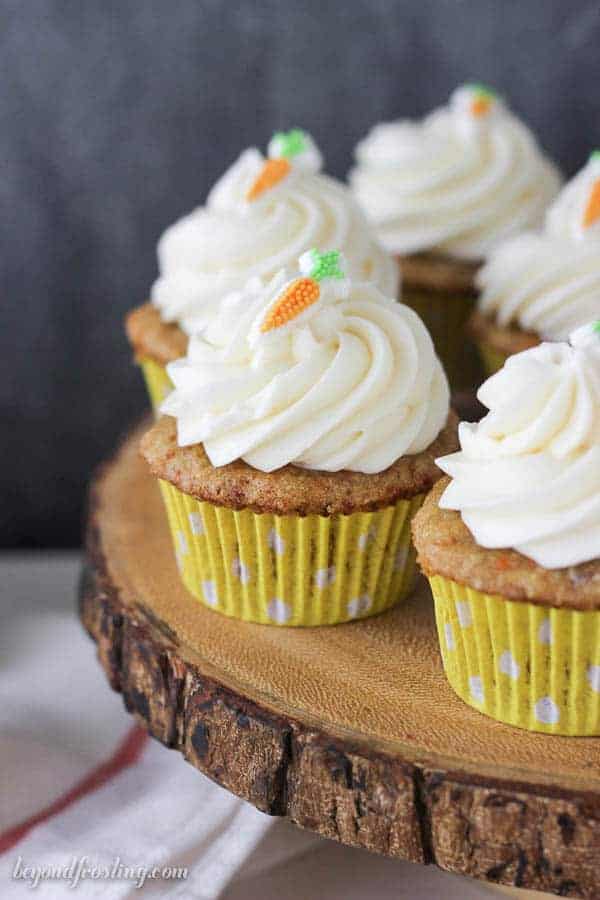 Make Gluten-Free Carrot Cake Cupcakes
I've made these cupcakes gluten-free more times than I can count. Sometimes I think my husband even prefer them gluten-free. I've also done it as a wedding cake!
To make this recipe gluten-free, simple swap out a one-for-one cup gluten-free all-purpose flour, one that includes the xanthan gum. I've tried several different brands and we prefer King Arthur Gluten-Flour.
A measure for measure (one-for-one) means whatever amount of flour the recipe calls for, just swap out for the same measurements of gluten-free flour.

My secrets to the Best Ever Cream Cheese Frosting
I am obsessed with cream cheese frosting. Years ago I started making a Martha Stewart recipe, which I ended up adapting to suit my own tastes.
Use equal parts butter and cream cheese which makes it a bit more stable
Start with COLD butter and cream cheese, I use it straight out of the refrigerator. This helps the frosting to be more stiff and can be piped immediately.
It must be whipped for several minutes at different stages in the process. First you should whip the butter and cream cheese until it is really smooth, this will take a few minutes since you are using cold ingredients. You may need to scrape down the bowl occasionally. Then, once all the powdered sugar is incorporated, you should beat it again for another 2-3 minutes at a high speed. The more air you incorporate the better!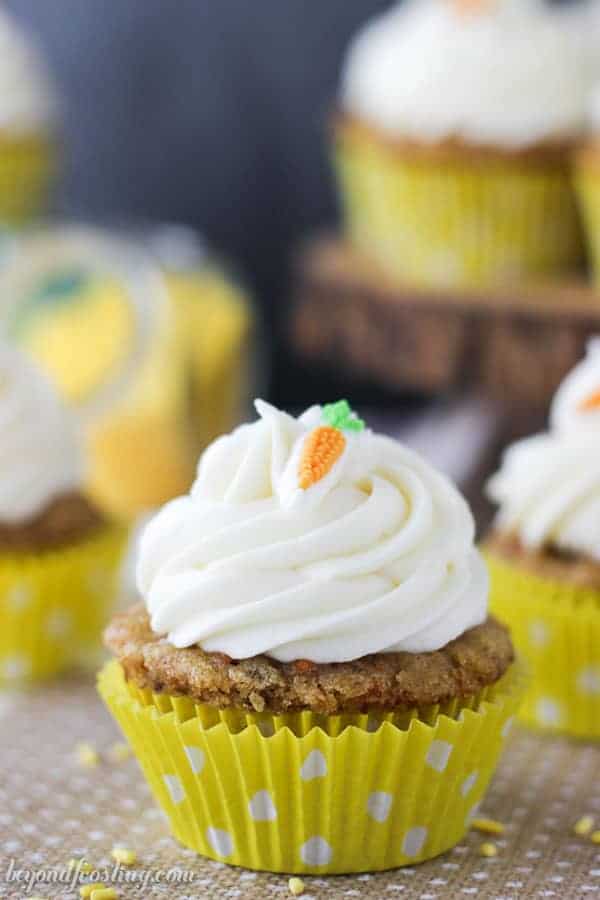 You know how I know this recipe is top notch (besides the facts that it's grandma's recipe)? Because my husband will eat it whenever I make it, especially when it is gluten-free. He doesn't care much for sweets but there are a few things he always eats and this is one of them!
Keep up with all the happenings. Follow Beyond Frosting:
Facebook | Twitter | Pinterest | Instagram
Print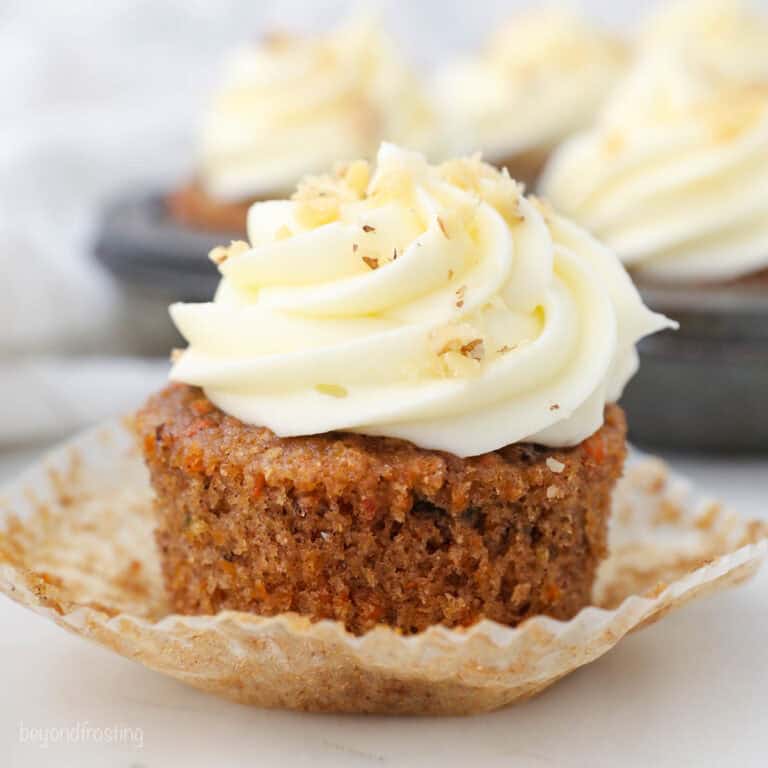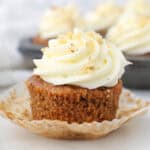 Carrot Cake Cupcakes
Author:

Prep Time:

20 minutes

Cook Time:

20 minutes

Total Time:

40 minutes

Yield:

24
Description
Everybody loves carrot cake, and my grandmother's original recipe makes the best one you'll ever taste. Topped with the fluffiest cream cheese frosting, these easy Carrot Cake Cupcakes turn her family-favorite dessert into perfect little single-serving treats!
Ingredients
For the Carrot Cake Cupcakes
4

large eggs

2 cups

(

380g

) granulated sugar

1 cup

(236ml) vegetable oil

2 cups

(

280g

) all-purpose flour, or 1:1 gluten-free flour

2 teaspoons

(

8.5g

) baking soda

1 teaspoon

(

5g

) salt

2 teaspoons

(

8.5g

) cinnamon

3 cups

grated raw carrots

1 cup

chopped walnuts (optional)

1 cup

raisins (optional)
For the Whipped Cream Cheese Frosting
1 cup

(226g) unsalted butter, cold

16 ounce

s cream cheese, cold

6

–

7

(780g) cups powdered confectionary sugar

2 teaspoon

s (10ml) vanilla extract

2 tablespoon

(30ml) heavy whipping cream or milk (optional)
Instructions
Make the Cupcakes
Preheat the oven to 350°F. Line a cupcake pan with cupcake liners.
Lightly beat eggs with a fork then add sugar and beat on low speed until smooth. Next add the oil and continue to beat on low speed until well mixed.
In a medium bowl, combine the dry ingredients. Slowly add the dry ingredients to wet ingredients and beat until incorporated.
Use a food processor to shred carrots into smaller pieces. Add shredded carrots to the batter and beat until combined. Fold in walnuts and raisins if desired.
Using a large cookie scoop, divide the batter evenly, filling each liner 2/3 full
Bake for 18-22 minutes until slightly risen. Test the cupcakes for doneness by inserting a toothpick into the center of the cupcake. If the toothpick comes out clean, the cupcakes are done. Cool Completely.
Make the Frosting
Cut the butter into 1-inch blocks. Beat the butter for 1-2 minutes until it is slightly softened.
Add the cream cheese and cream together for 2-3 minutes until they are fluffy and free of lumps, scape down the bowl occasionally.
Slowly add confectionary sugar and vanilla extract and beat until desired consistency is reached. I like to whip mine with the paddle attachment on my stand mixer on medium-high speed for at least 2 minutes to ensure my frosting is airy.
If you find the frosting is too sweet, add 1 tablespoon heavy whipping cream and beat until well combined.
Add an additional 1/2 C confectionary sugar for a stiffer consistency, if desired. Frost cooled cupcakes. Once frosted, keep these cupcakes stored in the refrigerator. Serve at room temperature.
Notes
To Store: Keep cupcakes refrigerated in an airtight container and bring to room temperature before enjoying. Eat within 2 days for the best results, or up to 4 days.
To Freeze: Freeze unfrosted cupcakes for 1-2 months by wrapping each one in plastic wrap and storing them in a freezer-safe container. Unwrap and thaw on the counter before frosting and enjoying.
Category:

Dessert

Method:

Oven

Cuisine:

American
Keywords: carrots cupcakes, whipped cream cheese frosting, cream cheese frosting for carrot cake