This post may contain affiliate sales links. Please see my full disclosure policy for details
Impress your friends with these super easy Chocolate Cherry Monkey Bread Muffins by combining some pre-made biscuit dough, cherry pie filling and chocolate. These pull-apart muffins are perfect for any occasion, breakfast or dessert.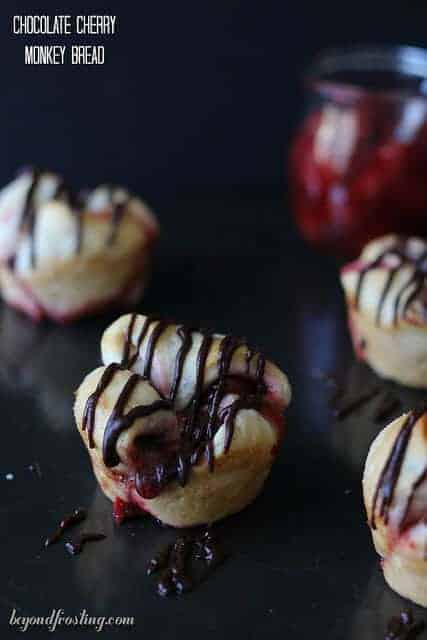 As I type this post I am sitting lakeside enjoying a little time with family and friends. Lake vacations are always a good excuse to pig out on food you wouldn't normally eat at home, sleep till 10am and enjoy some early afternoon cocktails. Fact: margaritas are better at the lake. Also, did you see the chili cheese fries that I posted on Instagram? Yeah, lake food.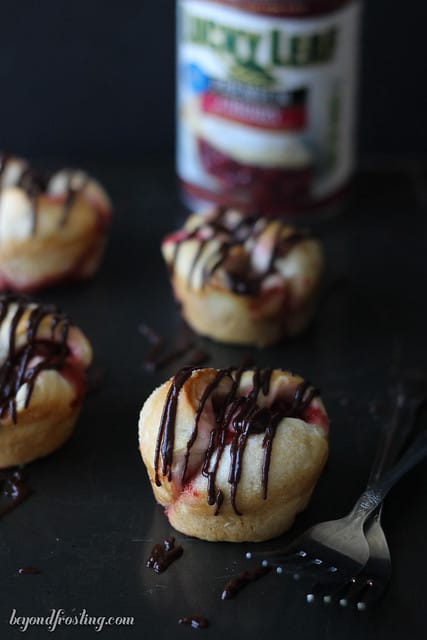 We are feeding a crowd this week, and meals and snacks are all about easy to prepare mouthwatering treats. These Chocolate Cherry Monkey Bread Muffins make a great breakfast or after dinner treat. Each muffins is made with a chocolate and cherry stuffed biscuits that has been rolled in sugar and drizzled with chocolate.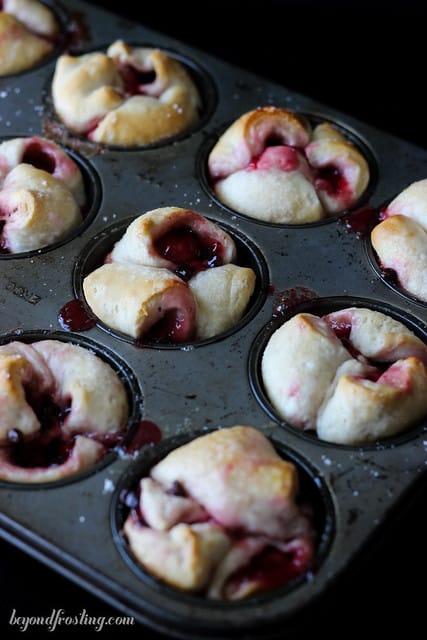 These pull apart muffins are so easy to prepare and there are so many combinations of fillings and toppings. For this recipe, I used a can of Lucky Leaf Cherry Pie filling, mini chocolate chips and premade biscuit dough.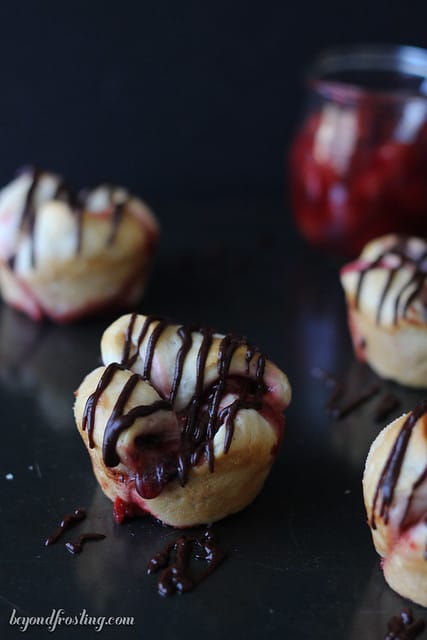 For the biscuit dough, I find it easiest it use a home style type biscuit as opposed to a flaky biscuit. The dough is easier to work with. Now let's walk through the steps to make these muffins.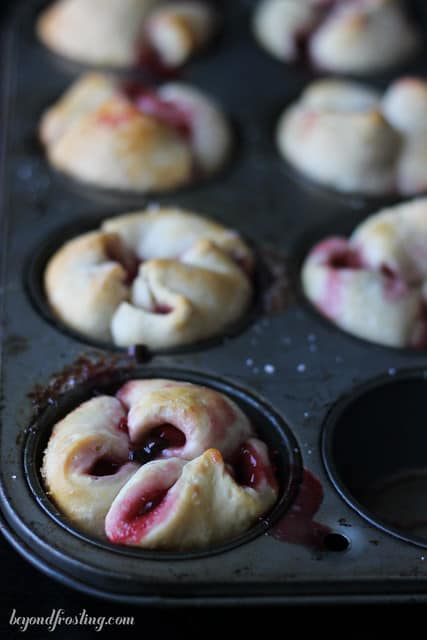 First you need to roll out the dough into a pancake shape, nice and flat. Then you cut into quarters. I like to use a pizza cutter or something like that to cut through the dough.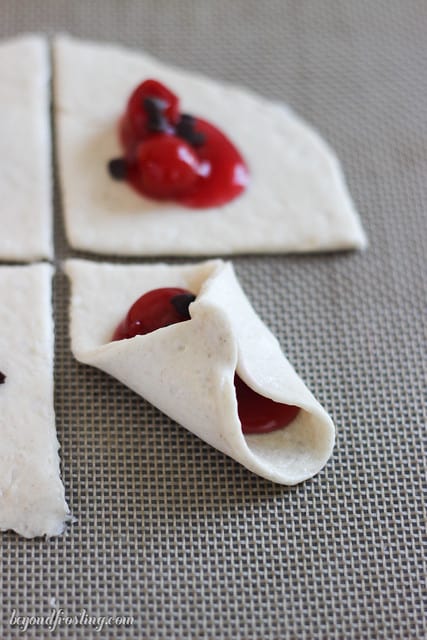 To fill the dough, just spoon out some of their cherry pie filling into the center of each quarter and sprinkle with a couple mini chocolate chips. The next step is where you need to be a little quick and agile.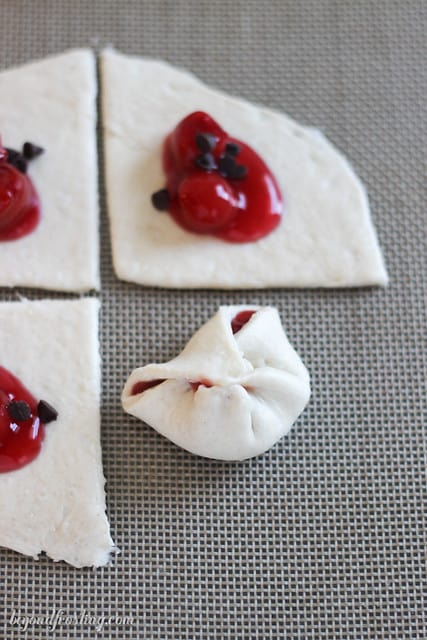 You need to take each corner and fold them in to pinch the ends together. The cherry juice is going to run out the sides, but that's okay. Just pick up each pouch and gently roll it in some sugar and place into your greased muffin tin. It is best to put the pinched edges facing down or towards the sides of the tin so that they do not burst open when baking.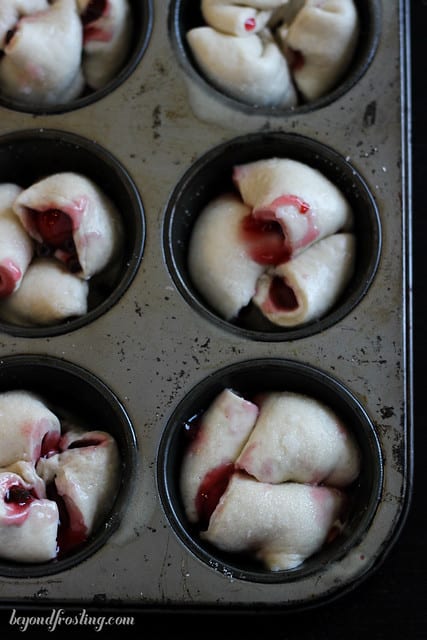 Each muffins cup fits 3-4 pouches. I prefer to use 3 pouches so the muffins are not too big. If you use 3 pouches for each muffin, then you will get 11 muffins per container of 8 biscuits. For this recipe, I have doubled it to make a larger batch. Making these in a muffin pan makes these great to serve for a party since they are individual servings.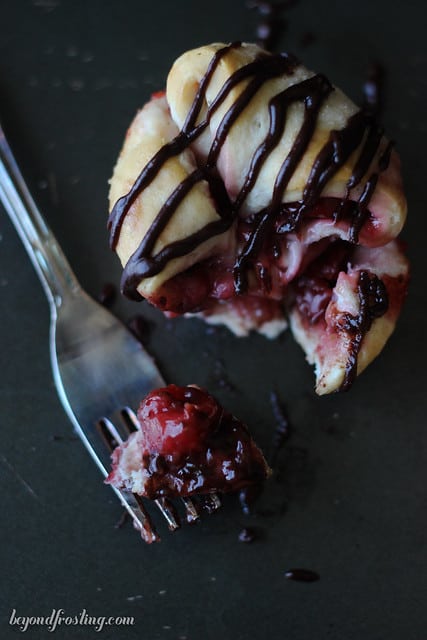 Once the muffins are done cooking, allow them to cool and set for fifteen minutes; this will allow the juices to firm up and it will be easier to get them out of the pan. It is helpful to run a knife around the edges as well.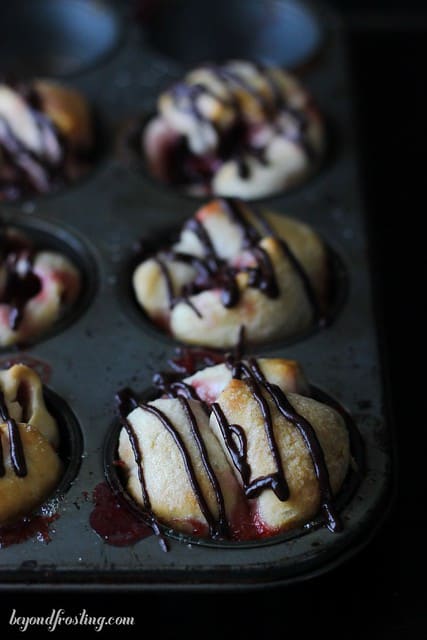 Since chocolate makes everybody better,I'm have drizzled these with a chocolate ganache. It's a simple combination of chocolate chips and butter that is melted in the microwave. I prefer to use a piping bag to drizzle the chocolate on top, but a spoon works just fine too.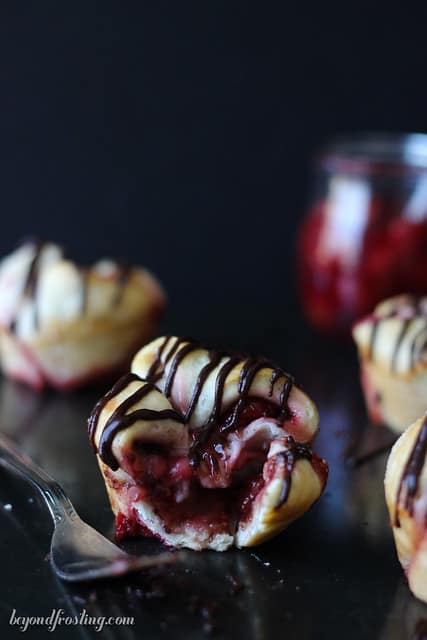 Serve these Chocolate Cherry Monkey Bread Muffins at your next get together. I am sure your guests will be impressed. They will think you spent hours in the kitchen preparing these, but really, it takes no time at all.
Keep up with all the happenings. Follow Beyond Frosting:
Facebook | Twitter | Pinterest | Instagram
This recipe is sponsored by Lucky Leaf, but all opinions are my own.
Connect with Lucky Leaf:
Recipes | Pinterst | Facebook | Twitter
Print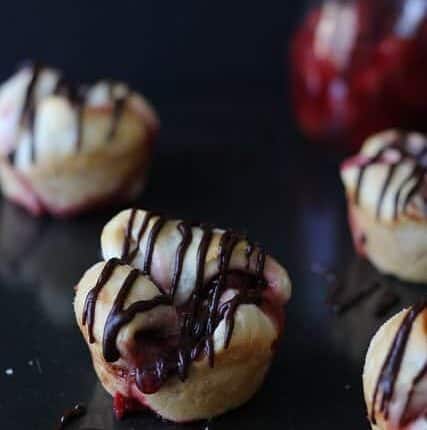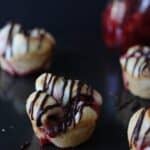 Chocolate Cherry Monkey Bread Muffins
Author:

Prep Time:

20 mins

Cook Time:

20 mins

Total Time:

40 minutes

Yield:

22 muffins
Ingredients
2

pkg Biscuits (home style) 16.8 oz

1

can Lucky Leaf Cherry Pie filling

1/2

C Mini chocolate chips

1/4

C Granulated sugar
For the glaze:

3 oz

Chocolate chips

3 tbsp

Unsalted butter
Instructions
Pre-heat oven to 350°F. Grease muffin pan.
Unroll biscuits from package and roll each biscuit until flattened like a pancake. Cut into quarters.
Spoon 2-3 cherries into the center of each quarter. Sprinkle a couple of mini chocolate chips over cherries.
Pinch together all 4 edges to form a pouch. Juices may be oozing out of the side, but that's okay. Gently roll in granulated sugar.
Place 3 cherry pouches in each muffin cup. Place the sealed edges facing down or outward, otherwise they will expand open when baking.
Bake at 350°F for 20 minutes until dough turns a light brown color. Remove from oven and allow to cool for 15 minutes. Gently run a knife around the edges of the muffins to help release from pan.
Prepare the glaze by combining chocolate chips and butter in a microwave-safe bowl. Microwave for 30-60 seconds until butter is melted. Stir until completely smooth. If chocolate is too thick, add additional butter. Drizzle over top of muffins.
These are best served warm, but can be stored in an airtight container for one day.
Notes
This recipe can easily be halved to make 11 muffins.
Visit Beyond Frosting's profile on Pinterest.
Other recipes you might like: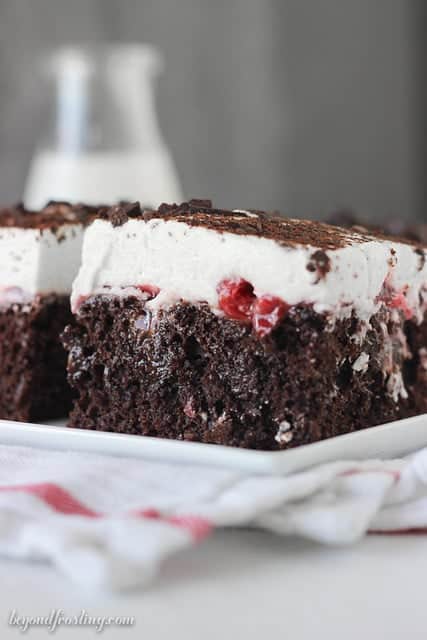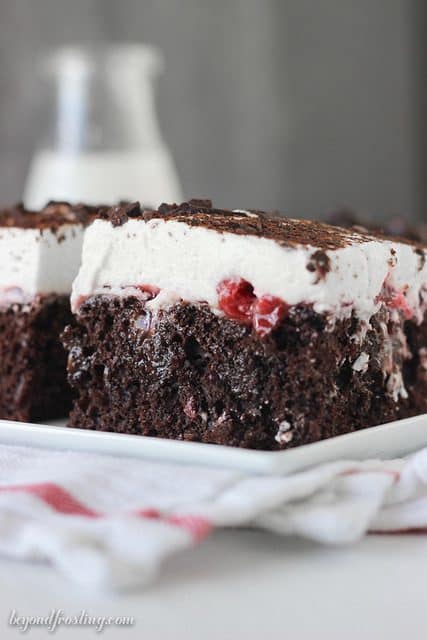 Almond Cherry Coconut Crisp
Coconut Key Lime Monkey Bread Muffins
Recipe you might like from my friends:
Cherry Almond Scones from Table for Two
Cherry Coconut Magic Bars from Mom on Timeout
Chocolate Cherry Trail Mix from In Katrina's Kitchen