This post may contain affiliate sales links. Please see my full disclosure policy for details
Let me teach you how to use piping tips to create beautiful cupcakes, cakes and sugar cookies. You'll learn about the different types of piping techniques and the ways you can decorate with them.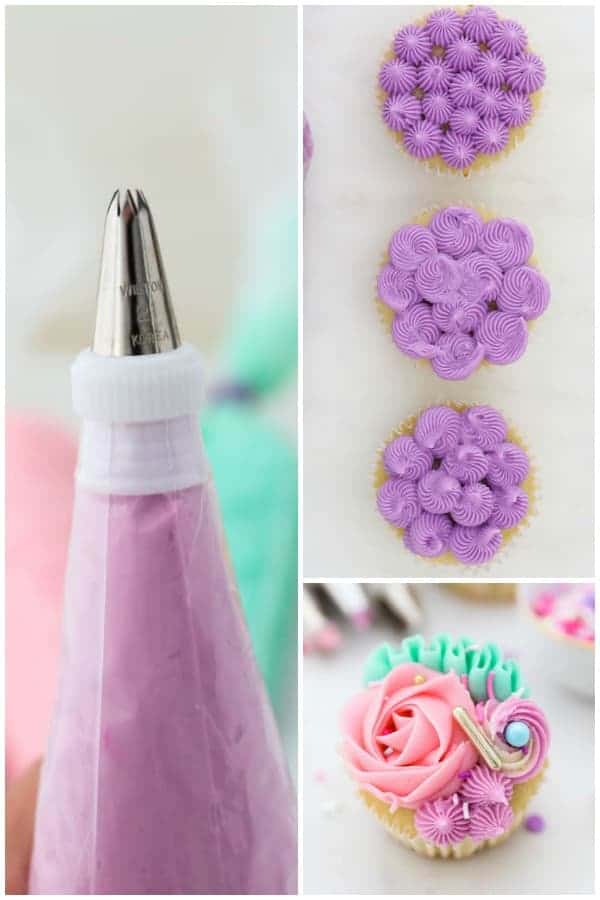 I'm guilty of scrolling through Instagram ooing and awing over the talented bakers and cake decorators and I believe that everyone can learn to decorate beautiful cupcakes, cakes and sugar cookies.
You don't need to be intimidated. Practice does really help, but I'd like to show you some really easy ways to decorate using your standard piping tips.
Prior to starting my blog, I took the Wilton cake decorating class at my local craft shop. I had plenty of experience baking but not too much experience when it came to decorating. That class gave me a foundation to get started.
I became obsessed with learning how to use piping tips and how to achieve different looks with them. Now I want to teach you everything I've learned along the way.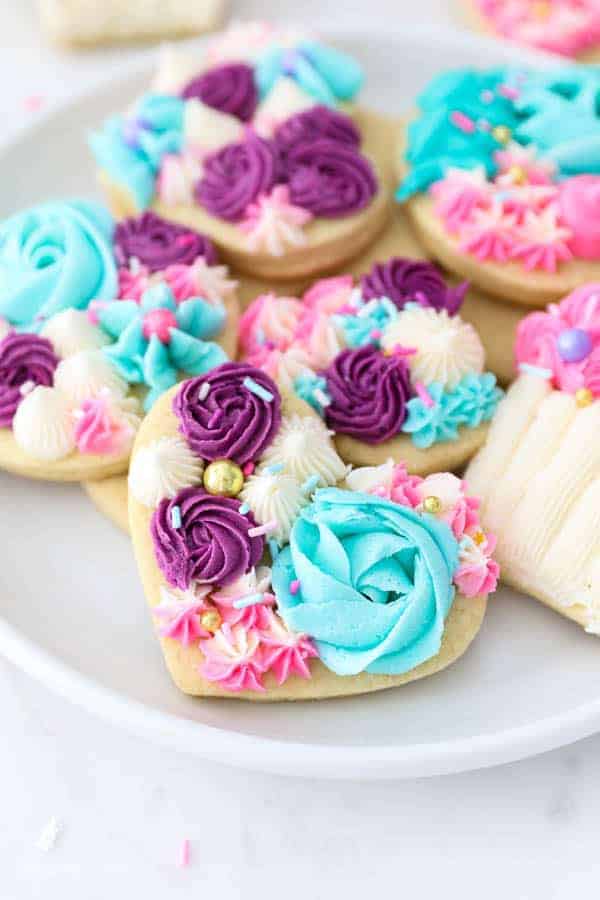 Why is a good buttercream recipe important.
I am super passionate about frosting. As a child and into my young adulthood, I hated frosting and ate just the cake. Then I learned to make my own frosting, and it was a total game changer for me.
My vanilla frosting recipe was one of the first frosting recipes I posted back in 2014 and has been one of my most popular recipes to date. It's been viewed millions of times with dozens and dozens and of comments and reviews.
It's also one of the best buttercream recipes for piping and decorating. My recipe starts with COLD BUTTER, which allows you to really control the consistency of the buttercream.
Often times when attempting to make frosting you can end up with something soupy or runny, too soft to work with and doesn't hold up well once it's been piped. This happens because the butter you started with was too soft, or you added too much liquid.
Once you nail a good buttercream, then it's about learning how to use piping tips.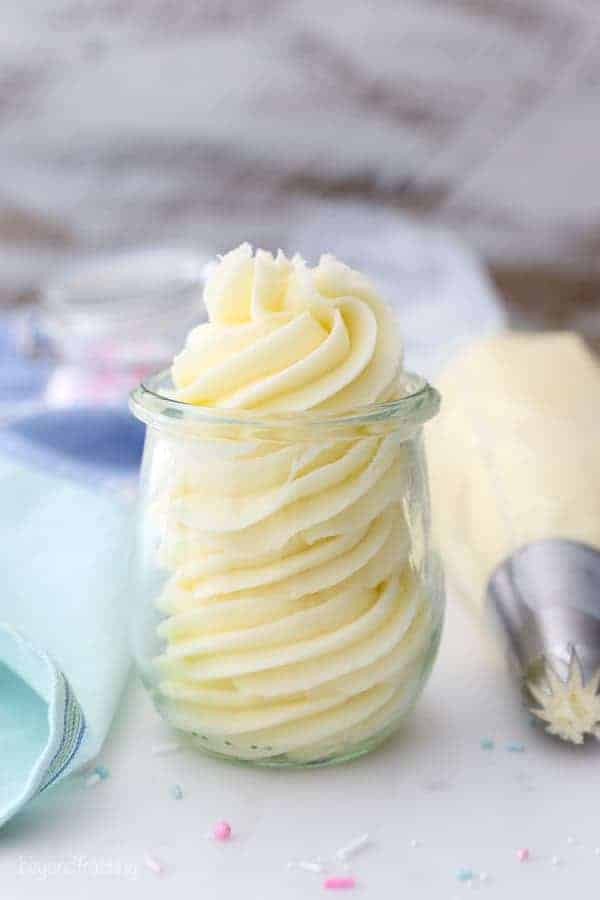 Helpful tutorials for decorating cupcakes and cakes
How to make buttercream frosting: I mentioned above my favorite recipe for vanilla buttercream, but if you'd like a deep dive into the how & why be sure to take a look at my tutorial for making frosting.
Decorating cupcakes: I wrote an entire post dedicated to decorating gorgeous bakery style cupcakes. In that post I go into detail about each of the large (or jumbo) piping tips. My favorite 6-piece starter kit is under $10. It's what I use 95% of the time. However in this post I show you ways to decorate your cupcakes using standard size piping tips.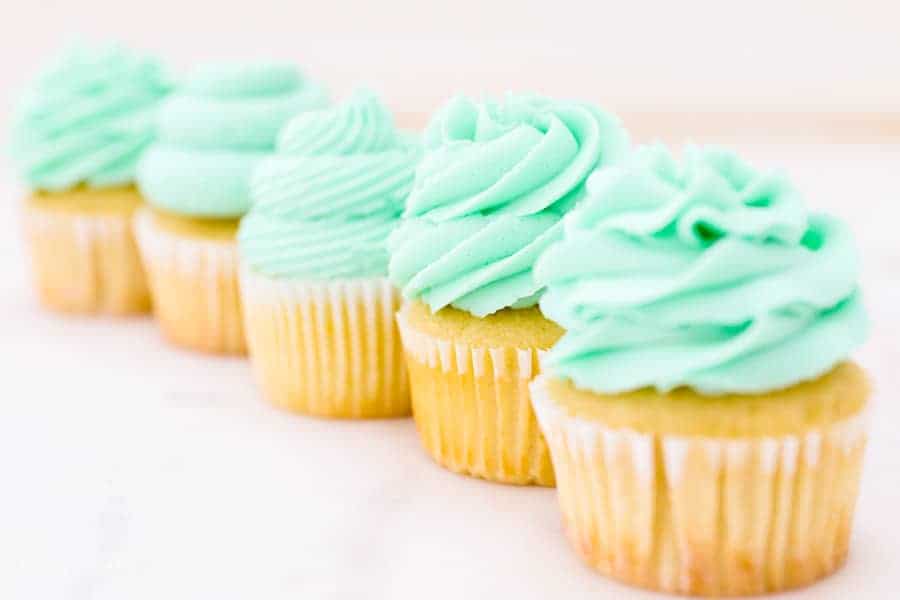 Learn how to use a piping bag: If you want to use piping tips, you'll need to know how to use a piping bag. In this post I go into great detail on topics like how to use a piping bag and tip with a coupler, or without a coupler. How to fill a piping bag, the various sizes I recommend using and much more!
Learn how to color buttercream: Choosing a color for your buttercream can be a difficult task. Here you'll find the answers to all your questions about products to use, how much to use and how to color buttercream.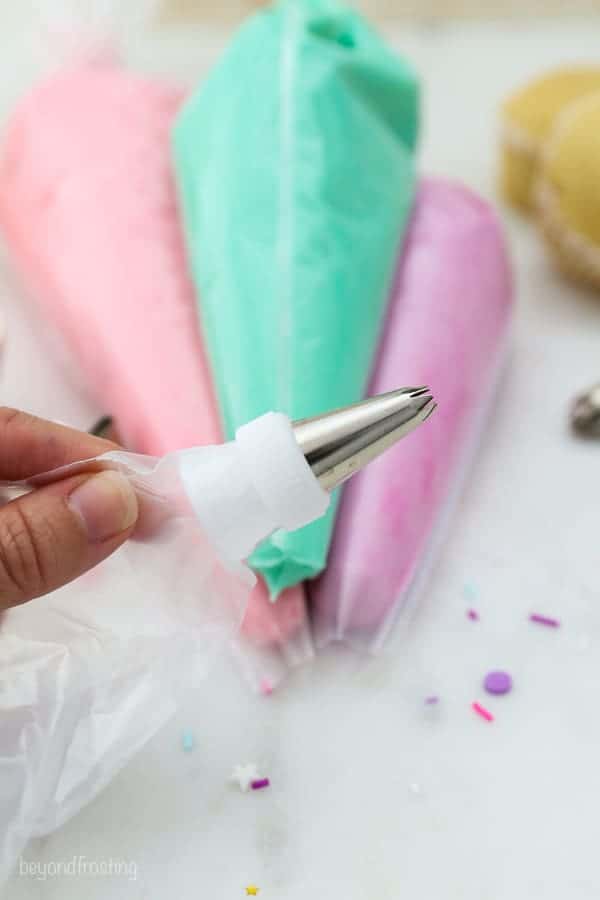 Learn the types decorating tips and how to use them
All piping tips are categorized by shape and they come in various sizes. There's so much you can do with them! However, if you want a traditional, bakery style cupcake, you'll need some large or jumbo tips and we'll talk about that too.
Types of decorating tips
Open Star
Closed Star
Open Round
Drop Flower
Petal and Leaf Tips
Basket weave and Mutli Opening Tips
Russian tips
Let's do a deeper dive into some of these.
Open Star
This is one of my favorites and one I use the most often. My most common sizes are size 18 and size 21. This is one of the quickest and fastest way to decorate sugar cookies, you can never go wrong! For the jumbo open star, look to size 826 (Ateco) or 4/6/8 B (Wilton).
The Wilton 1M piping tip falls into this category. The 1M tip is use for roses but also makes beautiful designs for rosettes and boarders for cakes. It's a very versatile option.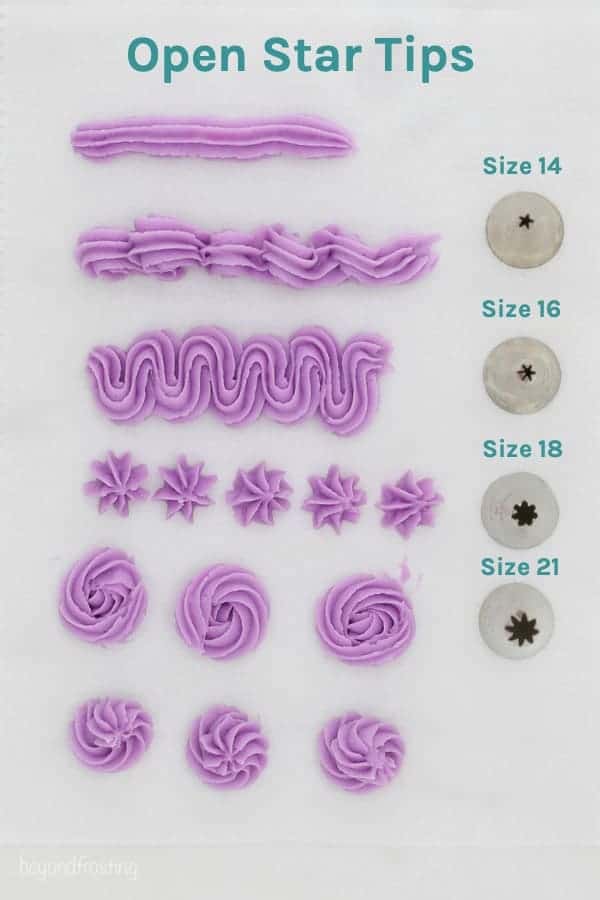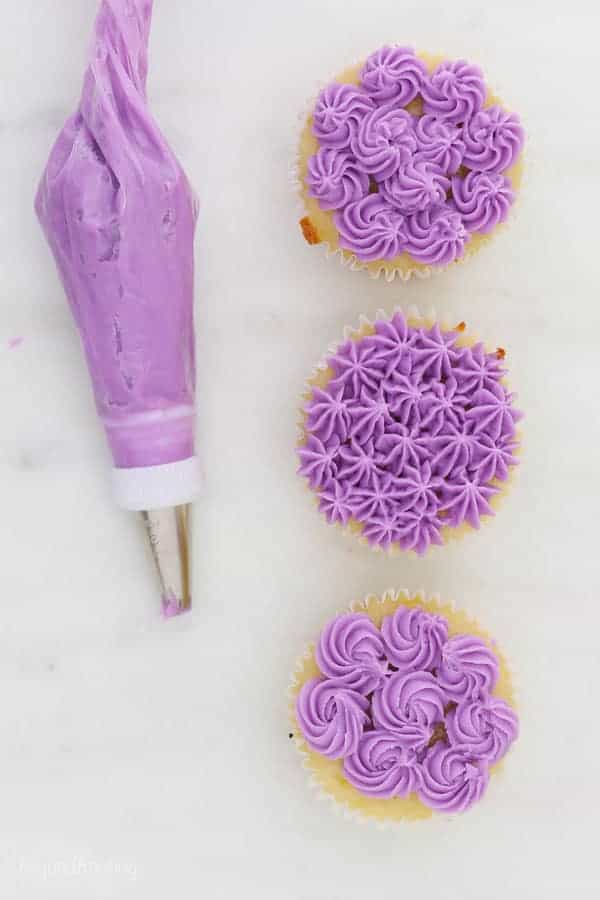 Closed Star
I don't really have any of the small closed star tips (number 24-35). They have a similar aesthetic to the open star but they're more closed and tighter.
However, the jumbo size Ateco 846/848/849 are closed stars and these are my favorite, most-used tips. I use these for rosettes and boarders and is one of my go-to decorating tips for frosting cupcakes.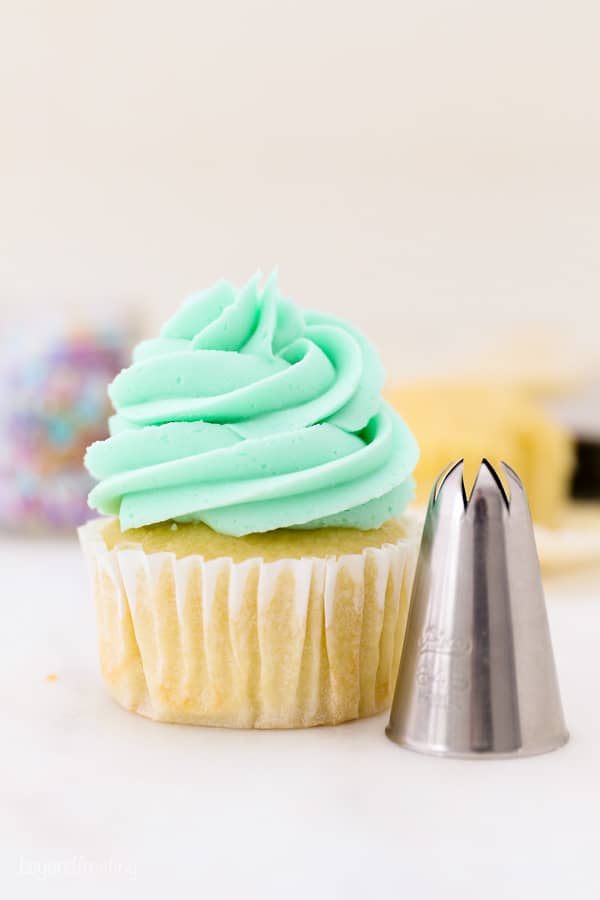 French Star
Wilton classifies the 199 tip as open star, but I think they're more commonly referred to as French Star tips. The tip 199 is great for small accents and rosettes but I prefer the jumbo size Ateco 866.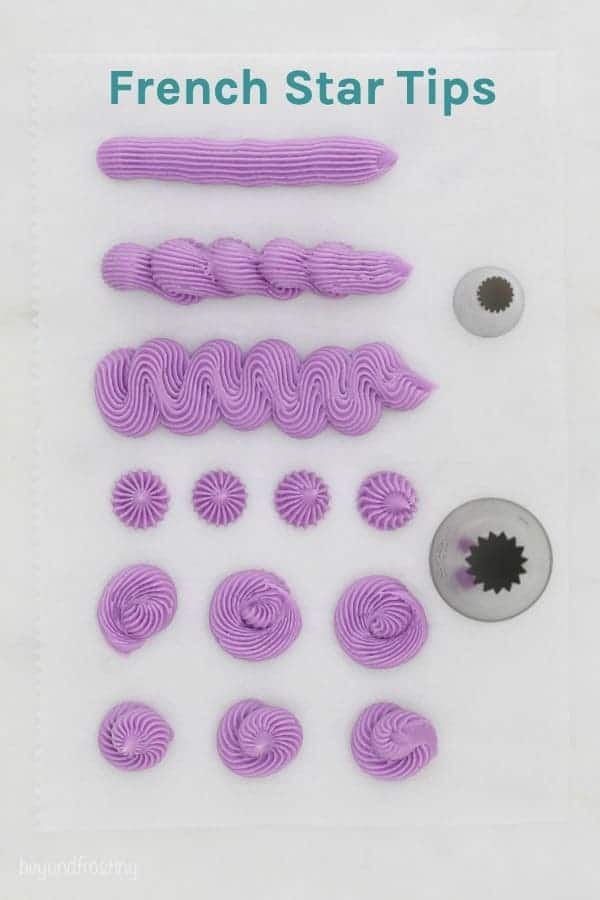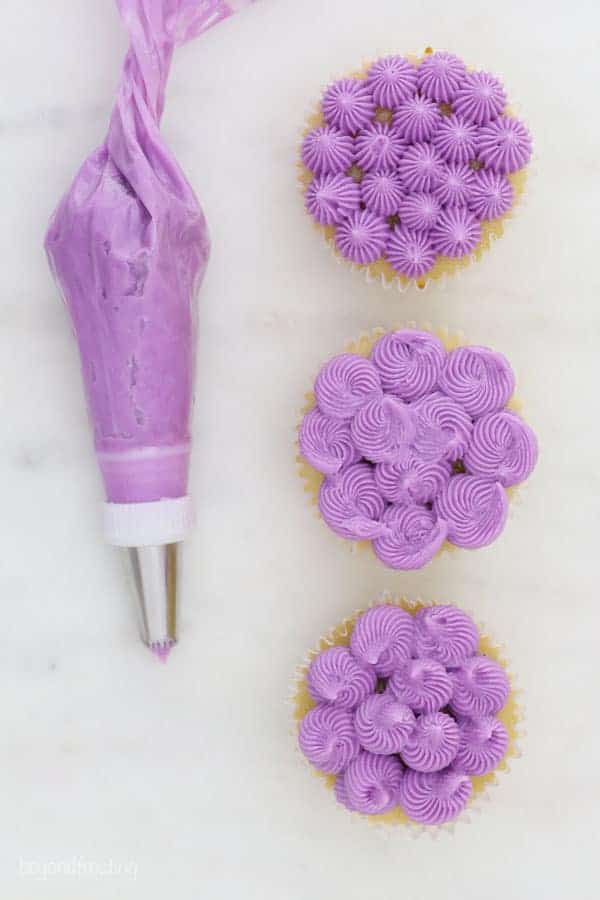 Round tips
These are really my favorites tips to use for decorating sugar cookies! I like to use size 5 Otherwise these are most commonly used for writing on cakes and the larger ones are used to help with filling cakes and cupcakes.
I don't think you need anything smaller than a size 3 because otherwise it's super tight. Size 12 is another common size I find helpful.
The jumbo size 808/809 (Ateco) are what I use to fill all my cakes and sometimes as decorations for boarders of cheesecakes or anytime you have a frosting that might have chunks of cookies or something in it.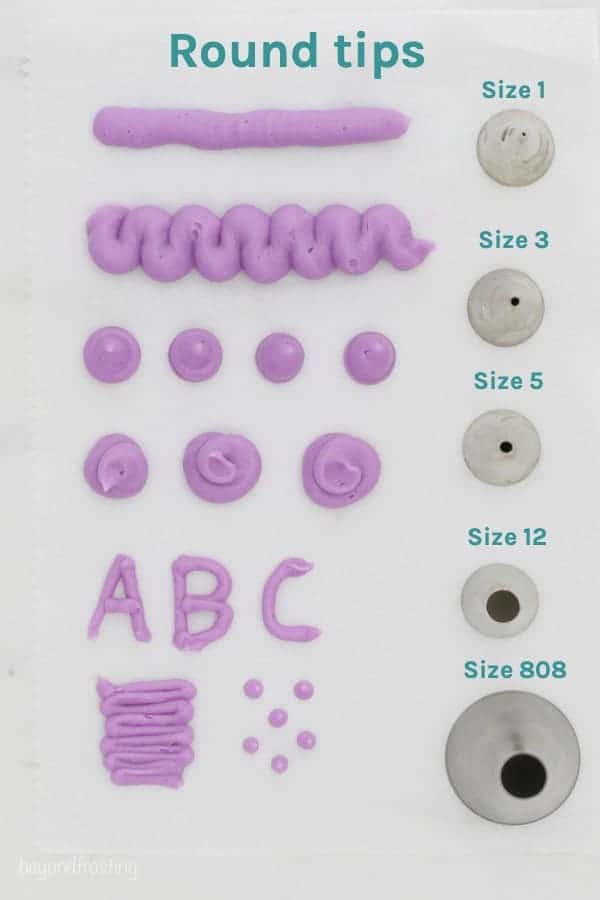 Drop flower
Drop flower tips are used to easily pipe basic flower designs with a single tip. This is one of the first few techniques that we learned in our class, but I hardly ever use them now.
The most common drop flower tip I use is actually the 2D. It's one of the larger ones and makes for a beautifully decorated cupcake and used for large rosettes.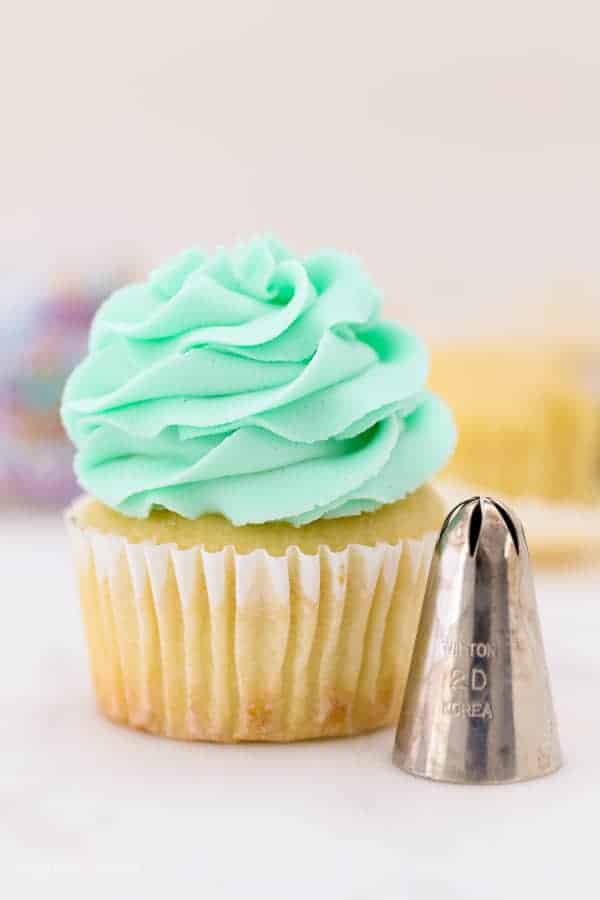 Petal and Leaf Tips
These are used for exactly that, to pipe petals and leaves for flowers. The leaf tip has a V-shape opening. You could also create a boarder with this tip, it's a creative and unique way to decorate.
The petal tip is more of a tear drop type shape and used to create different types of petals for flowers. However, the it is also great for decorating boarders and I love the aesthetic when used in a non-conventional way like I used for my Unicorn Cupcakes as shown below in the teal color.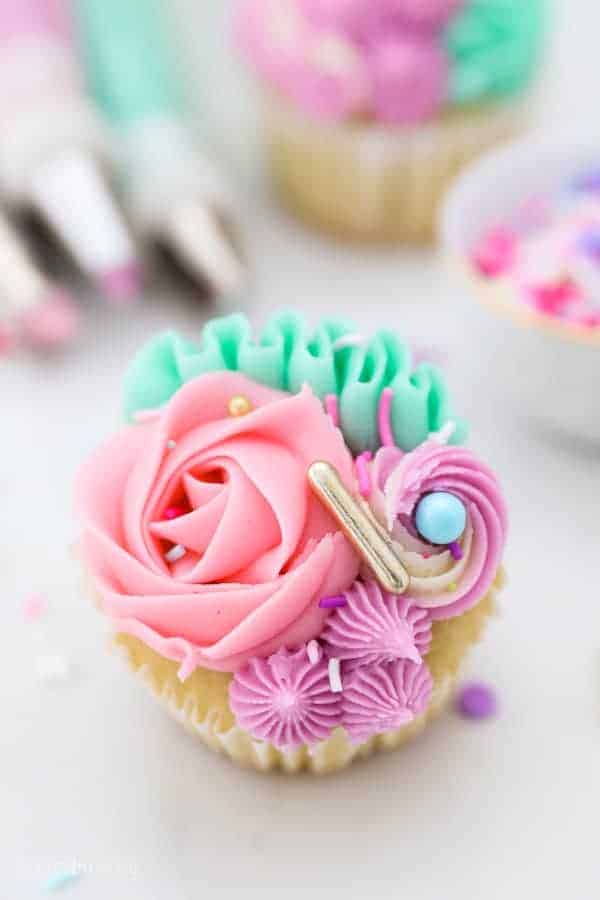 Basket weave and Multi opening tips
If you think of a traditional Easter carrot cake design, you've probably seen the basket weave tip. It's flat on one edge and ridged on the other and depending on which way you use them you'll end up with a different appearance. I don't use it often, but it's a good one to have on hand.
I actually use the jumbo size 789 icer tip as a means to frost the sides of layer cakes. It covers a large area and allows for a consistent amount of frosting around the outside edges.
When I am referring to a multi opening tip, I am referring to what is commonly called a grass tip. You'll see this commonly used to create a grass effect or a scary, hairy monster cupcake.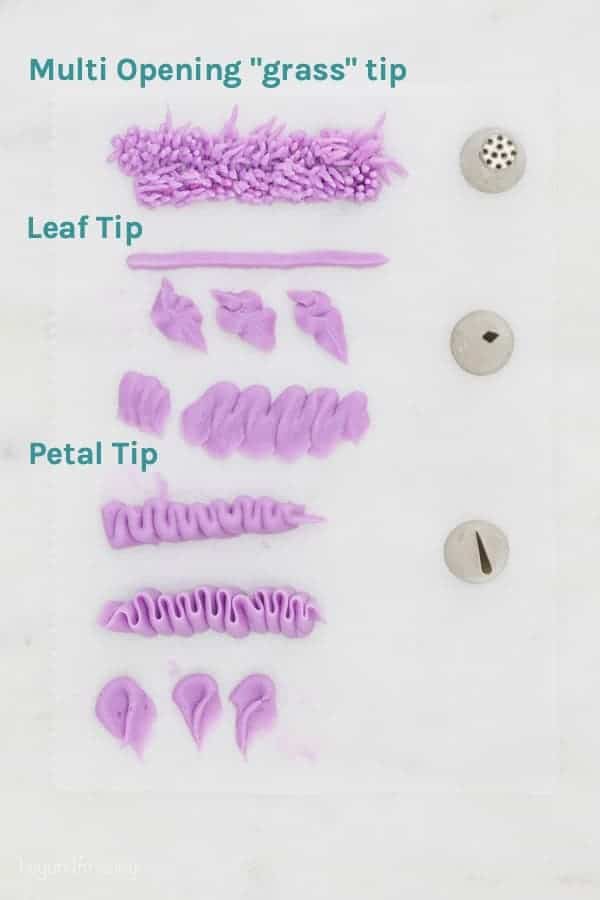 Russian tips
I have not used Russian tips before. They became very popular a couple years ago and do create beautiful floral designs. There's a lost more frosting to push through the various holes though.
Basic Piping tips you need for decorating
If you want to practice and start your own collection of piping tips, here are my recommendations. One or two of each one will take you a long way. You can even use them with different colors, if you are using couplers. These can be purchased individually at craft stores or from Amazon, but I find they are more affordable in store.
Basic Sizes:
Jumbo sizes:
Really all you need to start is the 6-piece starter kit from Ateco to start. It comes with a set of 2 open round (804, 808), 1 open star (827), 1 closed star (864), 1 French star (846), and 1 basket weave tube (898).
I have filled in with a couple of sizes as needed, which can be purchased from cake supply stores or online.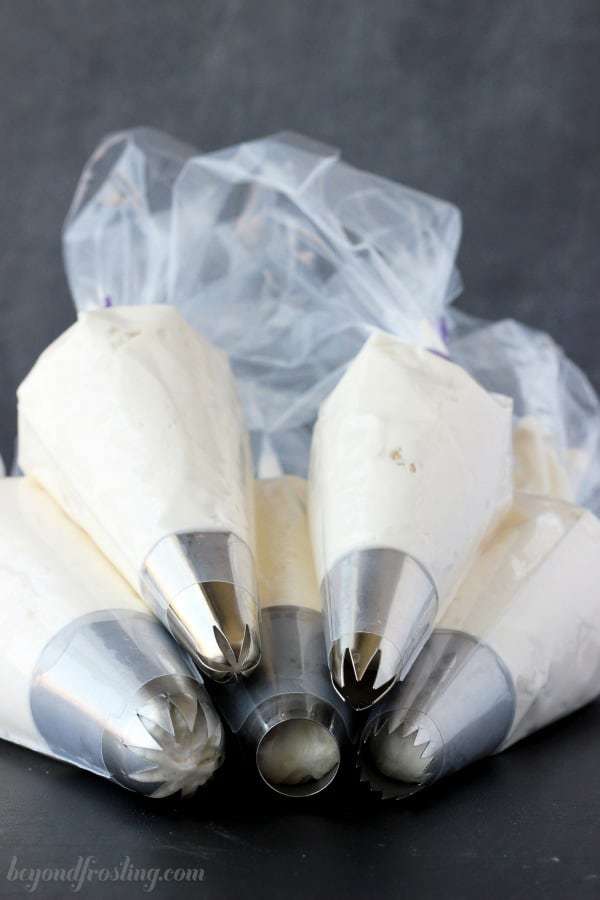 Of course, you'll also need some piping bags, and I recommend starting with a 12-inch piping bag for small amounts of frosting and a 16 or 18-inch piping bag for larger amounts. I also recommend purchasing some couplers so that you can easily change out the tips.
Cleaning and Storage
To clean your tips, first remove as much of the frosting as possible. Then soak the tips in hot and soapy water prior to cleaning. Hot water helps eliminate some of the greasiness from the butter in your frosting.
Next, run them under hot water to remove any remaining frosting. For the smaller tips you might need a toothpick, and then wipe them clean with a cloth and let them air dry.
Piping tips are best stored straight up on some type of peg to maintain the shape and while they do sell container for them, I purchased mine nearly 10 year ago but it's not practical and doesn't really work well. For my jumbo tips, I keep them in a small Tupperware dish.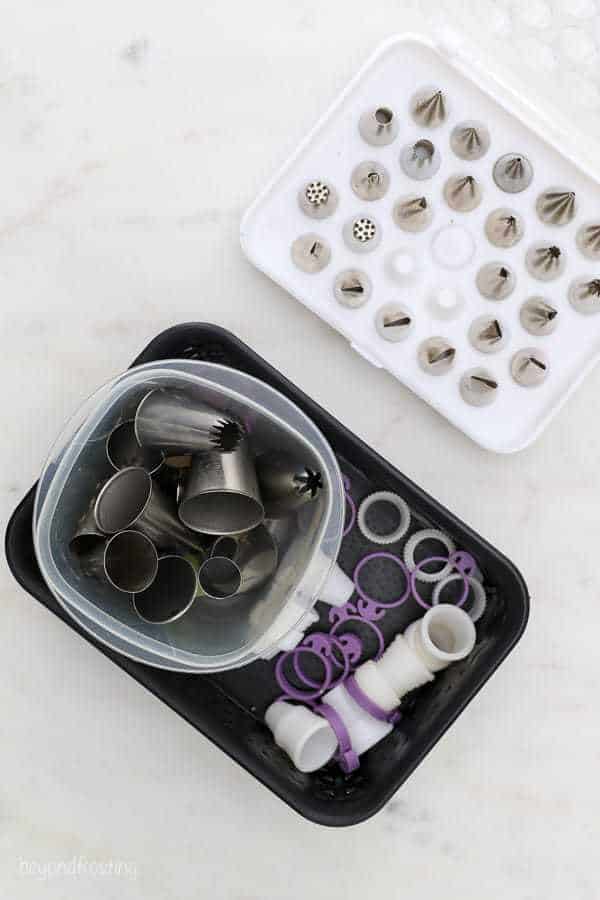 More fun decorating tutorials:
Once you've nailed the basic techniques, you're ready to take your cookies, cake and cupcakes to the next level.