This post may contain affiliate sales links. Please see my full disclosure policy for details
Learn How to Use Piping Tips to create beautiful designs on cakes, cupcakes, sugar cookies, and more! In this helpful guide, we'll cover different piping techniques and the many ways that you can use piping tips to decorate all your favorite desserts.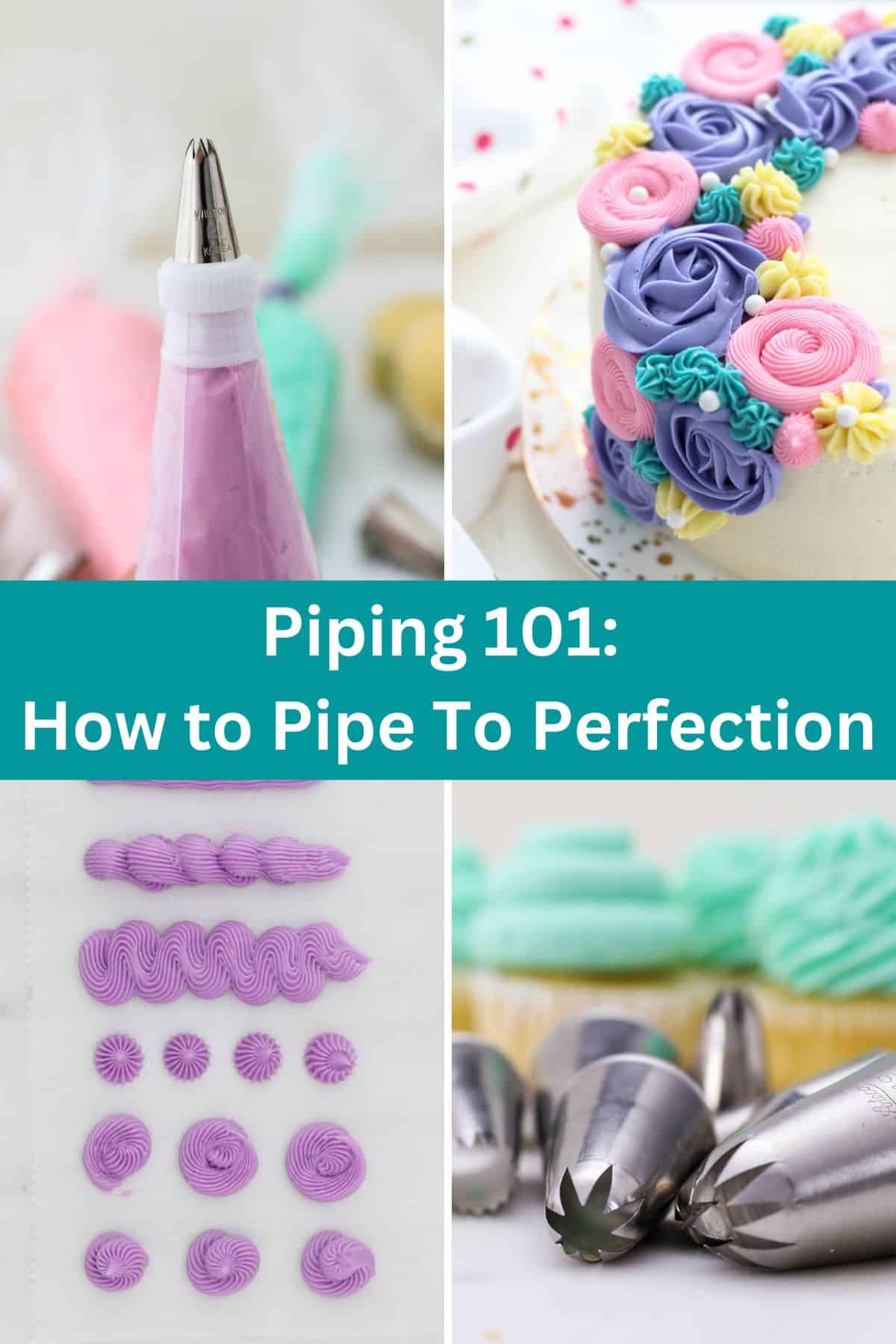 Piping 101: How to Pipe To Perfection!
I've piped a lot of frosting swirls, roses, stars, and then some since I started baking. And I still get awestruck by some of the cake designs I find on Pinterest! It takes some practice, but I sincerely believe that everyone can learn to decorate beautiful cupcakes, cakes, and sugar cookies using piping tips.
My "a-ha!" moment came well before I started my blog when I took the Wilton cake decorating class at my local craft shop. I had plenty of experience with baking, but not so much in the decorating department. That class gave me a foundation to get started. I hope that this guide can do the same for anyone looking to upskill their cake-decorating techniques!
I'm sharing some easy ways to decorate using your standard piping tips. We'll go over the different types of piping tips and how to use them, plus a few other handy tips, techniques, and decorating ideas along the way.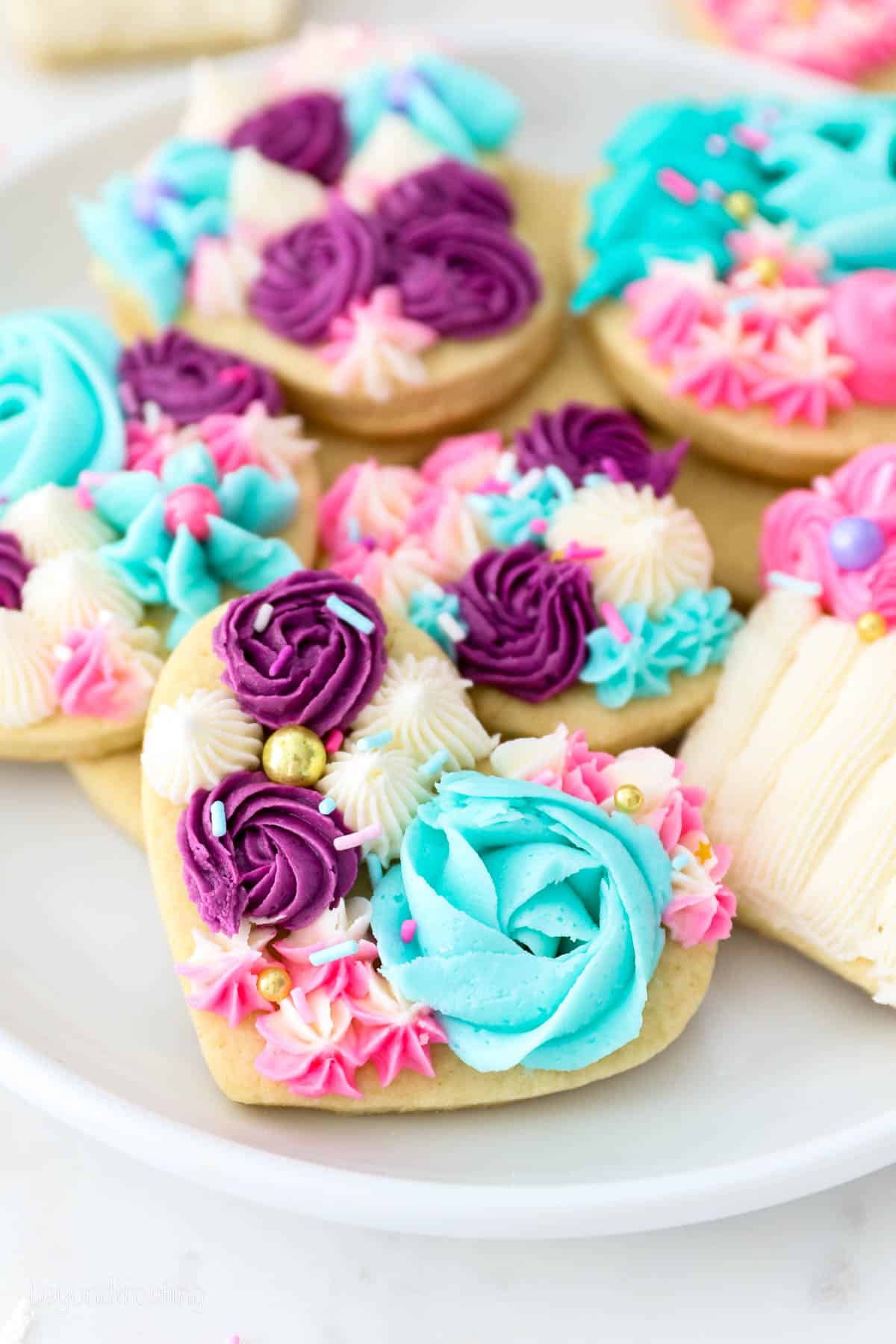 Basic Piping Tips for Decorating
I go into detail on the various types of piping tips further on, but the best place to begin is with the basics. Piping can seem intimidating at first, but I'm here to walk you through it! Armed with a standard collection of tips, a bit of practice, and some sturdy frosting (see below), you'll be well on your way to piping like a pro. Here are my go-to types of piping tips for beginners:
The piping tips above can be purchased individually at craft stores or from Amazon. If you're looking for an all-in-one starting kit, Ateco also offers a Jumbo 6-piece Set that I can't recommend enough, especially if you're looking to make bakery-style frosted cupcakes and cakes.
Of course, you'll also need some piping bags. Learning How to Use a Piping Bag is just as important as learning how to use piping tips! I get into the nitty-gritty in that post, however, I recommend starting with both large piping bag for small piping bags, as each serves a purpose. It's also worthwhile to purchase some couplers so that you can easily change out your piping tips (also covered in the post linked above).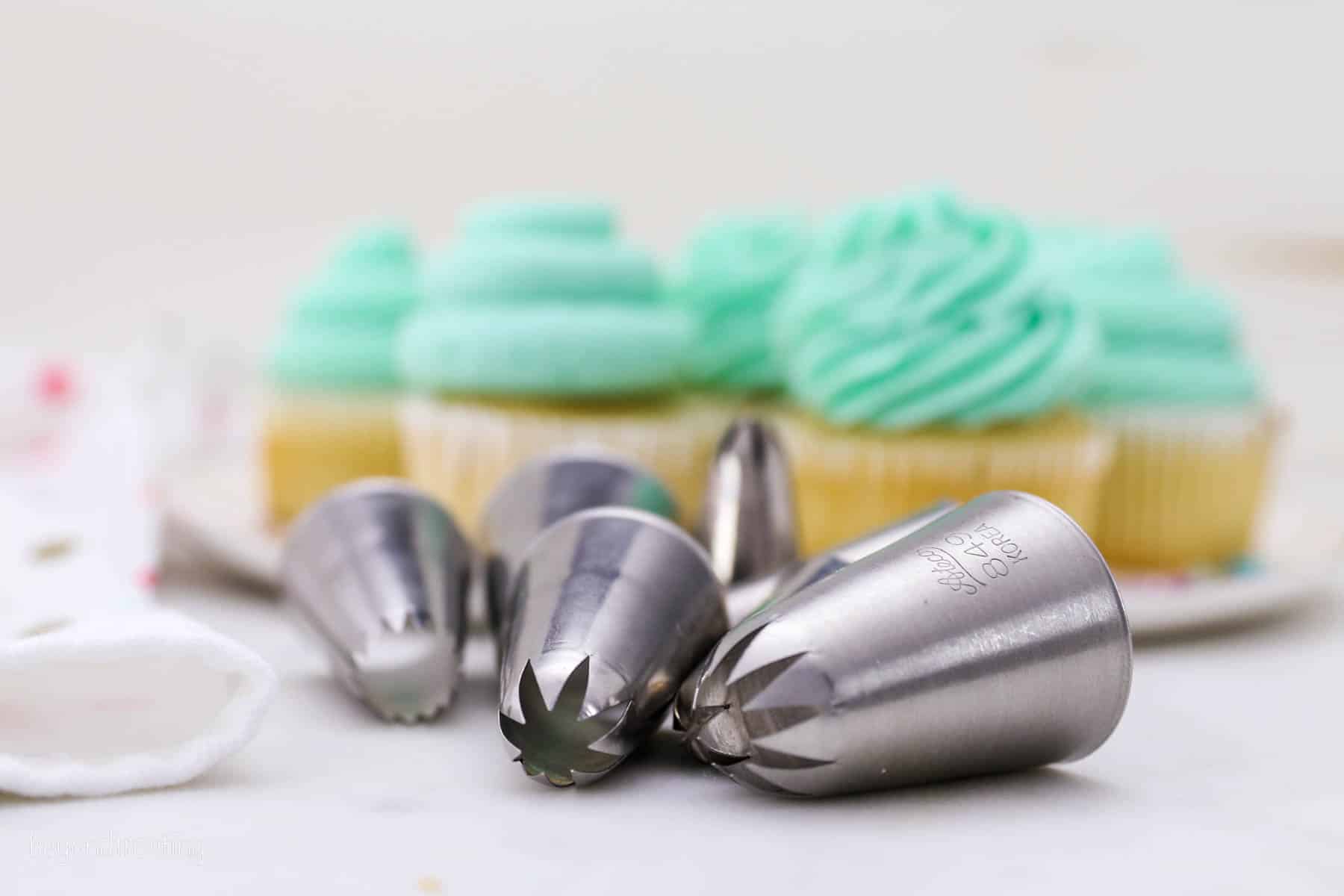 What Frosting Should I Use?
Aside from using the right piping tips, a stable, dependable buttercream frosting is key to successful decorating. My popular Vanilla Frosting recipe is one of the best buttercream recipes that I've used for years. The secret? Cold butter! I made numerous variations of that buttercream including chocolate, Nutella and peanut butter, but here you'll find a collection of my favorite frosting recipes.
I also have a guide on How to Color Buttercream that shares how to select and create beautiful colors for all your decorating needs.
Different Piping Tips and How to Use Them
All piping tips are categorized by shape and they come in various sizes. The most popular piping tip brands are Wilton and Ateco. Here are the different types of decorating tips we'll cover in this section:
Open Round
Open Star
Closed Star
Petal and Leaf Tips
Basketweave and Mutli-Opening Tips
The kind of piping tip you'll use depends on the look you're after. Smaller details call for smaller tips while frosting bakery-style swirls onto cupcakes calls for large or jumbo tips. Let's dive into a detailed breakdown of some common piping tips.
Open Star
Jumbo open-star tips, like the Wilton 1M, are best for piping roses, rosettes, and frosting swirls. I also use the Wilton 1M to create the purple roses on my Buttercream Flower Cake.
For a classic rose, start in the center and pipe a flat swirl outwards.
For a tall swirl, start in the center of the cupcake and slowly swirl upwards (also see my post on How to Decorate Cupcakes).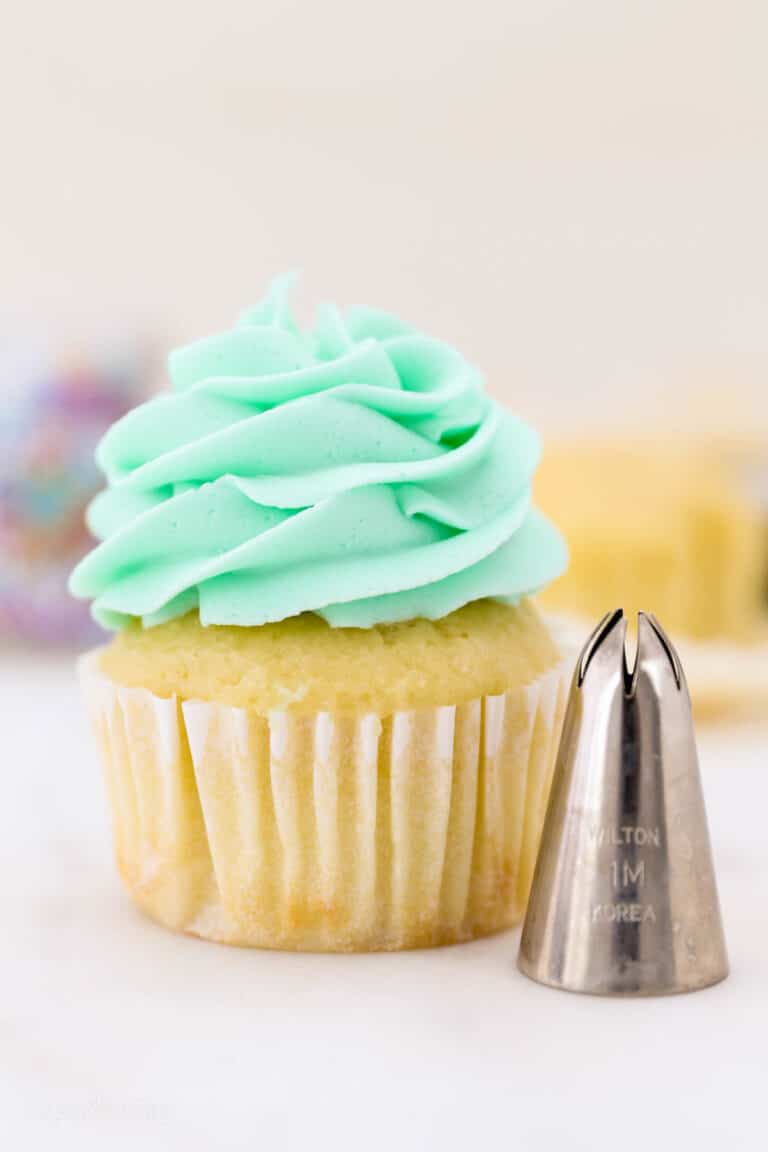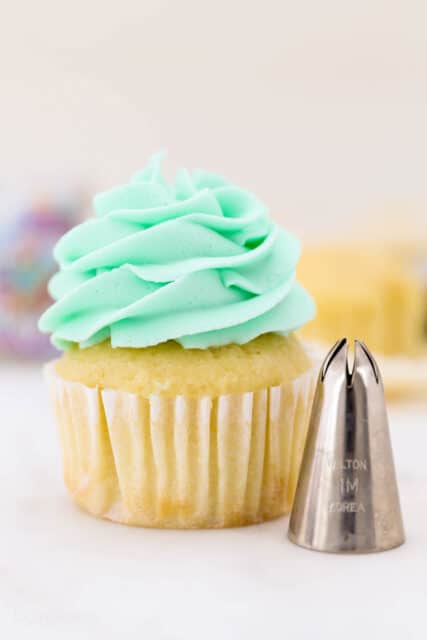 Closed Star
Also called a drop flower tip, closed star piping tips are used to pipe basic flower and star shapes with a single tip, like in my Frosted Sugar Cookies. The most common open-star tips that I use are the Wilton 18 and Wilton 21. These are ideal for piping smaller and medium-sized star shapes, swirls, and more.
When decorating cakes and cupcakes, I go with the jumbo tips, Ateco's 846, 848, and 849 which are wide-closed star piping tips. Another good choice for swirls and roses is the Wilton 8B.
For a ruffled look, use Wilton Size 2D. simply press the tip to the center of the cupcake and lift up while pushing out the frosting.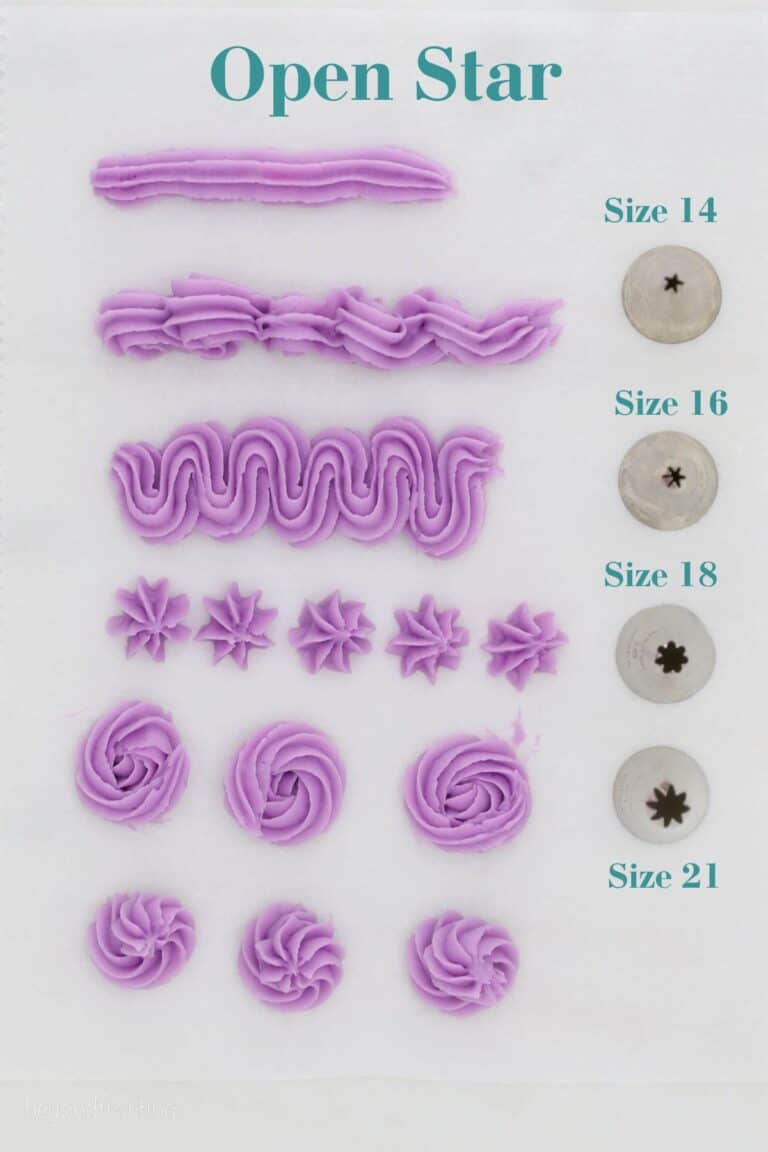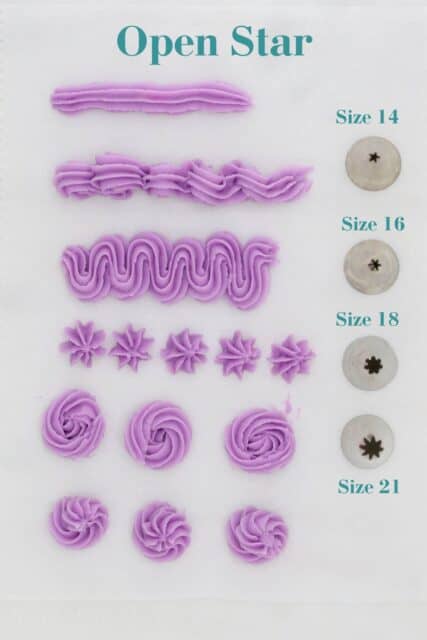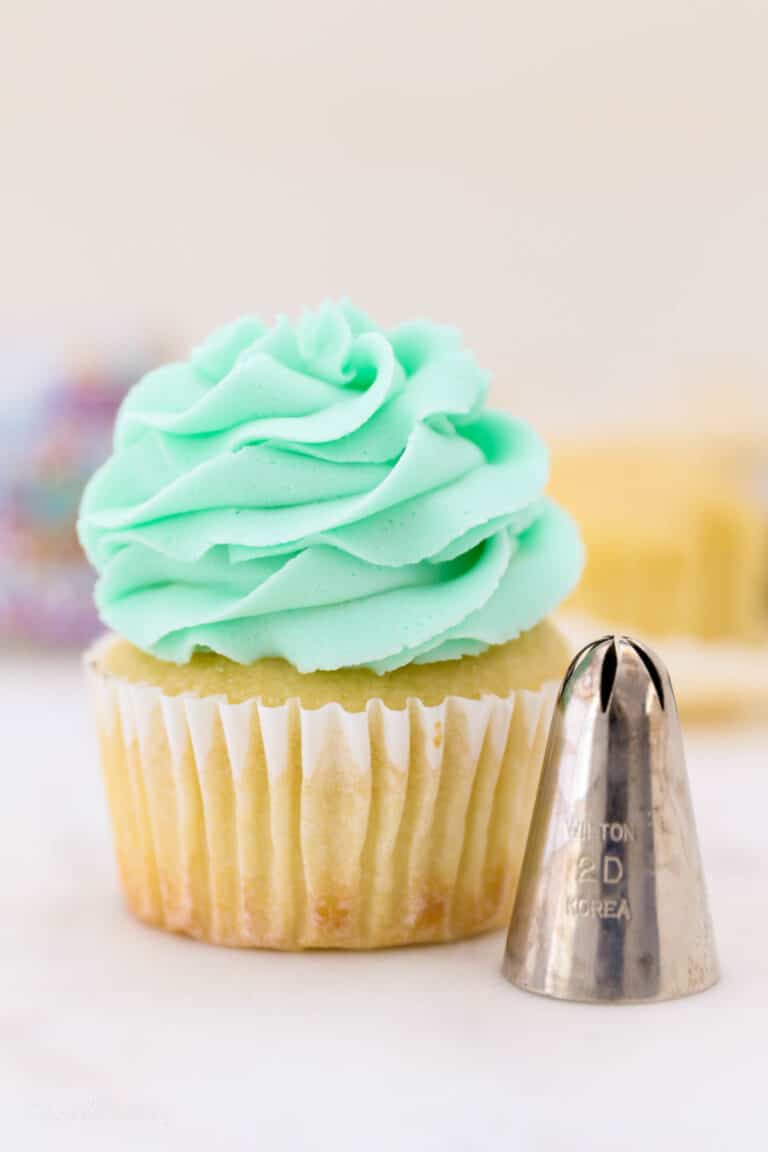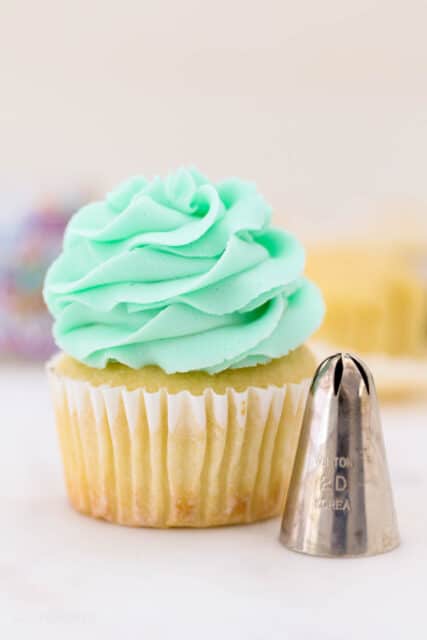 French Star
Another variation of the open star tip, a French star tip, like the Wilton Size 199, is great for piping wide star shapes and swirls with deep grooves (pictured above). It's also a popular choice for piping out pate a choux and pastry cream. For a larger size, look at Ateco 864.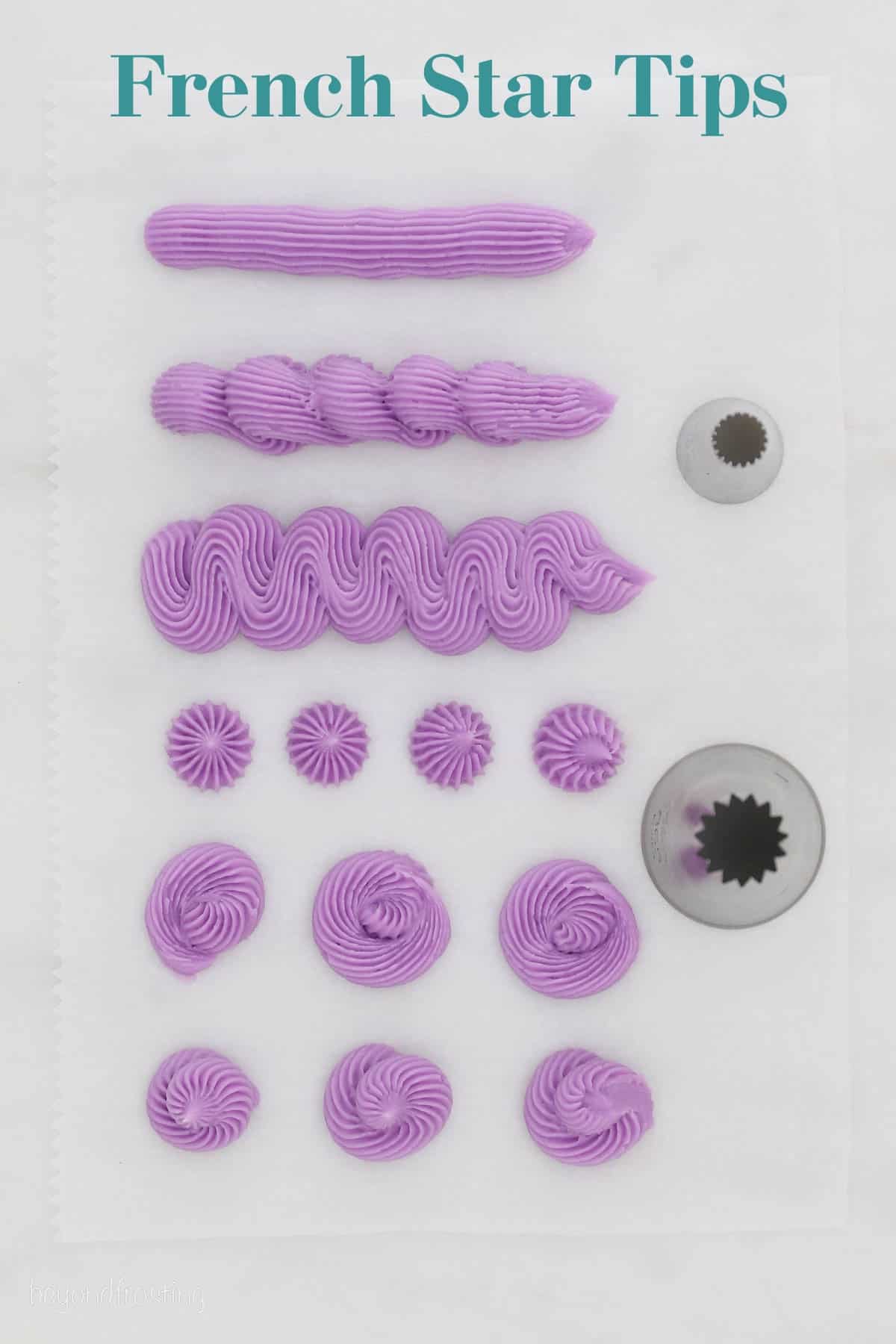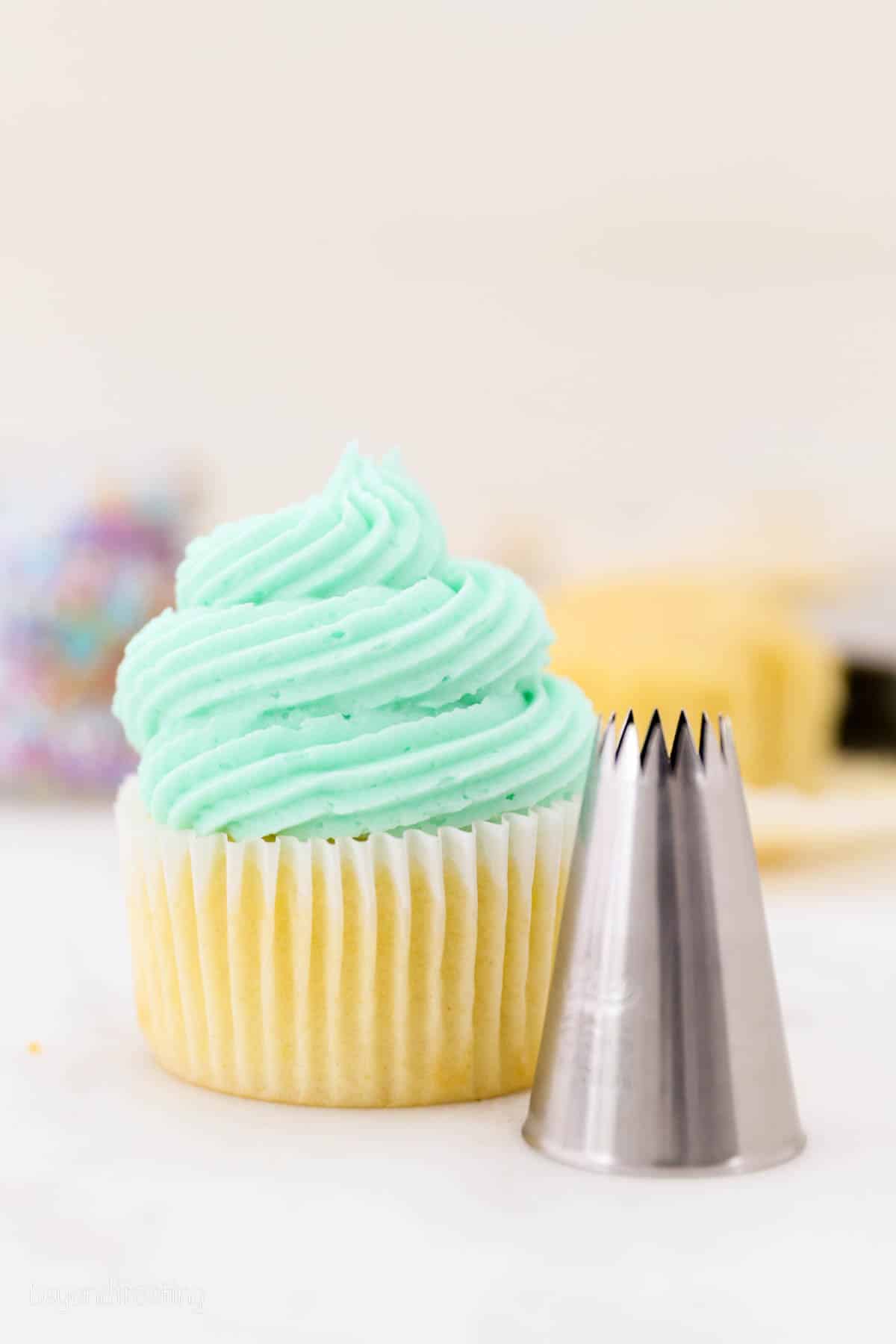 Round Tips
Jumbo open round piping tips don't have detailed edges, making them perfect for filling Layer Cakes and covering larger areas. You can also pipe big, pillowy swirls onto cupcakes by starting in the center and swirling upward. Meanwhile, smaller round tips, like the Wilton Size 5, are perfect for piping writing onto cakes or creating tight, smaller swirls. The smallest sizes (1-3) are especially useful when decorating sugar cookies made with icing.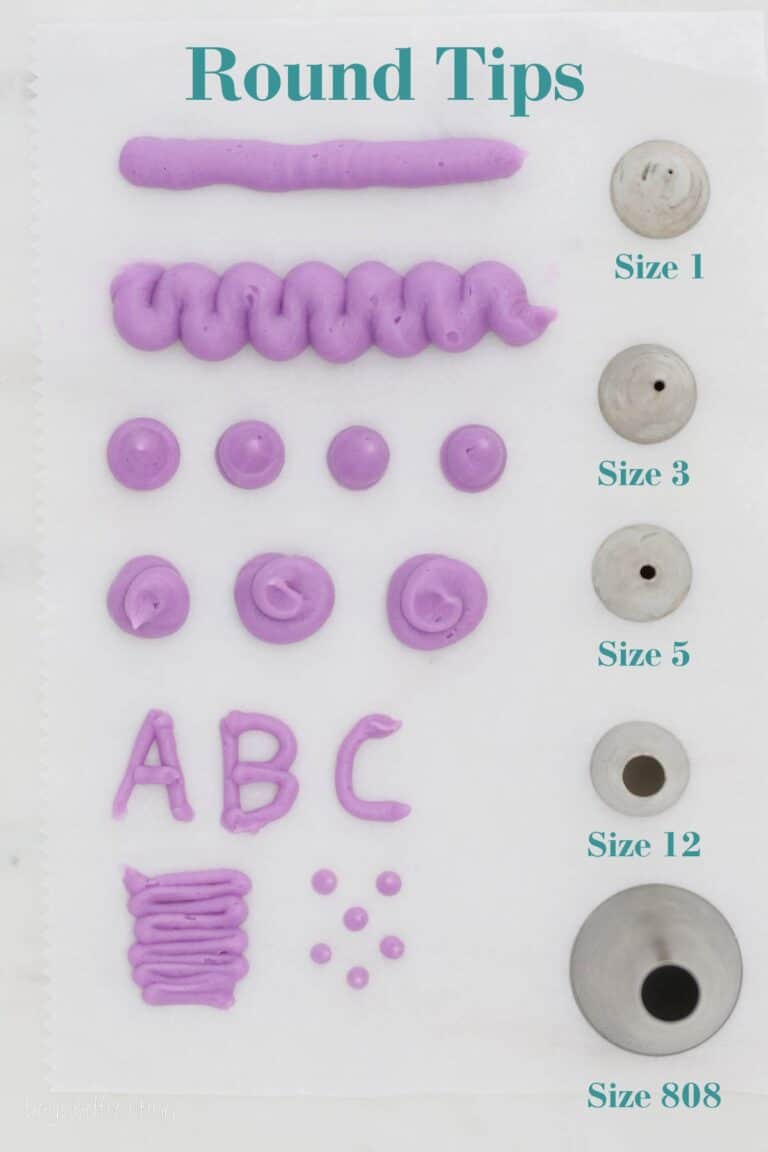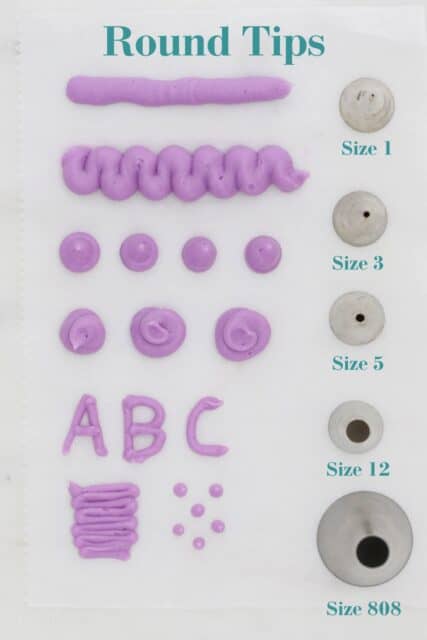 Petal and Leaf Tips
As the name implies, petal and leaf tips are used to pipe different types of petals and leaves, usually accompanying flowers. A leaf tip, like the Wilton Size 352, has a V-shape opening. Meanwhile, a petal tip, like the Wilton Size 104 is teardrop-shaped. I love using my petal tip in unconventional ways, too, like in these Unicorn Cupcakes.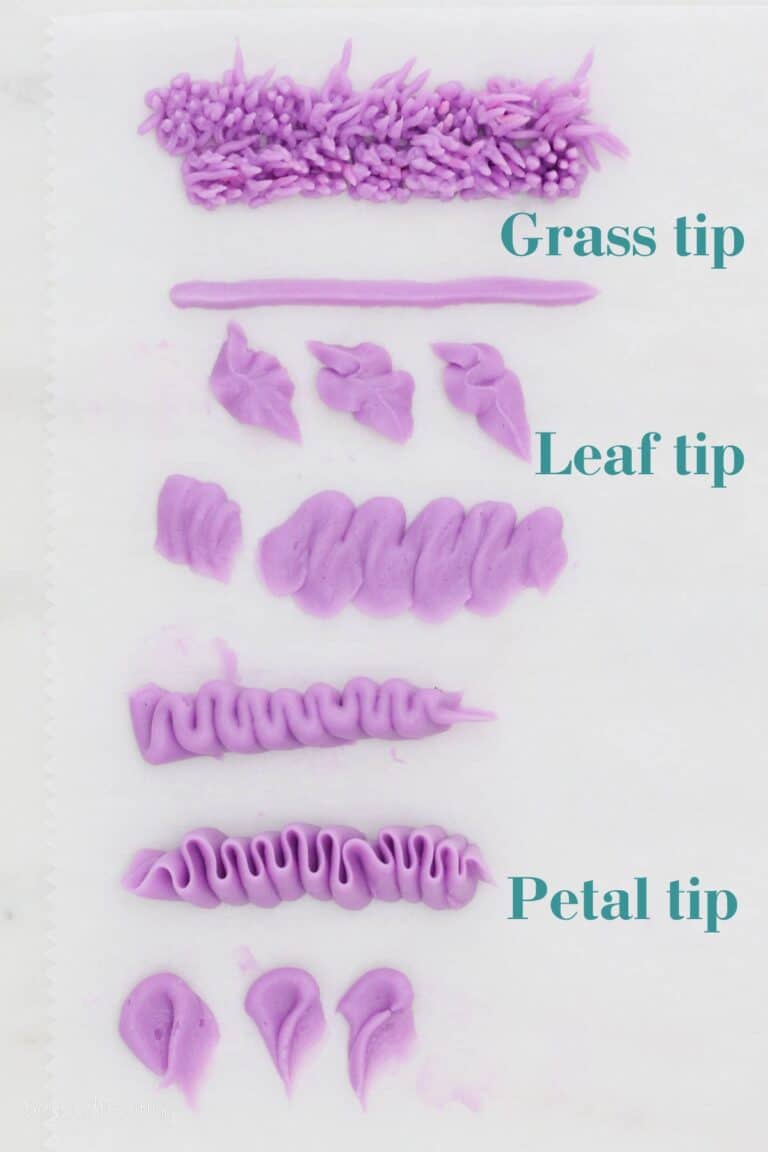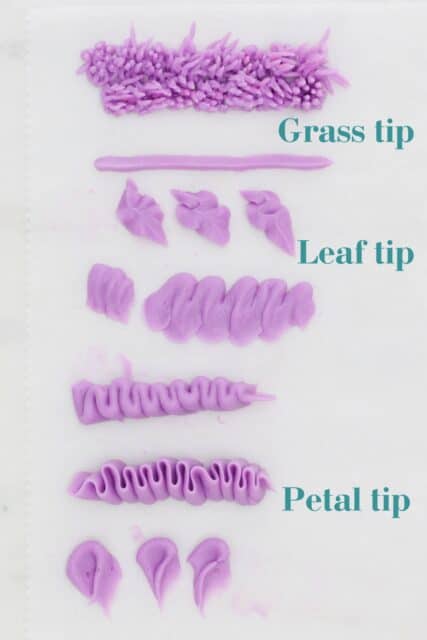 Basketweave and Multi-Opening Tips
A basketweave tip is flat on one edge and ridged on the other. Depending on which way you use them you'll end up with a different appearance. They're useful for creating woven designs as well as house shingles. A multi-opening tip is also commonly called a grass tip. I use this type of tip to create a hairy effect in my Cookie Monster Birthday Cake tutorial or Football Cupcakes.
Cleaning and Storaging Piping Tips
After you've piped up a storm, it's important to properly clean and store your piping tips until the next time you use them. After you've removed as much of the frosting as possible, here's my fail-proof method for cleaning piping tips:
Soak the tips in hot, soapy water. Hot water helps to eliminate some of the greasiness leftover from the butter in the frosting.
Next, run them under hot water to remove any remaining frosting. I find that a toothpick is helpful when cleaning out smaller nooks and crannies. After, wipe the tips clean with a cloth, then let them air dry before storing.
To Store: Piping tips are best stored upright so that they maintain their shape. You can buy specialty storage units specifically for storing and organizing piping tips, or you can use containers. I like to organize my piping tips by type and label the containers accordingly.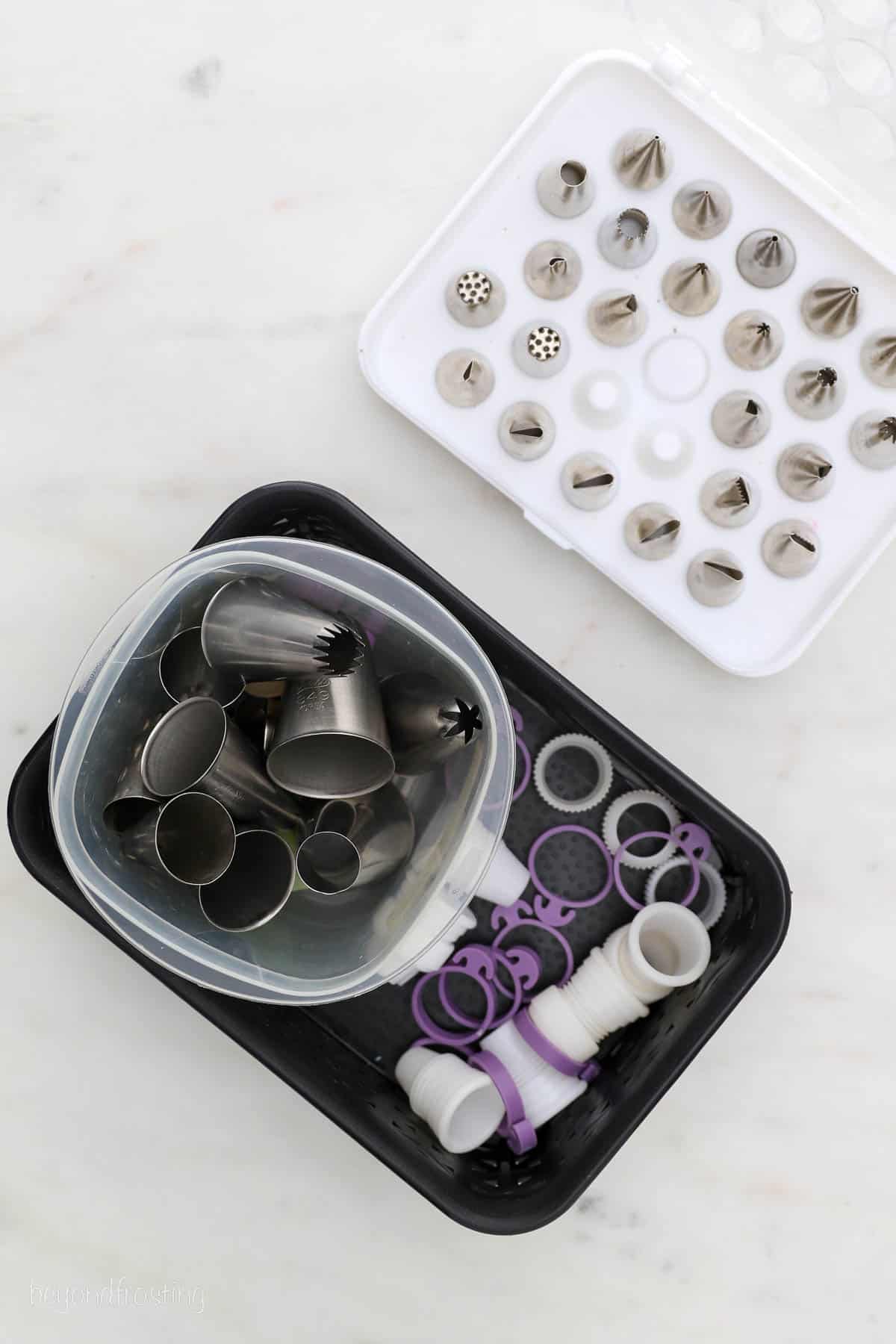 Easy Decorating Ideas to Try
Once you've nailed the basic techniques, there's no limit to decorating cookies, cakes, and cupcakes! Put your piping tips to the test with these fun baking ideas: