This post may contain affiliate sales links. Please see my full disclosure policy for details
You'll love this super moist chocolate cake. It's homemade and topped with a silky chocolate cream cheese frosting. The chocolate cake just melts in your mouth, it's a light and fluffy cake that stays moist for days.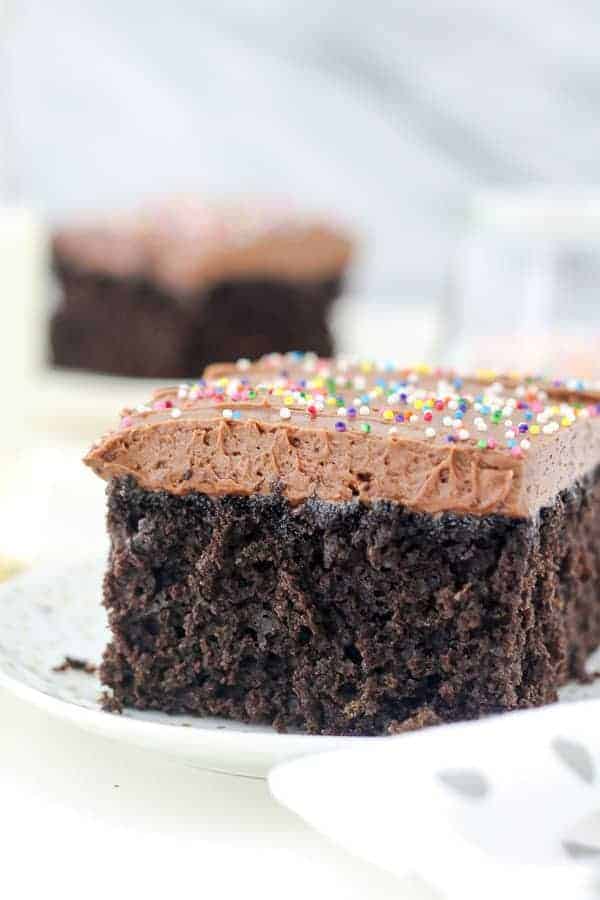 My Favorite Easy Chocolate Cake
I feel like this cake has been a year in the making. Many of you requested a chocolate version of my vanilla cake. I tried several different variations, and nothing seemed to be working, because my standards for a chocolate cake are very high. When I finally nailed the recipe I was beyond excited. Now, this has become my go-to chocolate cake recipe.
It is super light and fluffy, but very moist, which is exactly what I wanted. It reminds me of my favorite doctored cake mix- but of course, it tastes WAY better. The chocolate flavor isn't overly sweet or intense, which is kind of nice because once you add the frosting, it's a perfect balance.
The best part is, this cake comes together in just a few minutes. It's an oil-based recipe, so you don't have to wait for any ingredients to come to room temperature!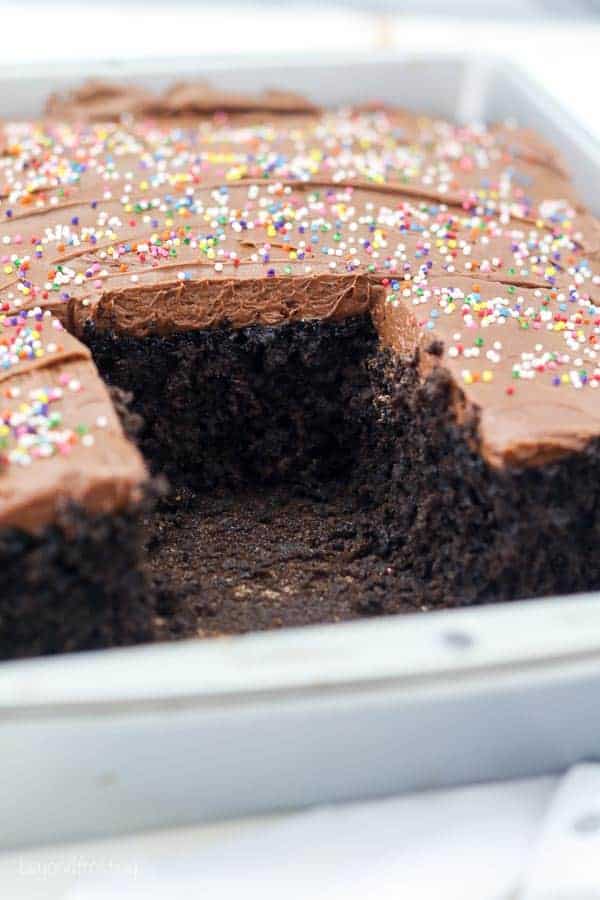 The Secret to a Moist Chocolate Cake
A lot of readers email me asking why their cakes are so dry. Clearly they haven't tried this recipe- HA!
Oil-based cake recipes tend to be moister and make a very tender and spongy crumb. But the real secret is sour cream (or yogurt can be used too). Even days later, you'll still find this cake is incredibly moist and fluffy.
4 Important Ingredients
Cocoa powder- Of course, we need cocoa powder. My favorite way to make this recipe is with Hershey's special dark cocoa. It's a little less bitter (milder) and gives it a distinct dark color. Otherwise, an unsweetened natural cocoa powder works best.
Sour cream- We talked about is, don't skip it! It is what gives this cake the best texture and moistness. Sub with plain or Greek yogurt
Espresso powder– this is optional but enhances the chocolate flavor. Fine ground coffee works too
Brewed coffee– hot brewed coffee enhances the chocolate flavor and blooms the cocoa. No, this cake doesn't taste like coffee! Milk is the best alternative if you don't want to use coffee.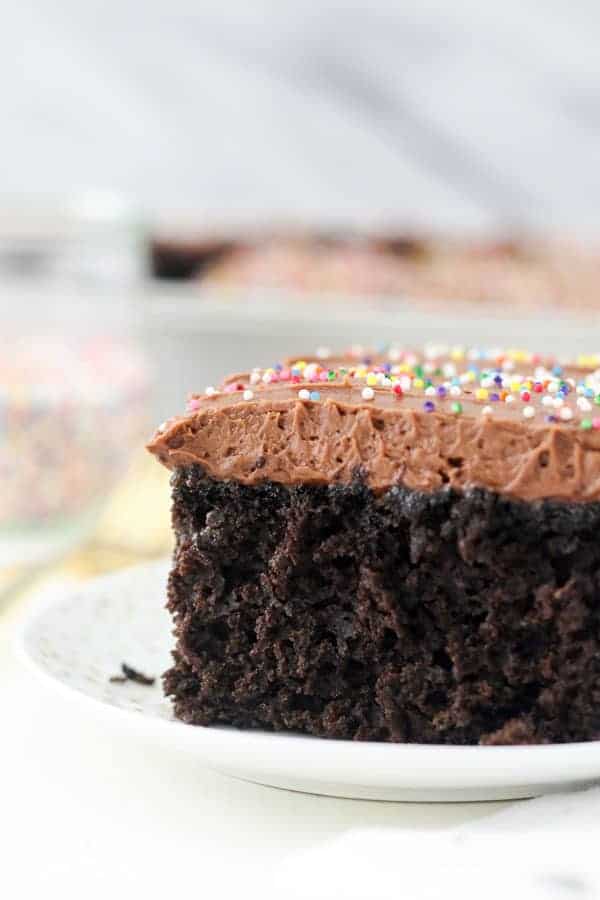 How to Make a Chocolate Cake in 3 Easy Steps
Combine the wet ingredients and sugar: Beat the sugar with the eggs, oil, and vanilla extract and beat them together until fluffy. Then add sour cream and beat until well combined.
Combined dry ingredients: I recommend sifting the flour and cocoa powder because it will be easier for them to combine into the liquid ingredients. If you don't have a sifter, you can also use a fine sieve.
Alternate adding the dry and wet ingredients: To the bowl, add half the dry ingredients and half the coffee and mix until combined. Repeat again. Once all the ingredients are well combined, stir with a spatula. Pour the batter into a 9×13 inch pan and bake.
Bake, Cool, Frost, Eat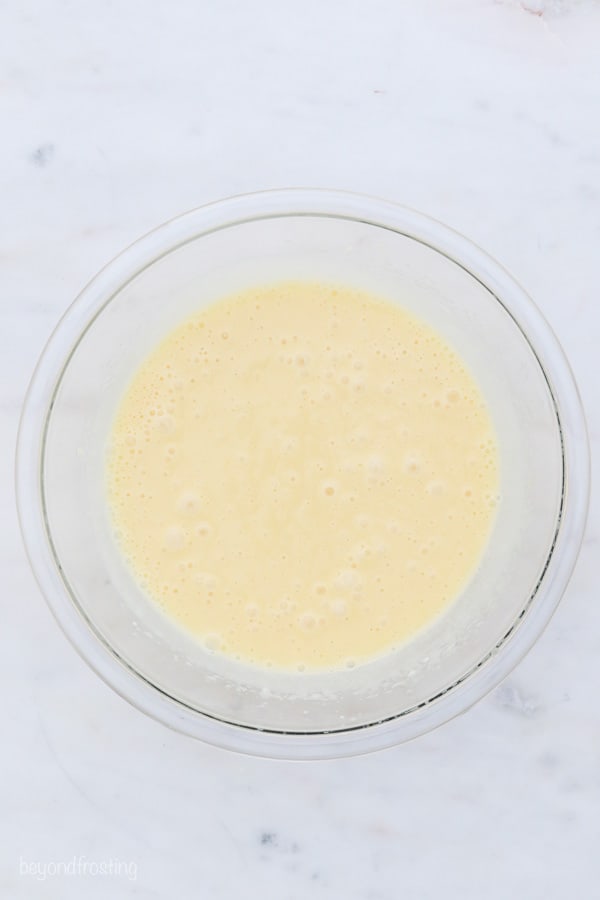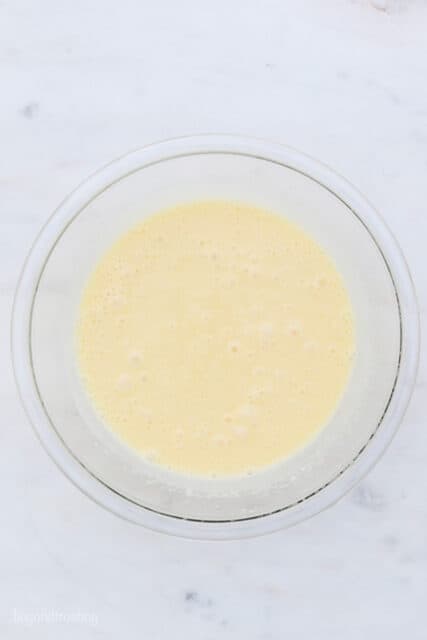 Amazing Chocolate Cream Cheese Frosting
Choosing a frosting was no easy task. The chocolate cream cheese frosting is to-die-for! It's ultra-creamy, whipped to perfection, and not overly sweet, but it really adds the chocolate kick to finish off each bite. If you don't love cream cheese, then you might like my traditional chocolate frosting or my chocolate fudge frosting which is made with melted chocolate.
How to Make the Frosting
Start with a cold butter and slice it into cubes. Beat the butter until it's smooth and creamy and lighter in color. This may take several minutes
Add the cream cheese (also cold!) and beat until it's well combined. This is the key to preventing lumpy frosting.
Add the cocoa powder and vanilla extract. You'll want to beat the cocoa powder into the cream cheese for a couple of minutes.
Add powdered sugar and cream: Next, you'll add 2 cups of powdered sugar at a time and some of the heavy whipping cream, beating each time until the frosting is completely smooth. The more you whip it together, the more airy the frosting will be. Repeat this until all ingredients have been added and whip until it's light and fluffy.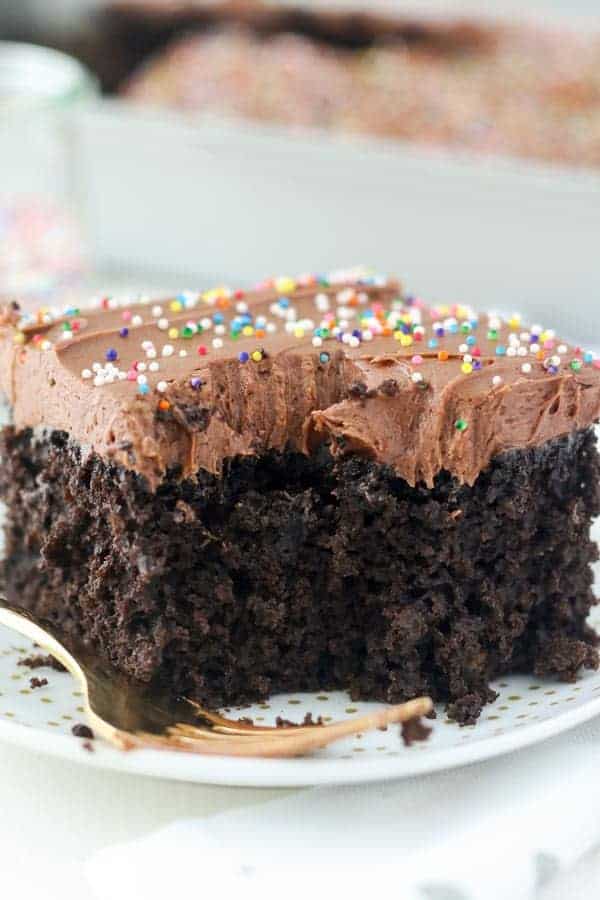 How to Scale this Recipe for Other Sizes
To make a 3-layer 8-inch Chocolate Cake you can use this same cake recipe, but you'll make adjustments to the frosting.
If you need a smaller cake this recipe can be made as a two layer mini 6-inch cake.
If you want to make chocolate cupcakes, this recipe will make 24 cupcakes, but you'll need to scale up the frosting.
Storing a Frosted Cake
Once frosted, this cake can be stored in an airtight container on the countertop. If you live in a hot and humid environment, then you'll need to refrigerate it. However, this can sometimes dry out the cake. Be sure to use an airtight container and serve at room temperature for best results.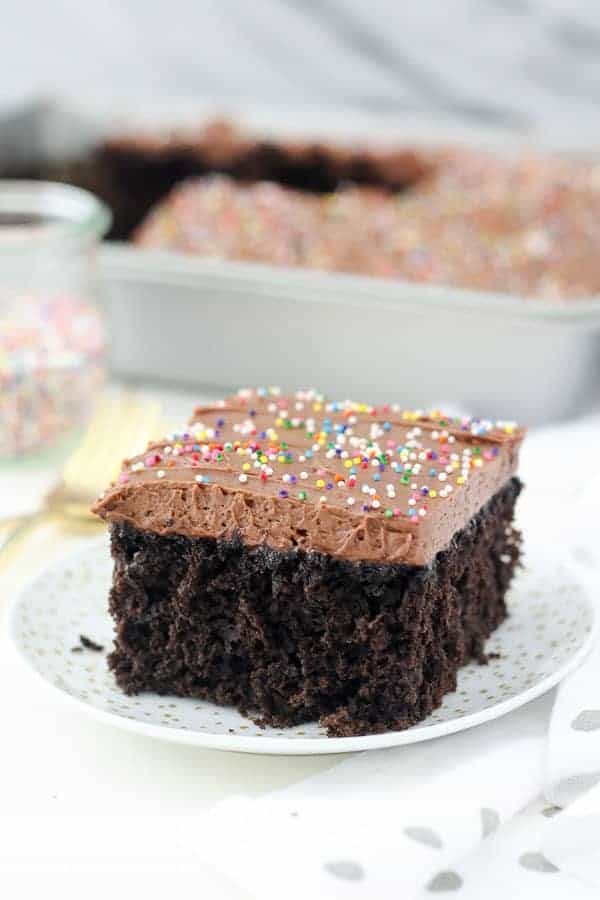 Print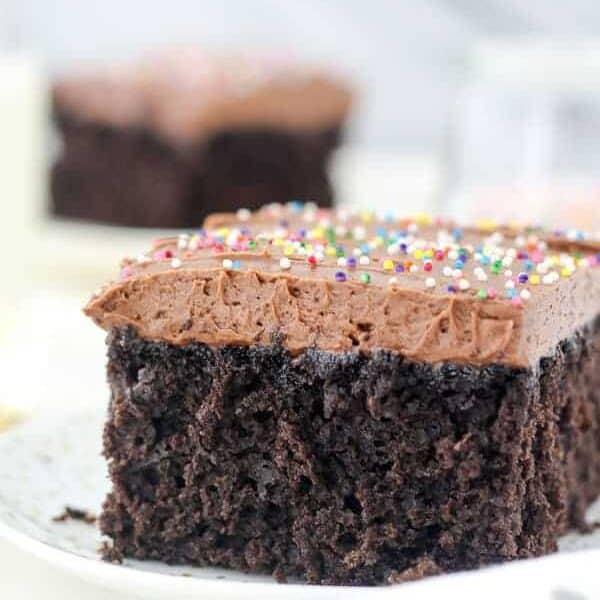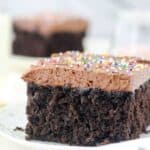 Easy Moist Chocolate Cake
Author:

Prep Time:

20 minutes

Cook Time:

26 minutes

Total Time:

46 minutes

Yield:

12-15 slices
Description
This easy homemade chocolate cake and topped with a silky chocolate cream cheese frosting. It's a light and fluffy cake that stays moist for days.
Ingredients
For the cake:
1 ½ cups

(

285g

) granulated sugar

½ cup

(

118

ml) vegetable oil

3

large eggs

1 tablespoon

(

15

ml) pure vanilla extract

½ cup

(

118

ml) sour cream

2 cups

(

280g

) all-purpose flour

½ cup

(

55 g

) cocoa powder

1 tablespoon

(

5g

) espresso powder (optional)

2 ½ teaspoons

(

9 g

) baking powder

½ teaspoon

(

2 g

) baking soda

1 teaspoon

(

5 g

) salt

1 ¼ cup

(

296

ml) hot brewed coffee
For the frosting:
½ cup

(

1

stick) unsalted butter, cold

6 ounces

cream cheese, cold

½ cup

(

55 g

) cocoa powder

4 ½ cups

(

585g

) powdered sugar

2 tablespoons

(30ml) milk or heavy whipping cream

1 tablespoon

(15ml) pure vanilla extract
Instructions
For the cake:
Preheat the oven to 350°F.
In a large mixing bowl, combine the sugar, vegetable oil, eggs and vanilla extract. Beat on medium speed until the eggs and oil are well incorporated and the batter is lighter in color. Next mix in the sour cream and beat until well combined.
In a separate bowl, sift together the dry ingredients. Then add half the dry ingredients followed by half of the coffee and mix just until the flour starts to incorporate. Then add the remaining dry ingredients and coffee. Beat until all of the ingredients are well combined. Use a spatula to scrape down the sides of the bowl and stir the batter from the bottom to the top to ensure it's well mixed.
Pour the batter into a 9×13-inch pan and bake at 350°F for 26-28 minutes. Test the cake for doneness by inserting a toothpick into the center of the cake. If the toothpick comes out clean, your cake is done. Remove from the oven and allow to cool completely.
For the frosting:
Cut the butter into 1-inch blocks. Beat the butter for 3-4 minutes until it's softened.
Then add the cream cheese and cream together for 2-3 minutes until they are fluffy and free of lumps, scape down the bowl occasionally.
Add the cocoa powder and vanilla extract and beat until well combined,
Next, add the confectionary sugar 2 cups at a time, followed by one tablespoon of heavy whipping cream and beat for 60-90 seconds until completely smooth. Add the remaining powdered sugar and cream and beat until desired consistency, at least 2 minutes.
Spread frosting over cooled cake and then cover with sprinkles.
Notes
Cocoa powder: I prefer to use Hershey's Special Dark Cocoa Powder for the cake and regular cocoa powder for the frosting.
Coffee substitute: I recommend using milk
Sour Cream Substitute: Use plain or Greek yogurt
Category:

Cake

Method:

Baked

Cuisine:

American
Keywords: Chocolate Cake, Moist Chocolate Cake